Les vernis Octopus Party Nail Lacquer Phantom et Witches get Stitches
Vous pourrez trouver la marque sur la
boutique
.
You can find this brand on the shop.


PRESS SAMPLE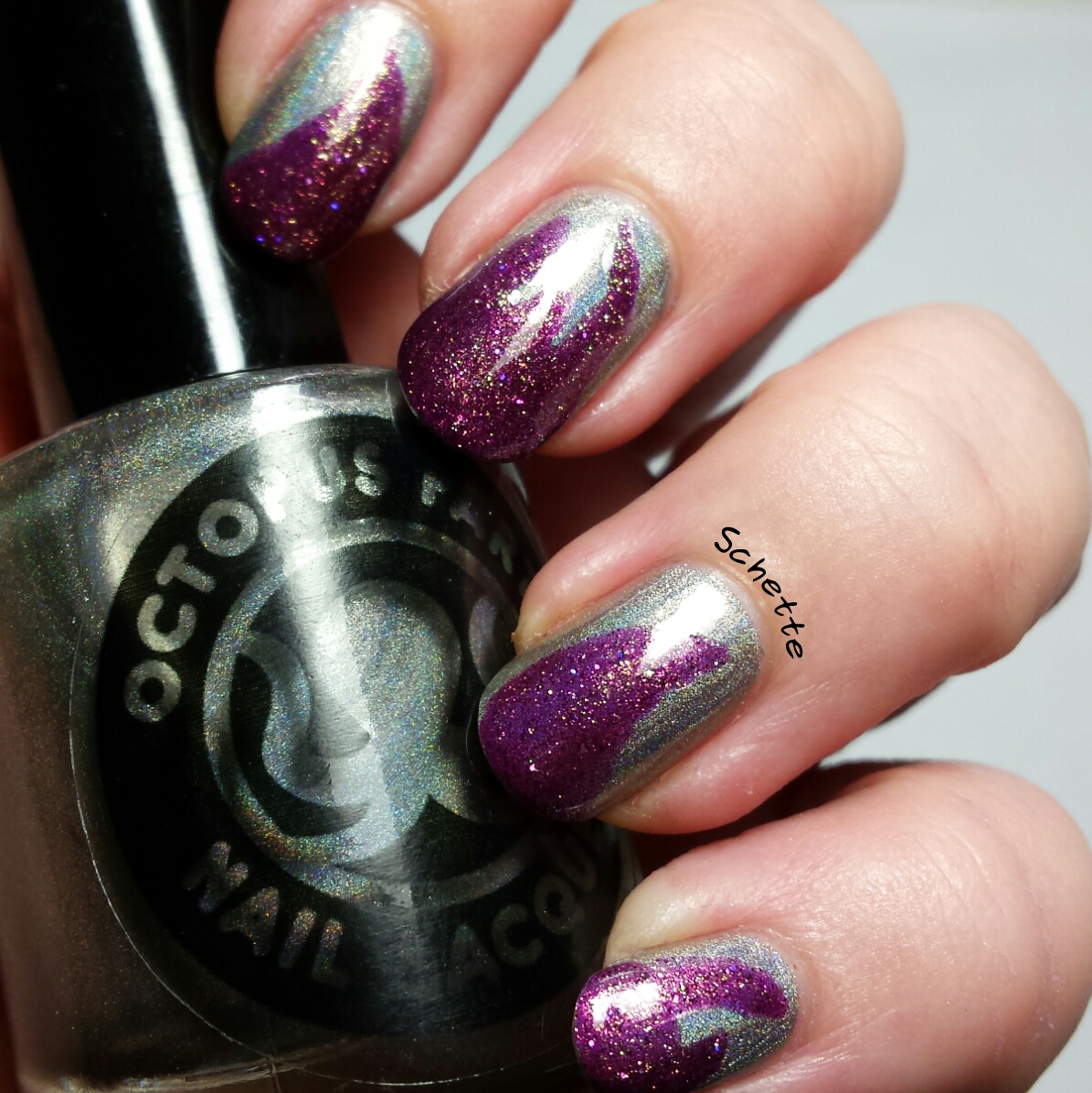 Aujourd'hui, je vais vous présenter 2 vernis de la collection Fall 2014 d'Octopus Party Nail Lacquer.
La collection se compose de 8 vernis :
Elle sortira le 26 Septembre. Le prix pour les bouteilles full size est de 13$ et pour les mini de 5$. Je vais donc vous présenter Phantom et Witches get Stitches :)
Today, I'm going to present you 2 polish of the Fall 2014 Collection from Octopus Party Nail Lacquer.
The collection is made of 8 polish : The collection will be released on September 26th. The full size will be $13 and the minis $5. So let me introduce Pumpkin Slice and Rake it or Leave it :)
Witches get Stitches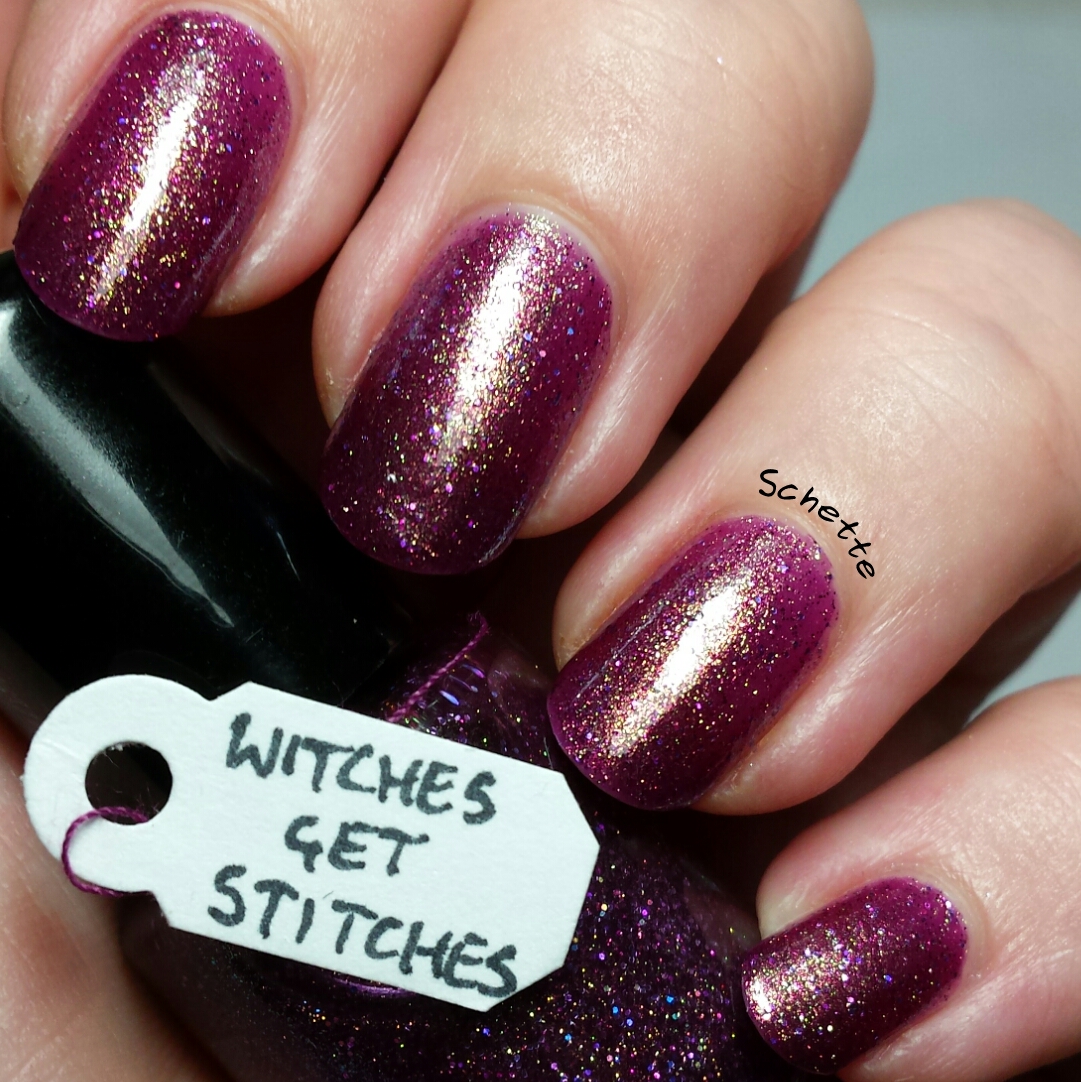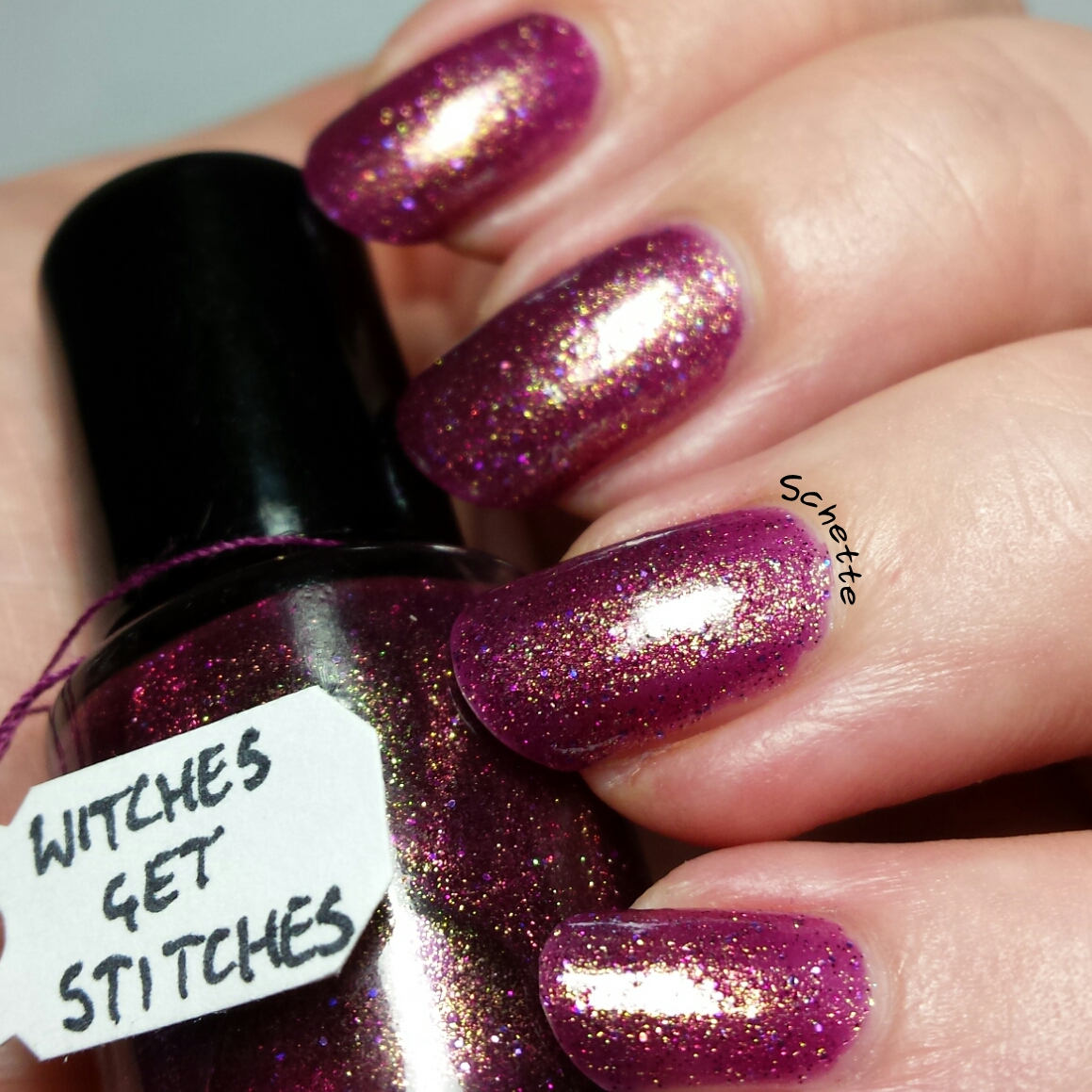 Witches get Stitches est vraiment un de ces vernis unique comme Dave sait les faire. C'est un jelly violet / fushia avec des shimmer dorées et des micro glitter dans les tons bleu / violet. Ici posé en 3 couches avec top coat. Le séchage est ultra rapide et l'application très facile.
Witches get Stitches is one of those unique polish like Dave knows how to make them. It's a jelly purple / fushia with golden shimmer and micro glitter in blue / purple tones. Here worn in three coats plus top coat. The dry is ultra fast and the application very easy.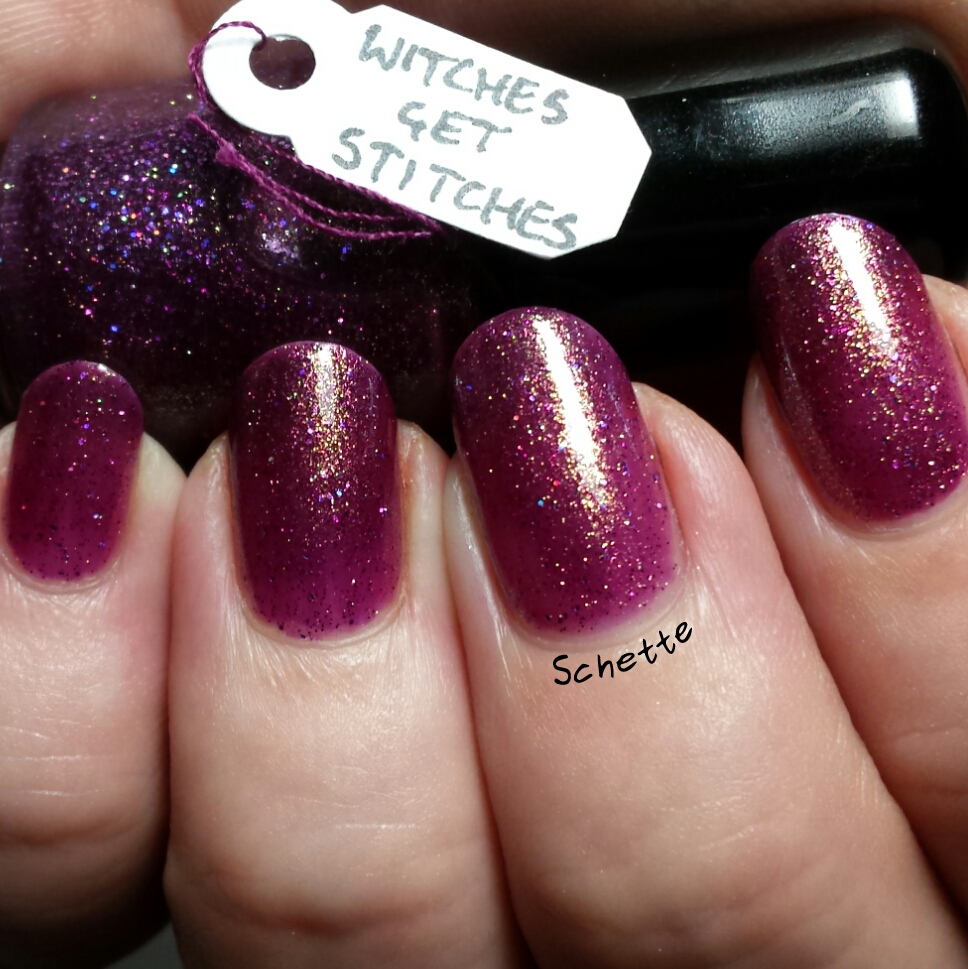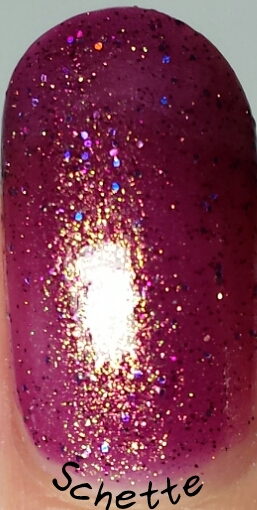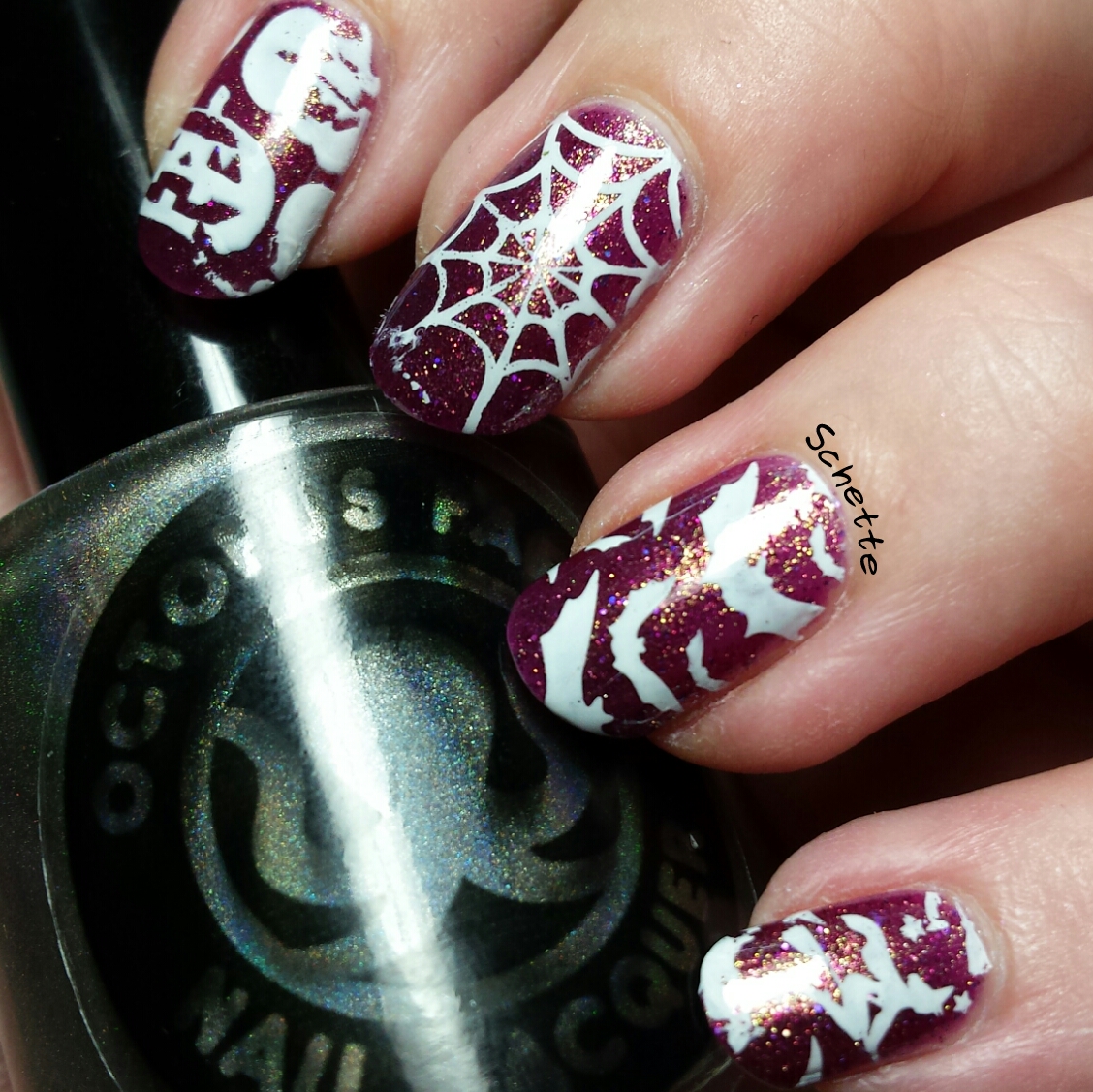 Je l'ai ensuite stampé avec un vernis blanc
ENAS
et la plaque
JUMBO cheeky 6
.
Then I stamped it with a white polish ENAS and plaque JUMBO cheeky 6.

Phantom
Phantom est un chrome linéaire. On a envie de dire banal, pis une fois qu'on connaît Dave, on sait qu'il nous réserve des surprises. Regardez moi ce linéaire de folie ! Il est posé en deux couches, sans top coat.
Phantom is a linear chrome. We can be tempted to say banal, but once you know Dave, you know he can be full of surprises. Look at this madness holographic ! It's worn in two coats without top coat.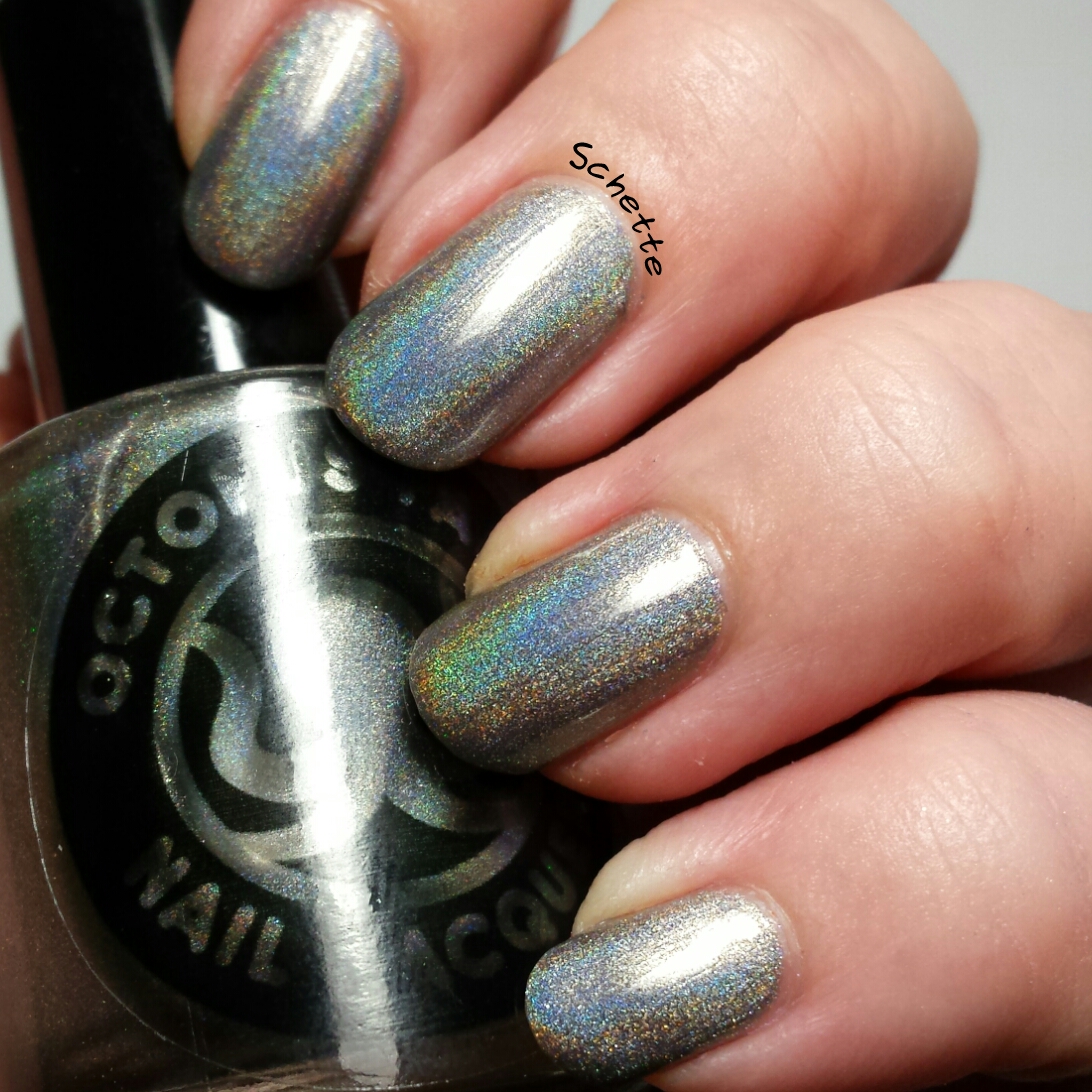 Il parait effectivement un peu plus foncé quand il n'est pas en lumière directe.
It looks a bit darker when there is no direct light.

Un holo linéaire de folie je vous disais !
I told you : madness holographic !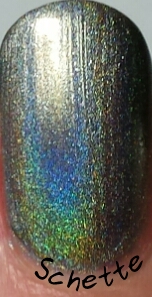 Bilan
Que dire de plus que je suis super emballée par la nouvelle collection ? D'ailleurs, j'ai déjà commandé les 6 autres, je vous en parle très bientôt !
What can I say more than I'm super excited by this new collection ? By the way, I already ordered the 6 others, I shall show you soon !
Schette, le 17 septembre 2014
Vous pourriez aussi aimer / You can also like :