White holographic polish comparison
PERSONAL PURCHASE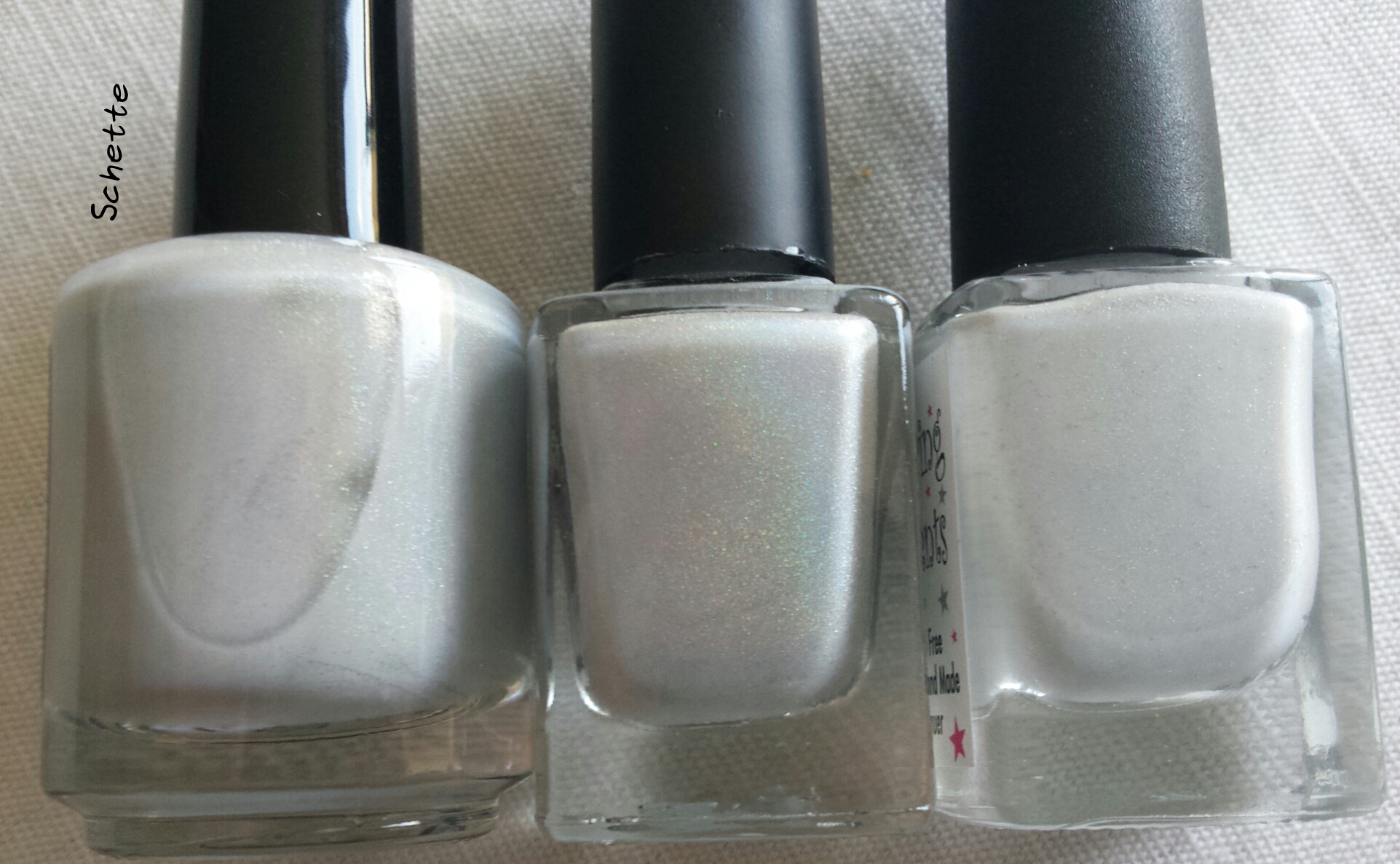 Le blanc holographique parfait est une sorte de quête pour trouver une licorne. Voici une comparaison de 6 blancs holo. Mes deux favoris sont le Carpe Noctem Cosmetics Scuttle et le Lilypad in the milkyway qui sont dans la seconde comparaison :)
White holographic polish is a kind of unicorn quest. Here is a comparison of 6 white holographic. My two favorites are Carpe Noctem Cosmetics Scuttle and Lilypad in the milkyway which are part of the secon comparison :)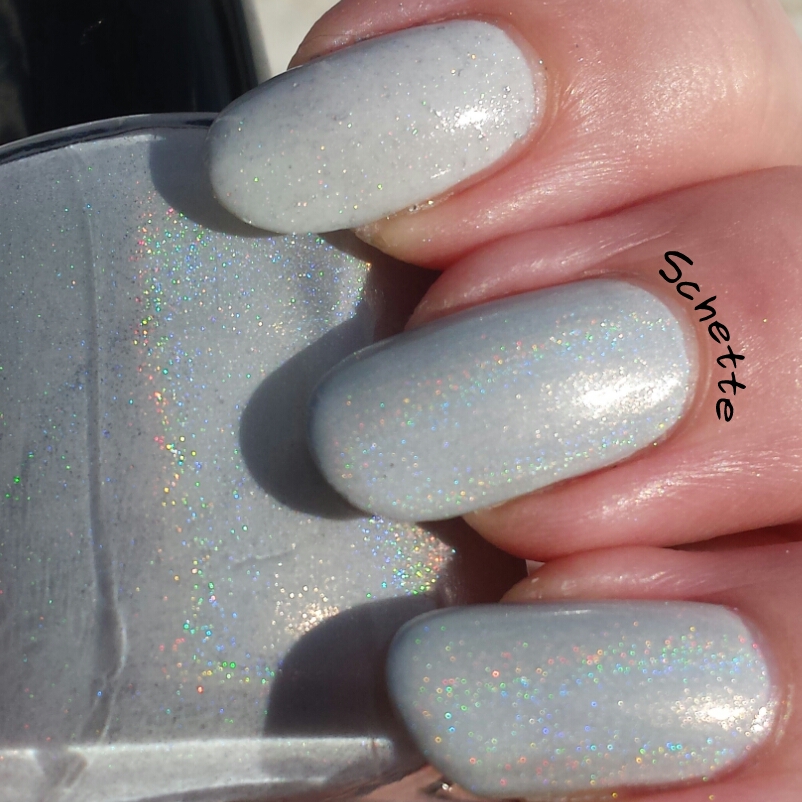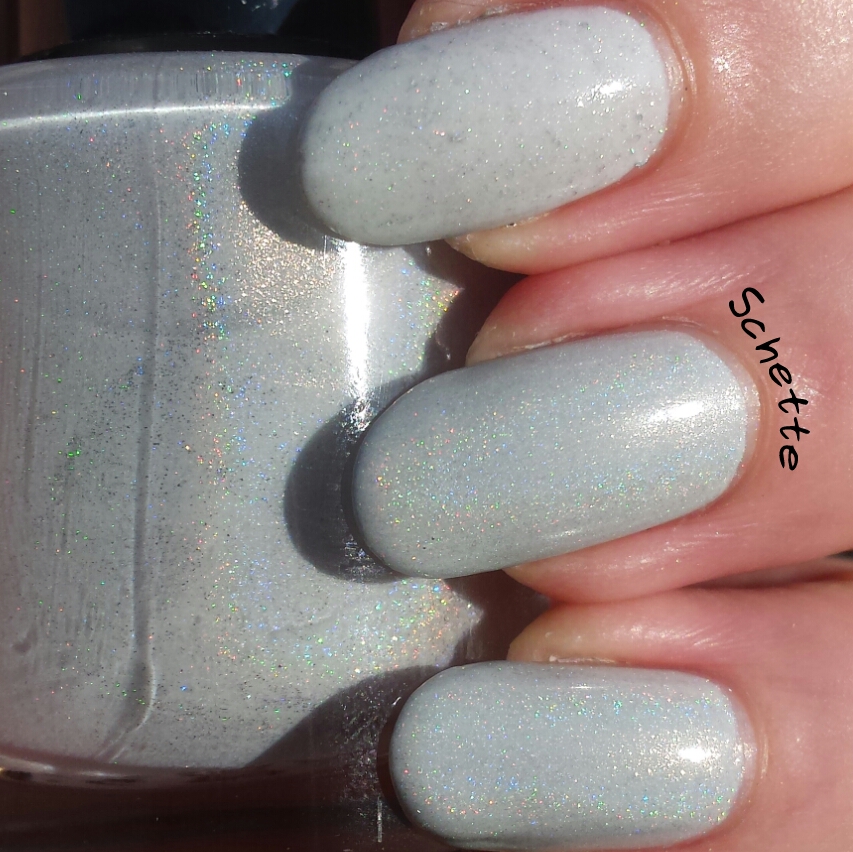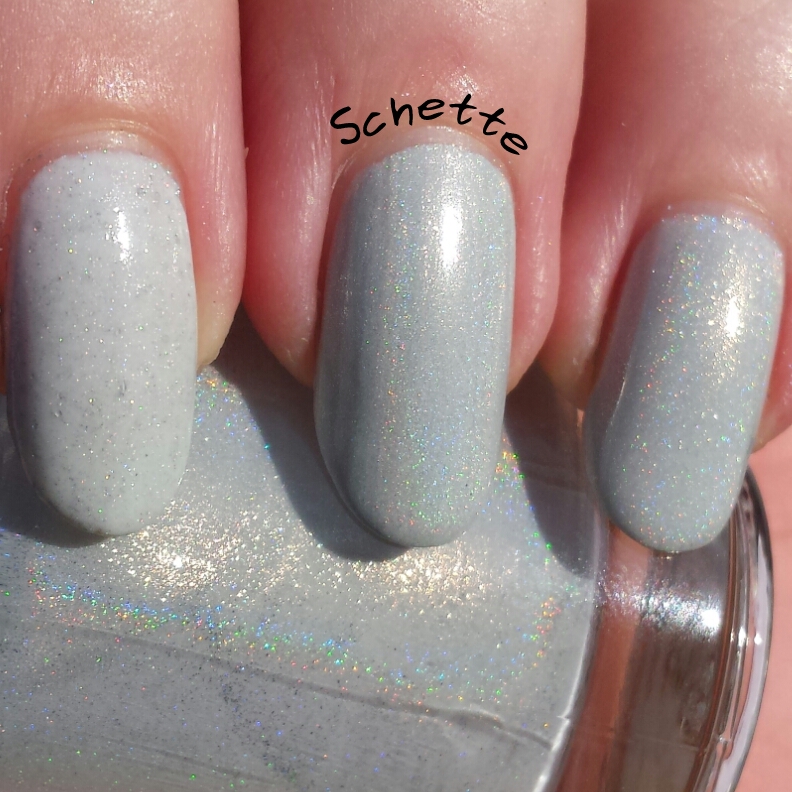 Je trouve les trois légèrement trop grisé, mais je préfère Mizzle.
I find the three a bit too grey, but I prefer Mizzle.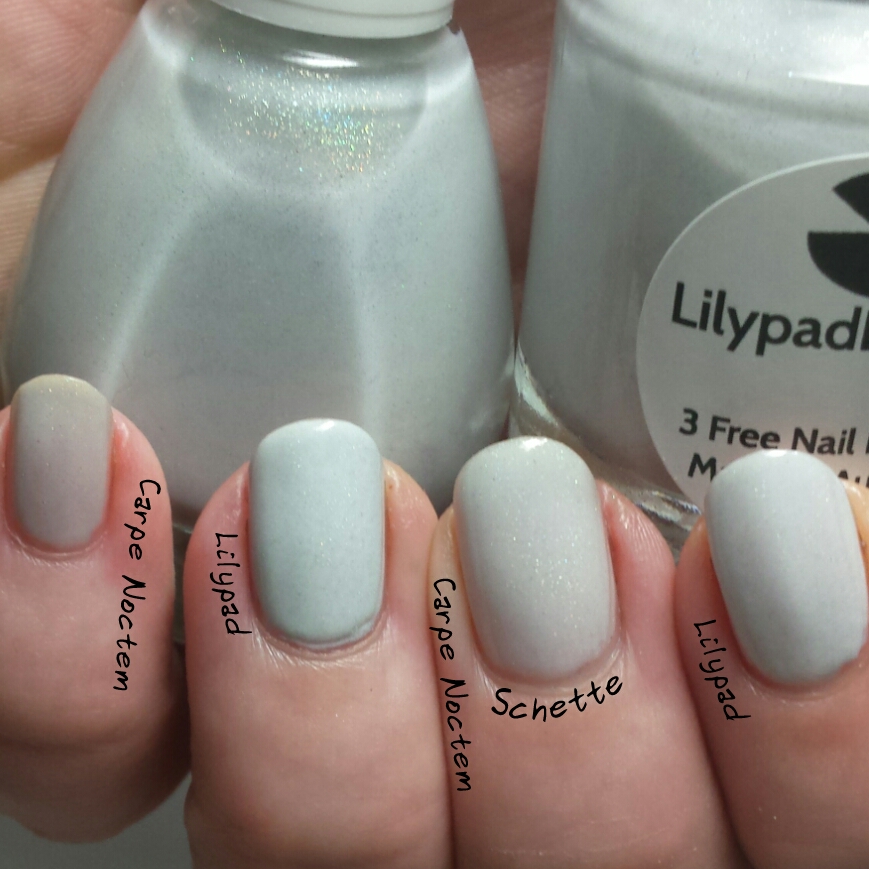 Les deux sont le meilleur choix pour moi : le Lilypad si vous voulez plus d'holo, le Carpe Noctem si vous voulez plus de blanc. L'avantage du Carpe Noctem, c'est qu'il est dispo sur la
boutique :)
Both are the best choice according to me : the Lilypad if you want more holo, the Carpe Noctem if you want more white. The advantage of the Carpe Noctem is that it's available on the
shop :)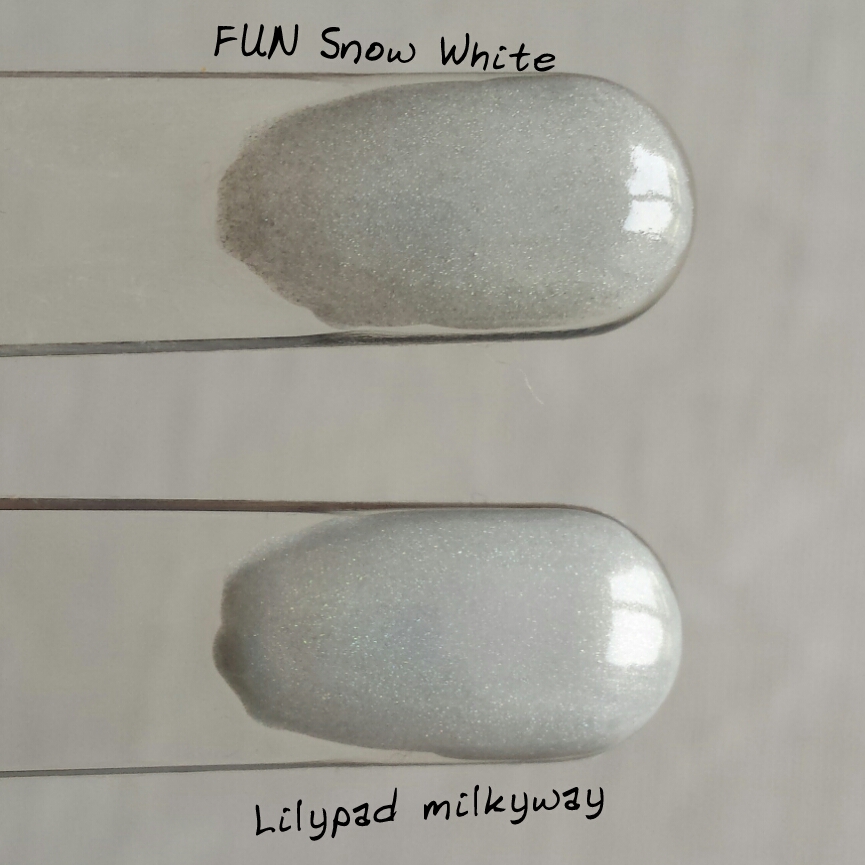 Enfin, une rapide comparaison entre le Lilypad et le
fun lacquer Snow white
. Il est vraiment très gris à coté du Lilypad.
Then, a quick comparison between Lilypad and the
fun lacquer Snow white
. It's really gray next to the Lilypad.
Bilan
Voilà, moi je voterais donc le Carpe Noctem Cosmetics Scuttle ou Lilypad in the milkyway pour le blanc holo le plus proche de nos désirs :) Et vous lequel préférez vous ?
So, I vote rather for Carpe Noctem Cosmetics Scuttle or Lilypad in the milkyway the the closest white holo of our desire :) What about you, which one do you prefer ?
Schette, le 27 janvier 2016
Vous pourriez aussi aimer / You can also like :

Les Vernis Carpe Noctem Calyspo et Don't panic

Carpe Noctem Midnight Madness, Raspberry Berret

Carpe Noctem Olaf

Carpe Noctem Custom Duo FIL

Carpe Noctem Cosmetics - Under a Glass Moon

Carpe Noctem Cosmetics & Octopus Party Nail Lacquer - Adoption Duo

Carpe Noctem Cosmetics - A Schette by any other name

Carpe Noctem Cosmetics - The Nordic Collection

Carpe Noctem Cosmetics - In the grotto - Part 1/3

Carpe Noctem Cosmetics - In the grotto - Part 2/3

Carpe Noctem Cosmetics - In the grotto - Part 3/3

Carpe Noctem Cosmetics - DivaD in Diamonds - Pro Amico

Carpe Noctem Cosmetics - The Always Greener Collection

Carpe Noctem Cosmetics - Icy Abyss, Port of Fire, Darkest before dawn

Carpe Noctem Cosmetics - Duos for Duo

Carpe Noctem Cosmetics - Clear skies, Don't panic

Carpe Noctem Cosmetics - Read or Die Collection

Carpe Noctem Cosmetics - Tanzanite Sky

Carpe Noctem Cosmetics - Intergalactic Salmon

Carpe Noctem Cosmetics - Empty night

Carpe Noctem Cosmetics - Beyond the clouds

Carpe Noctem Cosmetics - Nojiko

Carpe Noctem Cosmetics - Midnight Mayhem, Wine about it

Carpe Noctem Cosmetics - I come from the forest, Bad faerie

Carpe Noctem Cosmetics - Coin Coin

Carpe Noctem Cosmetics - Peacock Pimples

Carpe Noctem Cosmetics - Cancer Fucking Sucks

Carpe Noctem Cosmetics - Miss Strange

Carpe Noctem Cosmetics - I come from the Forest - Part 1

Carpe Noctem Cosmetics - I come from the Forest - Part 2

Carpe Noctem Cosmetics : Paint Uranus Pink

Carpe noctem Cosmetic : Man in white

Carpe Noctem Cosmetics : Mon doudou

Carpe Noctem Cosmetics : Bad Faerie Comparison

Custom Collection : It Finally Happened

Carpe Noctem Cosmetics : Fireside songs

Carpe Noctem Cosmetics : The Inspiration Collection

White holographic polish comparison

Carpe Noctem Cosmetics : The Inner Superheroine

Carpe Noctem Cosmetics ; Nous sommes deux soeurs jumelles, Un merci très special

Carpe Noctem Cosmetics : Treat Yo Self

Carpe Noctem Cosmetics : Midnights Comparisons

Carpe Noctem Cosmetics : Beauty in her fight

Carpe Noctem Cosmetics : I Wish You the Berry best!

Carpe Noctem Cosmetics : Debogram

Carpe Noctem Cosmetics : Haileys Comet

Carpe Noctem Cosmetics : Bad Faerie : Old and new version

Carpe Noctem Cosmetics : Aurora Corealis

Carpe Noctem Cosmetics : My nurse has sparkles

Carpe Noctem Cosmetics - Keep that fire burning

Carpe Noctem Cosmetics - Hunter's Moon

Carpe Noctem Cosmetics - Lakeside Reflection

La Holo Grail Box d'Octobre 2014

Too Fancy Lacquer Thank you (custom)

Too Fancy Lacquer - Can you hear the people sing

La Holo Grail Box de Novembre 2014

Too Fancy Lacquer - It's Christmas Collection

La Holo Grail Box de Décembre 2014

La Holo Grail Box de Juillet 2014

La Holo Grail Box de Janvier 2015

La Holo Grail Box de Mars 2015

Too Fancy Lacquer - Hola Sangria

Too Fancy Lacquer - Blue Hawai

Too Fancy Lacquer - Hypnotic Harmonie

Too Fancy Lacquer - Party in the dark

Too Fancy Lacquer - The Glow Within

Too Fancy Lacquer : The Stardust Collection

Too Fancy Lacquer : Cherish the Present (G)

Too Fancy Lacquer : Mint Comparison

Too Fancy Lacquer : Too Sexy for your tips

Too Fancy Lacquer : The oops within

Too Fancy Lacquer : What a girl wants

Too Fancy Lacquer : Pink Comparison

Too Fancy Lacquer : Fidden Strawberry

Too Fancy Lacquer : Sample 4, Sample 12

Too Fancy Lacquer : Red comparison

Custom Collection : It Finally Happened

Too Fancy Lacquer : Purple Iris

White holographic polish comparison

Too Fancy Lacquer : Mon chéri

My Favorite Things : February 2016

Too Fancy Lacquer : Aphrodite Comparison

Holo Grail Box February 2015

My Favorite Things January 2016

Comparison Too Fancy Lacquer Sea ya / Lilypad Lacquer Neon Ocean Lights

Too Fancy Lacquer - Arthemis

Too Fancy Lacquer - Helios

Too Fancy Lacquer - Here Here, w're 2 !

Too Fancy Lacquer - Set fire to the rain

Le Vernis Lilypad Lacquer Good girl gone bad

Les Vernis Lilypad Lacquer Blueberry Sundae, Grape Sundae, Strawberry Sundae and Raspberry Sundae

Les Vernis Lilypad Lacquer Lemon Sundae, Orange Sundae, Lime Sundae and Spearmint Sundae

Lilypad Lacquer - Paradise

Lilypad Lacquer - Hypnotic Polish Exclusive : Purple Velvet, Bronze Goddess, Envy me

Lilypad Lacquer - Purple Diamonds

La What's in-die Box d'Octobre 2014

Lilypad Lacquer - Singapour Skyline, Summer never ends - BSF Exclusives

Lilypad Lacquer - Chilli Crab, Clean and Green - BSF Exclusives

Lilypad Lacquer - National Beauty, Durian Dreamin'

Lilypad Lacquer - Emerald Diamonds, Navy Diamonds

Lilypad Lacquer - Lilac Diamonds, Plum Diamonds

Lilypad Lacquer - Gray Diamonds, Marvellous Magenta

Lilypad Lacquer - Opal Minding

Lilypad Lacquer - Malefique

La Holo Grail Box de Novembre 2014

La Holo Grail Box de Janvier 2015

Lilypad Lacquer - Bright Eyes

Lilypad Lacquer - Oceanic, Silver Sauce

La Holo Grail Box de Mars 2015

Lilypad Lacquer - Fire Storm

Lilypad Lacquer - Violet Moon

Lilypad Lacquer - In the Buff

Lilypad Lacquer - Soft as Silk

Lilypad Lacquer - Sweet Spirit

Lilypad Lacquer - Lunar Berry

Lilypad Lacquer - Dream Weaver

Lilypad Lacquer - Duo French

Lilypad Lacquer - Morning Glory

Lilypad Lacquer : Precious

Lilypad Lacquer : Sherbet Sprinkles, Lime Zinger

Lilypad Lacquer : Mango Buzz, Berry Blast, Bubblegum fizz, Tarty tangerine

Lilypad Lacquer : Rainbow Connection Exclusive Part 1

Lilypad Lacquer : Rainbow Connection Exclusive Part 2

Lilypad Lacquer : Pretty Boy, Pretty Girl

Lilypad Lacquer : Neon Ocean Lights

Lilypad Lacquer : Fire Fire

Lilypad Lacquer : Rebel at heart

Custom Collection : It Finally Happened

Lilypad Lacquer : Saint and Sinner Duo

Paint the Rainbox Box - October 2015

Lilypad Lacquer : Comparison Blood Bank, True Blood, Life on the dark side

White holographic polish comparison

Lilypad Lacquer : The blush collection

Lilypad Lacquer : Xanadu

Lilypad Lacquer : The Nude and Neutral Collection Part 1

Lilypad Lacquer : The Nude and Neutral Collection Part 2

My Favorite Things January 2016

What's Indie Box - March 2016 - Doctor Who

Holo Grail Box June 2014

Comparison Lilypad Lacquer My enchantmint / Tealing me solftly / Minty

Lilypad Lacquer : Sweet Rewards Collection

Lilypad Lacquer: Mudpie

Lilypad Lacquer: Queen Of Halloween

Lilypad Lacquer: When Love comes to Town

Lilypad Lacquer: Nero

Lilypad Lacquer: Gradient Nero with When Love comes to town

Lilypad Lacquer - Magnifique

Lilypad Lacquer - Peita's Potion

Lilypad Lacquer - Eternal

Lilypad Lacquer - Throb

Lilypad Lacquer - I got blues babe

Lilypad Lacquer - Life on the dark side

Lilypad Lacquer - Kiss Kiss

Lilypad Lacquer - Bon Bon

Lilypad Lacquer - Dreams come true

Lilypad Lacquer - Magic at Midnight

Lilypad Lacquer - Jumping for joy

Lilypad Lacquer - Evil Sprit

Lilypad Lacquer - Proto 2016 02

Lilypad Lacquer - Berry Merry Christmas

Lilypad Lacquer - Seasons Greetings

Lilypad Lacquer - Candy Cane

Lilypad Lacquer - Supernatural

Lilypad Lacquer - Plum Pudding

Lilypad Lacquer - Spooktacular

Lilypad Lacquer - Wintery Bliss

Lilypad Lacquer - Brillant

Lilypad Lacquer - Deep Green Sea

Lilypad Lacquer - Euphoria

Lilypad Lacquer - Good Vibrations

Lilypad Lacquer - Be my pirate

Lilypad Lacquer - Space Whisperer

Lilypad Lacquer - Protoype 2016 1

Lilypad Lacquer - Mintopia

Lilypad Lacquer - Violet Blaze

Les Vernis Pretty Jelly Ginkgo, Beech, Mapple et Dogwood

Les Vernis Pretty Jelly Brocade, Velvet et Embroidery

Pretty Jelly : Back to school brights

Pretty Jelly : Lolly girl, Twenty five

Pretty Jelly : Nausicaä

White holographic polish comparison

Pretty Jelly : More tea, Uncommon nonsense, Which way ?, Curiouser and curiouser

Pretty Jelly - Whirlpool

Pretty Jelly - Messier

Pretty Jelly - Olive for Drama

Pretty Jelly - Crystal Cove

Glittering Elements Angelica, Magical Mystical Love

Glittering Elements - Beyong the horizon

Glittering Elements - Bella, Lilee, Electick Blossom

Glittering Elements - Enchanted Lagoon

Glittering Elements : November Box

Glittering Elements : Ocean Fling, Mermaid Spell, Mystic Midas, Sunny Oz

White holographic polish comparison

Glittering Elements : Vintage Rose, OJ Fizzle, King Triton, Desert Beauty

Glittering Elements - The Unknown

Glittering Elements - Cherry Bomb

Glittering Elements - Mistletoe Kisses

Glittering Elements - Doppelgänger

Glittering Elements - Lazy violet

Glittering Elements - Enchanted Wood

Glittering Elements - Love

Glittering Elements - Dream

Glittering Elements - Believe

Glittering Elements - Unicorn Disco

Glittering Elements - Toxic Molly

Glittering Elements - Countess

Glittering Elements - Poison Berry

Glittering Elements - Mystic Sea Queen

Glittering Elements - Wolfsbane

Glittering Elements - Necromancy

Glittering Elements - To infinity

Glittering Elements - Moonlight shadow

Glittering Elements - Turn it off (old version)

Glittering Elements - Glacier

Glittering Elements - Turn it off









---

comments powered by