Carpe Noctem Cosmetics - The Always Greener Collection
Vous pourrez trouver cette marque sur la
boutique
.
You can find this brand on the
shop
.
PRESS SAMPLE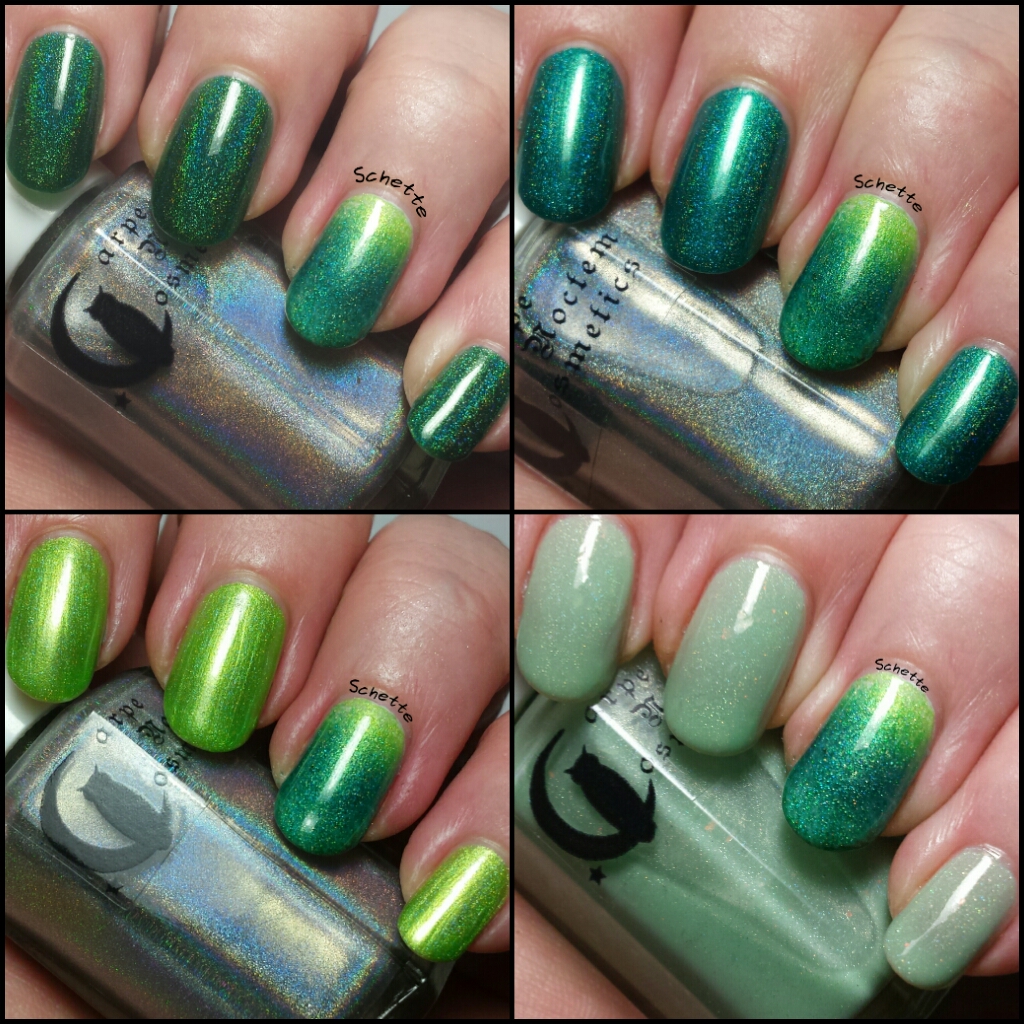 La collection se compose de 4 vernis dans les tons verts. J'ai utilisé les 4 vernis afin de réaliser un gradient avec eux sur mon annulaire.
The collection is made of 4 polish in green tones. I used the 4 to realize a gradient on my ring finger.
Sweet Escapemint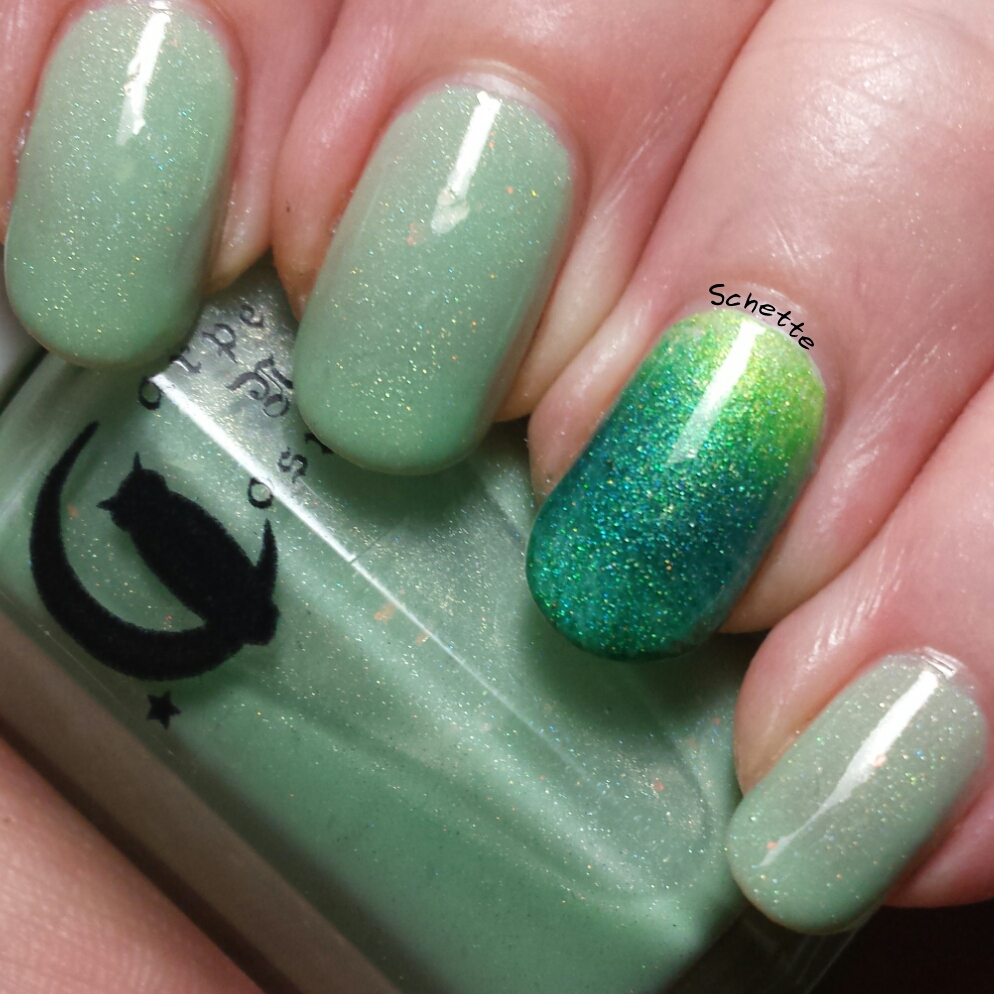 Ce petit a commencé comme mon custom pour ma collection One Piece. Emily m'a demandé pour l'intégrer à sa collection vu que j'était d'accord pour le partager :) C'est un vert amande avec des flakies dorées. Il est ici posé en trois couches sans top coat.
This one started as my custom for my One Piece collection. Emily asked me to integrate it to her collection, and I was ok to share :) This is a mint green with golden flakies. Here worn in 3 coats without top coat.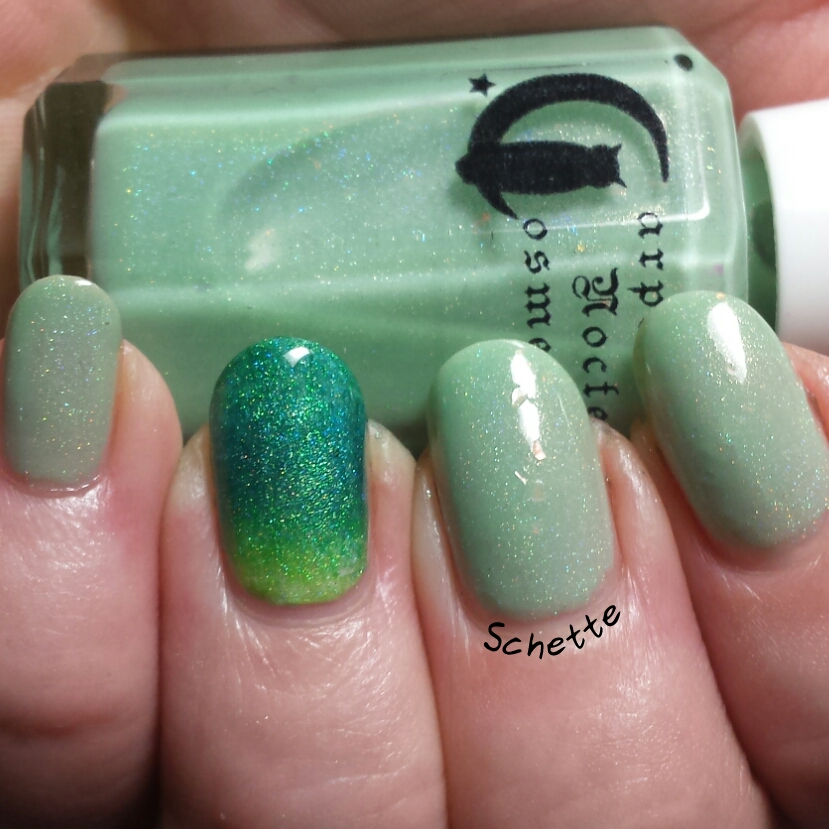 Losing Lime
Losing Lime fait battre mon coeur, cette teinte de vert pomme est tout à fait à mon gout. Posé en deux couches plus top coat, son coté perlé a tendance à laisser apparaitre les coups de pinceau, mais je m'en fous, je l'aime c'est tout.
Losing Lime made my heart beats, this green apple tone is exactly what I love. Worn in two coats plus top coat, his pearl finish might show the last brush passage, but I don't care, I love him and that's it.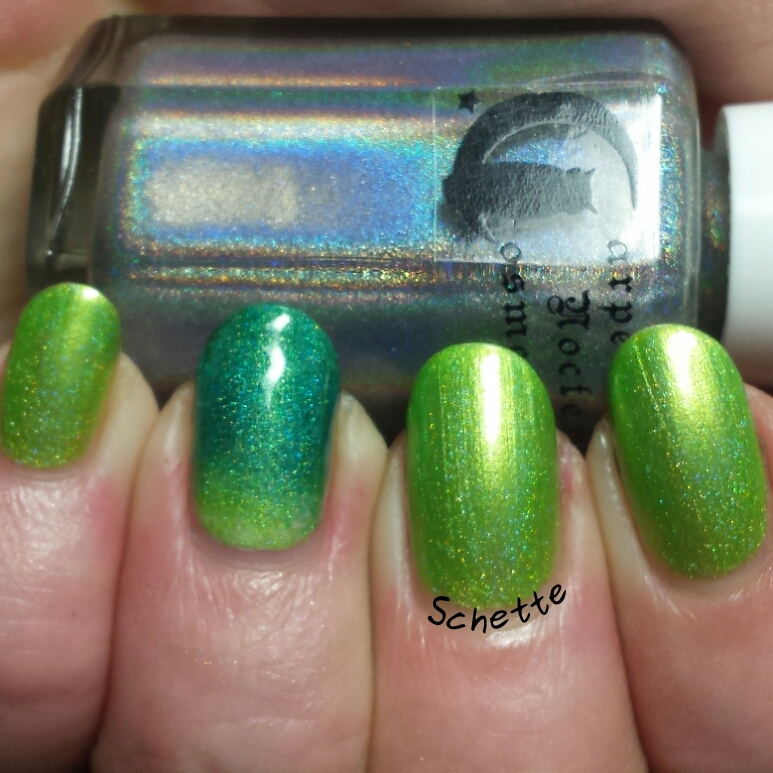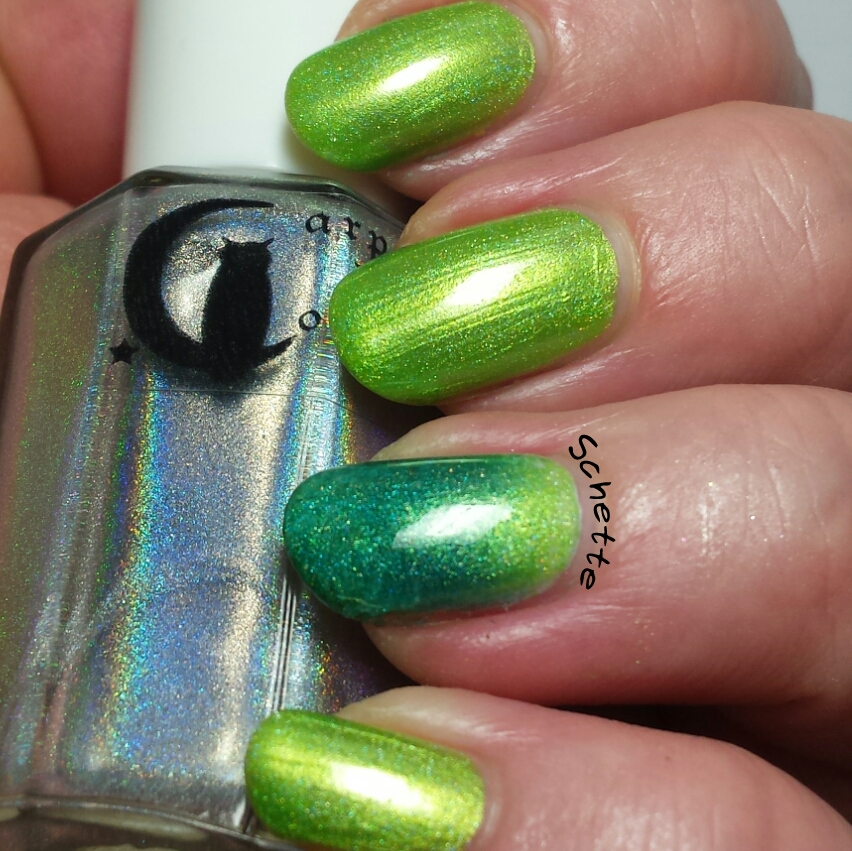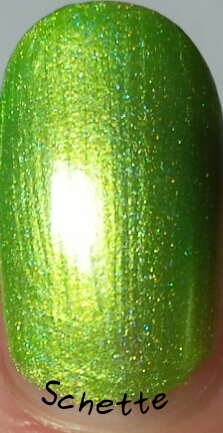 Teal the deal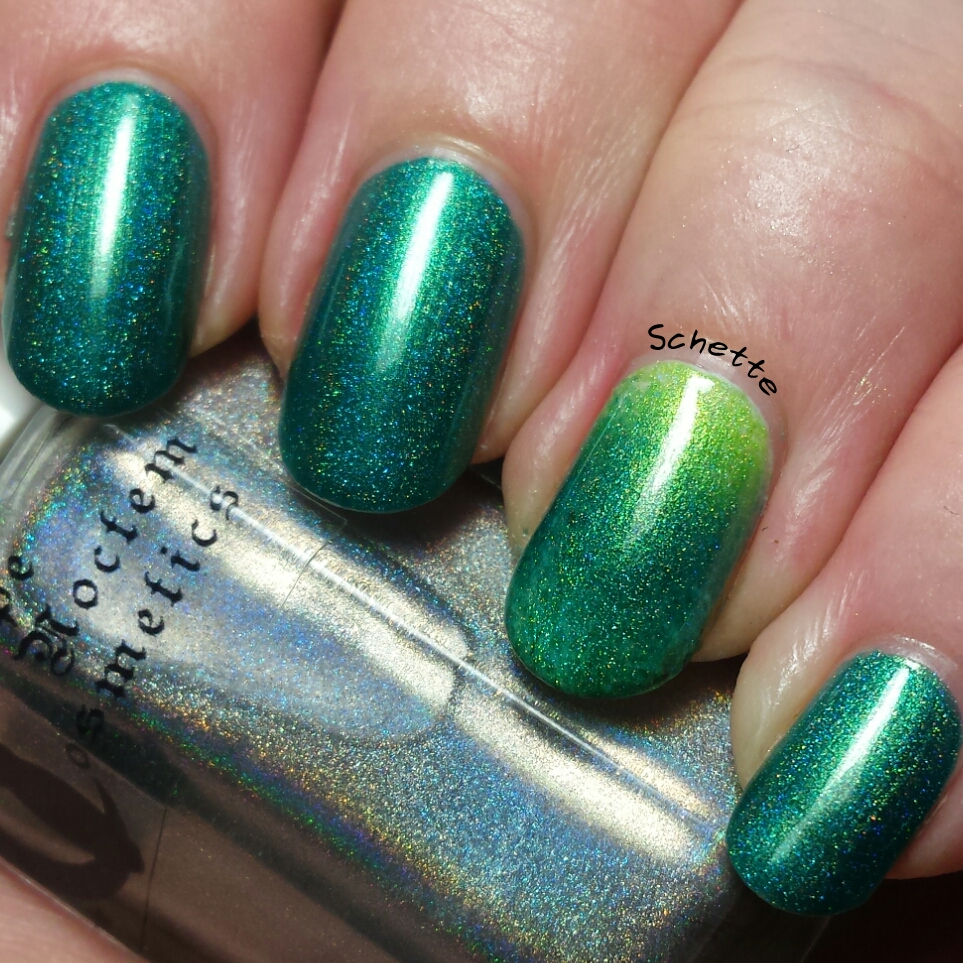 Je pense que lui, c'est mon préféré tout de même. C'est un magnifique turquoise avec un flash vert. Je le trouve vraiment somptueux. En deux couches, sans top coat.
I think that's my favorite of the collection. This is a wonderfull teal with a green flash. I really really enjoy it. Worn in two coats, without top coat.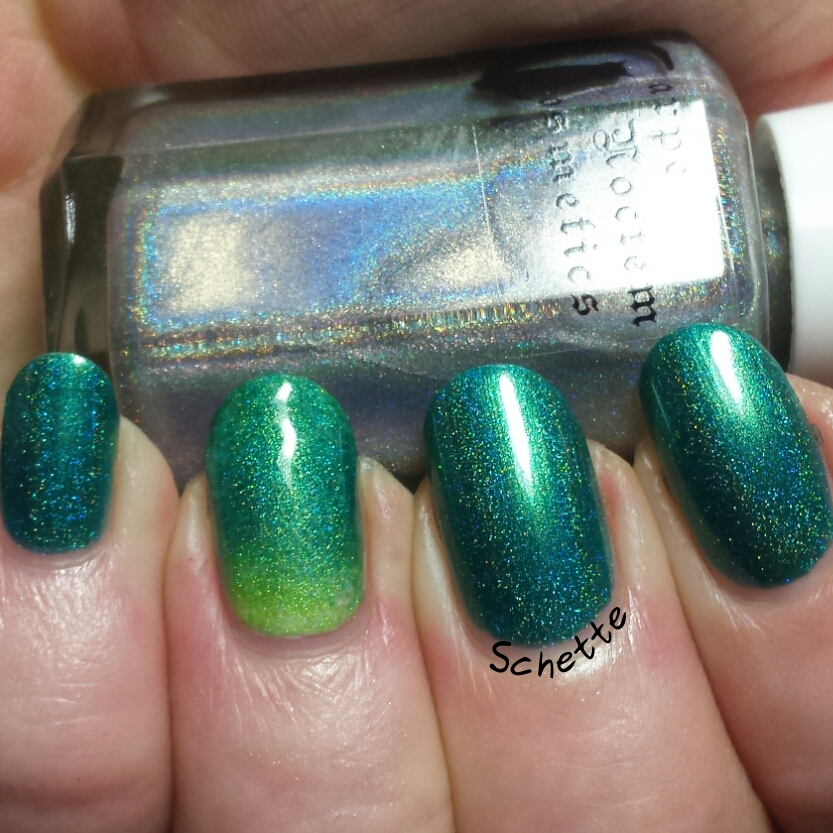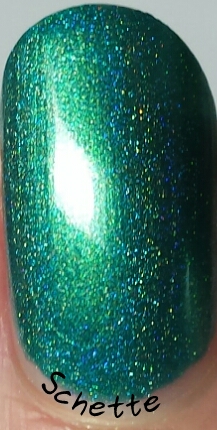 [Insert Emerald Pun here]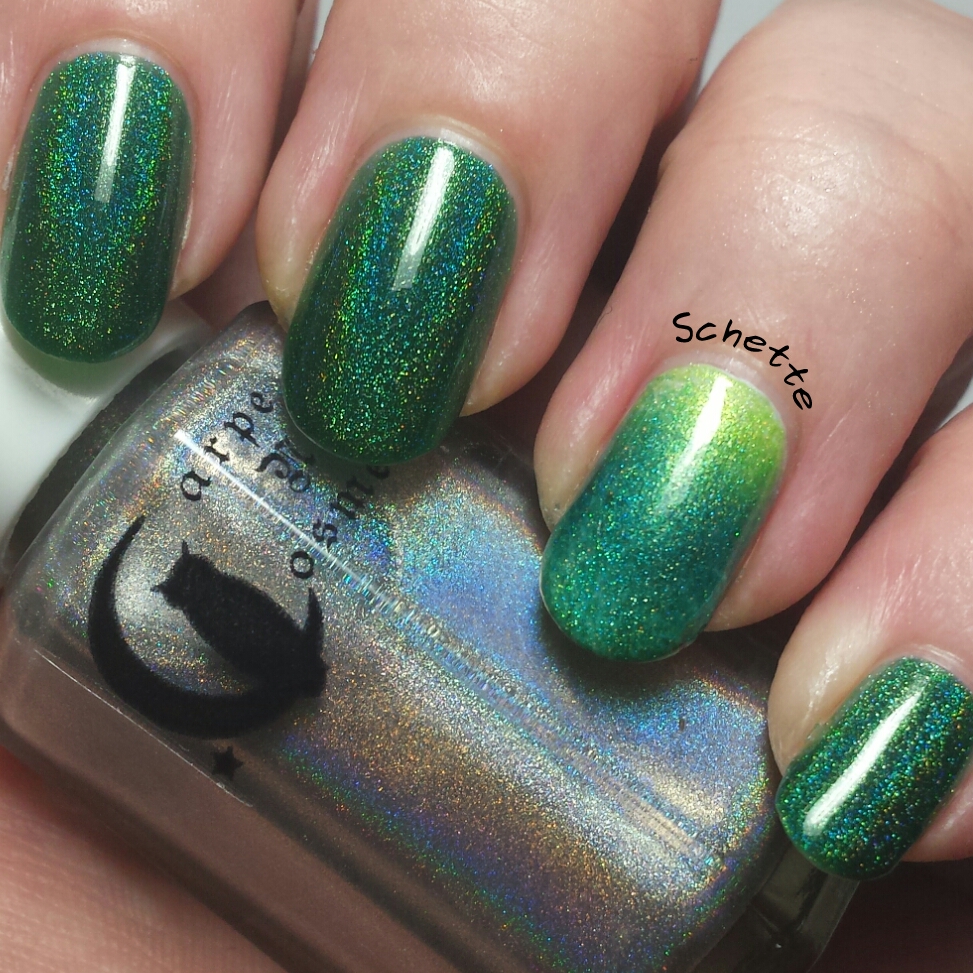 Le dernier est un vert émeraude supra holo. La formule est géniale, il s'applique comme du beurre ! Ici en deux couches, sans top coat.
The last one is a green Emerald supra holo. The formula is awesome, it goes like butter ! Here in two coats, without top coat.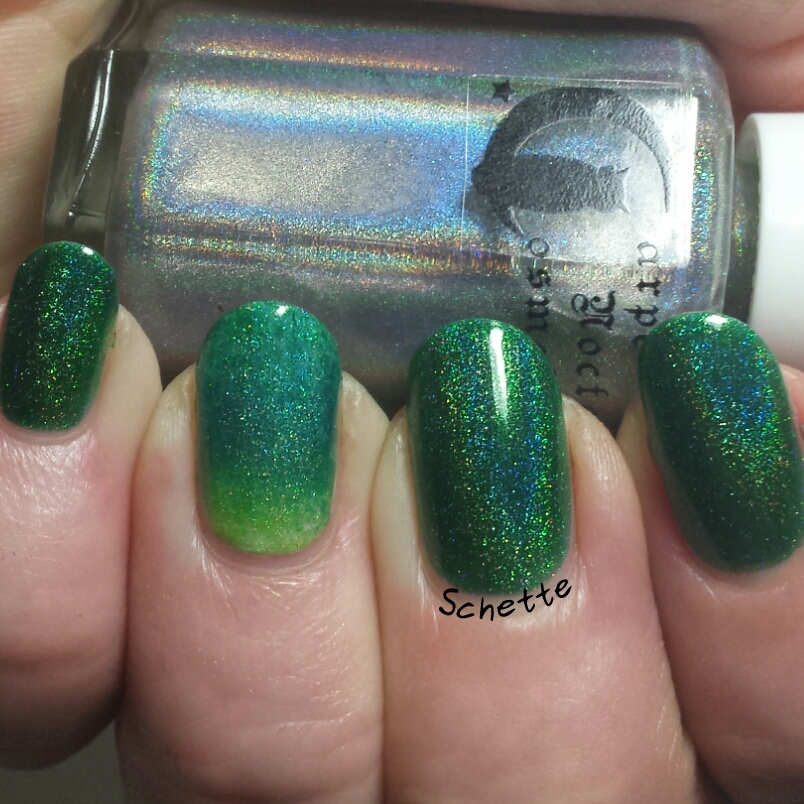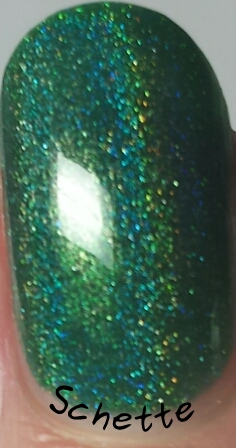 Bilan
J'adore tout simplement cette collection. Les couleurs sont à tomber, la formule magique, et les 4 couleurs se marient à la perfection. Vous pourrez voir un stamping que j'ai fait avec eux
ici
Vous pouvez toujours rejoindre le
groupe de fans Carpe Noctem
.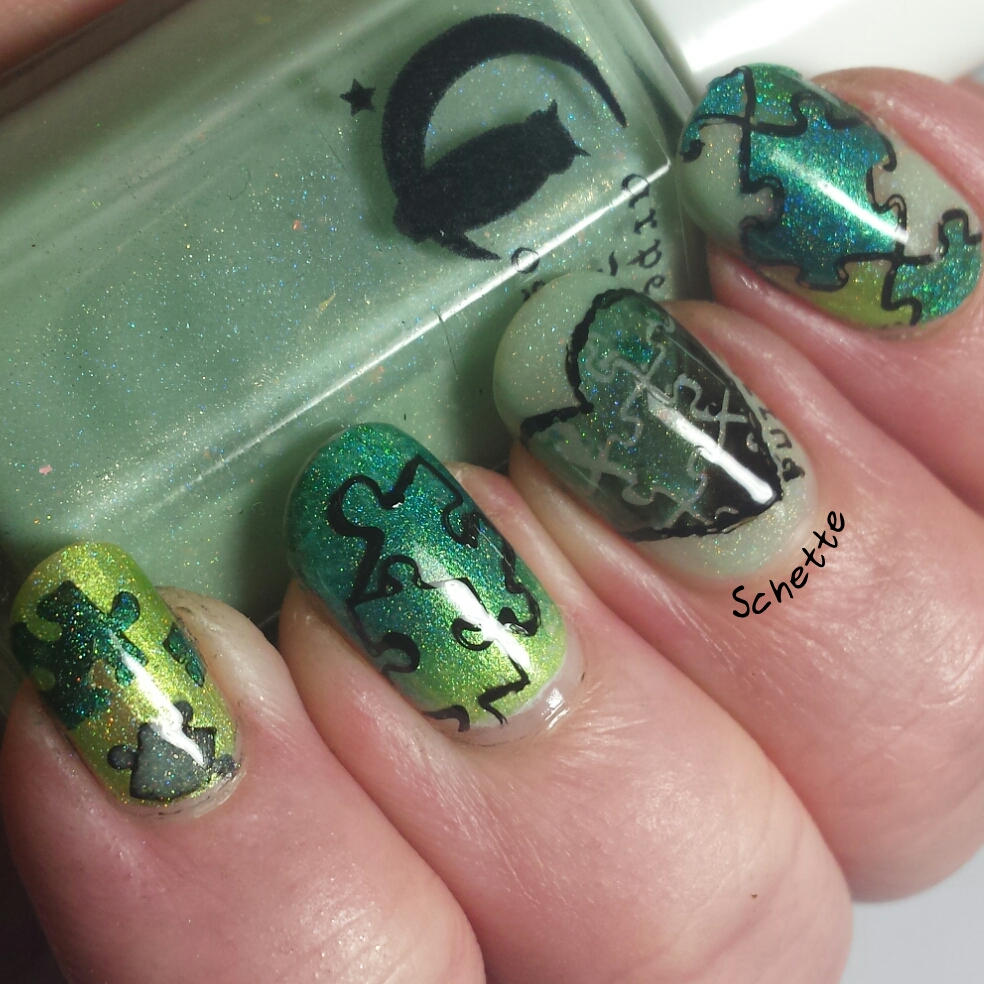 I simply love this collection. The colors are to die for, the formula magical and the 4 colors go together to the perfection. You can see a stamping that I made with them :
ici
You can join the
fan group Carpe Noctem
Schette, le 11 février 2015
Vous pourriez aussi aimer / You can also like :