Moyou London - Games Collection 05
Vous pourrez trouver cette marque sur la
boutique
.
You can find this brand on the shop .


PERSONAL PURCHASE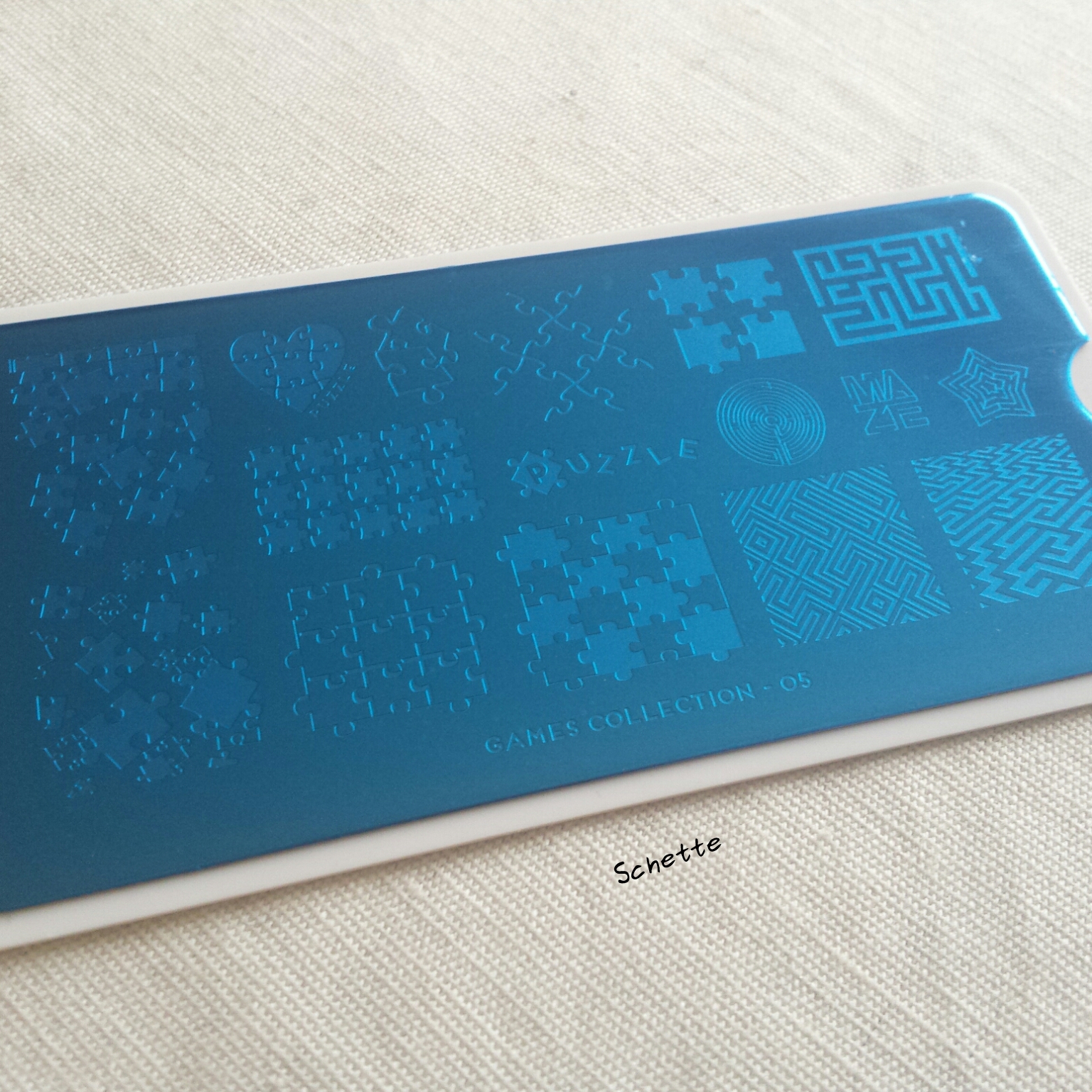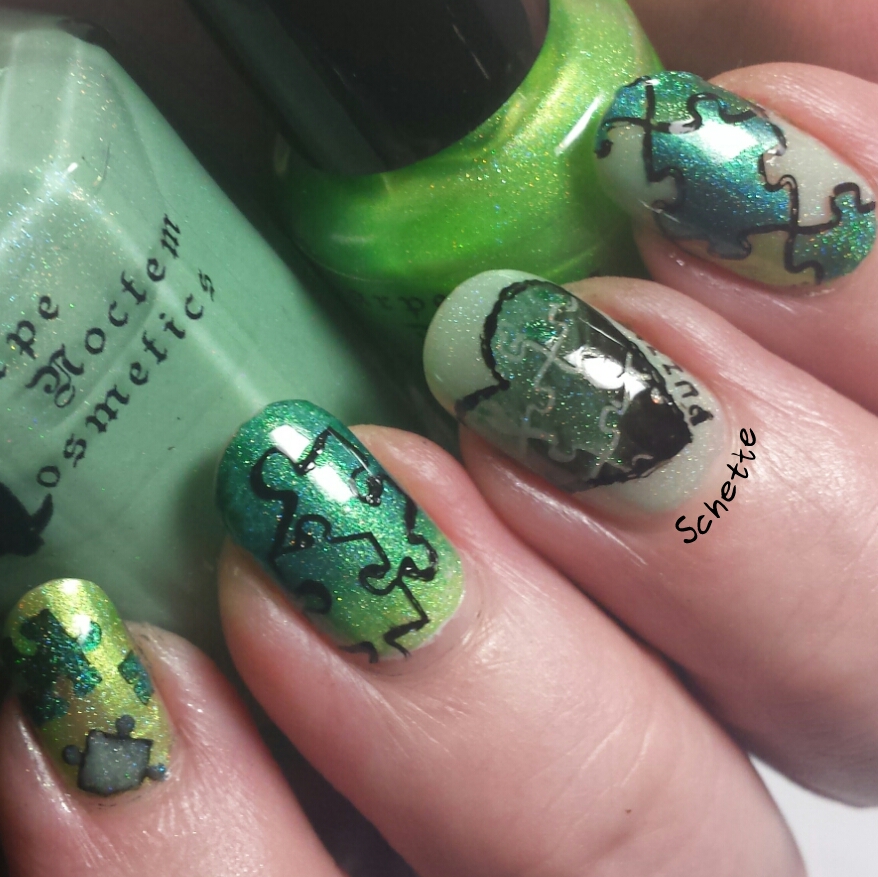 Cette plaque est une de mes préférées parce que j'adore le motif "morceau de puzzle", c'est comme ça, ca ne s'explique pas :D
This plate is one of my favorite because I love the design "piece of puzzle", that it, that do not have any other explanations :D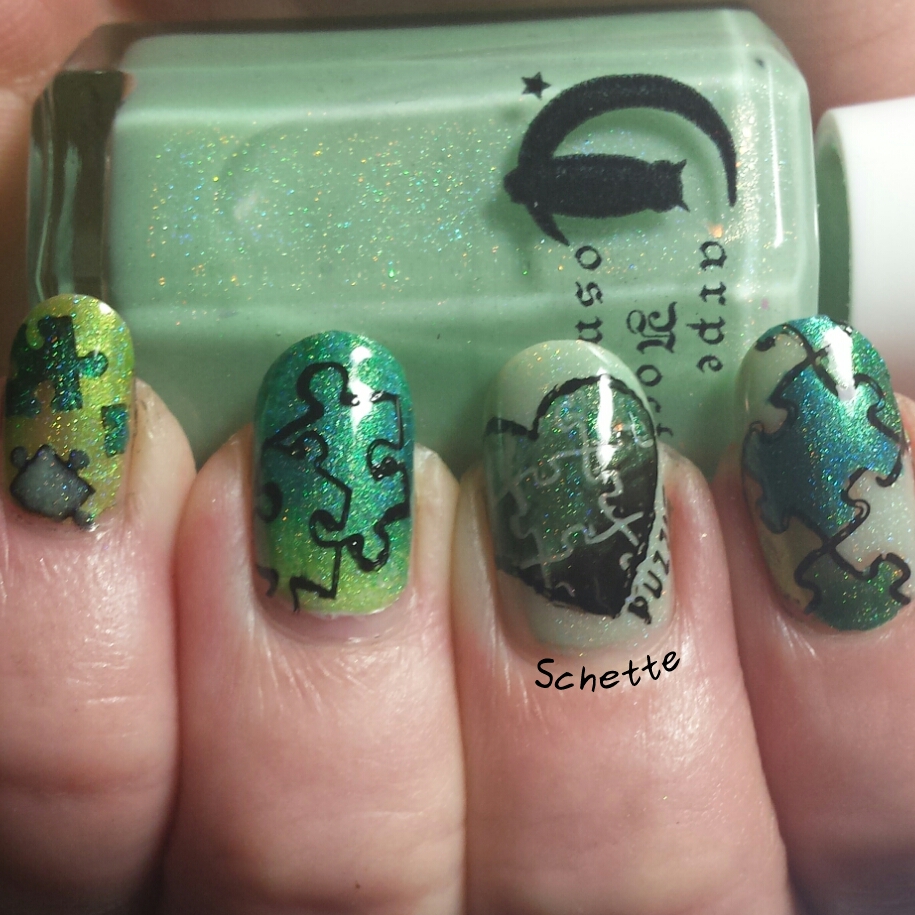 Pour faire cette manucure, j'ai utilisé la nouvelle collection "Always Greener" de Carpe Noctem Cosmetics qui sort le 21 février, ainsi qu'un vernis à stamping noir et la plaque Moyou Game collection 05
To do this mani, I used the polish from the new collection "Always Greener" from Carpe Noctem Cosmetics which will be released on February 21th, a black stamping polish and the Moyou Plate Game collection 05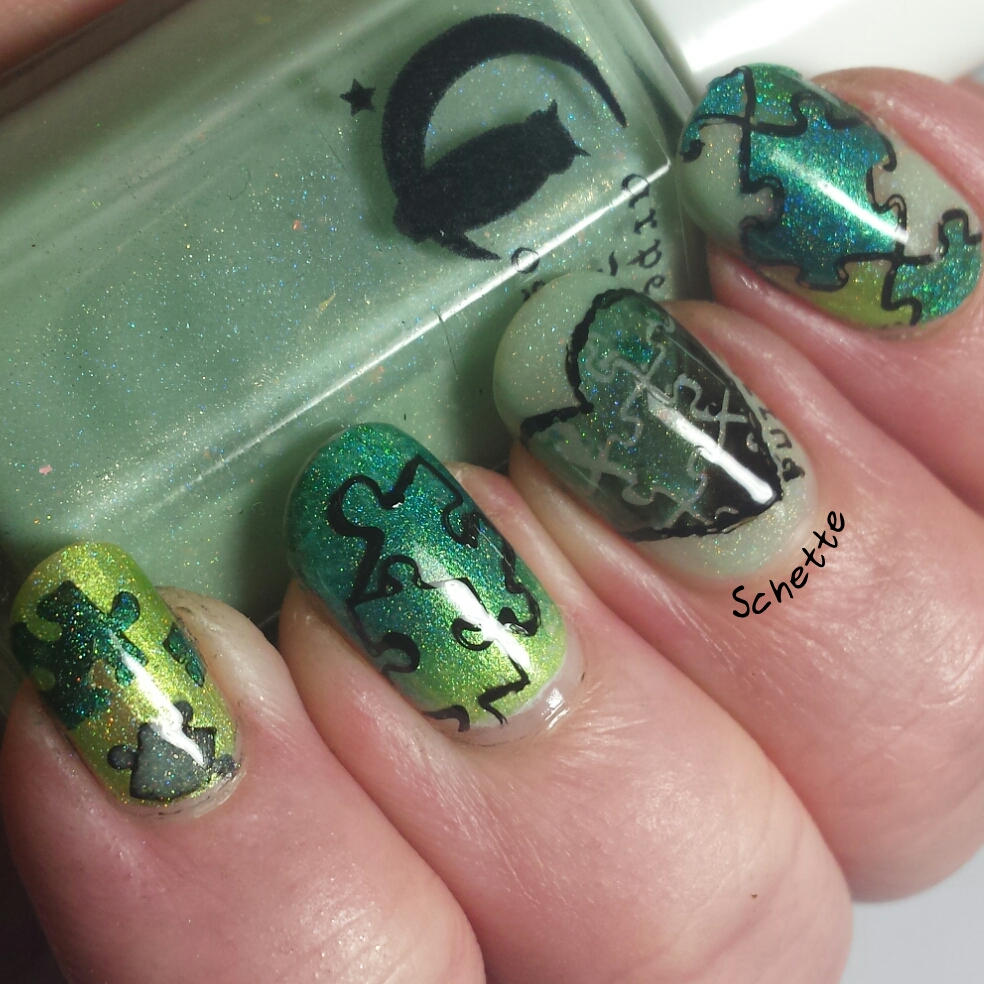 Pour l'index, j'ai fait un reverse stamping : J'ai stampé mon motif sur mon stamper et je l'ai laissé là. J'ai colorié avec mes 4 couleurs, j'ai attendu que ca sèche et j'ai recouvert de top coat, j'ai à nouveau attendu que ça sèche et j'ai "stampé" le motif. Il n'y avait plus qu'à découper aux contours de l'ongle.
For the pointer I made a reverse stamping : I stamped the desing on my stamper and let it here. I put the 4 colors on the design and I wait for it to be dry. I apply top coat on it, and wait again that all be dry then I "stamped" the design. I only had to cut arround my nail.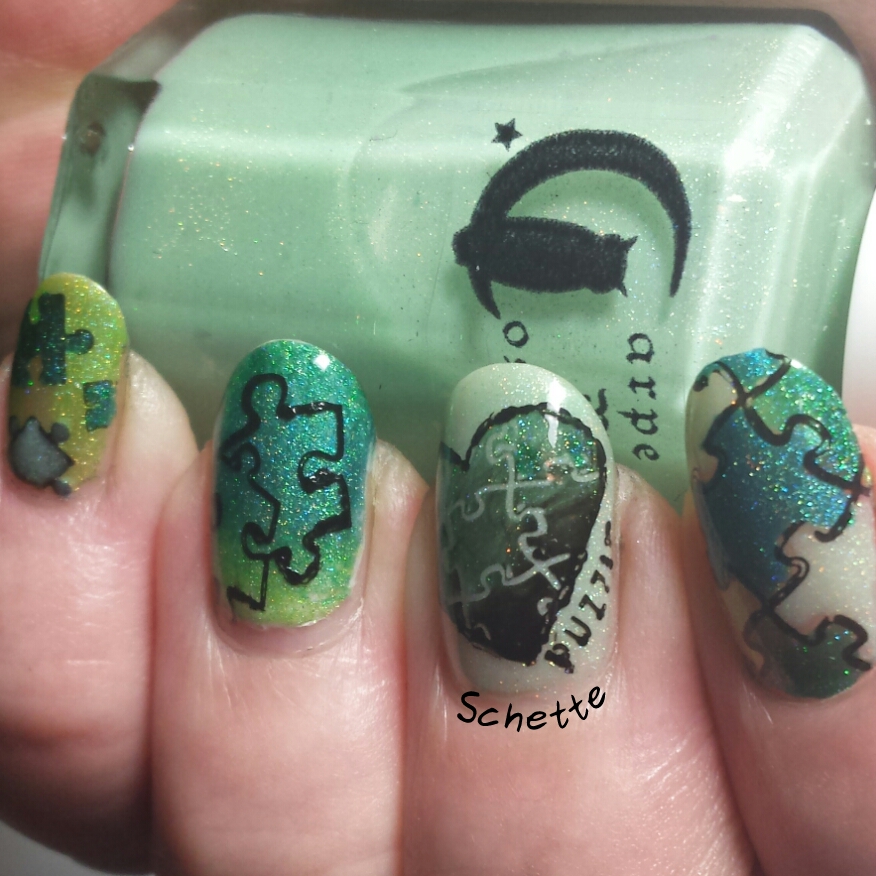 Mon majeur a pour base "Sweet Escapemint". J'ai ensuite pris "[Insert Emerald Pun here]" et j'ai fait un "dégradé" directement sur la plaque de stamping en mettant une goutte accompagnée d'une goutte de noire et je les ai mélangés. J'ai ensuite stampé normalement et refait un contour noir pour plus de contraste.
My big finger has "Sweet Escapemint" as base. Then I used "[Insert Emerald Pun here]" and made a gradiant directly on the stamping plate using a drop of it plus a drop of black that I melt. I stamped normaly and draw the contour to add contrast.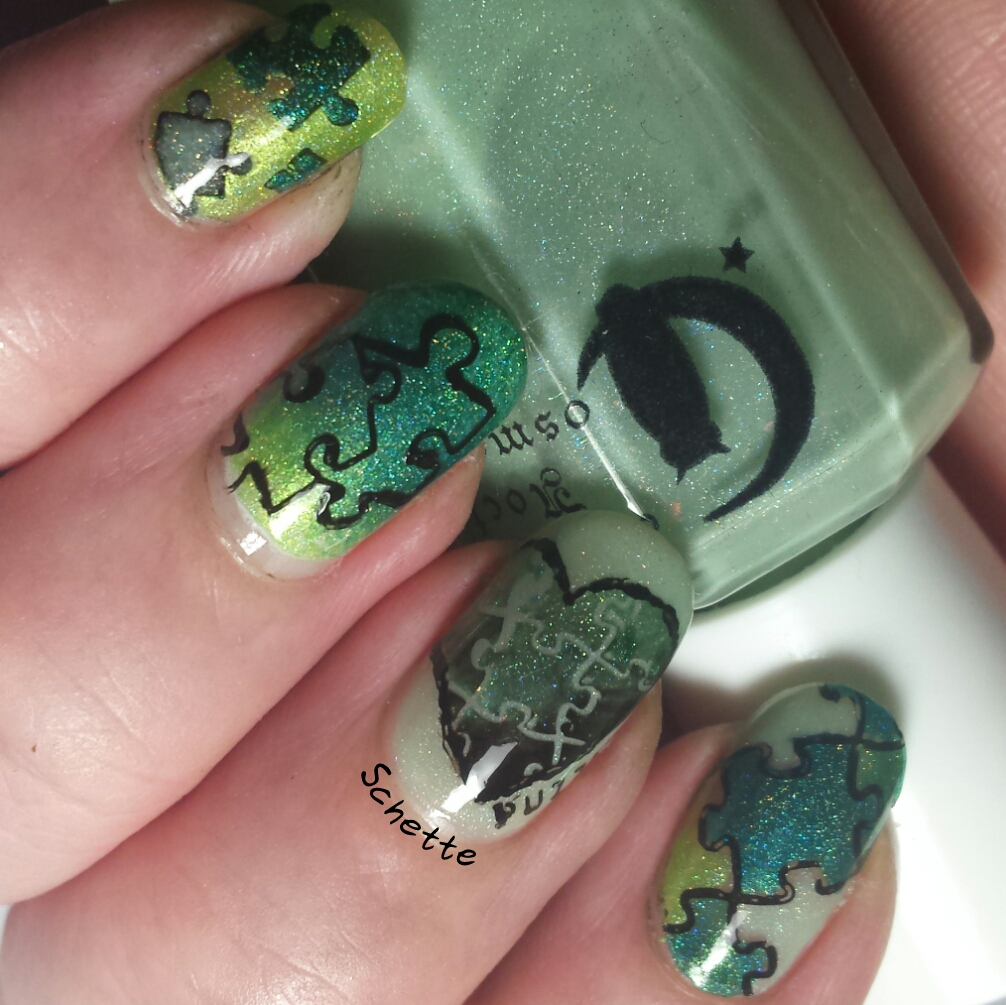 Sur mon annuaire, j'ai fait un dégradé avec les 4 verts. J'ai posé une base blanche que j'ai top coaté. Une fois bien sec, j'ai mis 4 lignes de chaque couleur sur une éponge, j'ai enlevé le surplus sur un sopalin, et j'ai déposé de la matière. J'ai recommencé 4 fois pour avoir cette intensité de couleur.
On my ring finger, I made a gradiant with the 4 greens. I used a white base and I top coated. Once this was very dry, I put the 4 greens on a sponge, i remove the extra thanks to a tissue (by 'stamping'), and I "stamped" on my nail. I did this 4 times to achieve this opacity.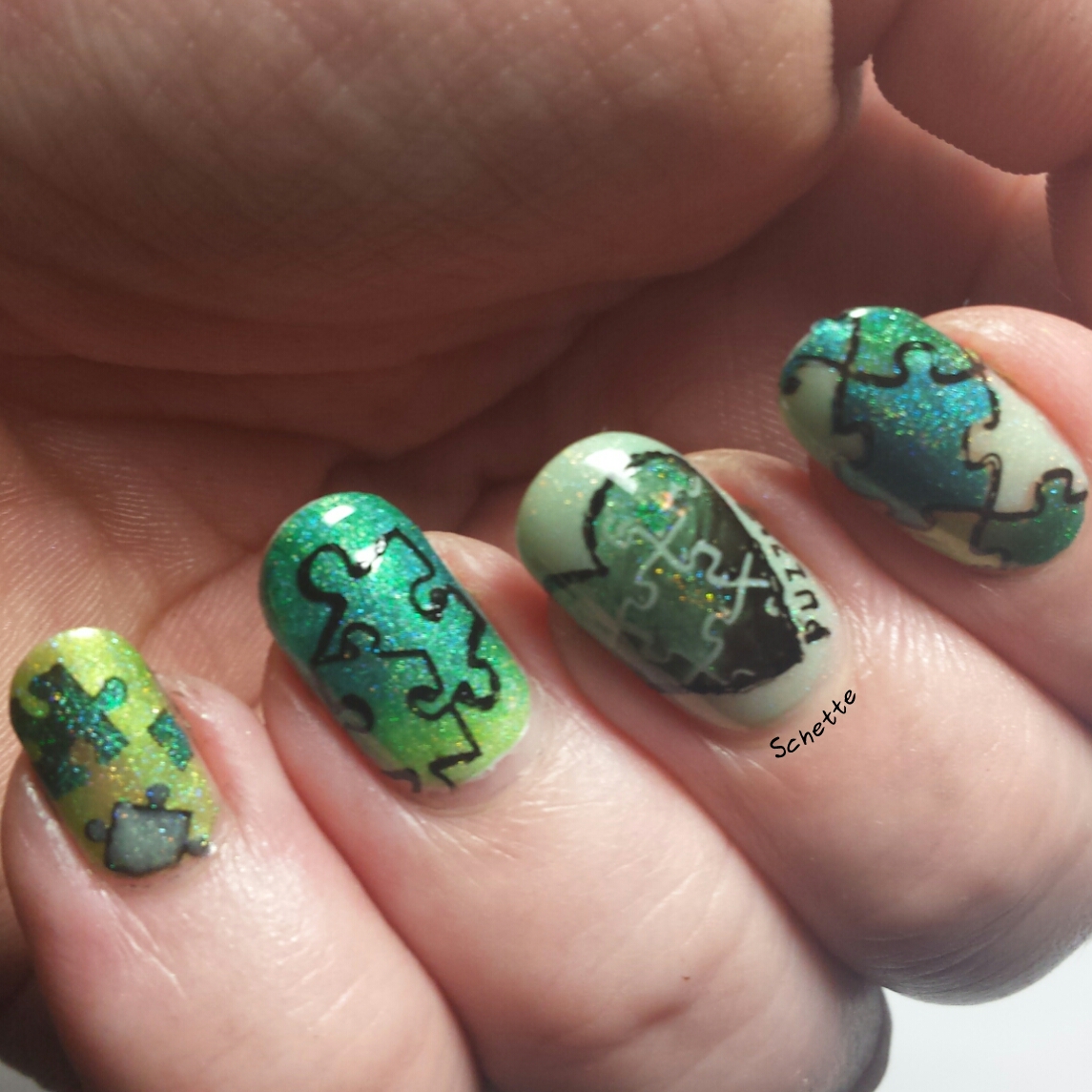 Pour le petit derniere, j'ai utilisé "Losing Lime" comme base. J'ai stampé un motif plein en noir. Ensuite, j'ai colorié les pieces, en utilisant les 3 autres couleurs, mais en essayant de garder une très légère ligne noir pour faire les contours.
For the last one, I used "Losing Lime" as base. I stamped a full design in black. Then using a blush I paint inside the pieces, using the 3 others colors, but taking care to let a slight black line as border.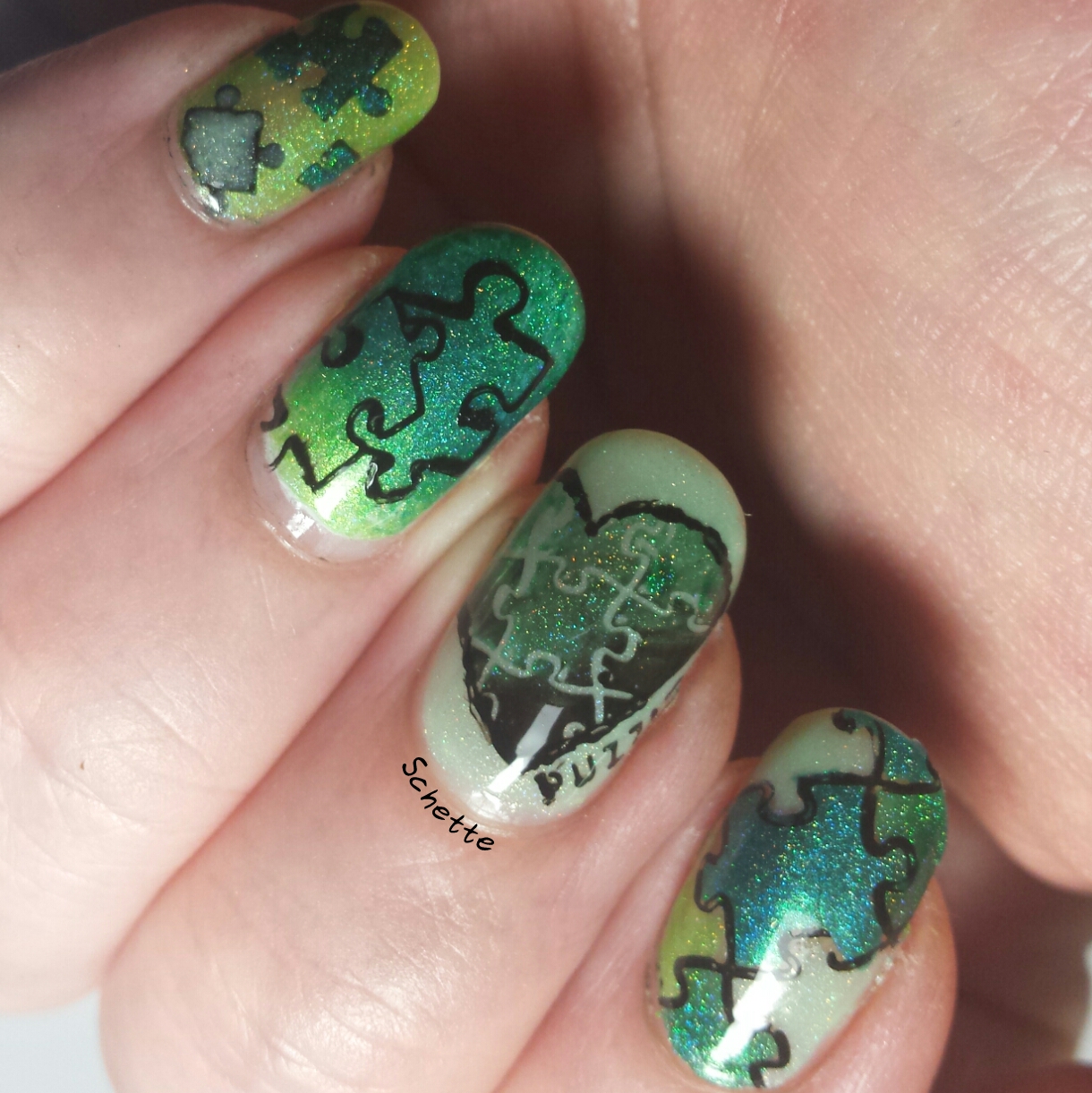 Bilan
C'était ma première manucure stampée un peu élaborée, alors j'en suis très fière ! Et vous, qu'en pensez vous ?
This was my first mani stamped a little difficult to made, so I'm very proud of it ! What about you, what do you think ?
Schette, le 11 février 2015
Vous pourriez aussi aimer / You can also like :