Messy Mansion : Medium Stamper and MM44 plate
Vous pourrez trouver cette marque sur la
boutique
.
You can find this brand on the
shop
.
PERSONAL PURCHASE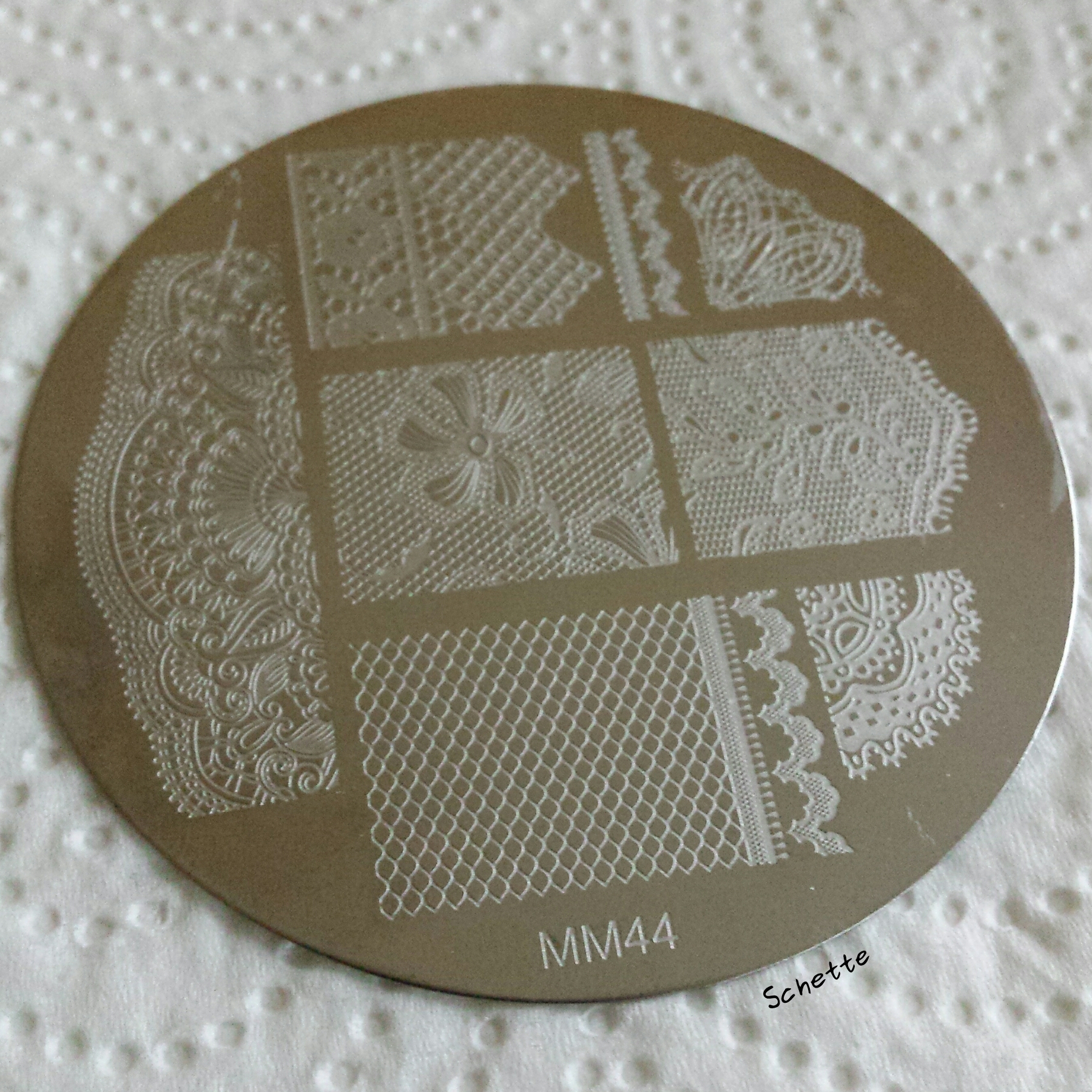 Lors de mon premier achat chez Messy Mansion, j'ai pris cette plaque MM44 qui me semblait très jolie. Je l'ai payée $7, ce qui est relativement cher pour une seule plaque, donc j'ai vraiment de grands espoirs placés en elle. Les motifs sont magnifiques.
For my first order at Messy Mansion, I chose this plate MM44 which look awesome. I bought it for $7 , which is a bit high for a single plate, so I had big expectations. The designs are really beautiful.
Pour commencer, j'aimerais vous parler du stamper que j'ai acheté en même temps. J'ai payé $8 pour deux stamper "semi-mou", parce que mes ongles sont légèrement incurvés et c'est vrai qu'en général, mon transfert s'arrête sur une ligne droite. Donc j'ai voulu tester ceux ci après une premiere expérience de stamper mou que j'avais trouvé vraiment bien.
To start, I wanted to talk a little bit about the stamper that I bought at the same time. I payd $8 for two "medium soft" stamper, because my nails are a bit incurved and that's true that with regular stamper, the stamping do not stop at the edge of my nails. So I wanted to test this one after trying other silicone stamper that I find awesome.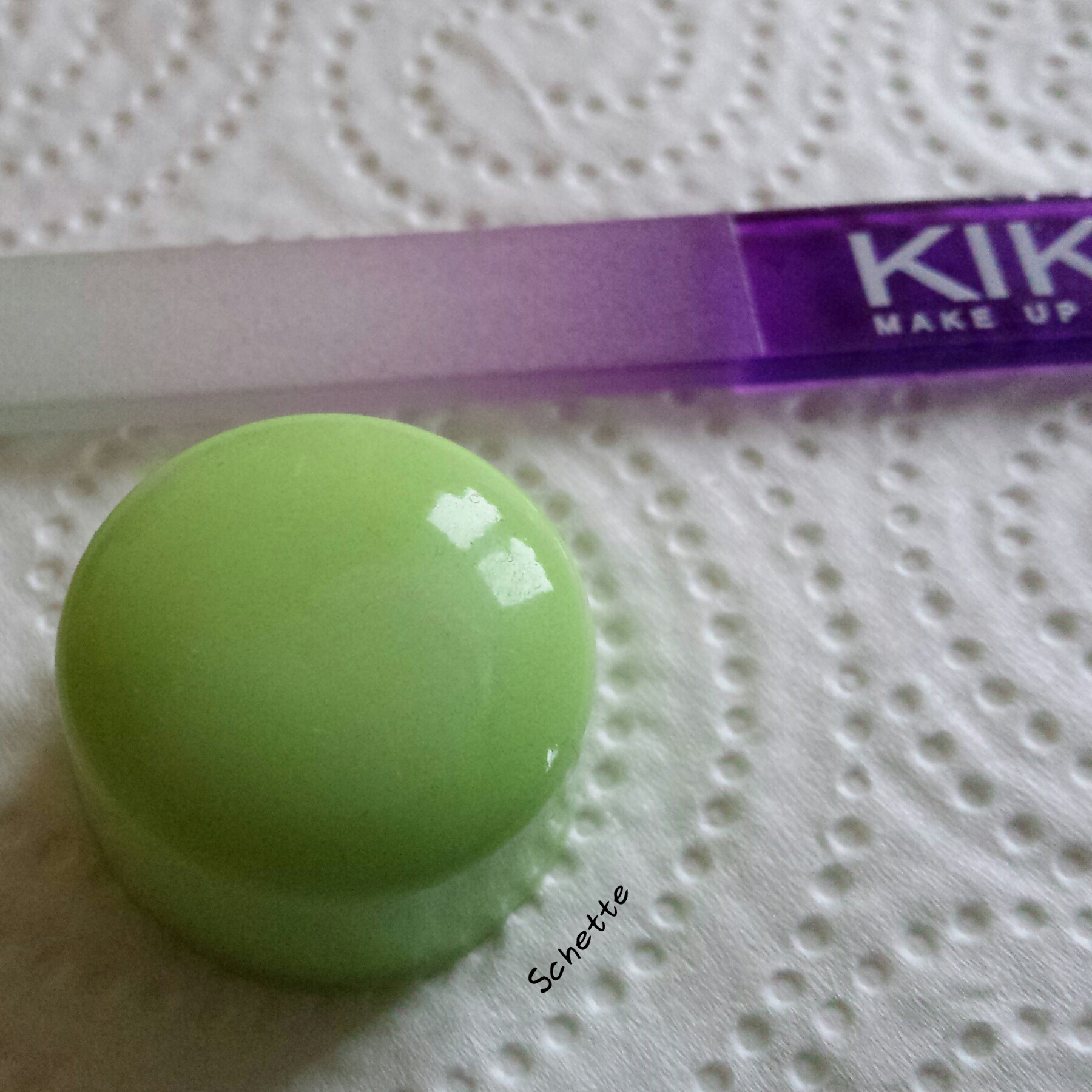 La première étape est de limer légèrement la surface du stamper. Vous le voyez ici, il est tout brillant : il faut qu'il devienne mat. J'utilise une lime en verre de chez Kiko pour y arriver, ça n'abime pas le stamper.
The first step is to lime gently the surface of the stamper. You can see it here, it's shiny : it has to be mat. I use my glass nail file to achieve the goal, it do not damage the stamper.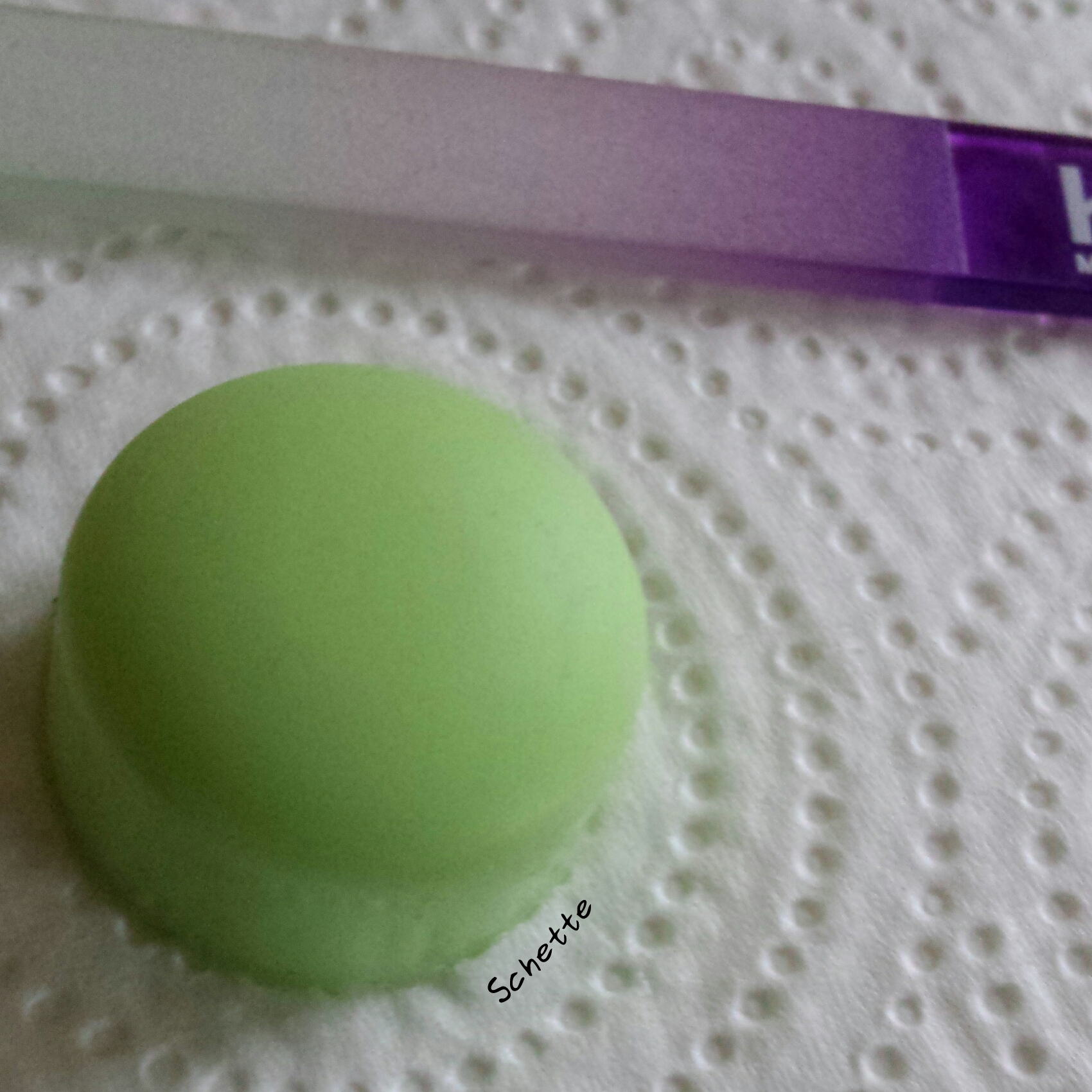 Et voilà ! Tout mat !
Here we are ! All is mate !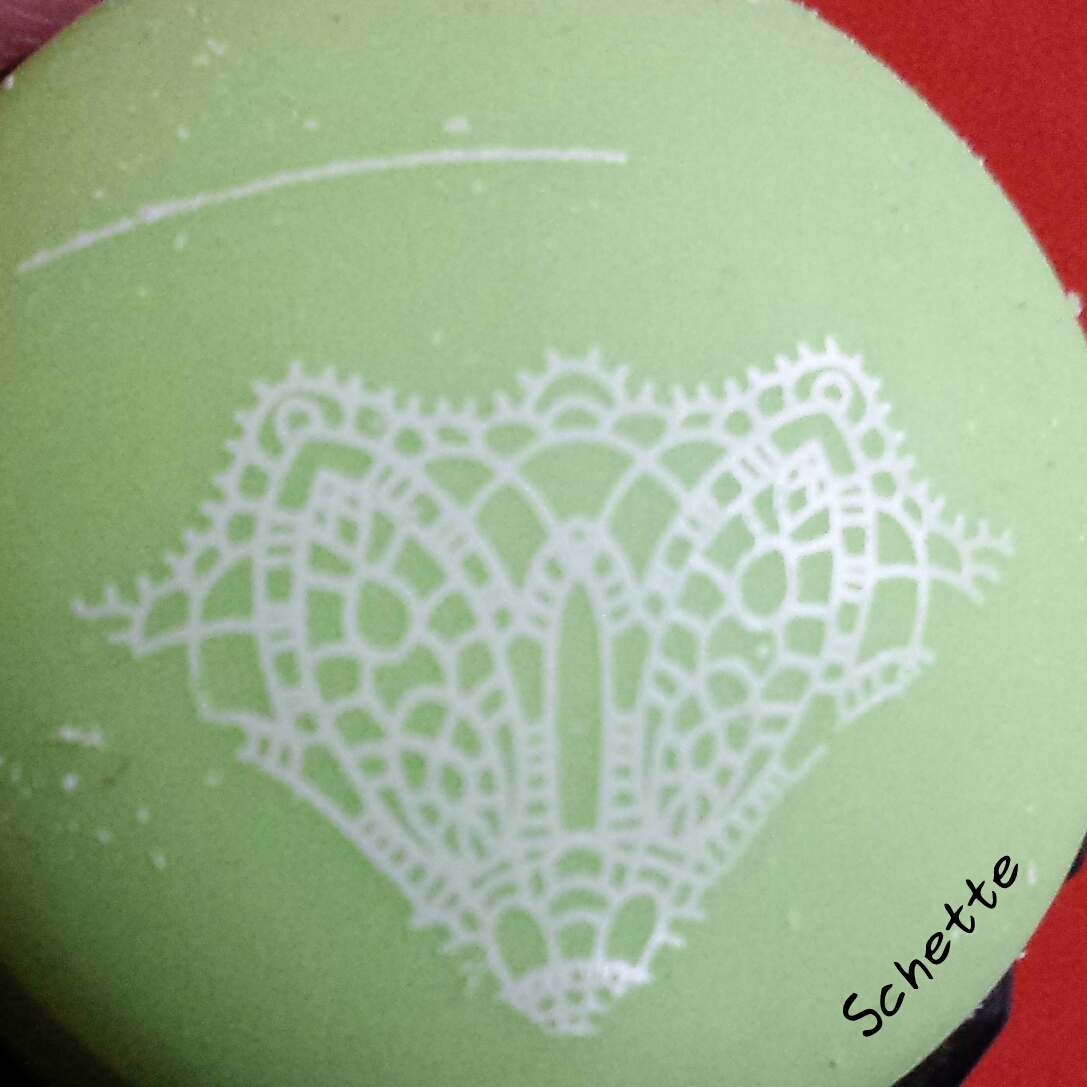 Au niveau du transfert, on peut dire que c'est hyper détaillé !
For the transfert, we can say that all the details are here.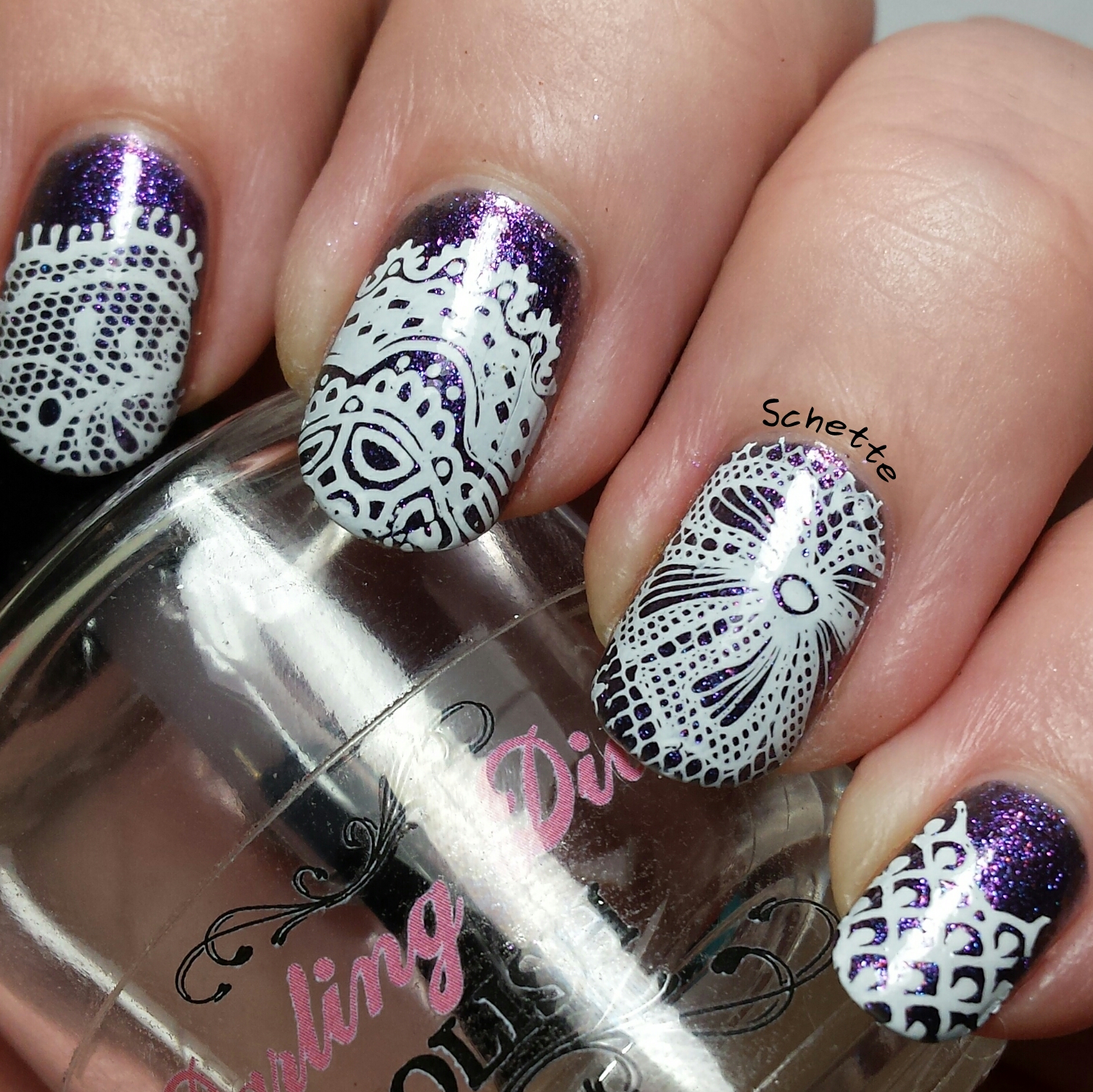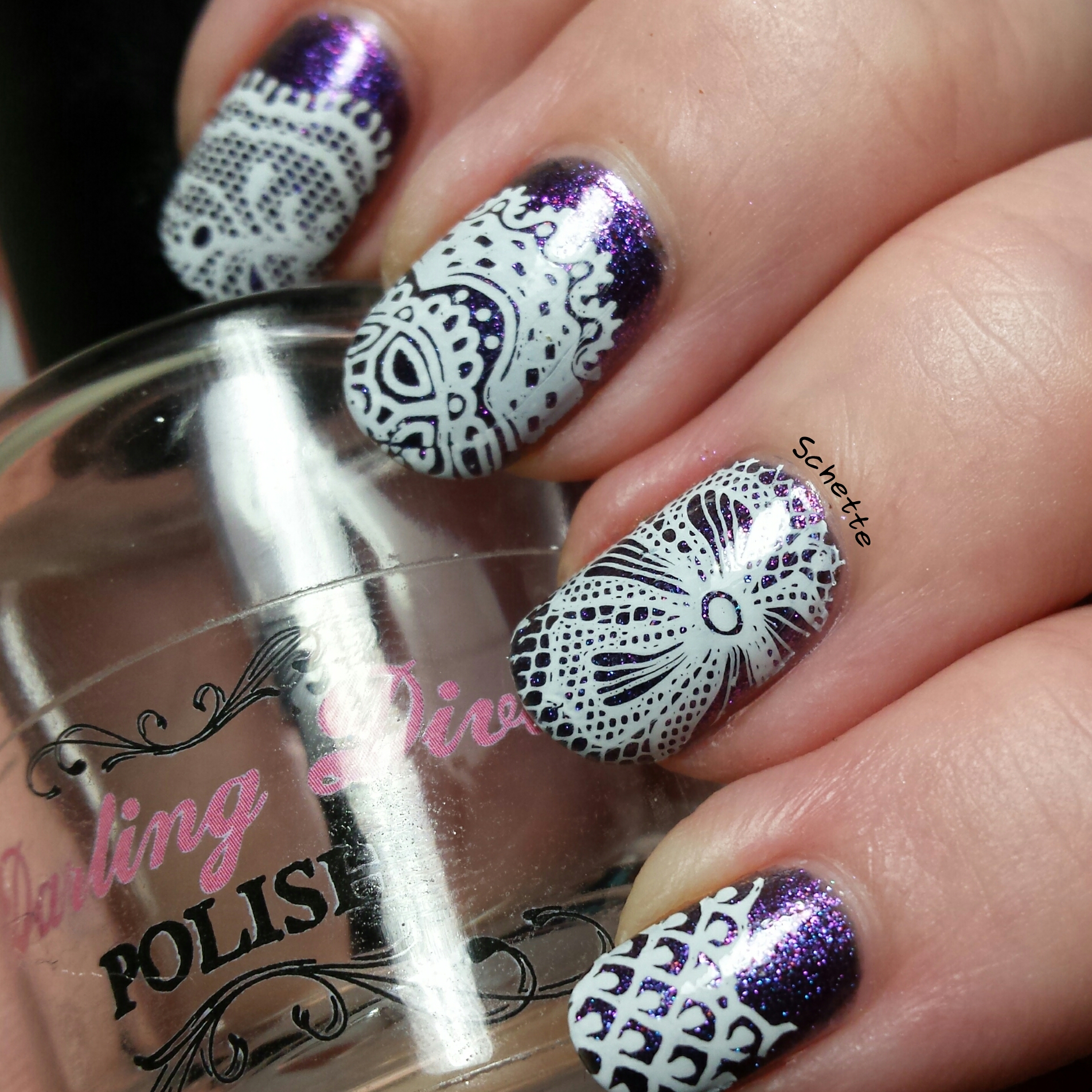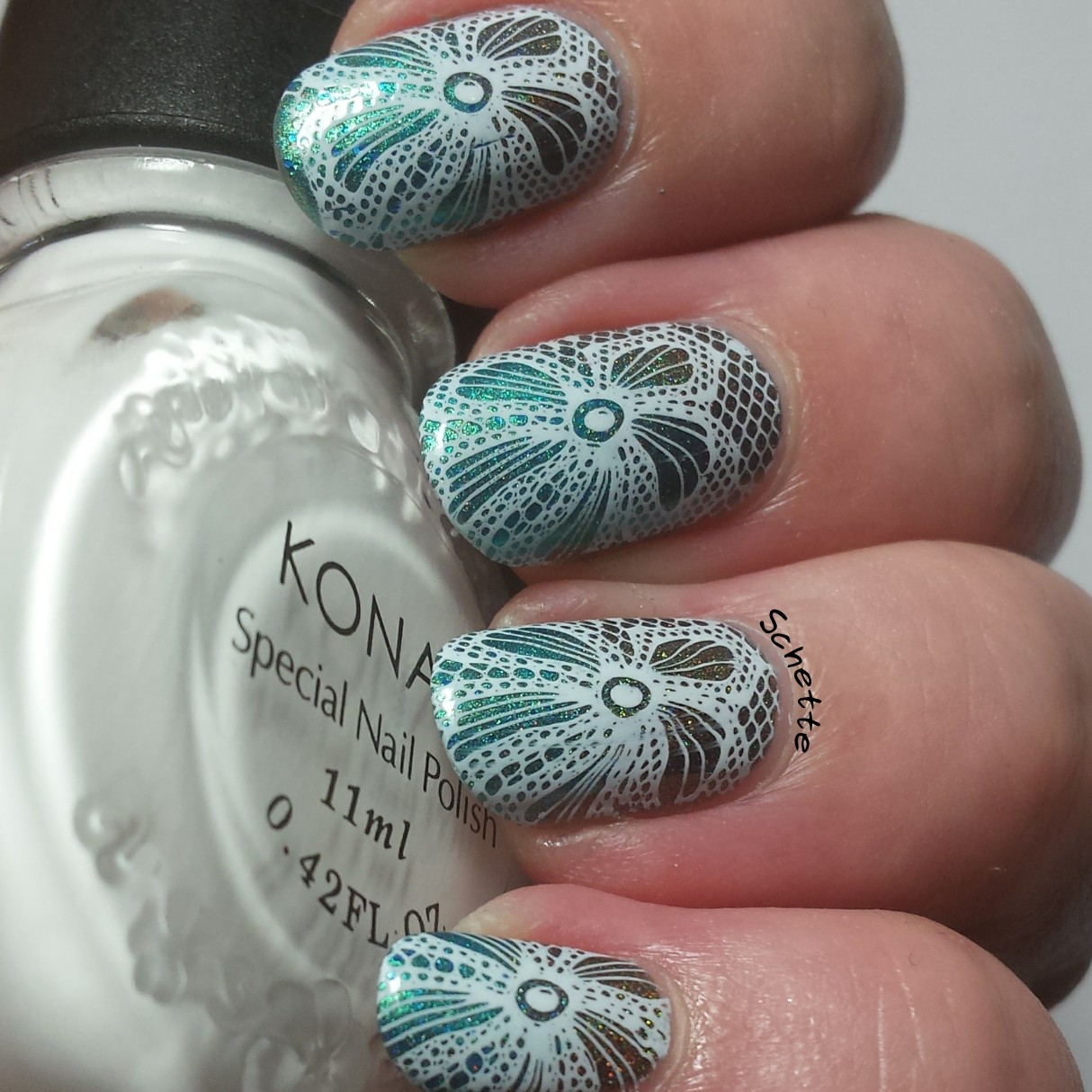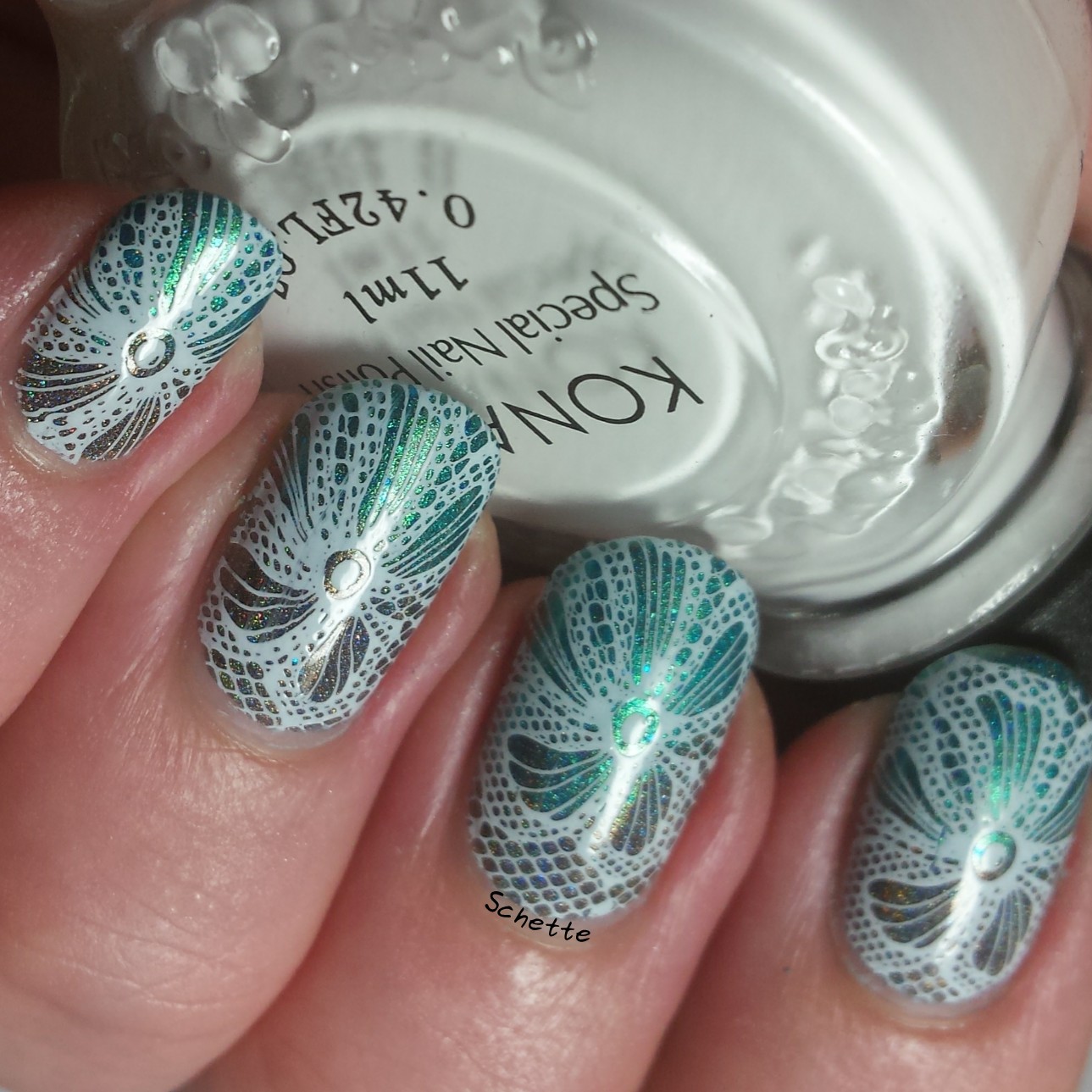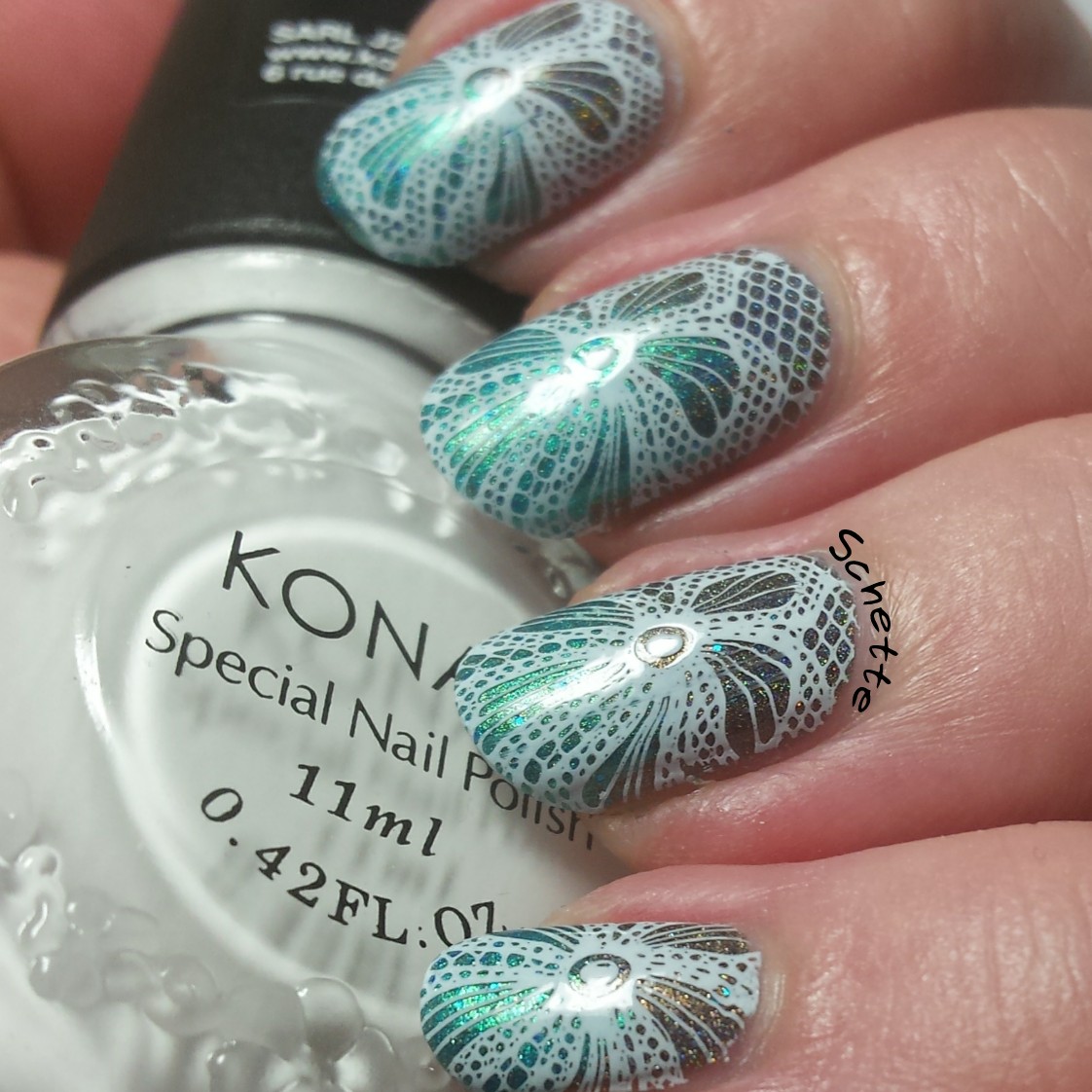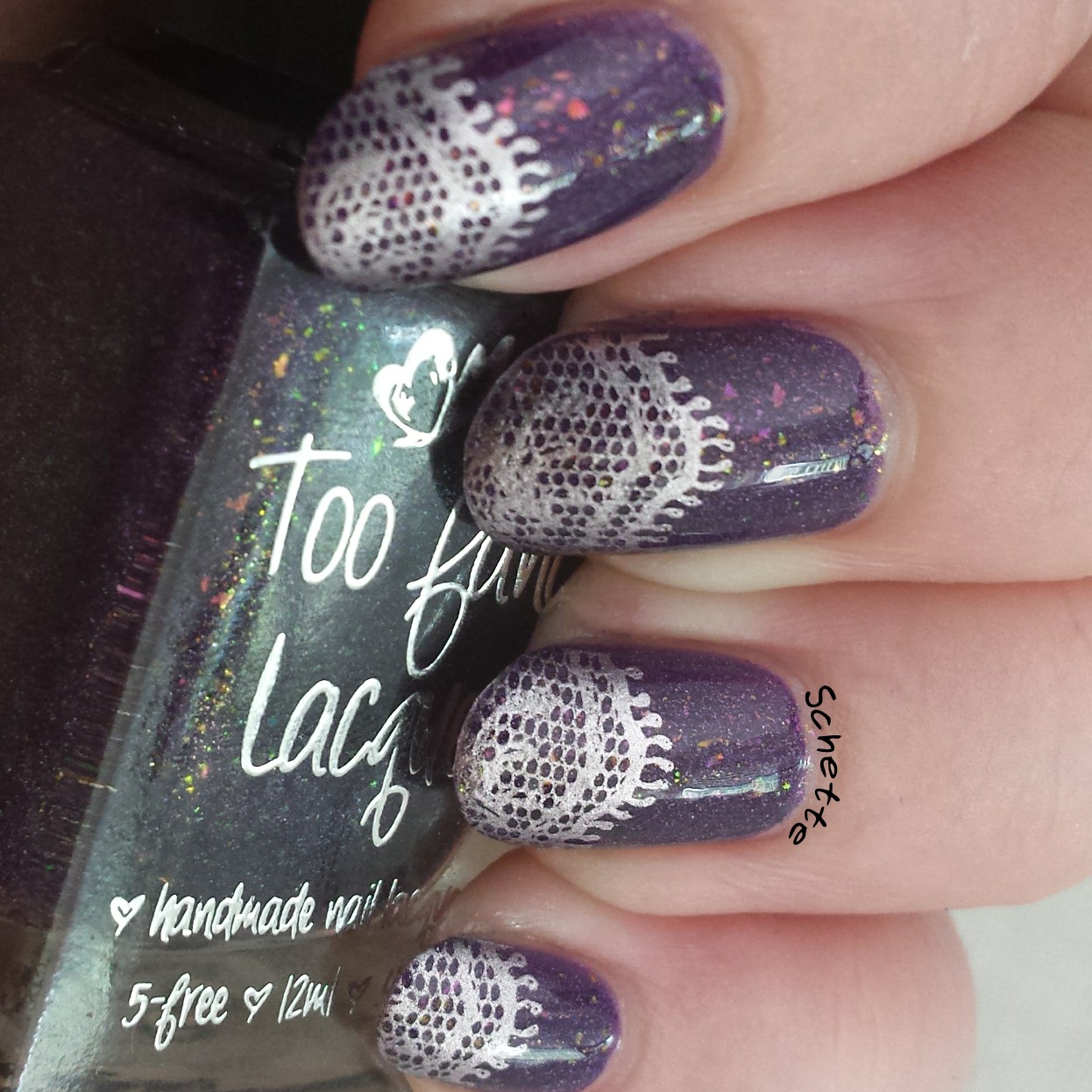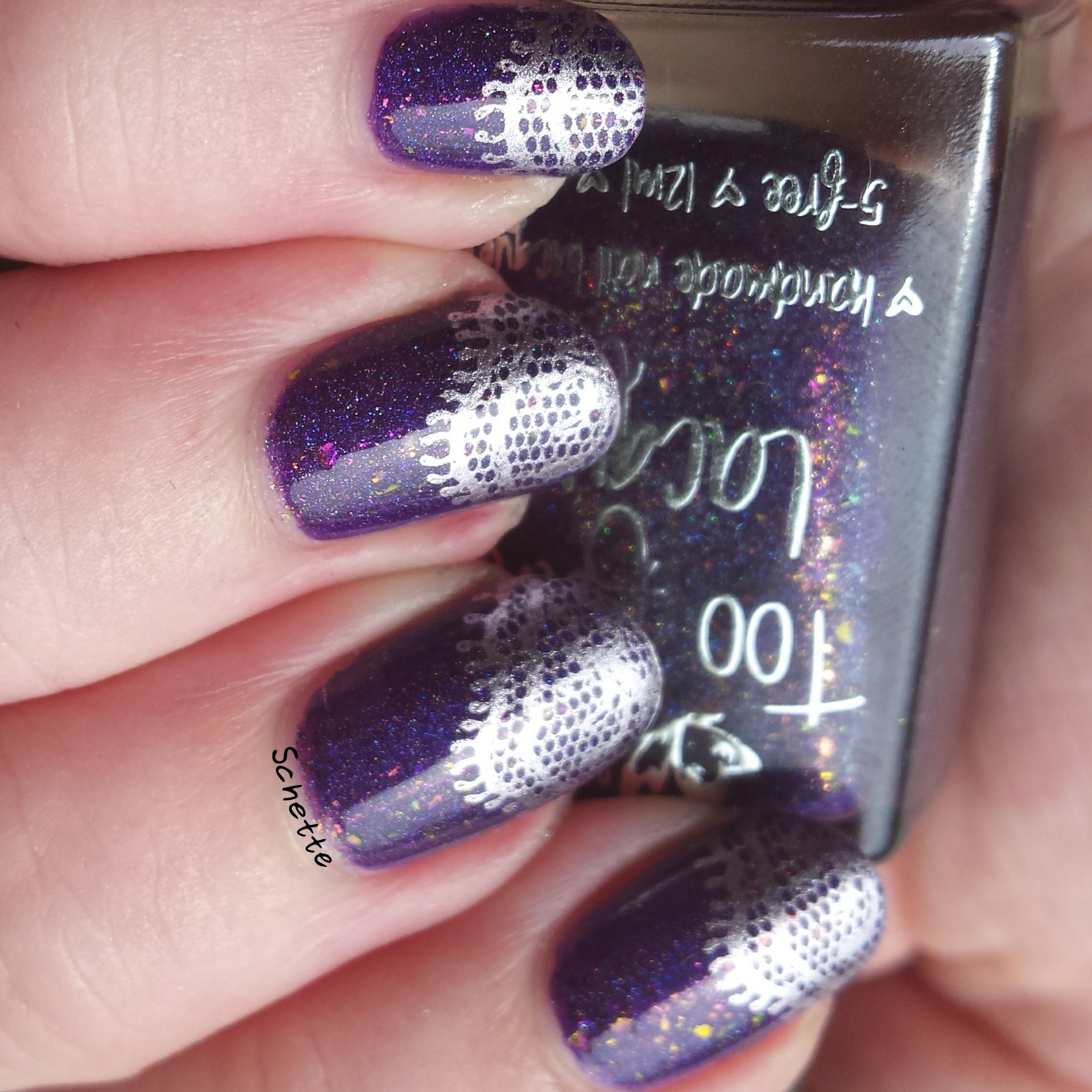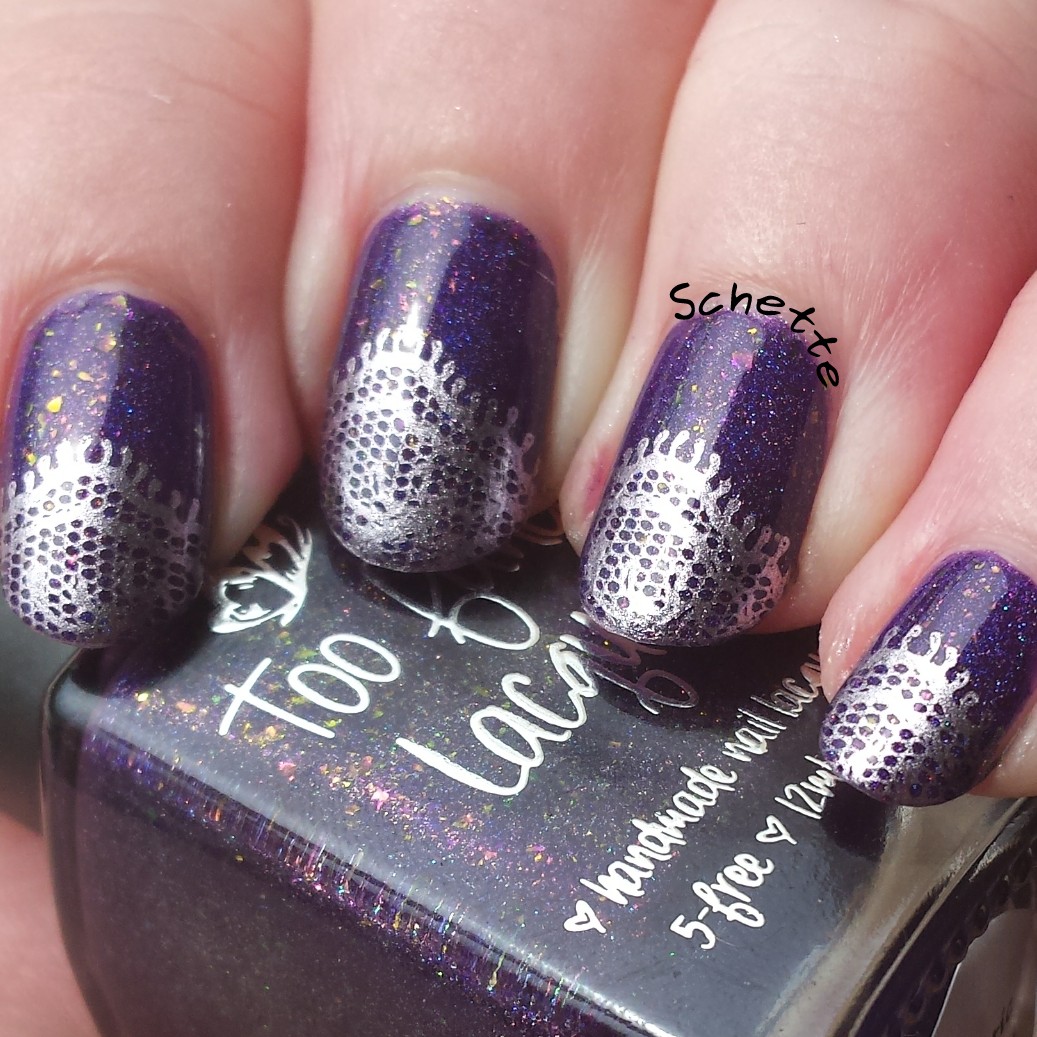 Et avec un stamping fait avec le Essie No place like chrome et la plaque Messy Mansion MM44 sur le Too Fancy Lacquer Hypnotic Harmonie
And with a stamping done with Essie No place like chrome and plate Messy Mansion MM44 over the Too Fancy Lacquer Hypnotic Harmonie
Bilan
J'ai été vraiment impressionnée par la qualité du stamper (j'ai testé avec mon ancien stamper et effectivement, on peut voir que beaucoup plus de détails sont transférés) et de la plaque. Il va falloir que je regarde à nouveau leur site :)
Et vous, avez vous noté la différence lorsque on utilise un stamper en silicone ?
I was very impressed by the quality of the stamper (I tested it with my former stamper, and I can tell you that more details are going on the stamper with the Messy Mansion) and the plate. I will have to have a closer look to their website :)
What about you ? Did you notice a difference while using silicone stamper ?
Schette, le 18 janvier 2015
Vous pourriez aussi aimer / You can also like :