Born Pretty Store : plate BP17
Vous pourrez trouver cette marque sur la
boutique
.
You can find this brand on the shop .


PRESS SAMPLE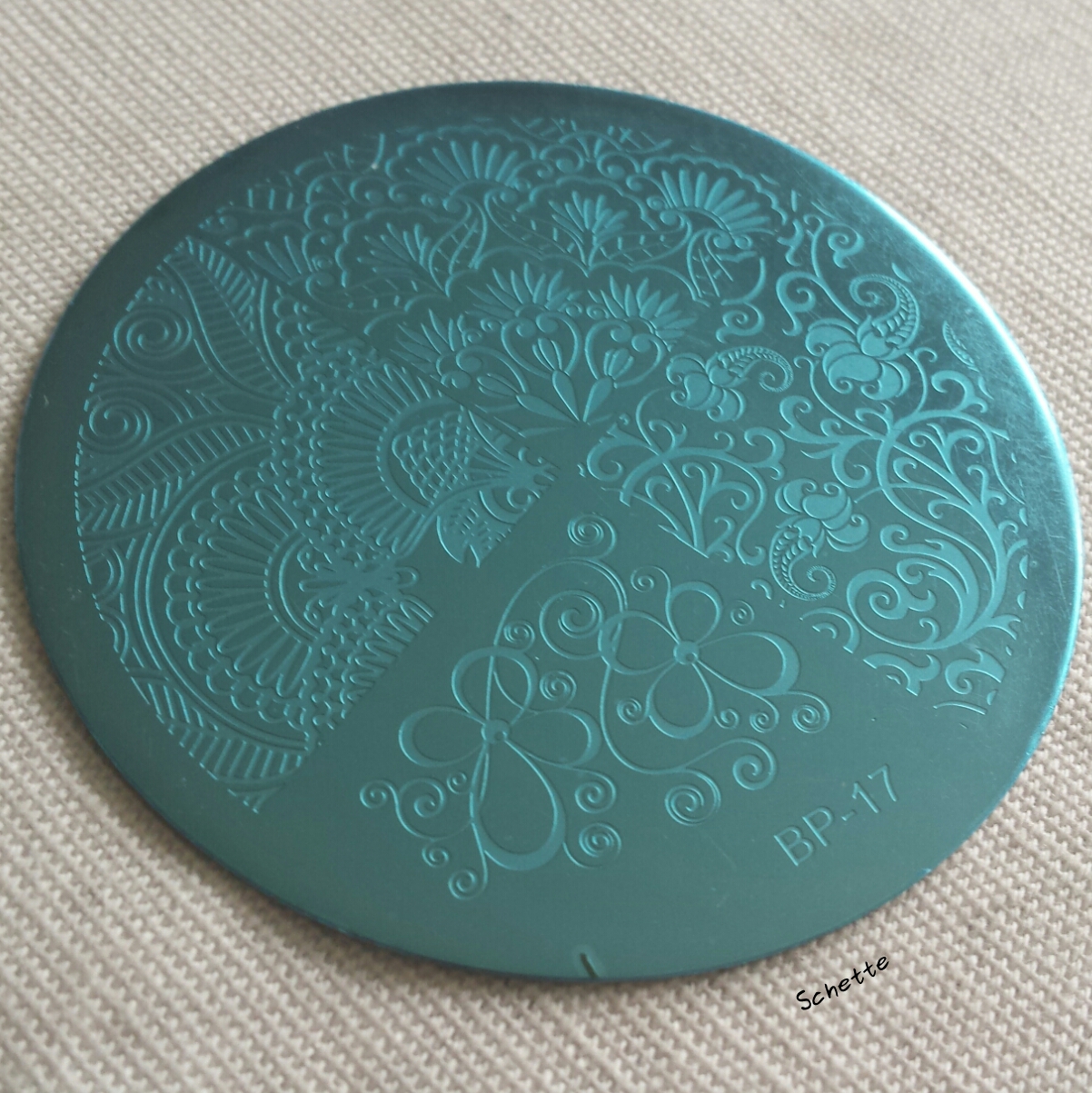 Aujourd'hui, je voulais vous montrer un petit test de plaque que j'ai fait en utilisant un merveilleux Carpe Noctem Costmetics appelé
Port of Fire
. J'ai utilisé la plaque
BP17
et le
Vernis argenté Born Pretty
. Je tiens à préciser que tout ce matériel m'a été fourni à des fins de tests, mais cela ne change en rien mon avis sur ces derniers.
Today, I wanted to show you a little review of a plate that I've done using the wonderfull Carpe Noctem Costmetics
Port of Fire
. I used the
BP17
plate and I stamped with the
Born Pretty silver polish for stamping
. All this stuff was provided to made review, but this do not change my mind about them.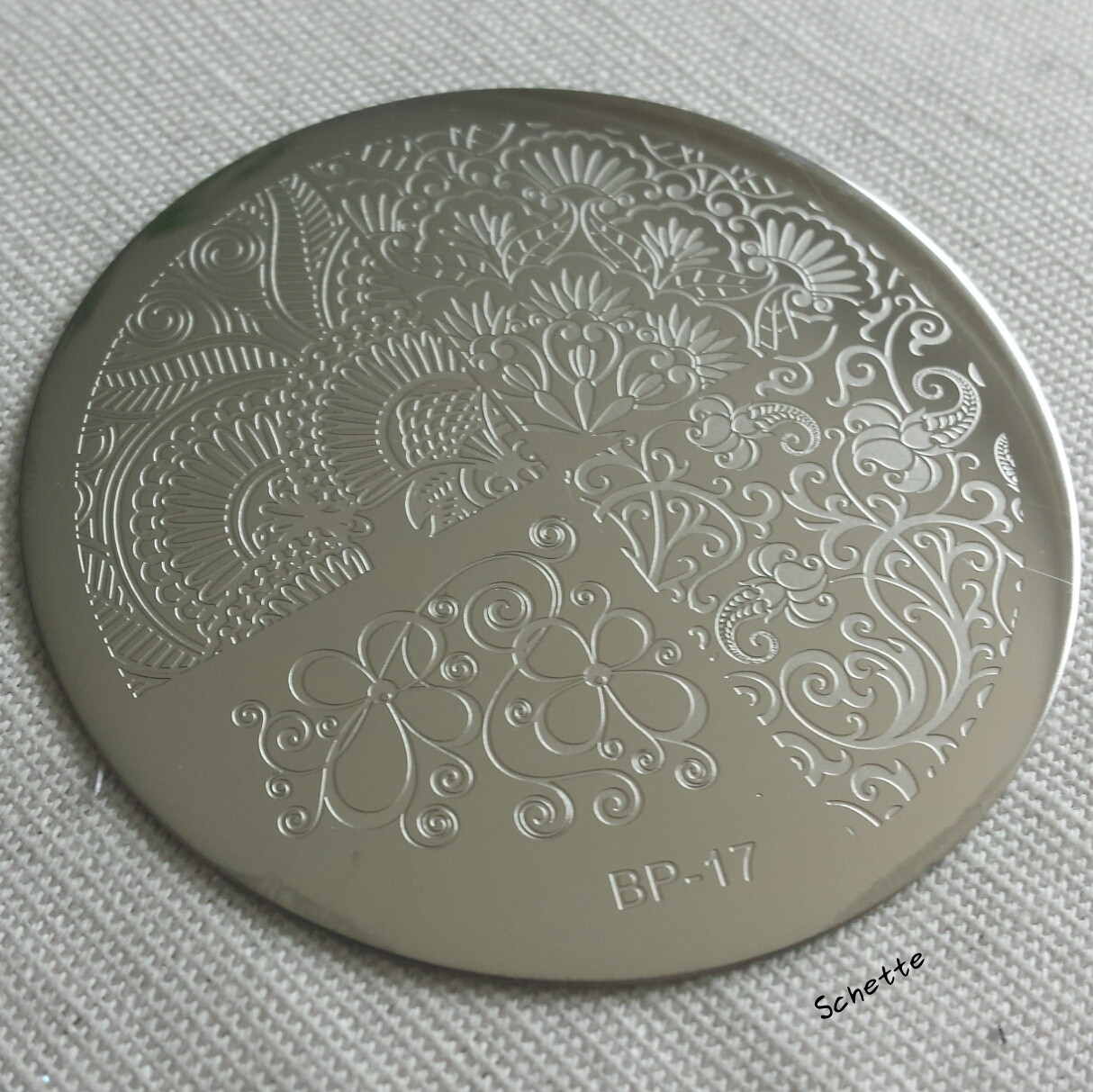 Si vous me suivez, vous savez que j'adore ce genre de design, c'est pourquoi j'ai choisi cette plaque. Les dessins sont hyper fins et je trouve cela très féminin. J'aime beaucoup quand les design sont très gros, cela permet déjà de ne pas avoir trop la pression quand on essaye de stamper et qu'on a des ongles un peu plus grand que la normale : là c'est bon, y'a de la marge. Et ce que j'aime aussi, c'est que ça permet de faire tous ses ongles avec un motif pareil tout en étant légèrement différent si on le décale :) Même si pour cette revue, j'ai juste appliqué chacun des 4 dessins sur un ongle. Bref, voilà, vous savez pourquoi j'ai choisi cette plaque, je la trouve trop jolie et elle répond parfaitement à mes critères.
If you follow me, you know that I love this kind of design, that's why I chose this plate. The designs are really fine and I find them very feminine. I love when designs are big, this allows not to put too much presure on you when you tried to stamp and that your nails are a little bigger than "usual" : here there is no issues. And what I love too is that allows to make each nail with the same design, whereas each nail is altrough different from each other if you dont apply the exactly same part :) Even if it's not what I've done in this review because I stamp one design on each nail. So, now you know why I chose this plate, I find it very pretty and It's totaly my kind of plate.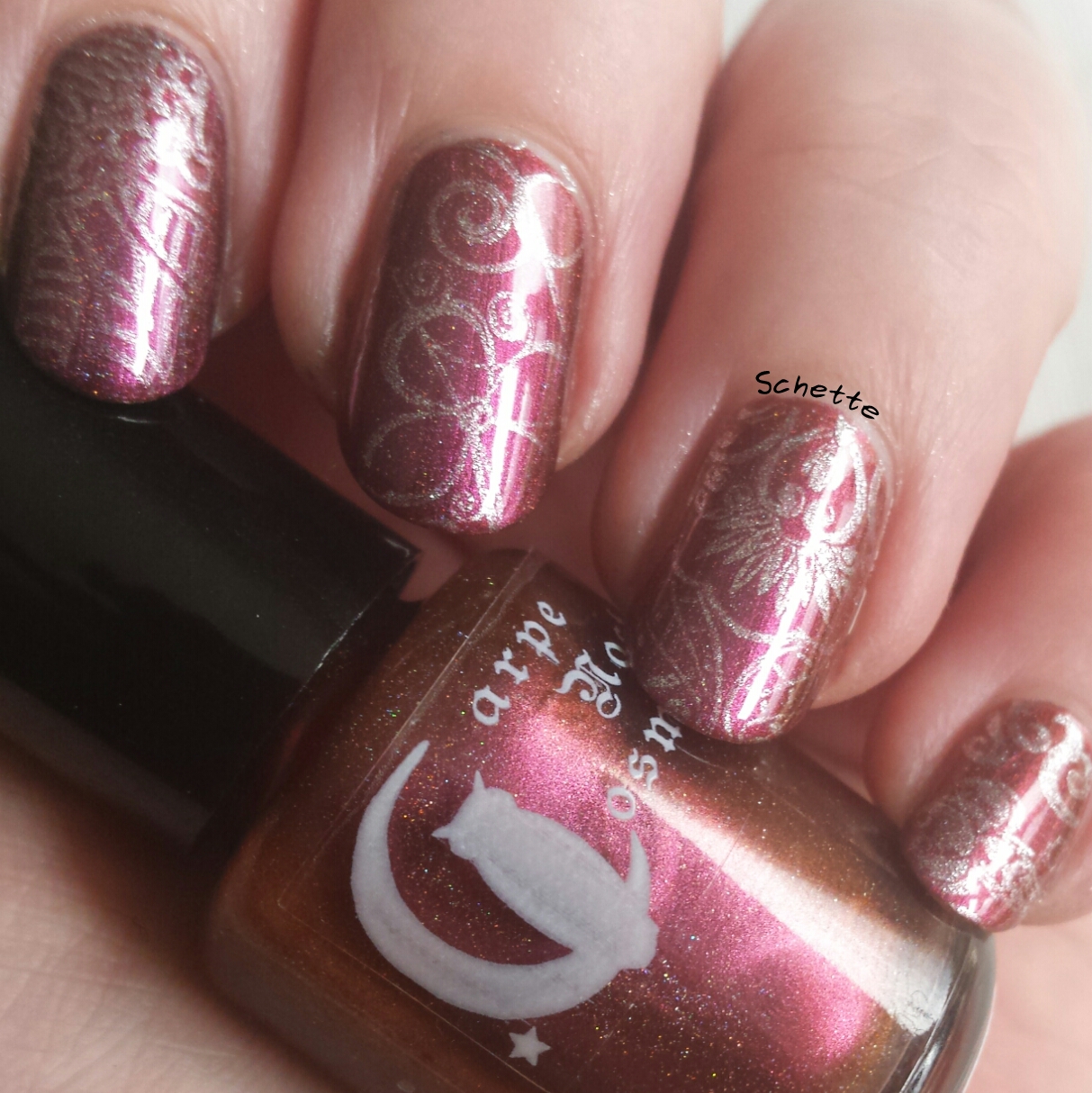 Port of fire étant déjà un duochrome rose / rouge, il ne fallait pas un stamping trop pétant. Habituellement, j'utilise un vernis de stamping argenté sur des couleurs plus sombre pour que cela ressorte beaucoup mieux. Mais je trouve que sur celui-ci, cela rend bien, on obtient un stamping délicat et très féminin.
Port of fire is already a duochrome pink/red, the stamping needed to be discrete. Usually, I use a silver stamping polish over dark color so that pop up a little more. But I find that over this one, it goes well, the stamping is delicate and very feminine.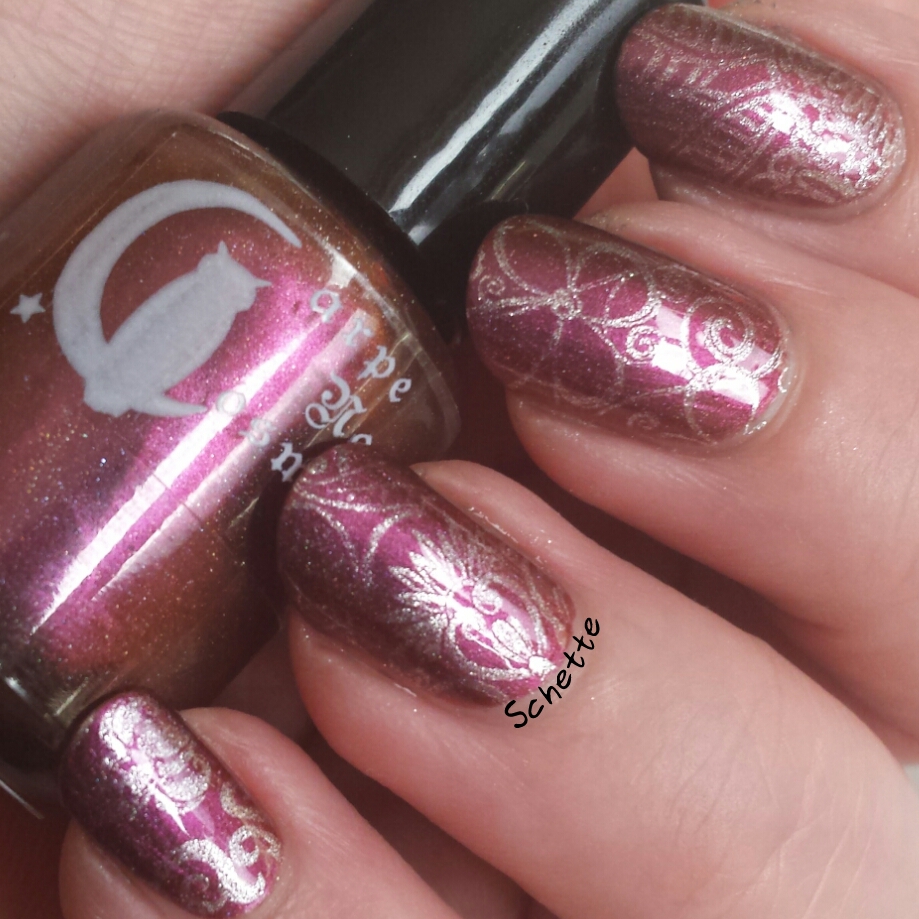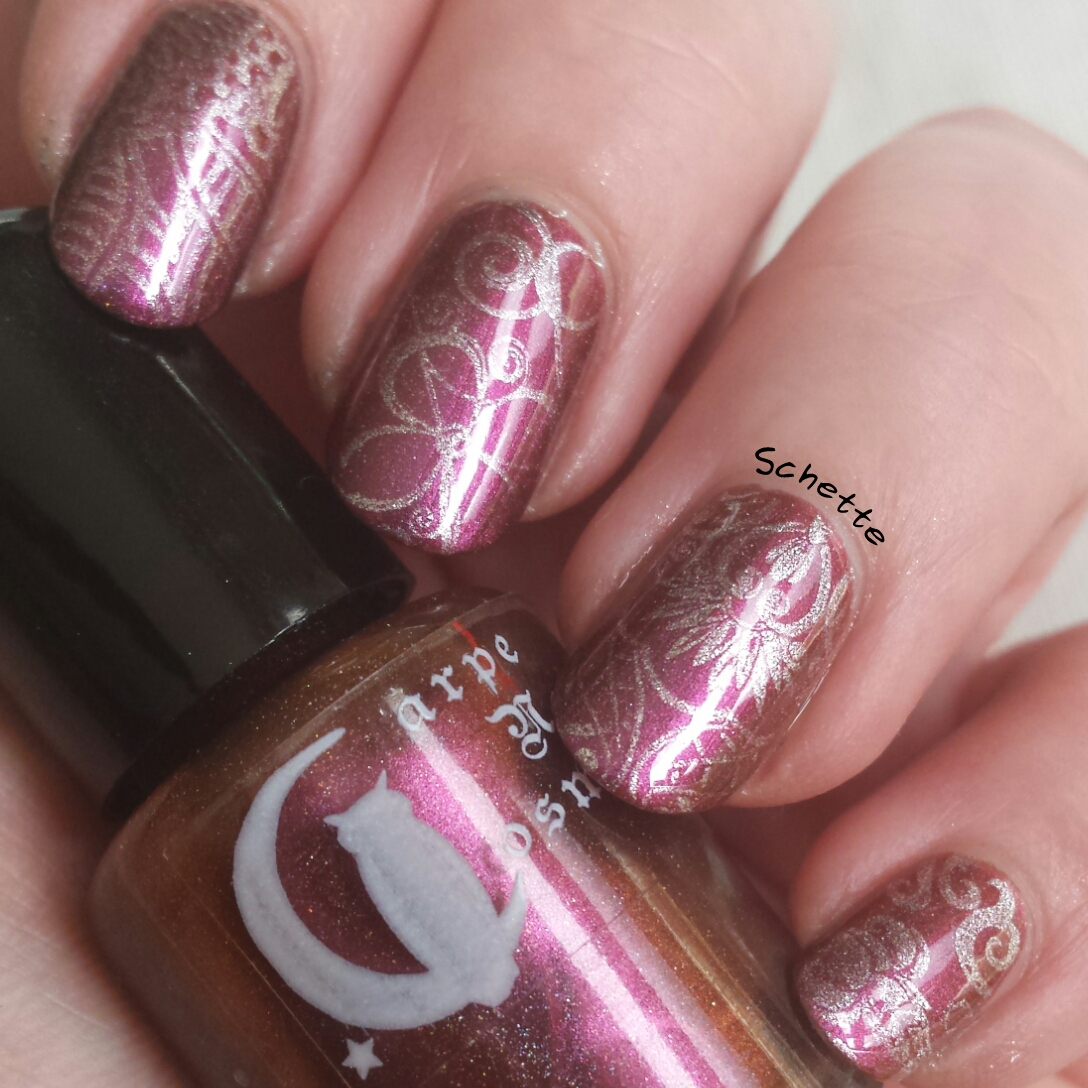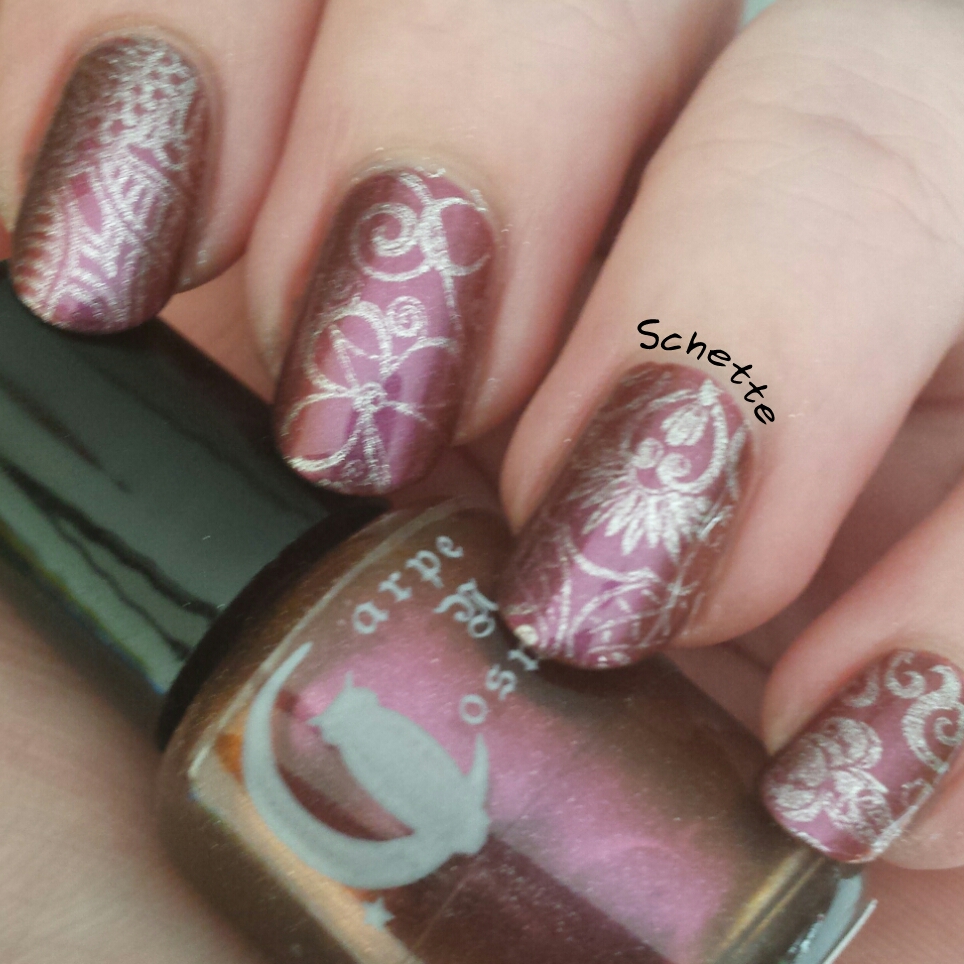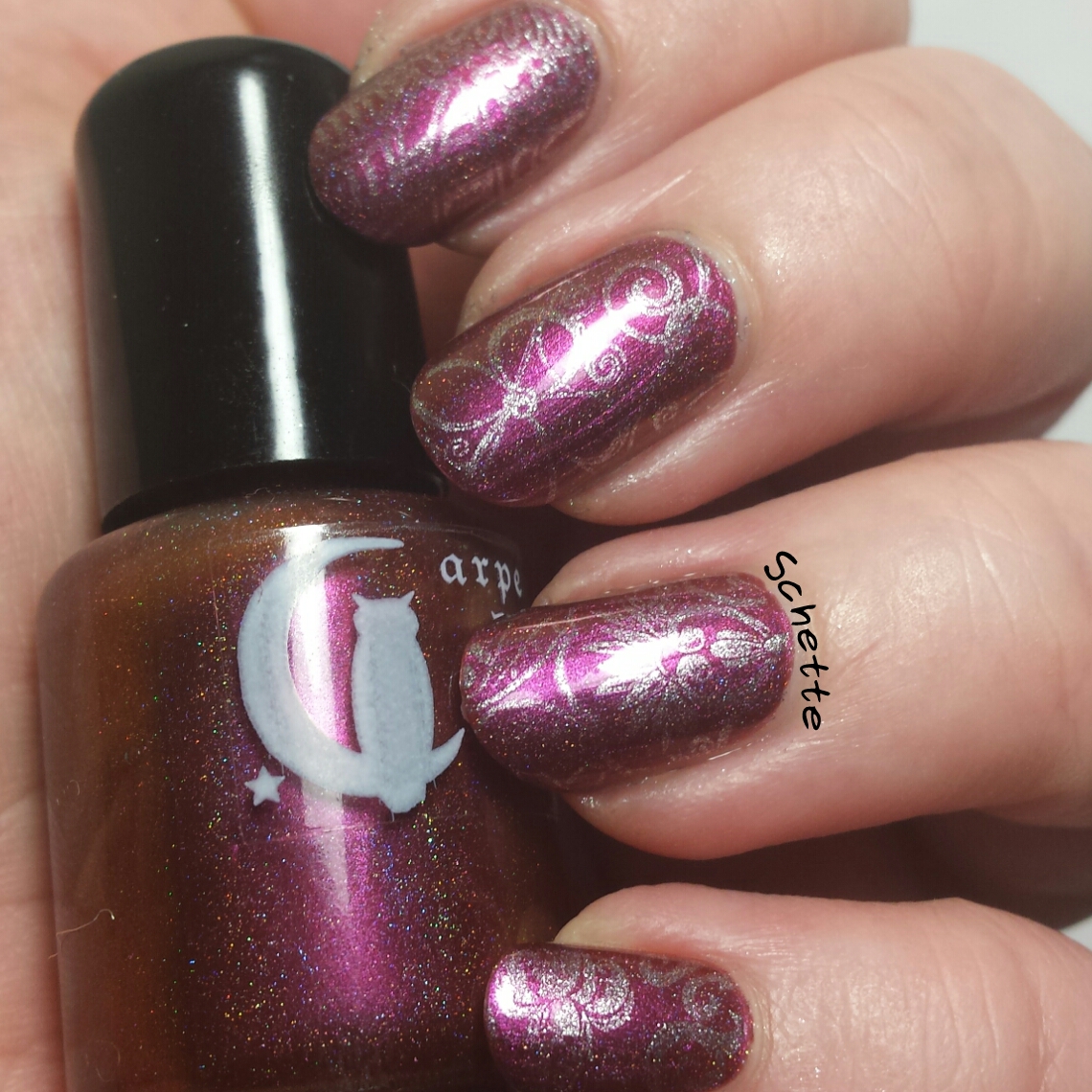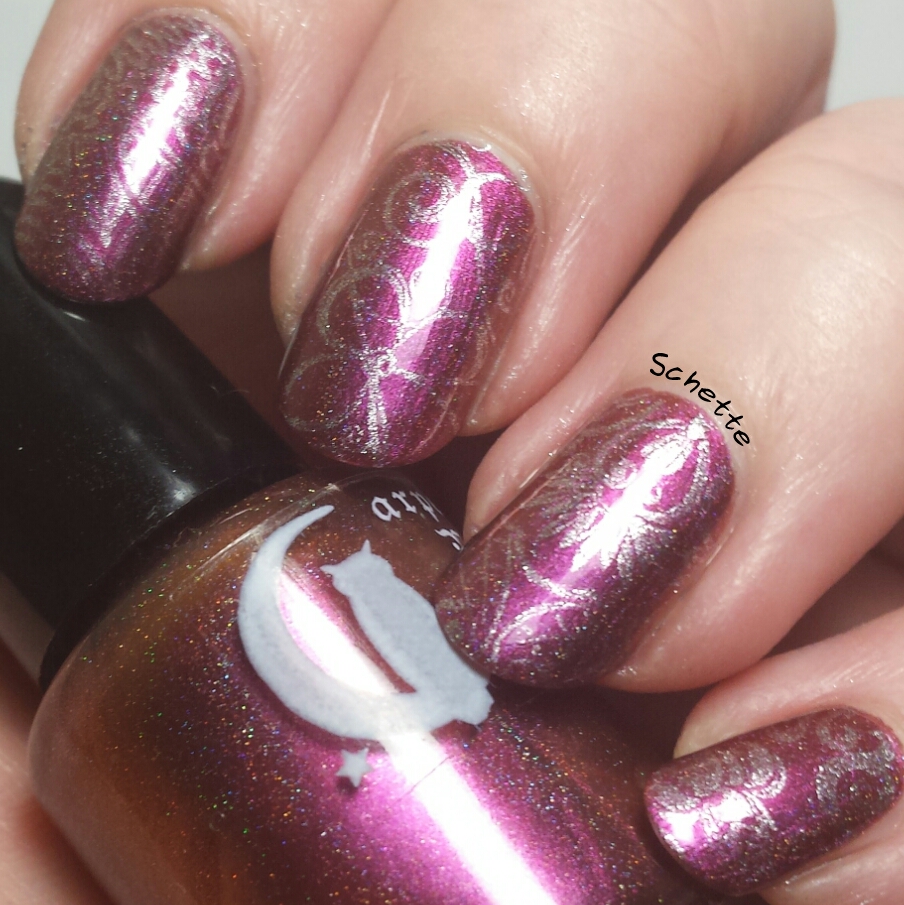 Le Stamping quand le côté rose est prédominant.
The staming when the pink effect is predominant.
Bilan
J'ai beaucoup aimé cette plaque je la ressortirais à l'occasion :)
I really enjoyed this plate, I will reuse it soon :)
Schette, le 12 avril 2015
Vous pourriez aussi aimer / You can also like :