Le vernis Octopus Party Nail Lacquer On a cliff by the sea
Vous pourrez trouver cette marque sur la
boutique
.
J'ai décidé de commencer une collection de custom polish c'est à dire des vernis faits sur mesure, chacun de ses vernis représentant un personnage du monde Ghibli que j'aime tout particulièrement. J'ai donc décidé d'attribuer à mes marques indies préférées un personnage, et de demander un vernis le représentant.
Pour Octopus Party NL, il m'a semblé évident qu'il fallait garder le thème de la mer, et donc j'ai tout de suite pensé à Ponyo :)
You can find this brand on the shop .

I decided to start a custom polish collection (i.e. : polish made only for me) based on characters of the Ghibli's world that I really enjoy. I decided to show my favorite indie brand a character and ask a polish which will represent it.
For Octopus Party NL, it seems obvious I have to keep the sea theme. So I thought about Ponyo :)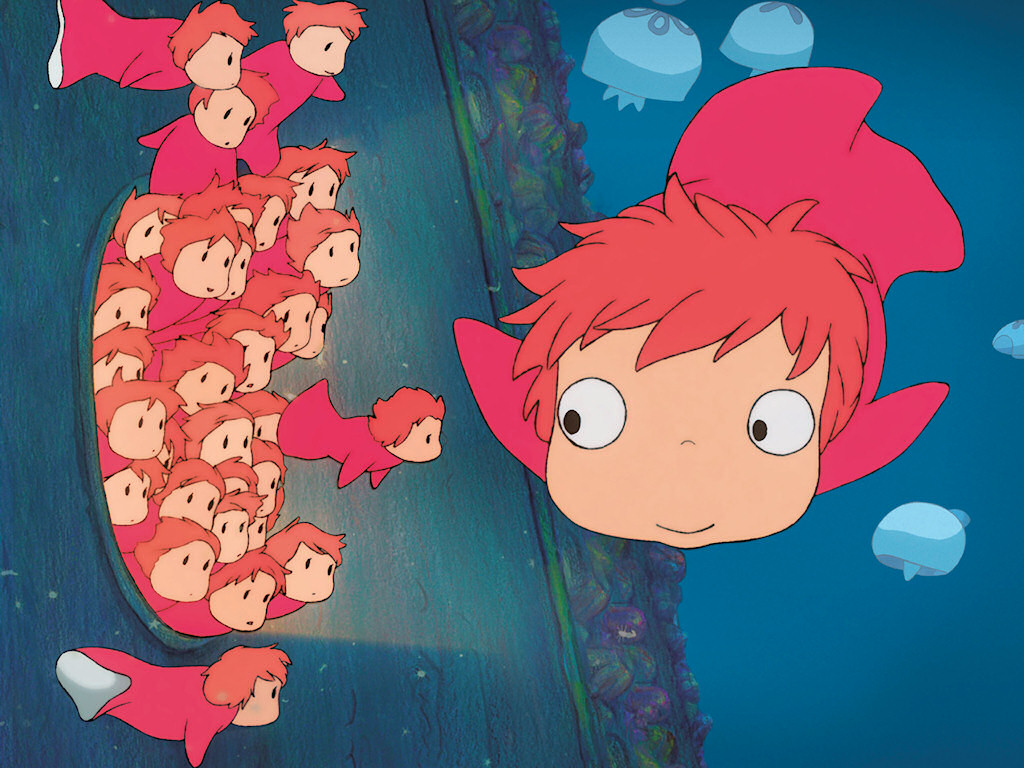 Ma petite photo récapitulative.
My picture sommary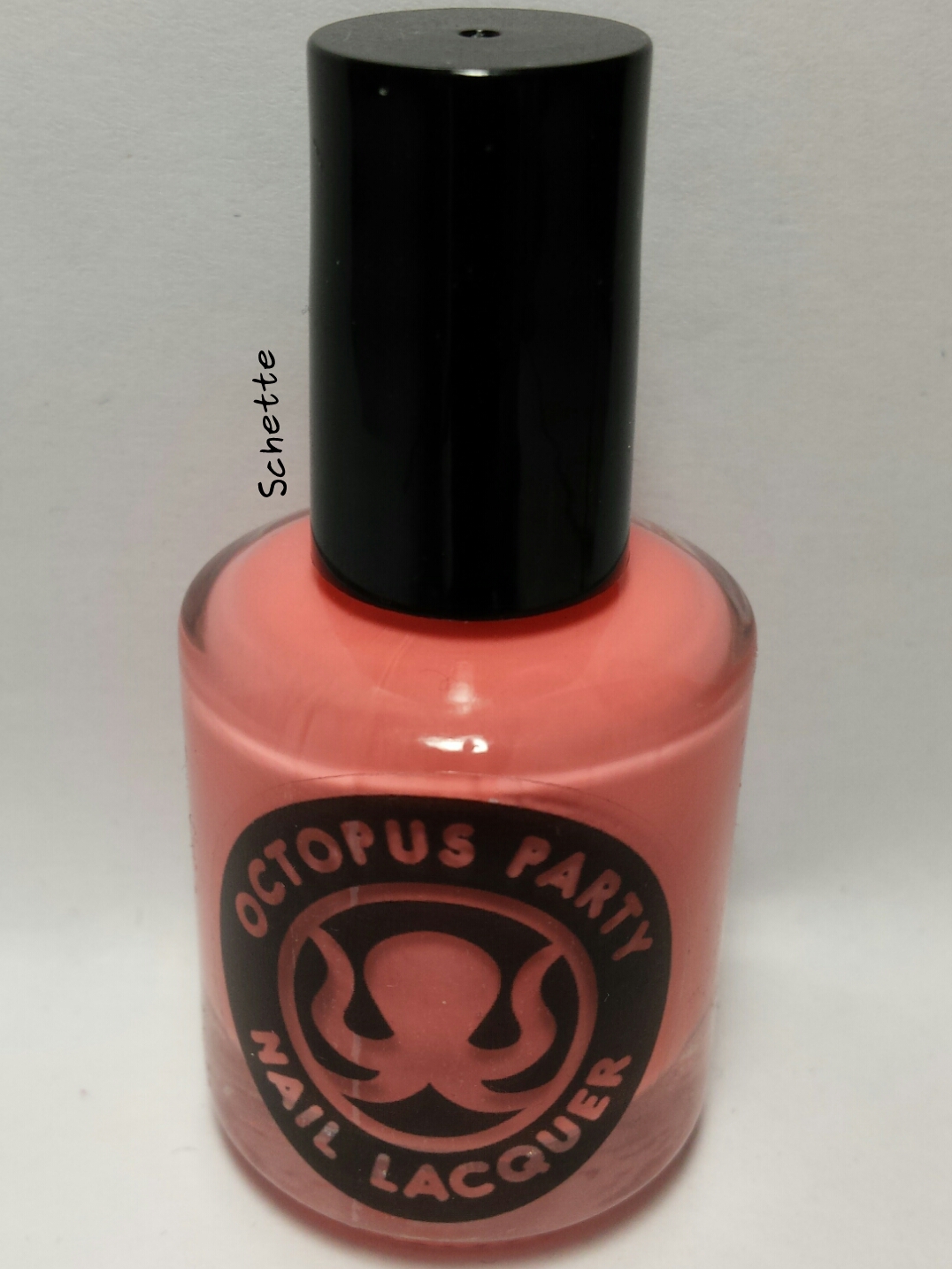 On a cliff by the sea est un vernis corail bien pepsy pour l'été.
On a cliff by the sea is a bright coral perfect for summer.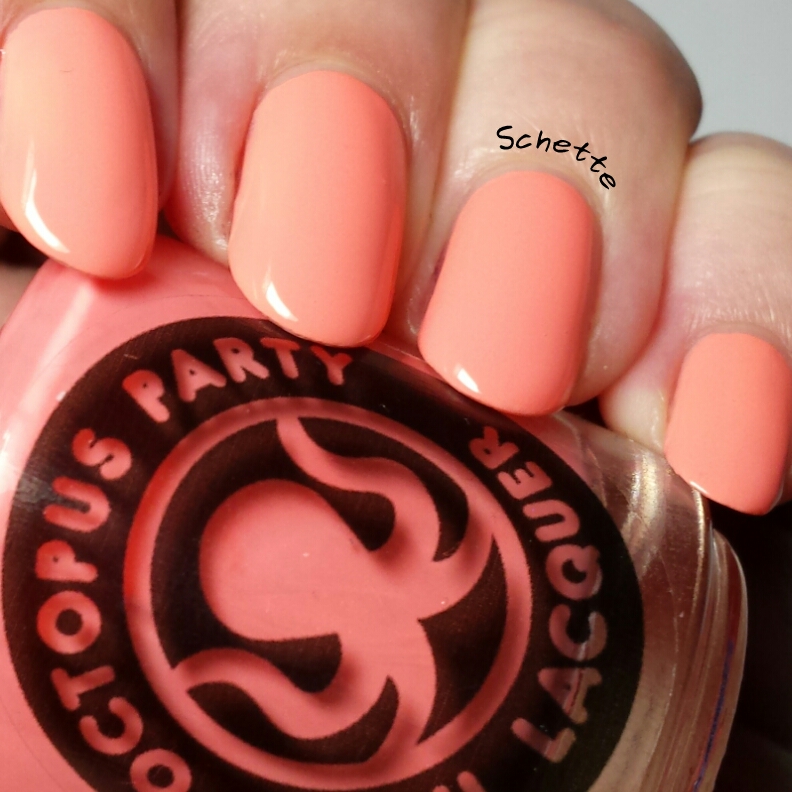 Octopus a voulu faire un mixe entre sa robe et ses cheveux pour la couleur. Il est néon au soleil (je n'ai pas eu la chance d'avoir de soleil aujourd'hui j'éditerais quand j'en aurais).
Octopus wanted to cross between her hair and her dress. It reads a little neon in the sun (but I did not get the chance to have sun today I'll edit later when I got some).
Je le trouve très lumineux, et aussi parfait pour représenter Ponyo !
I found it very luminous and also perfect to stand for Ponyo !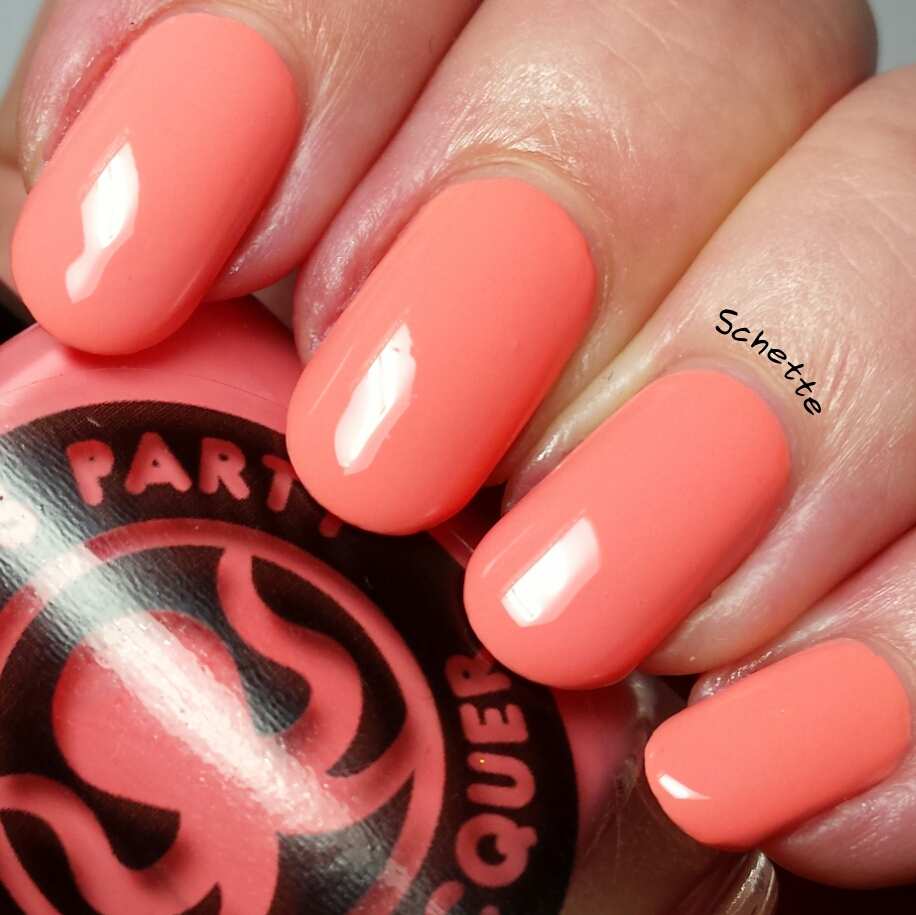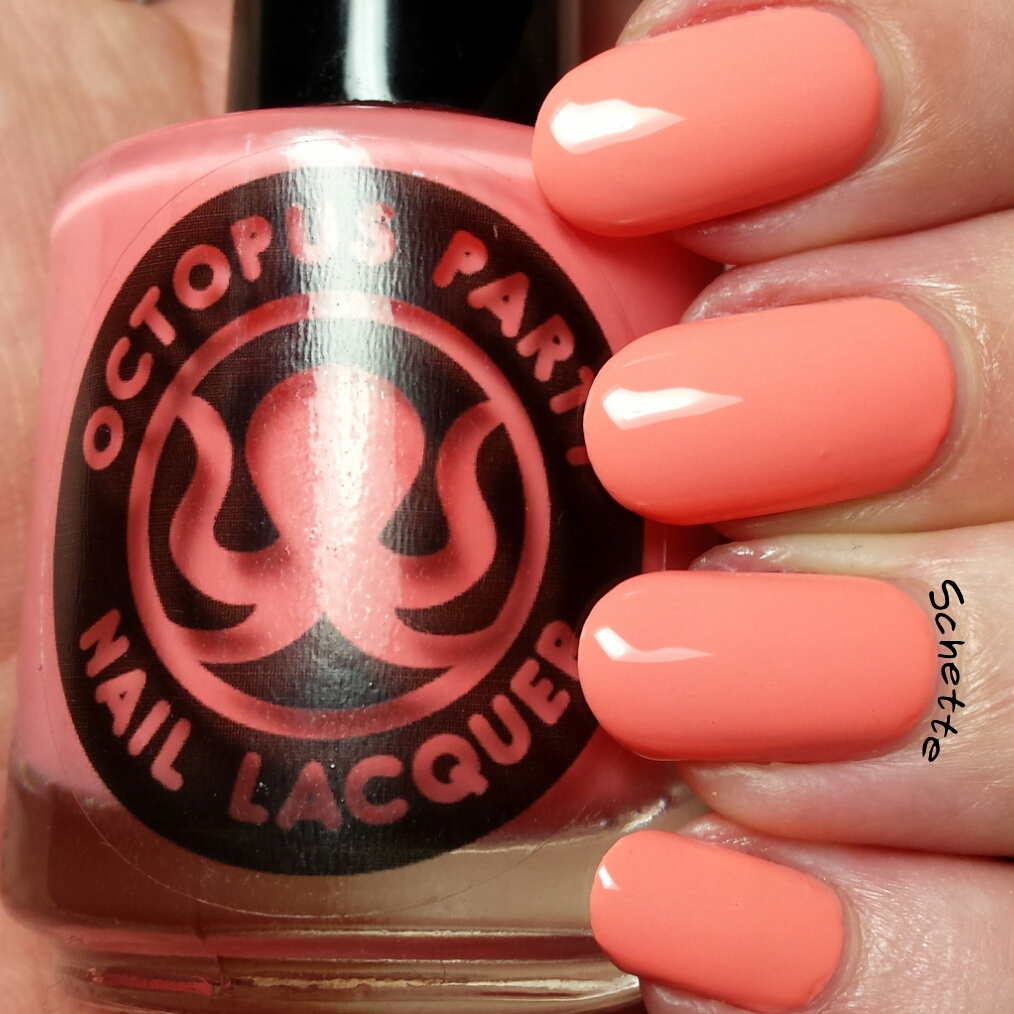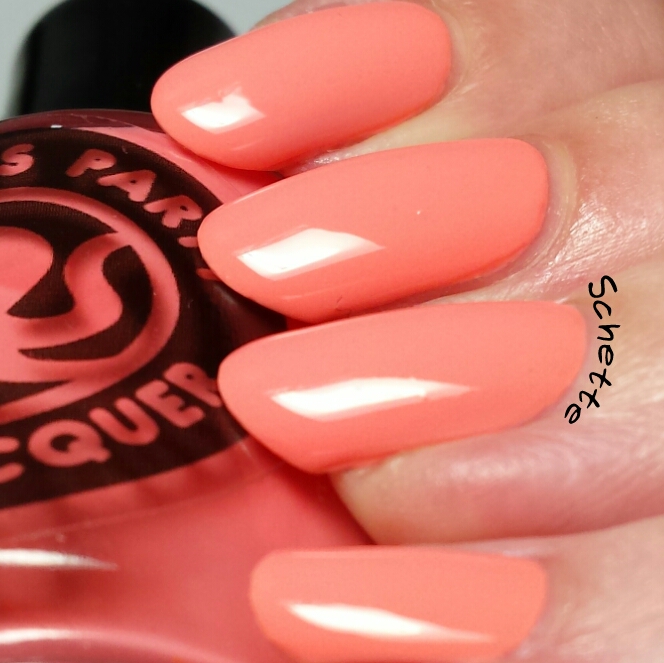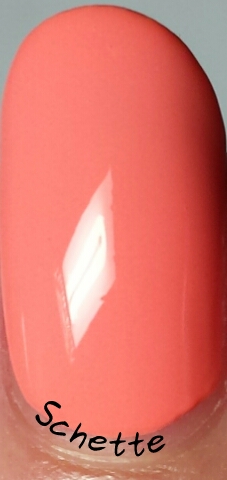 Le petit macro shot.
The little macro shot.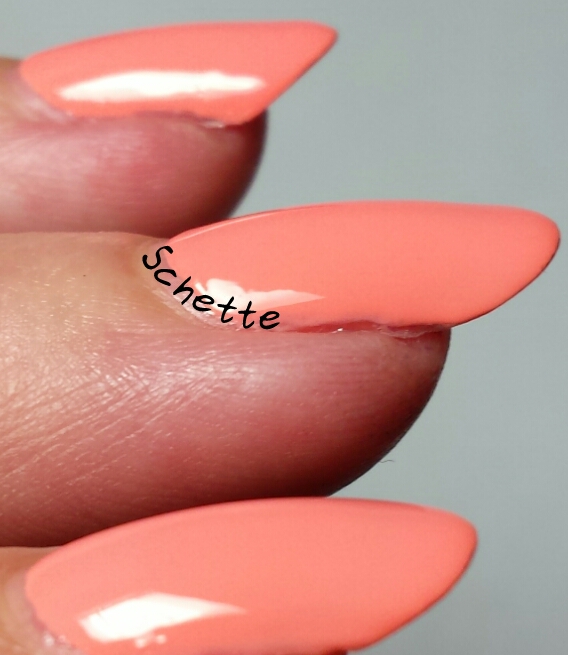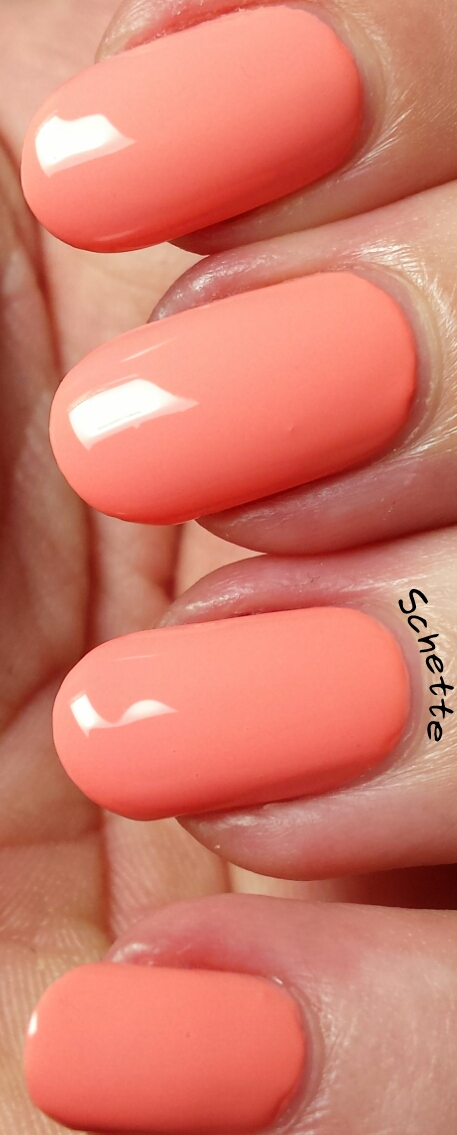 J'ai voulu voir ce que le vernis donnait avec un petit coup de holo "Abracadabra" de Too Fancy Lacquer.
I wanted to see how the polish looks with a thin coat of "Abracadabra" from Too Fancy Lacquer.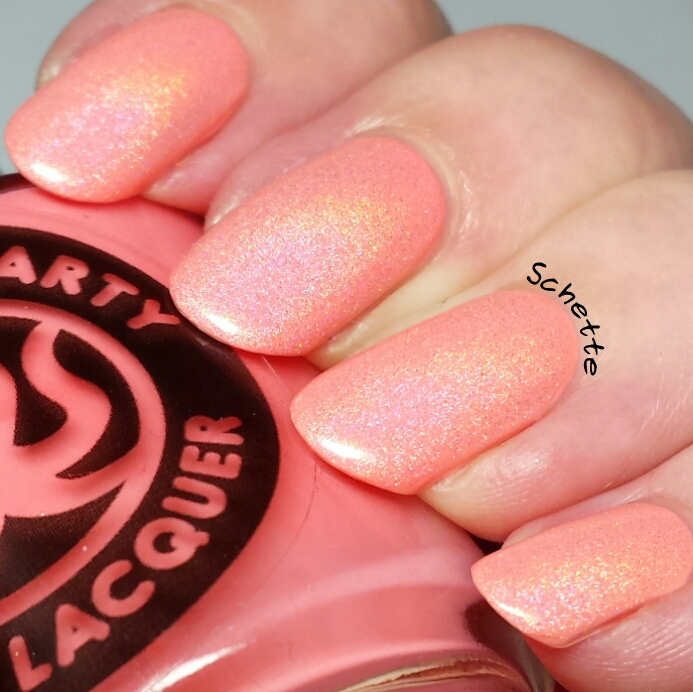 Bilan
J'ai profité de ce custom pour découvrir la marque. J'avais vu quelques swatches passer et j'étais assez intriguée par le Twice as Ice que je vous montrerais bientôt.
J'ai été très heureuse que Octopus accepte de participer à ma collection Ghibli. <3
Au niveau du vernis, je n'ai rien à redire, l'application est parfaite, et le vernis opaque en deux couches.
D'ailleurs si vous aimez le vernis, il sera intégré à la collection d'été d'Octopus pas plus tard que .... demain :)
I discover the brand over this custom. I saw some swatches goes and I was intriguated by the one called "Twice as Ice" that I'll be reviewed soon.
I was so happy that Octopus accept to participate to my Ghibli collection <3
Concerning the polish, I have nothing bad to say : the application is very smooth and the polish opaque in two coats.
By the way, if you love the polish, it will be part of the summer collection, not later than .... tomorrow :)
Vous pouvez également rejoindre notre
groupe de fan d'indies
Schette, le 14 mai 2014
Vous pourriez aussi aimer / You can also like :