Le vernis Enchanted Polish - Disco Babie - Comparaison old / new
Vous pourrez trouver cette marque sur la
boutique
.
You can find this brand on the shop .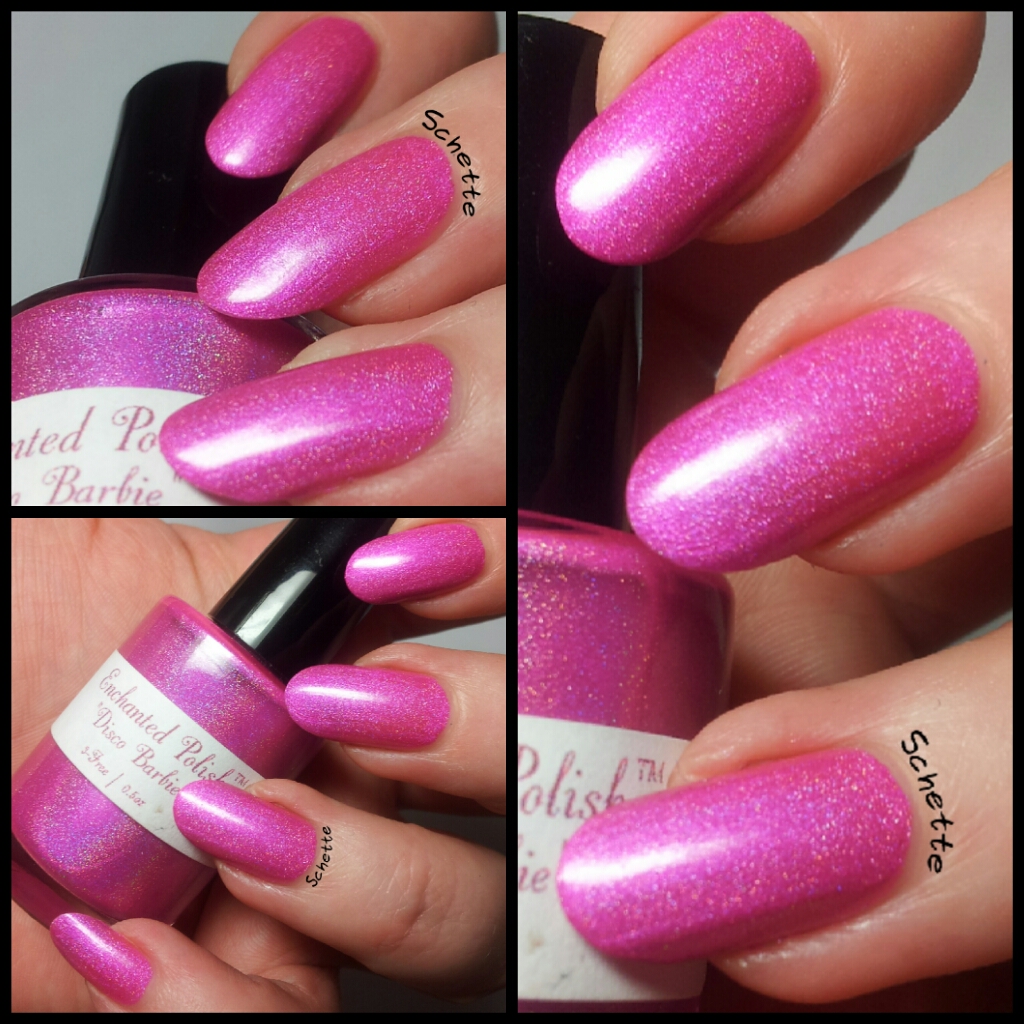 Disco barbie c'est un peu mon coup de coeur, c'est le vernis nr 2 de mon top 3 des Enchanted Polish (
Marge
Forever <3 <3). Je l'ai eu à mon premier restock EP l'année dernière (enfin, le premier restock où j'ai réussi à chopper quelque chose), alors c'est vraiment mon petit précieux.
Disco barbie is a little my EP Crush, It's the #2 of my Top 3 of Enchanted Polish (Marge Forever <3 <3). I got it at my first EP restock last year (well, my first sucessfully, so it's really my little precious.

En fait, j'en ai 2 :D (Enfin avait, j'ai deux Marge maintenant - qui a parlé de fixette ?) J'ai acheté la ronde il y a peu de temps parce qu'on m'avait dit "non mais la ronde c'est cent fois mieux le holo est vachement plus beau". Alors forcément, j'ai voulu comparer !
In fact, I own 2 :D (Well, I owned because I swaped it for a round Marge - who called me obscessed ?) I bought the round not long ago because someone told me "you'll see in the round one, the holo is hundred times better". So I needed it to compare !
Donc j'ai posé un doigt sur deux l'ancienne et la nouvelle version. Toutes les photos de la page sont faites avec cette manucure.
So I put a nail on two the old and the new version. All pictures in this page are done with this mani.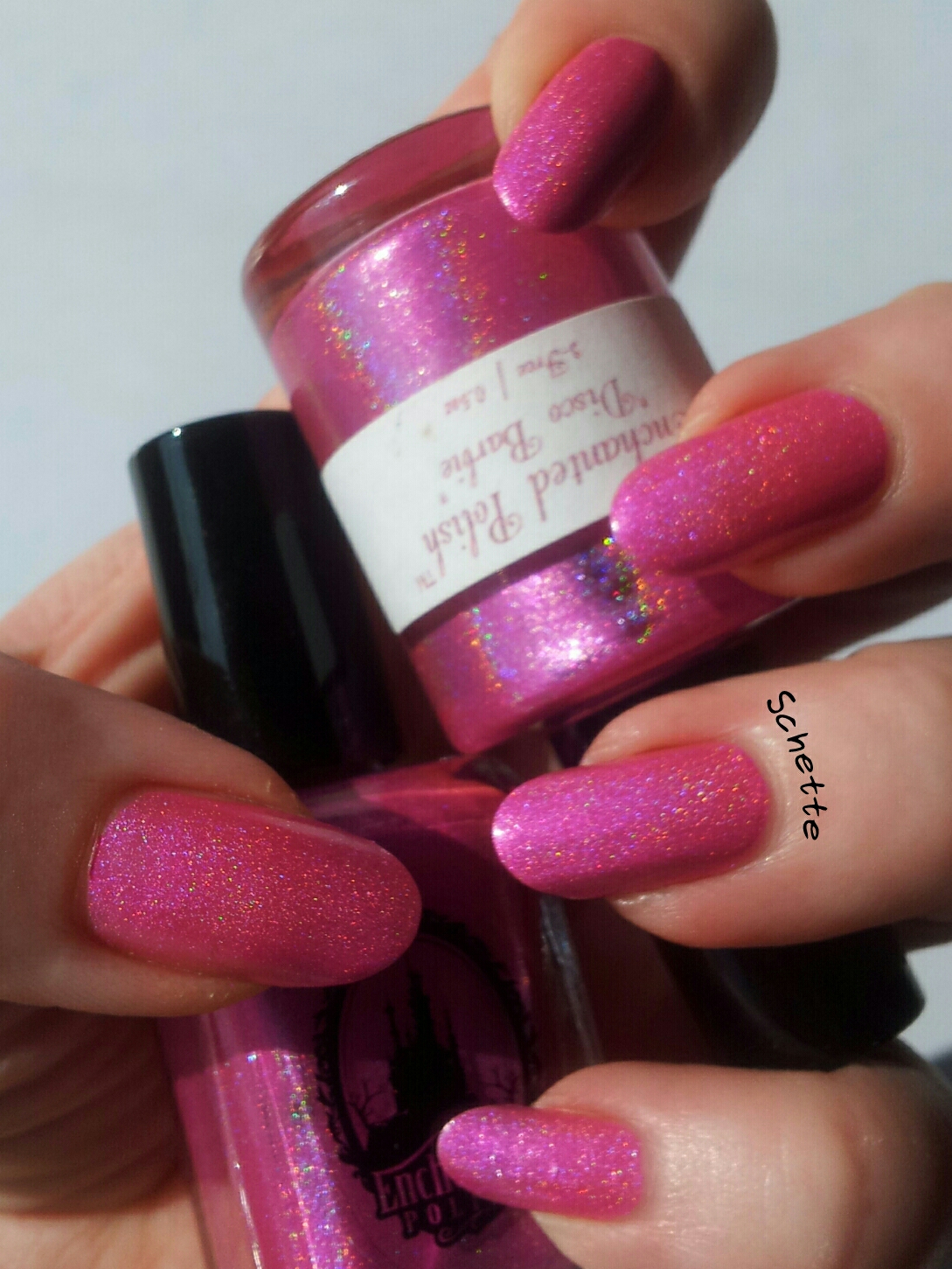 Une petite photo au soleil que j'ai voulue un peu floue pour qu'on voir bien les reflets holo. Pas de différence.
A little picture in the sun that I wished a little furry in order to see the holo reflects. No differences.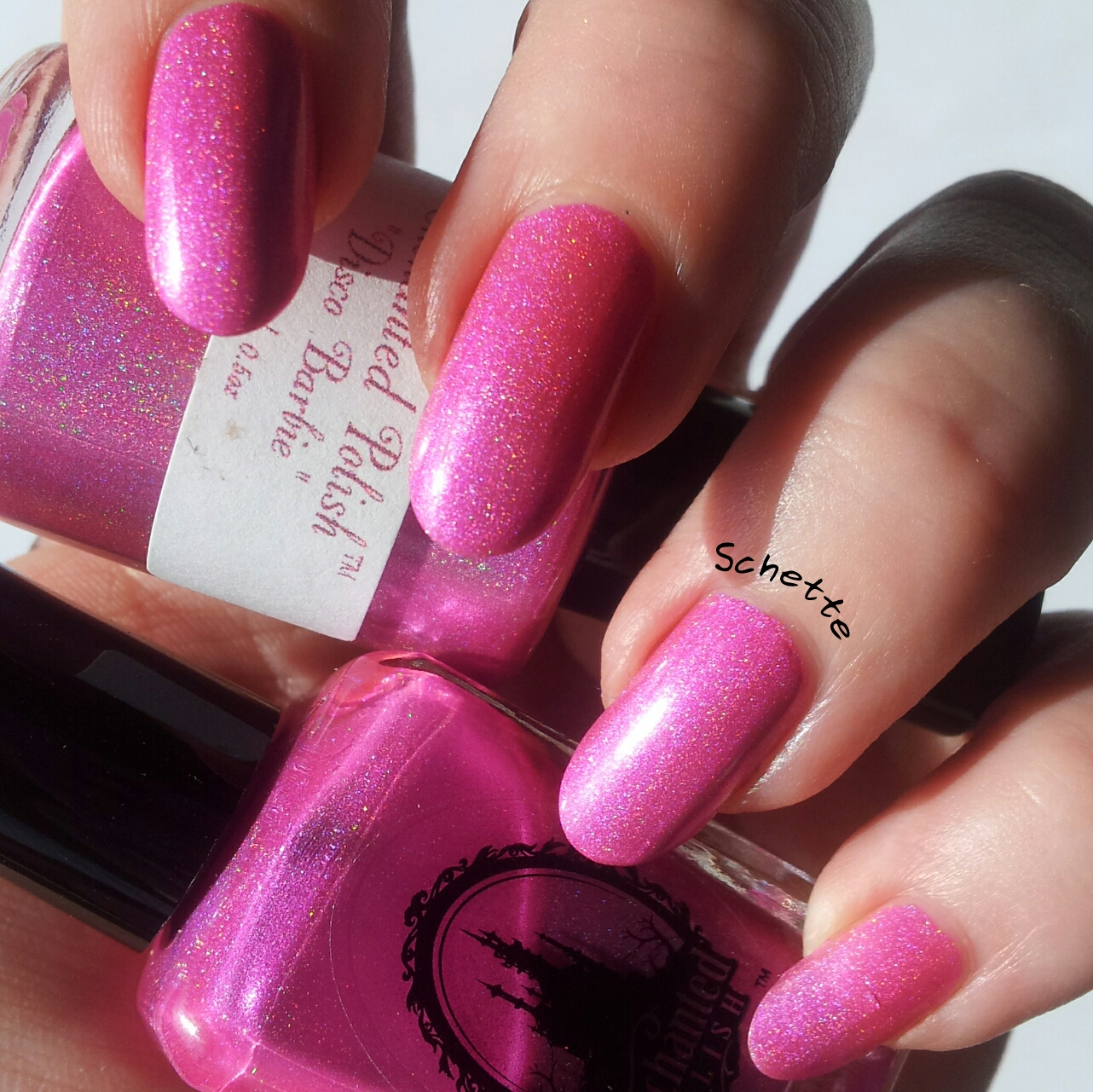 Toujours au soleil.
Still in the sun.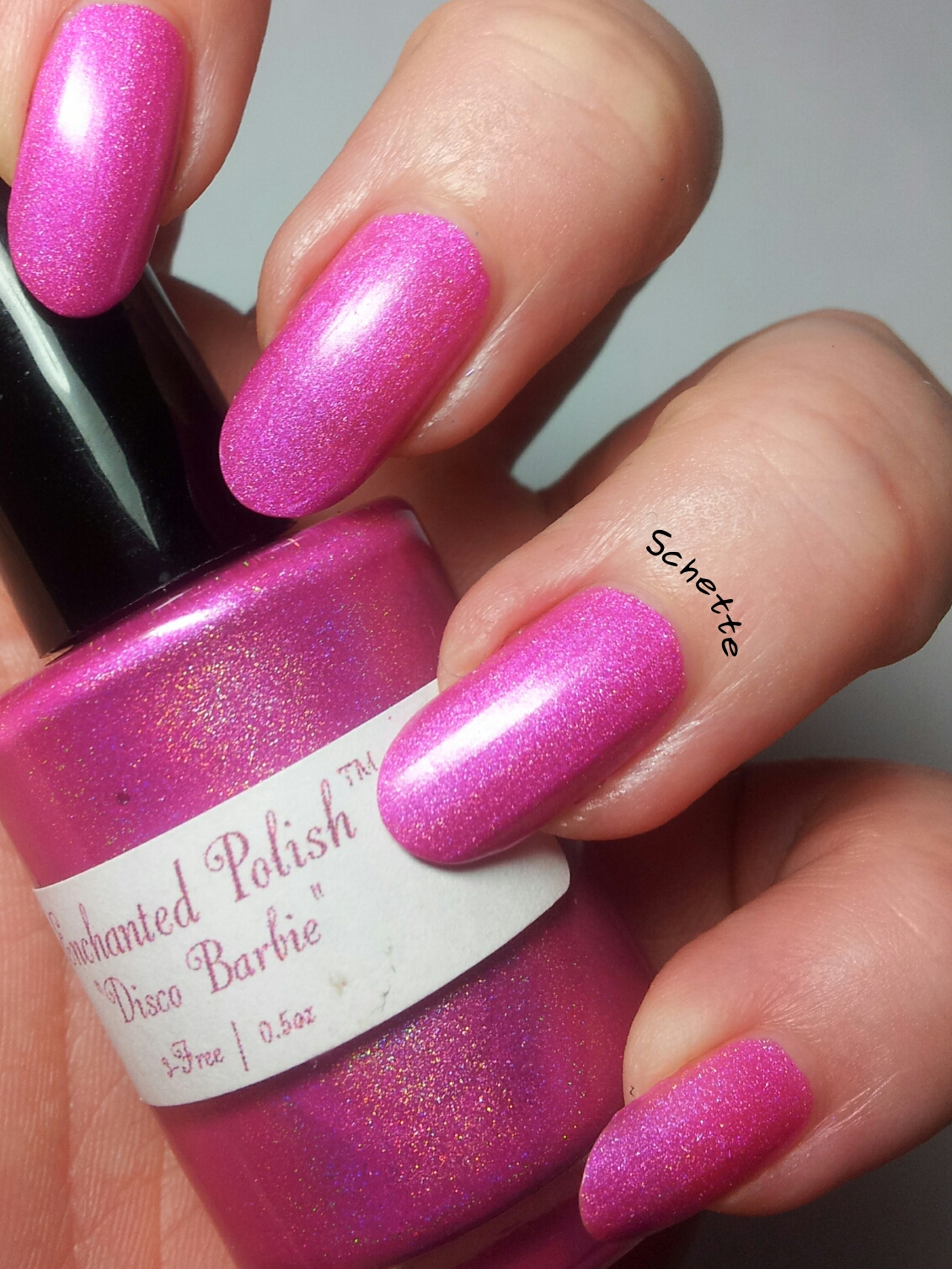 Sous éclairage artificiel. On peut noter que l'ancienne version est légèrement plus opaque : en fait elle l'est moins, j'ai juste posé 2 couches de l'ancienne version pour une de la nouvelle pour arriver au même niveau de couvrance.
Under artificial light. We can not that older is slight more opaque : in fact it's less, because I put 2 coats of old one whereas only 1 of the new one to have almost the same coverage.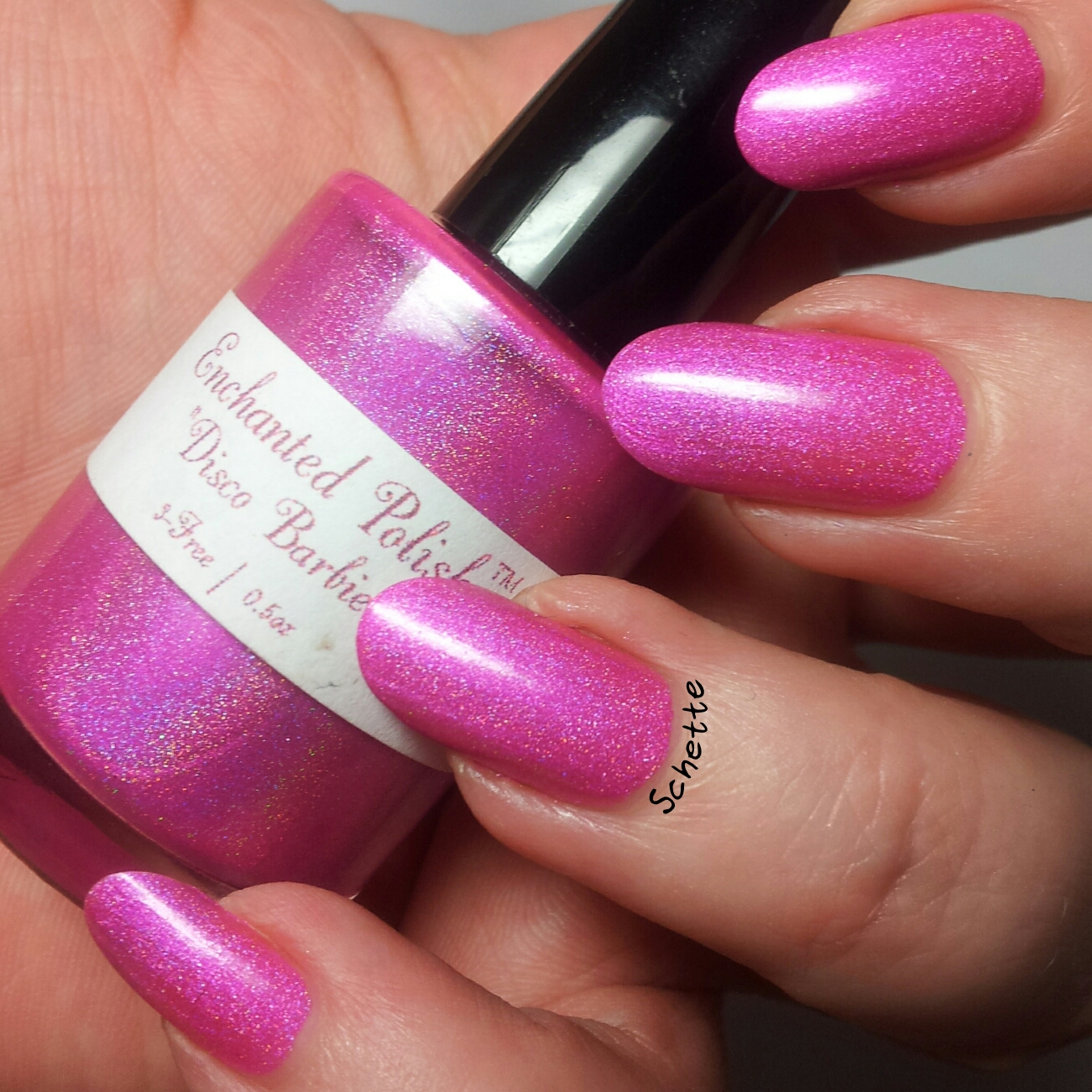 Et ce que sur une des photos juste je peux vous dire que je l'aime d'amour ?
Can I only under one picture tell you that I love her from true love ?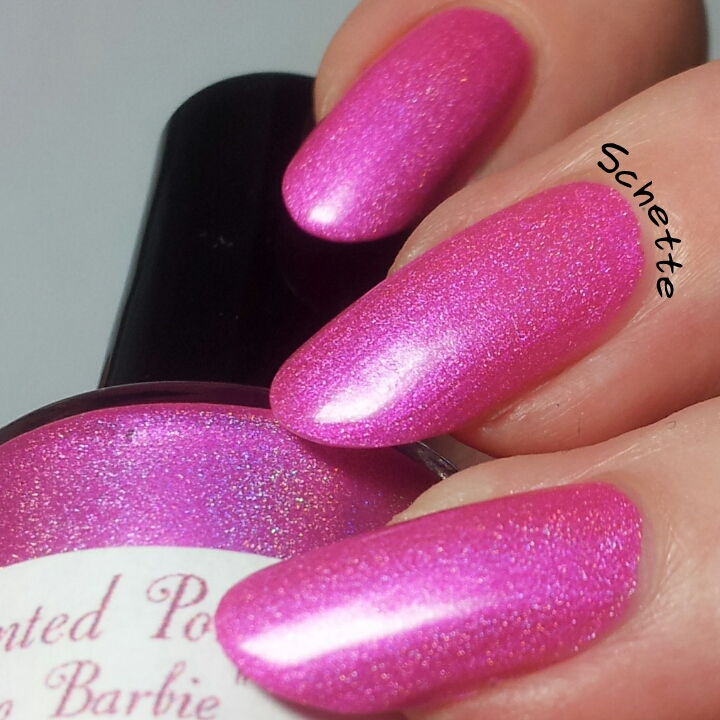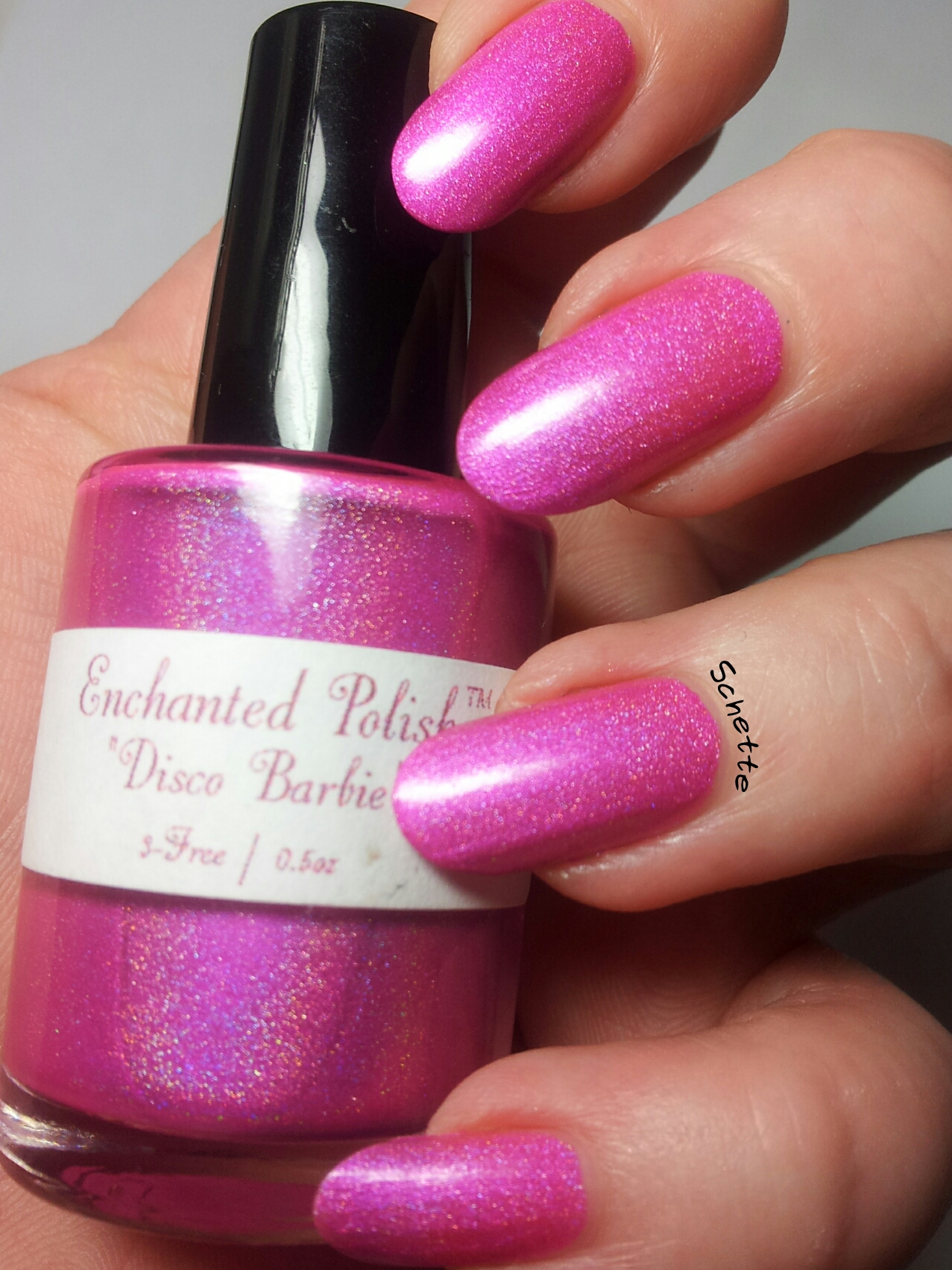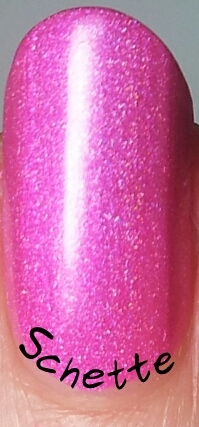 Le petit macro shot.
The little macro shot.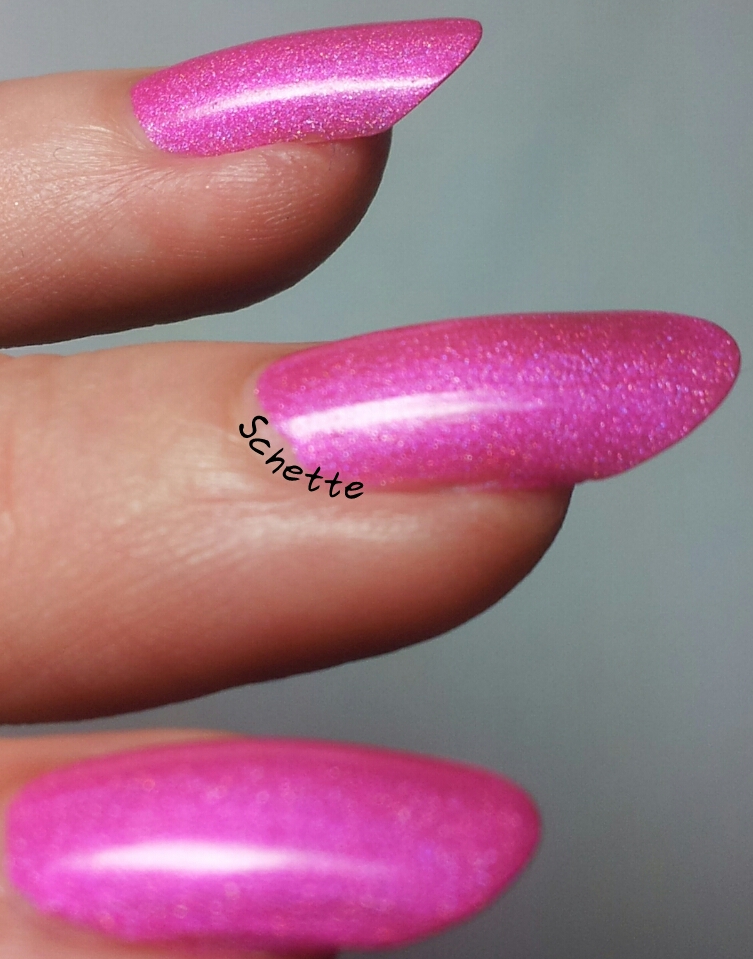 Bilan
Je ne vais pas vous parler de la formule (parfaite) des Enchanted Polish, mais juste du vrai pourquoi j'ai fait cet article : "est ce qu'il vaut mieux une bouteille ronde ou carrée de ce précieux ?" Parce que beaucoup vous diront que la ronde c'est le Nirvana.
Ma conclusion, c'est : couleur identique, le nouveau est légèrement plus couvrant, l'ancien à un fini légèrement mat (pas de top coat sur les photos).
Et aussi : JE L'AIME CE VERNIS !
I'm not gonna talk about the formula (perfect) Enchanted Polish, but just about the true reason I wrote this article : "Do I need a round or square of this one ?". Because you'll often hear that the round is better.
My conclusion is : color are same, the new one is slightly more coverant, the old one has a little mat finish (no top coat on the pictures).
And also : I LOVE THIS POLISH !
Schette, le 19 mai 2014
Vous pourriez aussi aimer / You can also like :

Enchanted Polish - Hot Chocolate for Unicorn

Enchanted Polish - Cranberry Cosmo

Enchanted Polish December 2012

Enchanted Polish Dragon Spit

Enchanted Polish Freeze Machine

Enchanted Polish - Poison Apple

Enchanted Polish : Magical Mystery Tour

Enchanted Polish : Disco H20, Reign Beau, Dope Jam, Rainbow Juice (with pulp)

Enchanted Polish : Pandore

Enchanted Polish : For the Win

Enchanted Polish : Neptune, December 2015, Holiday 2015

Enchanted Polish : Angel Baby

Enchanted Polish : Once upon a time

Enchanted Polish : Red Skittle Mani

Enchanted Polish : Comparison Pandore Holidays 2015

Comparison Enchanted Polish Hot Chocolate Vs Lilypad Lacquer Chocollo

Enchanted Polish : Sweet Memories

Enchanted Polish : Life in Plastic, It's fantastic

Enchanted Polish : I'm kind of a big deal

Enchanted Polish : Green Goblin

Enchanted Polish : September 2015, October 2015, November 2015

Comparison of Purple Lilypad Lacquer With Enchanted Polish Awesomess

Enchanted Polish : September 2013

Enchanted Polish : January, February and March 2016

Enchanted Polish : *69

Enchanted Polish : Comparison January and March 2016 with YSL Spring

Enchanted Polish : Alicorn, Unipeg and Miami Peach

Enchanted polish : April 2016, May 2016

Enchanted Polish : Magic Apple Cider

Enchanted Polish : Pumpkin Spice

Enchanted Polish : Prismatic Static

Enchanted Polish : Comparison Prismatic Static Vs Seven Nation Army + Moon Water

Enchanted Polish : Opal Lagoon

Enchanted Polish : Candied Opal

Enchanted Polish : Christmas in July

Enchanted Polish : Purple Roses

Enchanted Polish : Desert Night Sky

Enchanted Polish : September 2016

Enchanted Polish : August 2016

Enchanted Polish : Flamingo Freckles

Enchanted Polish : Dragon Egg

Enchanted Polish : Comparison Alicorn vs Dime Piece

Enchanted Polish : Fairy

Enchanted Polish : Garland

Enchanted Polish : Blackberry Jam

Enchanted Polish : Candy Apple

Enchanted Polish : Pinecone

Enchanted Polish : Boysenberry Syrup

Enchanted Polish : June 2016

Enchanted Polish : July 2016

Enchanted Polish : Marge's Blue Behive (fatty)

Enchanted Polish - Stay Classy San Diego

Enchanted Polish - Midnight

Enchanted Polish - Hella Good

Enchanted Polish - Dream On

Enchanted Polish - Common People

Enchanted Polish - Spring Fling

Enchanted Polish - Pegacorn

Enchanted Polish - Rainbow Pickles

Enchanted Polish - Ocean Potion

Enchanted Polish - Ectoplasm

Enchanted Polish - Moon Water

Enchanted Polish - Nightswimming

Enchanted Polish - Monsters Ink

Enchanted Polish - Fright Night

Enchanted Polish - Lost Boy

Enchanted Polish - Paint it black

Enchanted Polish - Sweet Mint

Enchanted Polish - Amaze-Ballz

Enchanted Polish - December 2017

Enchanted Polish - Holiday 2017

Enchanted Polish - May 2013

Enchanted Polish - January 2018

Enchanted Polish - November 2017

Enchanted Polish - Valentine

Enchanted Polish - In a Galaxy

Enchanted Polish - Far, Far away

Enchanted Polish - April 2018

Enchanted Polish - August 2018

Enchanted Polish - Aquaholic

Enchanted Polish - December 2018

Enchanted Polish - February 2018

Enchanted Polish - Fly

Enchanted Polish - Holiday 2018

Enchanted Polish - Instant Galaxy

Enchanted Polish - July 2018

Enchanted Polish - June 2018

Enchanted Polish - Opal Lemonade

Enchanted Polish - Sparkling Red Wine

Enchanted Polish - Unicornucopia

Enchanted Polish - Amaze-Ballz

Enchanted Polish - Cherries Jubilee

Enchanted Polish - Clockwork Castle

Enchanted Polish - Creep

Enchanted Polish - October 2017

Enchanted Polish - September 2018

Enchanted Polish - Sugar Coated

Enchanted Polish - August 2019

Enchanted Polish - Fairy tales

Enchanted Polish - July 2019

Enchanted Polish - Fire

Enchanted Polish - Ice

Enchanted Polish - Cosmic Dust

Enchanted Polish - Two thousand zero zero

Enchanted Polish - California Raisin









---

comments powered by