Le vernis Eat Sleep Polish Sidewalk Strider
Vous pourrez trouver cette marque sur la
boutique
.
You can find this brand on the shop .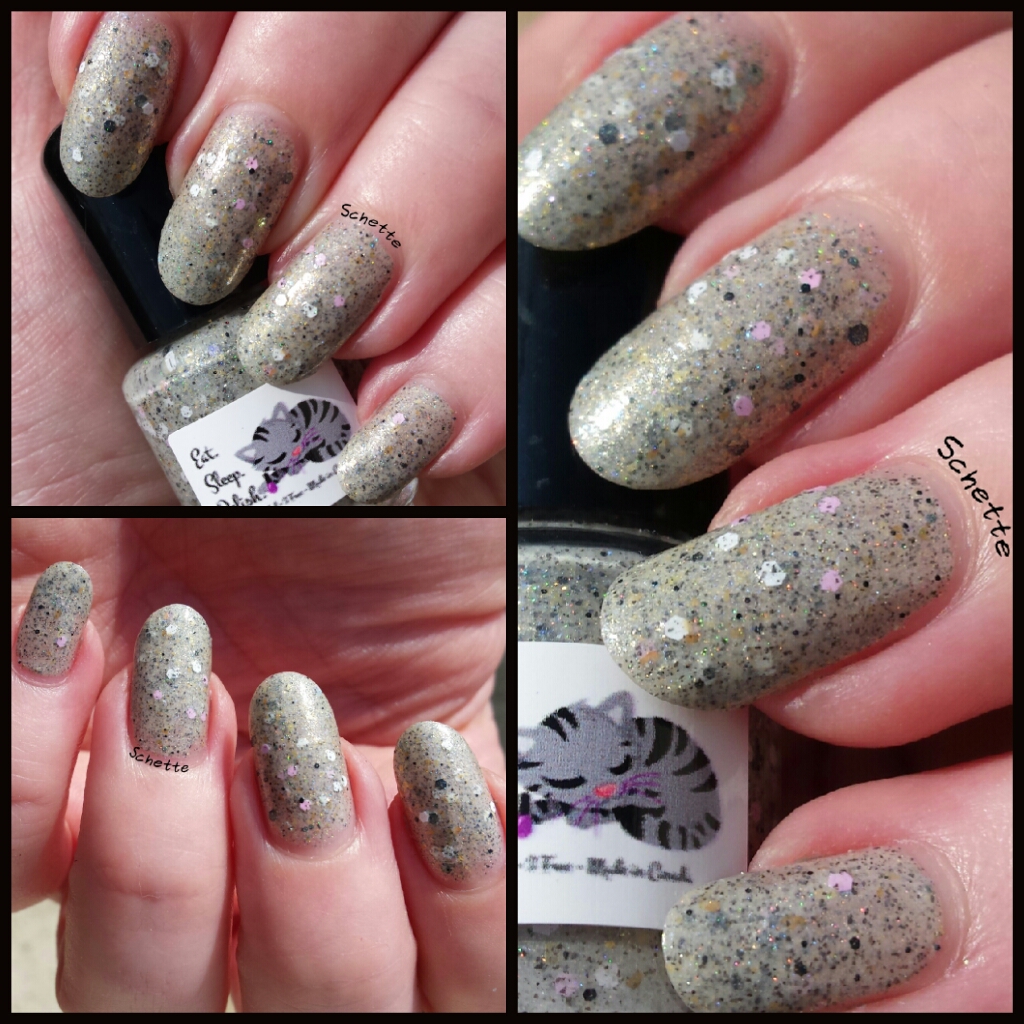 Ma petite photo récapitulative.
My picture sommary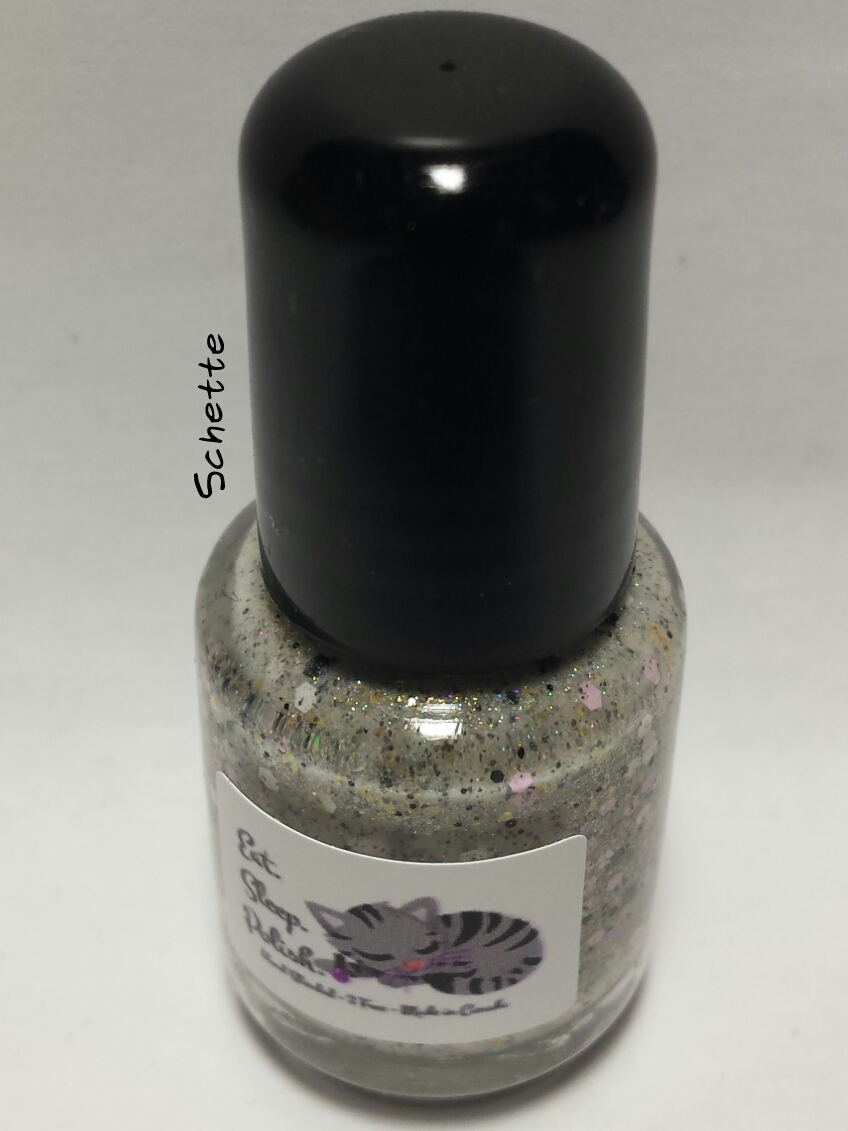 Bon, à la description, vous pensez bien que je me suis dit "hum". Par contre, ce qui m'a rendue curieuse, c'est que ma copine
Mini Neko
l'a classé direct premier de sa selection de janvier ! Donc forcément, j'ai voulu voir !
So, reading the description, you beg I told myself "hum". But, what made my curious, is that my friend Mini Neko told me this is her favorite polish of January !!! So, I wanted to see why !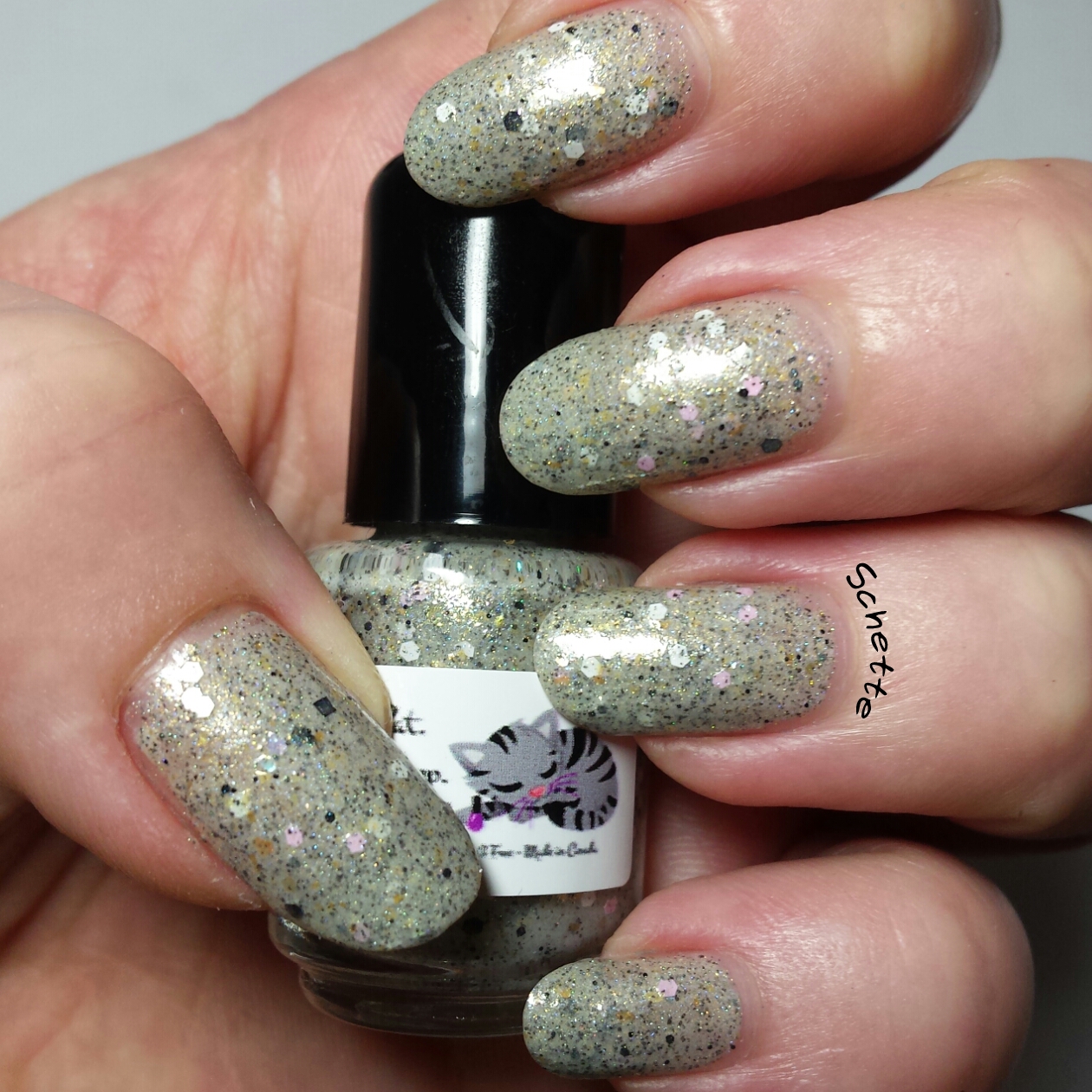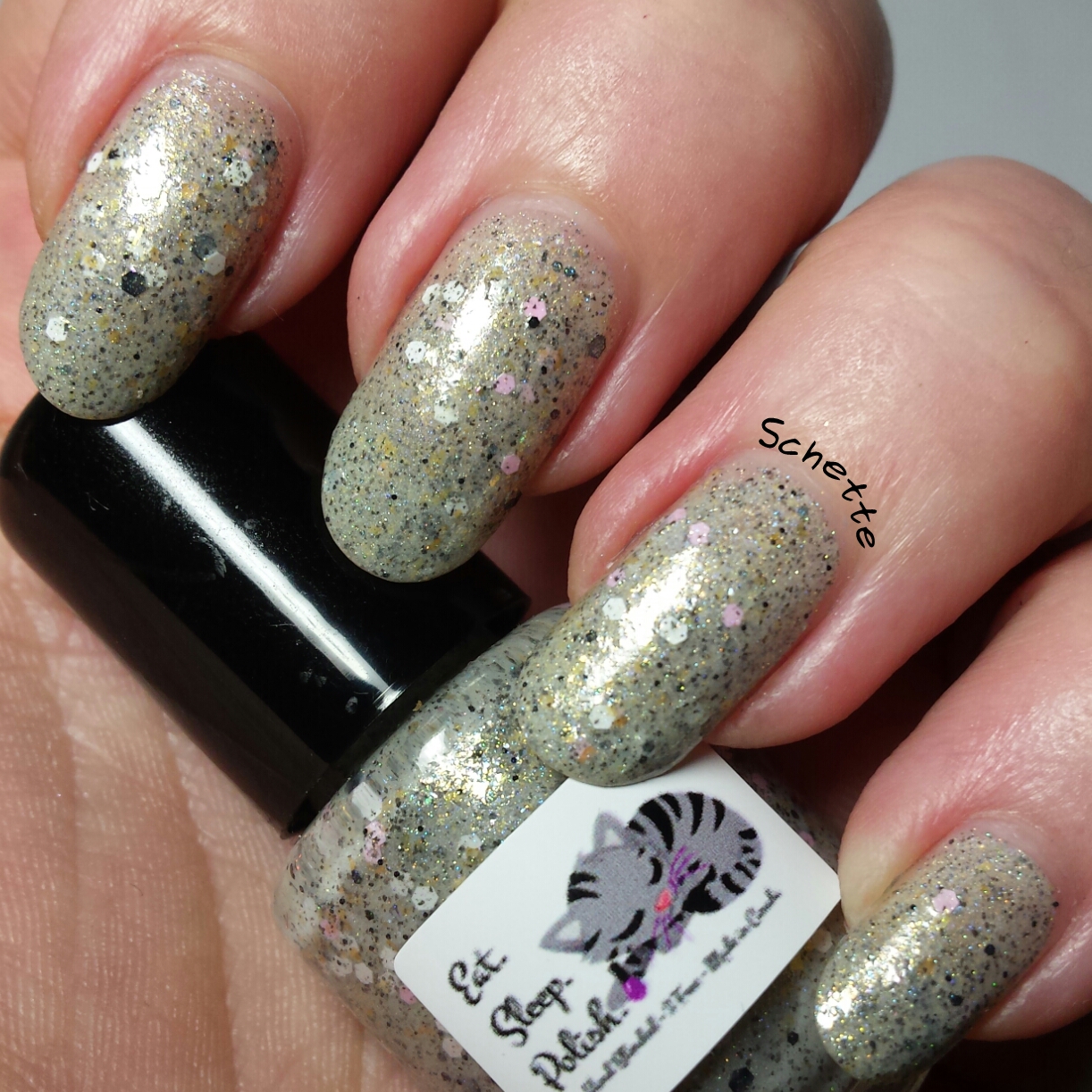 Je suis la première surprise, mais effectivement, le vernis emballe mon petit coeur de NPA. Je ne sais pas pourquoi, son petit reflet doré, le fait qu'il soit vraiment original, le fait qu'un glitter se pose parfaitement en deux couches !
I'm the first surprised but indeed, I have a crush on the polish. I dont know why, but, it little golden reflect, the fact that it's really unique, the fact that a glitter is perfect in only two coat !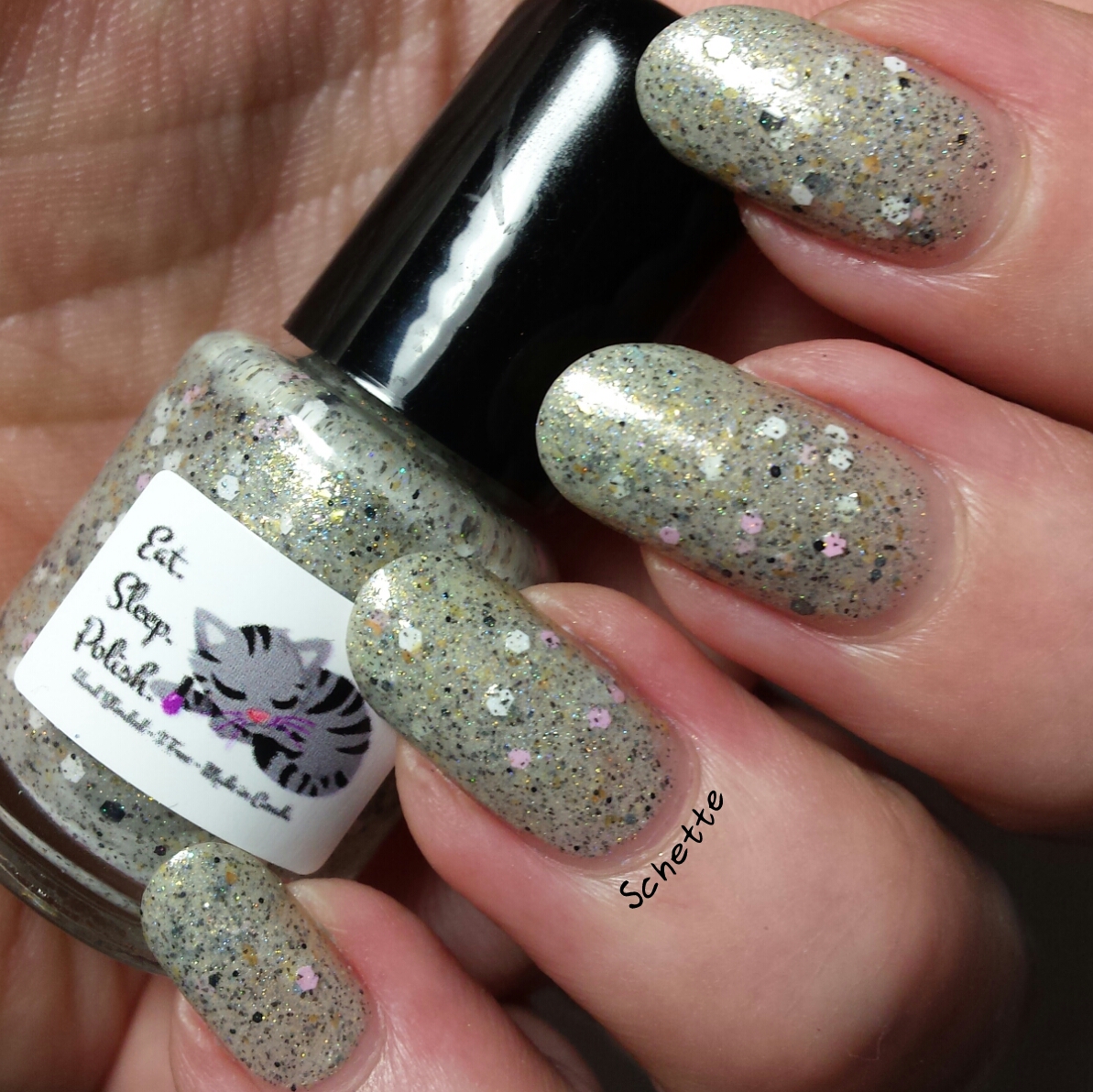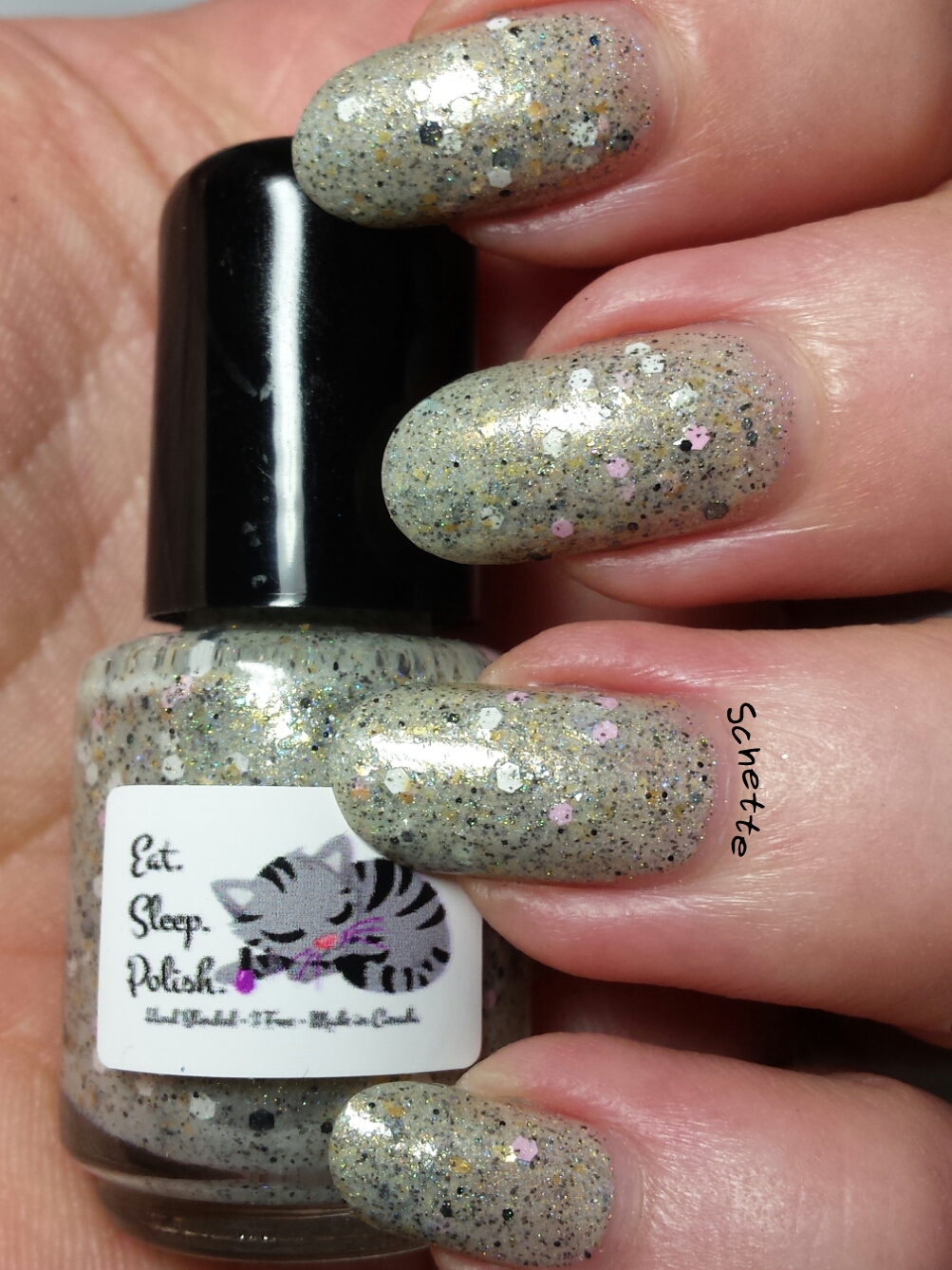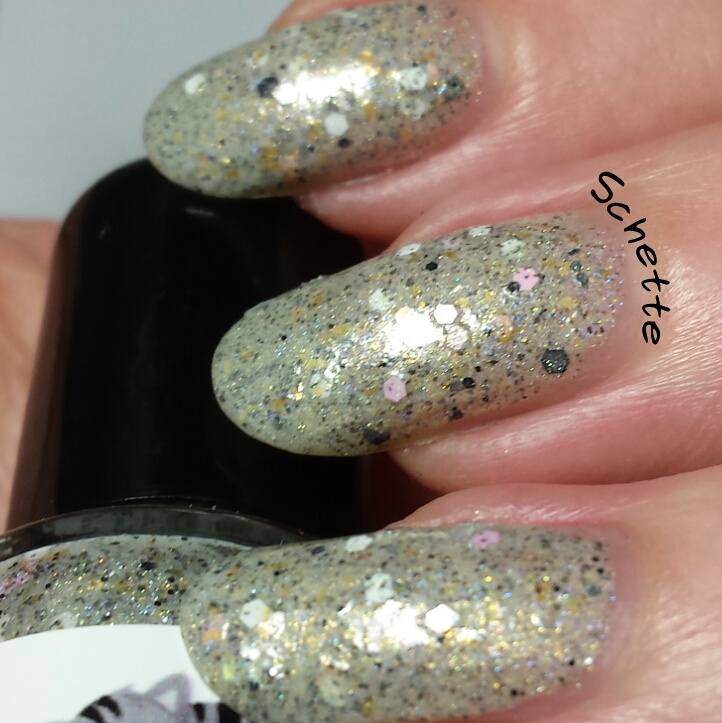 Et bien sûr, il est holographique !
And of course, it's holographic !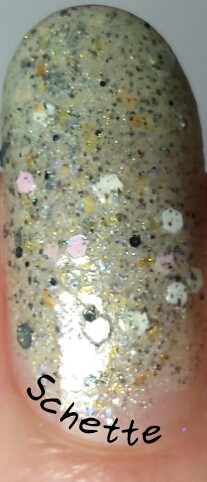 Maintenant, les photos en extérieur au soleil.
Now, pictures with sun, outdoor.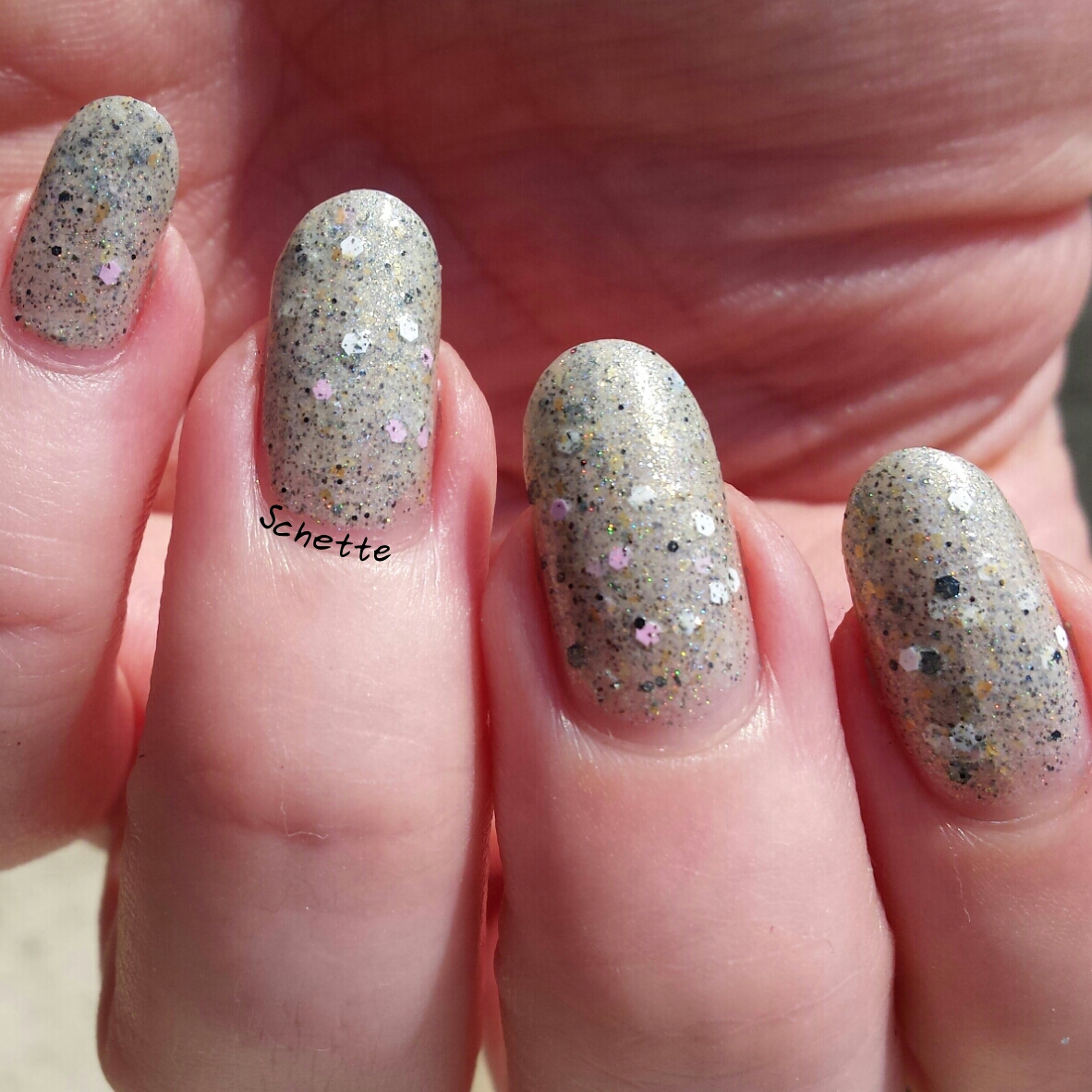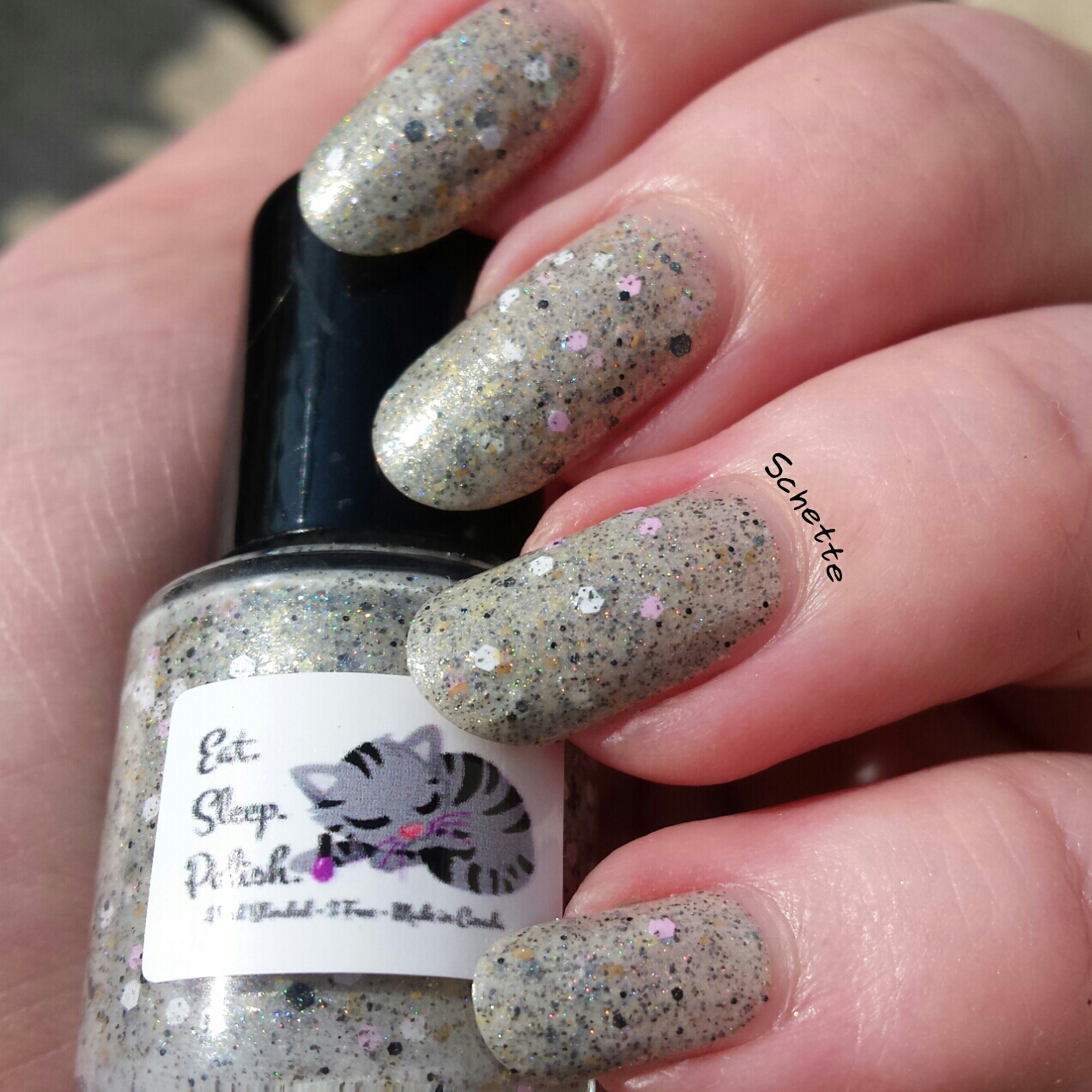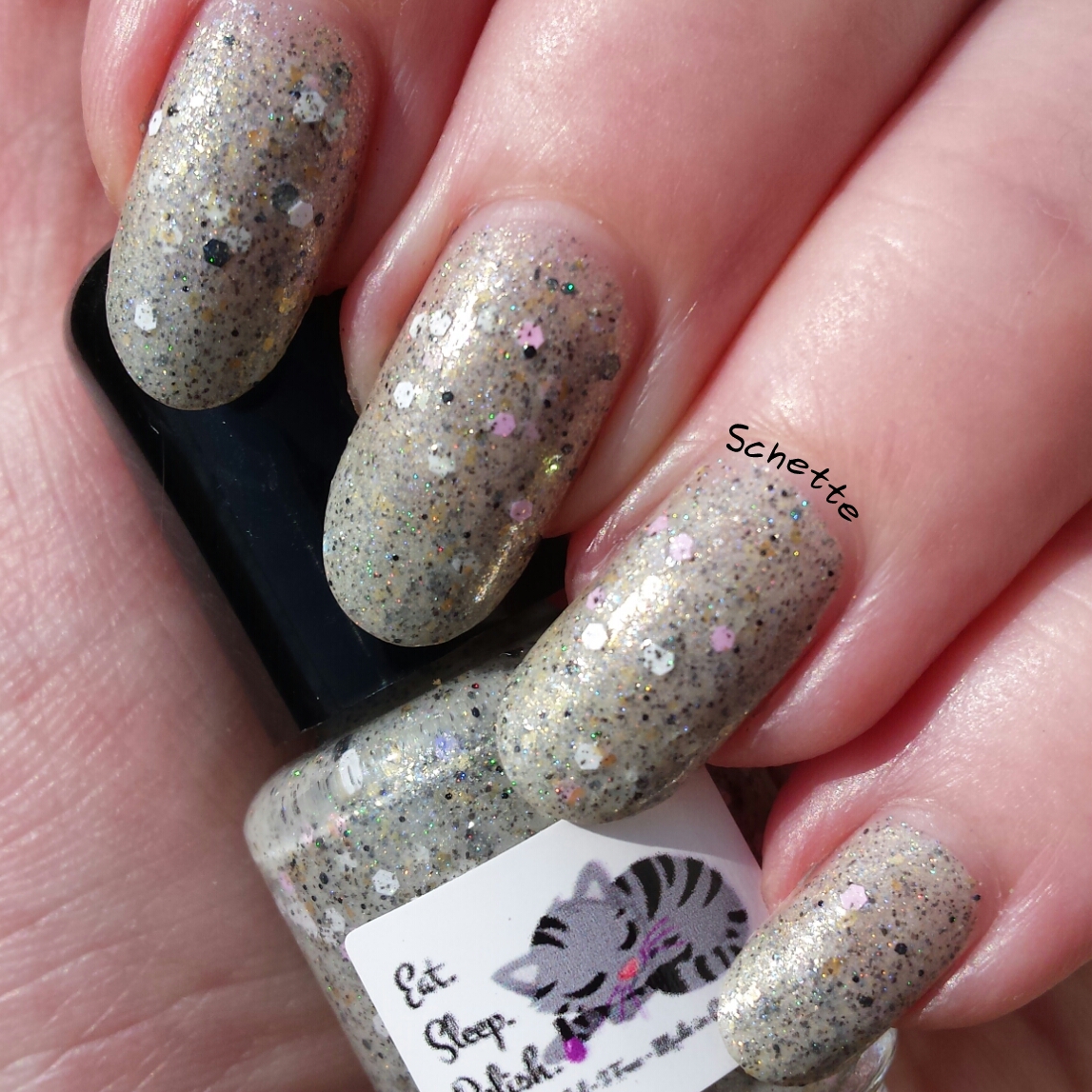 Alors qu'en pensez vous ? je le trouve vraiment unique !
So, what do you think ? I find it really unique !
Bilan
Posé en deux couches, sans top coat. L'application est parfaite, le séchage utlra rapide.
Je suis vraiment très surprise par ce vernis, pourtant rien ne laissais présager que j'allais l'aimer : un glitter gris. Mais il a ce petit je ne sais quoi, qui fait que, oui je l'aime !
I used 2 coats, without top coat. The application is perfect, the dry utlra fast.
I'm really surprised with this polish, altrough nothing will announce that I was going to love it : a gray glitter polish ! But it has the little I don't know what that makes me love it !
Vous pouvez également rejoindre notre
groupe de fan d'indies
Schette, le 30 avril 2014
Vous pourriez aussi aimer / You can also like :

Les Vernis Eat Sleep Polish Garden Grouve, Waiting for my Ruca et What I got

Les Vernis Eat Sleep Polish Rusty Spoon, Salad Finger et Imagination

Eat Sleep Polish - Schette's Meow

Eat Sleep Polish - Perfect Storm, Hot orange is the new black, Dream

Eat Sleep Polish - Fairies and Princesses collection

Eat Sleep Polish - Fruitcake Fiasco

Eat Sleep Polish - Cat Scratch Fever

Eat Sleep Polish - Radiance, Invincible, Lilyberry Milkshake

Eat Sleep Polish - Raspberry gummy bear, Raspberry mudpie, Himalayan Salty Caramels

Eat Sleep Polish : The truly outrageous Collection

Eat Sleep Polish : Kitten Mittens, Ayapi Mou, Wicked

Eat Sleep Polish : Jigglypuff, Burning Bridge

Eat Sleep Polish : Cinnamon girl, Wish upon a star

Eat Sleep Polish : The Planetes Collide Collection

Eat Sleep Polish : Blue Satin Sashes, Jingle Bits

Eat Sleep Polish : Glitterberry

Eat Sleep Polish : Alice in Polishland Part 2 - Show 1

Eat Sleep Polish : Alice in Polishland Part 2 - Show 2

Eat Sleep Polish : Hope, Wisdom, Intuition

Eat Sleep Polish : Sheets of Empty Canevas

Eat Sleep Polish : Periwinkle Twinkle Twinkle

Eat Sleep Polish : F&P pink Prototype

Eat Sleep Polish : Rollanberry Fields

Eat Sleep Polish : Uncle Berry FIL

Eat Sleep Polish : The Winged Monkeys

Eat Sleep Polish : Silver Shoes with pointed toes

Eat Sleep Polish : The golden Cap

Eat Sleep Polish : Glowing Green Gates

Eat Sleep Polish : The Deadly Poppy Fields

Eat Sleep Polish : Purplefield

Eat Sleep Polish - Sticky Paws

Eat Sleep Polish : Purple Rain

Eat Sleep Polish : Some 2014 Prototypes Part 1

Eat Sleep Polish : Some 2014 Prototypes Part 2

Custom Collection : It Finally Happened

Eat Sleep Polish : Elephantas Prototype

Eat Sleep Polish : SBP 05

Eat Sleep Polish : Muffy the Mouse, Freddy the flamingo

Eat Sleep Polish : Doris the Dorado

Eat Sleep Polish : Oh, yes !

Eat Sleep Polish : Sublime Collection Part 2

Eat Sleep Polish : Fairies and Princess Part 2 - Episode 1

Eat Sleep Polish : Fairies and Princess Part 2 - Episode 2

Eat Sleep Polish : The Ballad of the space Babies

Eat Sleep Polish : Love me do

Eat Sleep Polish : Comparison Doris the Dorado with Ariel's Gizmos Aplenty

Eat Sleep Polish : Lateralus

Eat Sleep Polish : Kitty Blossom

Eat Sleep Polish : Perry the Parokeet

Eat Sleep Polish : Intuition

DéFIL #5 : Eat Sleep Polish : Twinkle Twinkle

Eat Sleep Polish - Collywoobles

Eat Sleep Polish - Under Pressure

Eat Sleep Polish - Deep Freeze

Eat Sleep Polish - Schroedinger's Cat is still Alive

Eat Sleep Polish - Ride the rocket

Eat Sleep Polish - Dirty Martini

Eat Sleep Polish - Mithra

Eat Sleep Polish - Marlow the Merman

Eat Sleep Polish - Felix the Frog

Eat Sleep Polish - Darkness Calling

Eat Sleep Polish - Silky Mane

Eat Sleep Polish - Seaside

Eat Sleep Polish - Phytosynthesis

Eat. Sleep. Polish. - Freshly Squeezed

Eat. Sleep. Polish. - Sam the Stallion

Eat Sleep Polish - A new begining

Eat Sleep Polish - Nanaa Mingo

Eat Sleep Polish - No Rain

Eat Sleep Polish - Mon cheri









---

comments powered by