Pretty and Polished : Summer ! I Miss you SO much !
Vous pourrez trouver cette marque sur la
boutique
.
You can find this brand on the shop .


PRESS SAMPLE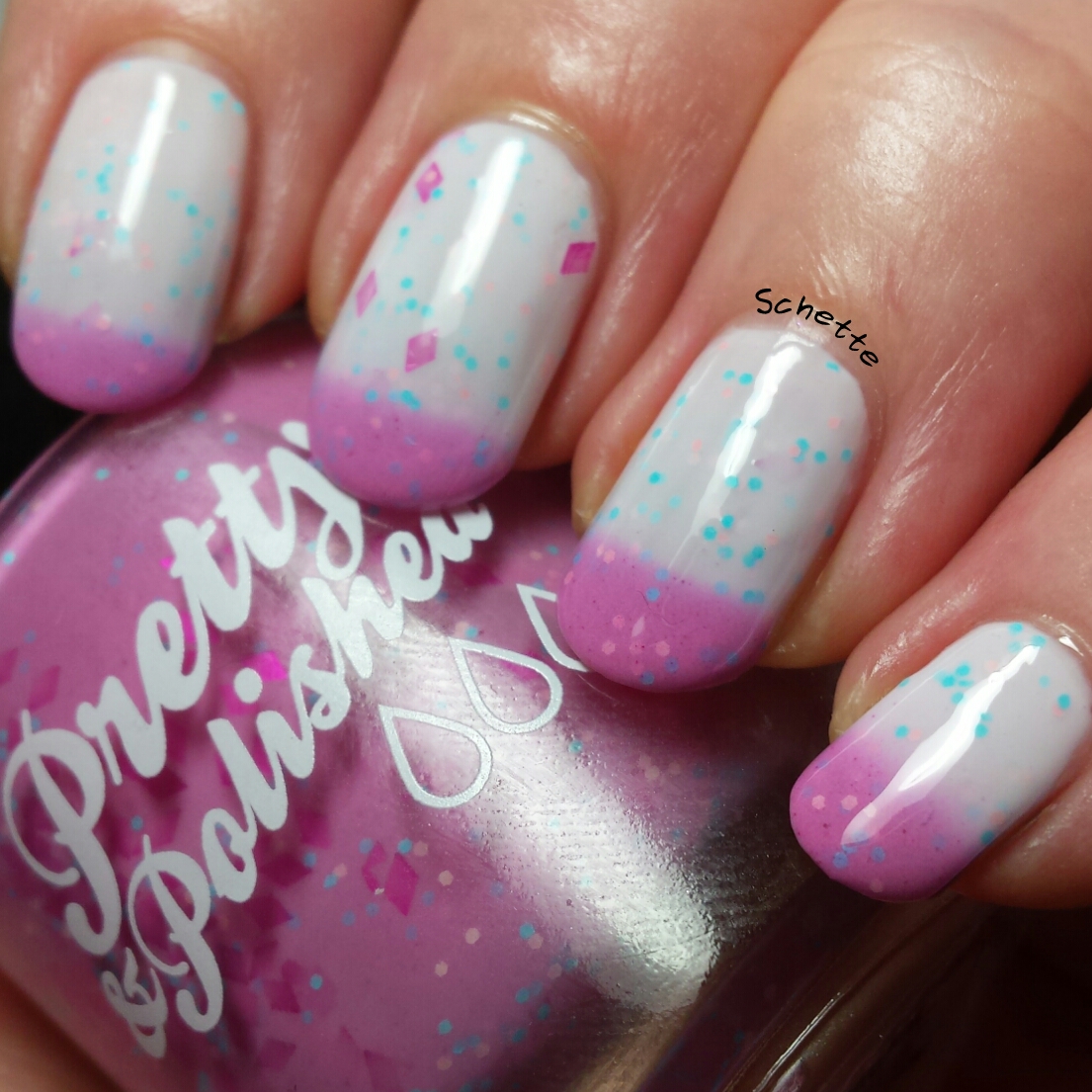 Pretty and Polished m'a demandé de faire une review de l'un de ses vernis. J'avoue que j'ai eu un peu peur en ouvrant mon paquet et en découvrant un crelly : je pense que vous connaissez toutes mon amour pour ce type de vernis. Je trouve toujours qu'ils sont extrêmement difficiles à poser et que ça laisse un coté fouilly que je n'aime pas. Aussi , quelle n'a pas été ma surprise en le posant que de voir qu'il était en plus thermal !
Niveau application, je dois avouer que je suis agréablement surprise : le vernis s'étale comme du beurre et distribue la bonne dose de paillettes rondes bleues et roses. En revanche, il faut un peu pêcher pour trouver des losanges, mais j'ai envie de dire que ça ne m'a pas génée du tout.
Autre énorme surprise : toutes les photos ont été prises sans que j'ai à plonger une seule fois mes mains dans l'eau pour réactiver l'effet thermal et là je dis donc un énorme oui !
Pretty and Polished asked me to review one of their polish. I have to admit that I was a bit scared when I openned my package by viewing a crelly : I think you all know my love for this kind of polish. I find that they are usualy very hard to apply and that give a messy aspect to the mani that I dont like. So, I don't tell you my surprise when I applied it and saw that it was .... thermal !
For the application, I have to say that I'm gladly surprised : the polish applies like butter and give the good amount of round glitter pink and blue. I had to fish to grab the losanges ones, but I want to say that was a good point to me.
Another huge surprise : all this pictures were taken without I had to put my hand in water to activate the thermal effect : for this I would say an enormous yes !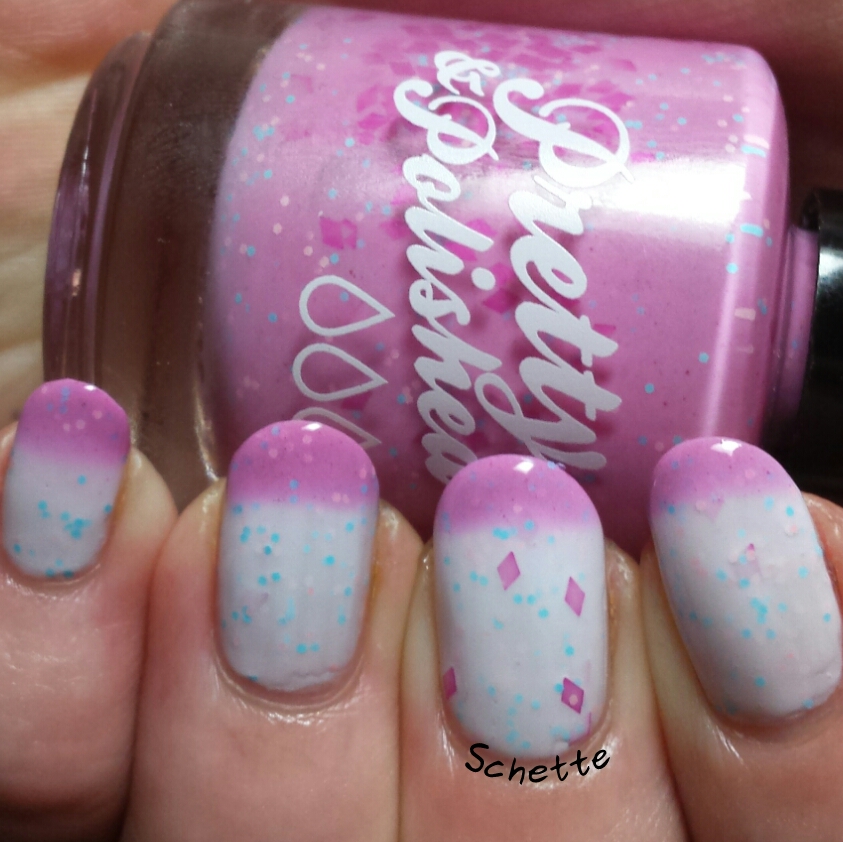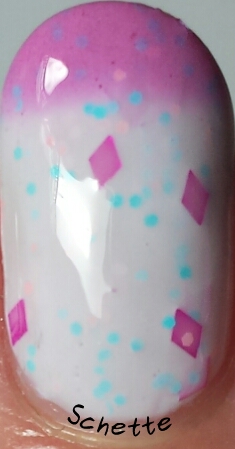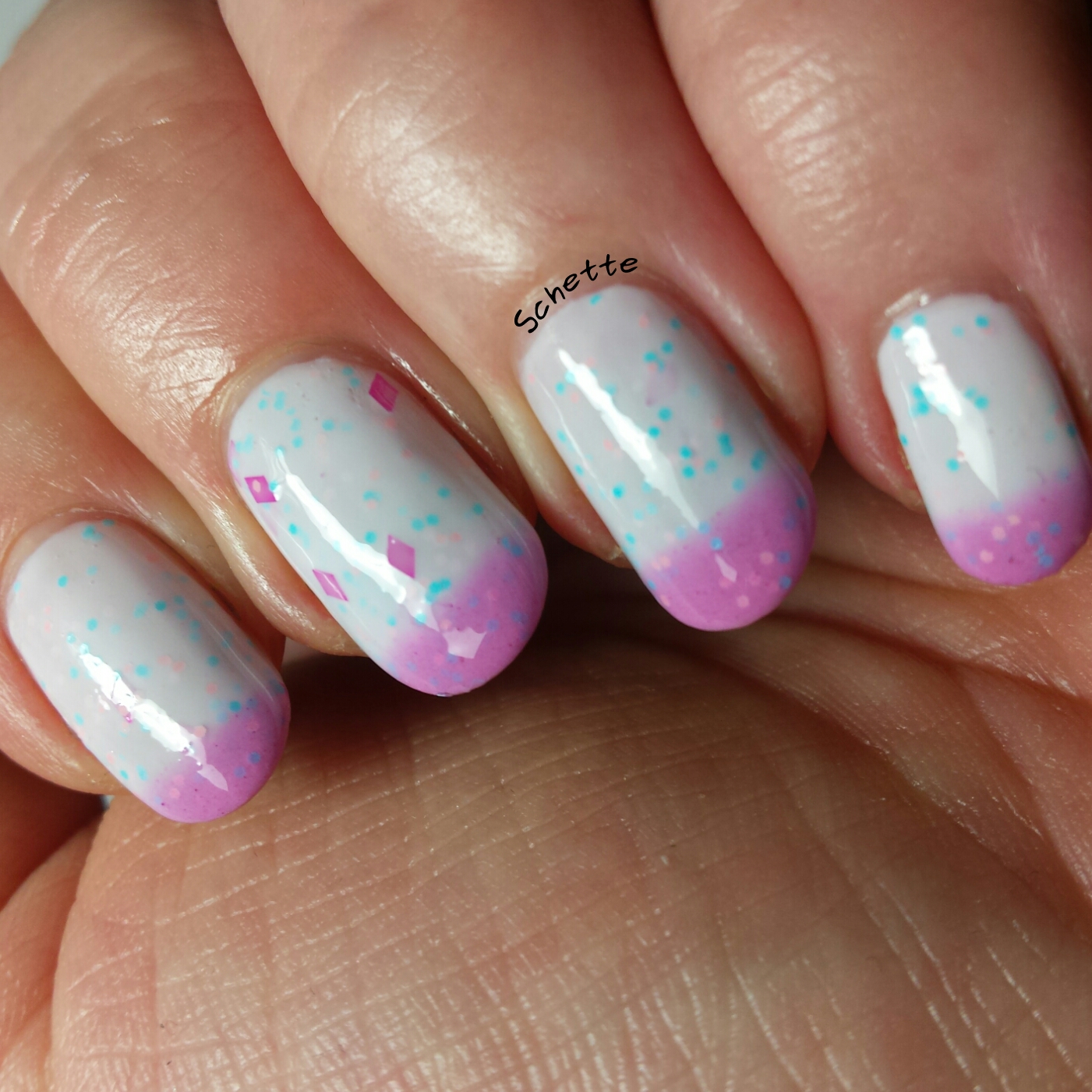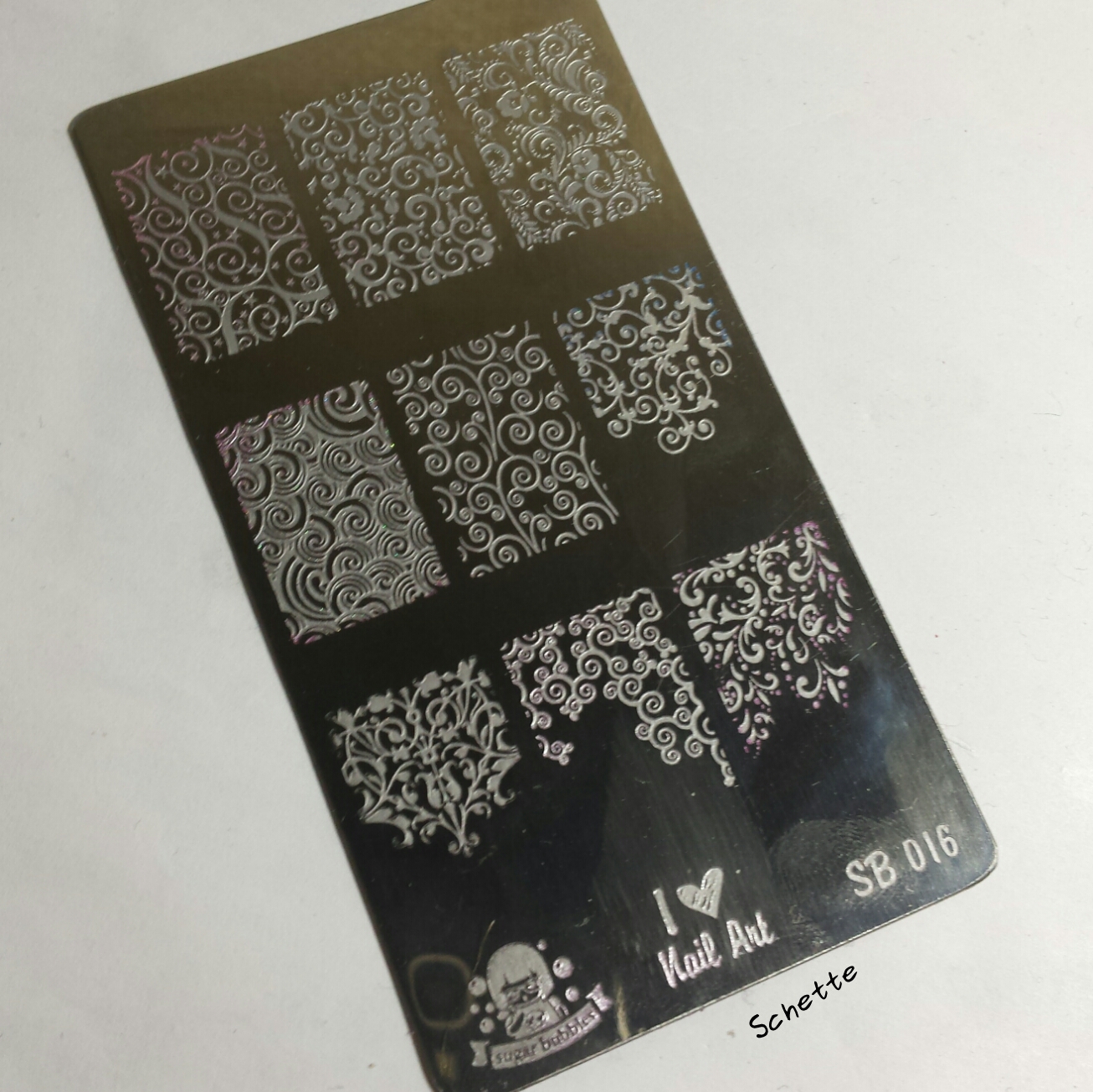 Comme ça faisait très vernis de princesse, j'ai quand même ajouté un petit stamping avec ma plaque Sugar Bubble Nr 16, en utilisant le Essie Nothing else metals que j'adore. Je trouve le résultat très sympa :)
As it was a very princess polish, I wanted to add a little stamping with my Sugar Bubble Nr 16, using the Essie Nothing else metals that I love to stamp. I find the result very pretty :)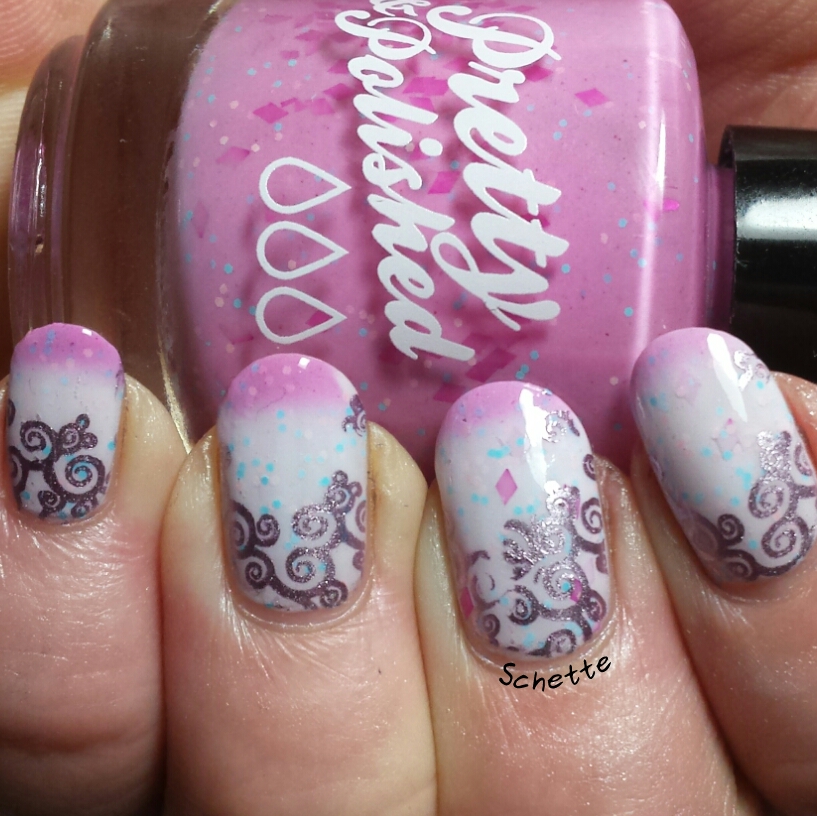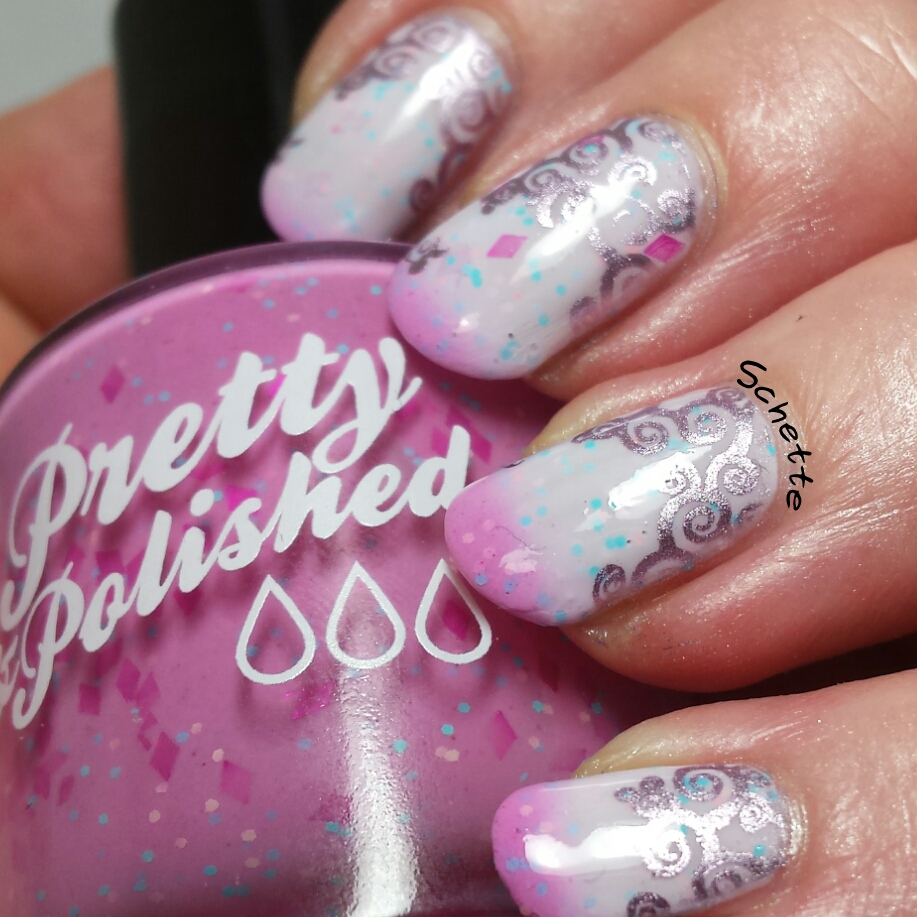 Bilan
Une très jolie découverte :) Je vais devoir me pencher sur leurs vernis holo, vous ne pensez pas ?
A very pleasant discovery :) I will have to have a look at their holo polish, don't you think ?
Schette, le 8 février 2015
Vous pourriez aussi aimer / You can also like :