Nail Hoot : Jeepers Creepers
PRESS SAMPLE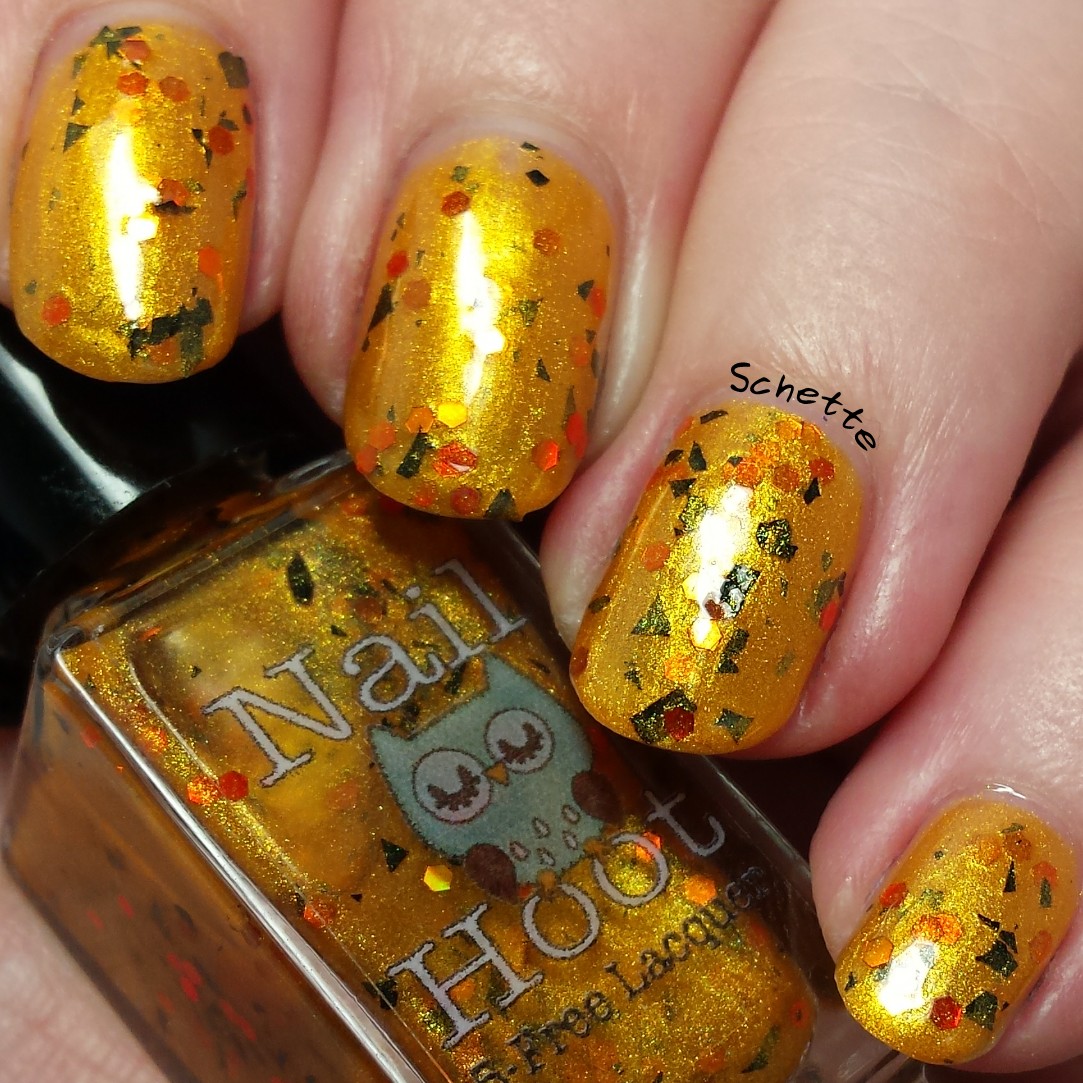 Pour cet Halloween, beaucoup d'indies ont lancé une collection de vernis pour fêter l'occasion. Je voulais vous montrer ce Nail Hoot qui s'appelle Jeepers Creepers. Je sais pas vous, mais moi dès que j'entend ce nom, je me met à chanter ça :
For this Halloween, a lot of indies launch some polish to celebrate this moment of the year. Let met show you this Nail Hoot Called Jeepers Creepers. I don't know you but when I hear this name I immediatly sing this song :
Bon, revenons à notre vernis :)
Anyway, let's return to the polish :)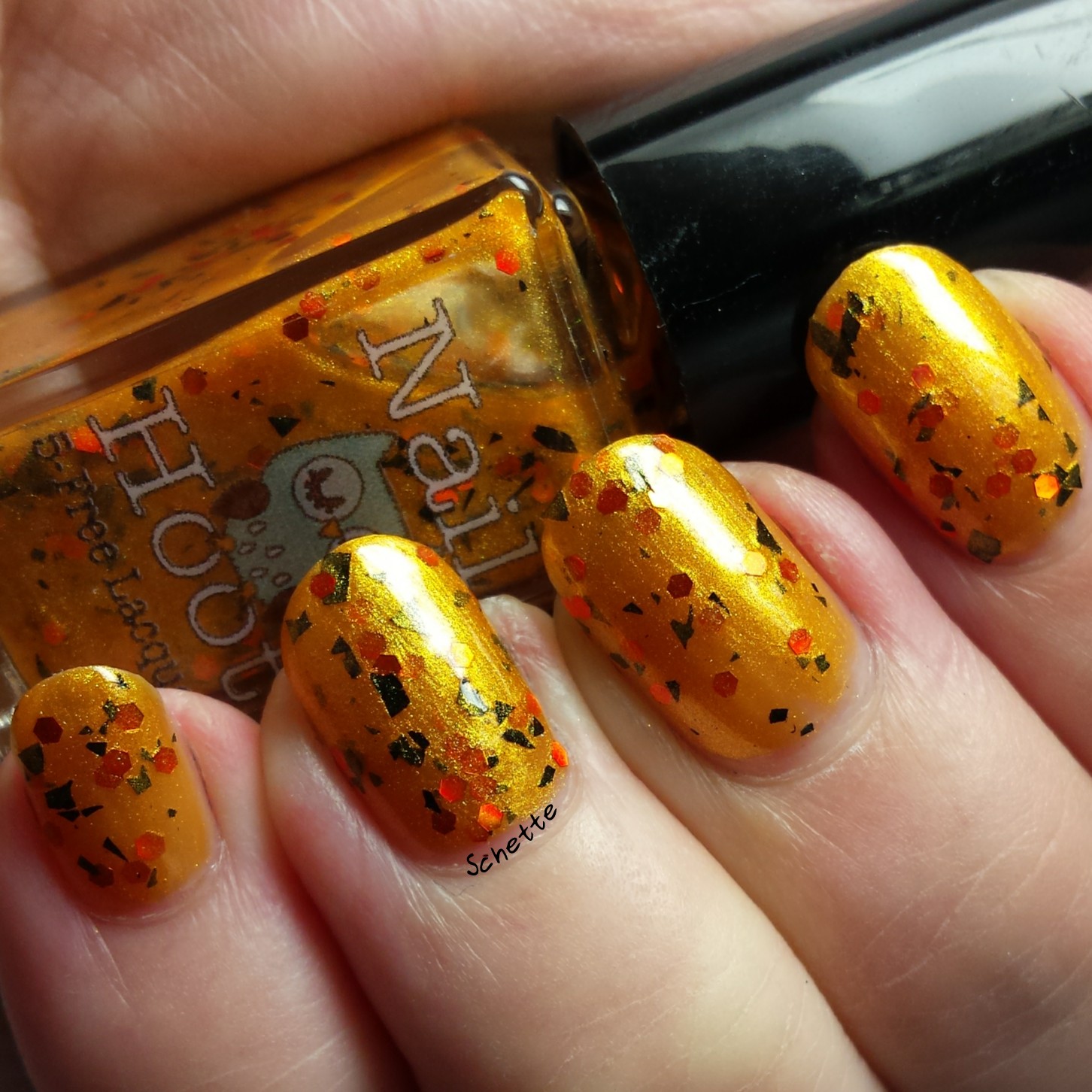 C'est donc un vernis orange perlé avec des glitters noires de formes triangulaires et aléatoires, ainsi que octogones oranges et rouges. Il est ici posé seul en trois couches (on le voit, il fait très jelly sandwich)
This is a orange pearl polish with glitters black with triangle and random shapes, and orange and red octogones as well. It's here worn in three coats (we can see it, it's a perfect jelly sandwich mani)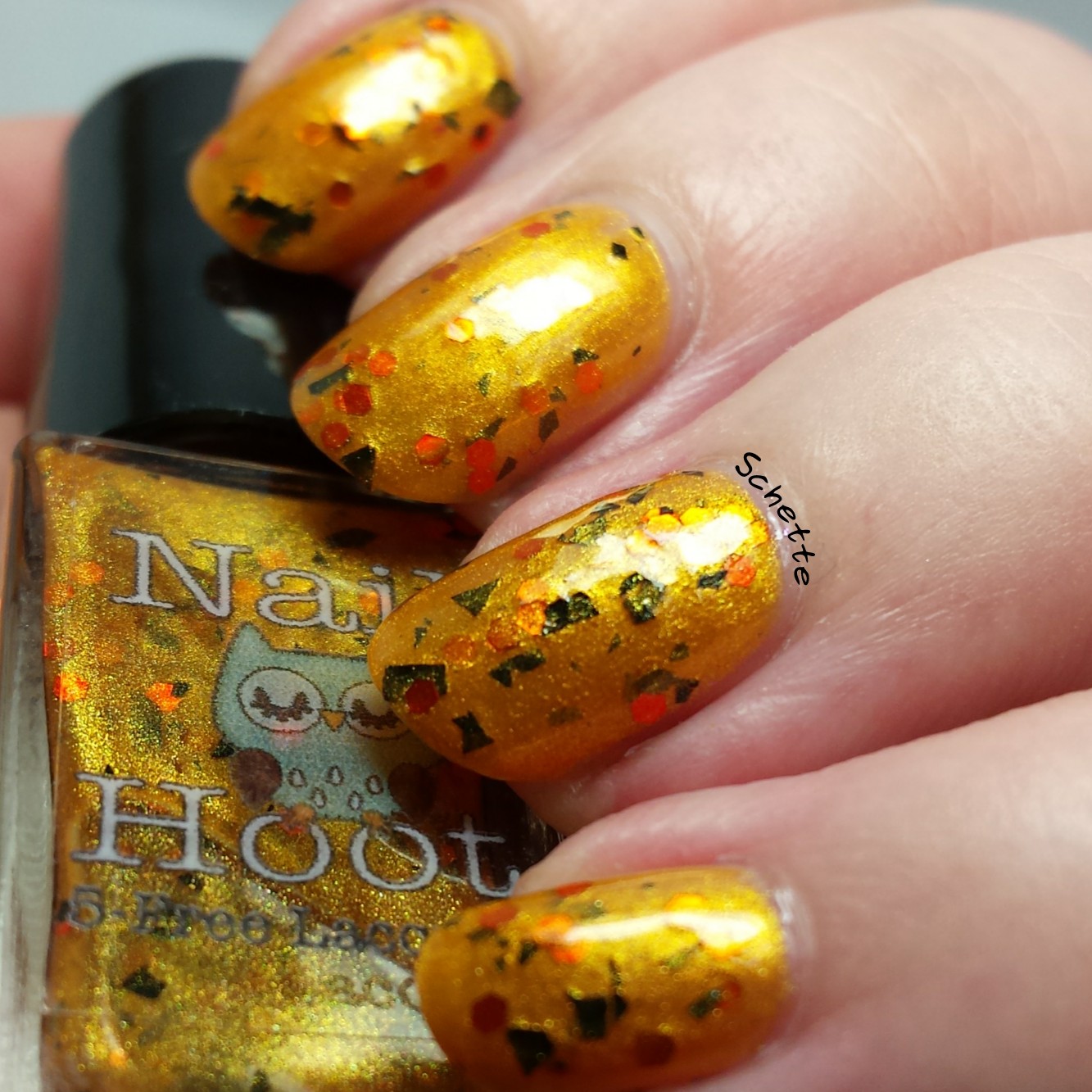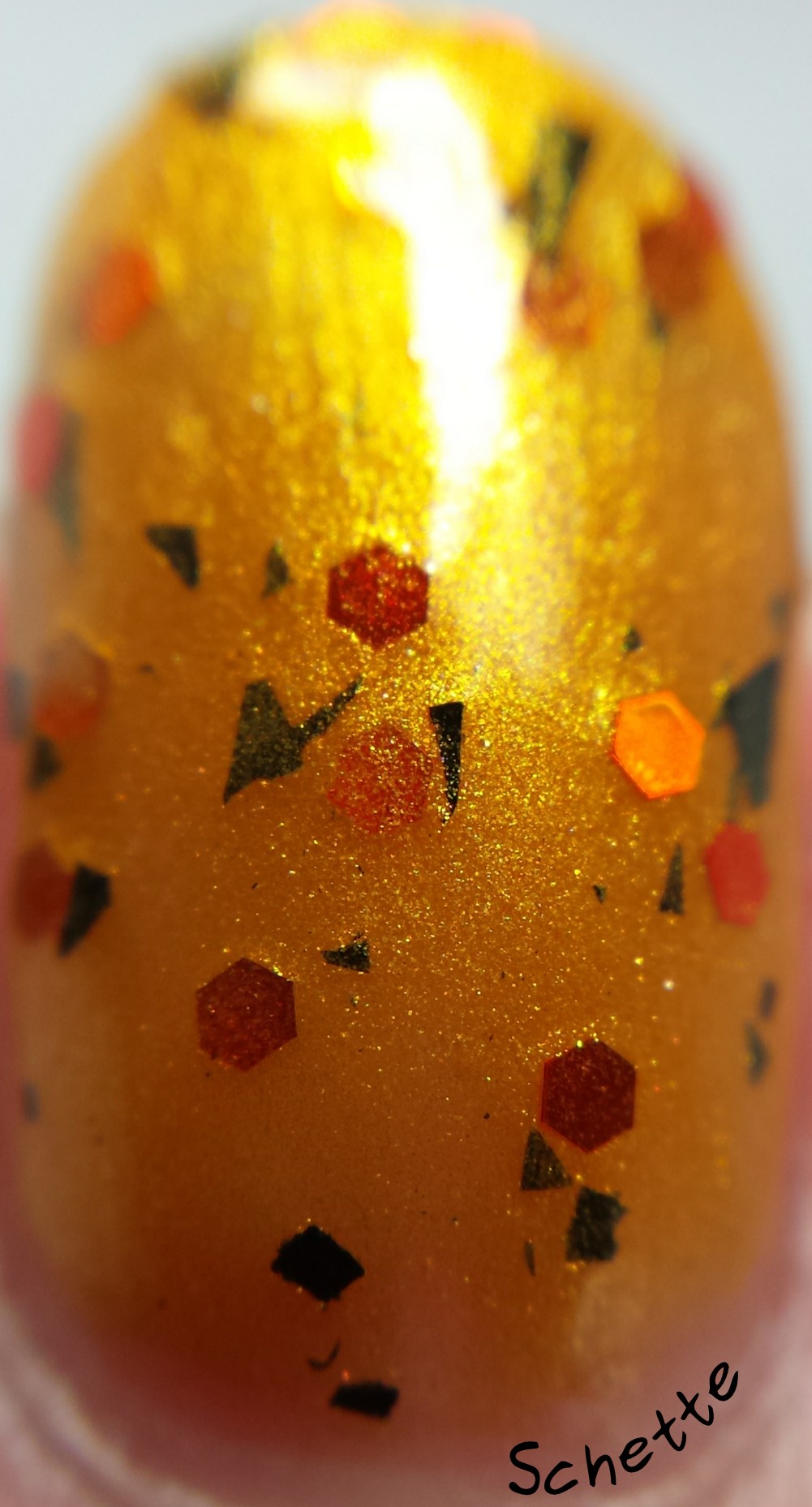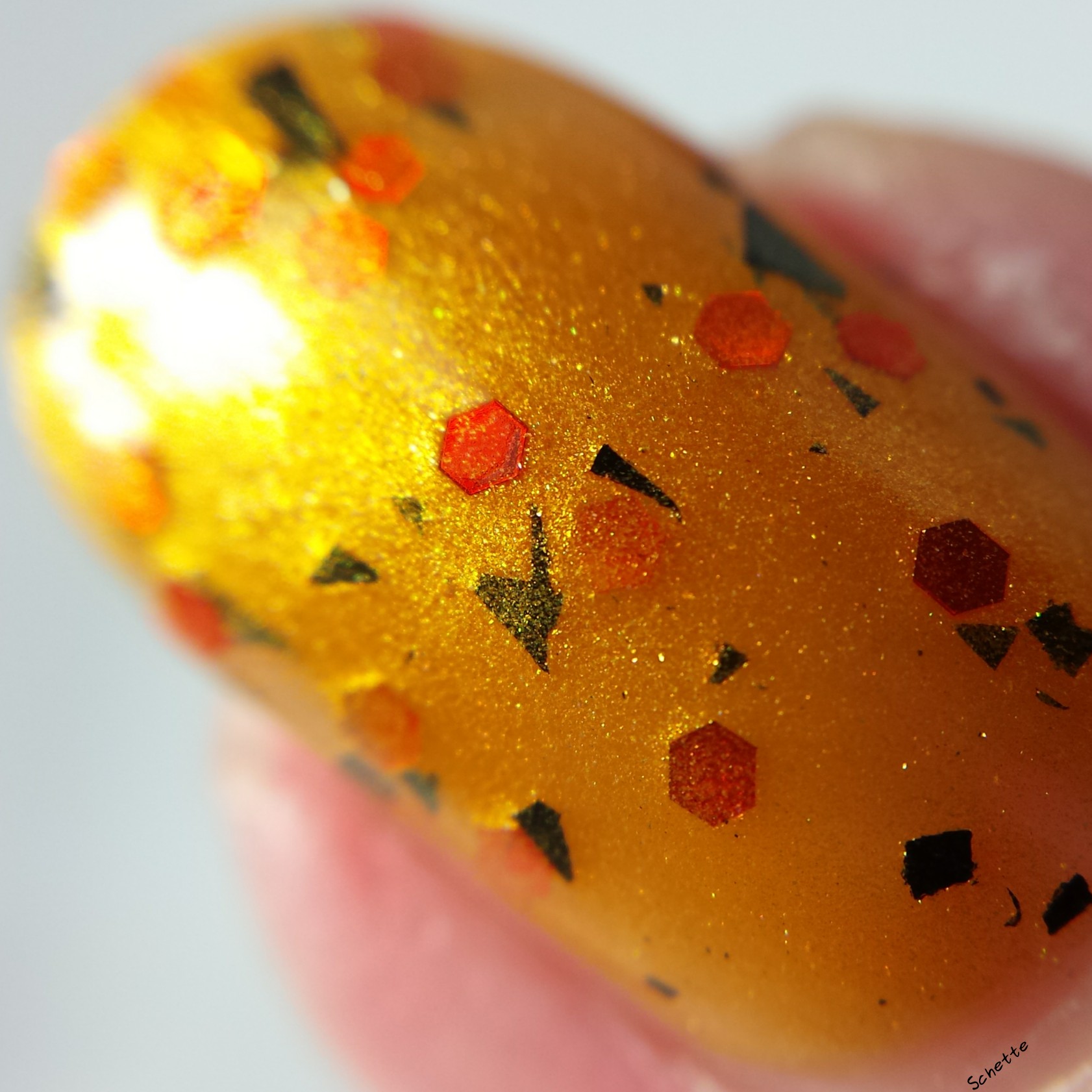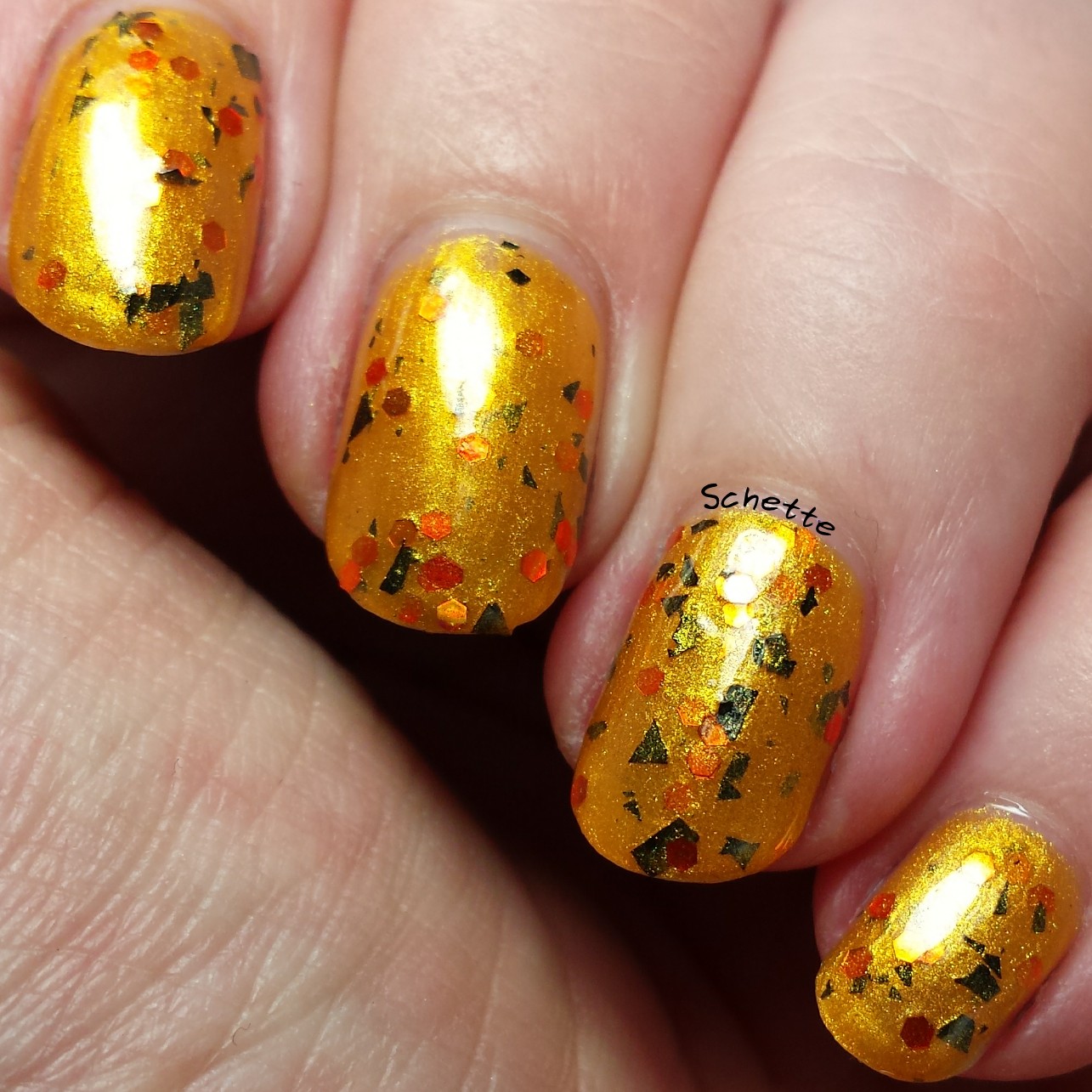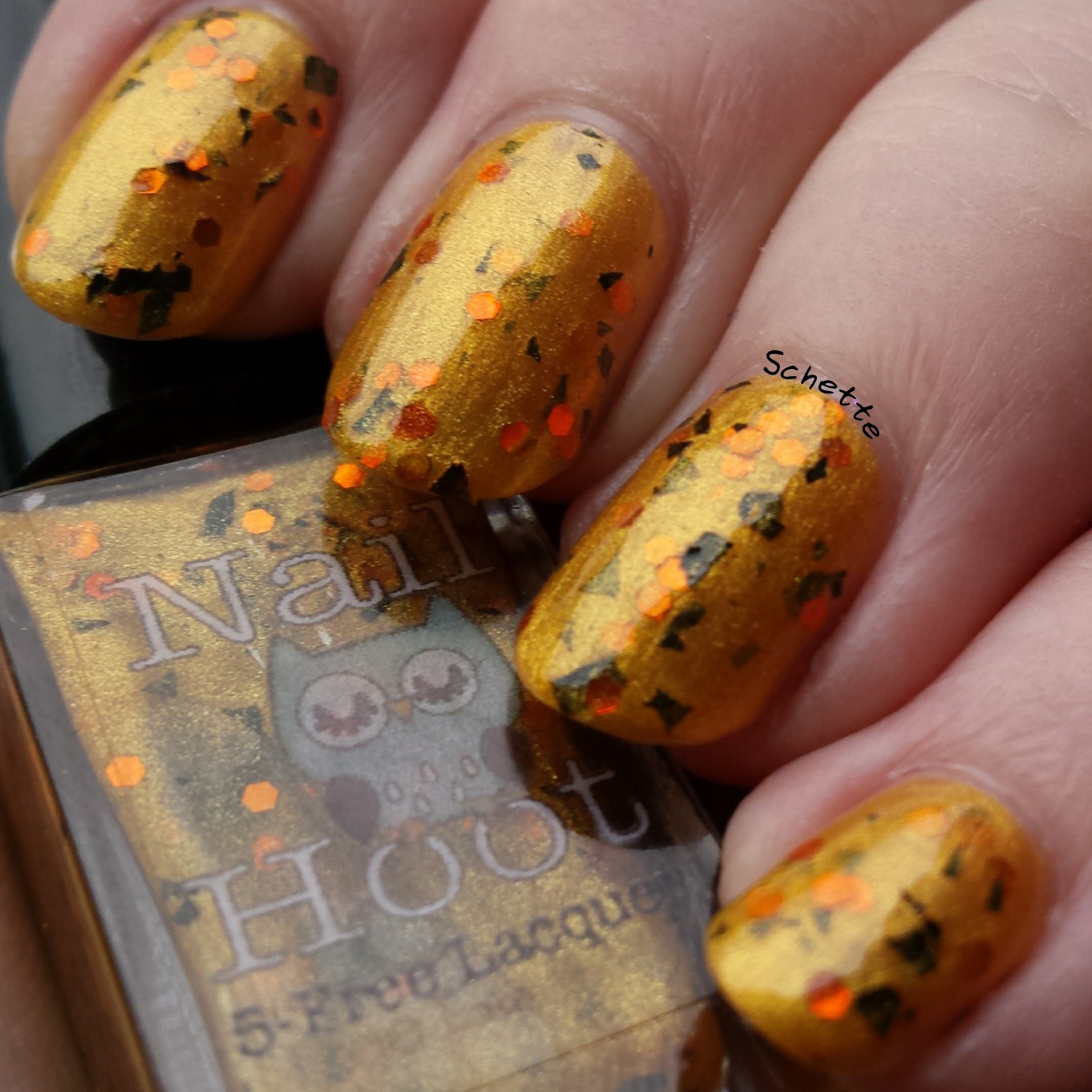 A l'ombre, les octogones oranges sont très très visibles, comme des petits yeux sur les ongles, très Halloween !
In shade, the orange octogones are very very visible, like little eyes on your nails, very Halloween !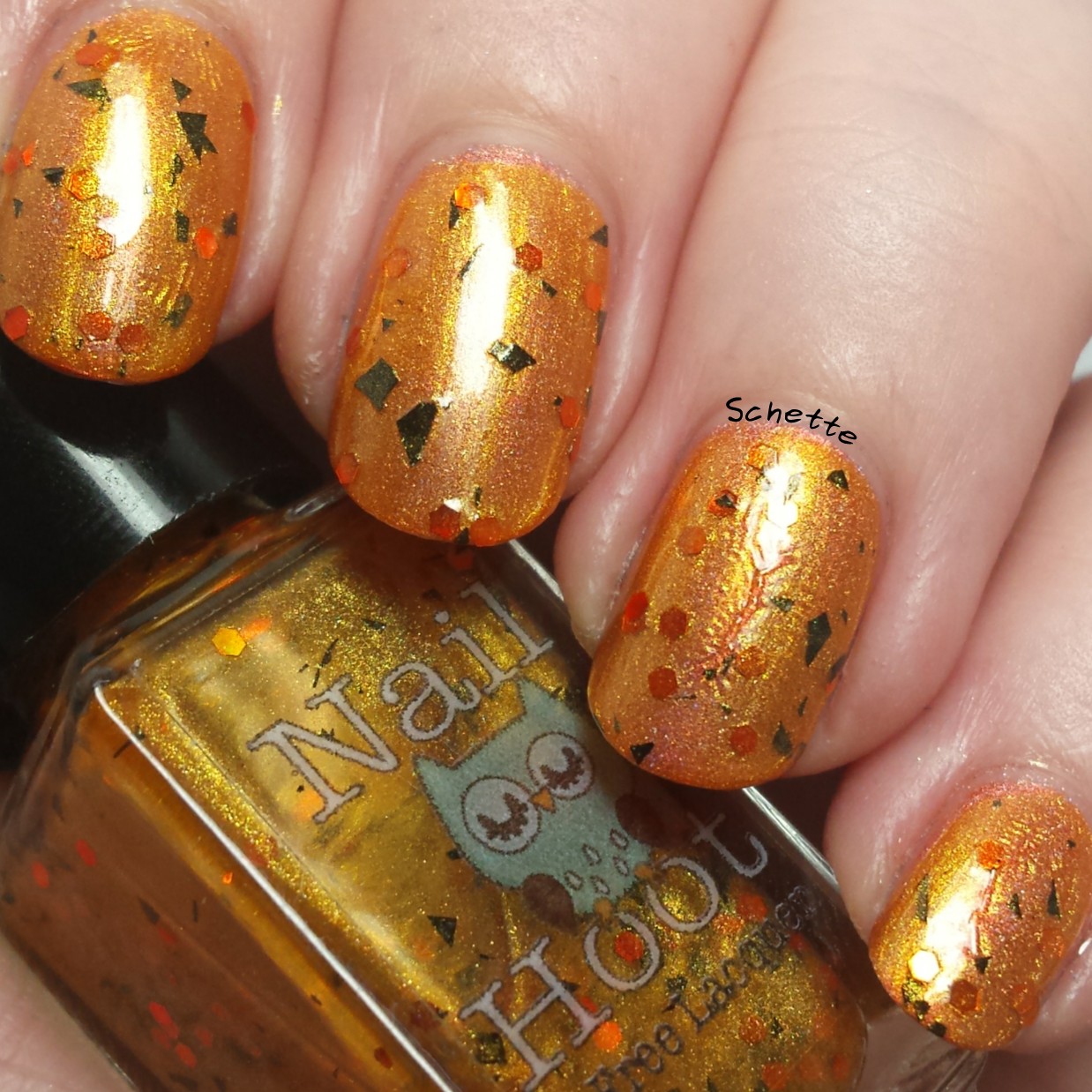 J'ai ensuite voulu le poser en une seul couche, pour évter le jelly sandwich, ici sur Leviticus Holo'd, un orange holo de la même marque. J'avais voulu reproduire un effet cicatrice vue sur le net (je n'ai pas retrouvé la référénce et je m'en excuse) sur l'annulaire. Pour cela, rien de plus simpe : posez une couche de latex sur l'ongle puis le vernis sans attendre que le latex soit completement sec. Il se retractera alors et formera la cicatrice :)
Then, I wanted to put it in only one coat, to avoid the jelly sandwich, here over Leviticus Holo'd, a orange holo from the same brand. I wanted to make a scar see over the net (I don't remember the reference, I appologize for that), overt the ring nail. For this it's easy : put a coat of liquid latex on your nail and put the polish without waiting for it to be dry. It will retract and make a scar :)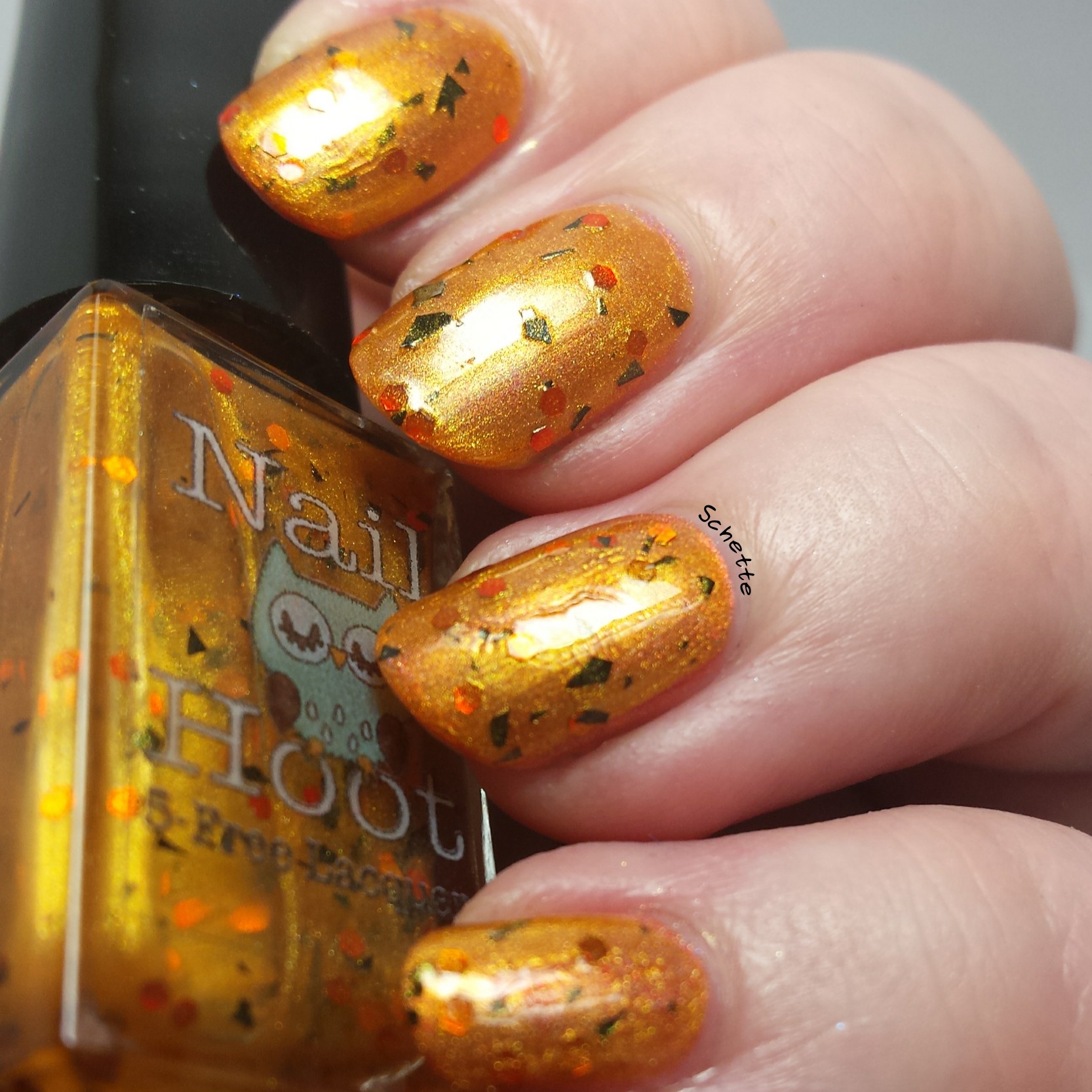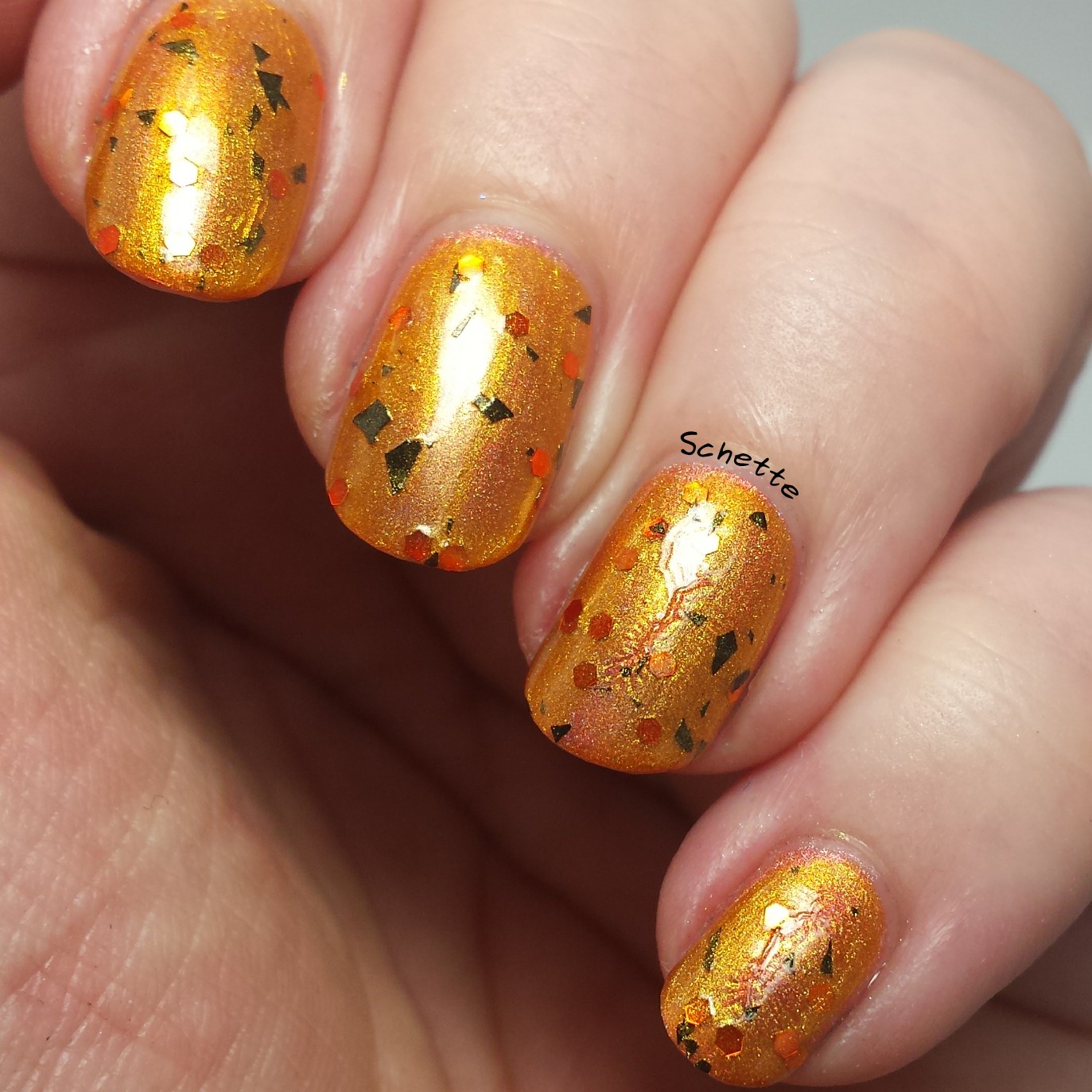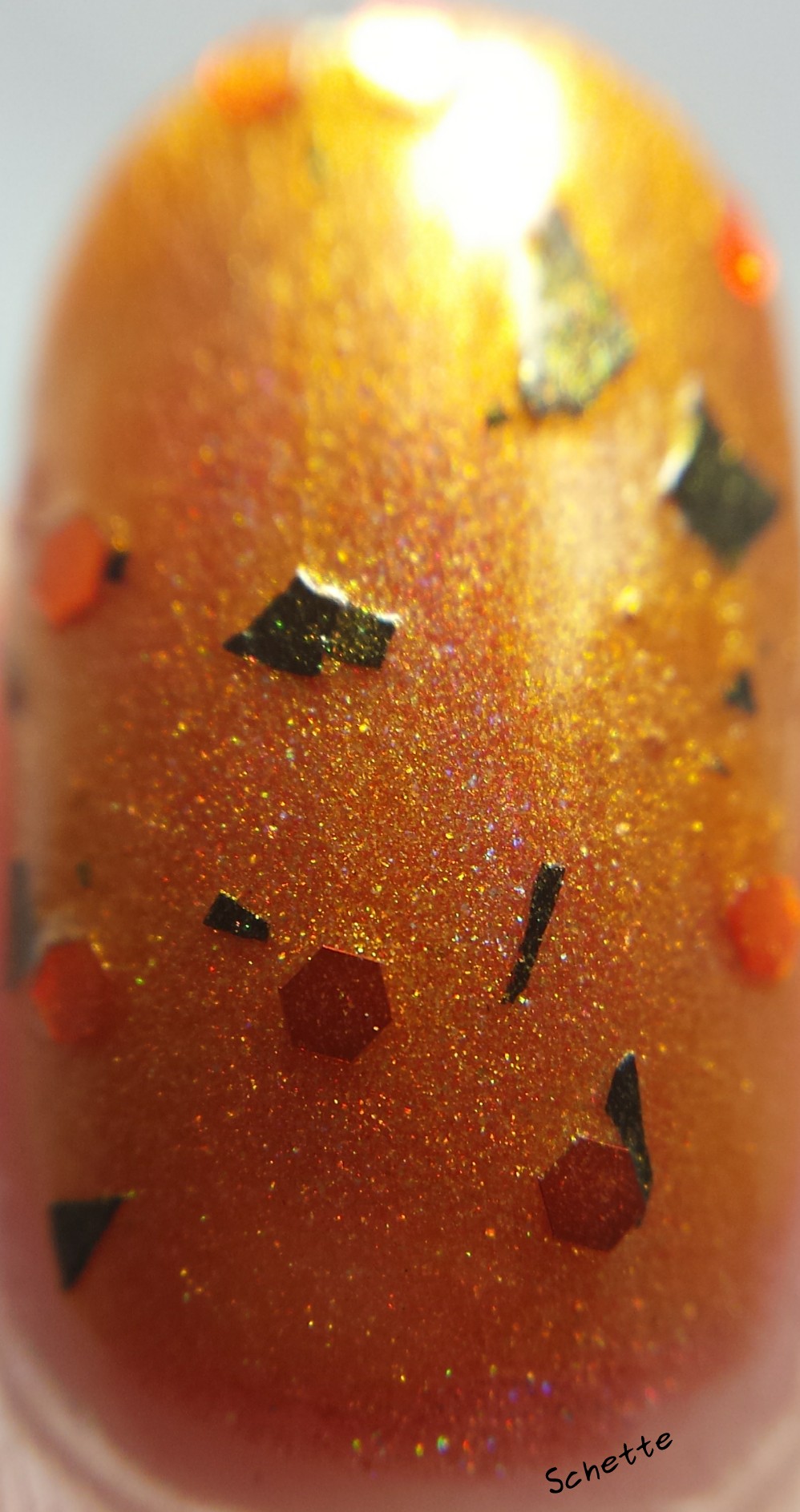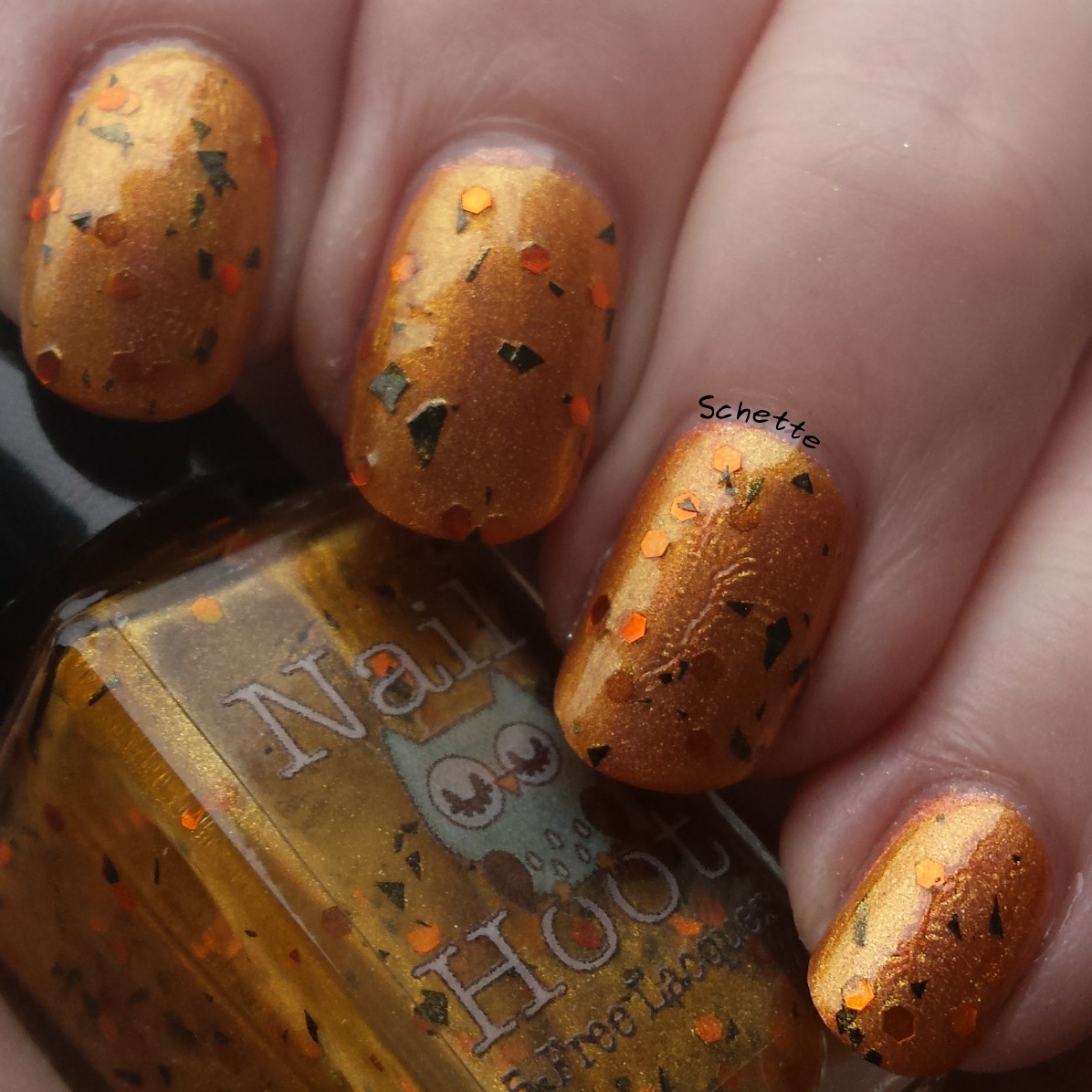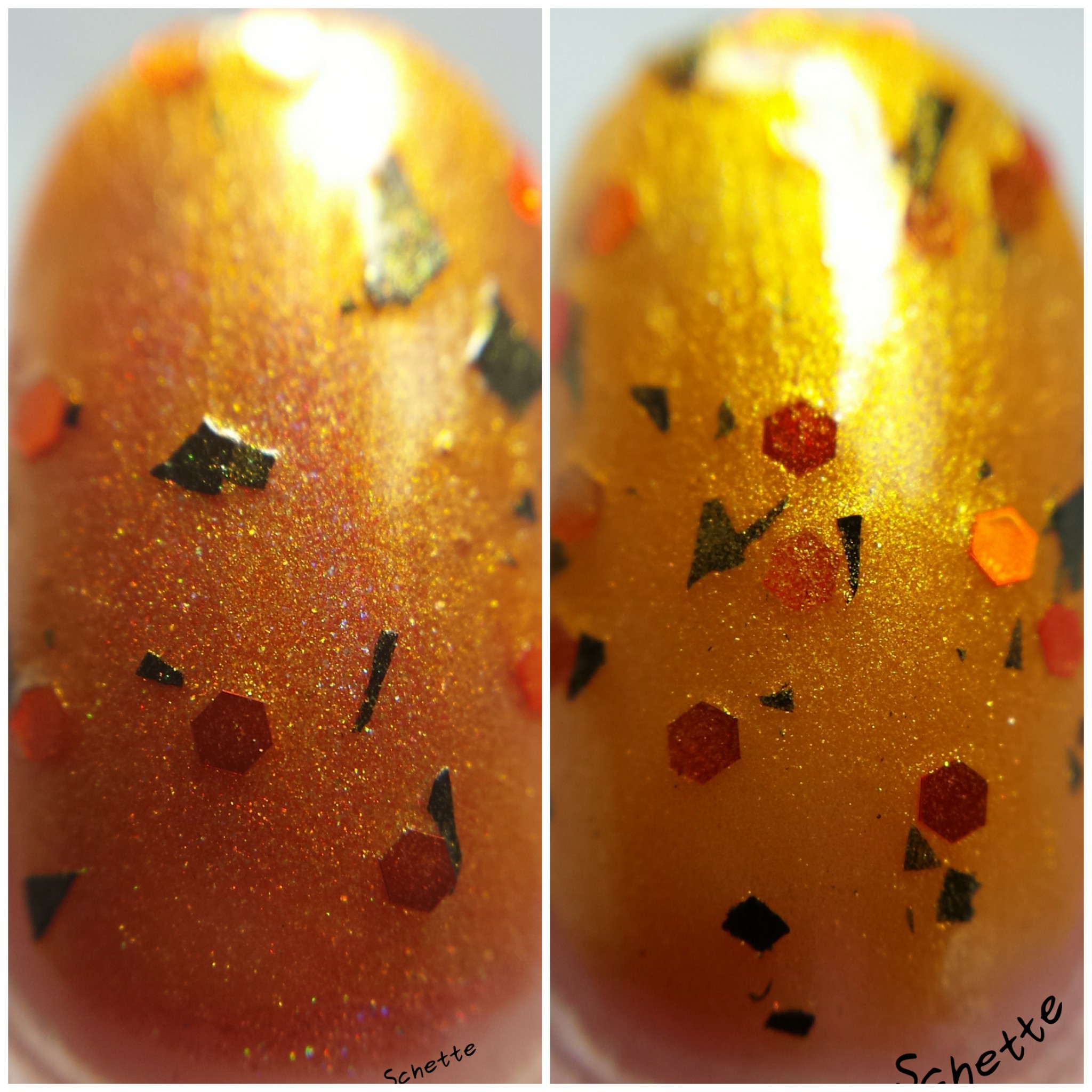 Je prefère la version en une seule couche parce que je ne suis pas fan du jelly sandwich :)
I prefer the one coat version because I'm not super fan of jelly sandwich :)
Bilan
Vous le savez, je ne suis pas vraiment fan des paillettes, mais j'avoue que celui-ci est sympa, surtout s'il est posé en une seule couche sur un autre orange :)
Et vous quelle version preferez vous ?
You know it, I'm not really a fan of glitter, but I admit that this one is nice, even more if it's over another orange in one single coat :)
What about you, Which version do you prefer ?
Schette, le 21 octobre 2015
Vous pourriez aussi aimer / You can also like :