Lilypad Lacquer : Sherbet Sprinkles, Lime Zinger
PRESS SAMPLE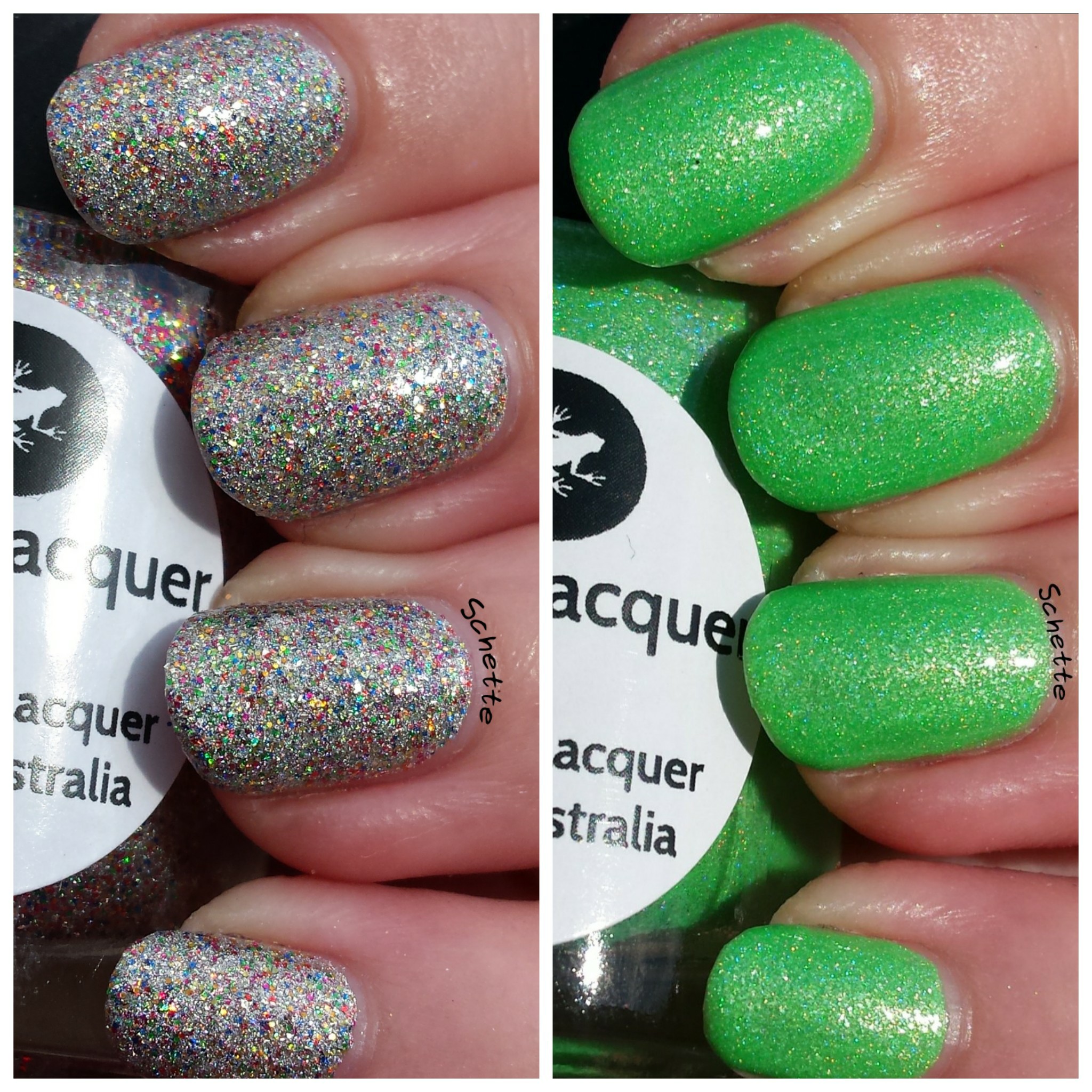 La collection Rainbow Sherbet est une collection exclusive de 6 vernis lilypad pour la boutique
Ella Ann Cosmetics store
. Aujourd'hui, une petite quantité de ces deux vernis sera mise en stock, vous permettant de les attraper :) Voyons voir à quoi ils ressemblent !
The Rainbow Sherbet is a collection of 6 Lilypad Exclusive to
Ella Ann Cosmetics store
. Today, you'll have the opportunity to grab one of those because a small amount will be put in stock. Let's see how they look :)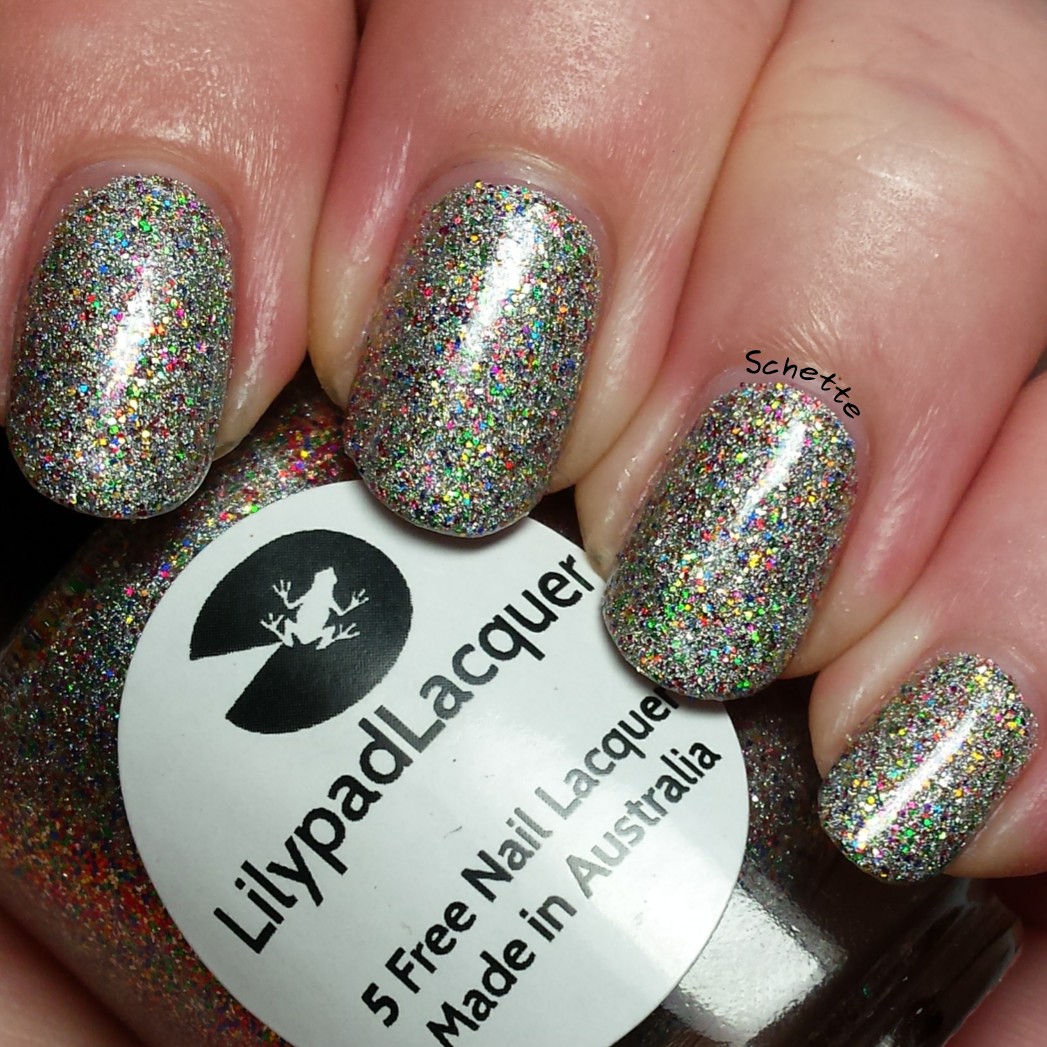 Je commence avec Sherbet Sprinkles. C'est un vernis de base argentée avec des microglitter multicolores qui reflechissent la lumière. Ca donne vraiment un vernis qui fait des étincelles :) I worn it in two coats, with top coat, but it's almost opaque in one coat (that's never seen for me for a glittering polish to be a one coater)
I will start with Sherbet Sprinkles. This is a polish with a silver base with microglitter mutlicolors that reflect the light. It really give a sparkling polish :) Je l'ai posé en deux couches plus top coat, mais il est quasiment opaque en une couche (un glitter, j'avais jamais vu ça avant)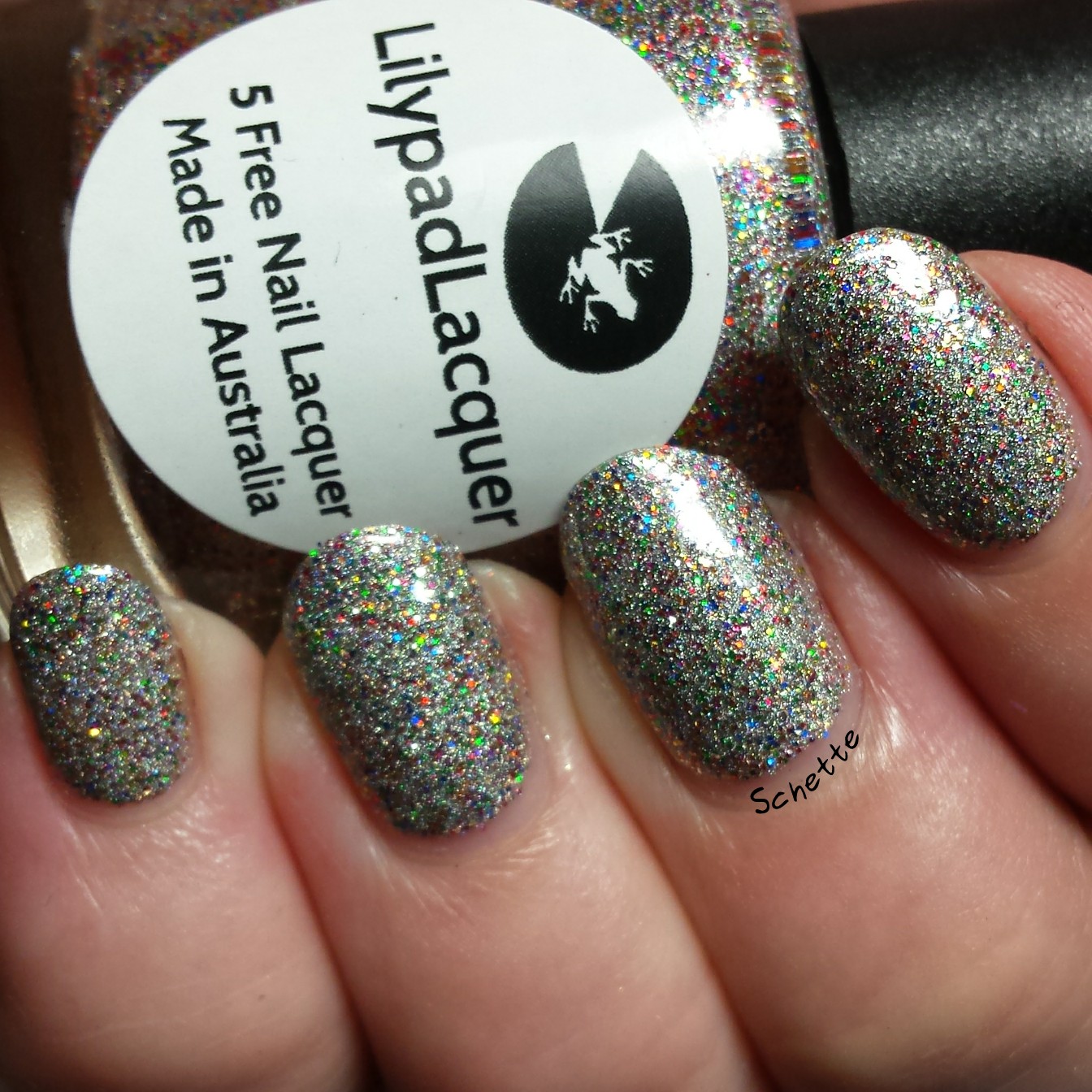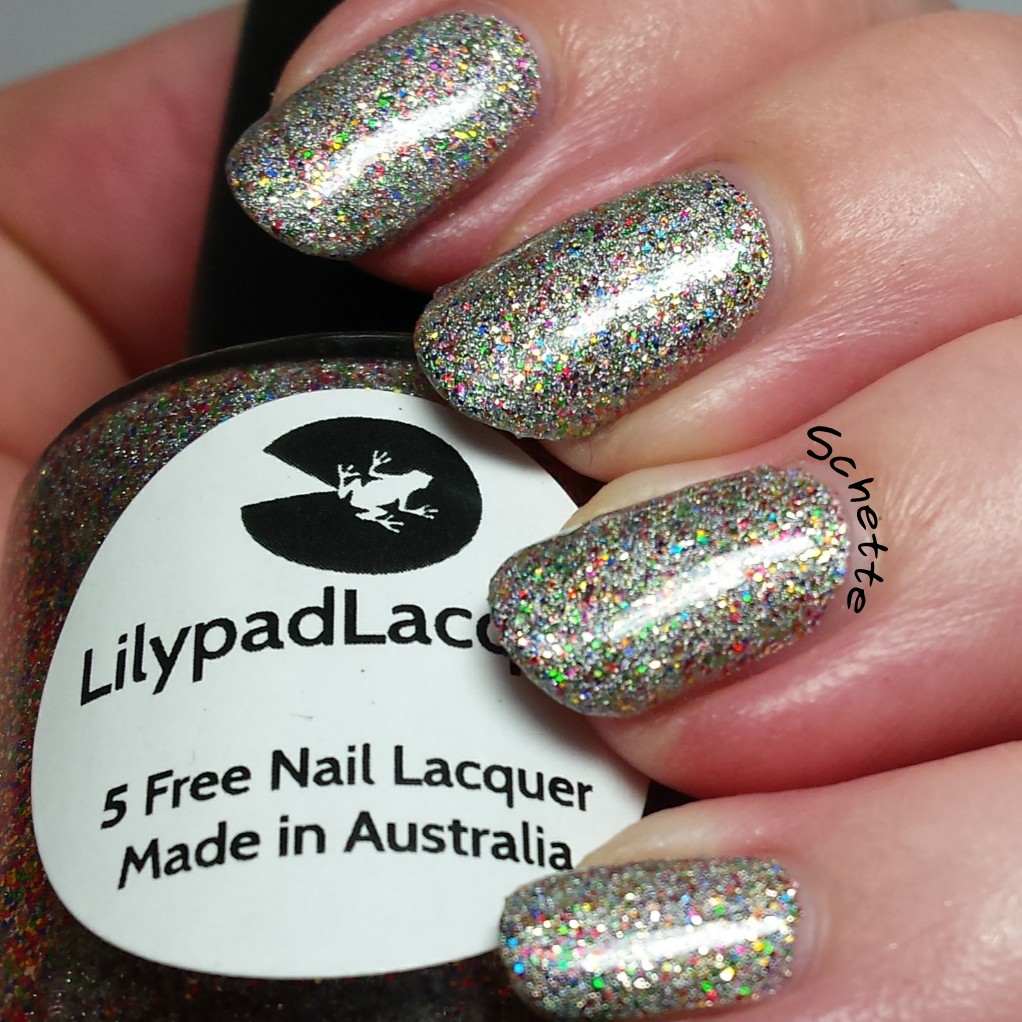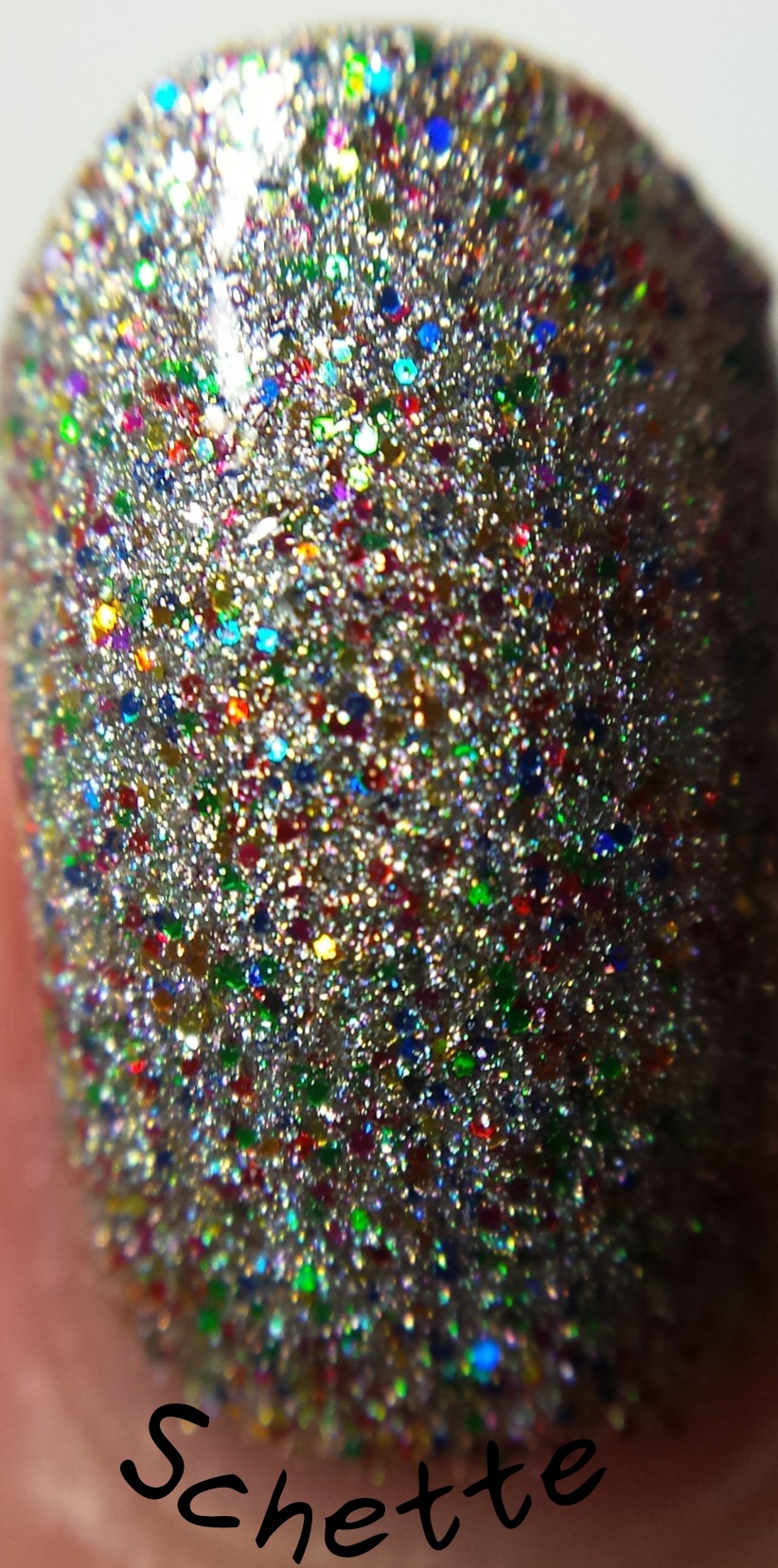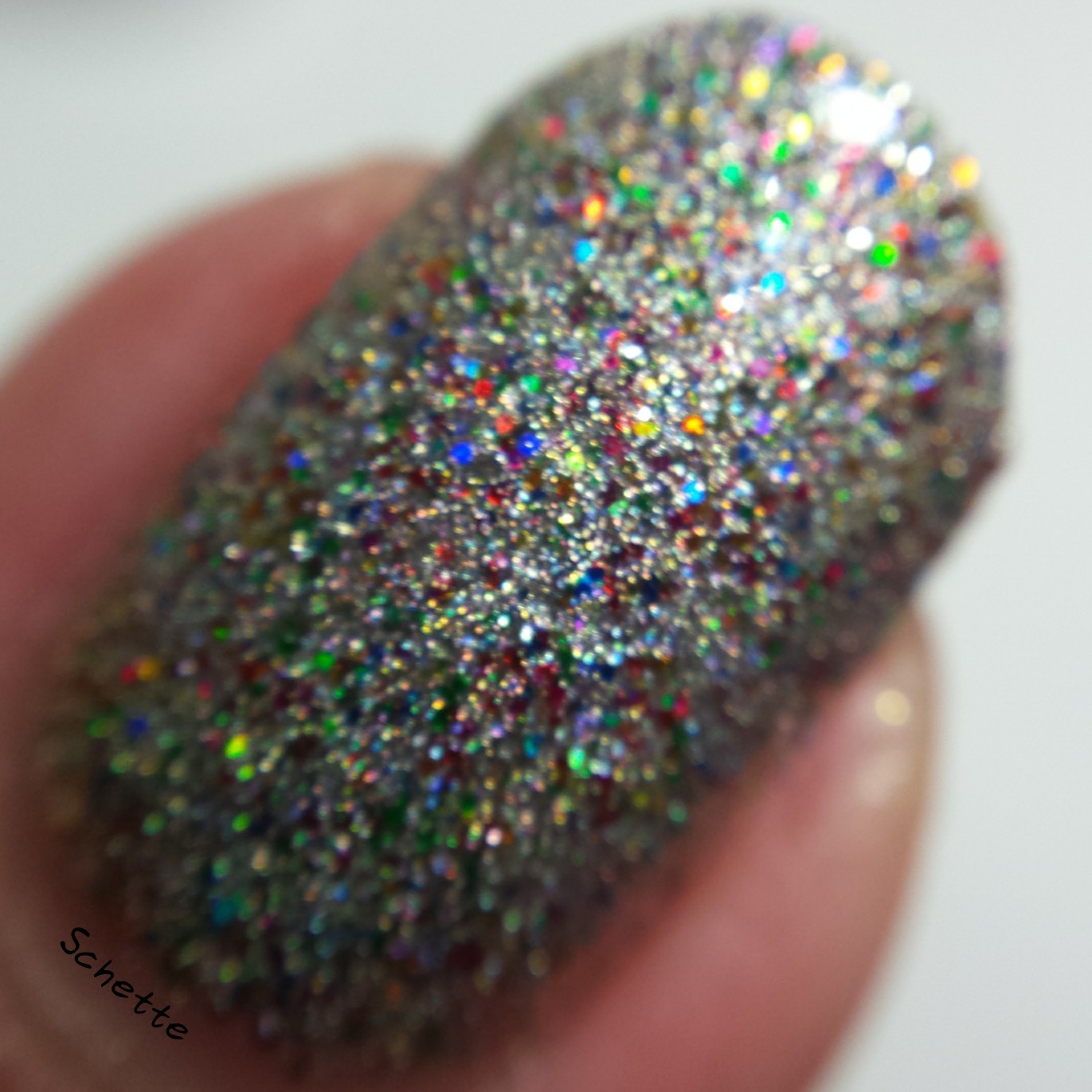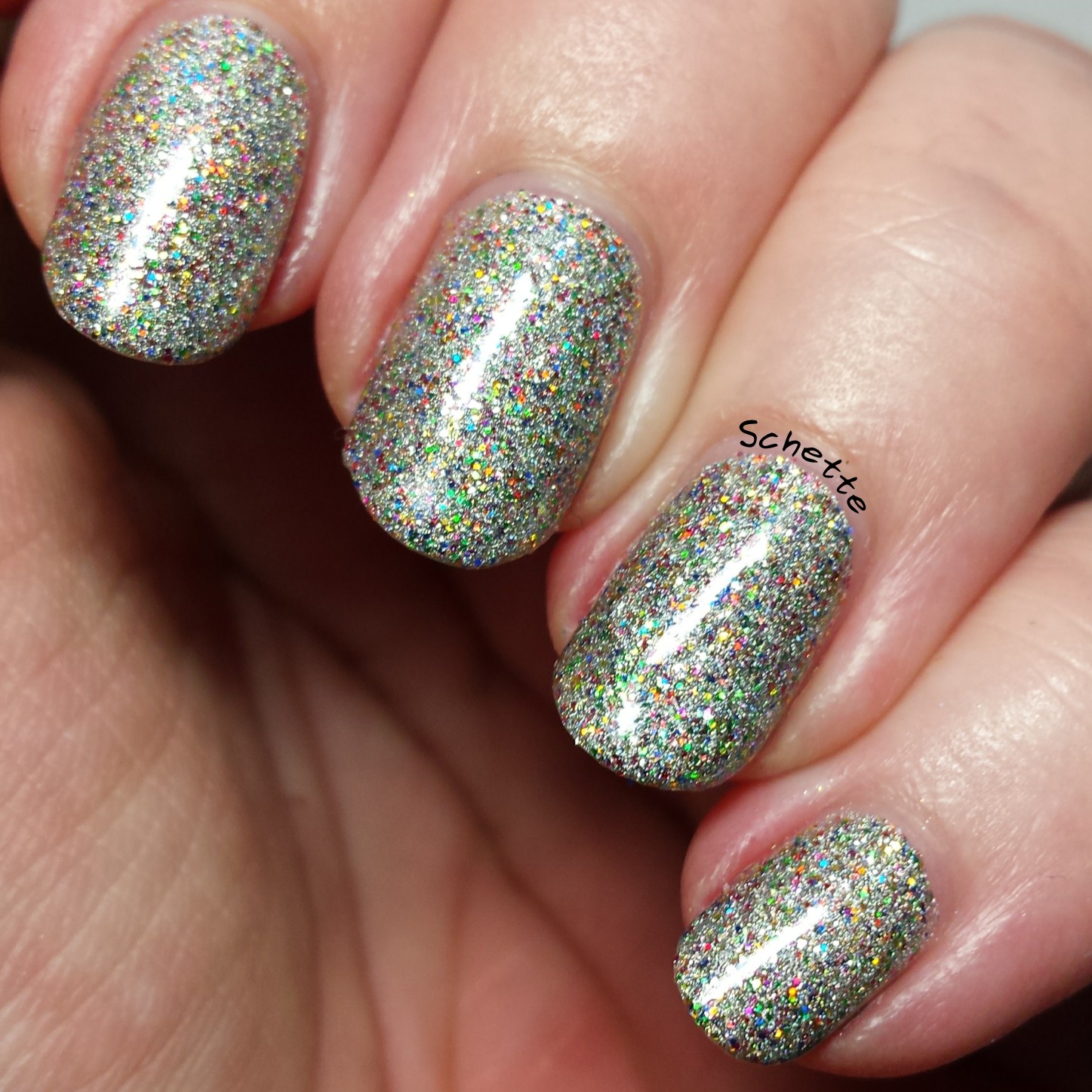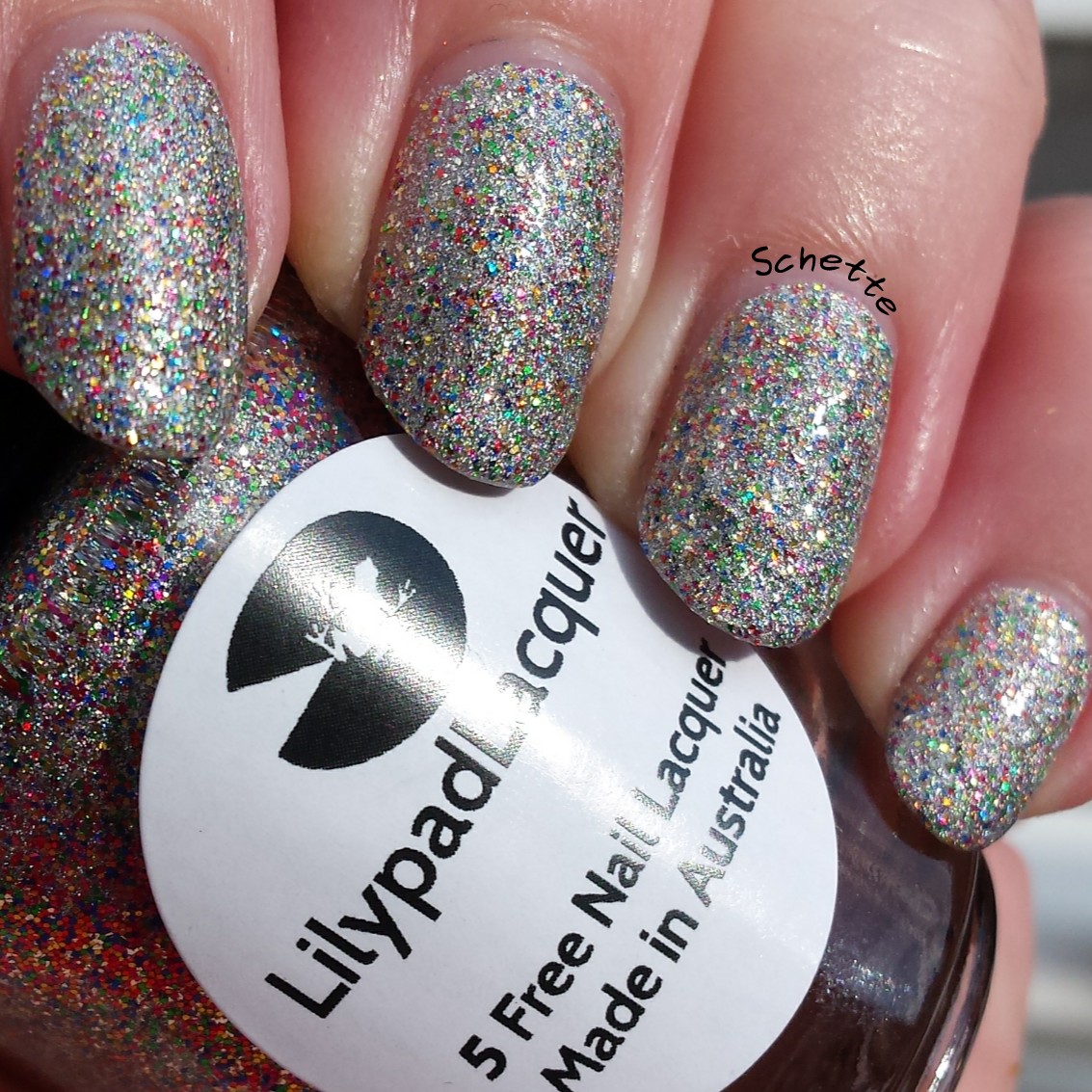 Au soleil !
In sun !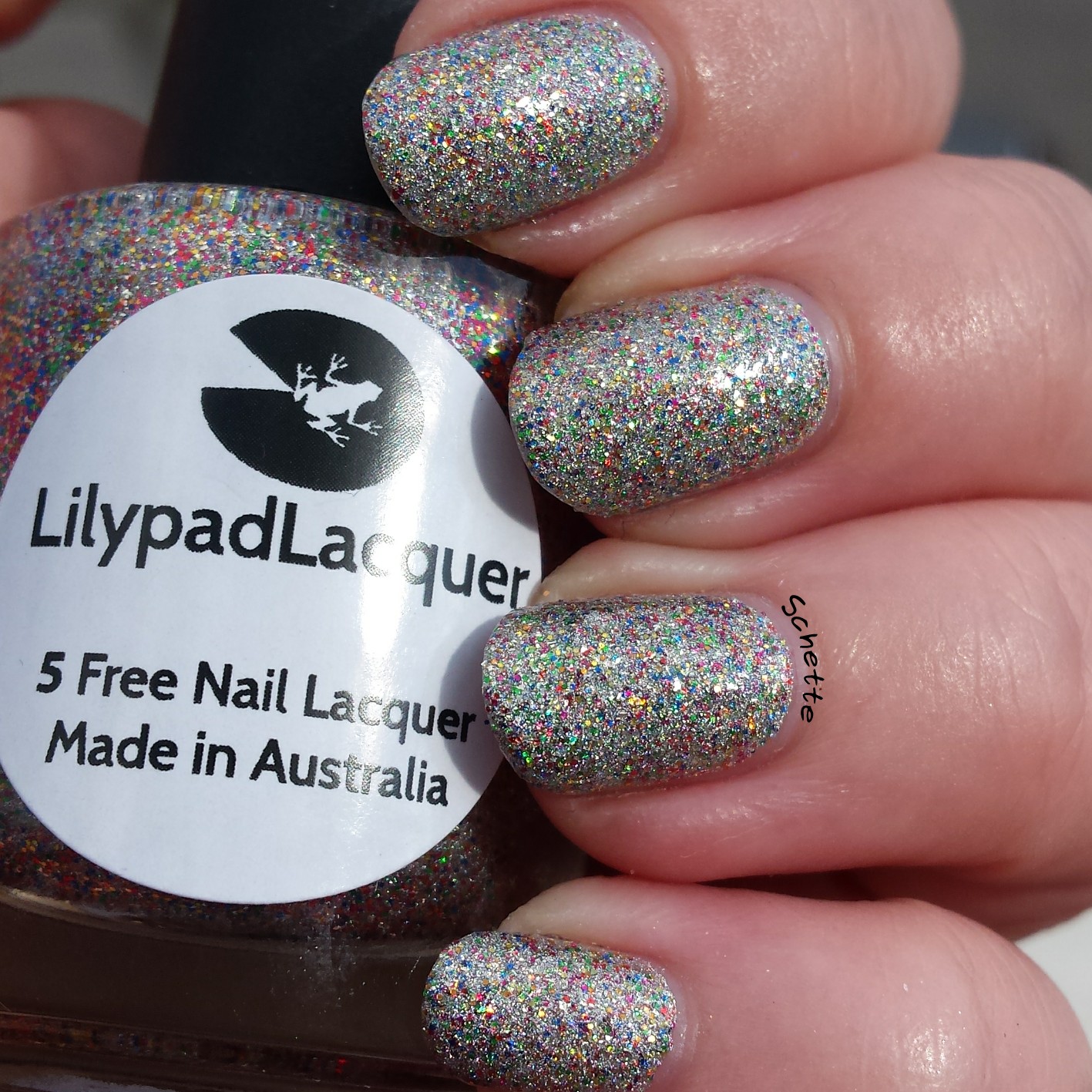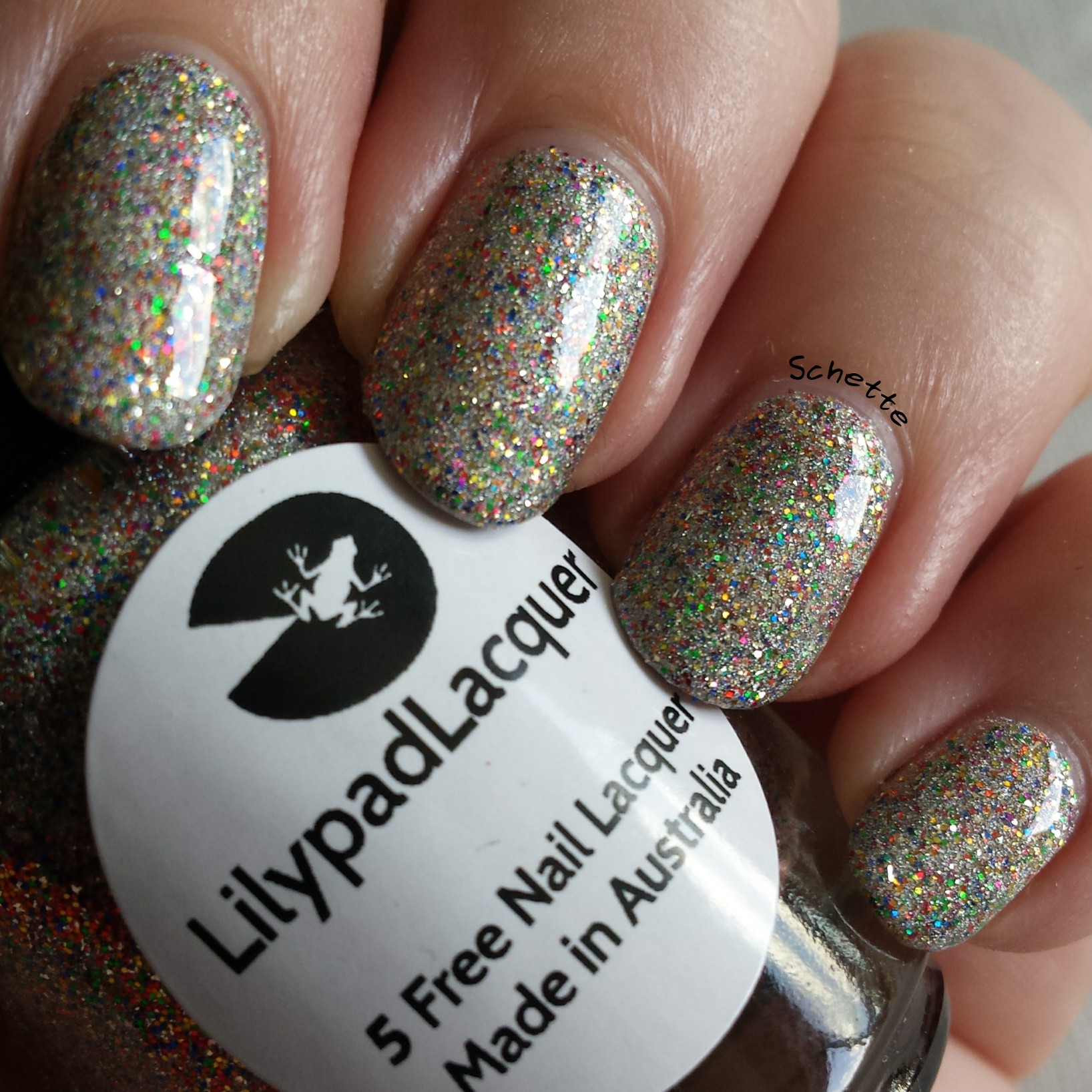 Et même à l'ombre, si vous réussissez à chopper un peu de lumière, les microglitter brillent de partout !
And even in shade, if you suceed in having a little of light, the sparkles just glow !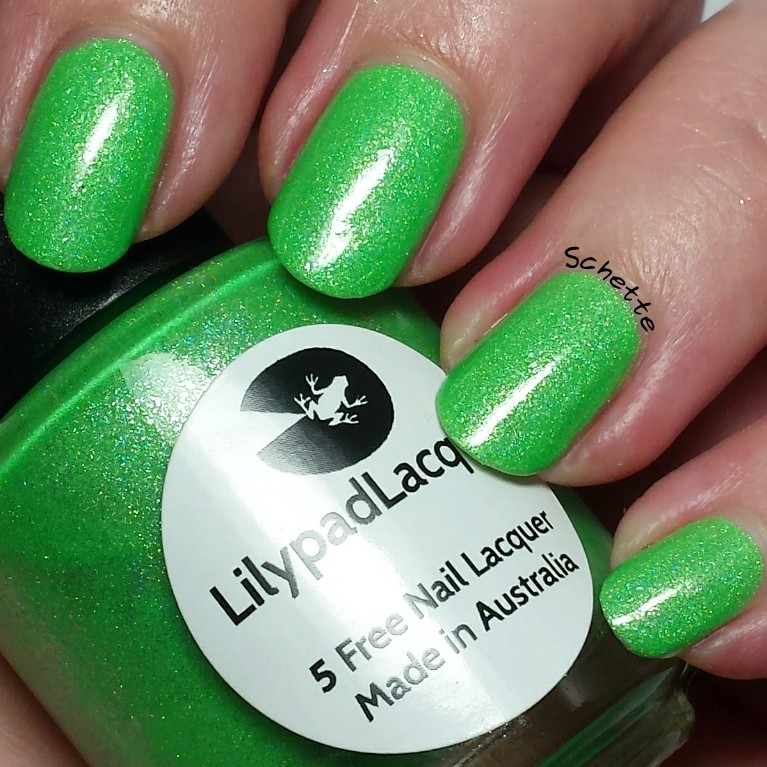 Passons à Lime Zinger. C'est un vert scattered à shimmer jaune. C'est mon préféré de la collection ! Je l'ai posé en deux couches, avec top coat.
Let's see now Lime Zinger. This is a green scattered with yellow shimmer. This is my favorite of the collection ! I worn it in two coats, with top coat.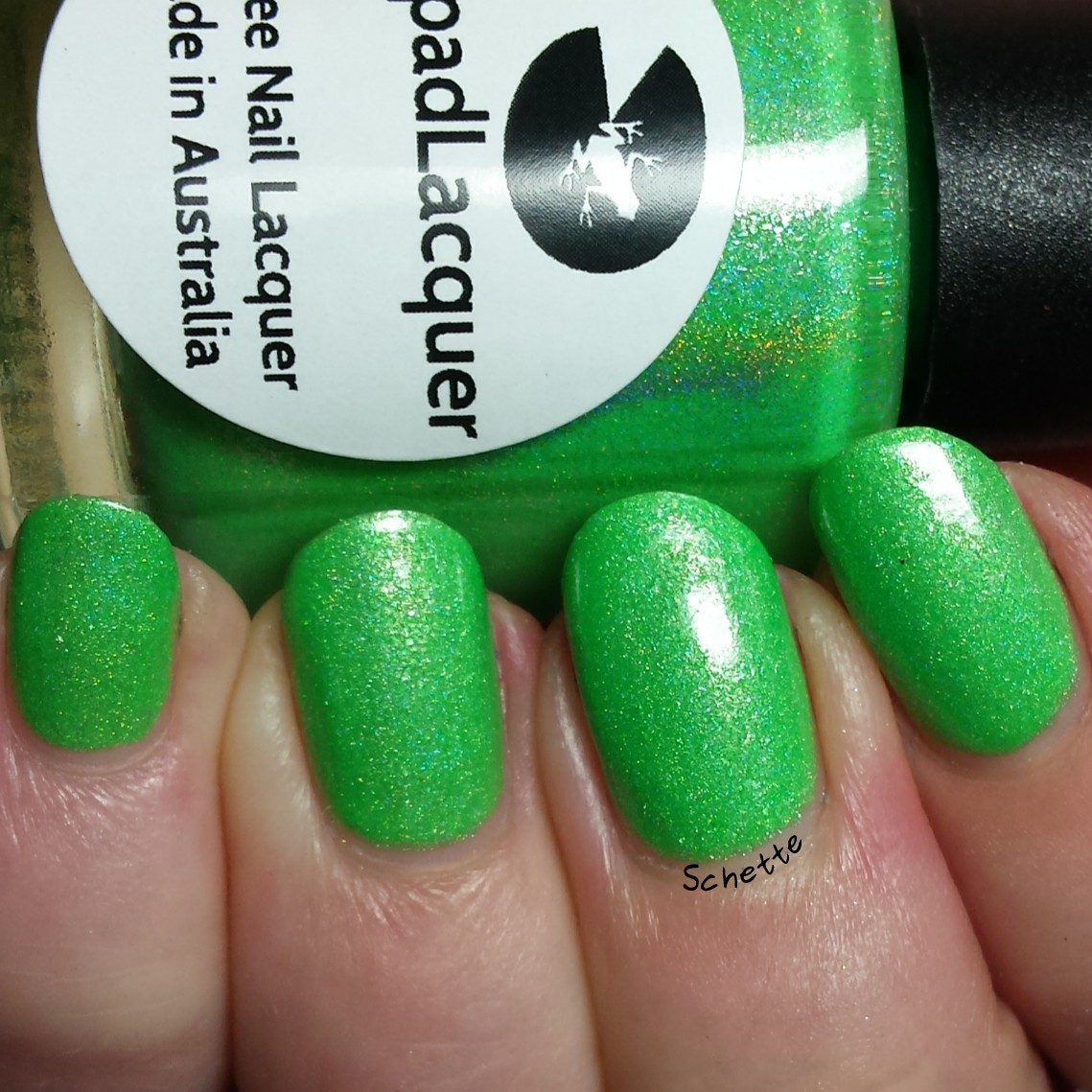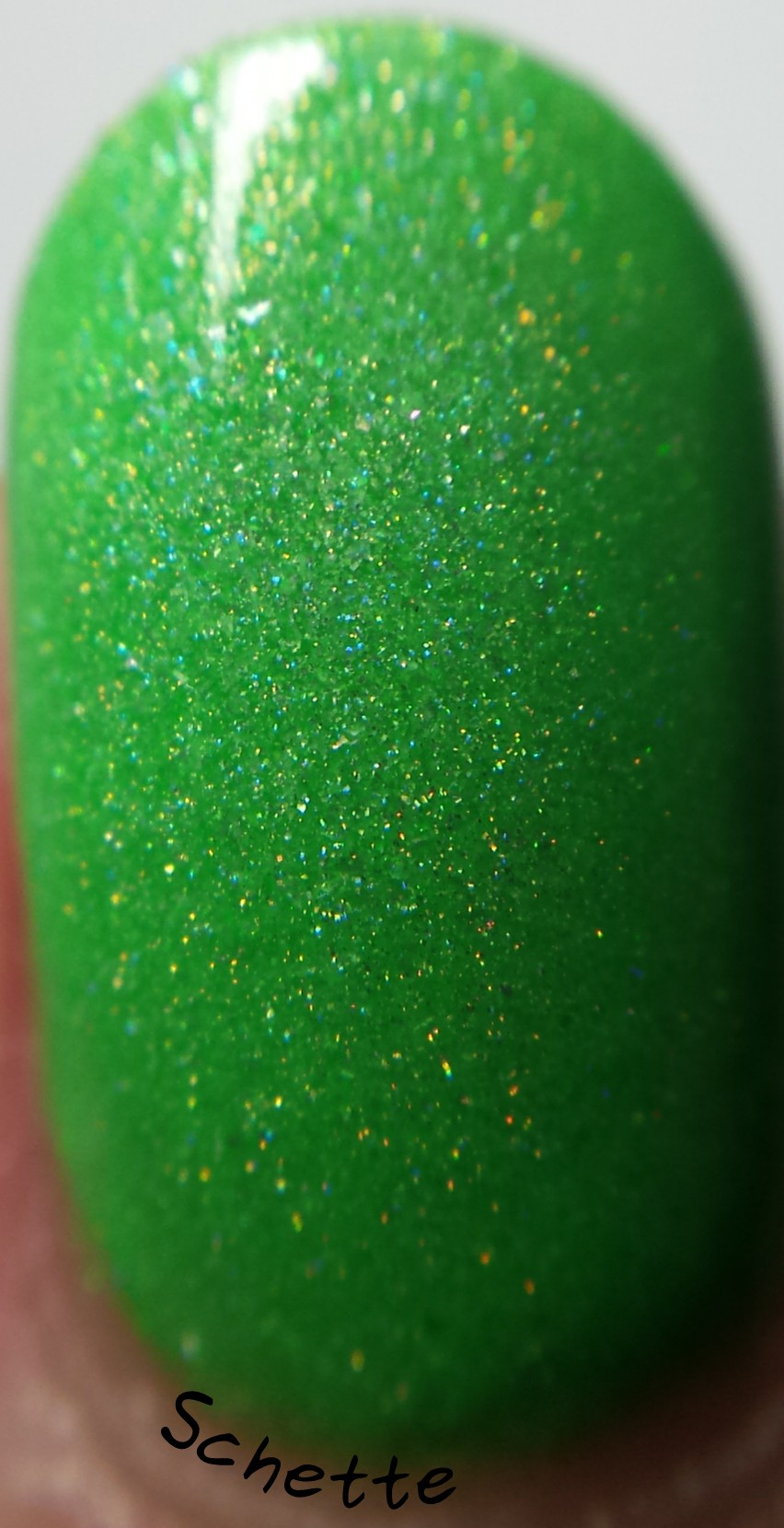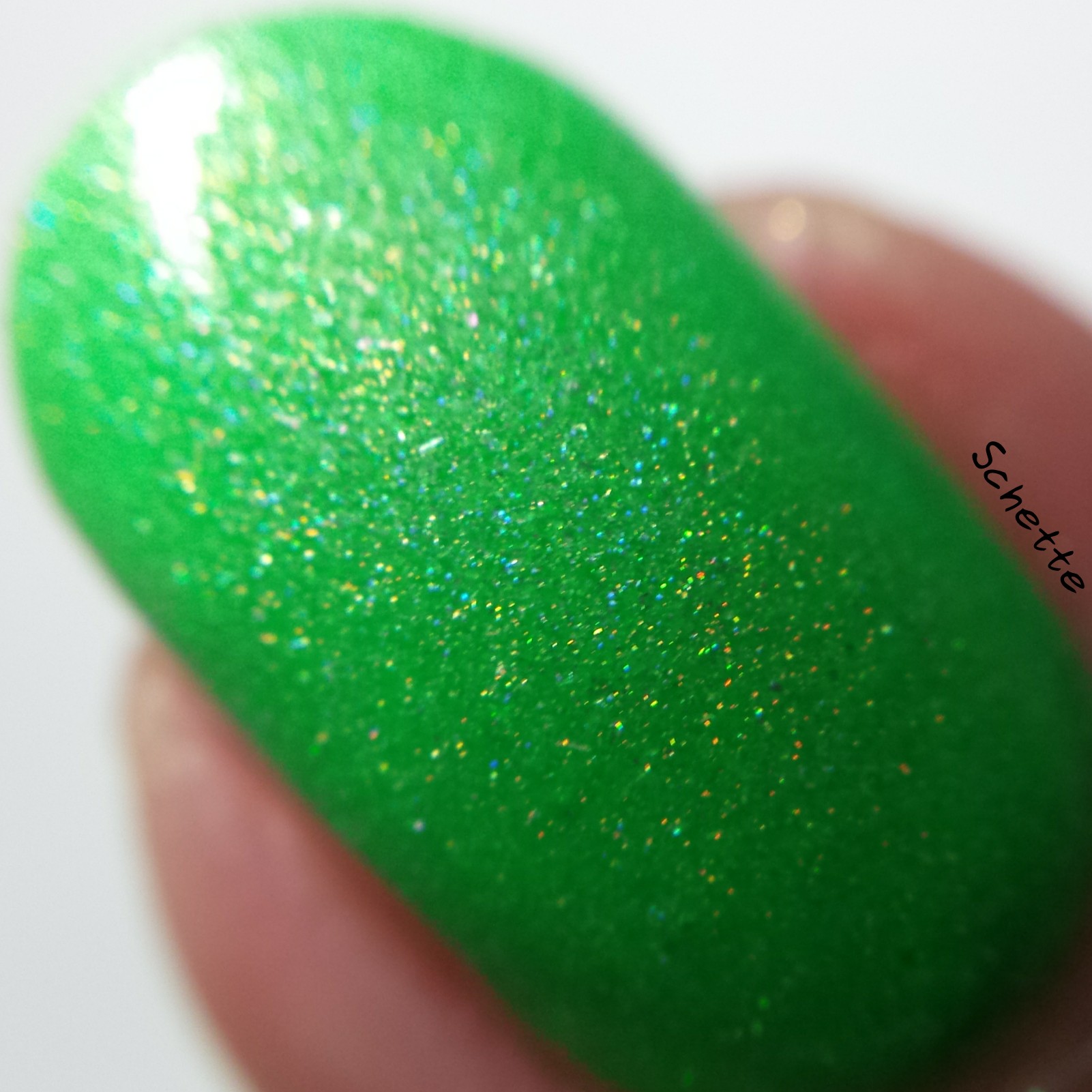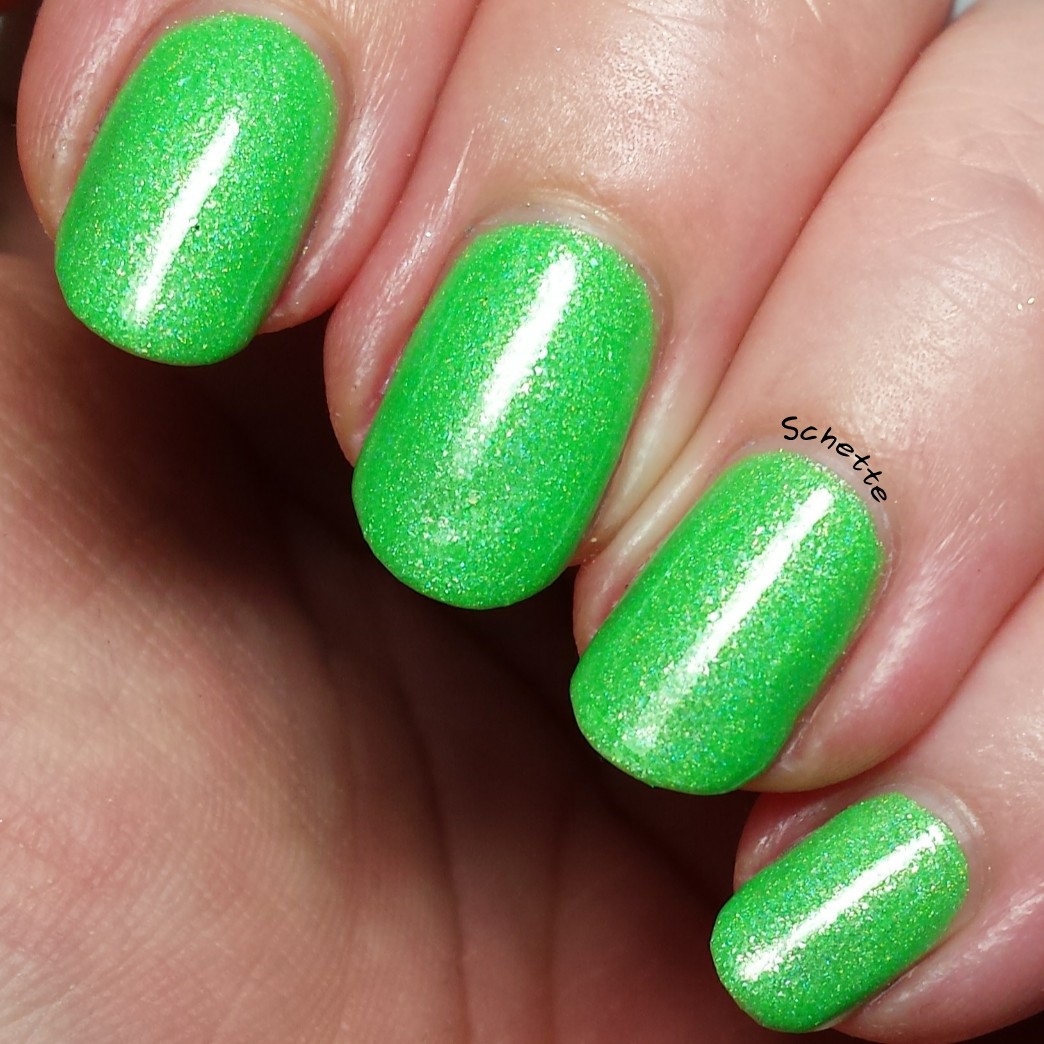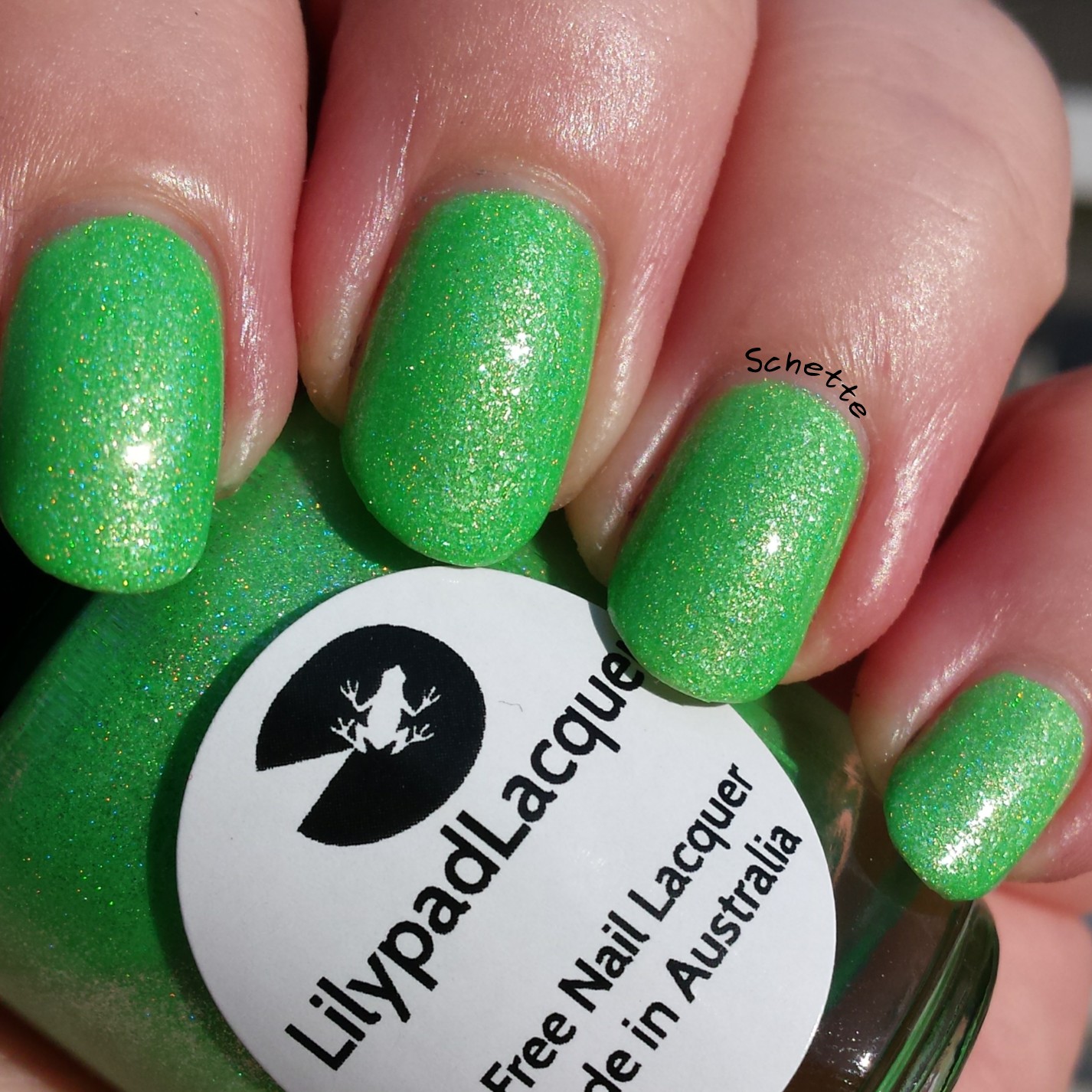 Au soleil
In sun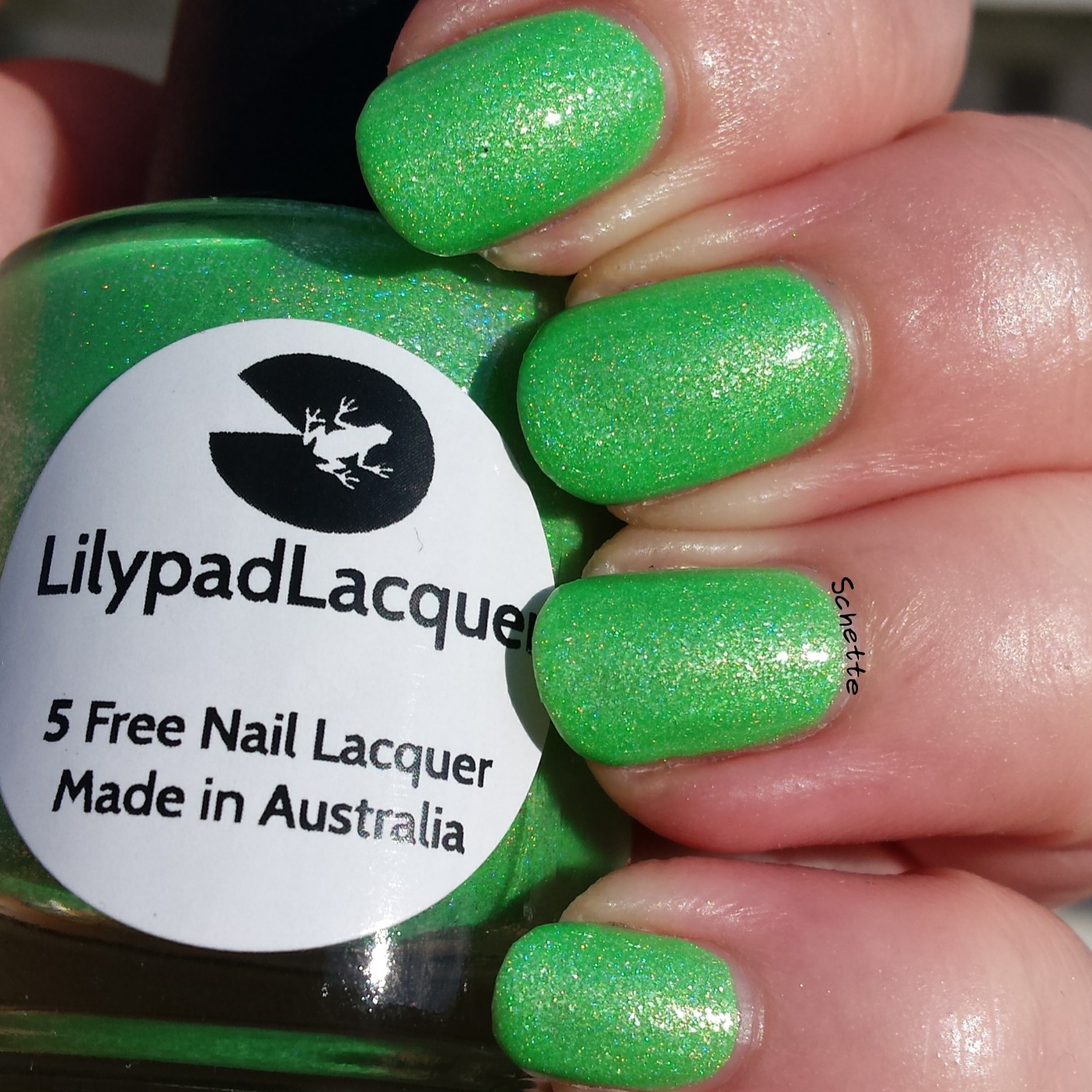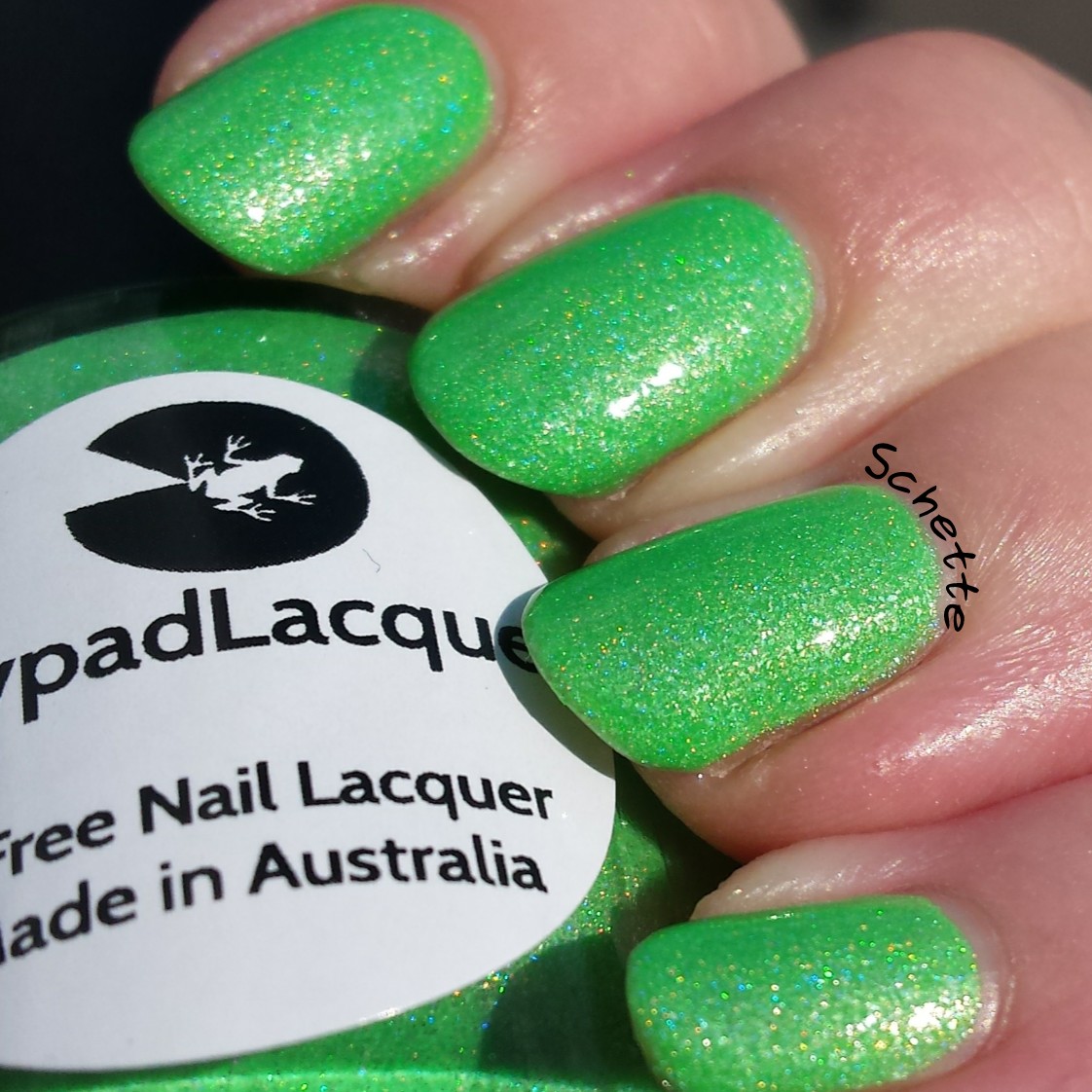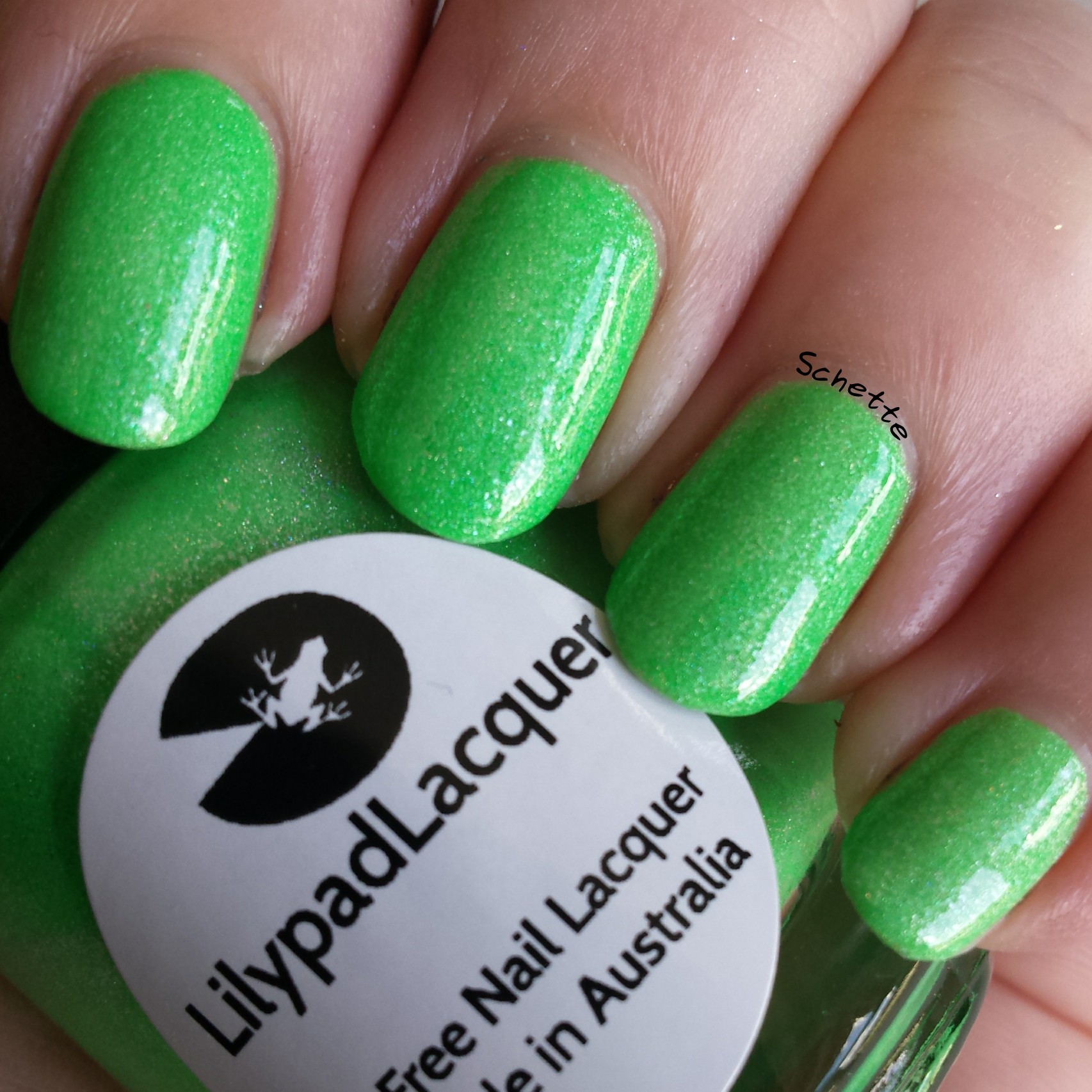 A l'ombre.
In shade
Bilan
L'application était très facile, et le séchage très rapide. Comme toujours les petits Lilypad sont des petites merveilles :) Et n'oubliez pas que les deux seront restockés aujourd'hui chez
Ella Ann Cosmetics store
The application was easy, and the dry super fast. As usally, the Lilypad are little jewels :) And don't forget they will be restocked at
Ella Ann Cosmetics store
today :)
Schette, le 4 septembre 2015
Vous pourriez aussi aimer / You can also like :

Le Vernis Lilypad Lacquer Good girl gone bad

Les Vernis Lilypad Lacquer Blueberry Sundae, Grape Sundae, Strawberry Sundae and Raspberry Sundae

Les Vernis Lilypad Lacquer Lemon Sundae, Orange Sundae, Lime Sundae and Spearmint Sundae

Lilypad Lacquer - Paradise

Lilypad Lacquer - Hypnotic Polish Exclusive : Purple Velvet, Bronze Goddess, Envy me

Lilypad Lacquer - Purple Diamonds

La What's in-die Box d'Octobre 2014

Lilypad Lacquer - Singapour Skyline, Summer never ends - BSF Exclusives

Lilypad Lacquer - Chilli Crab, Clean and Green - BSF Exclusives

Lilypad Lacquer - National Beauty, Durian Dreamin'

Lilypad Lacquer - Emerald Diamonds, Navy Diamonds

Lilypad Lacquer - Lilac Diamonds, Plum Diamonds

Lilypad Lacquer - Gray Diamonds, Marvellous Magenta

Lilypad Lacquer - Opal Minding

Lilypad Lacquer - Malefique

La Holo Grail Box de Novembre 2014

La Holo Grail Box de Janvier 2015

Lilypad Lacquer - Bright Eyes

Lilypad Lacquer - Oceanic, Silver Sauce

La Holo Grail Box de Mars 2015

Lilypad Lacquer - Fire Storm

Lilypad Lacquer - Violet Moon

Lilypad Lacquer - In the Buff

Lilypad Lacquer - Soft as Silk

Lilypad Lacquer - Sweet Spirit

Lilypad Lacquer - Lunar Berry

Lilypad Lacquer - Dream Weaver

Lilypad Lacquer - Duo French

Lilypad Lacquer - Morning Glory

Lilypad Lacquer : Precious

Lilypad Lacquer : Sherbet Sprinkles, Lime Zinger

Lilypad Lacquer : Mango Buzz, Berry Blast, Bubblegum fizz, Tarty tangerine

Lilypad Lacquer : Rainbow Connection Exclusive Part 1

Lilypad Lacquer : Rainbow Connection Exclusive Part 2

Lilypad Lacquer : Pretty Boy, Pretty Girl

Lilypad Lacquer : Neon Ocean Lights

Lilypad Lacquer : Fire Fire

Lilypad Lacquer : Rebel at heart

Custom Collection : It Finally Happened

Lilypad Lacquer : Saint and Sinner Duo

Paint the Rainbox Box - October 2015

Lilypad Lacquer : Comparison Blood Bank, True Blood, Life on the dark side

White holographic polish comparison

Lilypad Lacquer : The blush collection

Lilypad Lacquer : Xanadu

Lilypad Lacquer : The Nude and Neutral Collection Part 1

Lilypad Lacquer : The Nude and Neutral Collection Part 2

My Favorite Things January 2016

What's Indie Box - March 2016 - Doctor Who

Holo Grail Box June 2014

Comparison Lilypad Lacquer My enchantmint / Tealing me solftly / Minty

Lilypad Lacquer : Sweet Rewards Collection

Lilypad Lacquer: Mudpie

Lilypad Lacquer: Queen Of Halloween

Lilypad Lacquer: When Love comes to Town

Lilypad Lacquer: Nero

Lilypad Lacquer: Gradient Nero with When Love comes to town

Lilypad Lacquer - Magnifique

Lilypad Lacquer - Peita's Potion

Lilypad Lacquer - Eternal

Lilypad Lacquer - Throb

Lilypad Lacquer - I got blues babe

Lilypad Lacquer - Life on the dark side

Lilypad Lacquer - Kiss Kiss

Lilypad Lacquer - Bon Bon

Lilypad Lacquer - Dreams come true

Lilypad Lacquer - Magic at Midnight

Lilypad Lacquer - Jumping for joy

Lilypad Lacquer - Evil Sprit

Lilypad Lacquer - Proto 2016 02

Lilypad Lacquer - Berry Merry Christmas

Lilypad Lacquer - Seasons Greetings

Lilypad Lacquer - Candy Cane

Lilypad Lacquer - Supernatural

Lilypad Lacquer - Plum Pudding

Lilypad Lacquer - Spooktacular

Lilypad Lacquer - Wintery Bliss

Lilypad Lacquer - Brillant

Lilypad Lacquer - Deep Green Sea

Lilypad Lacquer - Euphoria

Lilypad Lacquer - Good Vibrations

Lilypad Lacquer - Be my pirate

Lilypad Lacquer - Space Whisperer

Lilypad Lacquer - Protoype 2016 1

Lilypad Lacquer - Mintopia

Lilypad Lacquer - Violet Blaze

Lilypad Lacquer - Sun, Sand and Sea

Lilypad Lacquer - Meow Wow

Lilypad Lacquer - Tomcat Tales

Lilypad Lacquer - Wine me up

Lilypad Lacquer - Heart to heart









---

comments powered by