Fair Maiden Polish : Swords and Lace, a Renaissance Fantasy Part 3
PRESS SAMPLE
Le 19 septembre à midi CST, sortira la collection Swords and Lace, a Renaissance Fantasy, la collection d'automne de Fair Maiden Polish. On m'a demandé de faire quelques comparaisons et photos avec des demandes spéciales, alors voici tout ça :)
Cette collection à permis à Fair Maiden d'amener des personnages et idées amusantes des temps médiévaux. Cette collection inclus des finish traditionnels de la marque, comme des holo linéaires, des shimmer, un glitter et un topper à flakes iridescent.
September 19th, 12pm, Noon, CST will be released the Swords and Lace, a Renaissance Fantasy, the fall collection from Fair Maiden Polish. I've got some customs request for seeing the polish, so there are the pictures :)
This collection allowed Fair Maiden to bring fun characters and ideas of medevial time to life. This collection includes traditional Fair Maiden finishes including linear holos, shimmers, a glitter and an iridescent flake topper.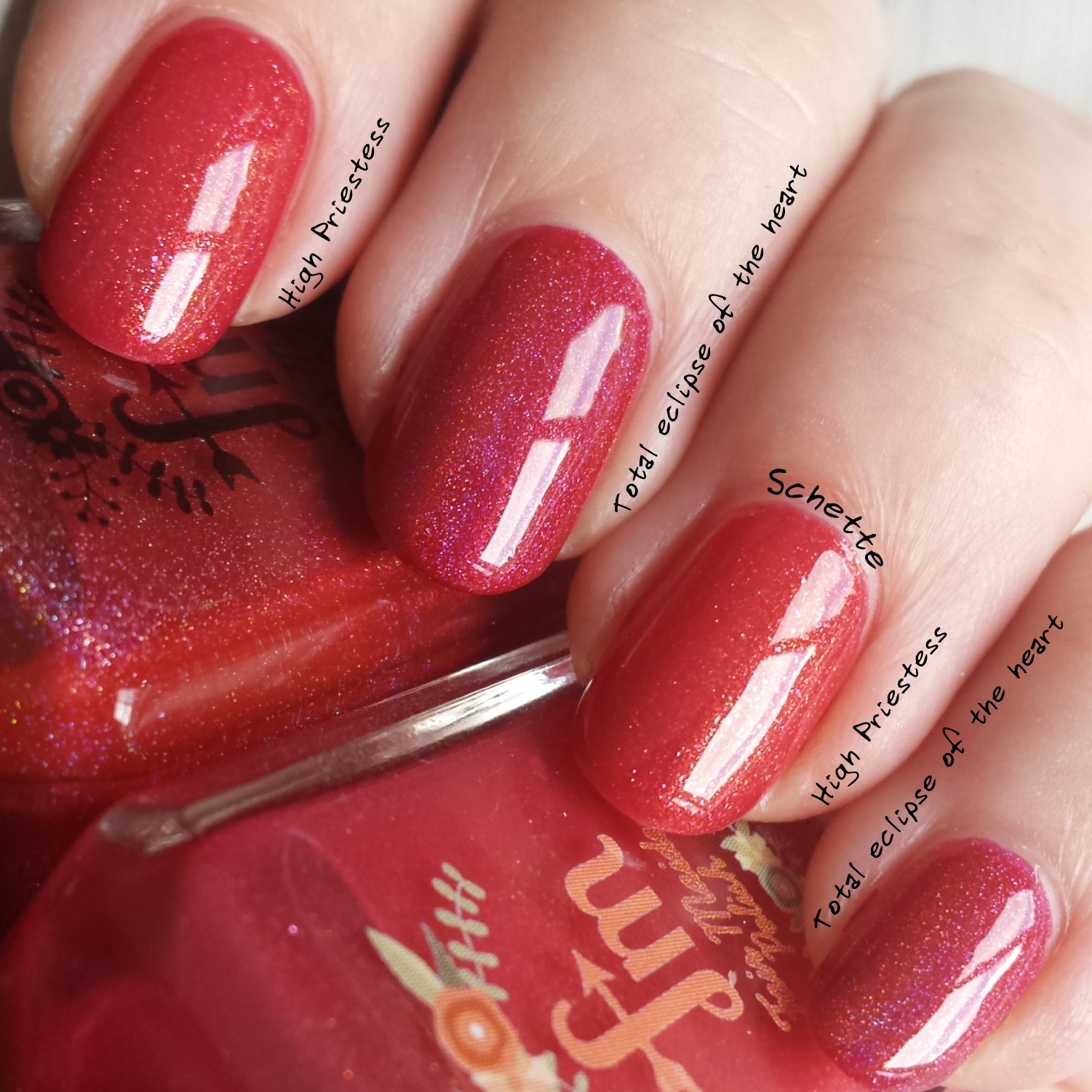 Pour commencer, on m'avait demandé une comparaison entre Total Eclipse of the heart et High Priestess.
To start, I was asked a comparison between Total Eclipse of the heart and High Priestess.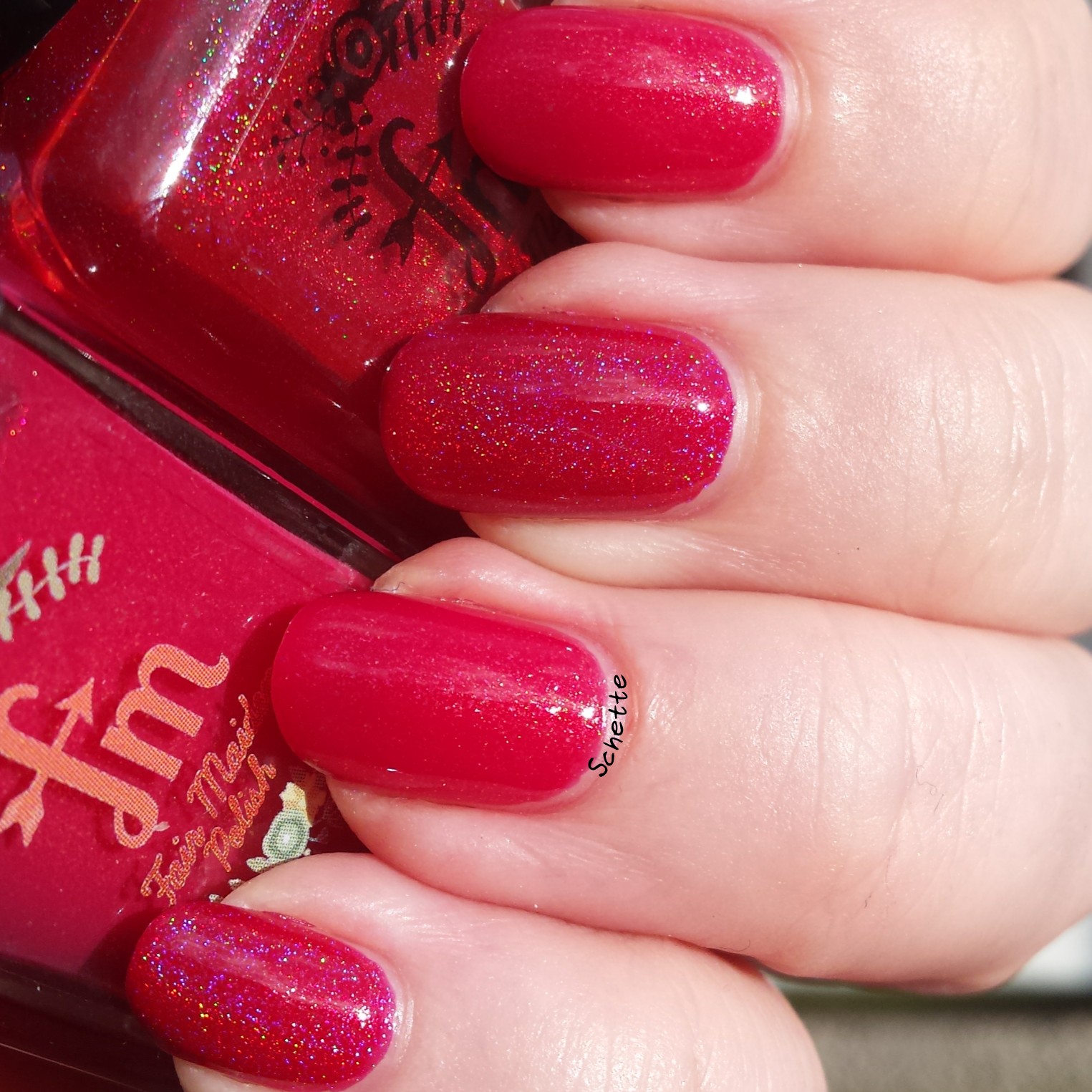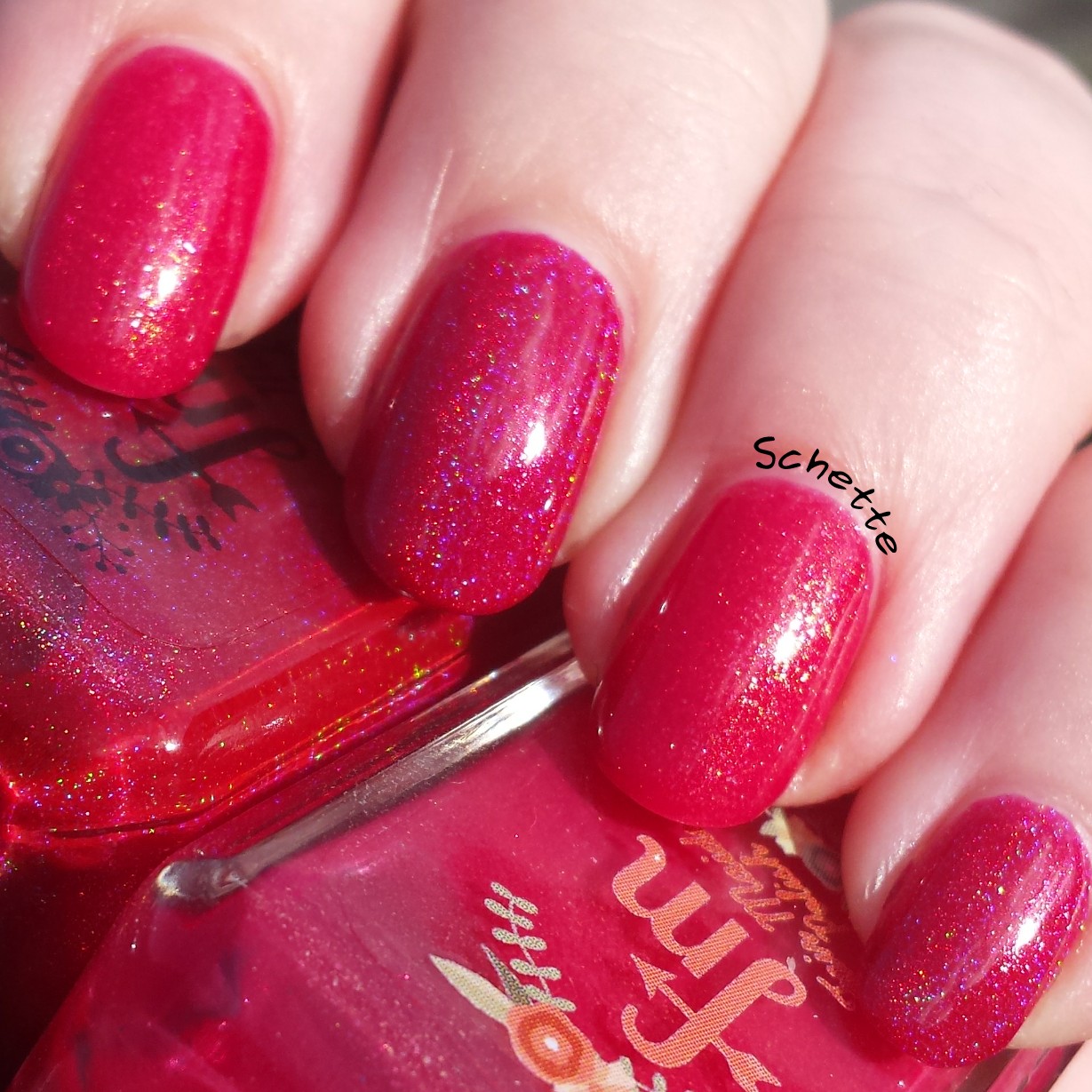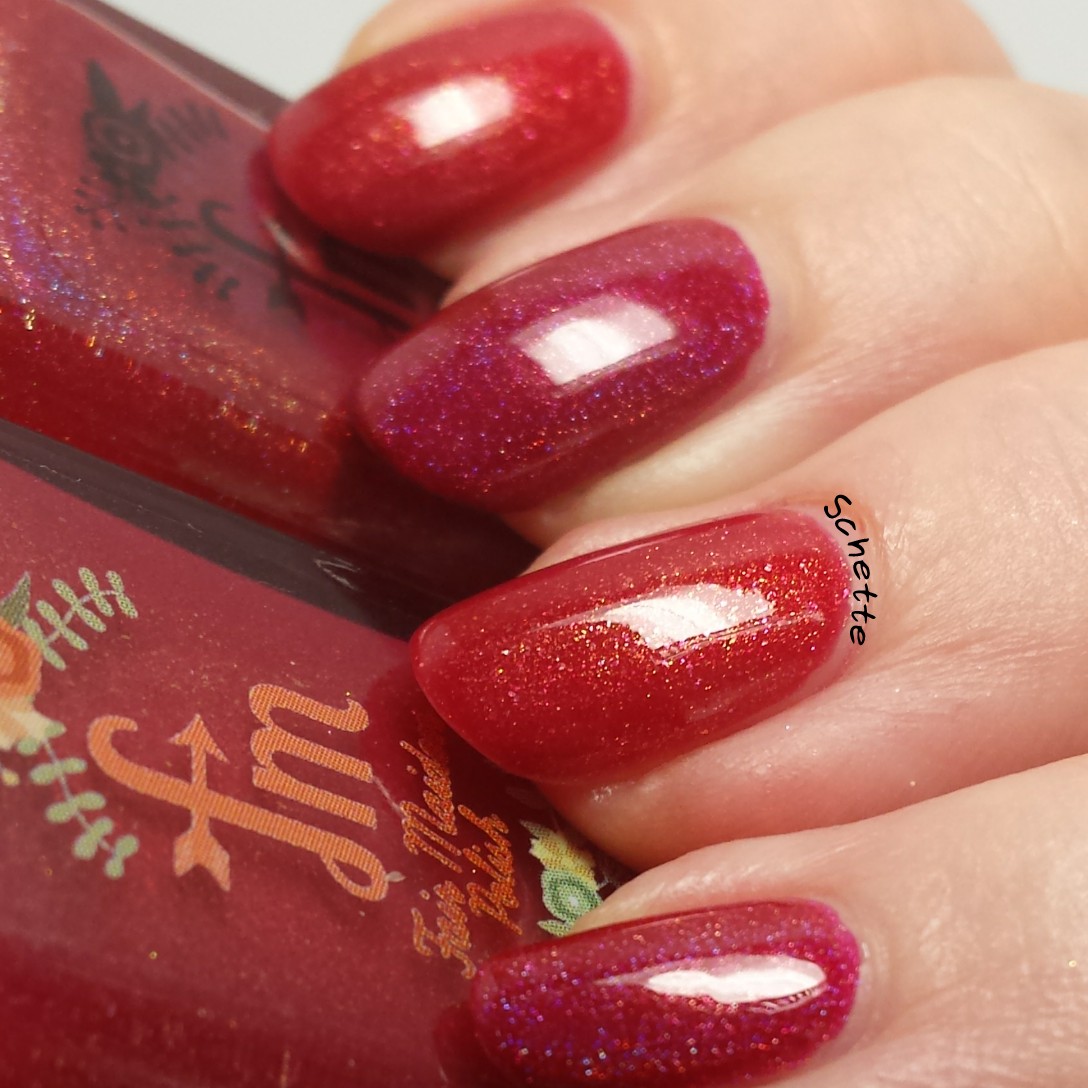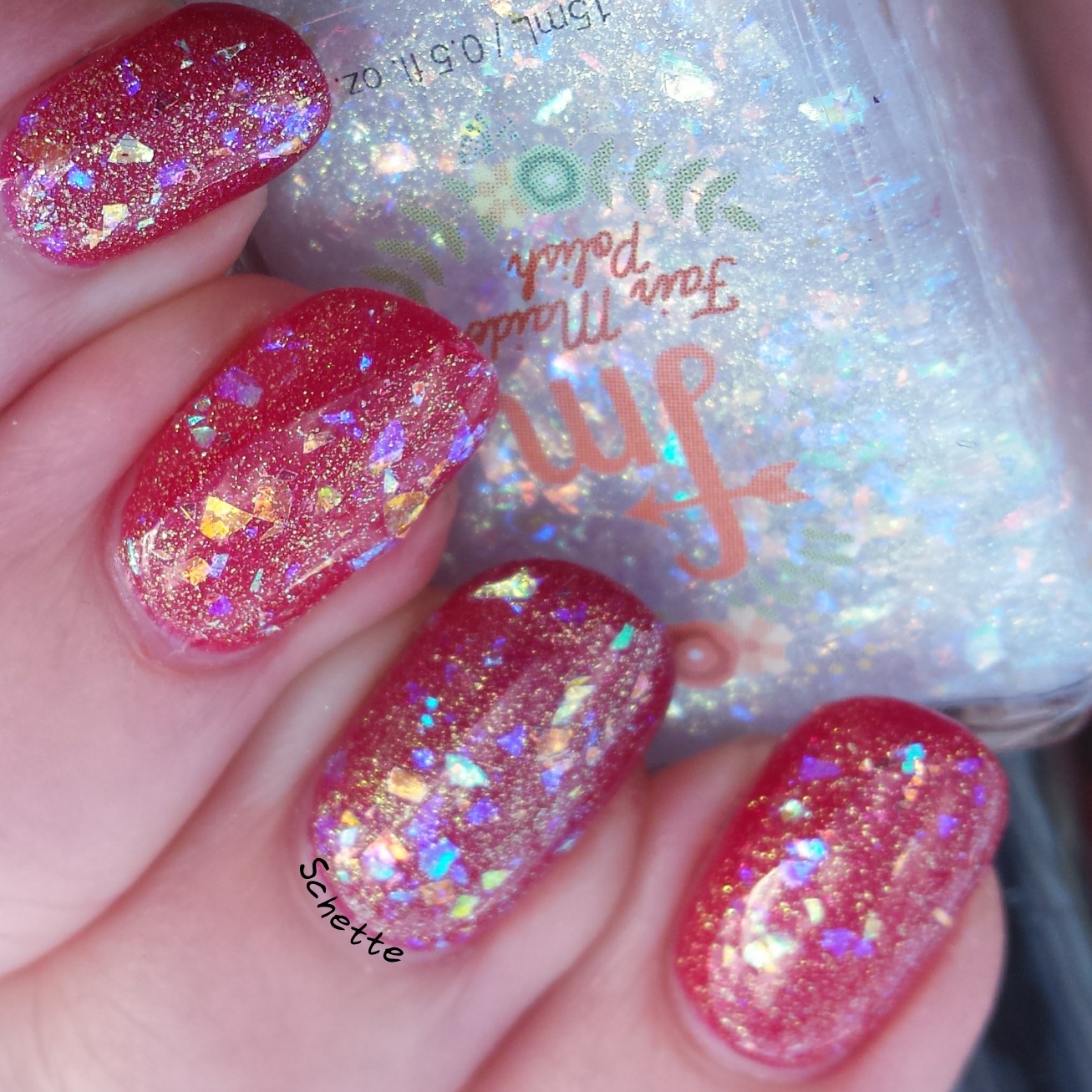 Ensuite, sur cette comparasion, j'ai posé Crystal Ball pour voir le rendu sur du rouge. J'aime beaucoup !
Then, over this comparison, I put a coat of Crystal Ball to see how it looks over red. I love a lot !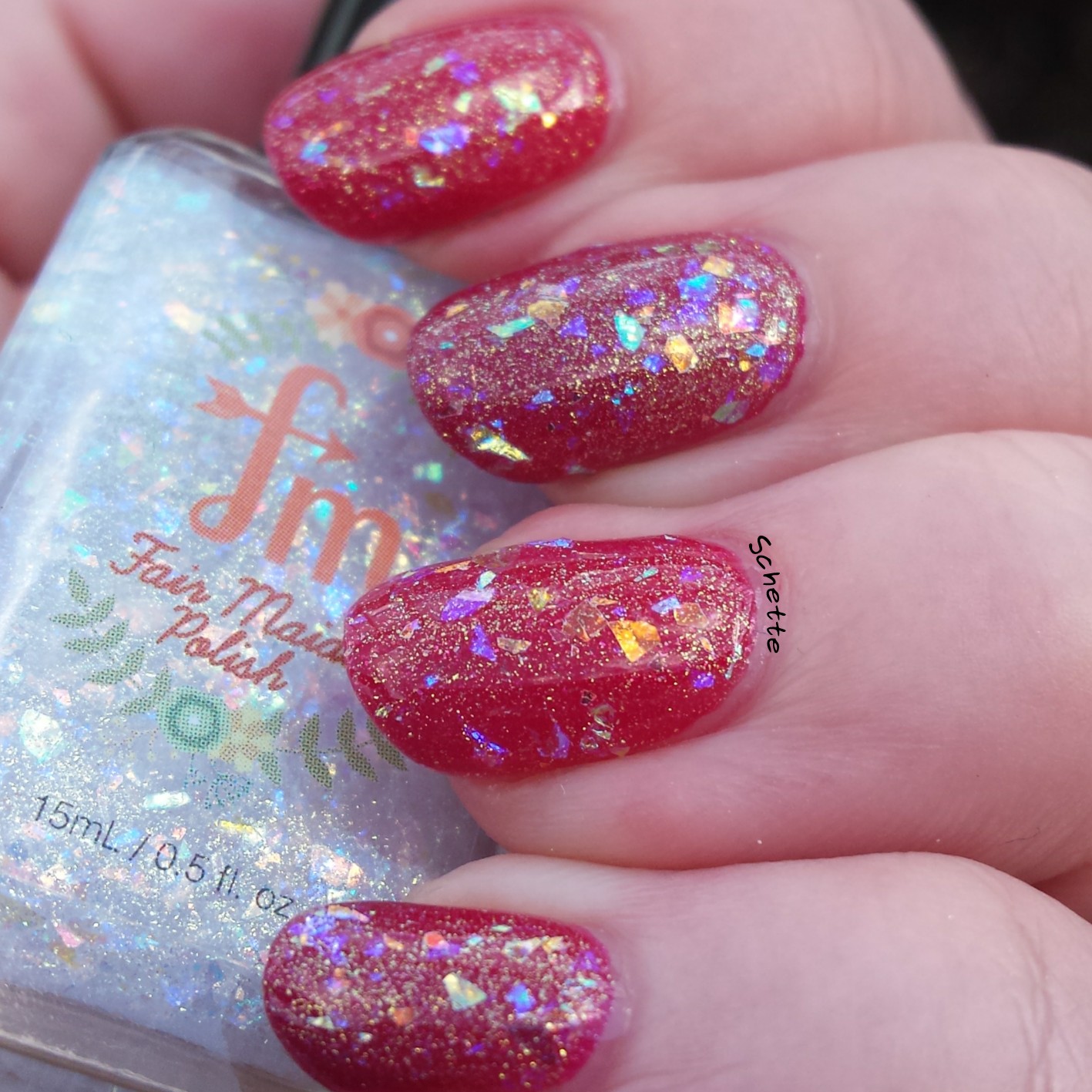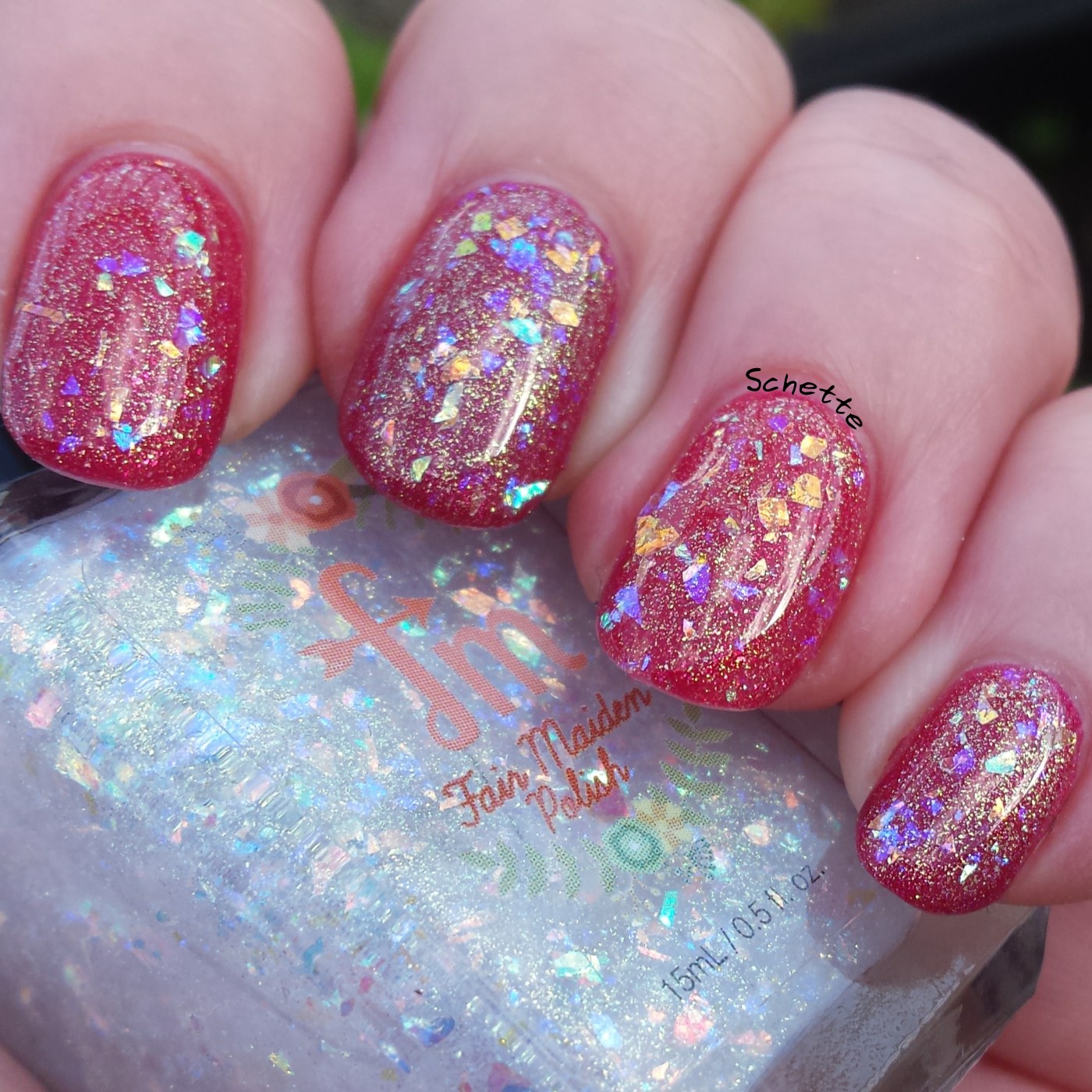 Certaines voulaient voir Belly Dancer sans base. Voici donc :)
Some of you wanted to see Belly Dancer without undie. There we are :)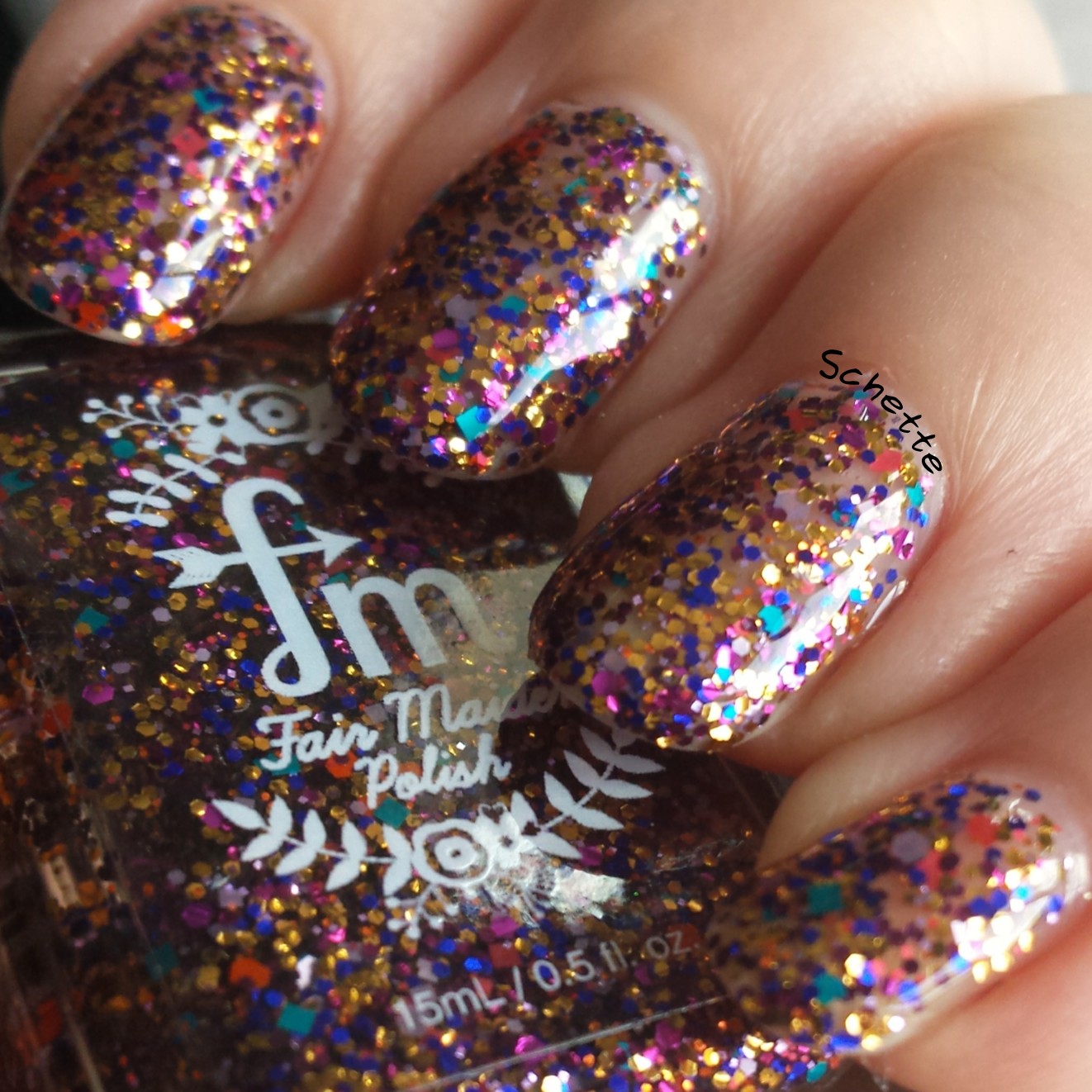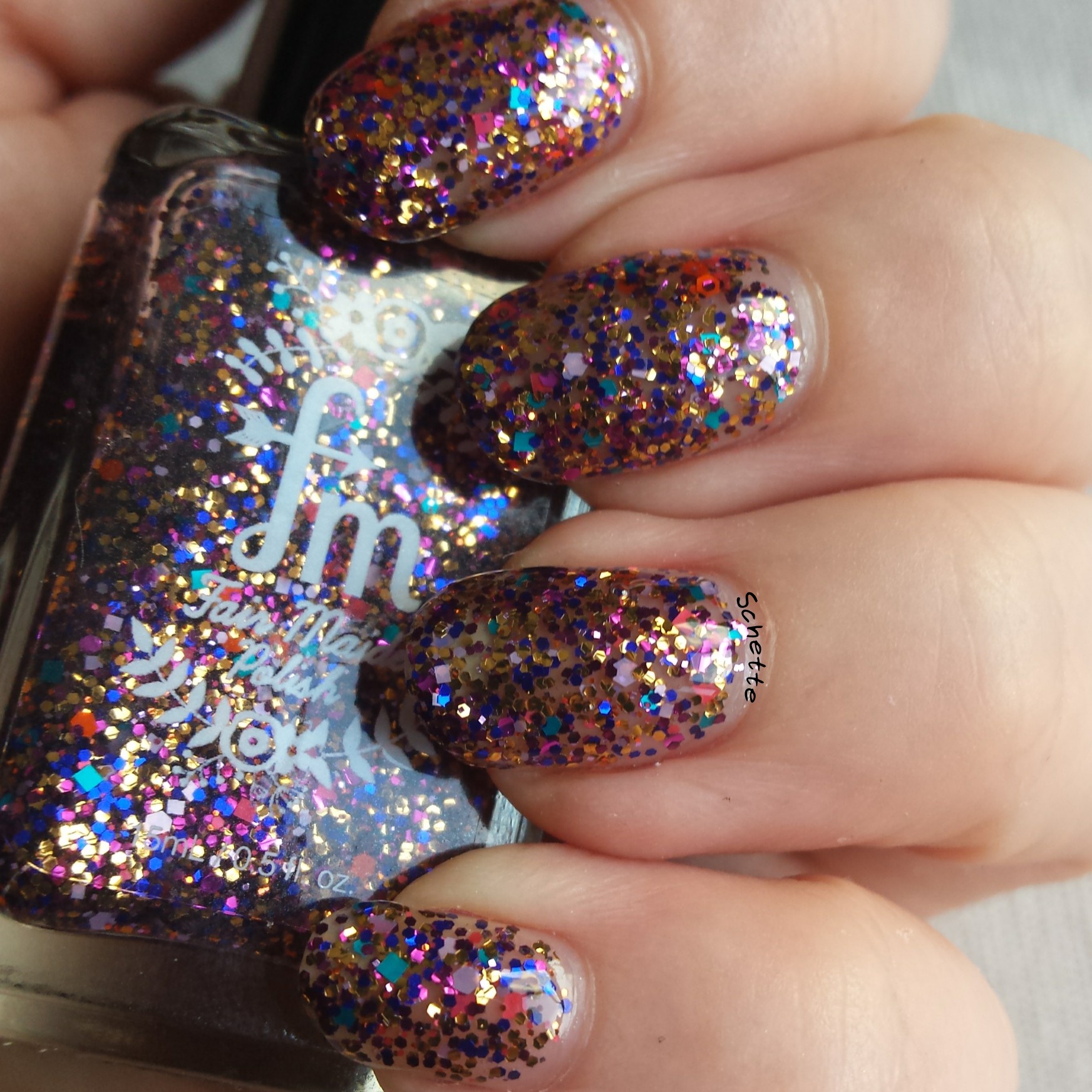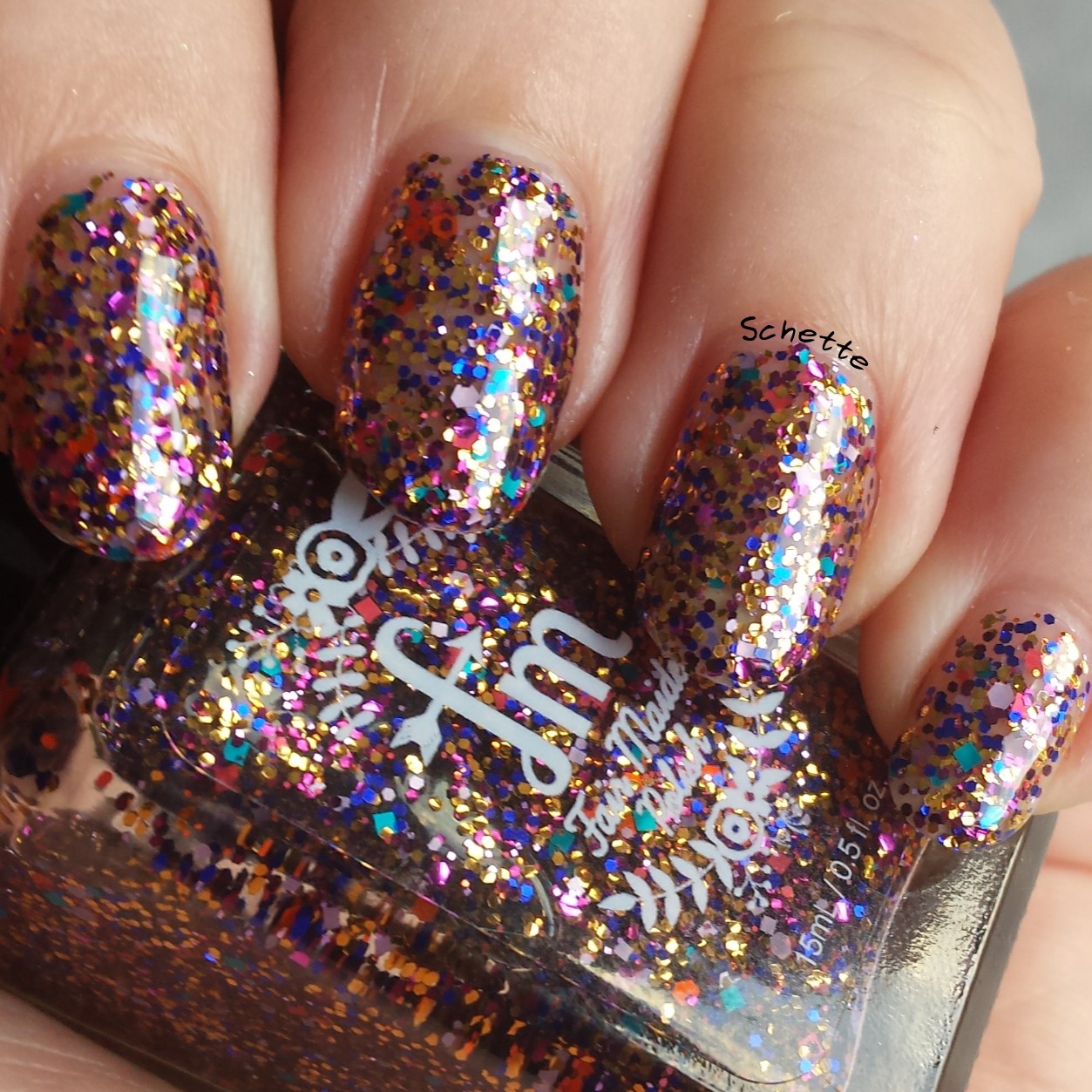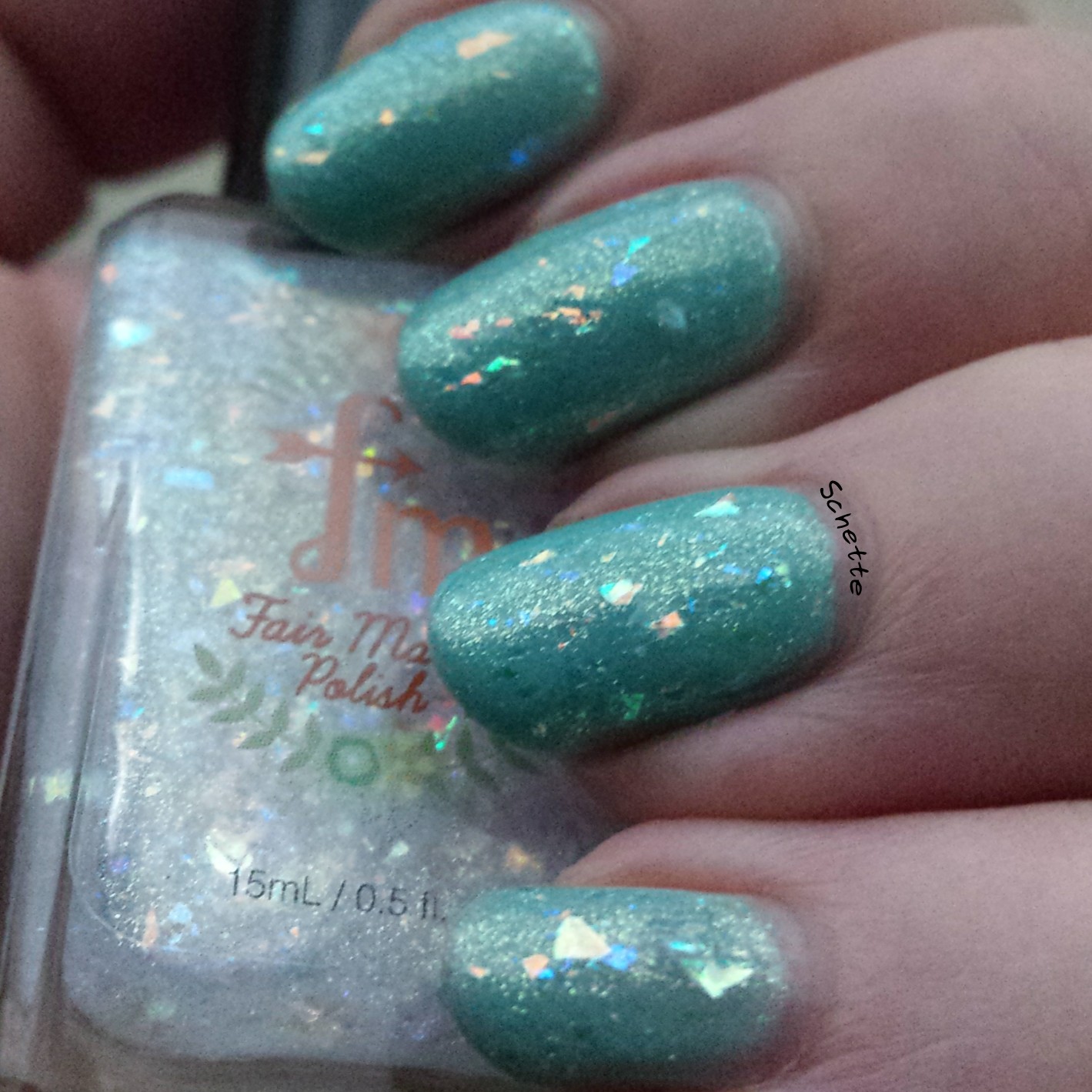 Je portais Magic Carpet Ride alors j'ai voulu tester avec une couche de Crystal Ball. Je trouve ça très joli !
I was wearing Magic Carpet Ride then I wanted to test with a coat of Crystal Ball. I find it super nice !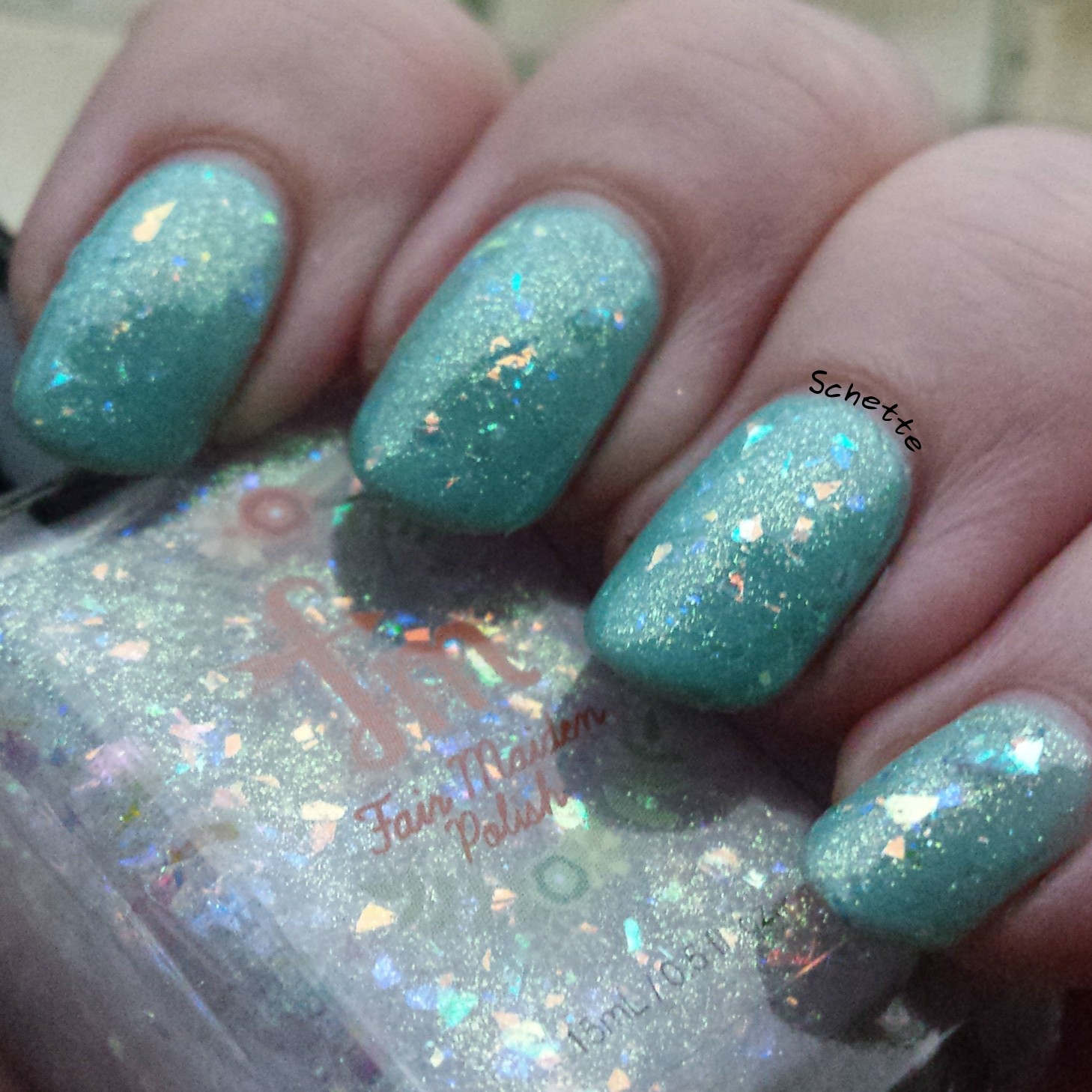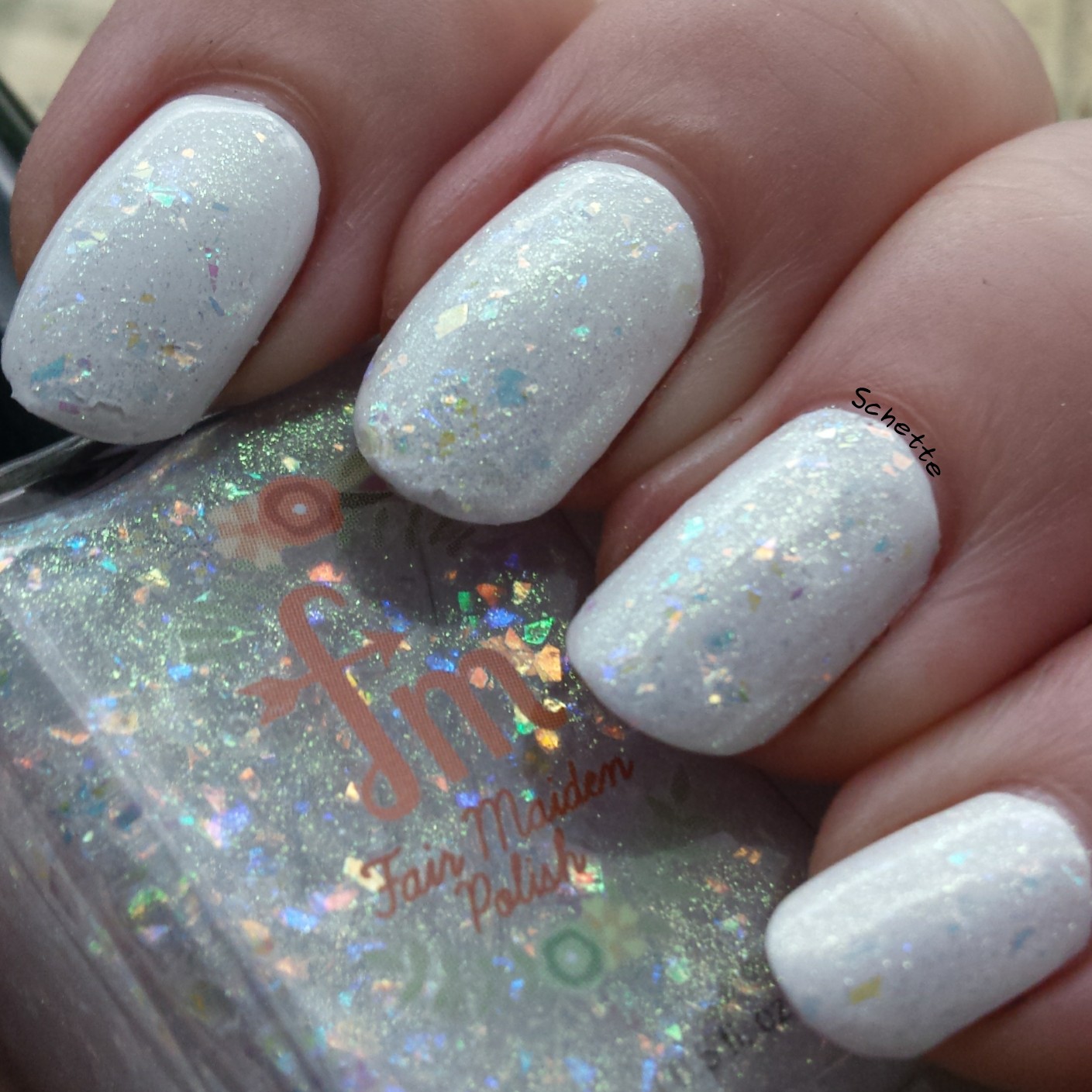 Et le dernier : Crystal Ball sur une couche de blanc.
And the last one : Crystal Ball over a white coat.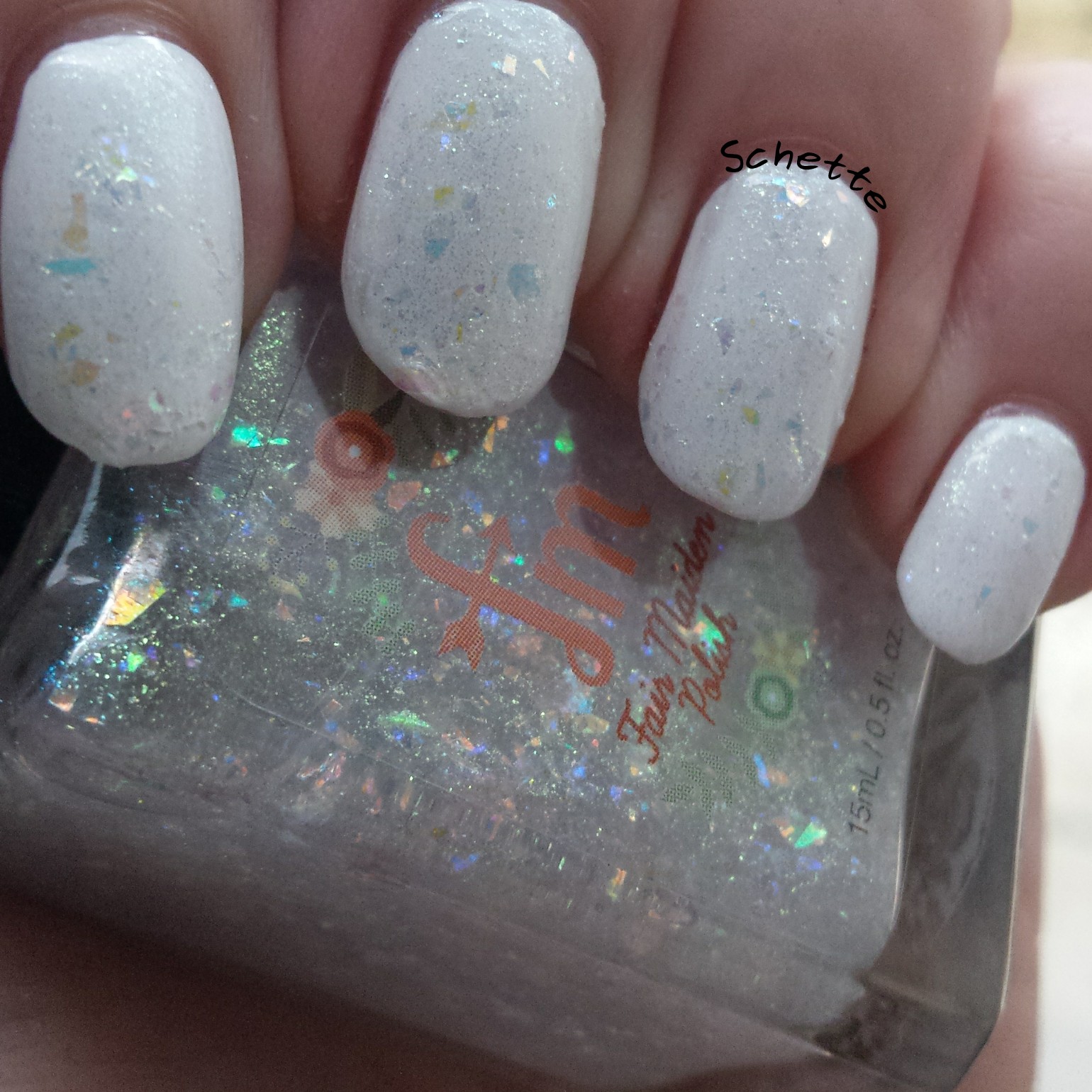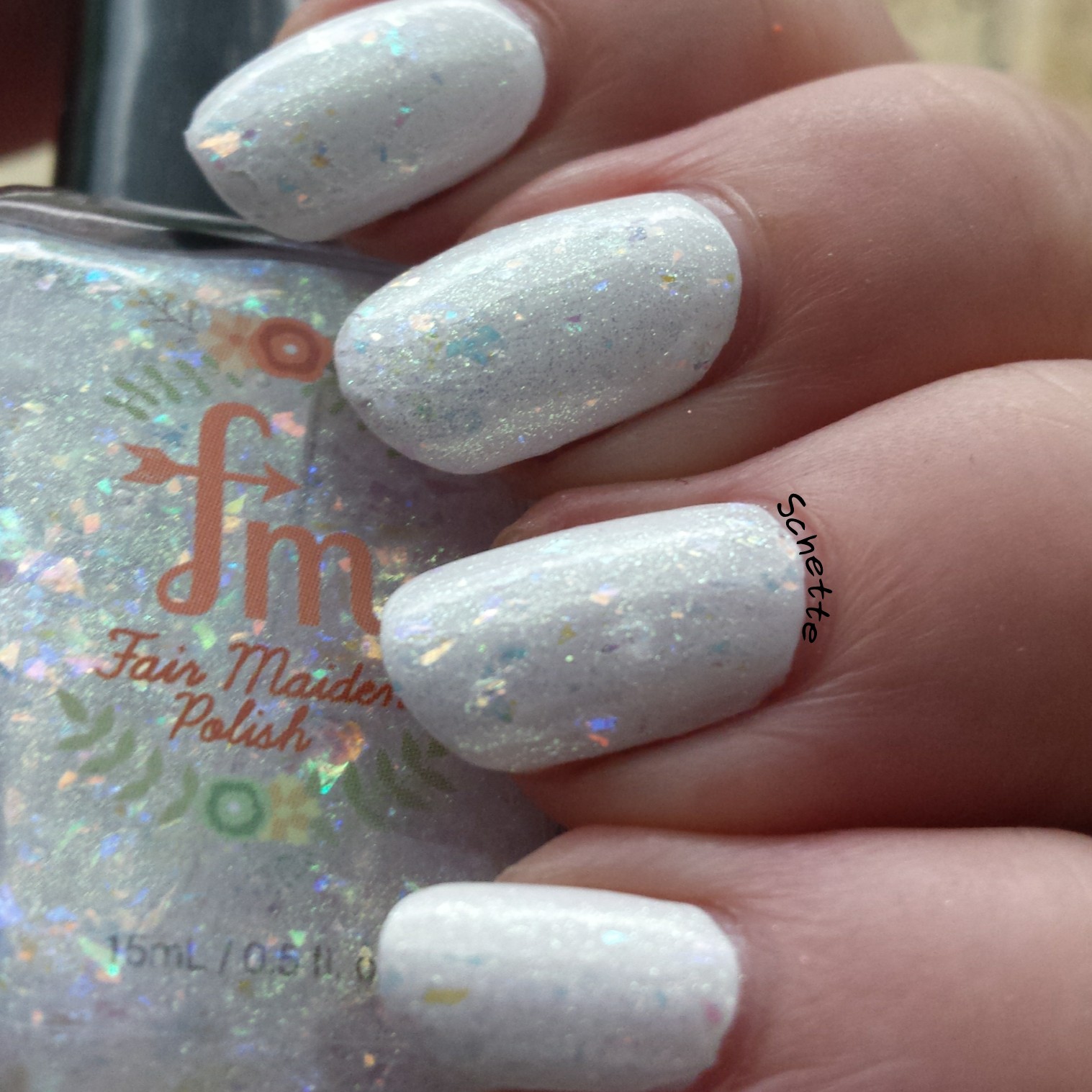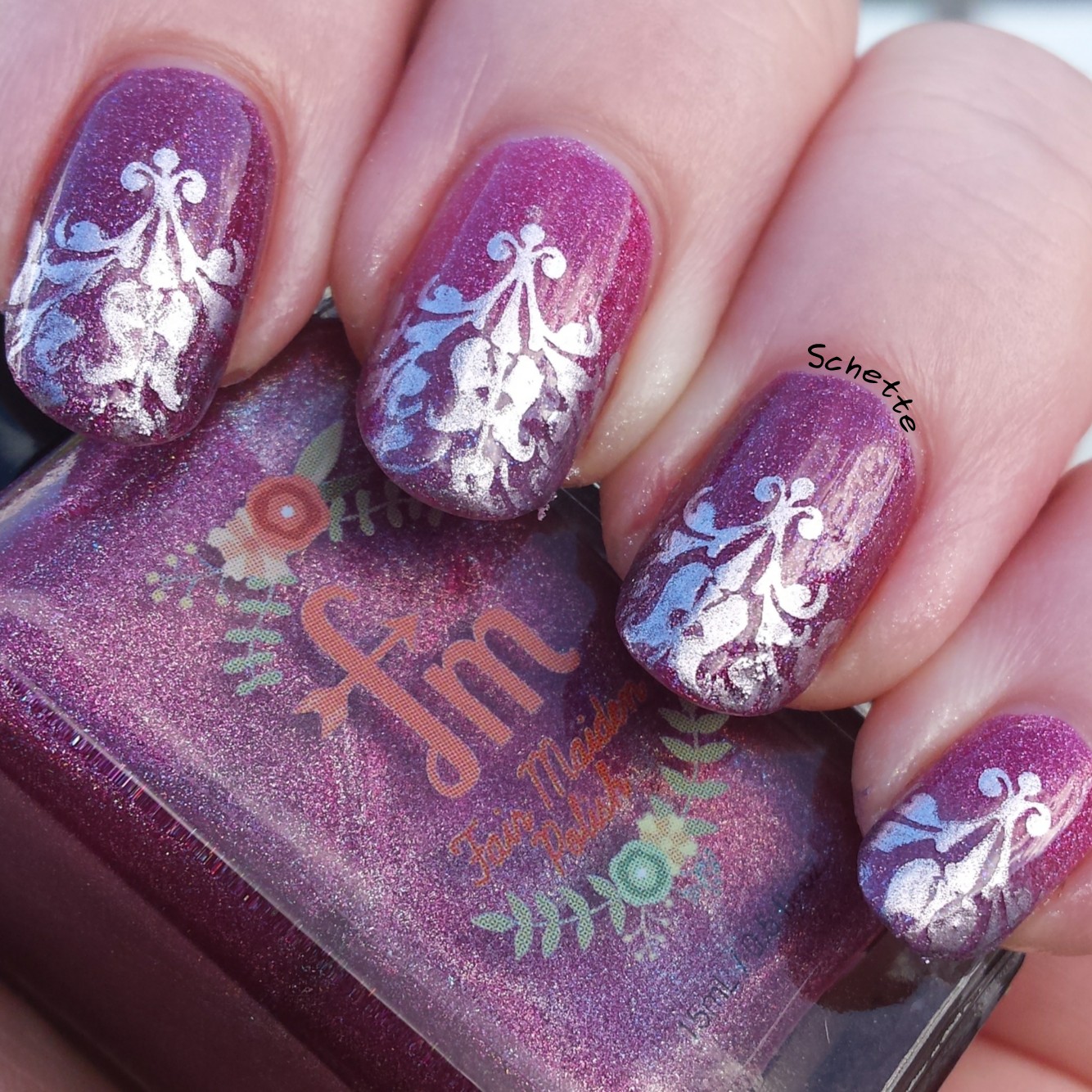 J'ai posé en alternance Pirate Queen et Just a mirage et j'ai fait un gradient avec chacun d'entre eux. J'ai ensuite stampé un motif Sugar Bubble avec le essie metalique Nothing Else Metals. On ne voit plus trop le gradient, mais on peut voir la différence entre les deux couleurs :)
I put alternativly Pirate Queen and Just a mirage, doing a gradient with each of them. Then I stamped with a Sugar Bubble design and the Essie Nothing Else Metals. We barely can't see the gradient, but at least you can have a hint of the difference between the two shades :)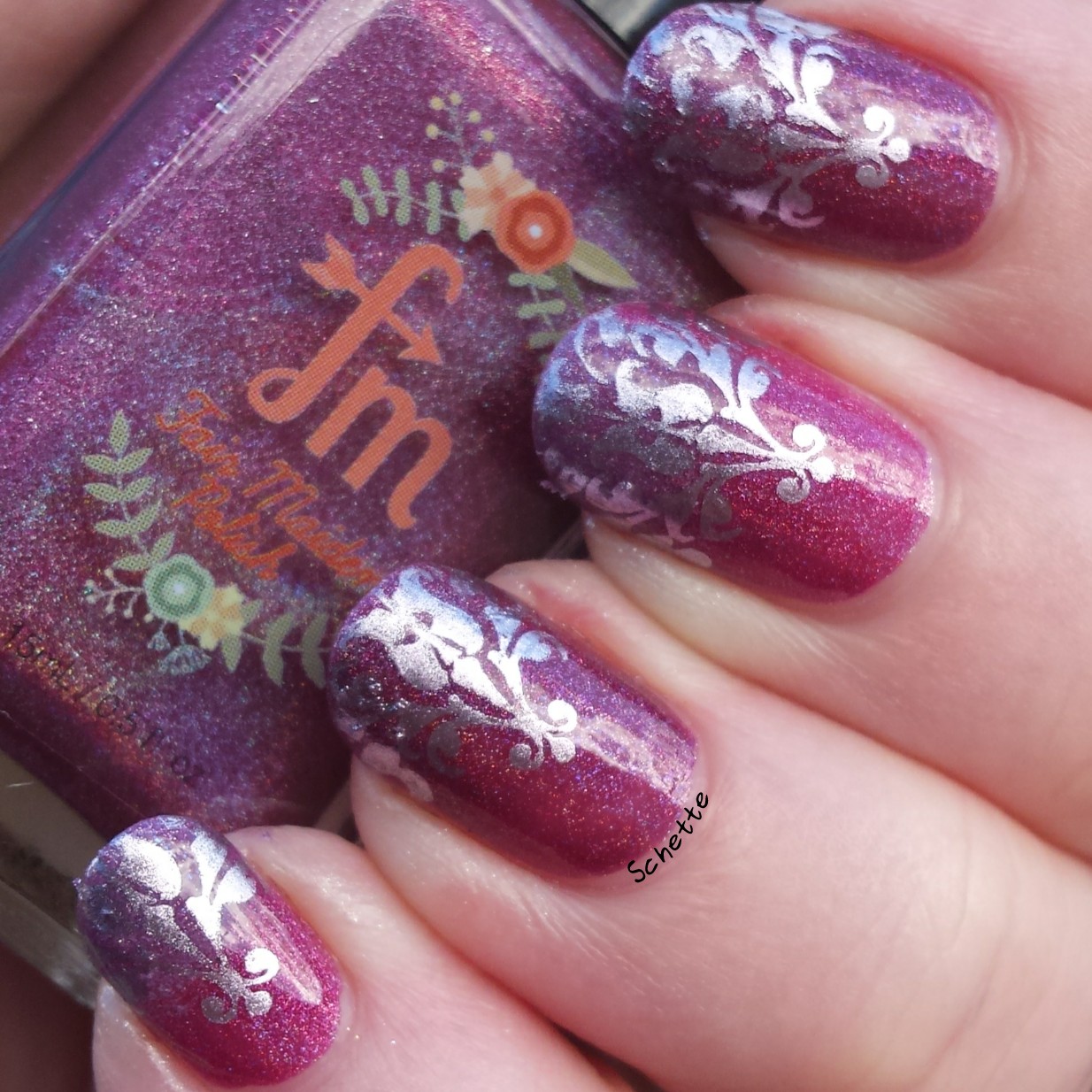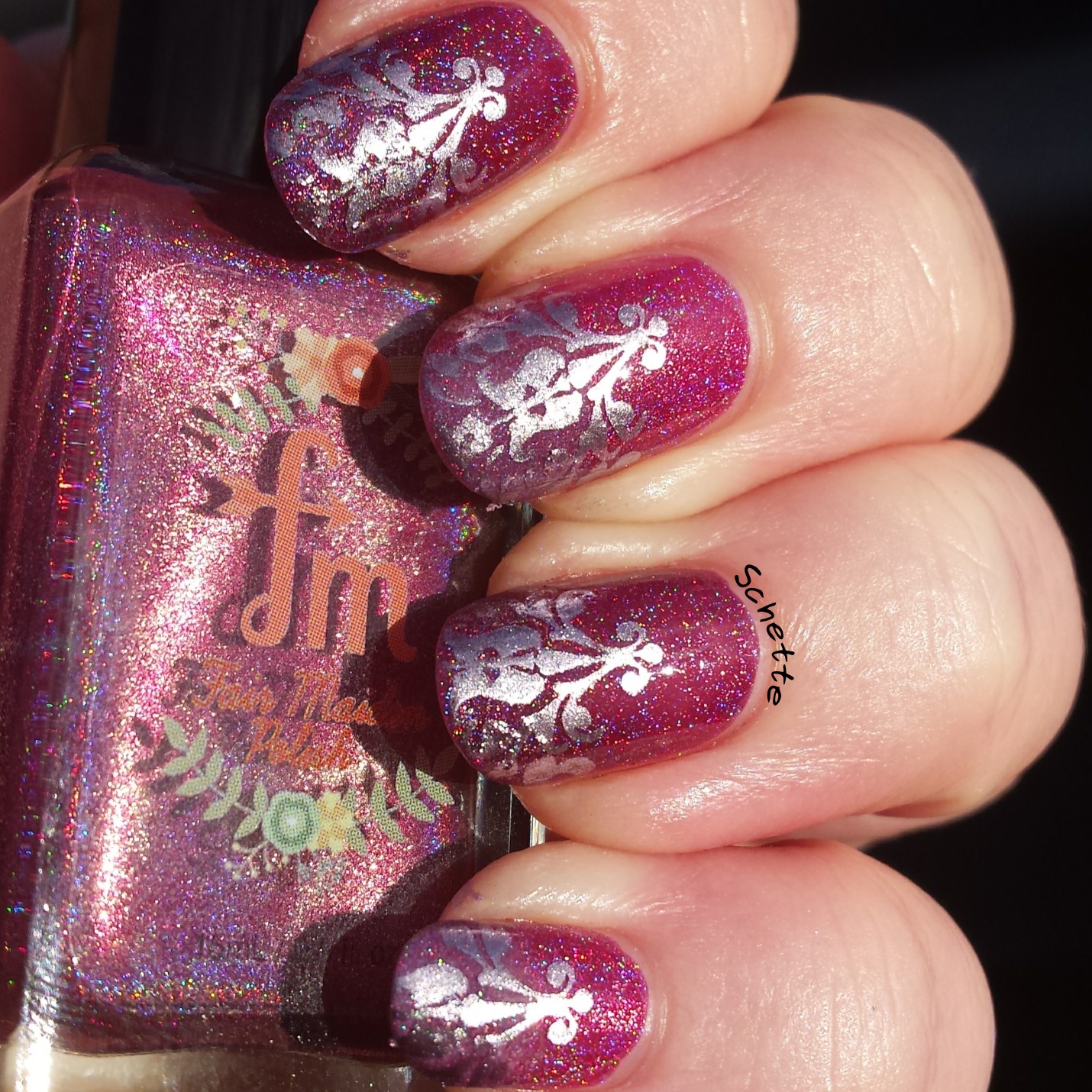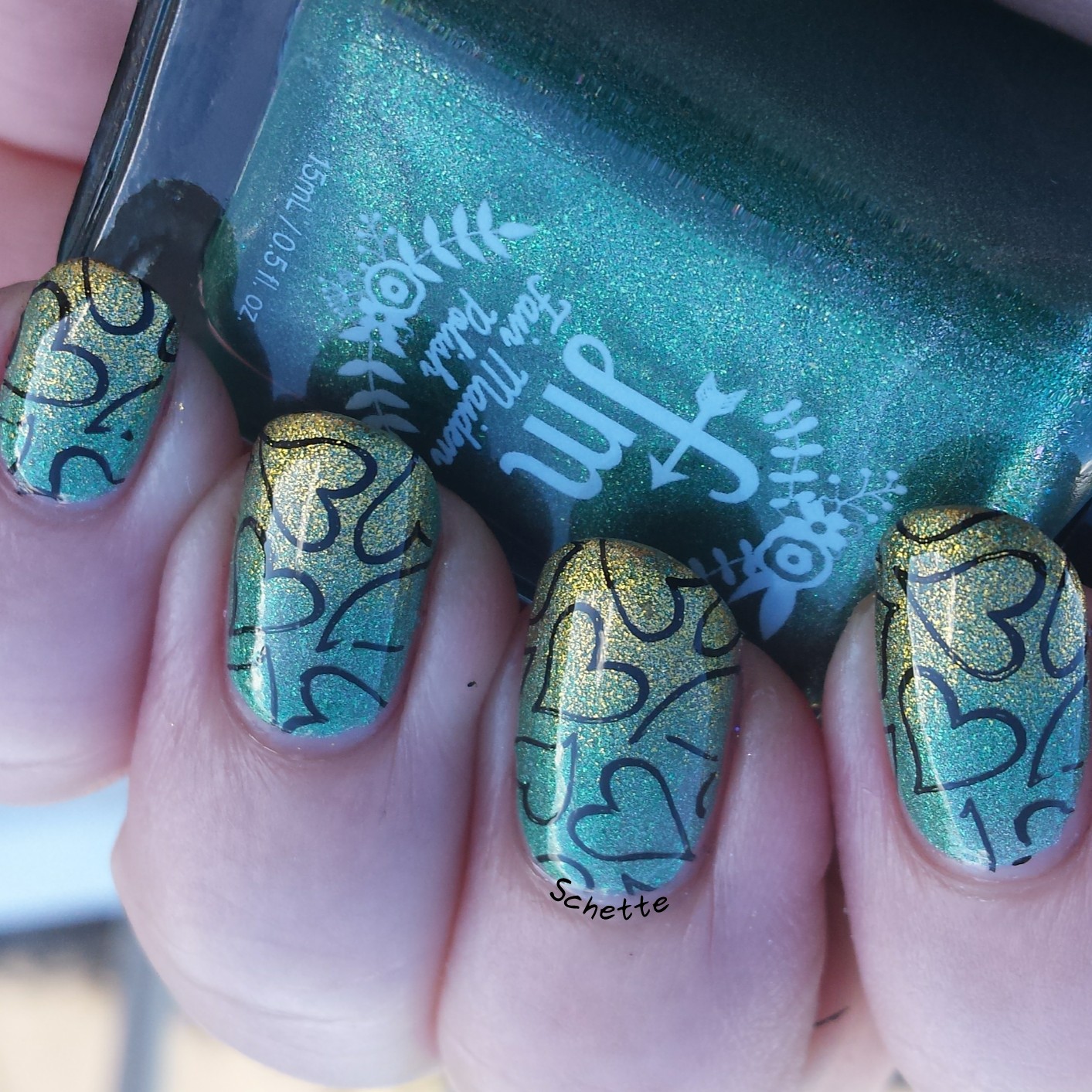 Mon préféré :) J'ai posé Snake Charmer et j'ai fait un gradient avec The Archeress. J'ai ensuite stampé un motif Sugar Bubble avec le Nail Hoot Pure Black Stamping. J'adore le résultat !
My favorite :) I put Snake Charmer and I've done a gradient with the Archeress. Then I stamped a Sugar Bubble design with Nail Hoot Pure Black Stamping. I love the result :)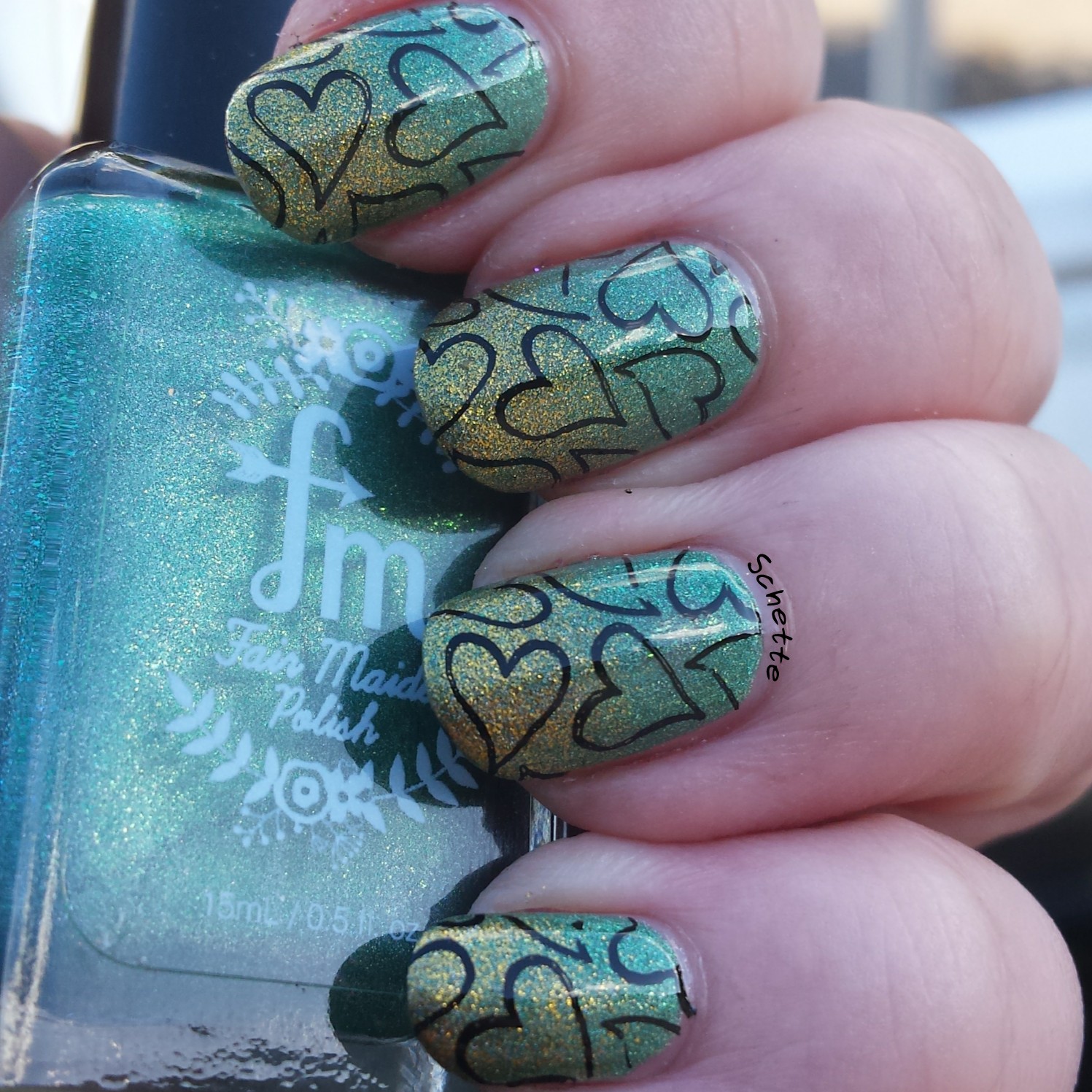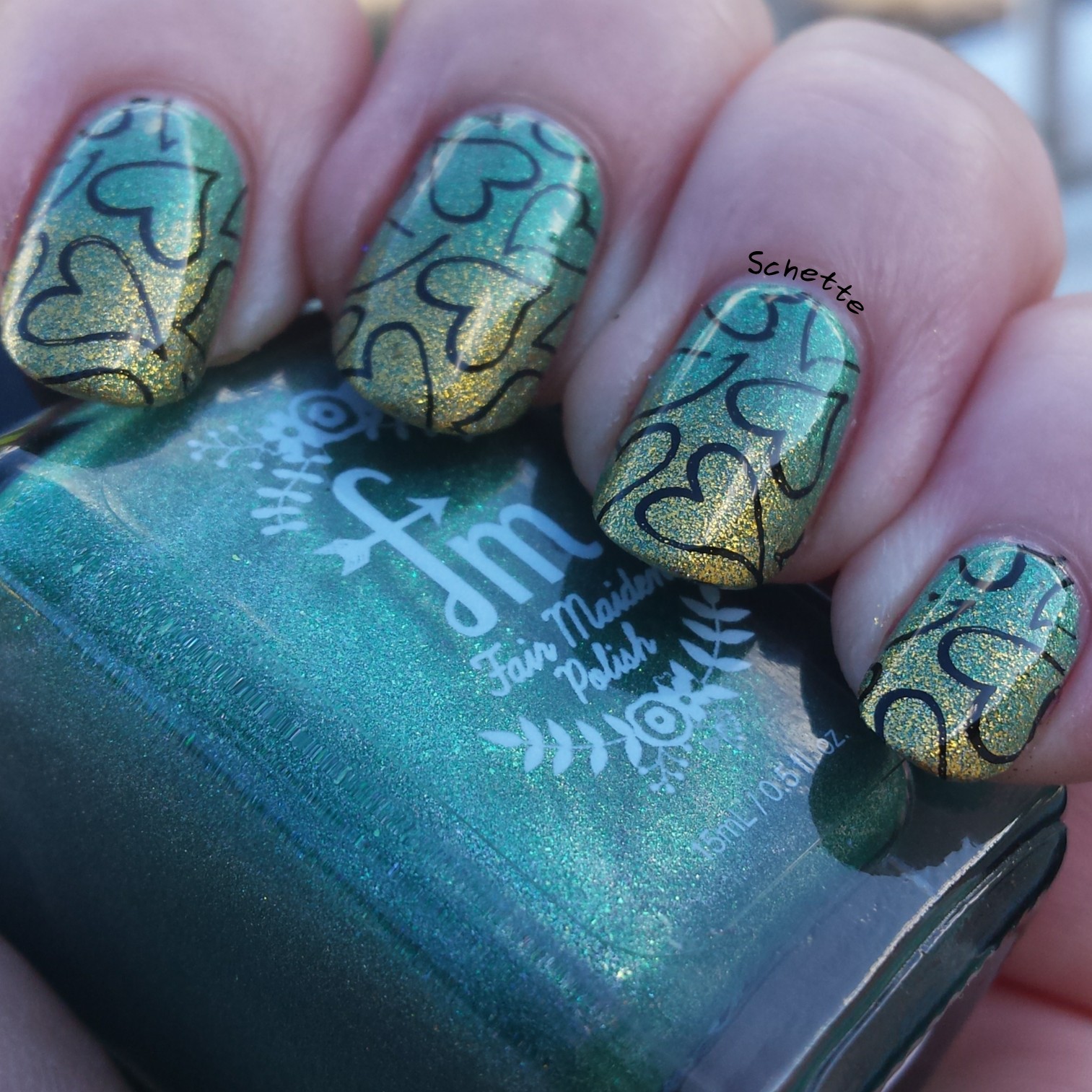 Bilan
Comme dit précédement, la collection sort le 19 septembre à 12h CST et elle comporte 8 vernis :) Je vous fait un petit résumé des 8 juste en dessous.
Je dois dire que j'aurais beaucoup de mal à selectionner seulement certaines couleurs de cette collection. Si je devais le faire, je prendrais Pirate queen, The Archeress et Snake Charmer comme top 3 :)
Like previously said, the collection will be up on september 19th at noon CST. There is 8 polish in the collection :) I just made a collage above with them all :)
I have to say that I will have a hard time to chose only some colors in this collection. If I have to I would take Pirate Queen, The Archeress and Snake Charmer as top 3 :)
Schette, le 17 septembre 2015
Vous pourriez aussi aimer / You can also like :