Eat Sleep Polish : Alice in Polishland Part 2 - Show 1
Vous pourrez trouver cette marque sur la
boutique
et chez son revendeur français
My Kingdom for Glitters
You can find this brand on the shop and on her french stocklist My Kingdom for Glitters.


PRESS SAMPLE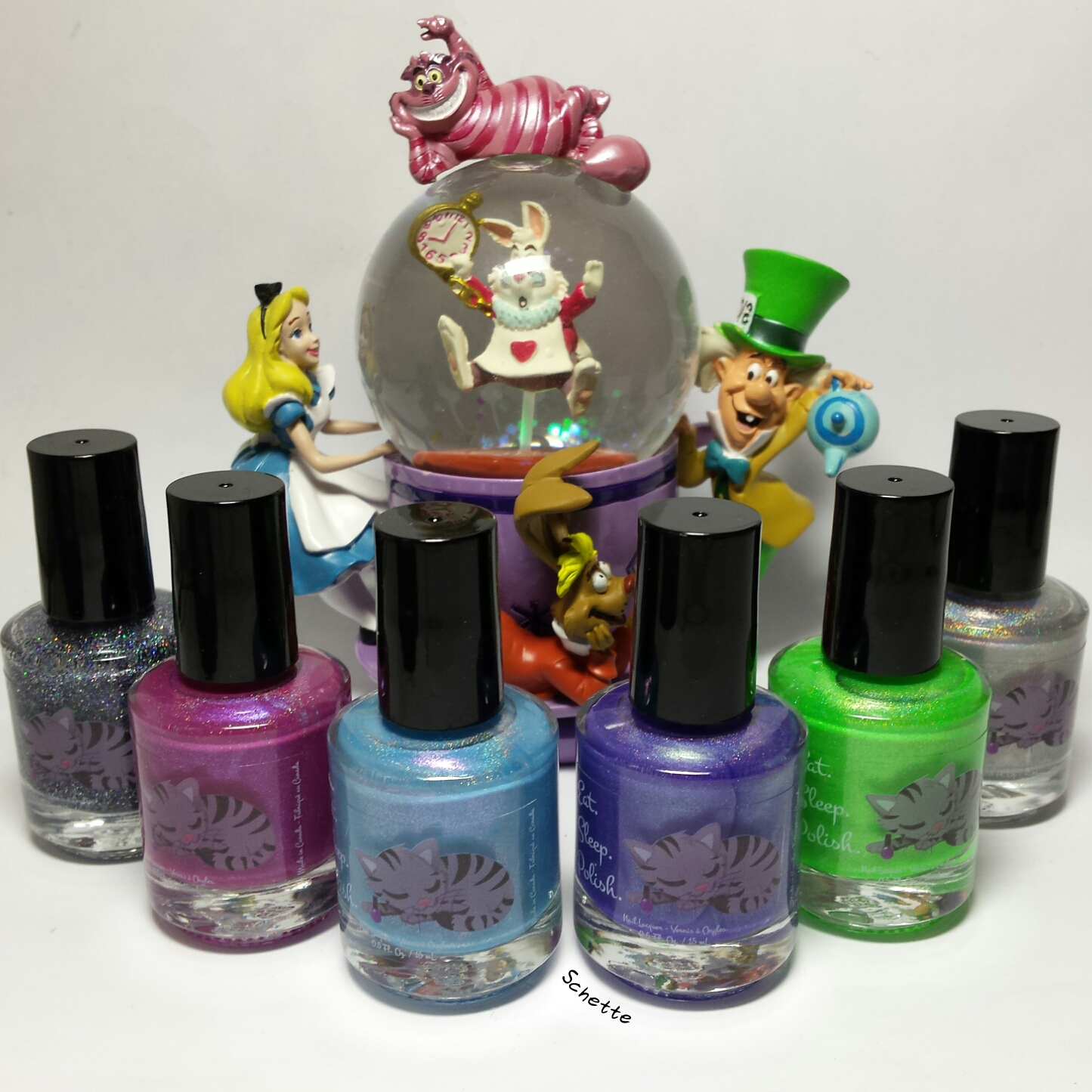 La collection Alice in Polishland Part 2 sortira le 28 mars à 1 pm Eastern (18h à Paris si mes calculs sont exacts). Cette collection de 6 merveilleux vernis compte parmis mes bleu, vert et rose préféré, juste ça ! Il y a également un superbe topper holo qui va siii bien avec le vert de la collection que vous allez tomber de votre chaise quand vous allez voir l'association des deux. Alors commençons le show !
The collection Alice in Polishland Part 2 will be released on March 28th at 1pm Eastern. This collection of 6 amazing polish count with one of my favorite blue, green and pink, just this ! There is also a wonderfull topper that go so well with the green that you'll fall from your chair when you'll see the association. So let's start the show !
Un petit aperçu des 4 couleurs pleine :)
A little picture with the 4 full colors :)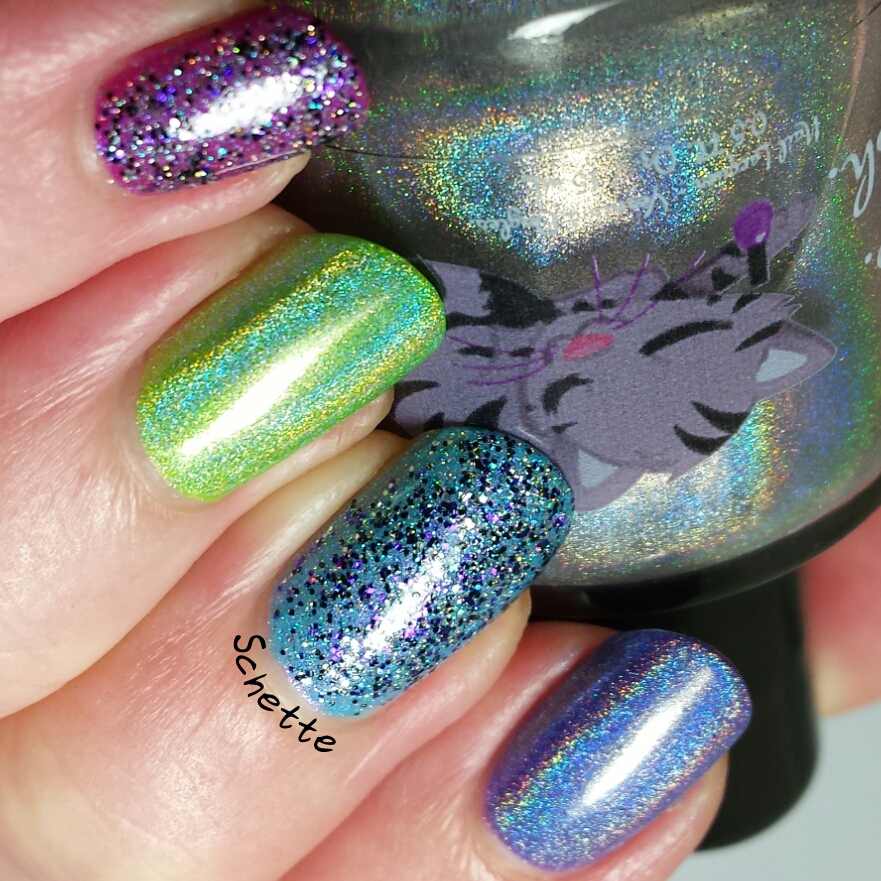 Et une avec les précédents auxquels sont ajoutés les 2 toppers un doigt sur deux.
And one with the previous where I added the 2 toppers one finger over two.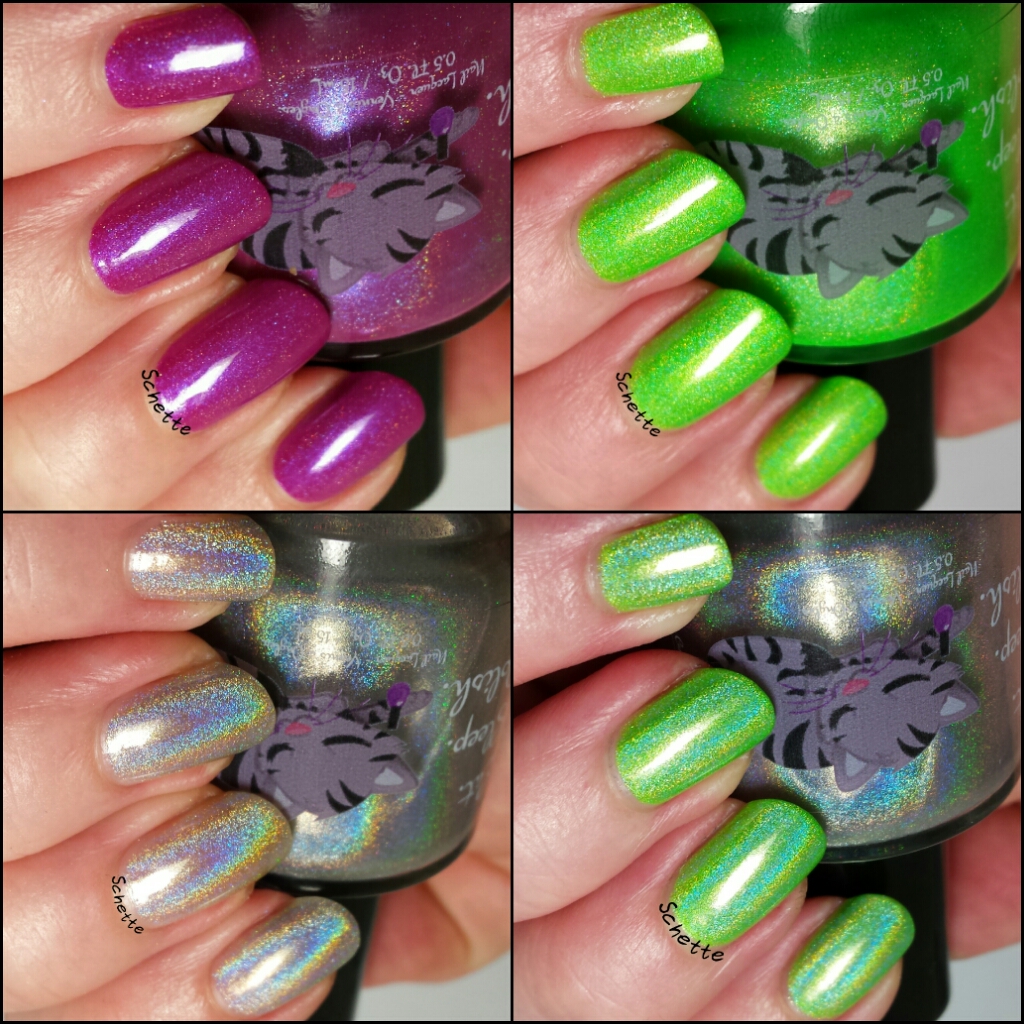 Who R U ?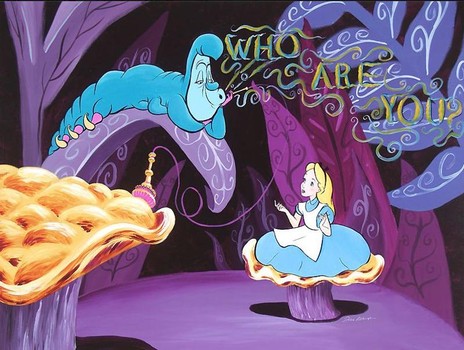 Commençon avec Who R U? Cette citation est célèbre pour être dite par la Chenille. L'inspiration vient de sa fumée ajoutée à sa couleur primaire, c'est donc un magnifique rose à shimmer bleu. Que dire à part que j'adore, c'est un peu mon chouchou, il me fait un peu penser à l'un de mes customs.
Let's start with Who R U ? This quote is famous to be said by the Caterpillar. The inspiration comes from his smoke added to his primary color, this is so a wonderfull pink with blue shimmer. What can I say beside that I love it, that's my little baby, it reminds me a little one of my customs.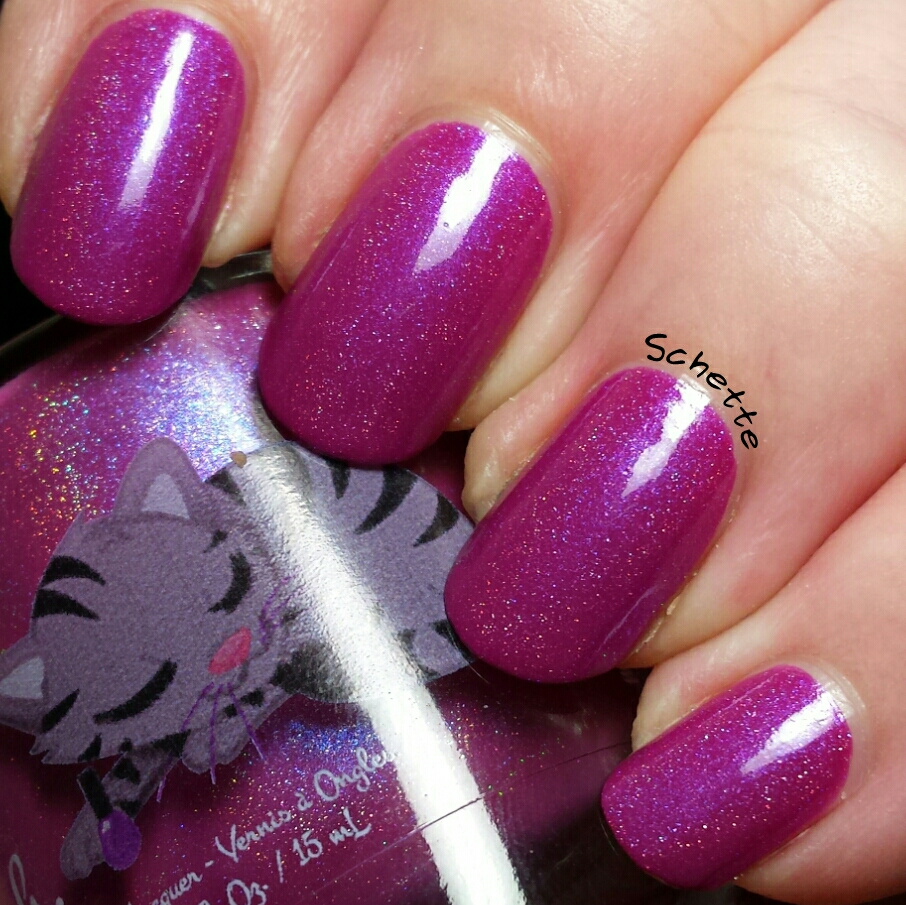 Il est ici posé en deux couches, plus top coat. La formule est parfaite et sèche très vite. Le finish est brillant.
Here in two coats, with top coat. The formula is perfect and dries super fast. The finish is smooth.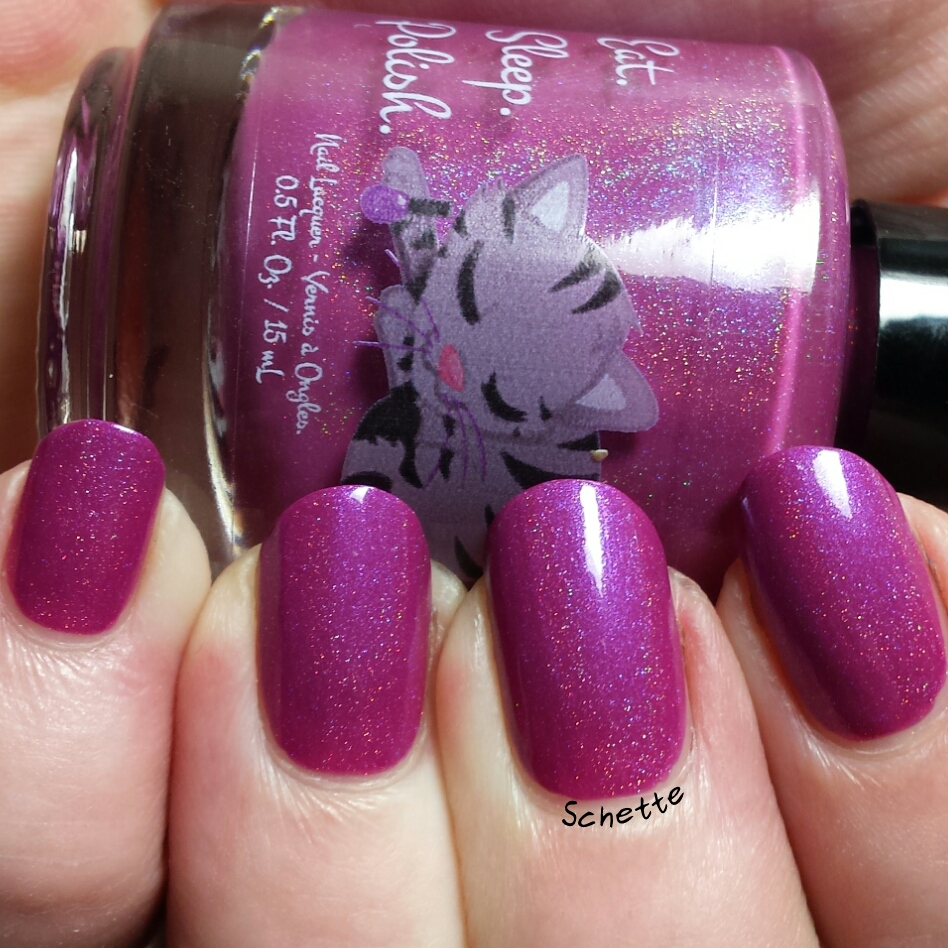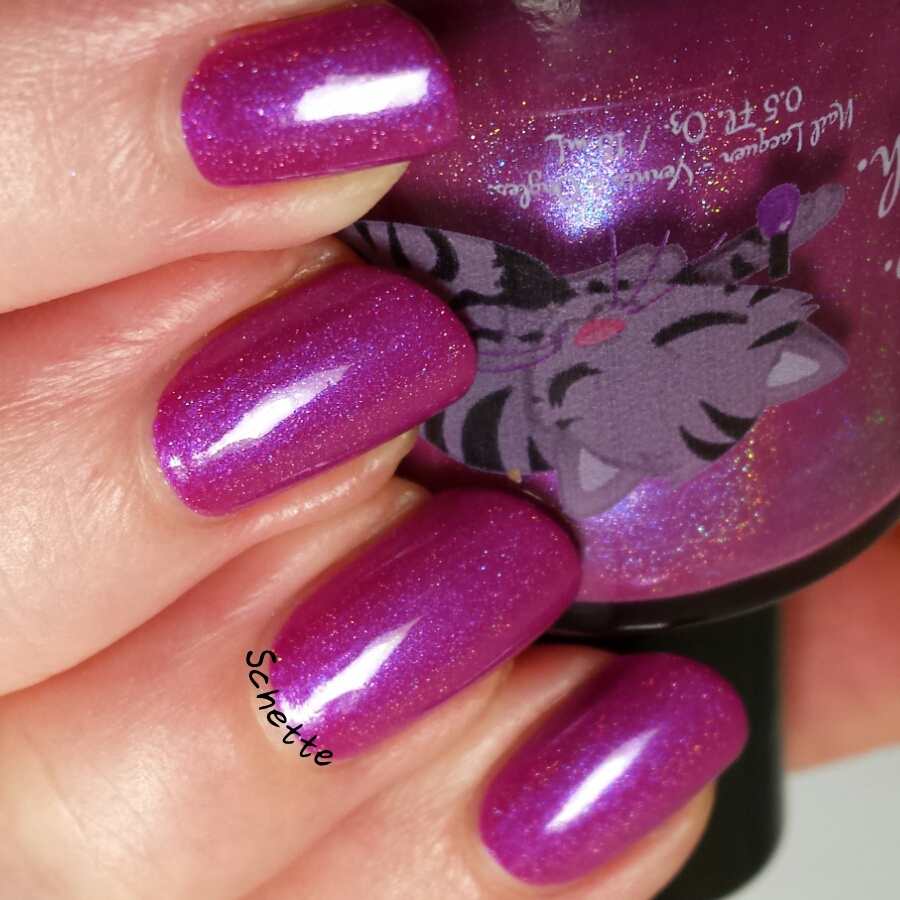 Don't you care for tea ?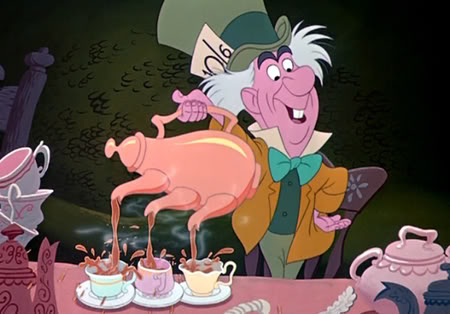 Le second est inspiré par le chapelier fou bien sûr. Don't you care for tea est un vert ultra pétant et totalement fou comme le chapelier. Je l'adore voilà c'est dit.
The second one is inspired by mad hatter of course. Don't you care for tea is an ultra bright green and totaly mad as the hatter. I love it, ok it's said.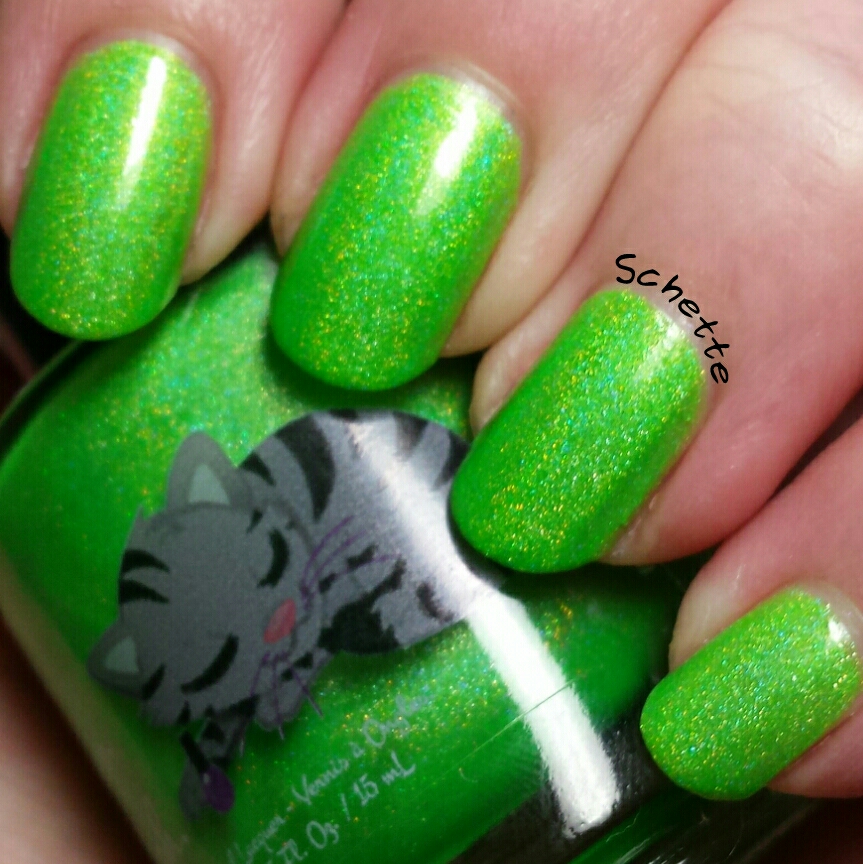 Comme le précédent l'application est parfaite et le finish est légèrement mat. Ici posé en deux couches plus top coat. On devine le jaune de la veste du chapelier j'adore !
Like the previous, the application is perfect and the finish slightly mat. Here worn in two coats plus top coat. We can guess the yellow of the jacket of the hatter. I love it !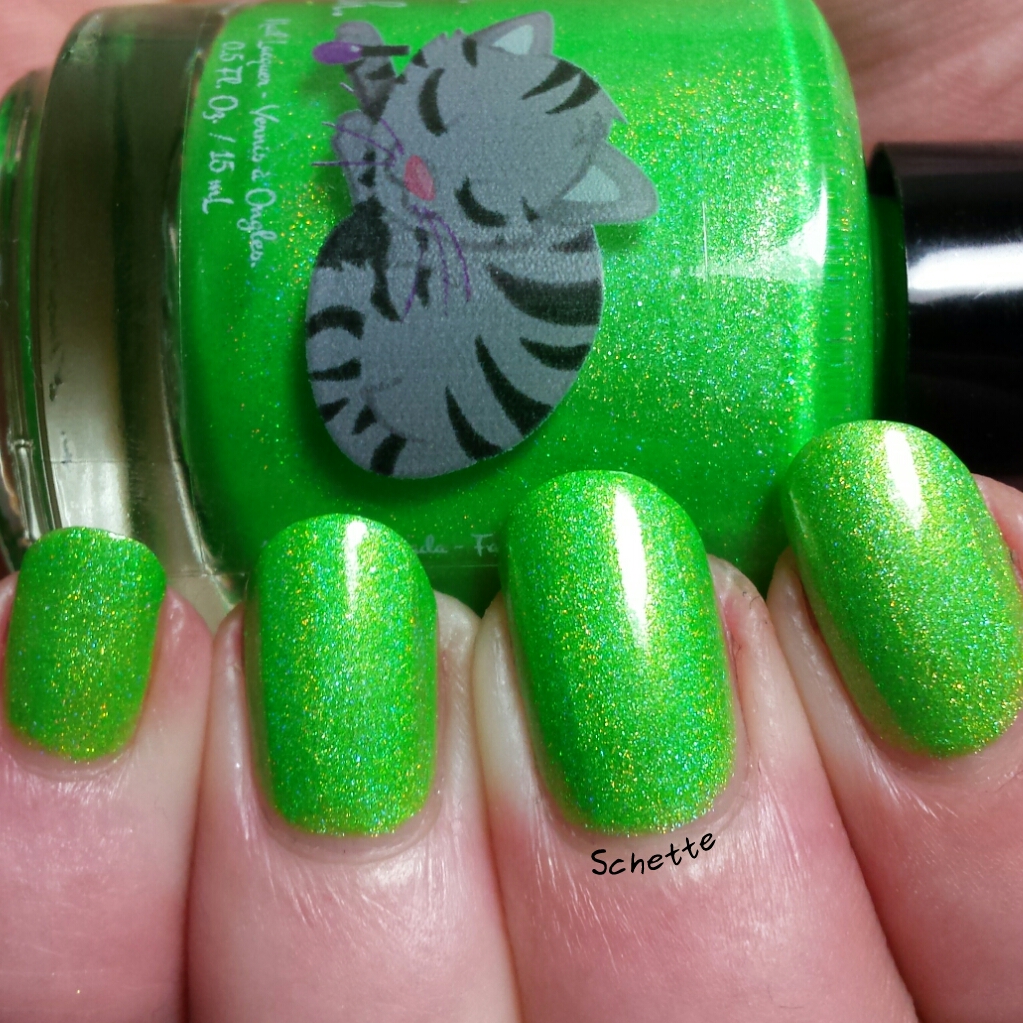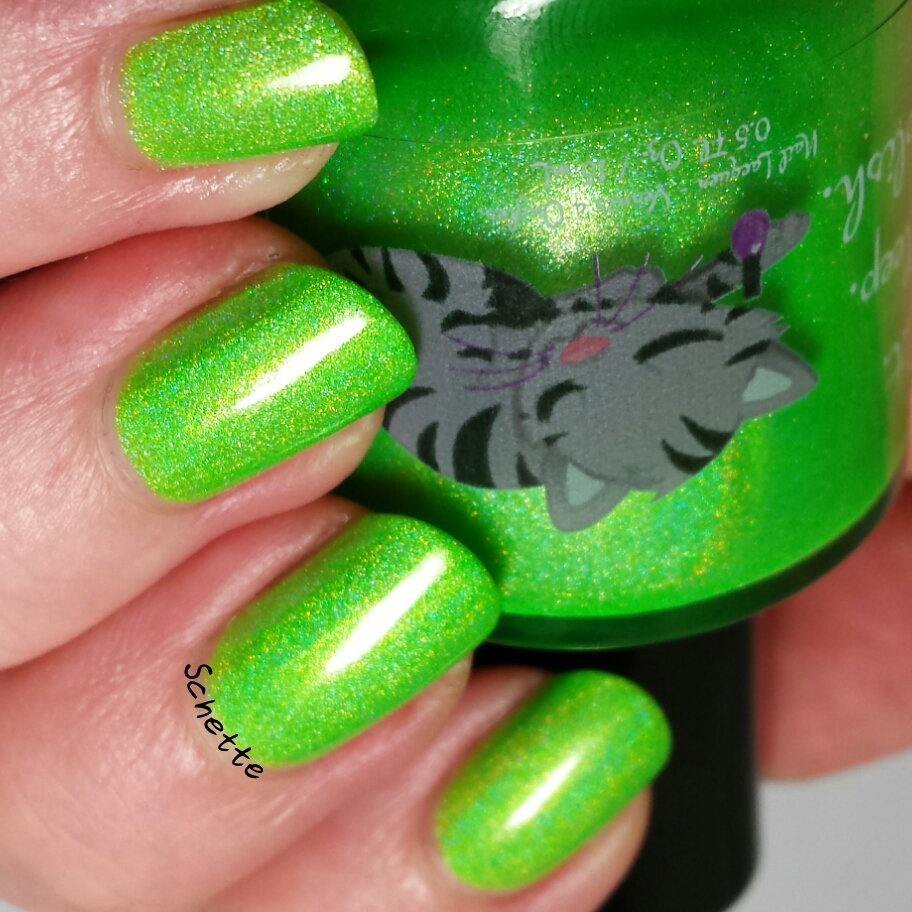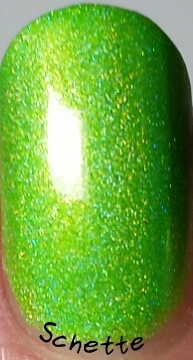 Don't step on the Mome Raths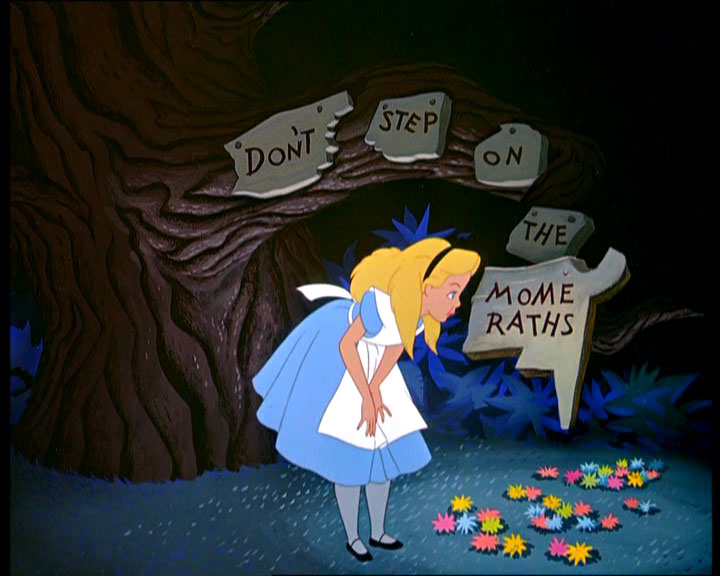 Les momeraths permettent à Alice de savoir où se trouve le sentier de la forêt.... mais il ne faut pas marcher dessus !!! J'adore le clin d'oeil à ces petits êtres tout colorés de faire un topper holo. Vous pourrez également l'utiliser en vernis holo seul, il est parfaitement opaque en 2 bonnes couches, ou 3 fines, au choix (je préfère toujours en mettre deux seulement :-P)
The Mome Raths allow Alice to know where the path of the wood is.... but you can't step on them !!!! I love the reference to this colorfull being to made a holo topper. You can also use it as polish alone, it's perfectly opaque in two goods coats, or 3 thin (but I always prefer to use only two coats :P )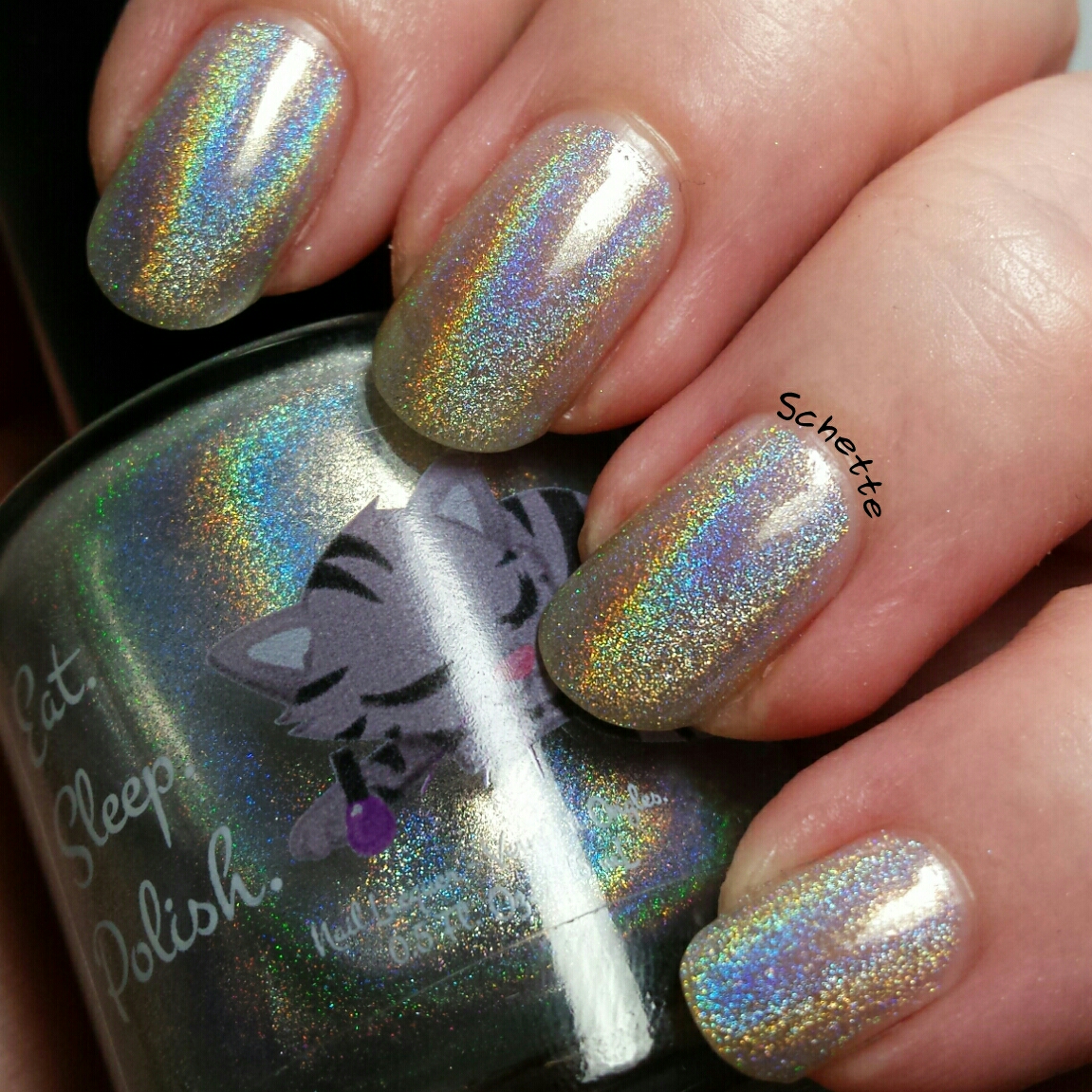 Encore un qui s'applique comme du beurre. C'est un régal à poser, et à regarder ensuite ! Il est posé en deux bonnes couches, plus top coat.
Again, this one is applying like butter. This is a regal to apply and to look at after ! It's worn in two good coats, plus top coat.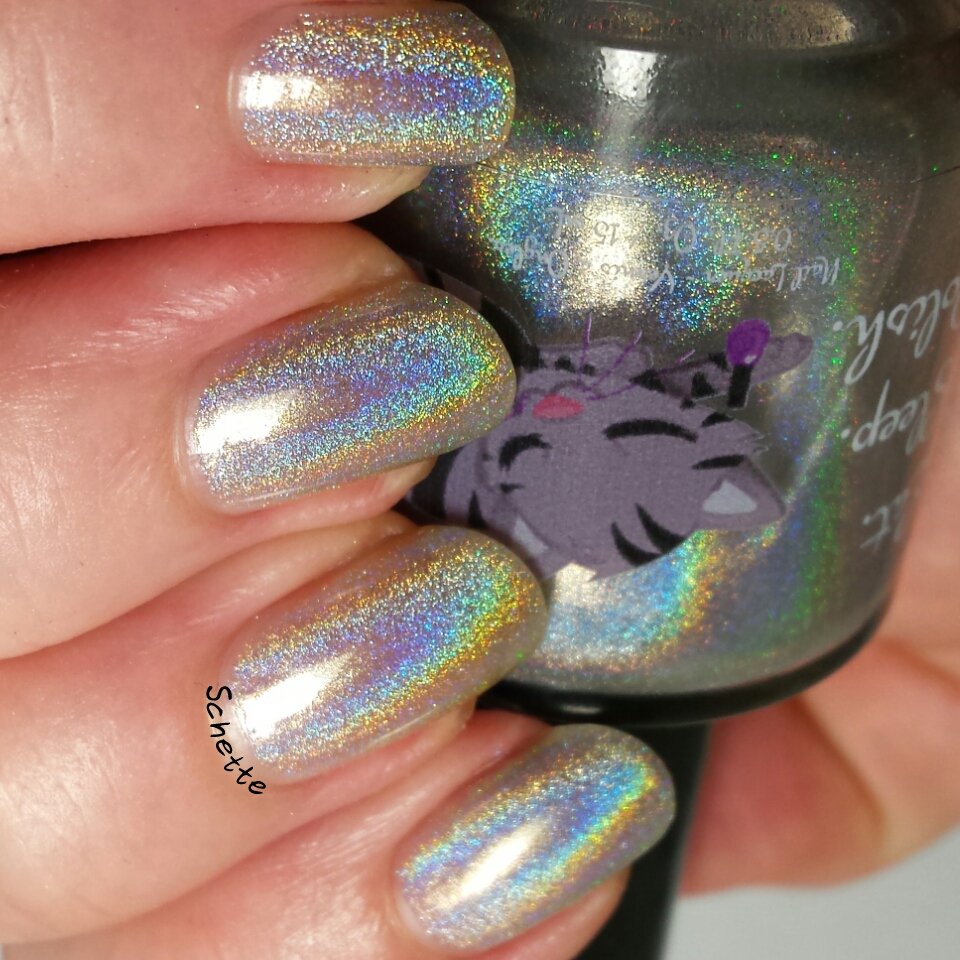 Don't you care for tea ? + Don't step on the Mome Raths
Alors franchement quand j'ai vu le vert, je me suis dit qu'il fallait le rendre holo - plus. Et je trouve que j'ai eu raison !
So francly, when I saw the green, I told myself that I have to give it holo - more. And I find I was right !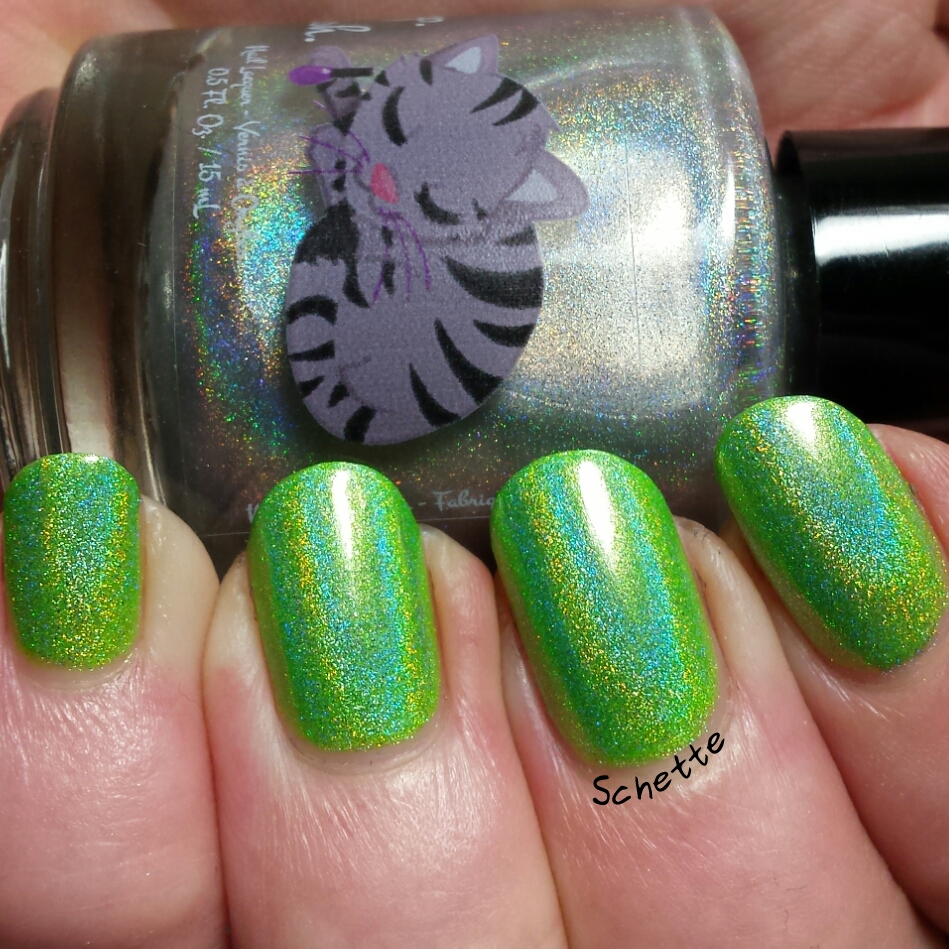 Bilan
Et bien je dois dire que je suis drôlement inspirée par la collection. Déjà en tant que grande fan d'Alice, mais alors en plus, Eat Sleep Polish à parfaitement rendu la folie du film et des couleus chatoyantes de la forêt de Tulgey.
I have to say that I'm really inspired by the collection. First as a huge fan of Alice, but even more because Eat Sleep Polish perfectly shows the madness of the movie and the bright colors of the Tugley Wood.
Schette, le 18 mars 2015
Vous pourriez aussi aimer / You can also like :

Les Vernis Eat Sleep Polish Garden Grouve, Waiting for my Ruca et What I got

Les Vernis Eat Sleep Polish Rusty Spoon, Salad Finger et Imagination

Eat Sleep Polish - Schette's Meow

Eat Sleep Polish - Perfect Storm, Hot orange is the new black, Dream

Eat Sleep Polish - Fairies and Princesses collection

Eat Sleep Polish - Fruitcake Fiasco

Eat Sleep Polish - Cat Scratch Fever

Eat Sleep Polish - Radiance, Invincible, Lilyberry Milkshake

Eat Sleep Polish - Raspberry gummy bear, Raspberry mudpie, Himalayan Salty Caramels

Eat Sleep Polish : The truly outrageous Collection

Eat Sleep Polish : Kitten Mittens, Ayapi Mou, Wicked

Eat Sleep Polish : Jigglypuff, Burning Bridge

Eat Sleep Polish : Cinnamon girl, Wish upon a star

Eat Sleep Polish : The Planetes Collide Collection

Eat Sleep Polish : Blue Satin Sashes, Jingle Bits

Eat Sleep Polish : Glitterberry

Eat Sleep Polish : Alice in Polishland Part 2 - Show 1

Eat Sleep Polish : Alice in Polishland Part 2 - Show 2

Eat Sleep Polish : Hope, Wisdom, Intuition

Eat Sleep Polish : Sheets of Empty Canevas

Eat Sleep Polish : Periwinkle Twinkle Twinkle

Eat Sleep Polish : F&P pink Prototype

Eat Sleep Polish : Rollanberry Fields

Eat Sleep Polish : Uncle Berry FIL

Eat Sleep Polish : The Winged Monkeys

Eat Sleep Polish : Silver Shoes with pointed toes

Eat Sleep Polish : The golden Cap

Eat Sleep Polish : Glowing Green Gates

Eat Sleep Polish : The Deadly Poppy Fields

Eat Sleep Polish : Purplefield

Eat Sleep Polish - Sticky Paws

Eat Sleep Polish : Purple Rain

Eat Sleep Polish : Some 2014 Prototypes Part 1

Eat Sleep Polish : Some 2014 Prototypes Part 2

Custom Collection : It Finally Happened

Eat Sleep Polish : Elephantas Prototype

Eat Sleep Polish : SBP 05

Eat Sleep Polish : Muffy the Mouse, Freddy the flamingo

Eat Sleep Polish : Doris the Dorado

Eat Sleep Polish : Oh, yes !

Eat Sleep Polish : Sublime Collection Part 2

Eat Sleep Polish : Fairies and Princess Part 2 - Episode 1

Eat Sleep Polish : Fairies and Princess Part 2 - Episode 2

Eat Sleep Polish : The Ballad of the space Babies

Eat Sleep Polish : Love me do

Eat Sleep Polish : Comparison Doris the Dorado with Ariel's Gizmos Aplenty

Eat Sleep Polish : Lateralus

Eat Sleep Polish : Kitty Blossom

Eat Sleep Polish : Perry the Parokeet

Eat Sleep Polish : Intuition

DéFIL #5 : Eat Sleep Polish : Twinkle Twinkle

Eat Sleep Polish - Collywoobles

Eat Sleep Polish - Under Pressure

Eat Sleep Polish - Deep Freeze

Eat Sleep Polish - Schroedinger's Cat is still Alive

Eat Sleep Polish - Ride the rocket

Eat Sleep Polish - Dirty Martini

Eat Sleep Polish - Mithra

Eat Sleep Polish - Marlow the Merman

Eat Sleep Polish - Felix the Frog

Eat Sleep Polish - Darkness Calling

Eat Sleep Polish - Silky Mane

Eat Sleep Polish - Seaside

Eat Sleep Polish - Phytosynthesis

Eat. Sleep. Polish. - Freshly Squeezed

Eat. Sleep. Polish. - Sam the Stallion

Eat Sleep Polish - A new begining

Eat Sleep Polish - Nanaa Mingo

Eat Sleep Polish - No Rain

Eat Sleep Polish - Mon cheri









---

comments powered by