China Glaze : Coconut Kiss, Opi : The man with a golden gun
PERSONAL PURCHASE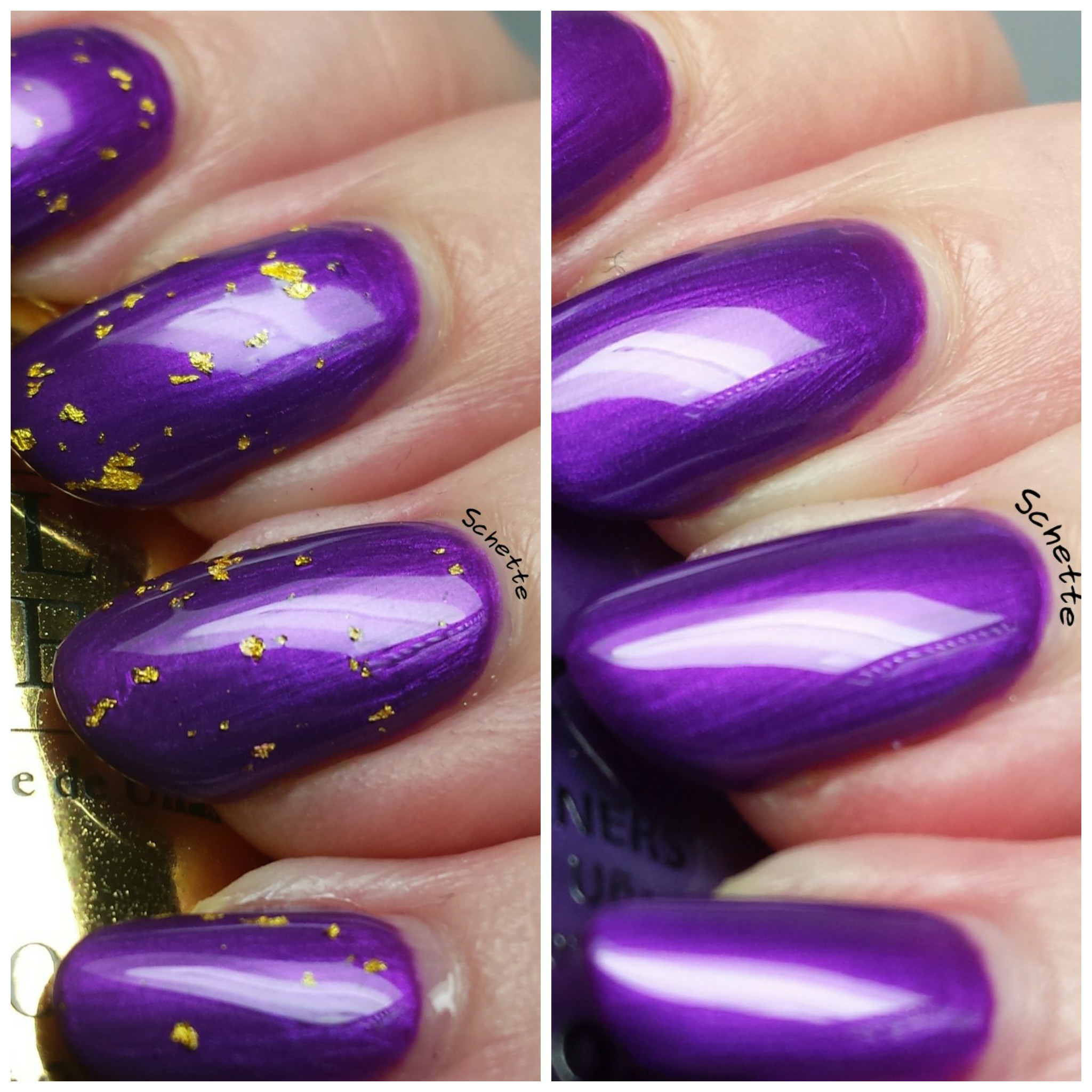 J'ai toujours aimer combiner le violet avec les topper à l'or. Voici mes swatches du China Glaze : Coconut Kiss, puis ensuite le même avec une couche du Opi : The man with a golden gun.
I always love to combine purple with golden topper. Here are my swatches of China Glaze : Coconut Kiss, then, topped with Opi : The man with a golden gun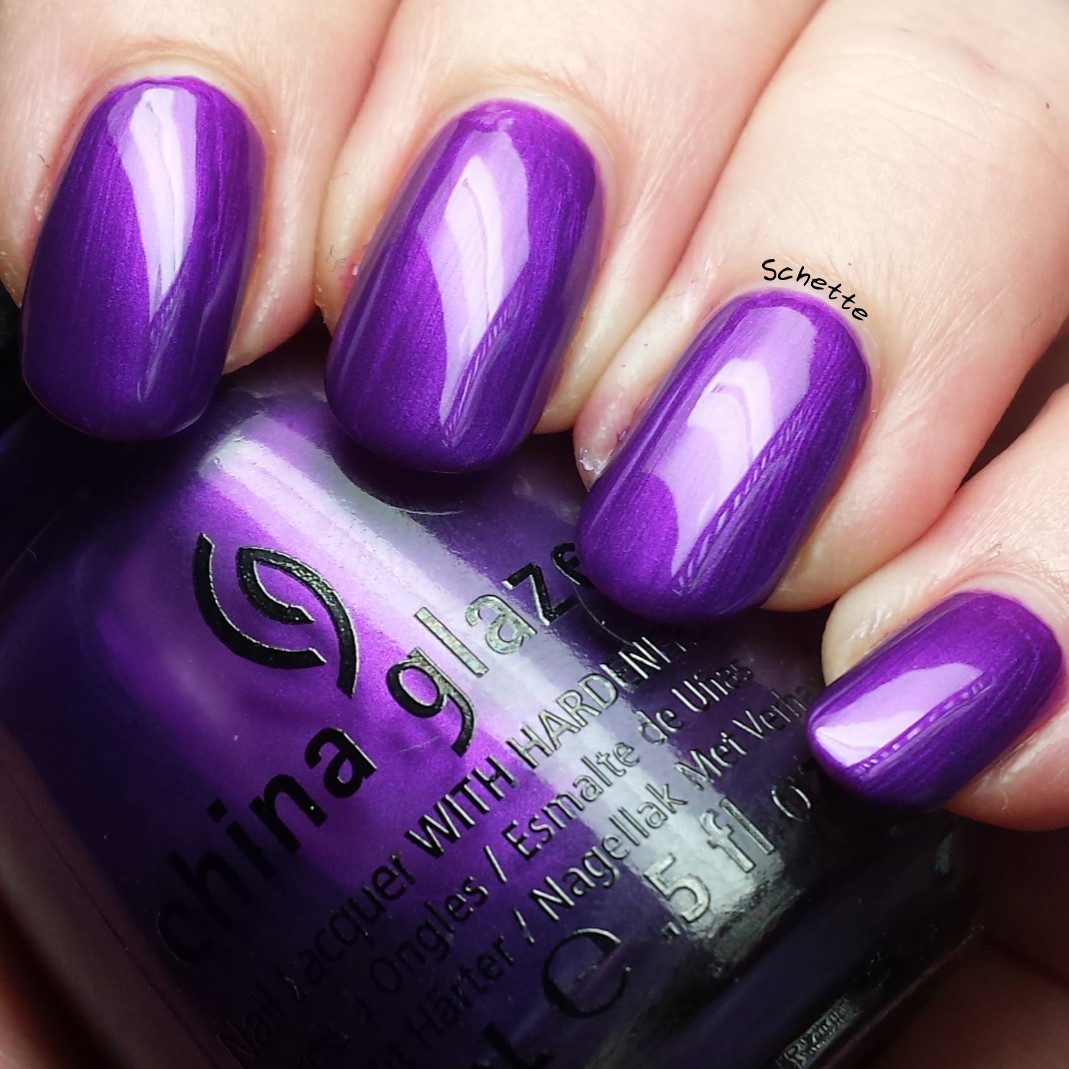 Coconut Kiss est un très joli violet perlé, donc on peut voir les coups de brosses. L'application était parfaite en deux couches, avec top coat.
Coconut Kiss is a pretty purple pearly. So brush stoke can be visible. The application was perfect in two coats, with top coat.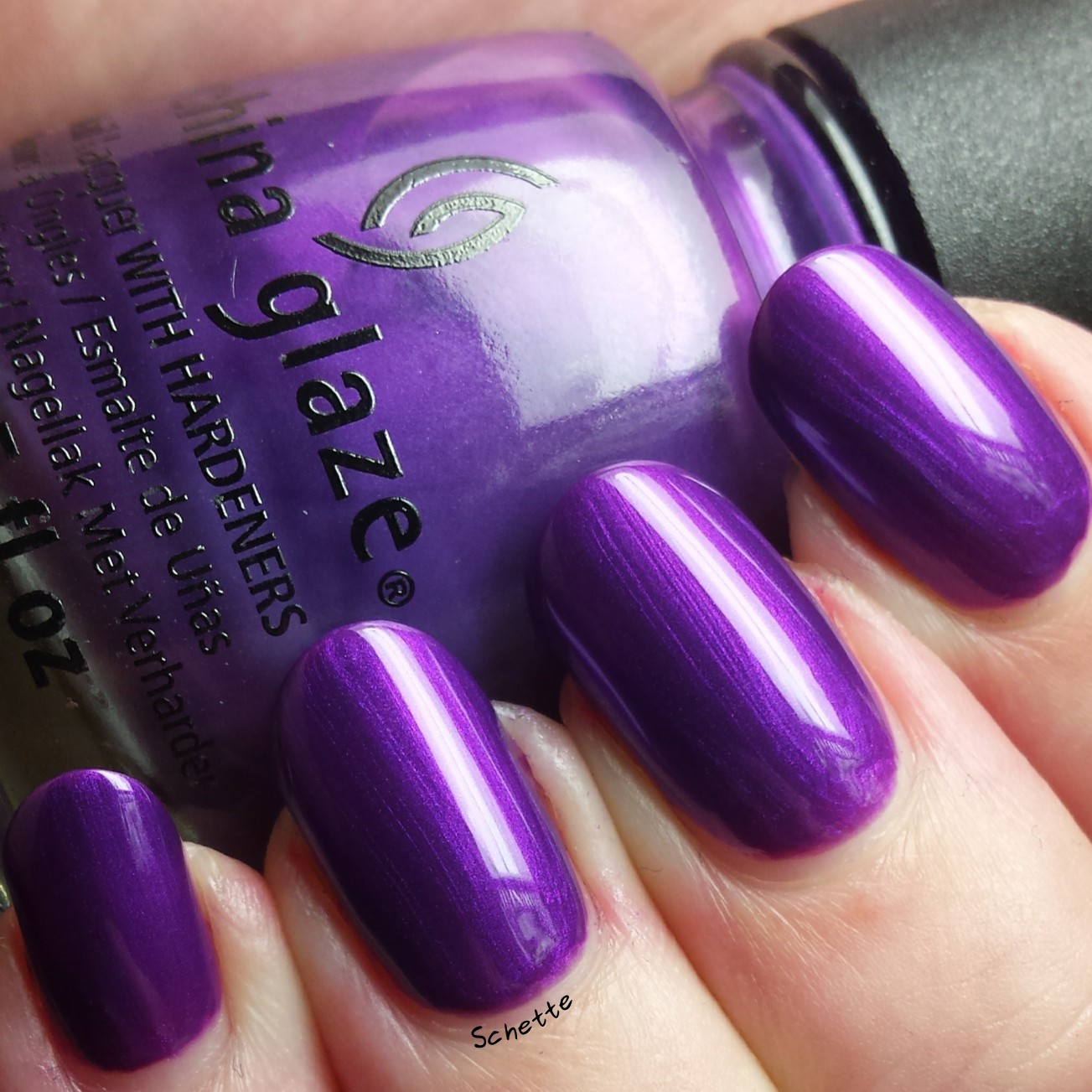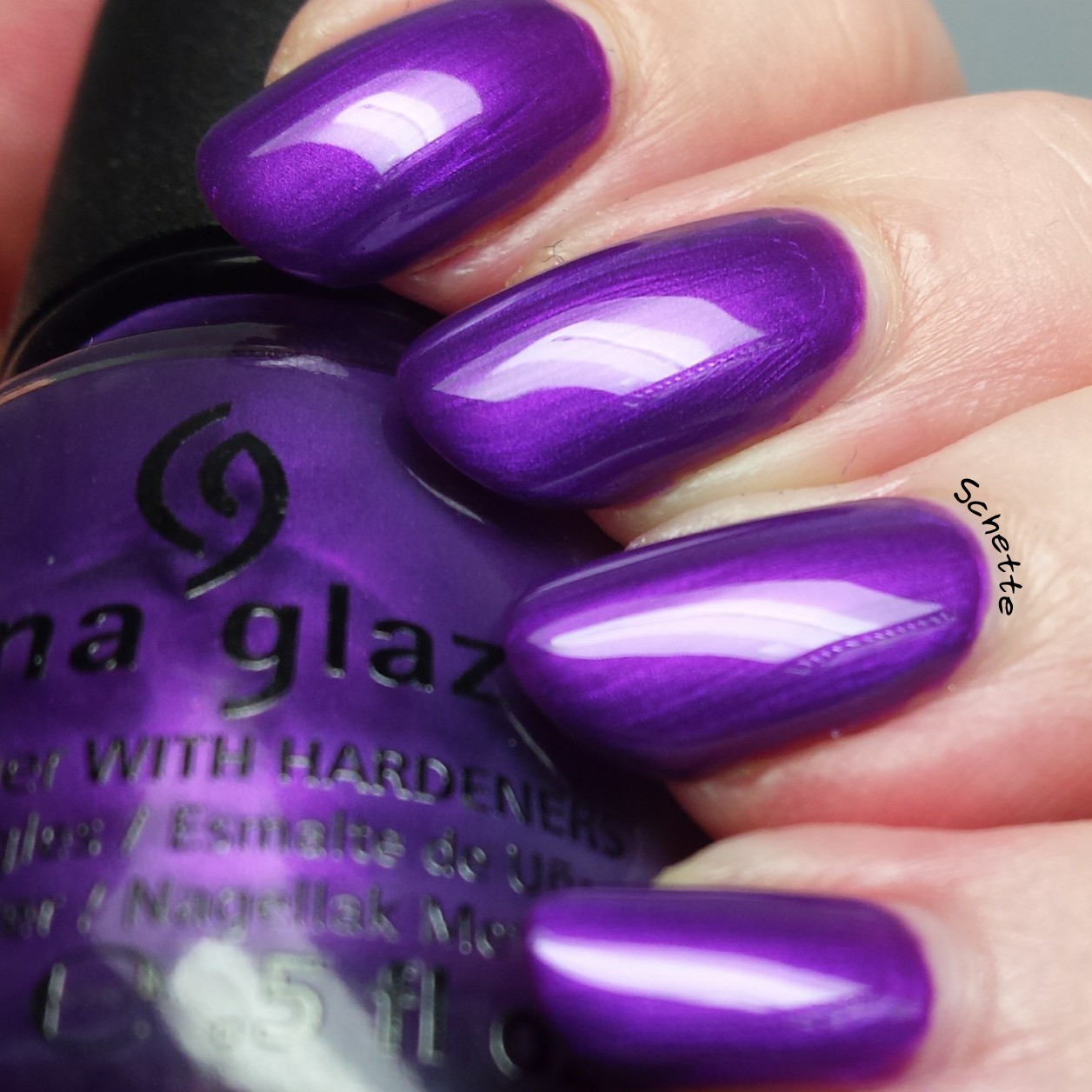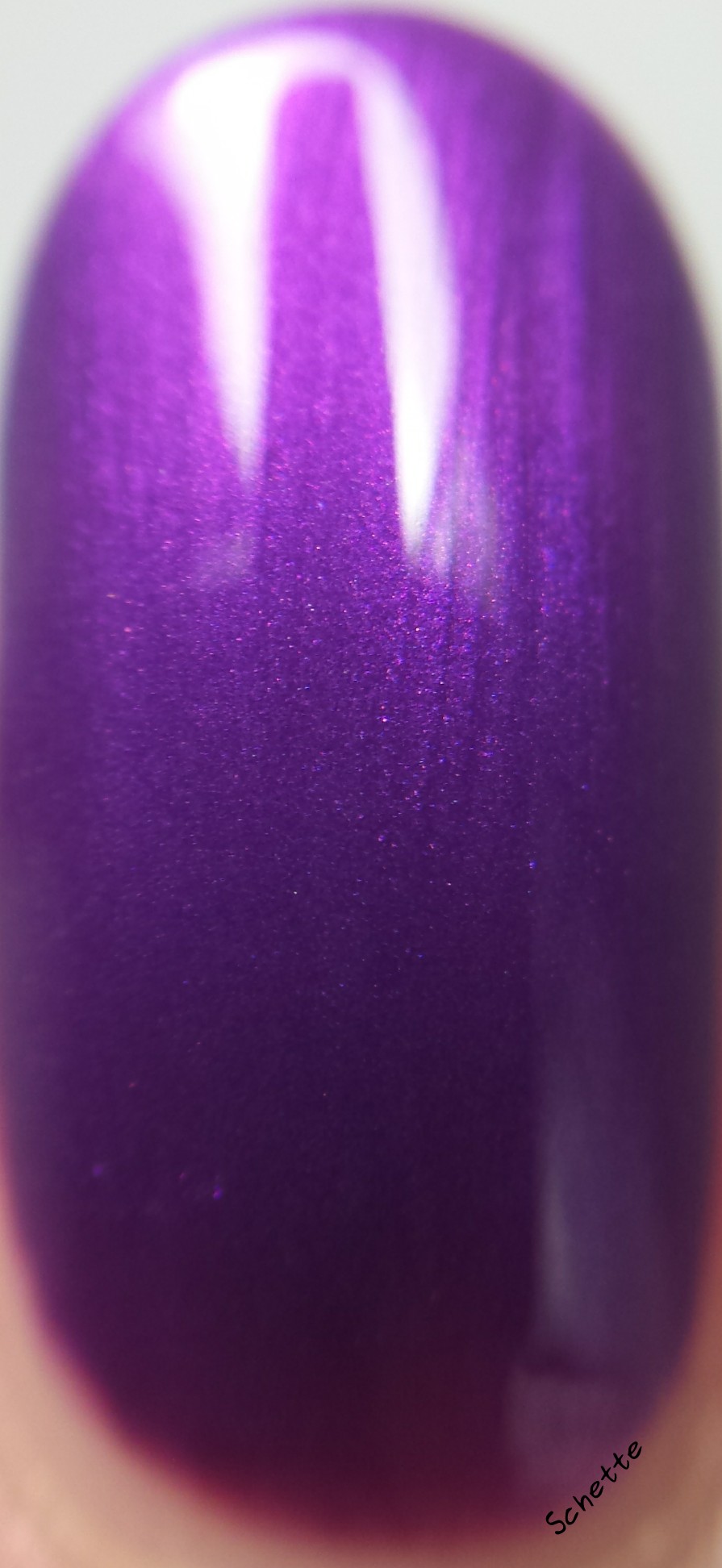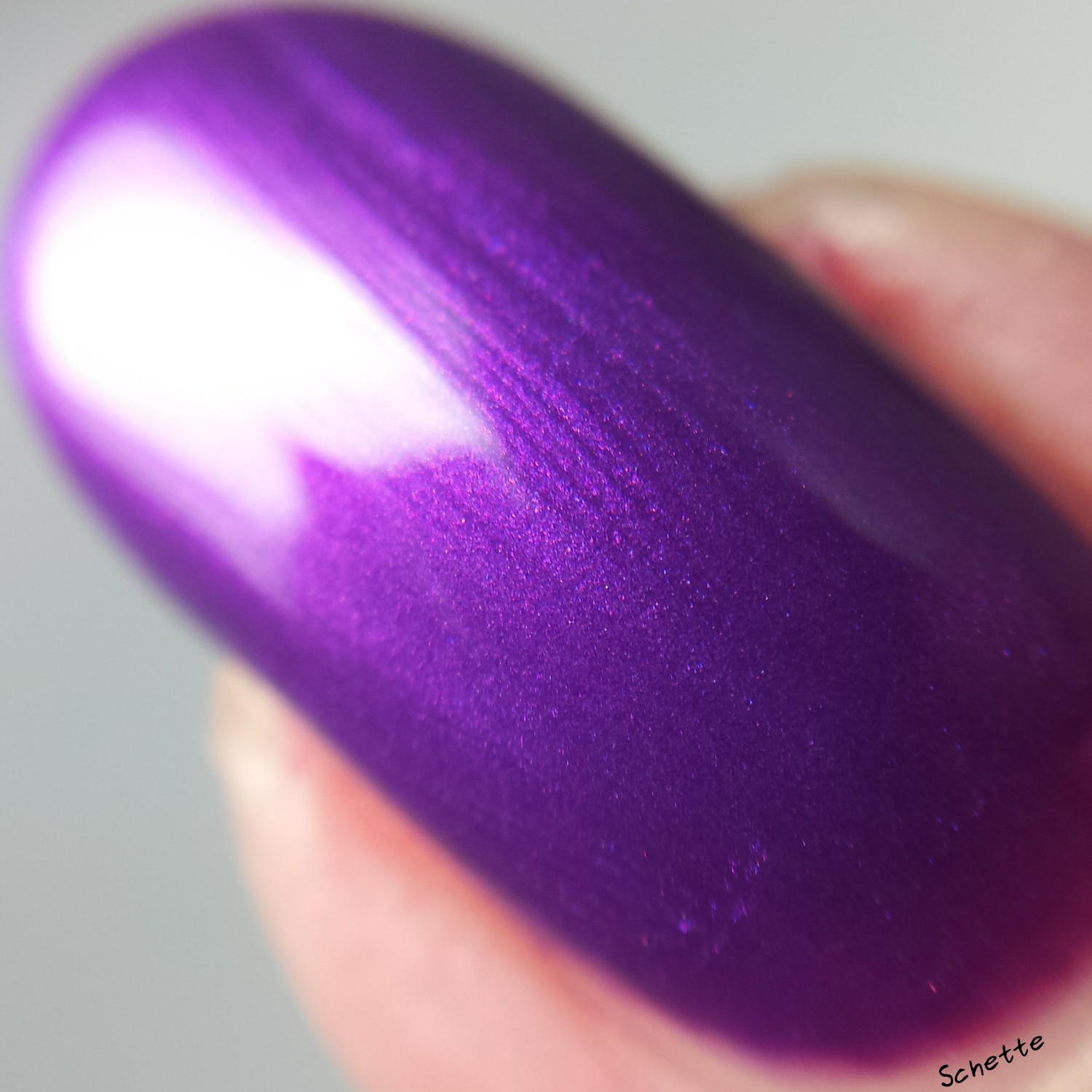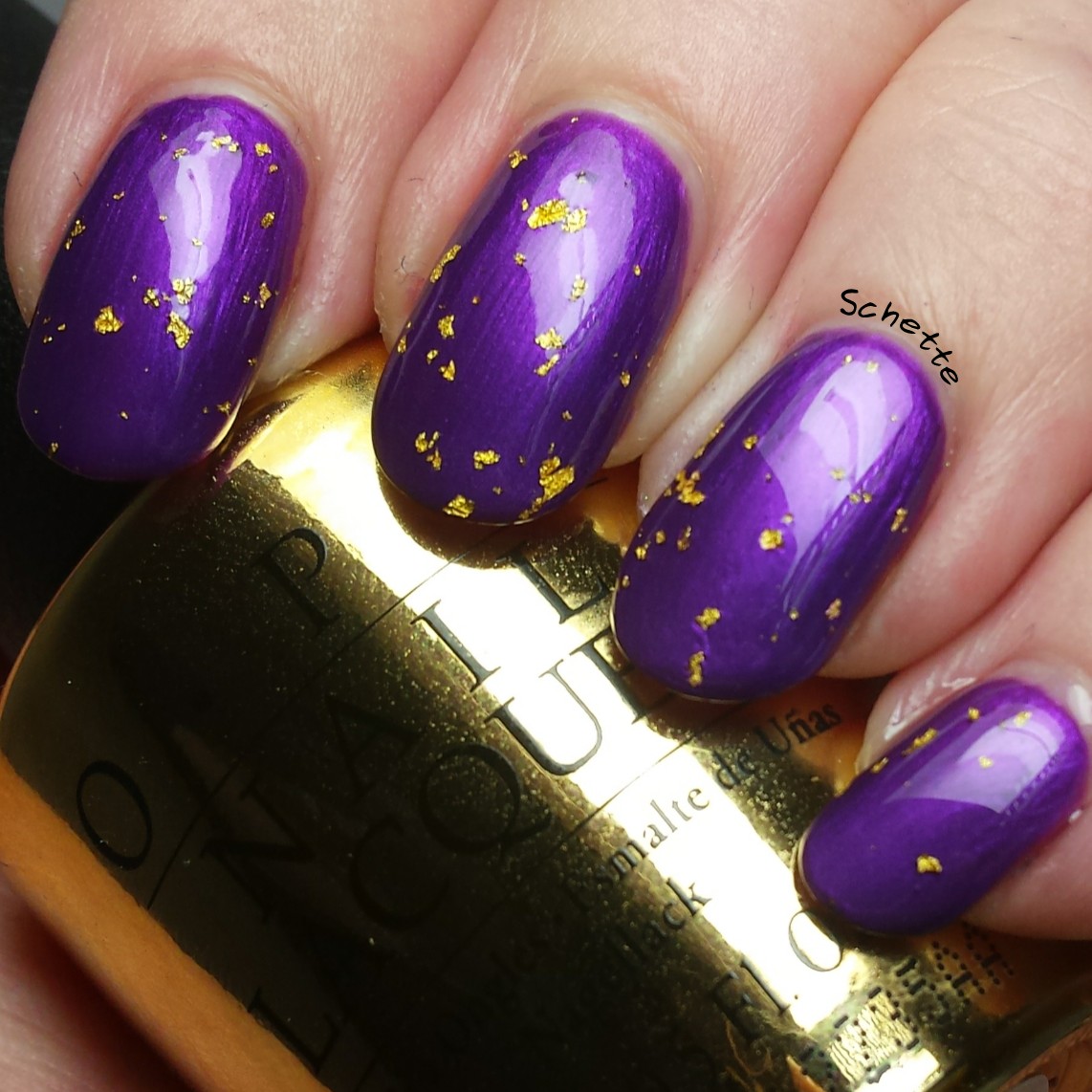 Il y a quelques années, OPI avant lancé le premier top coat à l'or, le vrai : The man with the golden gun. J'ai toujours été déçue par lui parce que je trouve qu'il n'y a pas assez d'or dans le vernis (mais comme le flacon n'est pas transparent c'est des malins on peut pas le vérifier). Ici en une couche sur le précédent.
Some years ago, OPI launched the first gold top coat, with true gold. It was called The man with the golden gun. I always was disapoined by this one because I find there is not enough gold in this polish (but since the bottle is not transparent, they're smart you can't verify the amount). Here in one coat over the previous one.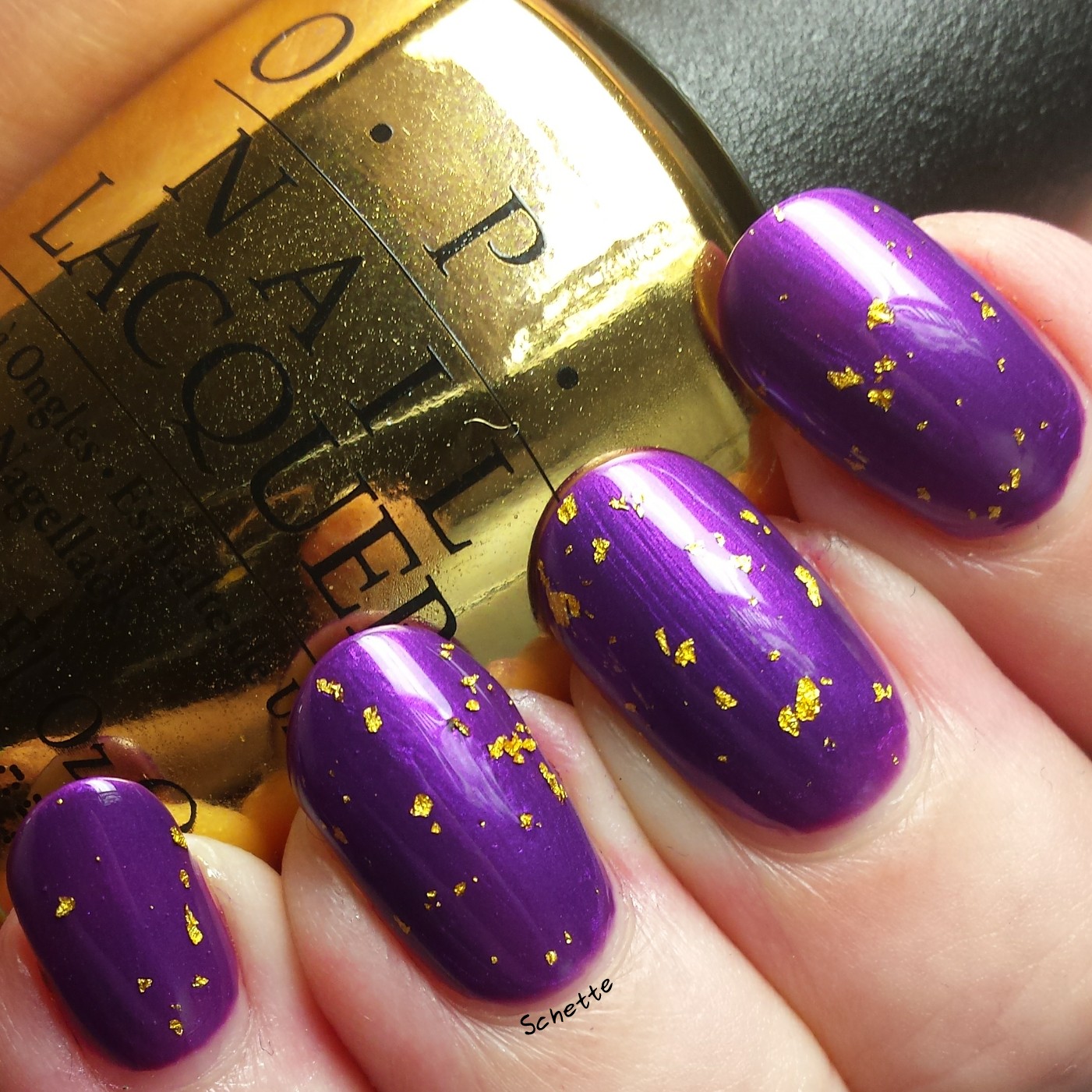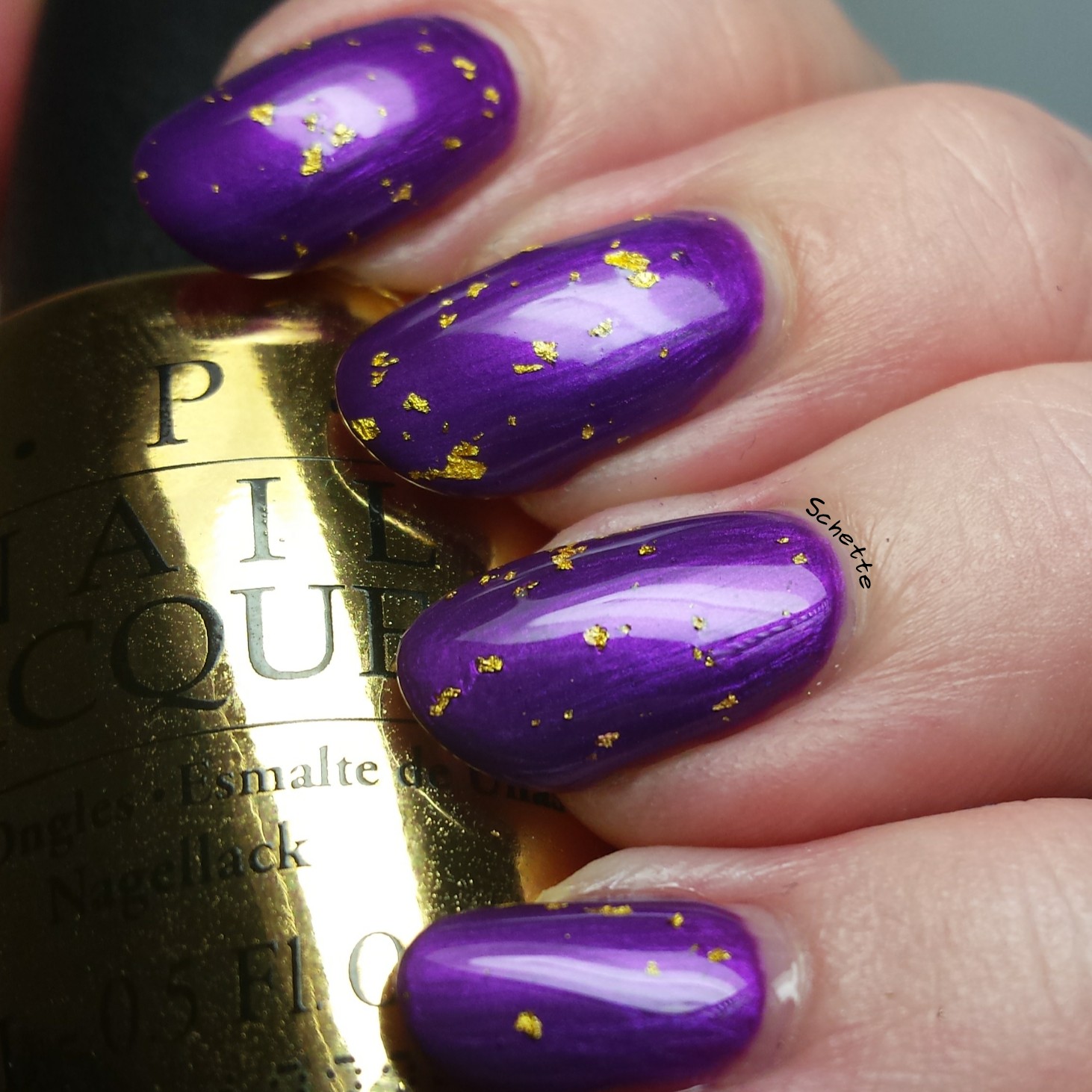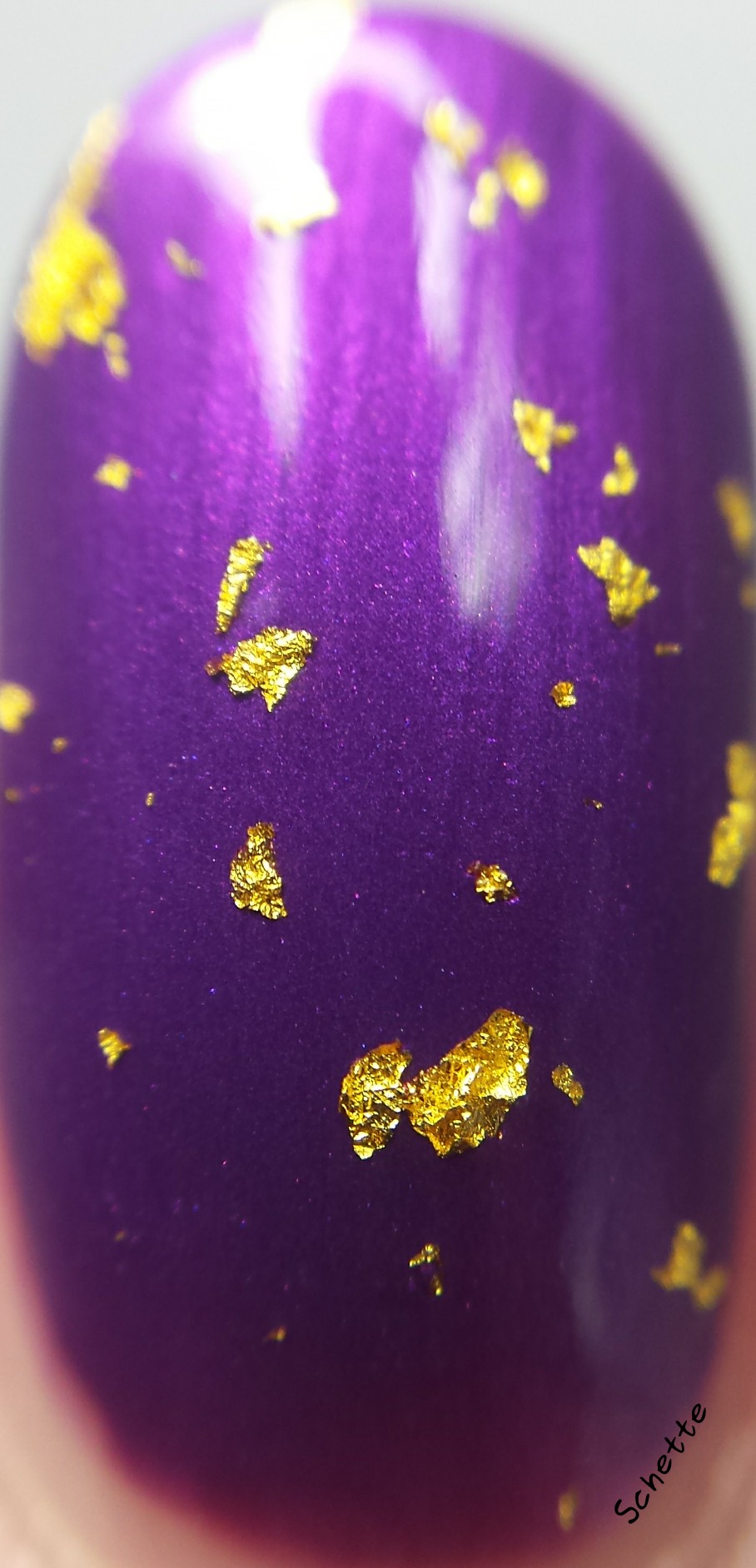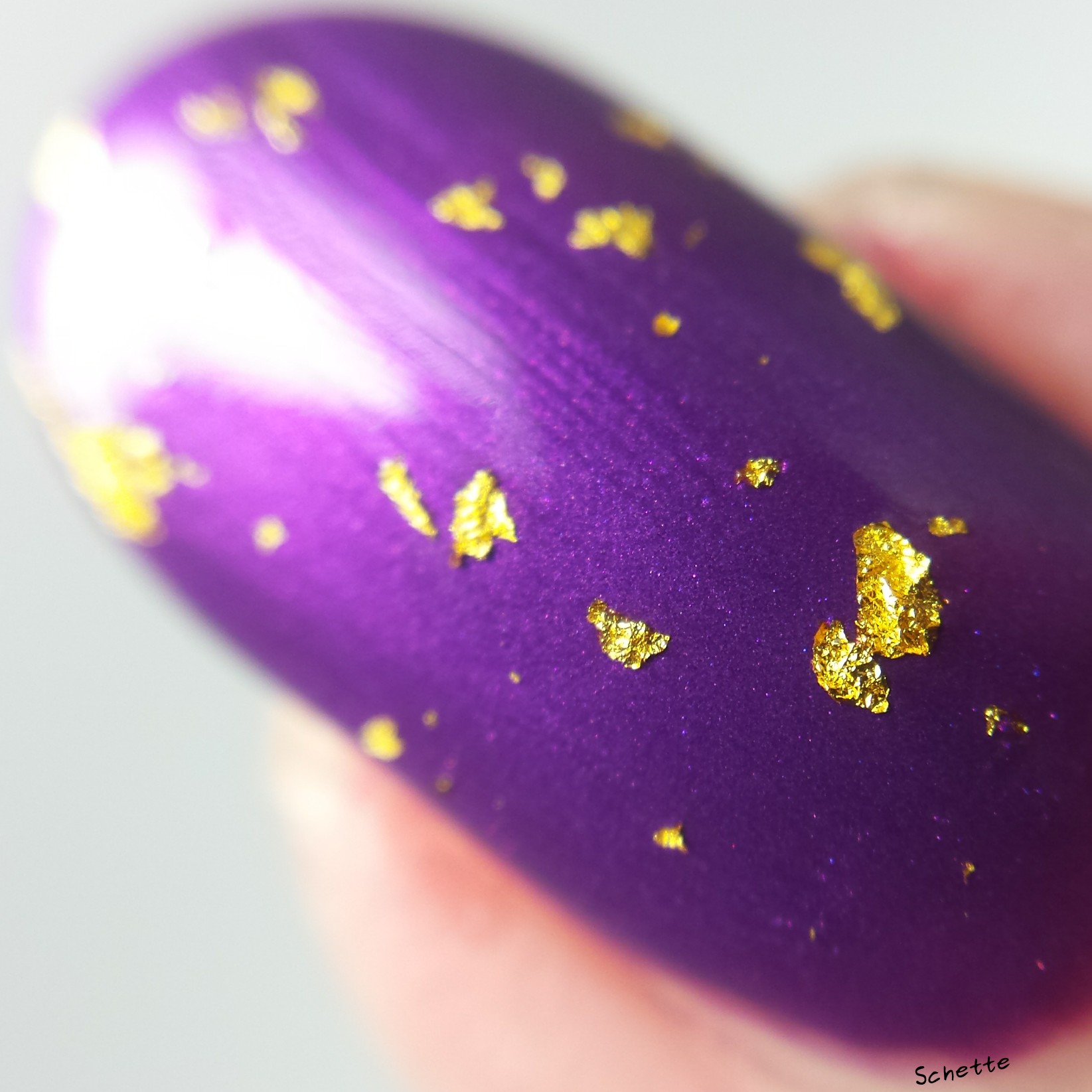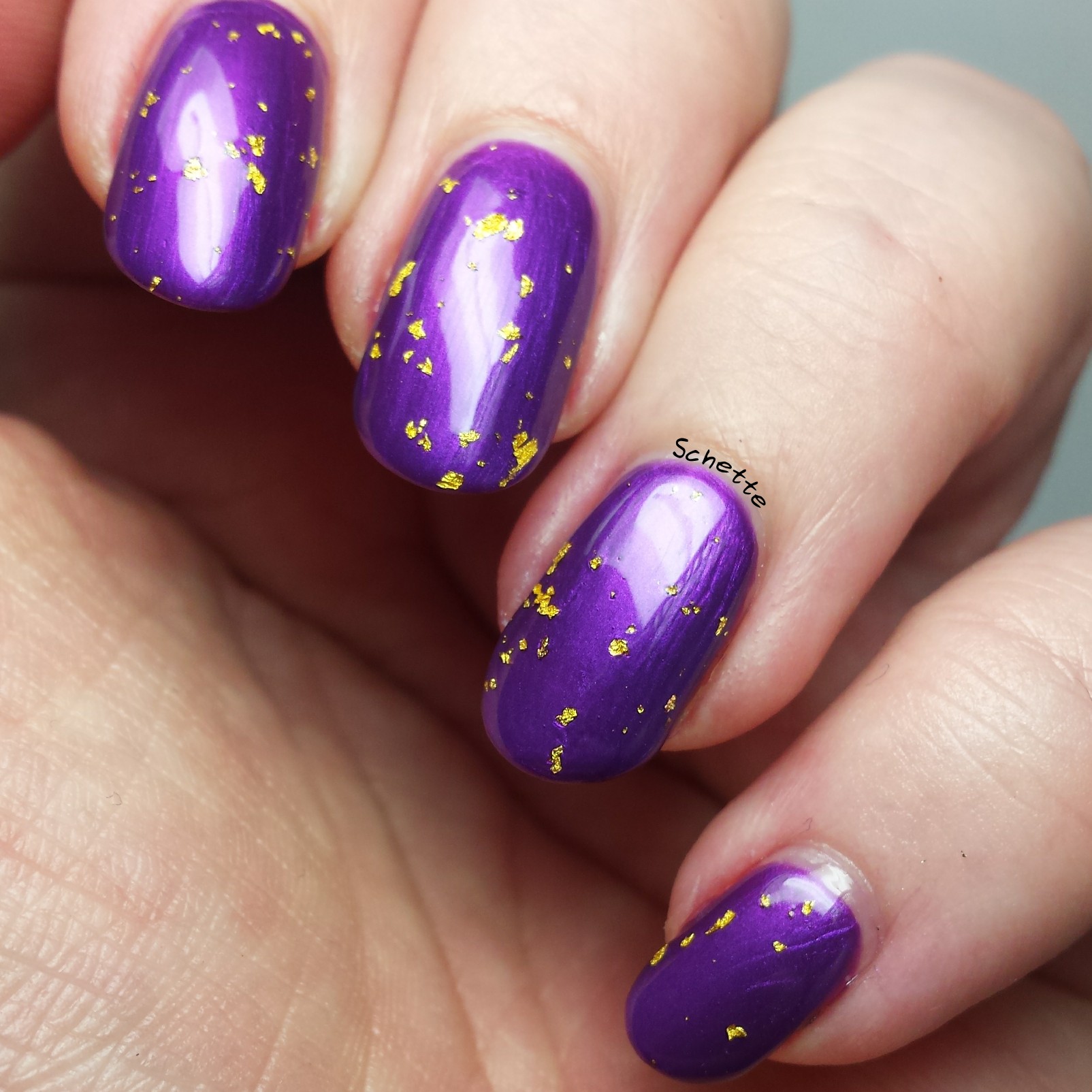 Bilan
Je trouve que les deux vont bien ensemble, mais j'aurais aimé plus de paillettes dans le OPI.
I love both together, but I would love more glitter in the OPI
Schette, le 27 avril 2016
Vous pourriez aussi aimer / You can also like :

China Glaze : Ahoy, Full Spectrum

China Glaze : Gothic Lolita, Sexy Silhouette

China Glaze : There's snow one like you, Bridezilla

China Glaze : Coconut Kiss, Opi : The man with a golden gun

China Glaze : Attraction

China Glaze : Ruby Pump

China Glaze : Instant Chemistry

China Glaze : Pull me close

China Glaze - Take a trek

China Glaze - Anklets of Amethyst

China Glaze - In awe of amber

China Glaze - Emotion

OPI Shatter Gold, Silver, Pink Black

OPI : Just Spotted the Lizzard, My Address is Hollywood, Warm and Fozzie, Pedal faster Suzi

OPI : DS Illuminate, Opulence, Reserve

China Glaze : Coconut Kiss, Opi : The man with a golden gun

OPI - The one that got away

OPI - Pure

OPI - Color to diner for

OPI - Meet me on the star ferry

OPI - Wocka Wocka

OPI - Unforgretably blue

OPI - Dutch'Ya Just Love OPI ?









---

comments powered by