Blue Eyed Girl : November Destination Duo with Digital Nails
PRESS SAMPLE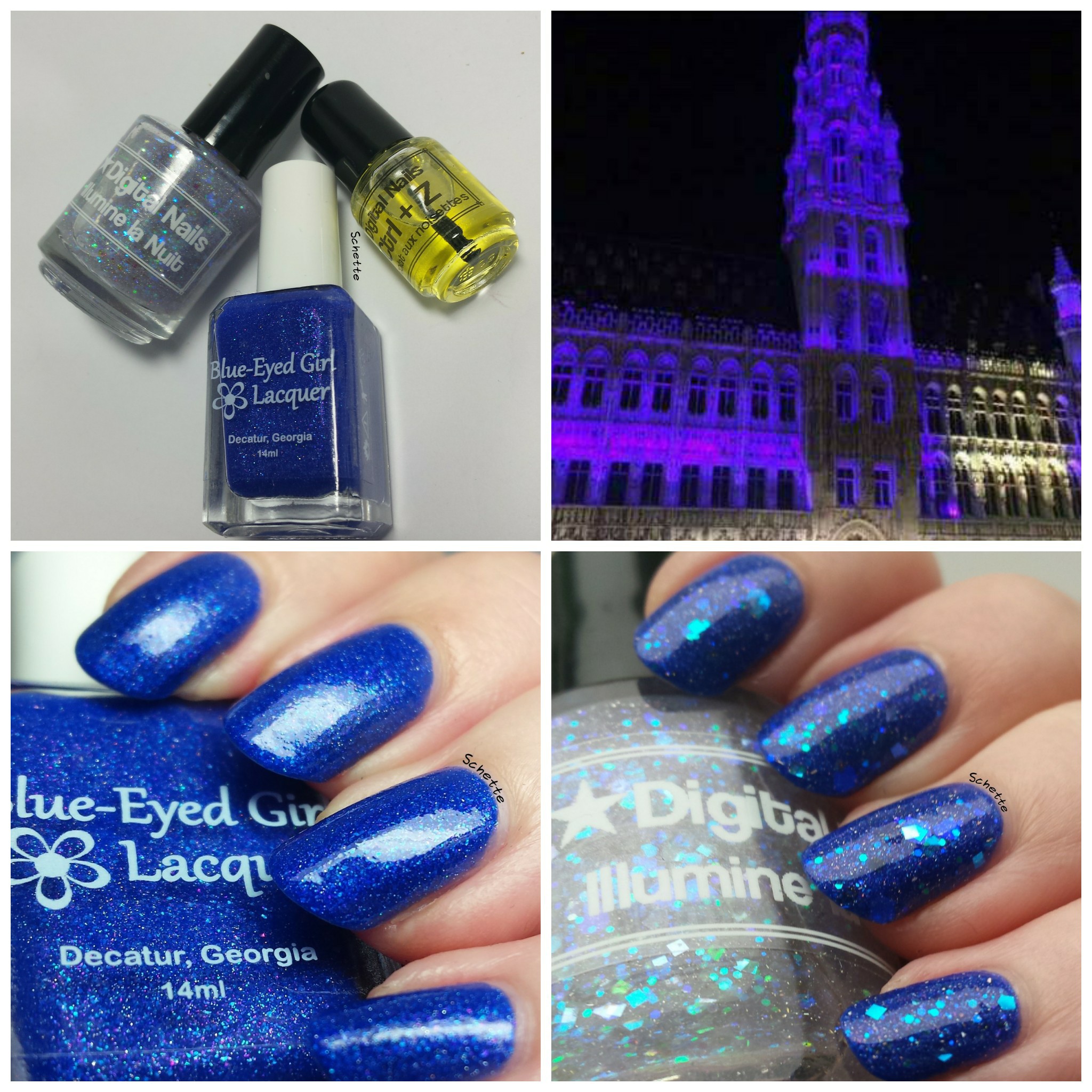 Le 5 décembre à 15h30 EST (21h30 à Paris), Blue Eyed Girl et Digital Nails sortent le Destination Duo de Novembre. Il contient Digital Nails polish Illumine la Nuit, Digital Nails huile en sample Chocolat Aux Noisettes, et BEGL Irrlicht. Voyons ces beautés !
On December 5th, 3:30 PM EST, Blue Eyed Girl and Digital Nails will release the November Destination Duo. It includes Digital Nails polish Illumine la Nuit, Digital Nails sample in Chocolat Aux Noisettes, and BEGL Irrlicht. Lets see these beauties !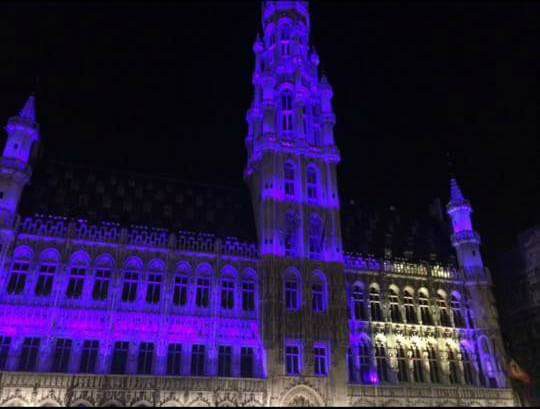 L'inspiration de ce duo vient de cette photo prise par Raphaelle de Digital Nails de la mairie de Bruxelles lors de son voyage. J'aime beaucoup cet endroit, la grand Place regorge de petites boutiques de Chocolat et de bières, de café, de petits resto, et les galeries ne sont pas trop loin, tout comme le Menneken-Pis (qui est vraiment tout petit contrairement à ce que l'on pourrait croire :D). Enfin, assez parlé de cette ville que j'adore, voyons un peu ces vernis :)
Ho si, encore une chose, il y a une vieille legende qui dit que l'architecte de la mairie s'est suicidé lorsqu'il s'est apperçu que le beffroi n'était pas centré. J'ai fait quelques recherches et en fait c'est juste une légende, les deux parties ayant été faites à des moments différents par deux architectes différents.
The inspiration of this duo comes from this picture taken by Raphaelle from Digital Nails from City Hall in Bruxelles. I love a lot this place, the Big Place is full of chocolate and beer shops, coffee shops, little restorants, and the galery of the queen are not so far, like the Menneken-Pis (which is really really small unlike what you can think when you see pictures :D) So, I spoke enough of the city that I adore, let's see a little the polish :)
Ho no, just one more thing. There is an old lefent that says that the architect of the Town Hall committed suicide when he saw that the belfry was not centered. I did some research and actually it's just a legend, both parties having been made at different times by two different architects.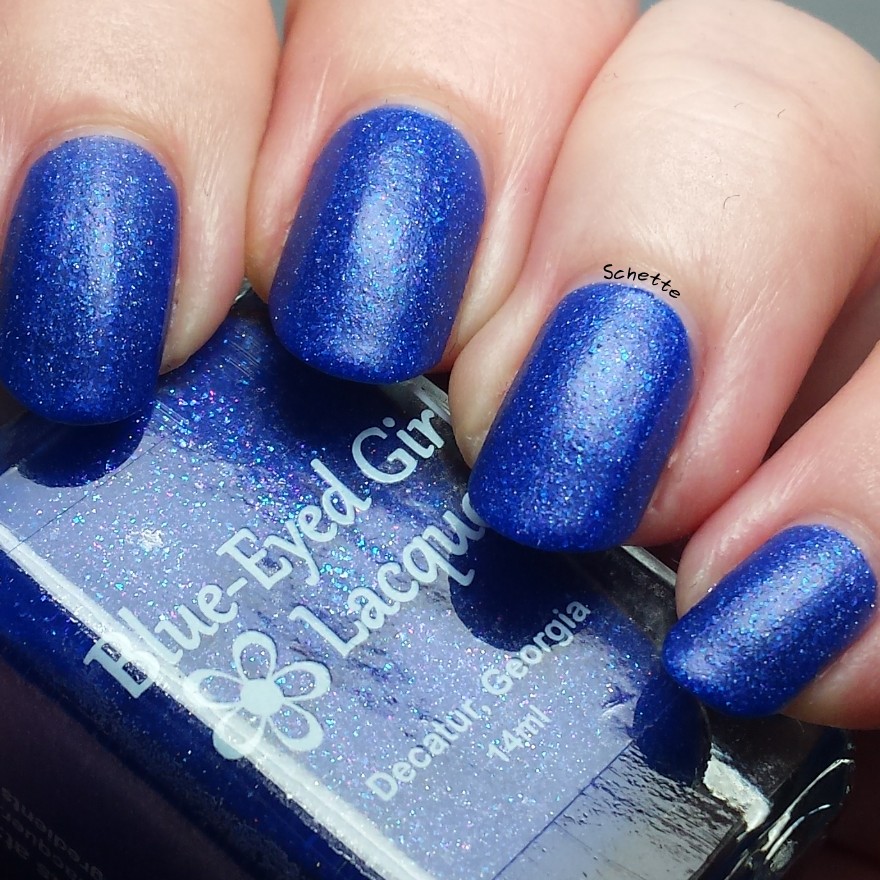 Blue-Eyed Girl Lacquer Irrlicht est un bleu crème avec de la poussière holographique, des flecks violettes et des microflakies duochrome bleue - violettes. Il réagit aussi à la lumière noire. Il sèche mate, donc je l'ai d'abord porté en deux couches sans top coat pour que vous puissiez voir le finish. L'application était comme toujours avec les BEG très facile.
Blue-Eyed Girl Lacquer Irrlicht is a medium blue creme packed with holographic dust, royal purple glass flecks, and blue to purple shifting microflakies. It's also Black light reactive. It dries mate, so I first worn it in two coats without top coat so you can see the finish. The application was very easy like always with BEG.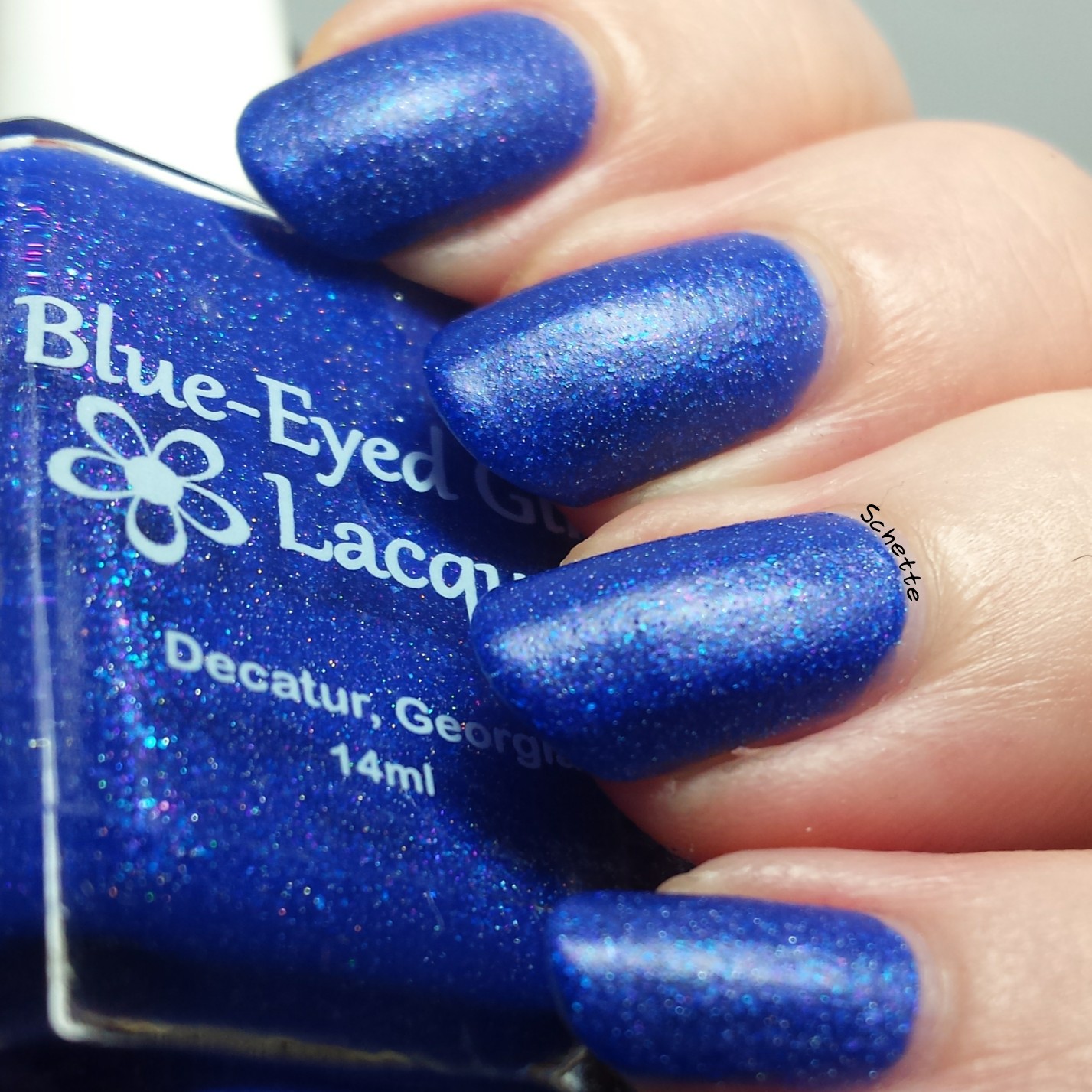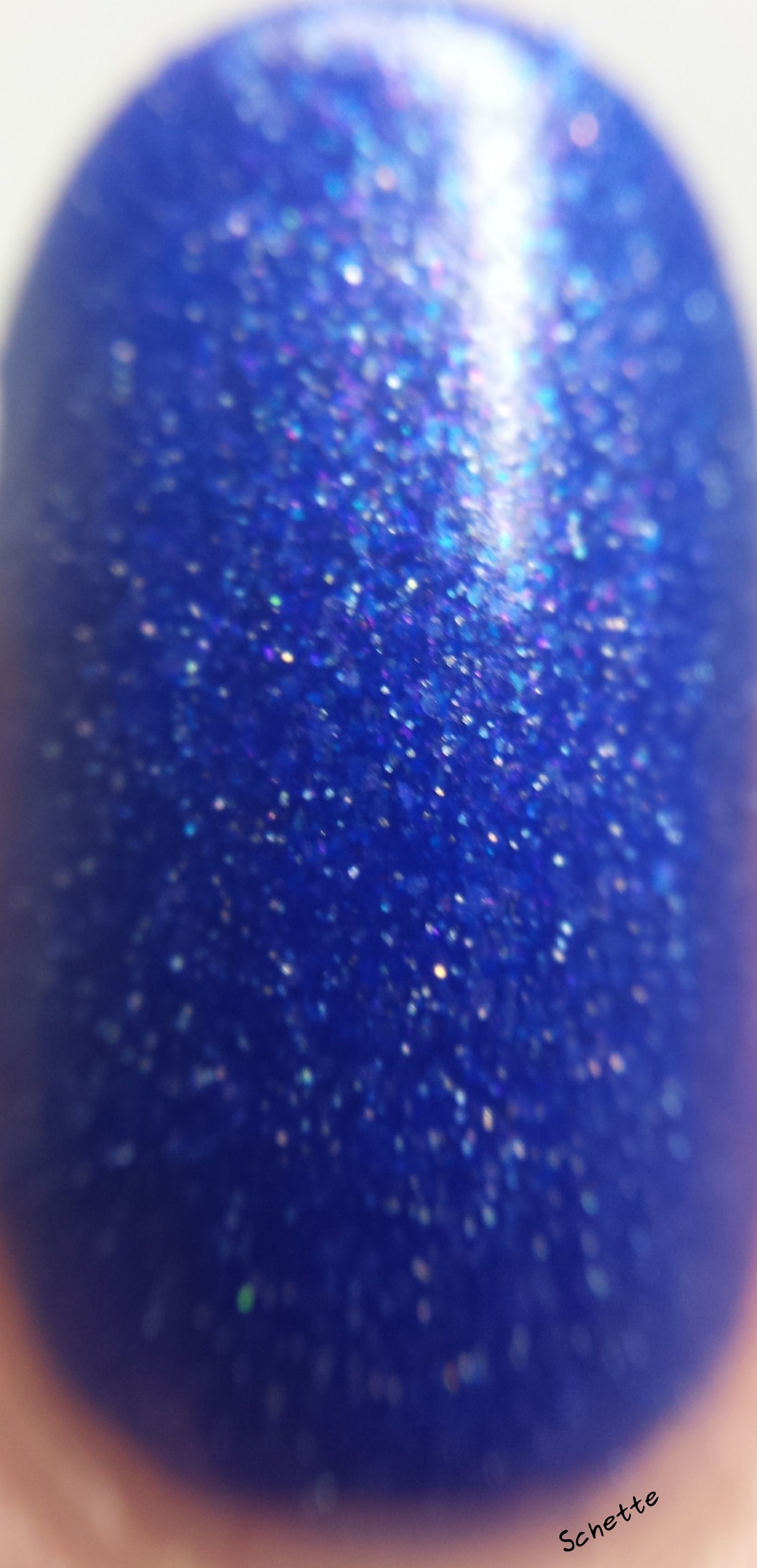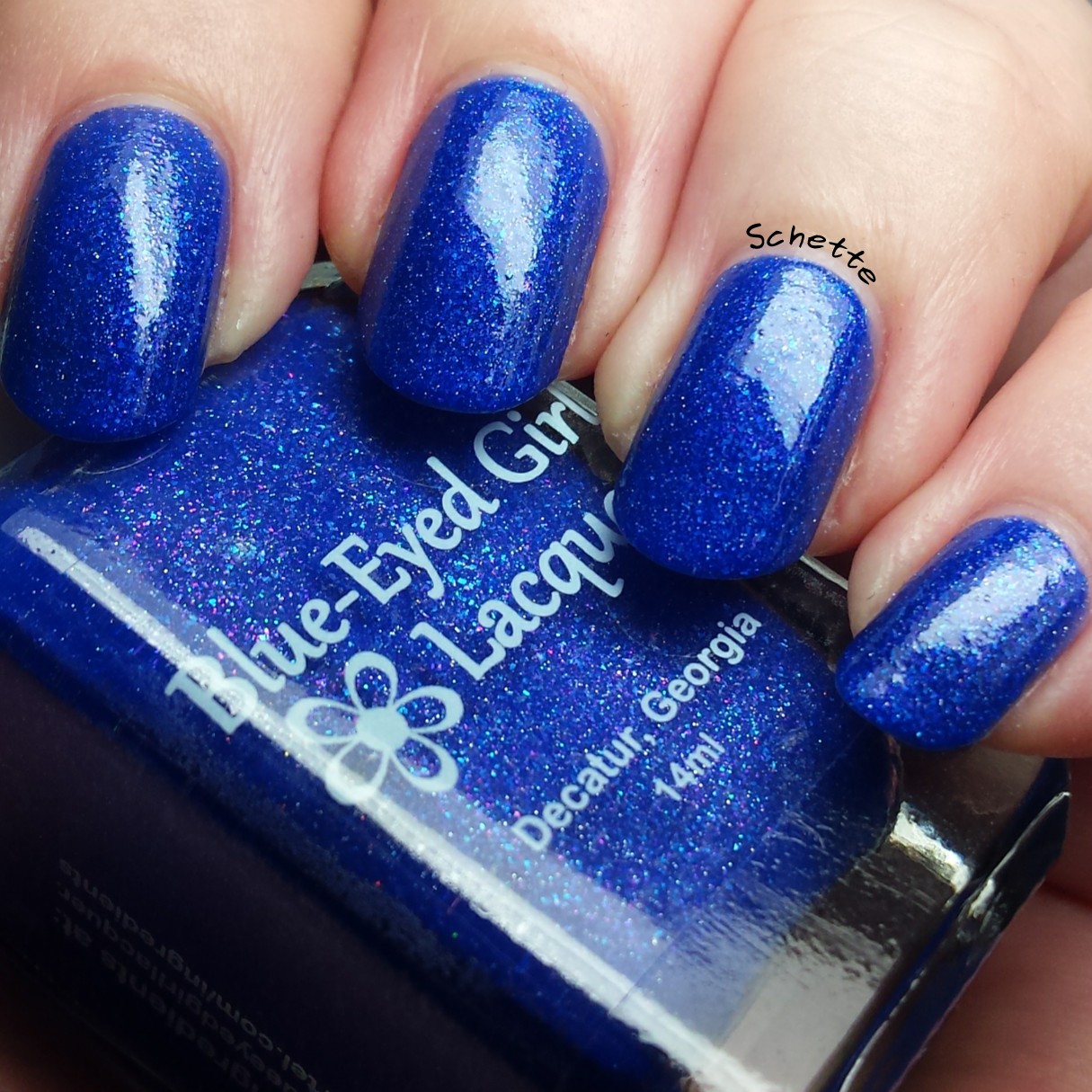 J'ai ensuite appliqué une couche de top coat :)
Then I applied a coat of top coat :)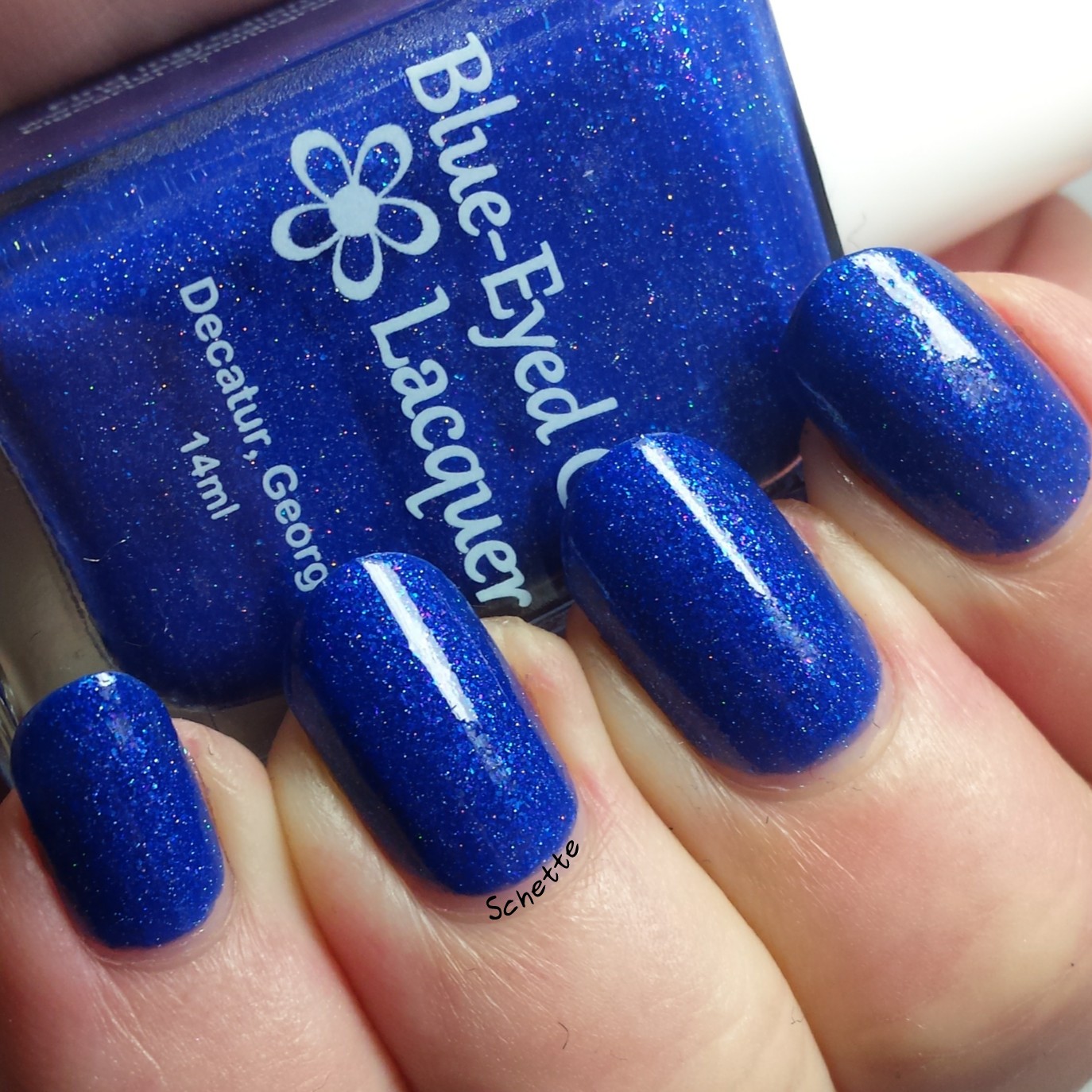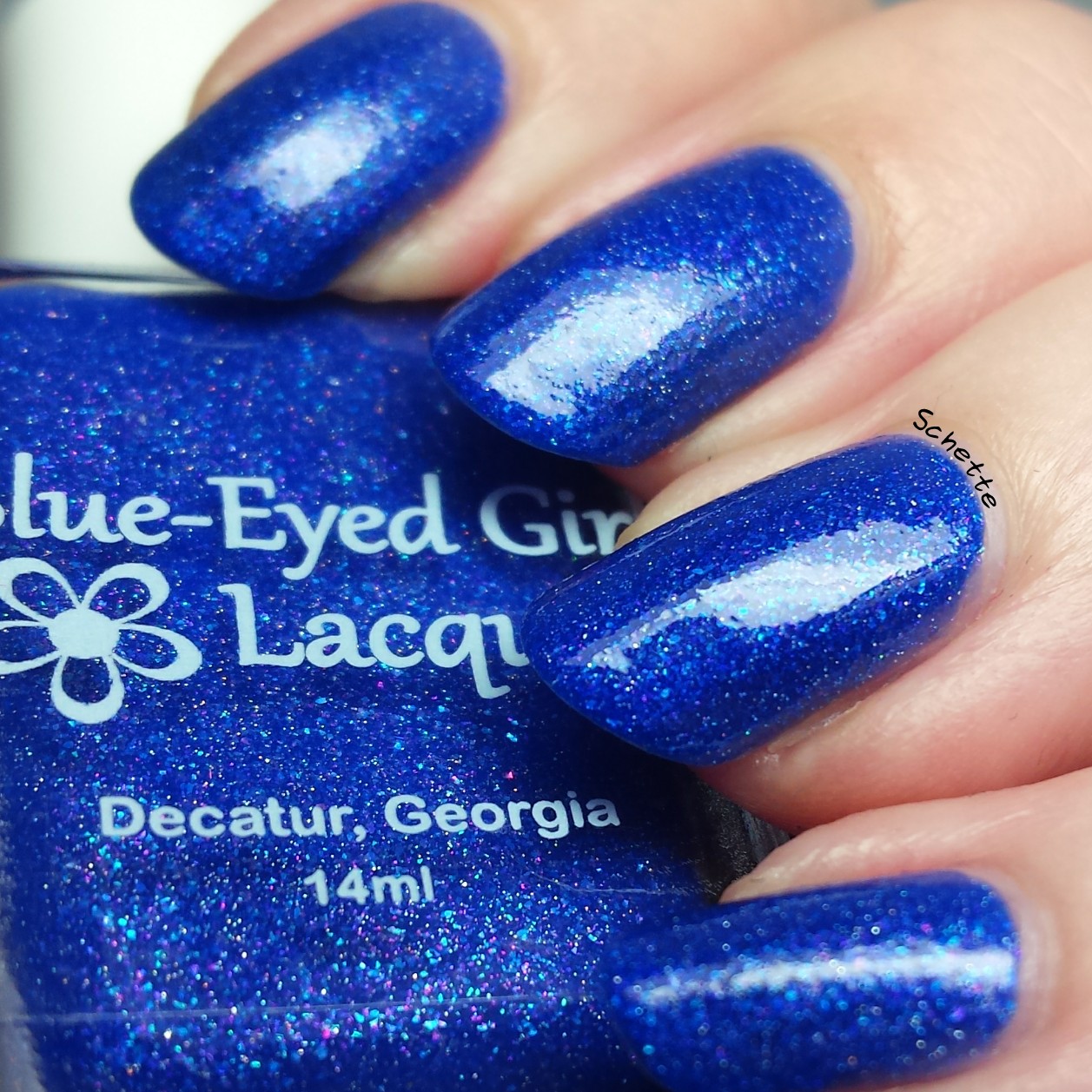 Ici on voit bien les microflakies bleue- violettes
Here we can really see the microflakies blue to purple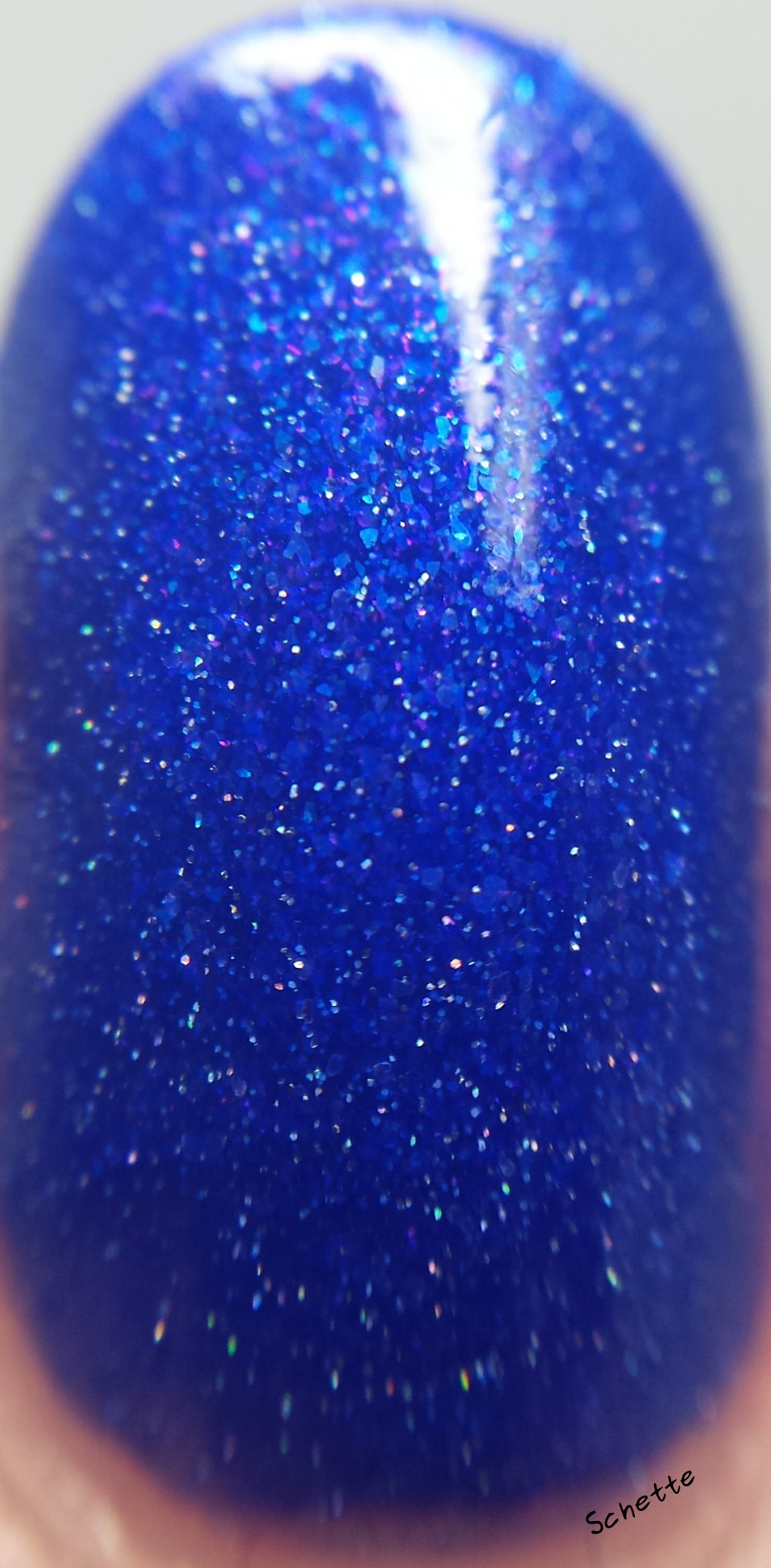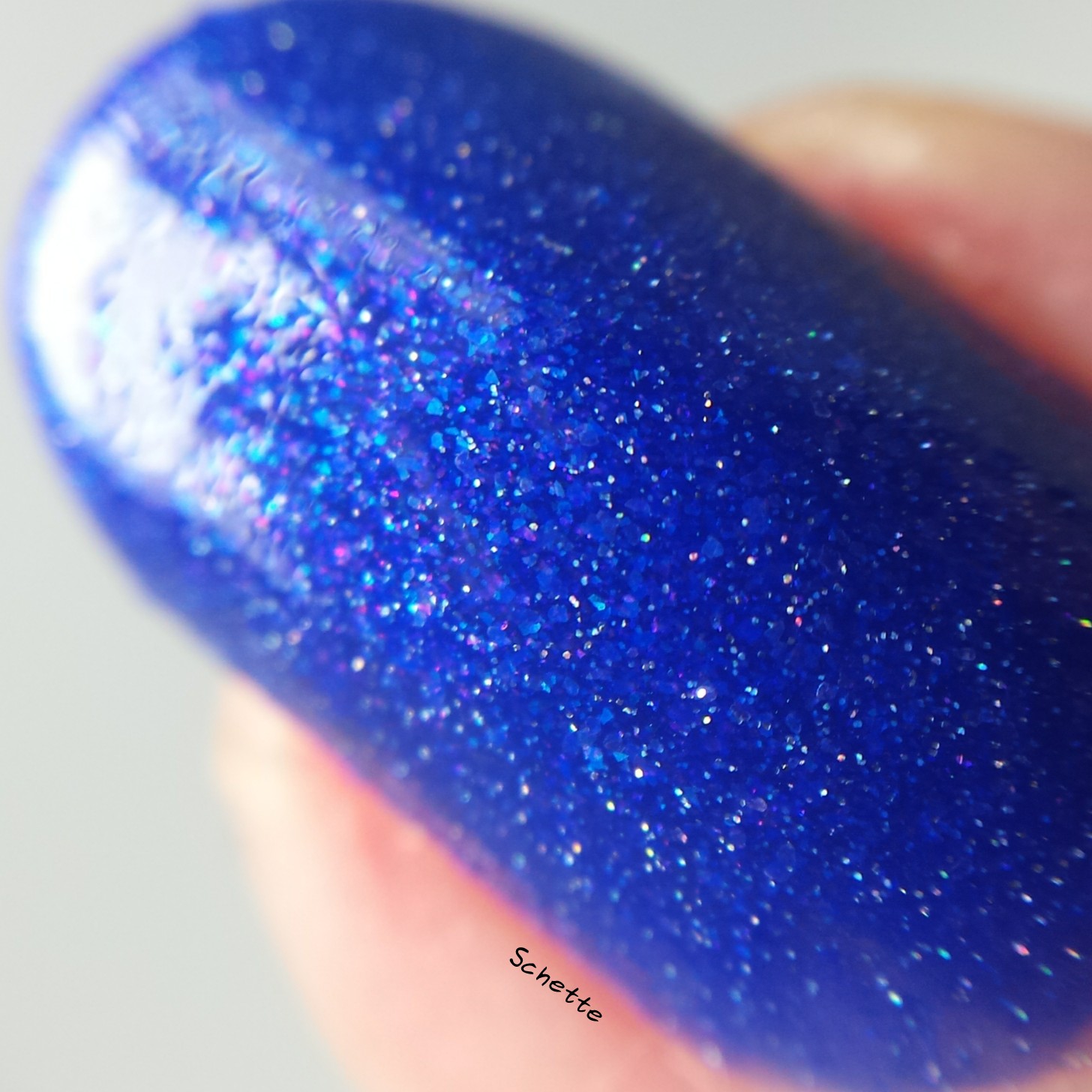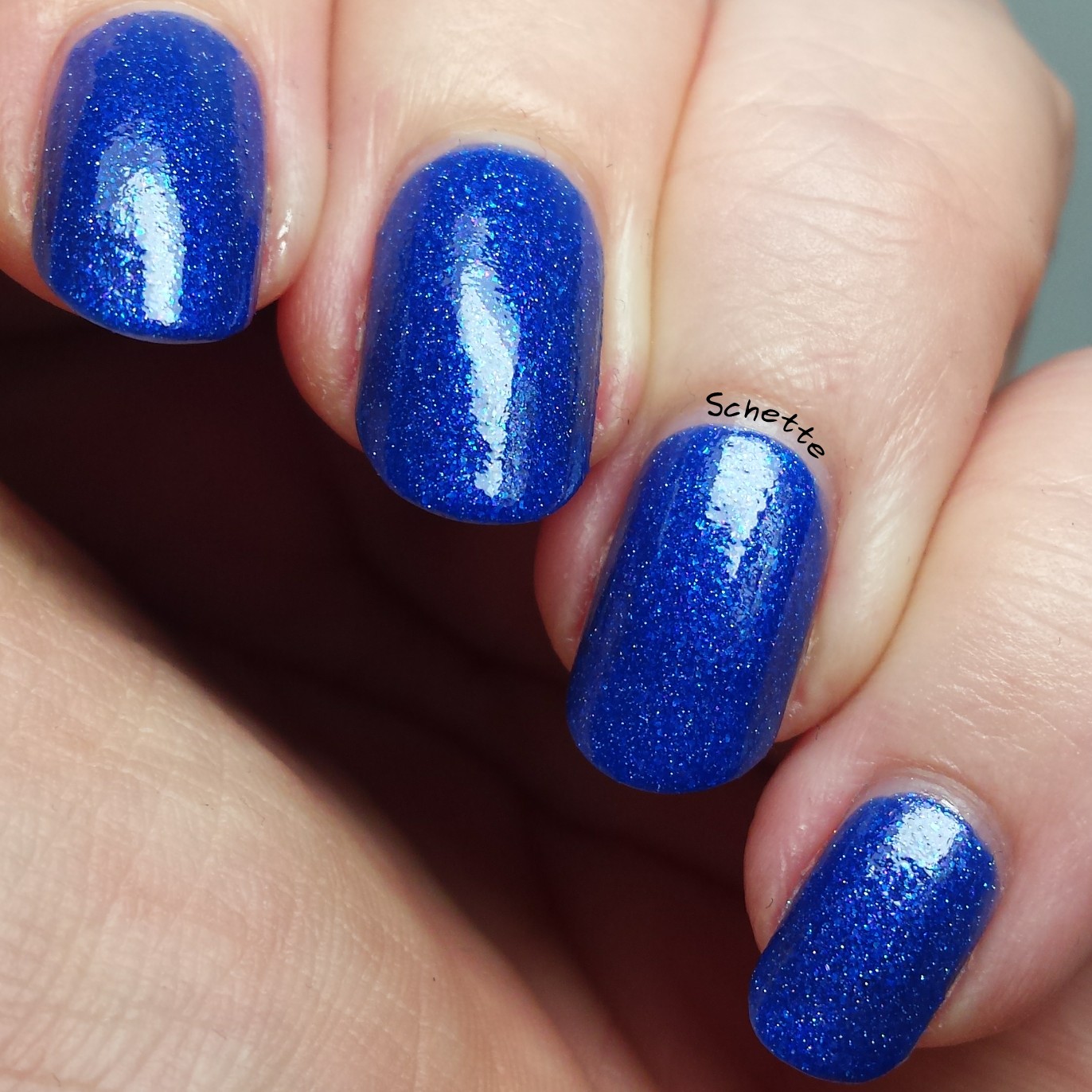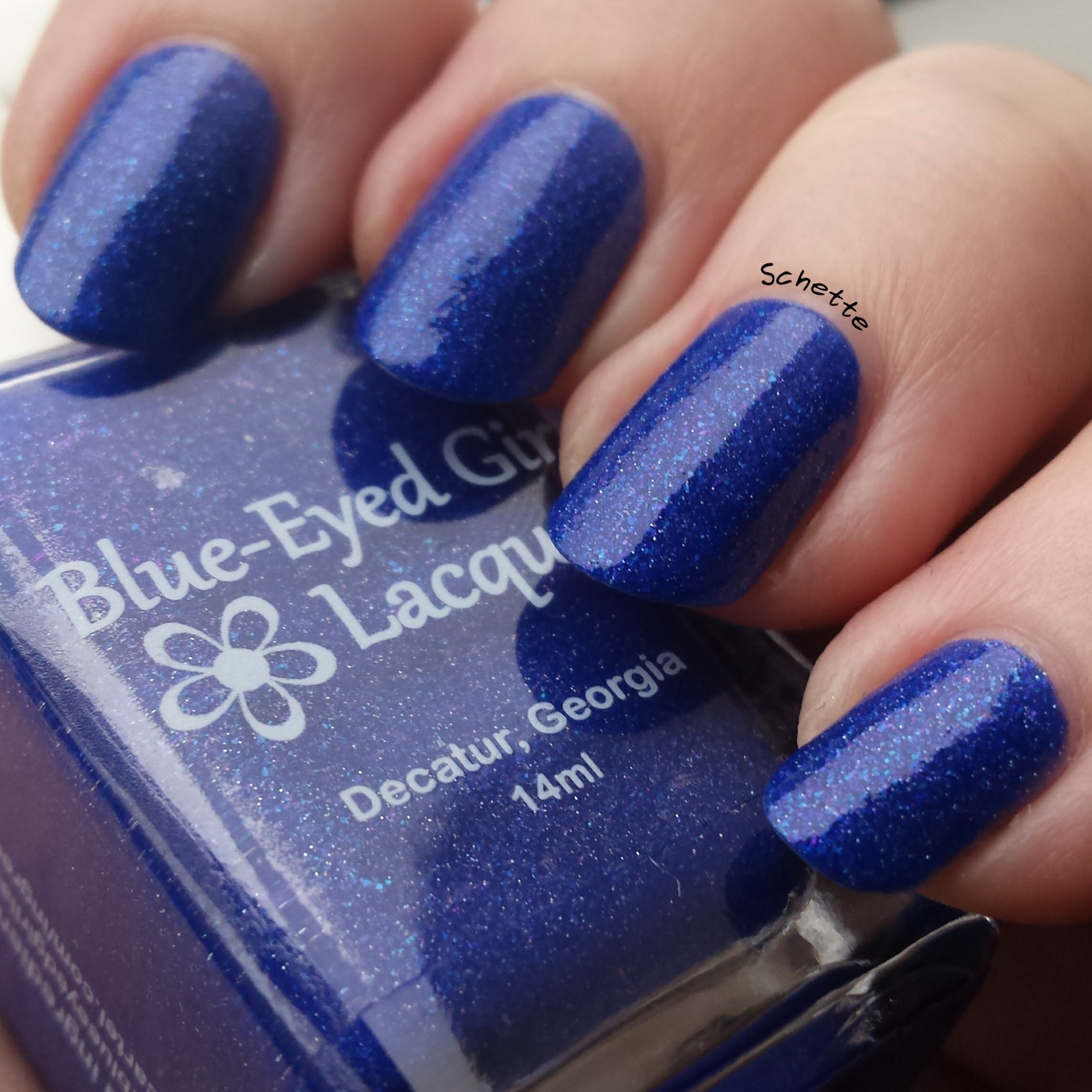 Deux petites photos à la lumière naturelle, en intérieur, sans soleil.
Two little shots, inside with natural light, without sun.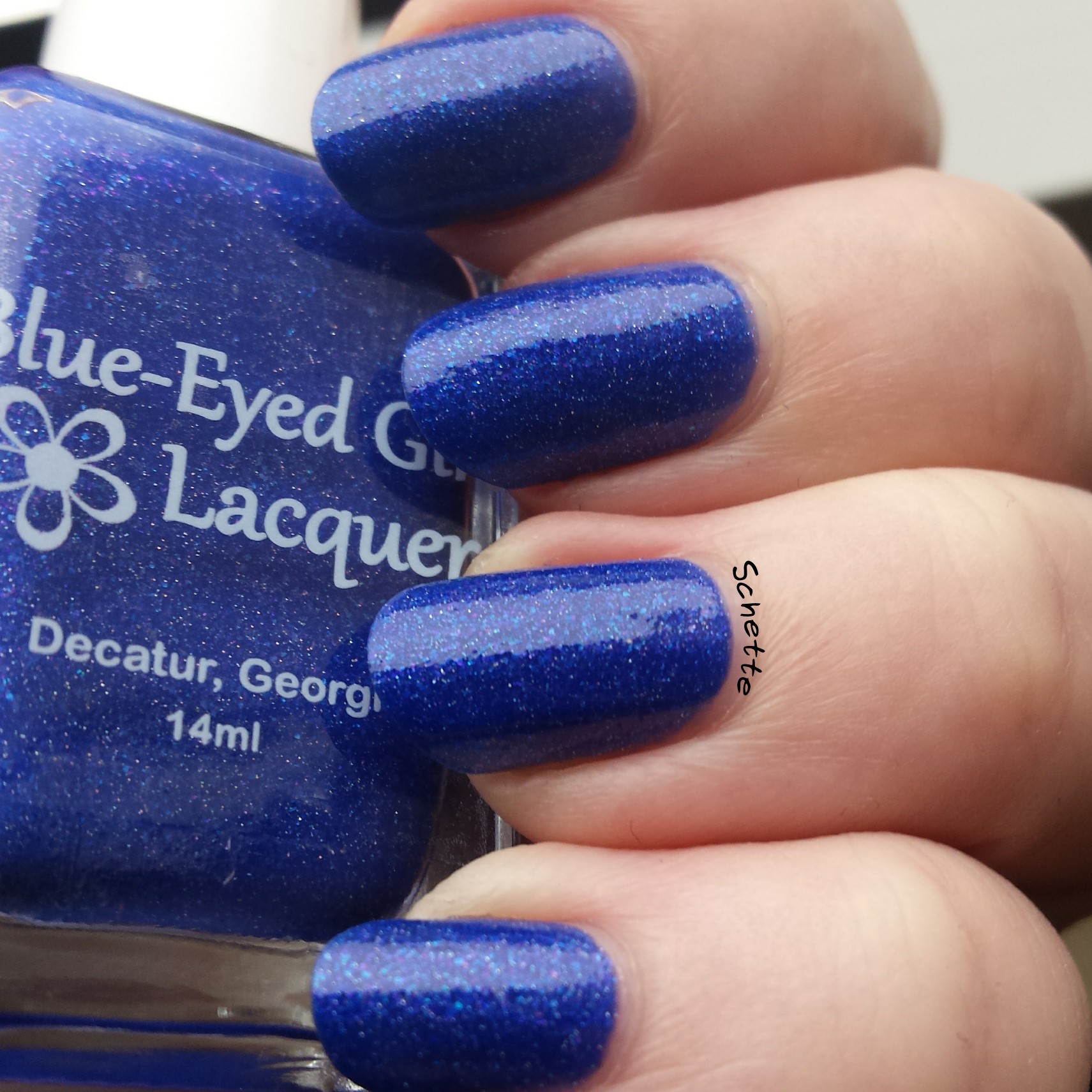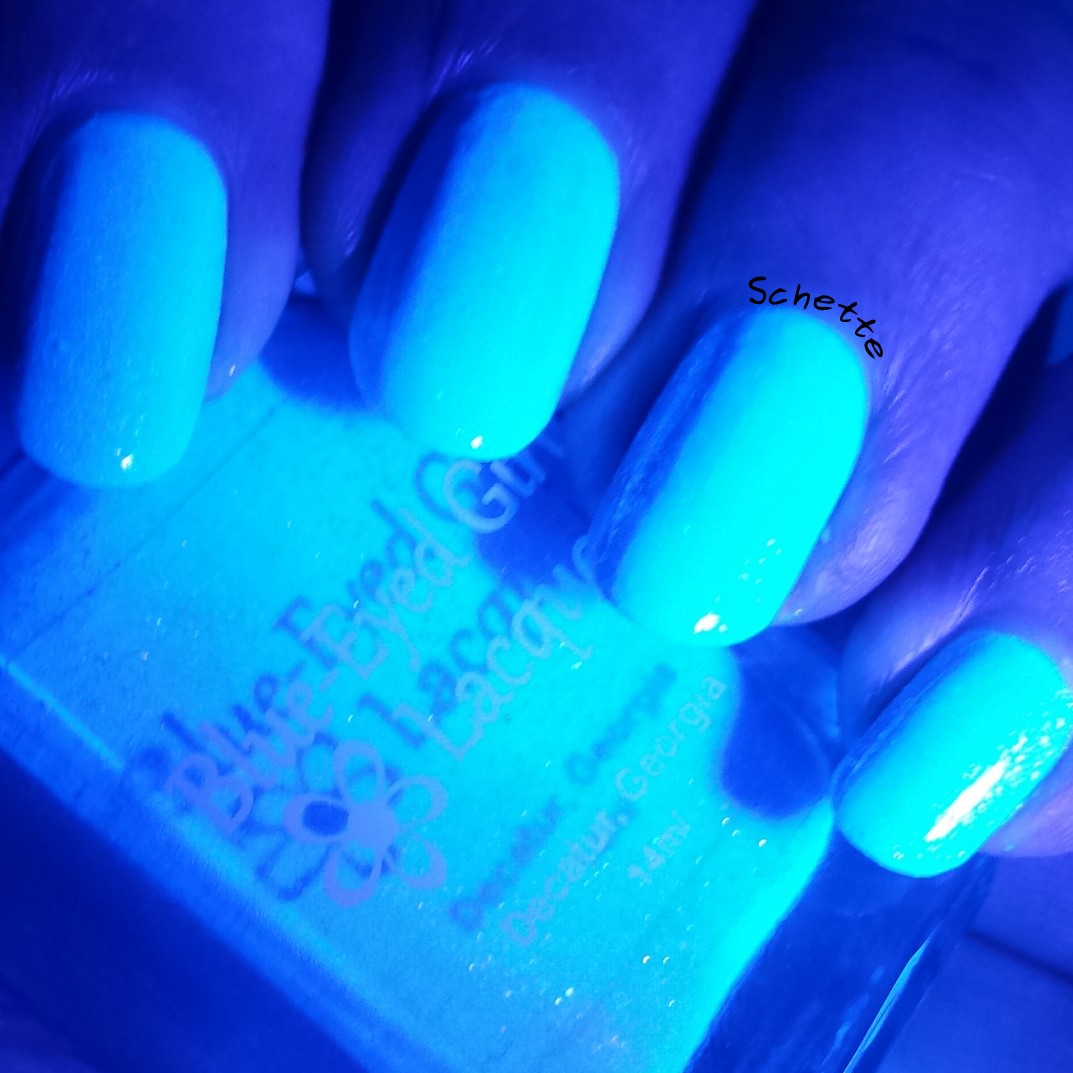 Et à la lumière noire. C'est mon premier essai de photos de ce genre. J'espère qu'elles vous plairont :D
And with black light. That's my first try of this kind of pictures, I hope you'll enjoy it :D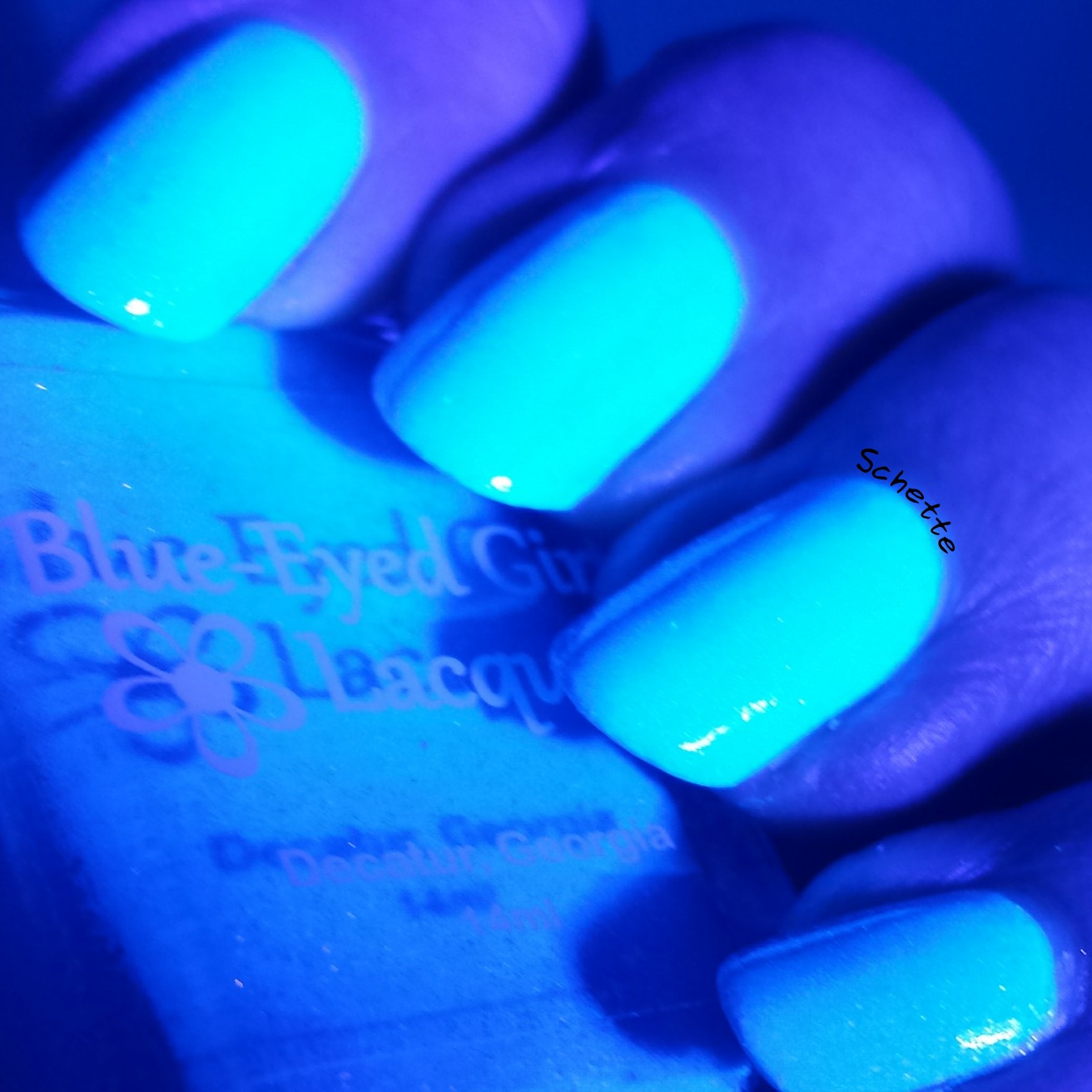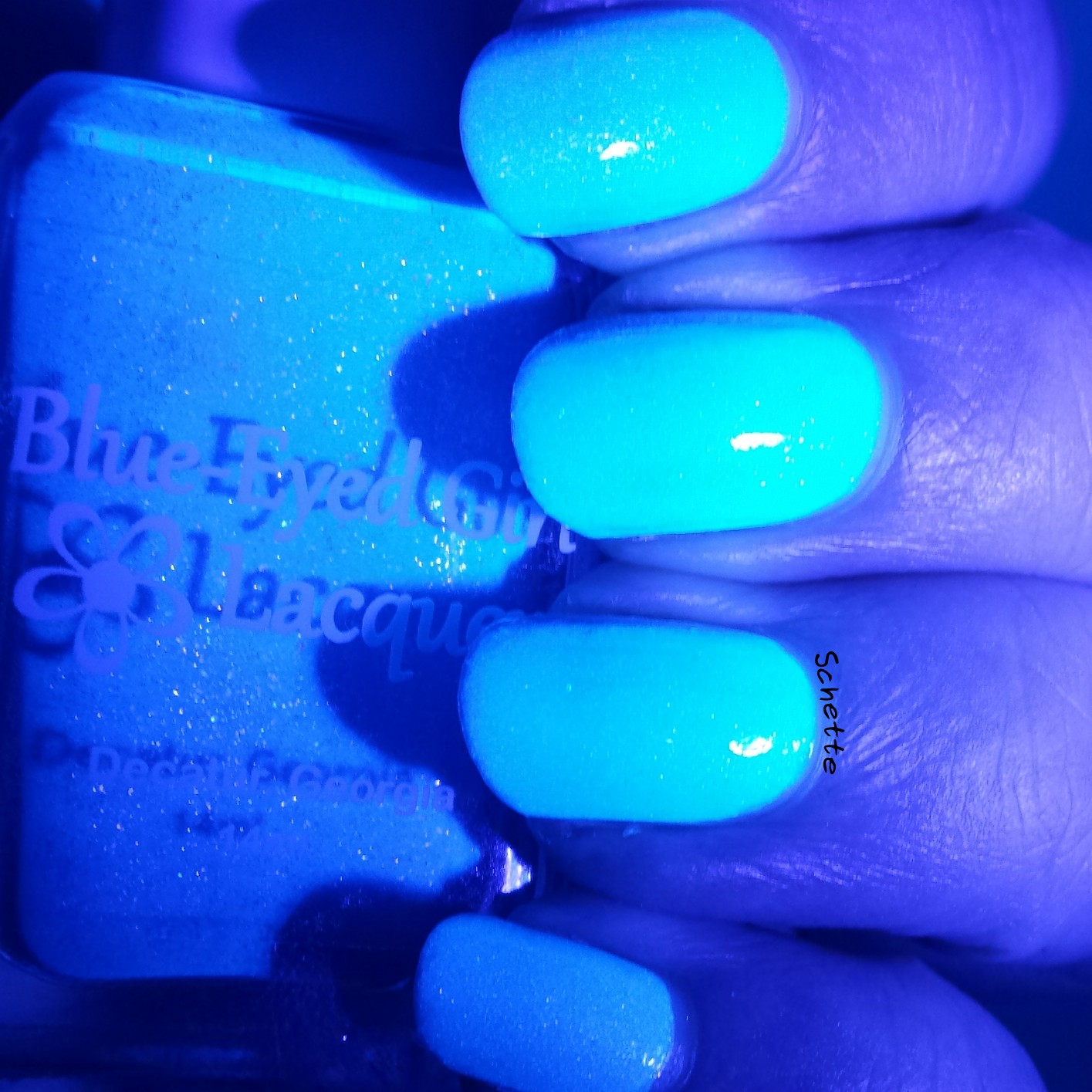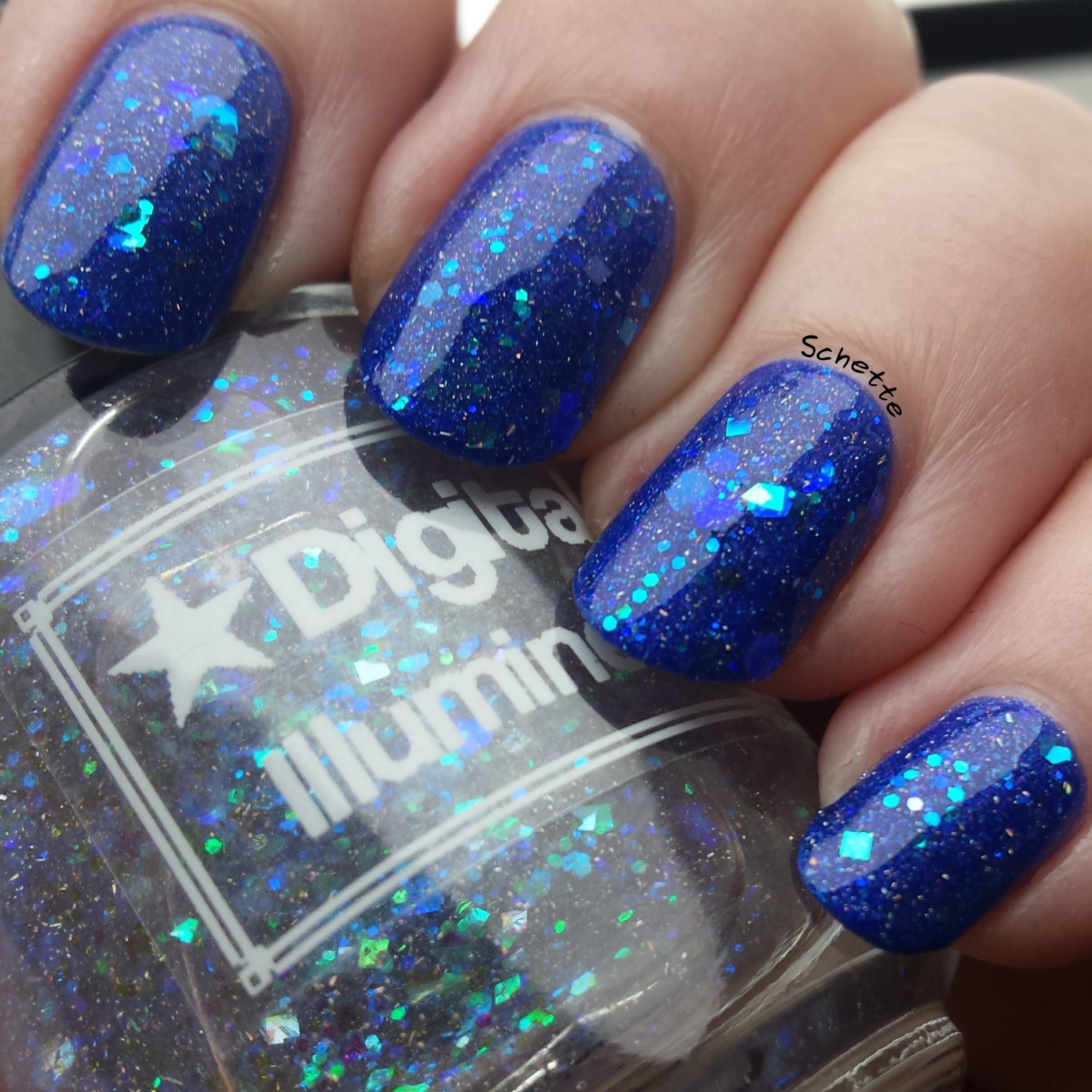 Digital Nails Illumine la Nuit est un mixe de glitter iridescentes bleues, vertes et violettes ainsi que des micro holo flakie pour former un topper inspiré par les propriétés de la lumière. Ce type de vernis n'est pas du tout à son avantage en pleine lumière, c'est pourquoi j'ai préféré opter pour vous le montrer en lumière naturelle. Autrement, les paillettes iridescentes ne sont pas visibles et vous perdez un peu l'intéret de regarder les swatches. Je l'ai porté en une couche sur le précédent, avec une couche de top coat. Je n'ai pas eu besoin de pêcher pour avoir des paillettes et je trouve que j'ai eu la bonne dose pour une couche. C'est mon premier Digital Nails mais je le trouve vraiment sympa.
Digital Nails Illumine la Nuit is Mixed size green, blue and purple iridescent glitter and micro holo flakie topper inspired by the properties of light. This kind of polish dont really is flattering with a lot of light, that's why my pictures of this one will be in natural light. Otherwise, the iridescent glitter are not visible and you lost the interest of the swatch. I worn it in one coat over the last one, with a coat of top coat. I don't had to fish and I got the good amount of glitter in one coat. That is my first Digital Nails but I find it really nice.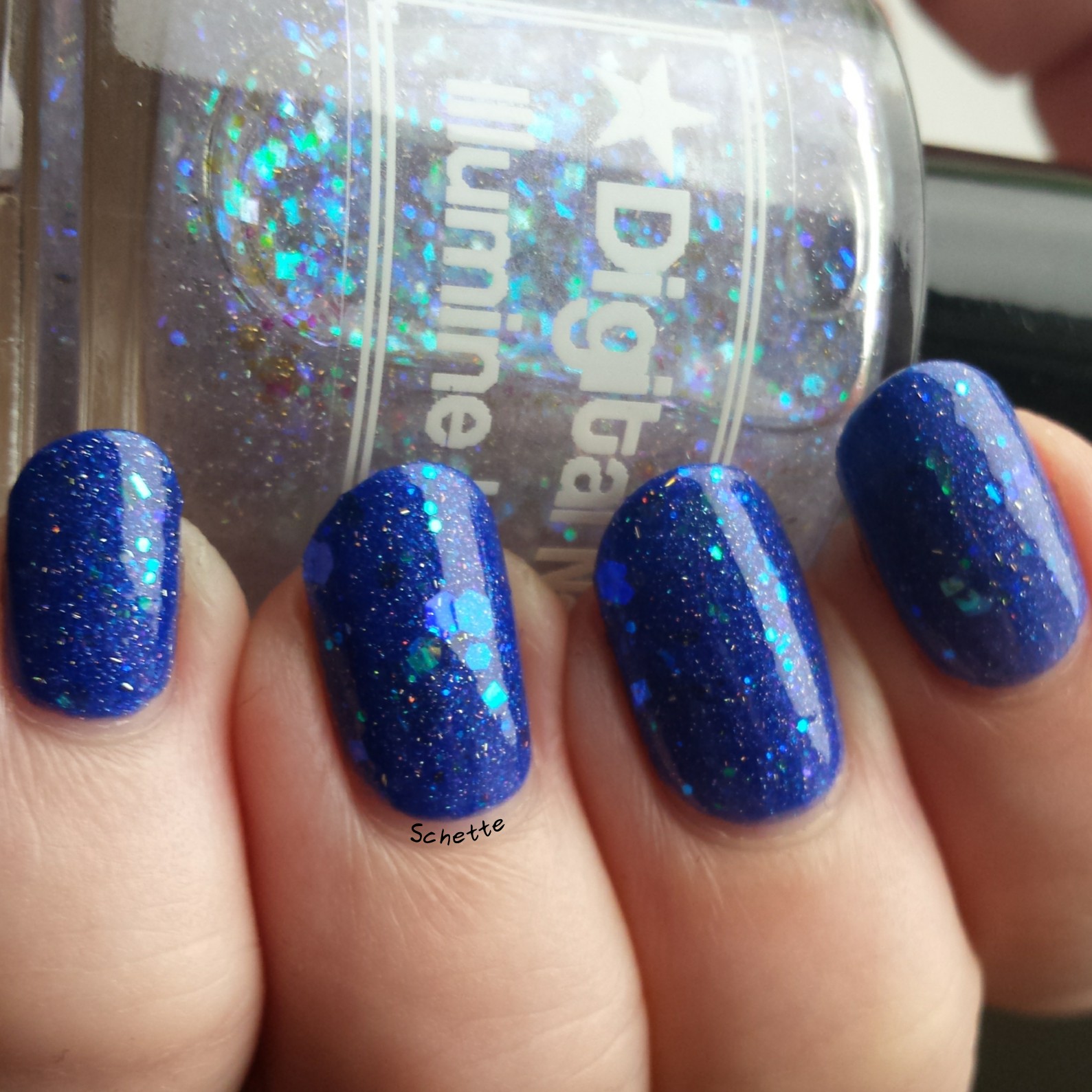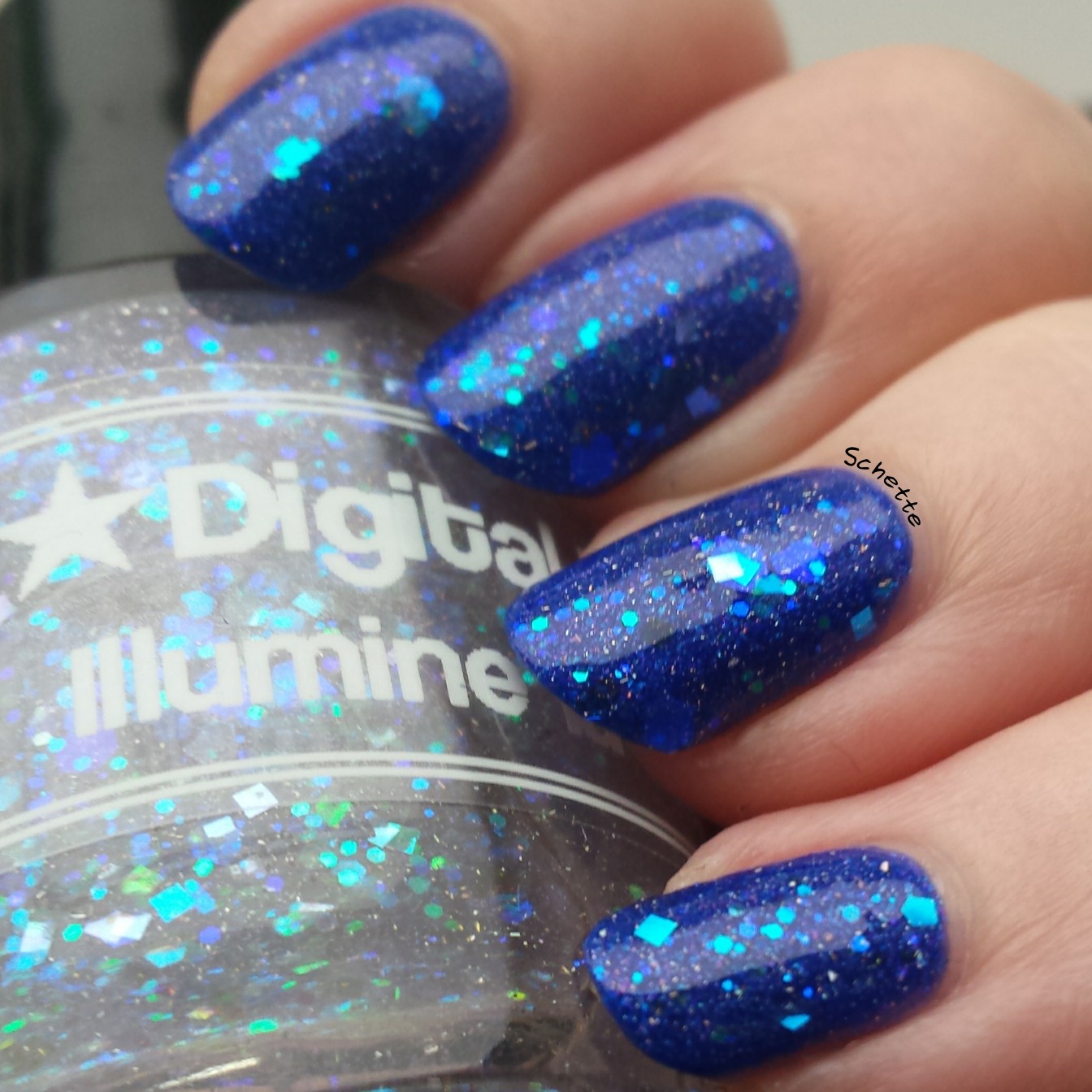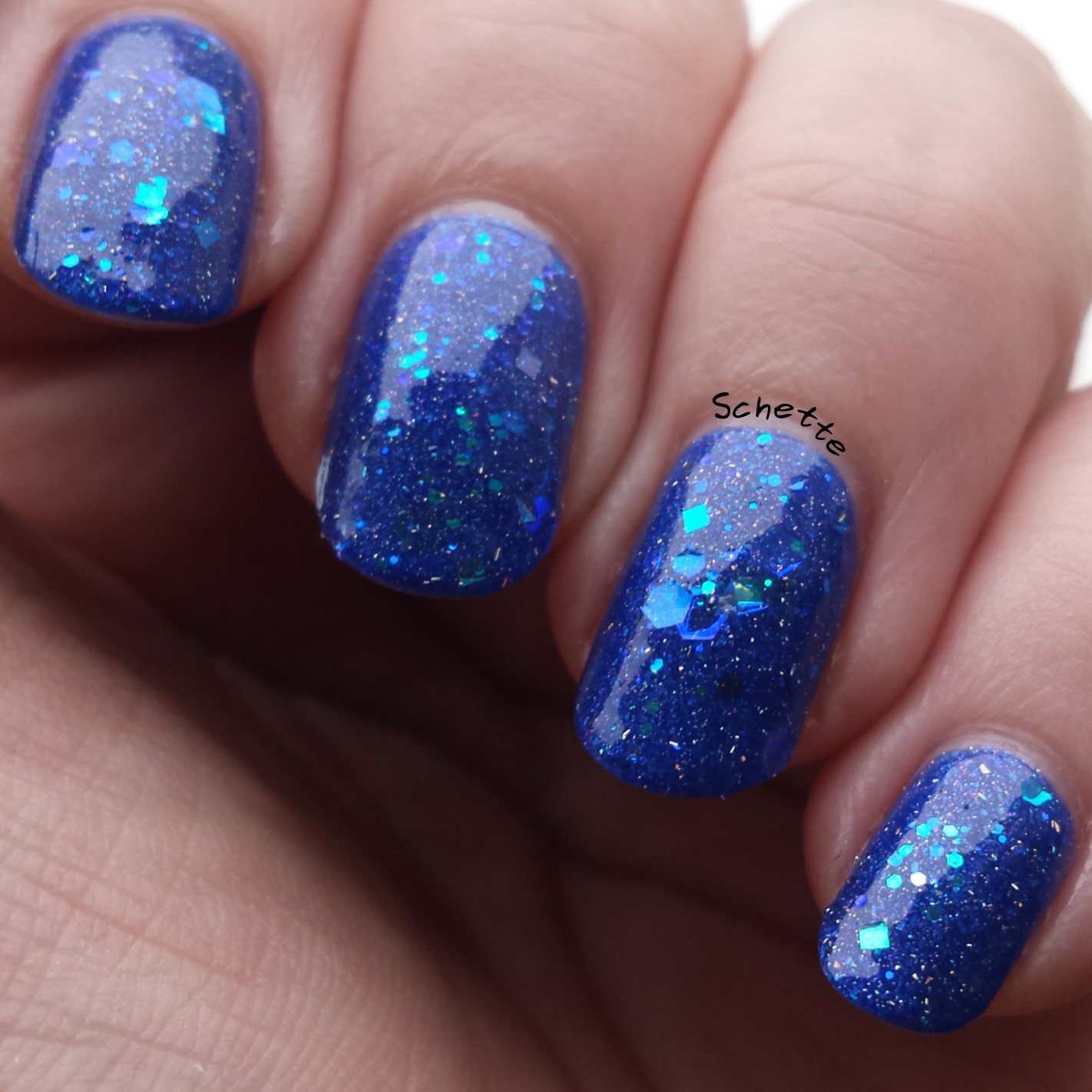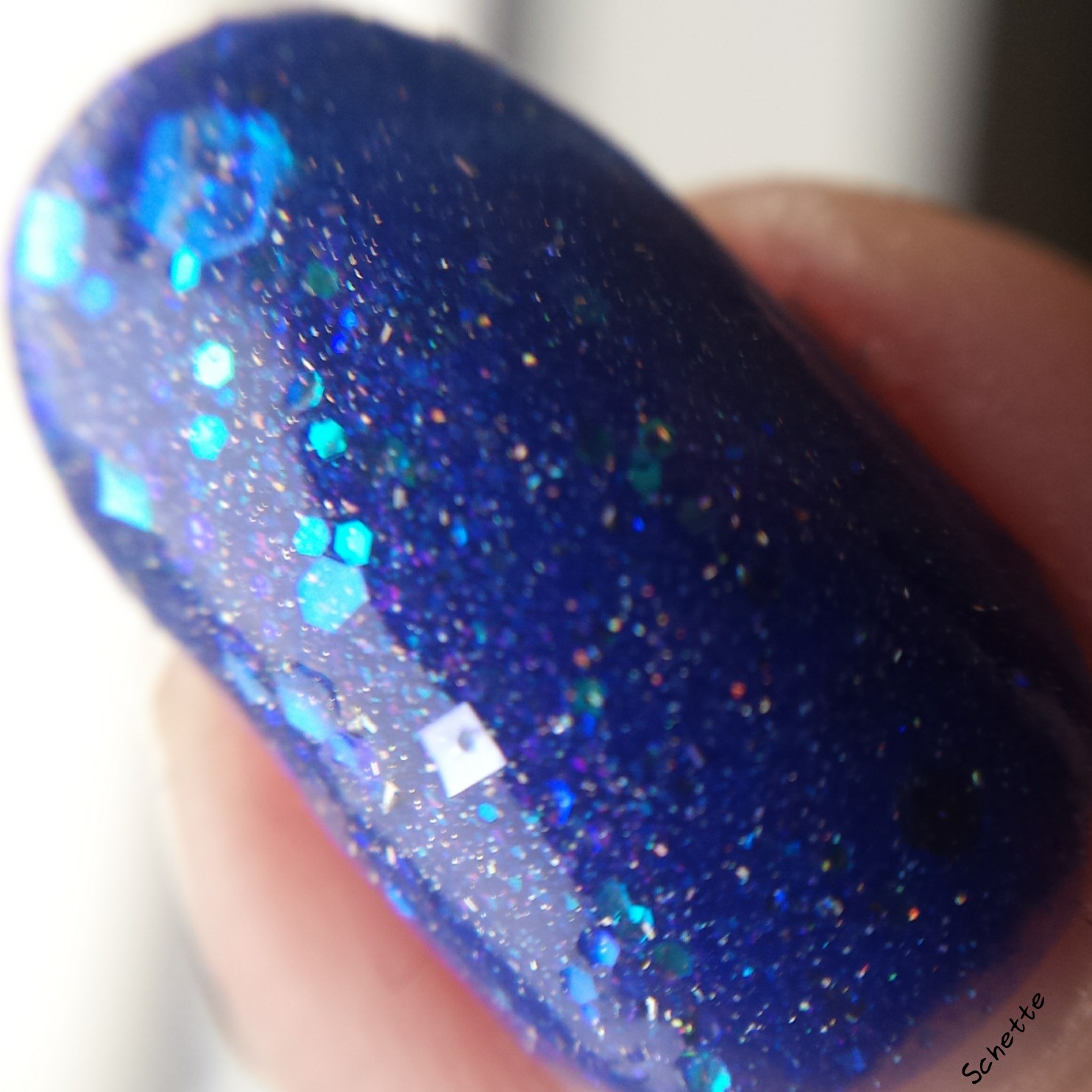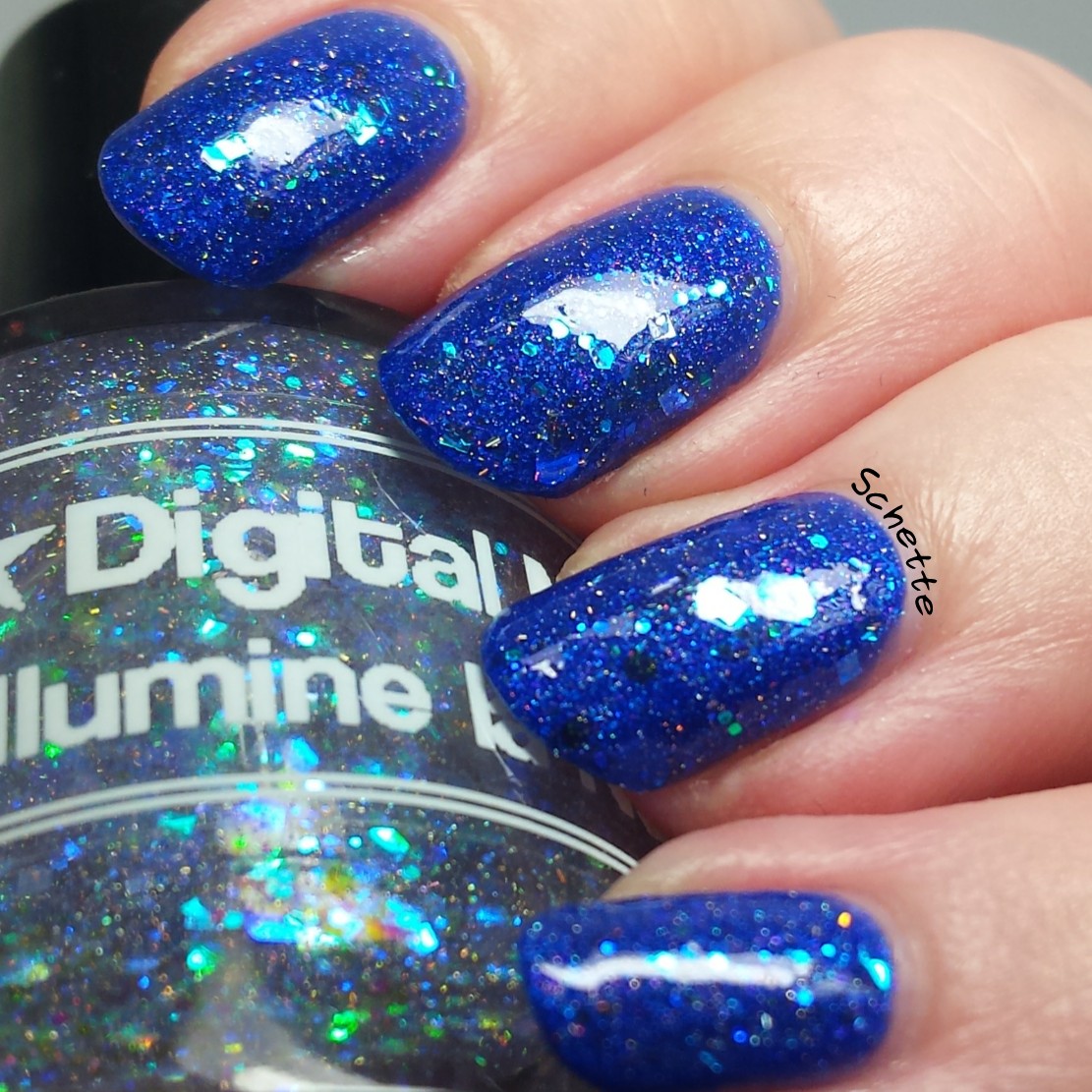 Je vous montre quand même une photo en lumière artificielle :)
Here is still a picture in artificial light :)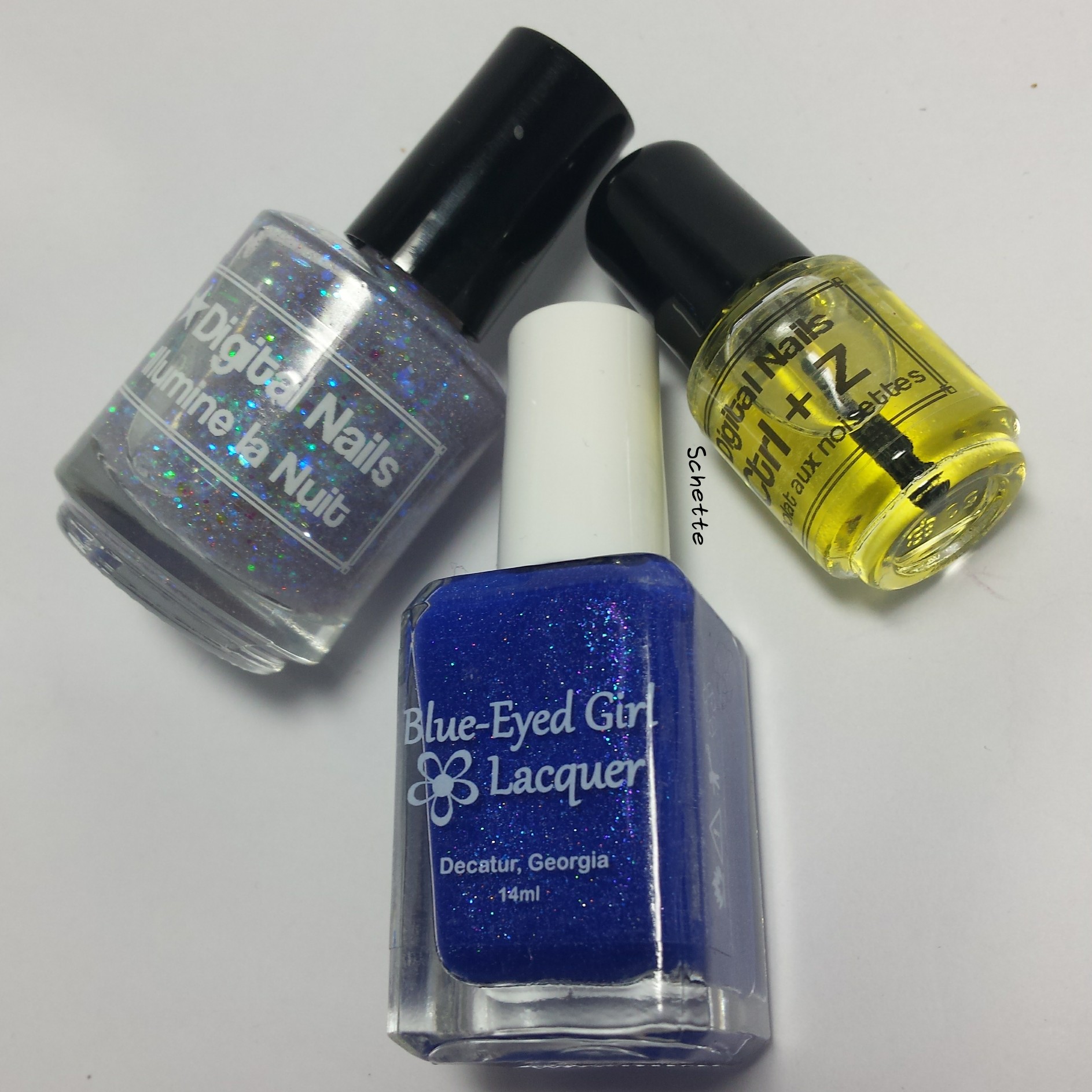 Le Duo dispose également d'un bonus! Inspiré par les truffes au chocolat à Bruxelles , Chocolat aux Noisettes est un subtil mélange de cacao et de noisettes , avec un soupçon de vanille . Huile d'amande , l'huile d'argan bio , de jojoba bio et de noyau d'abricot huiles forment un mélange absorbé rapidement que vous pouvez utiliser sur vos ongles, votre peau et même vos cheveux ! Disponible uniquement avec l'achat du duo. Je peux vous dire qu'effectivement, l'odeur est délicieuse !
The Duo also has a bonus ! Inspired by the chocolate truffles in Brussels, Chocolat aux Noisettes is a subtle blend of cocoa and hazelnuts, with a hint of vanilla. Organic almond oil, organic argan oil, organic jojoba and organic apricot seed oils make up a quickly absorbed blend that you can use on your nails, skin and even your hair!  Available only with the purchase of the duo. I can say that indeed, the smell is just a delight !
Bilan
Le duo sera en stock dans les deux shop (BEGL et Digital Nails) et coûtera 20$ pour les US avec des frais d'expédition au prorata pour l'international. Digital Nails envoie aux US et Canada alors que BEGL envoie dans le monde entier ! Contrairement Duos de destination précédents, les vernis de cette boîte ne seront pas limités édition à la boîte seulement. Vous serez en mesure d'acheter chaque vernis individuellement dans leurs magasins respectifs plus tard en Décembre ou début d'année prochaine. Seule l' huile cuticule sera disponible uniquement dans la boîte.
The duo will be in stock in both shops (BEGL and Digital Nails) and will cost $20 shipped domestically with a prorated shipping fee for international.  Please note, DN ships to the US and Canada, and BEGL ships worldwide!  Unlike previous Destination Duos, the polishes in this box will not be limited edition to the box only. You will be able to purchase each polish individually at their respective stores later in December or early next year.  Please note that the cuticle oil will only available in the box.
Schette, le 5 décembre 2015
Vous pourriez aussi aimer / You can also like :