Stamping Master 1 : Géométrique
Julia de Love, nails etc à décidé de lancer le
Stamping master.
Chaque semaine, les nailsta du monde entier peuvent venir partager leur passion du stamping en se rassemblant autour d'un thème. Normalement la publication se fait le mercredi (oui, je suis en retard). Voici donc les règles du
Stamping Master 1
Julia, from Love, nails etc decided to launch the Stamping master Each week, the nailista of all around the world can share their passion for stamping gathered around a theme. Usualy the post has to be done on Wednesday (yes, I'm late). Here are the rules from Stamping Master 1.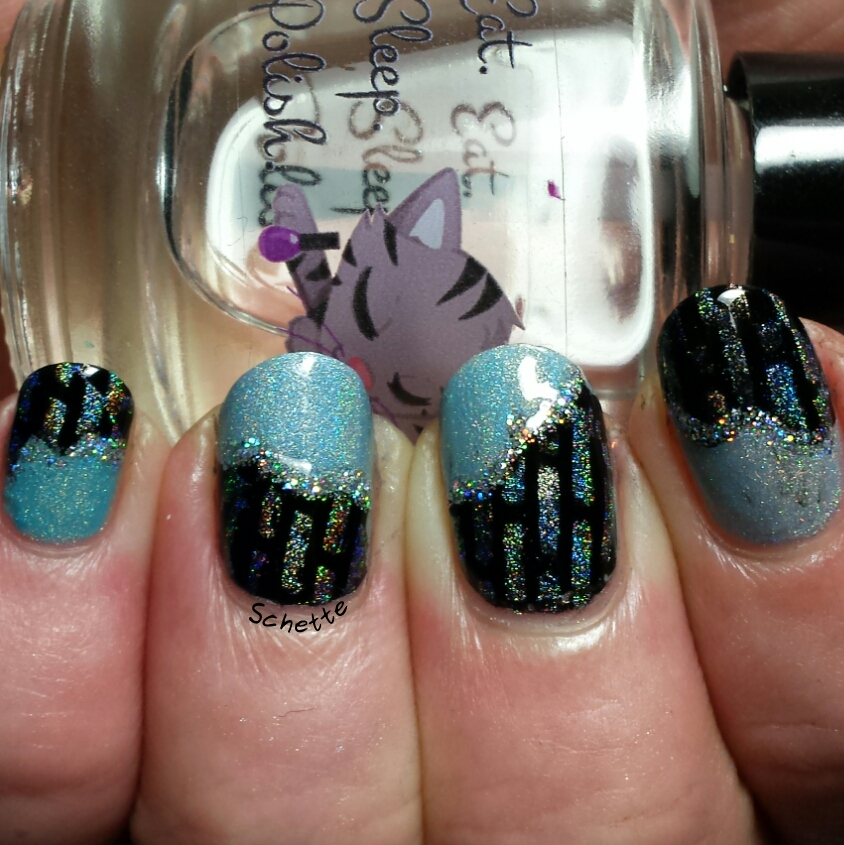 Le thème du nr 1 est Géometrie. J'ai tout d'abord essayé de le réaliser sur une manucure "comparaison de bleu" que j'ai fait (2 vernis unique, Lake Como de Too Fancy Lacquer sur mon petit doigt et le Color by llarowe Rezipped sur mon index). J'ai positionné des guides et colorié une partie de l'ongle en noir. J'ai ensuite stampé avec le color club halo on top et la plaque MoYou Geek 05. J'ai passé le top coat d'Eat Sleep polish sur l'index qui a affadi le holo. Sur le majeur, j'ai passé le top coat Darling diva qui a fait baver le noir. J'ai donc mis un liner holo pour cacher la misère et j'ai top coaté le tout avec le HK Gril. Voilà, je ne suis pas trop satisfaite du résultat.
The theme of #1 is Geometry. I first started with a mani "comparison of blue" that I've done (2 OOAK, Too Fancy Lacquer Lake Como on my pinky and Color by Llarowe Rezipped on my pointer). I put guides and put black on a part of my nails. Then I stamped with Color Club Halo on top and Moyou Geek 05 Plate. Then I used Eat Sleep Polish top coat on my pointer : the holo faded. Then I tried the Darling Diva top coat : the black leaked. So I hide a little using a holo liner and the top coat HK Girls. No needs to say that I'm not satisfied with the result.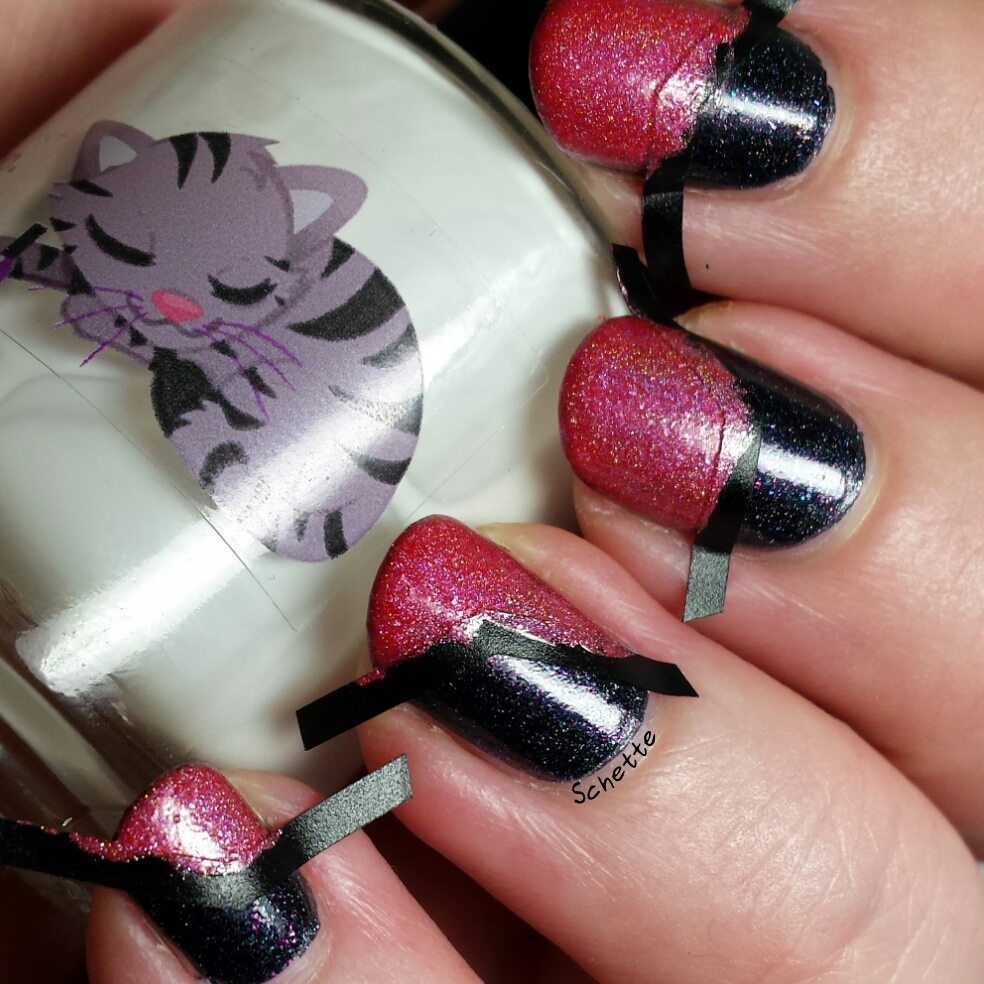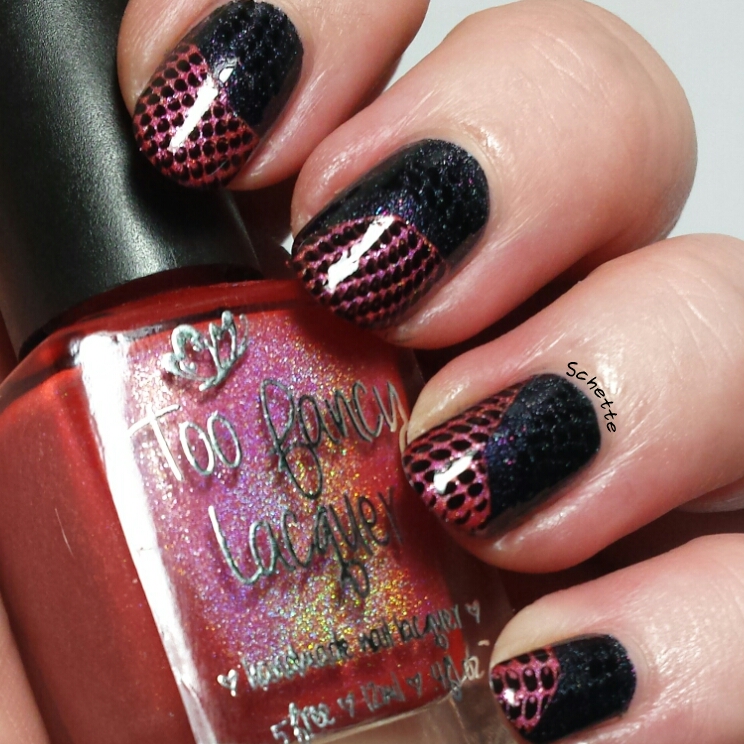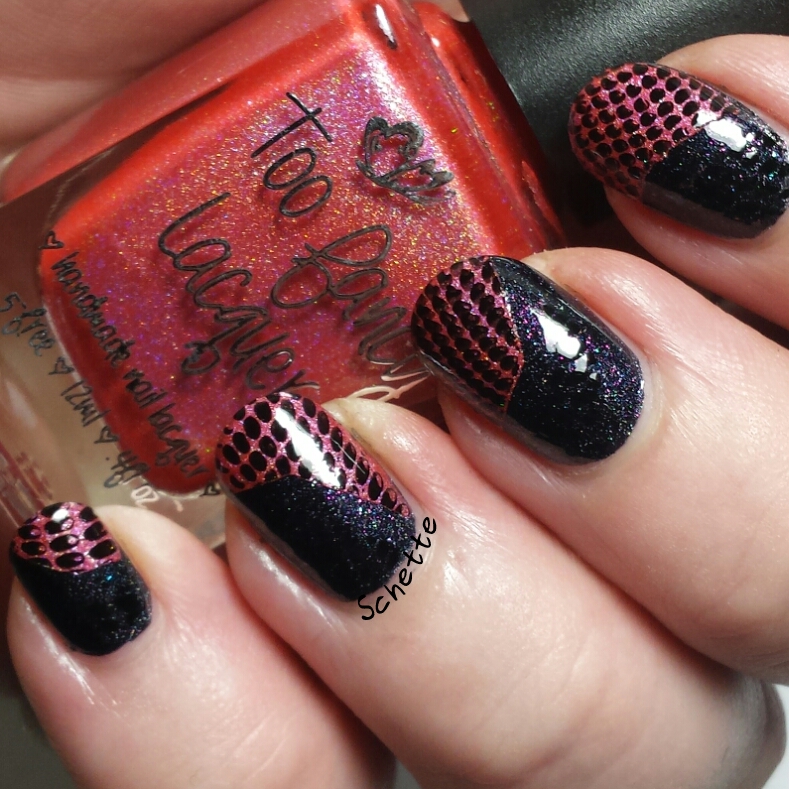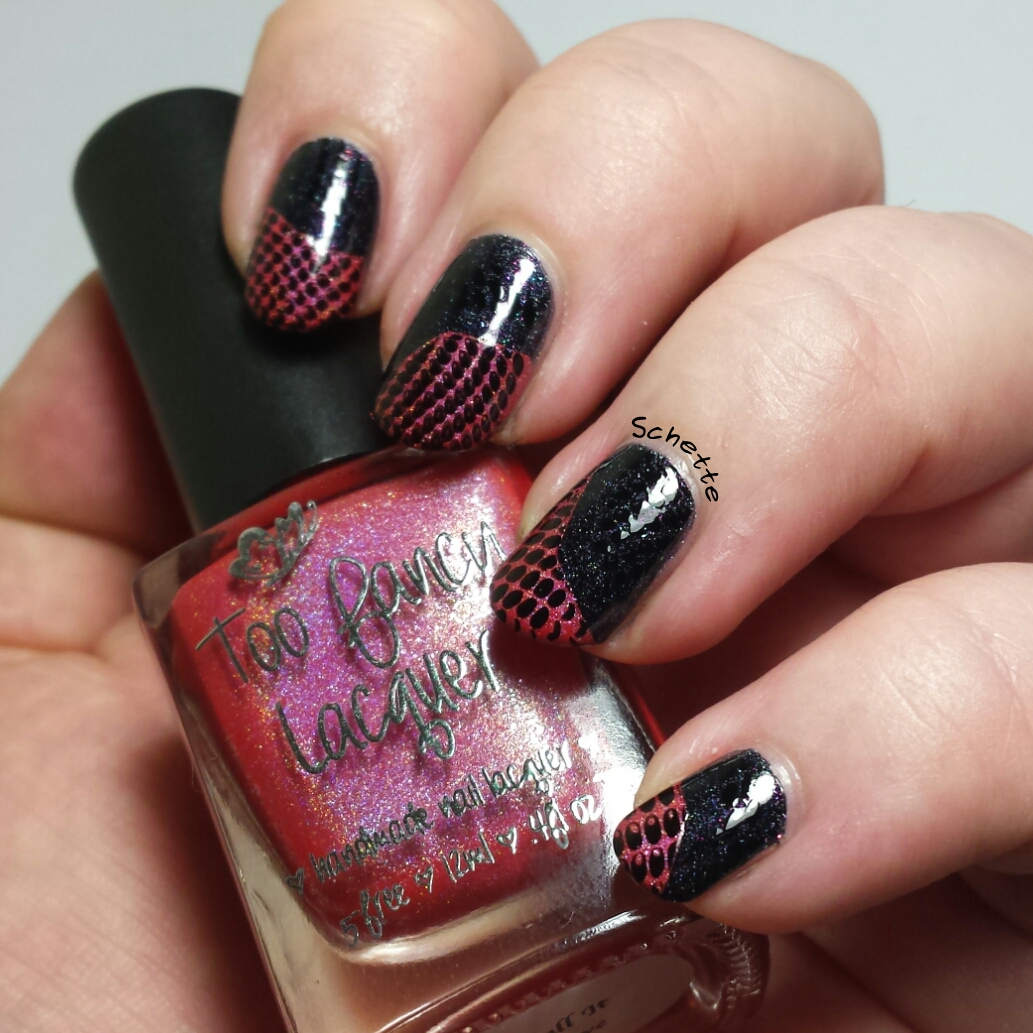 Bilan
Voilà, c'est fini, j'avoue ne pas trop aimé ce que j'ai fait, mais je me dis que je ferais mieux la prochaine fois ! Et vous, que pensez vous du stamping master ? Allez vous nous rejoindre ?
Les prochains thèmes :
08/04 : Art, Artiste
15/04 : Neon
22/04 : Bi-Color
29/04 : Douceur
So, it's done, I admit that I don't really like what I've done, but I told myself that it will be better next time ! What about you, what du you think about stamping Master ? Will you join ?
The next themes :
08/04 : Art, Artiste
15/04 : Neon
22/04 : Bi-Color
29/04 : Softness
Mes participations
Schette, le 6 avril 2015
---
comments powered by