Messy Mansion : MM46 plate
Vous pourrez trouver cette marque sur la
boutique
.
You can find this brand on the
shop
.
PRESS SAMPLE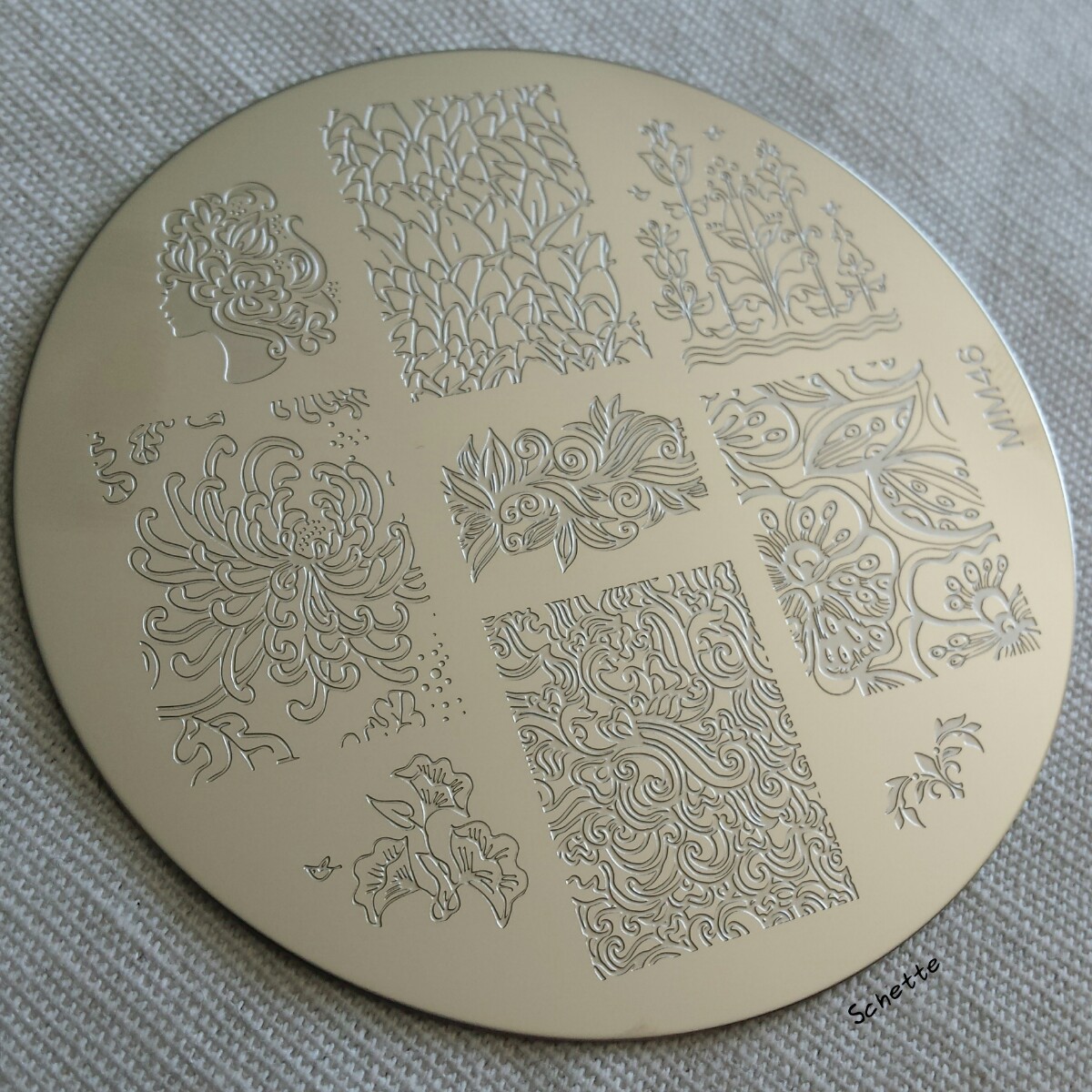 Aujourd'hui, je vais vous montrer un peu tout ce que vous pouvez faire avec cette plaque Messy Mansion, qui a pour thème général "fleuri". J'ai particulièrement aimé cette plaque, et j'ai utilisé tous les dessins (sauf le petit en bas à droite), voici donc quelques idées à faire avec cette plaque :)
Today, I'm going to show you a little what you can do with this Messy Mansion plate, which is themed upon "flowers". I really enjoyed this plate, I used almost all designs (except the little one on the bottom right), here are my ideas on how what can be done with this plate :)
Difficulté du stamping : facile

Pour commencer, le motif central, un de mes préféré. J'ai fait un gradient entre deux de mes customs Lilypad, un bleu et un vert, et j'ai voulu utiliser le motif à différents endroit : au centre, pour "cacher" la transition, ou alors stampé deux fois aux deux extrémités. Je trouve le rendu très joli ! J'ai stampé avec le Konad blanc basique.
Level of stamping : easy

To start, I used one of my favorite design, the central one. I used a gradient with two of my customs Lilypad, a green and a blue. I wanted to use the design at several places : in the middle, "to hide" the transition, or stamped twice at each border. I love the mani like this. I used the basic white Konad to stamp.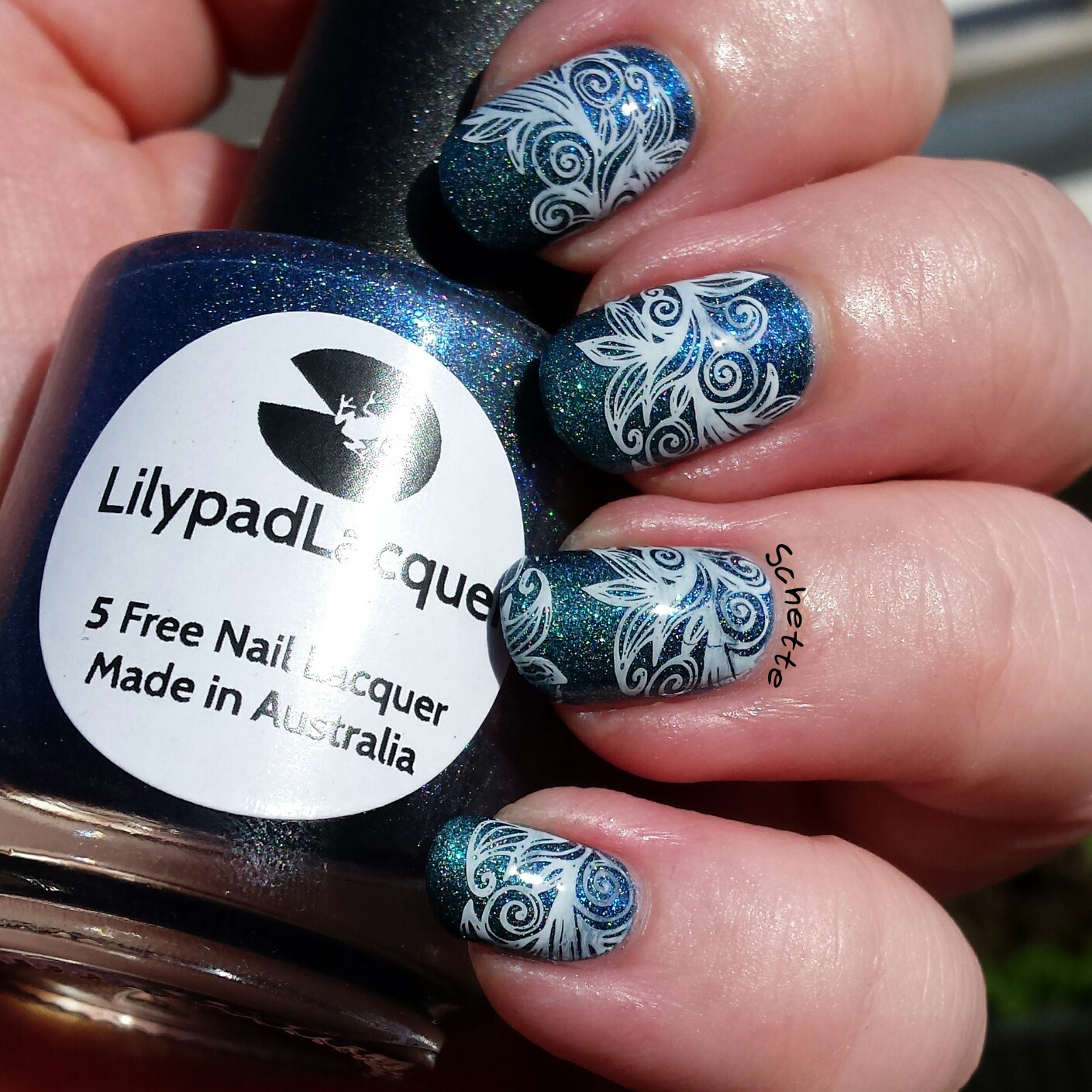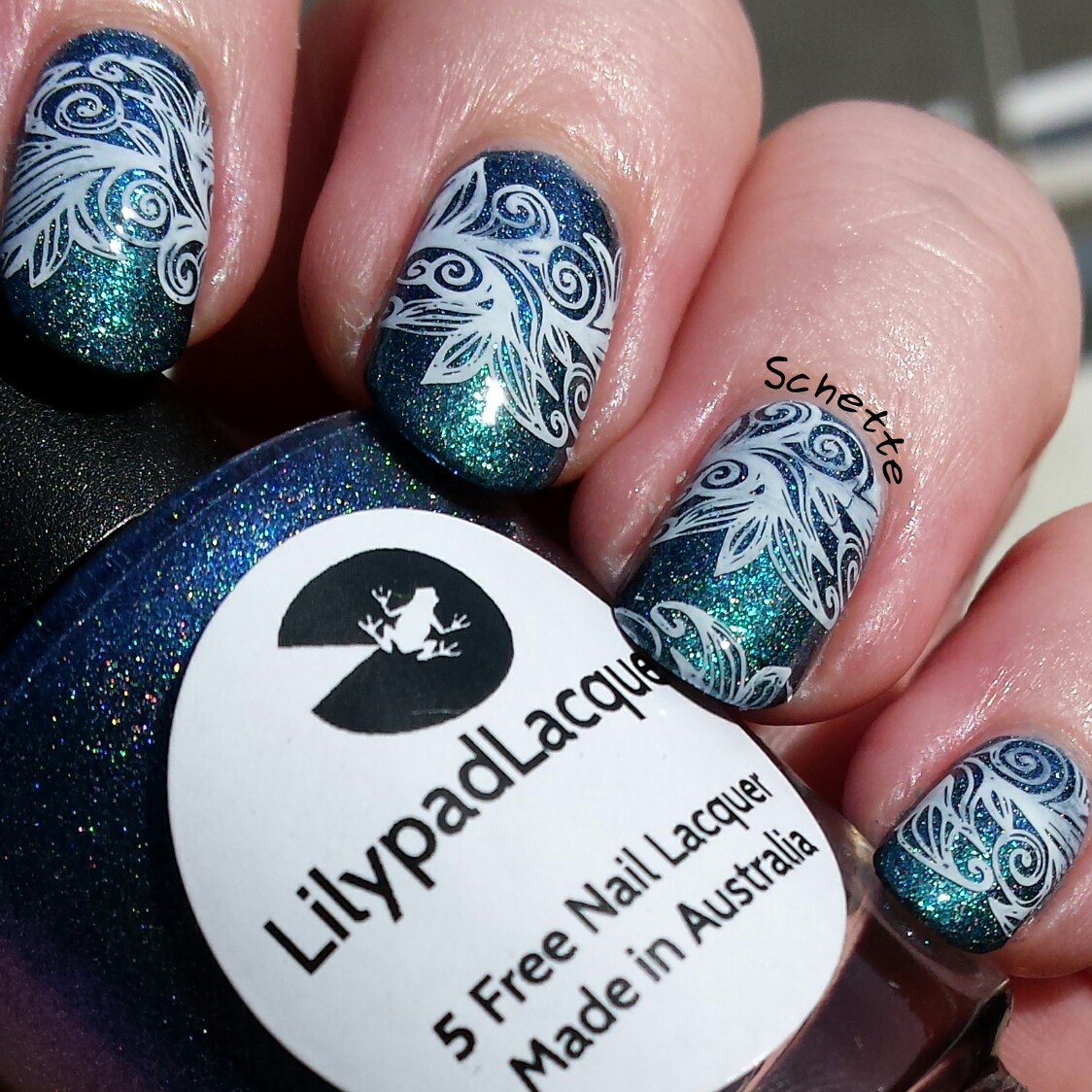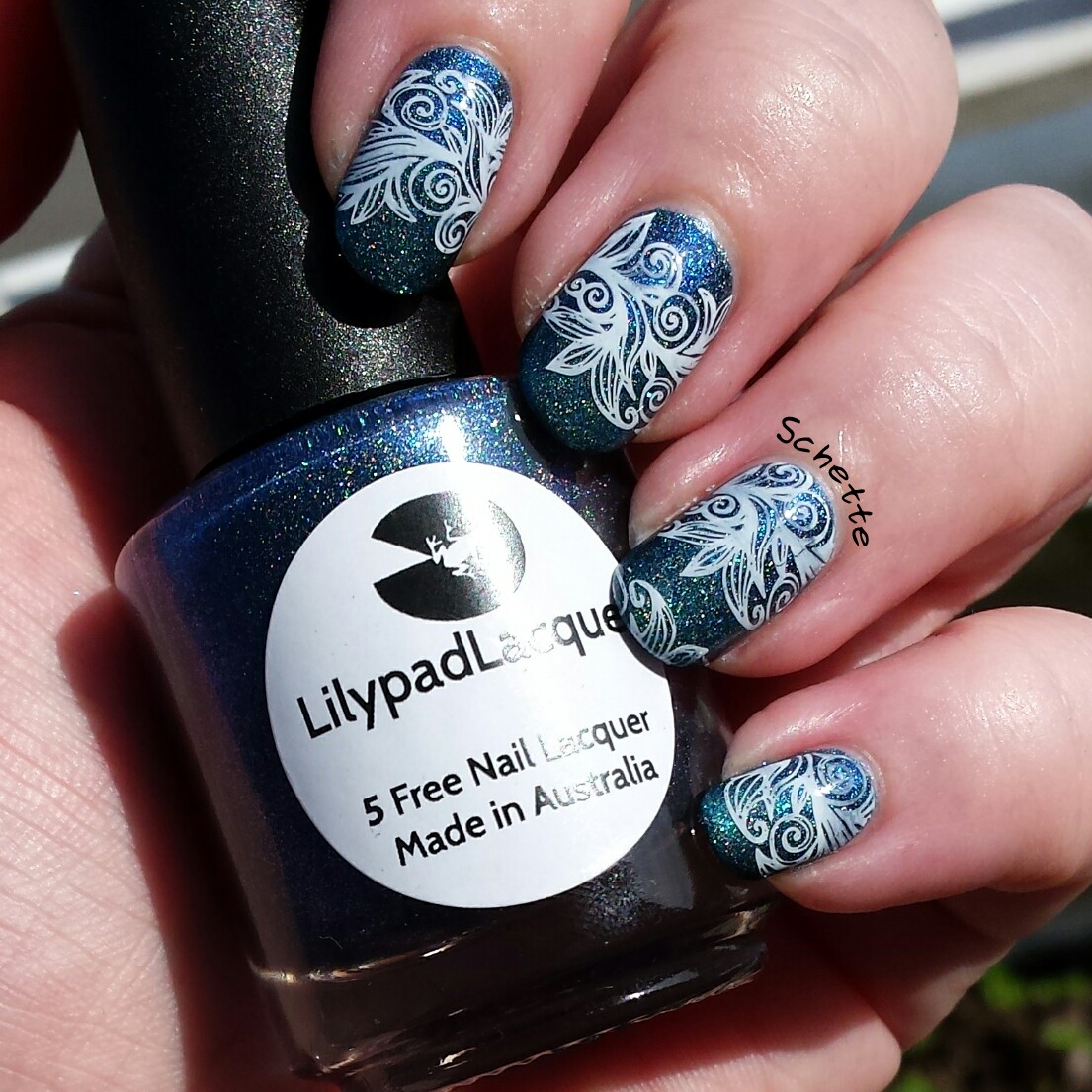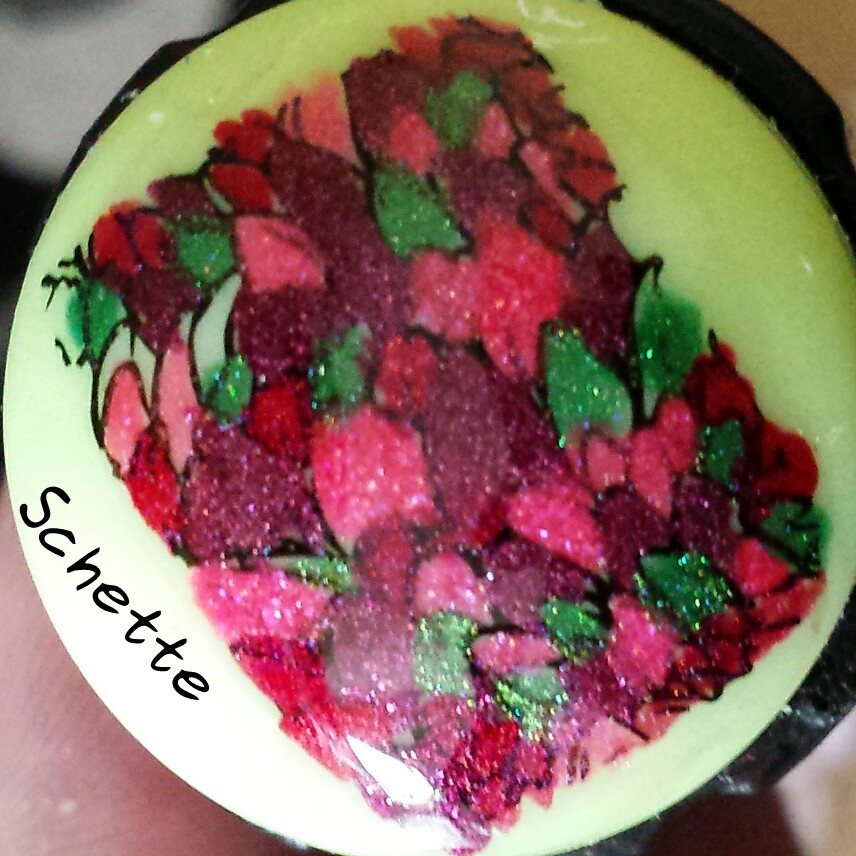 Difficulté du stamping : difficile

Pour celui-ci, j'ai utilisé le custom Lilypad vert de la manucure précédente en base, et j'ai fait tous les ongles en reverse stamping : c'est à dire que j'ai stampé sur mon tampon, et j'ai colorié avec d'autres vernis (ici : rouge : Bear Pawlish She's a fish killer, rose : Too Fancy Lacquer Passionfruit Daiquiri, violet : Picture Polish Moscow et vert : je ne me souviens plus :D) et j'ai passé un coup de top coat. J'ai ensuite attendu que cela sèche et je l'ai posé sur mon ongle comme je pose un patch : une couche de top coat pour faire adhérer le patch, découpe (j'utilise un pinceau avec du dissolvant pour dessiner le contour) et retop coat.
Level of stamping : Hard

For this one, I used the green custom Lilypad from the previous mani, and I've done all my nails using the reverse staming technique : that means that for each nail, I stamped on my stamper and I put color on it (here : red : Bear Pawlish She's a fish killer, pink : Too Fancy Lacquer Passionfruit Daiquiri, purple : Picture Polish Moscow and greeen : I don't remember :D). Then I use a top coat. Then I wait for it to be completly dry and I applied it on my nail like a patch : I used top coat, put the patch, and I "cut" it over my nail using a brush with remover. To finish I used a top coat.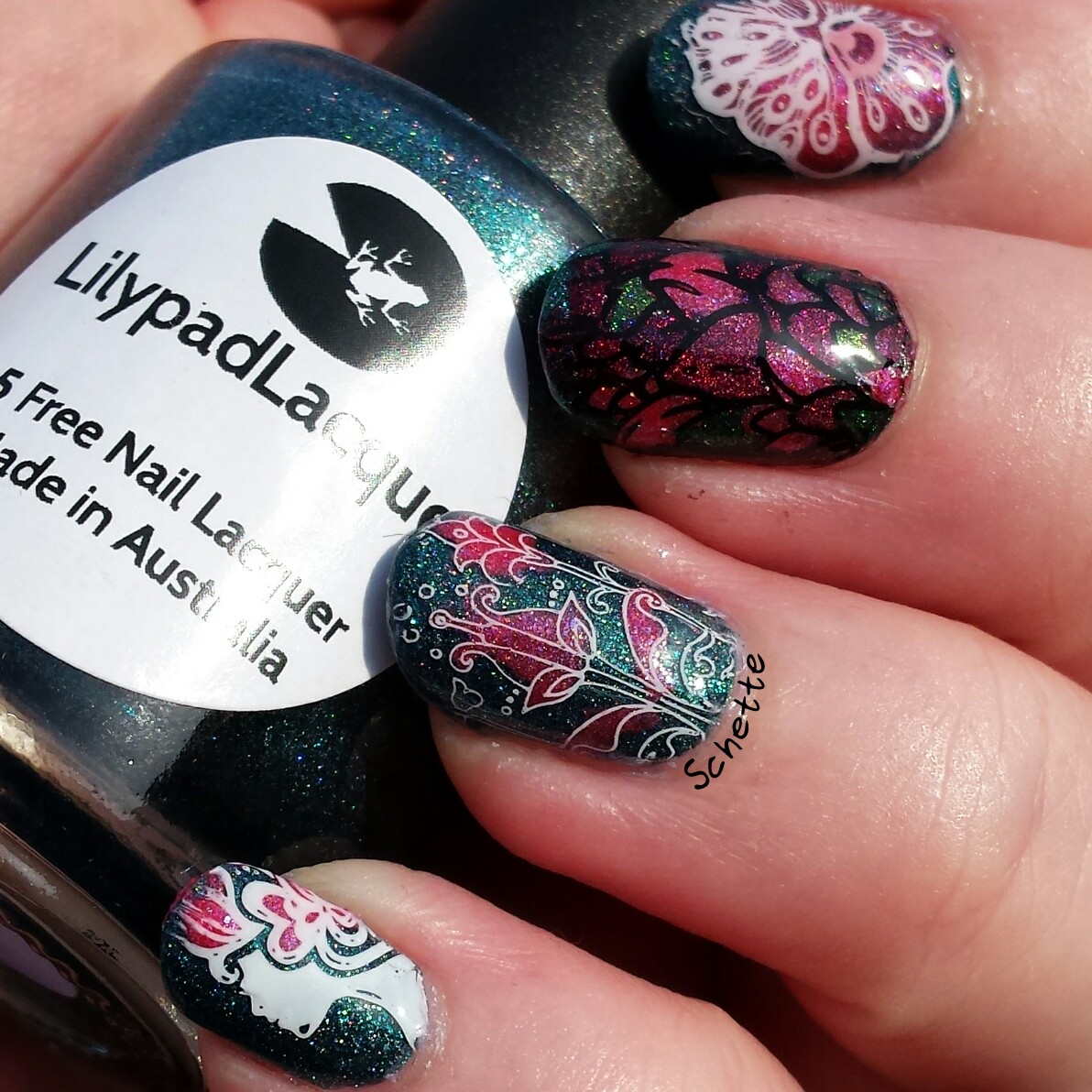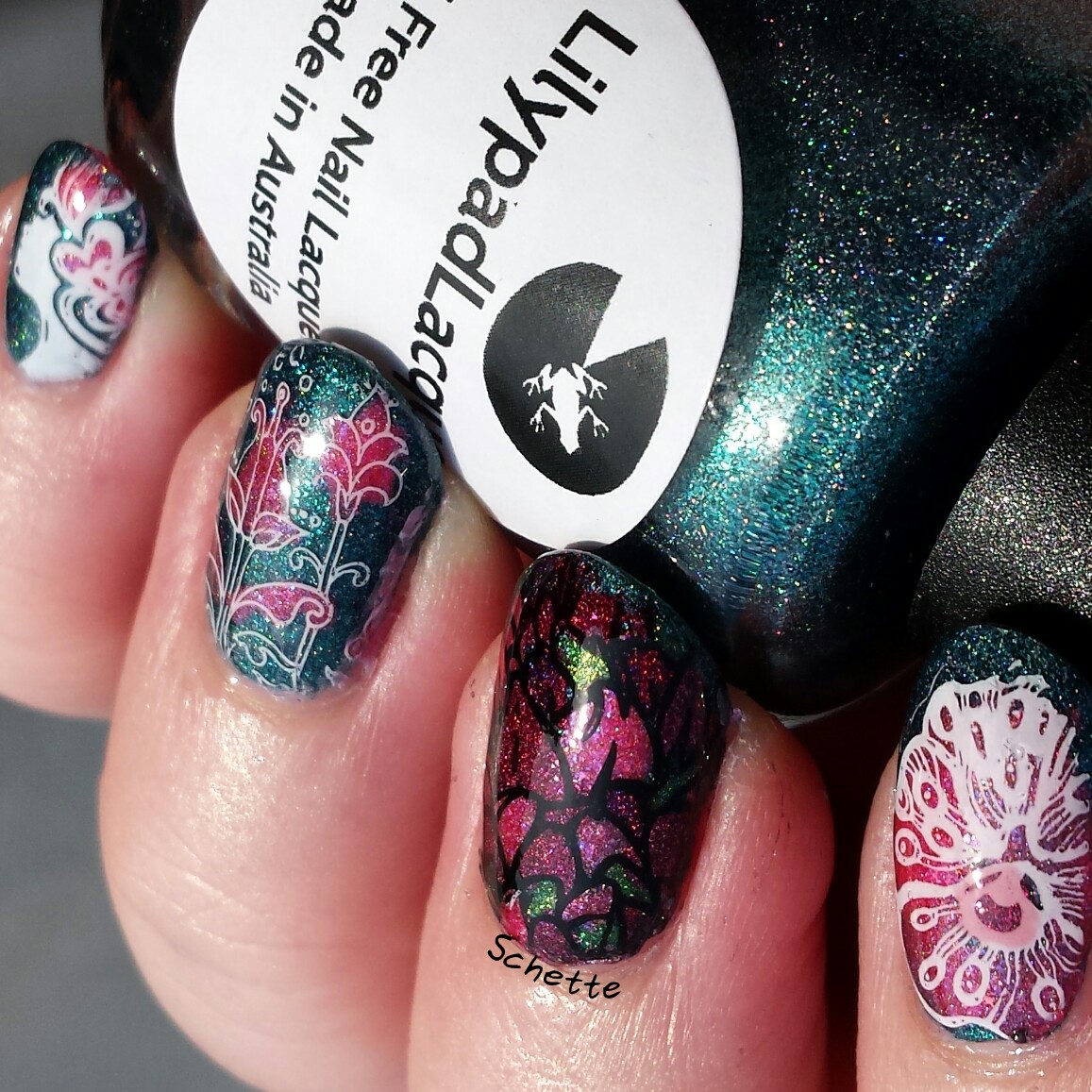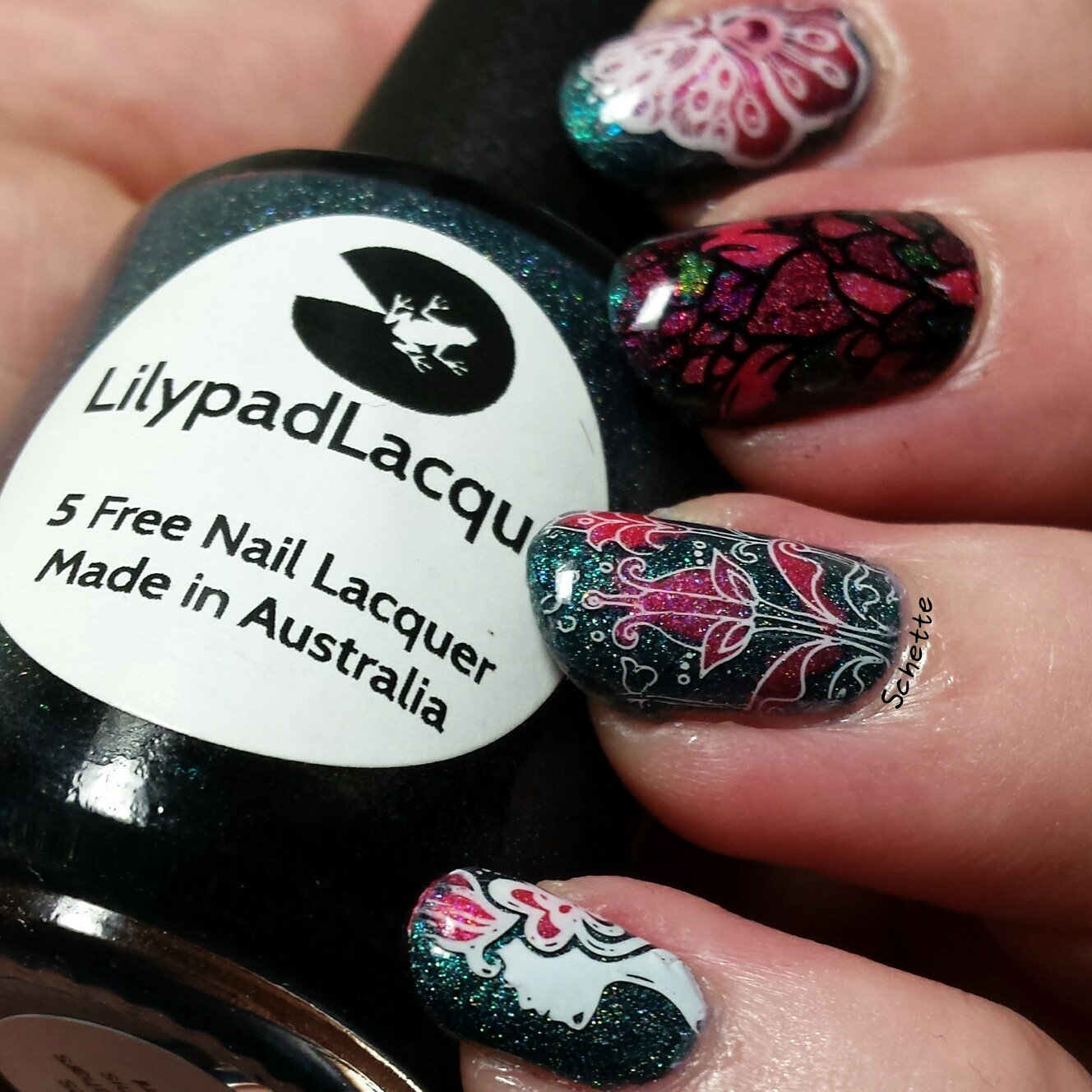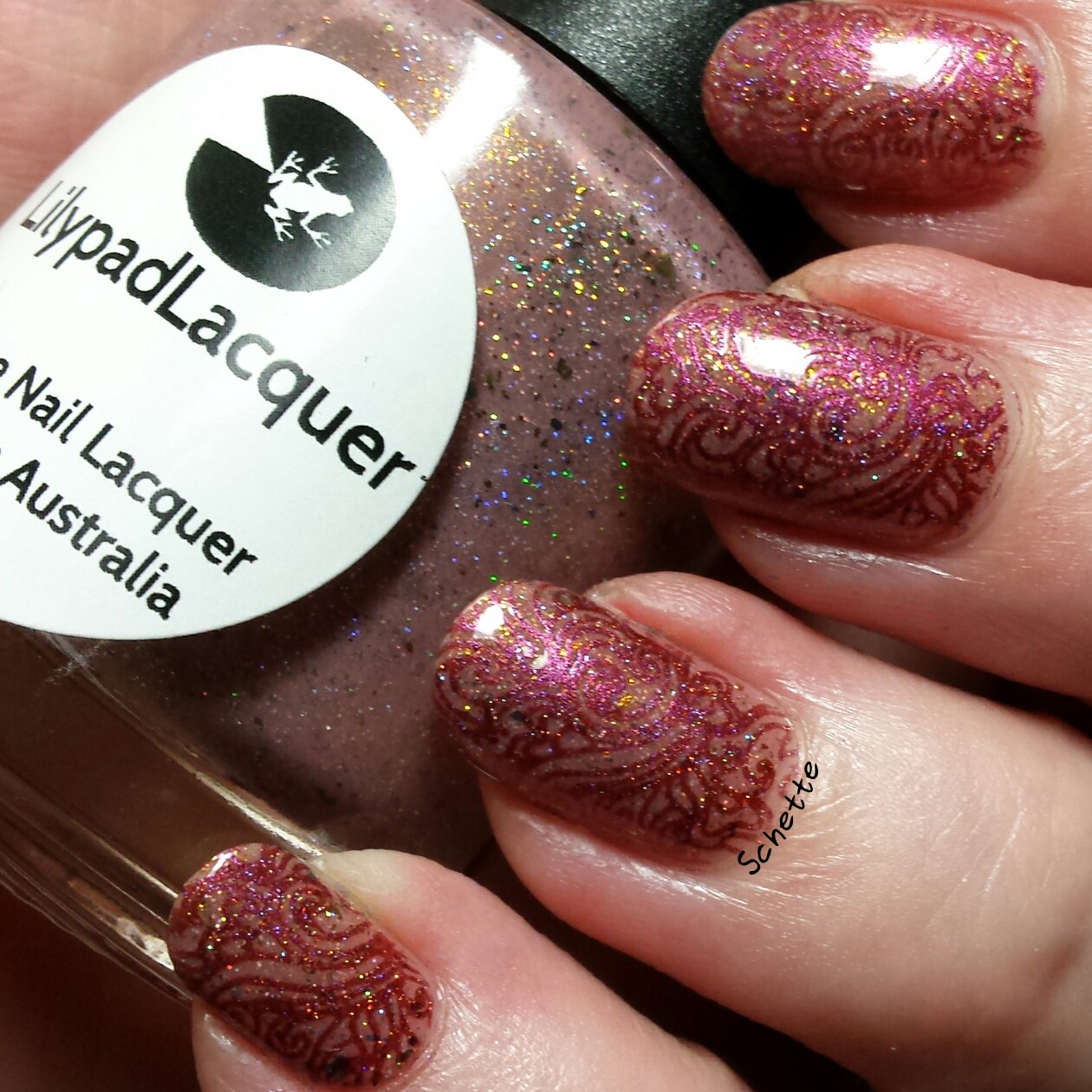 Difficulté du stamping : facile

Pour celui-ci, j'ai juste posé sur une base un stamp fait avec le Lilypad Bite me. Le stamping est trop proche de la couleur de base, mais cela permet tout de même de voir les shimmer dorées. Un loupé :)
Level of stamping : easy

For this one, I just stamp over a base a stamp with Lilypad Bite me. The stamping is too close to the base color, but it allows to see golden shimmer. A fail :)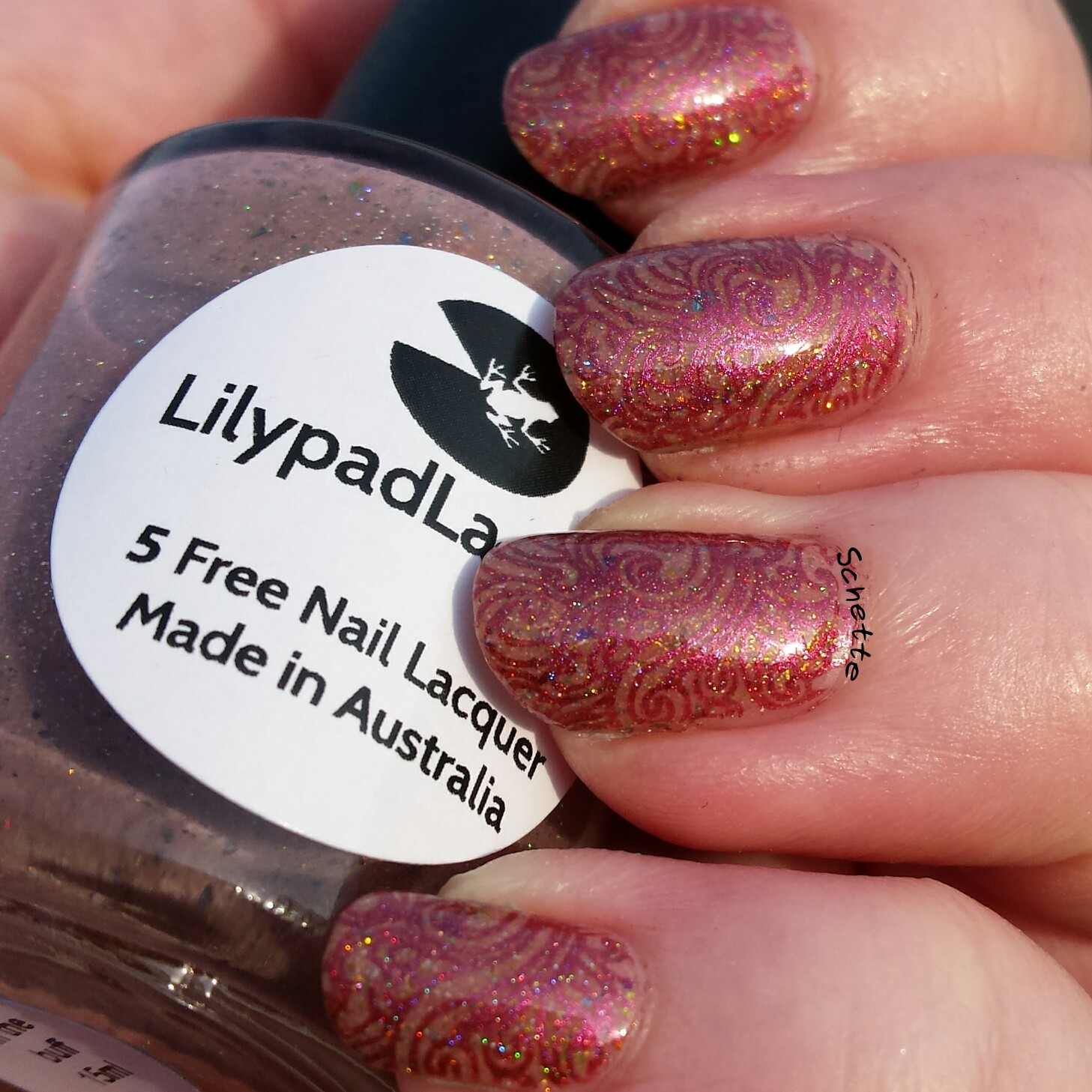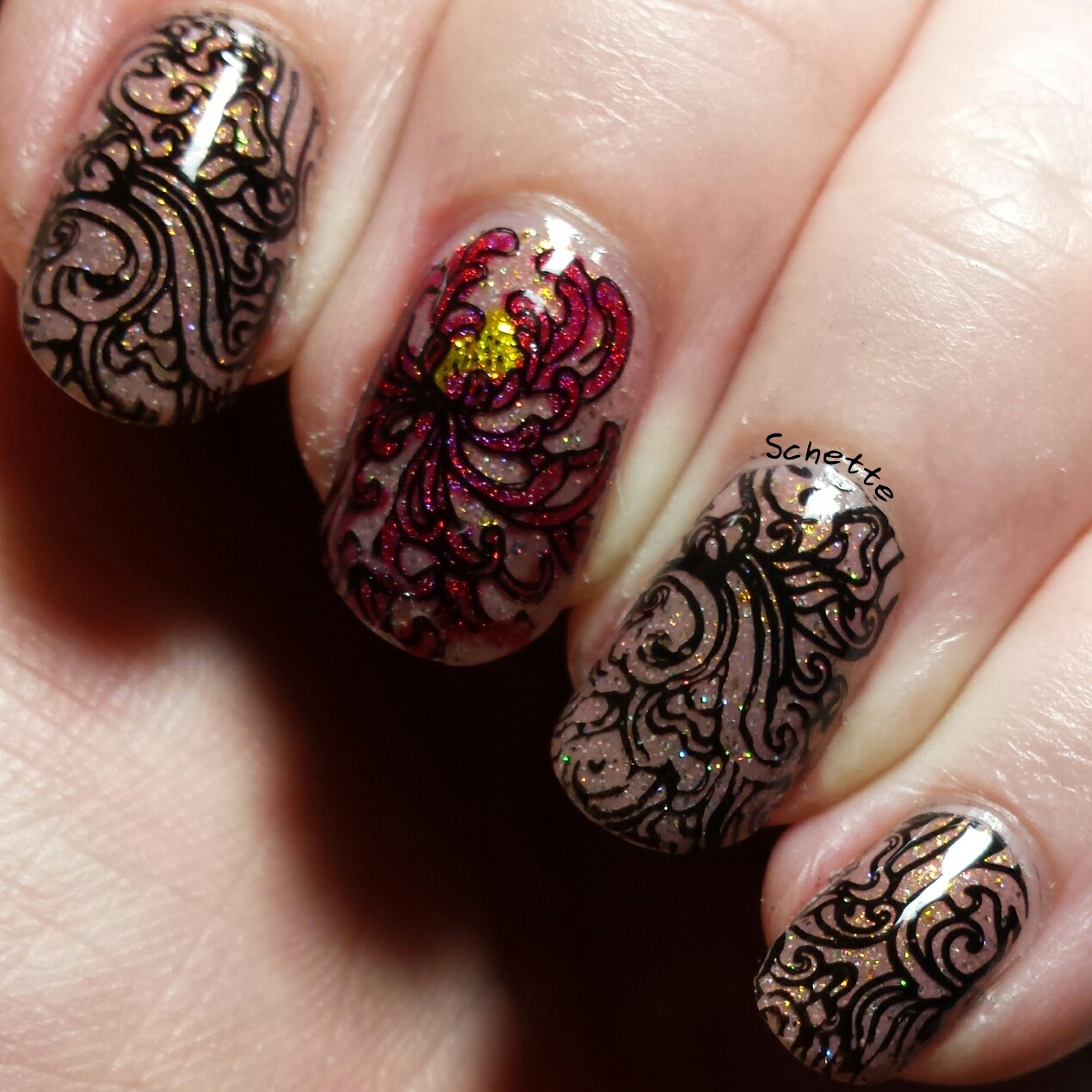 Difficulté du stamping : moyen

Ici, j'ai utilisé la base du précédent loupé, et le même motif, mais en noir cette fois pour trancher. Et j'ai fait un accent nail en reverse stamping pour le rendre un peu plus gai :)
Level of stamping : medium

Here, I used the same base as the failed one, and the same design, but stamped in black. And I've done an accent nail in revese stamping to make it look prettier :)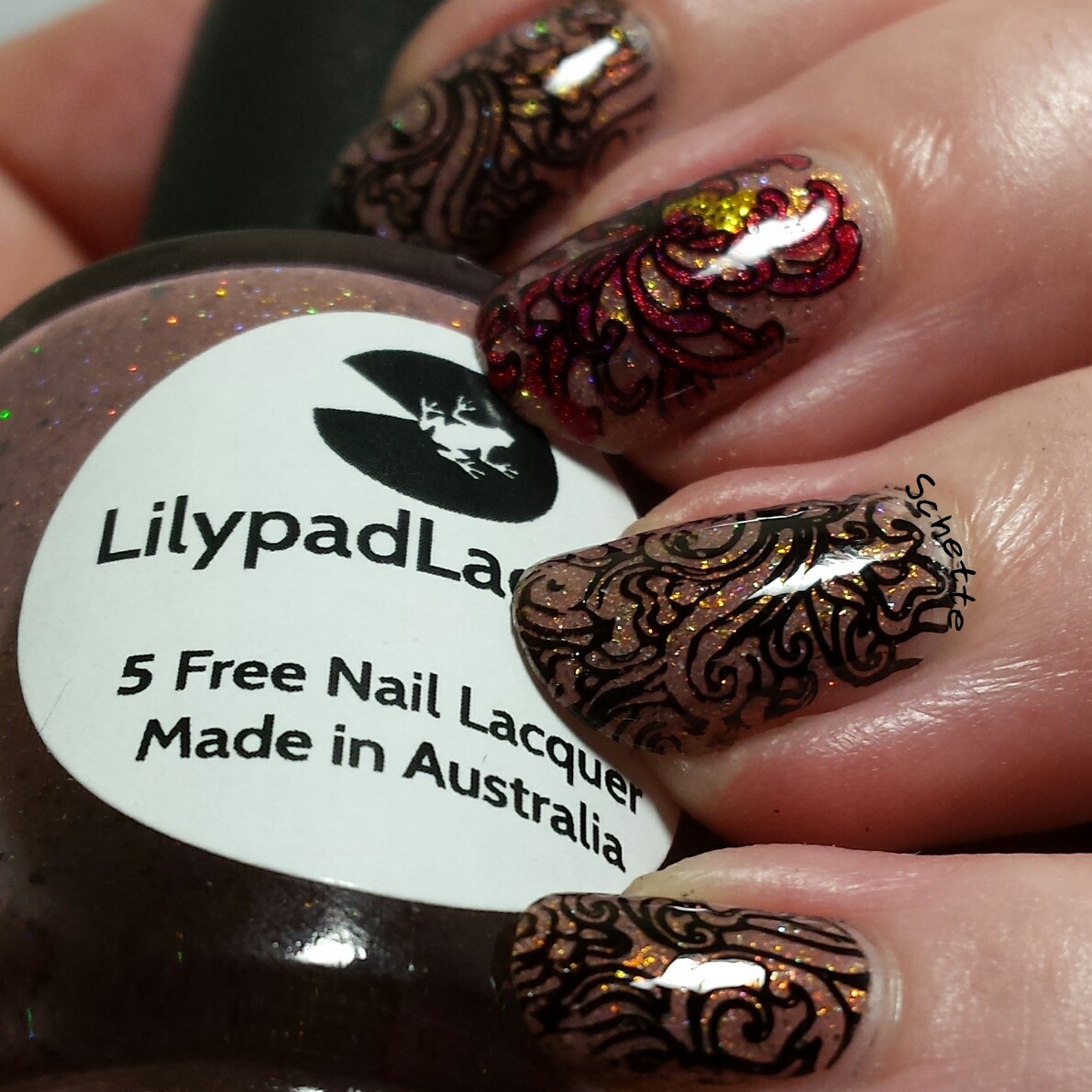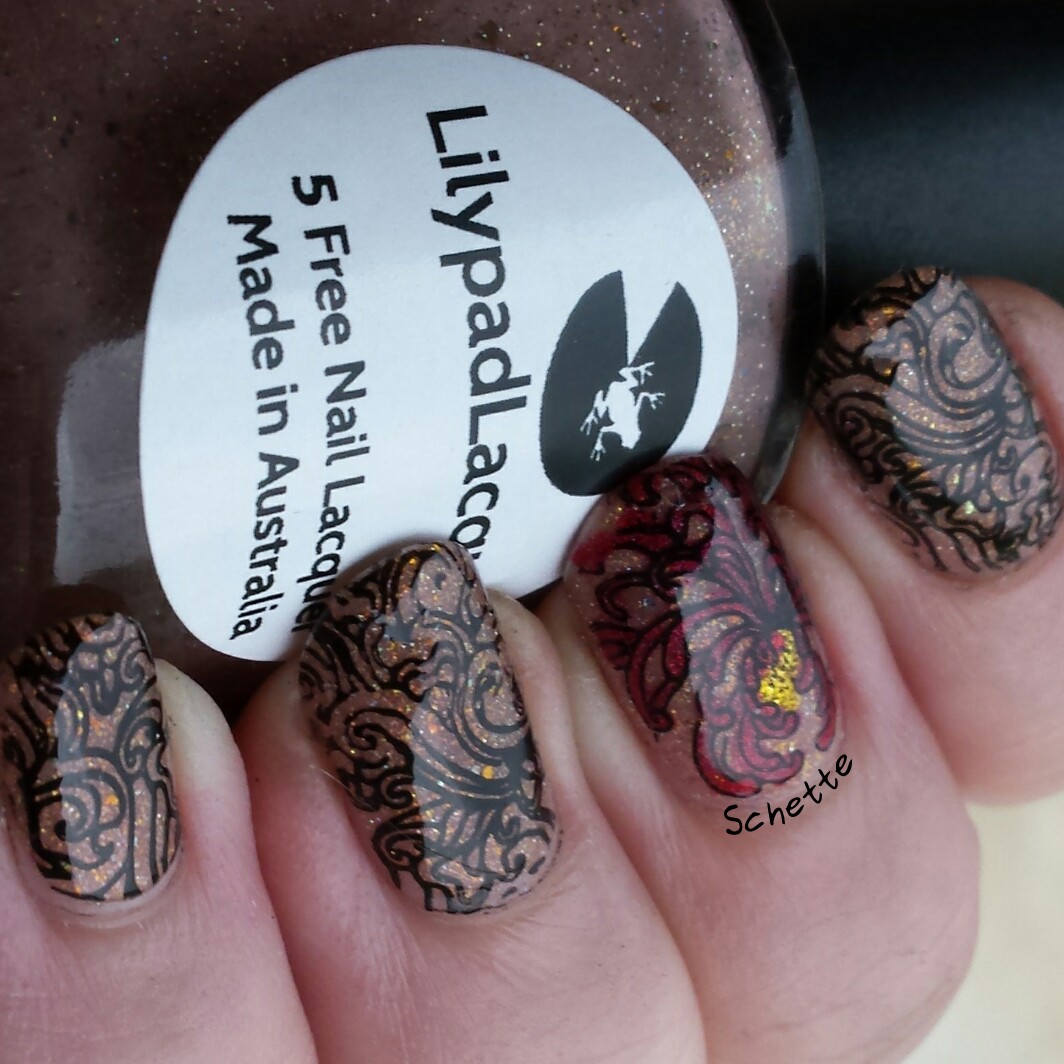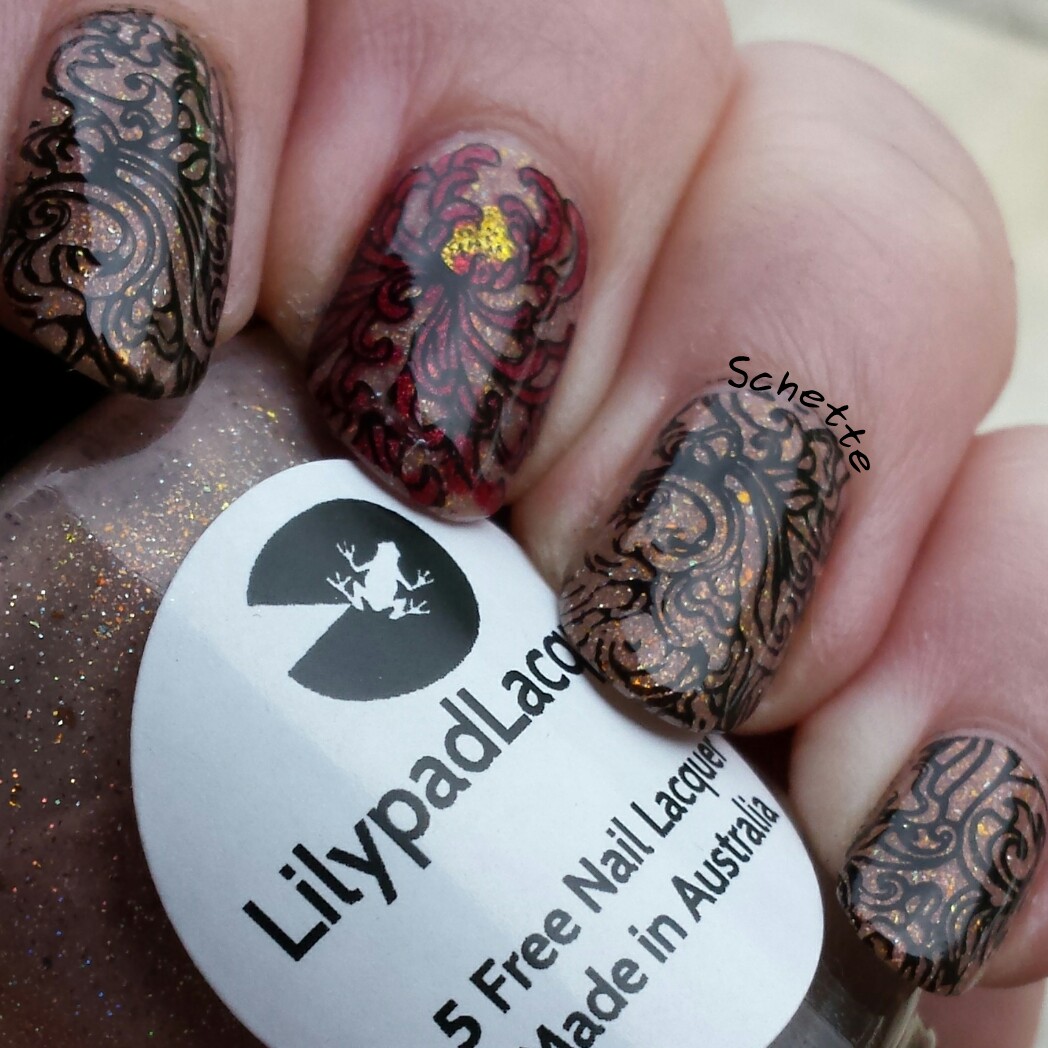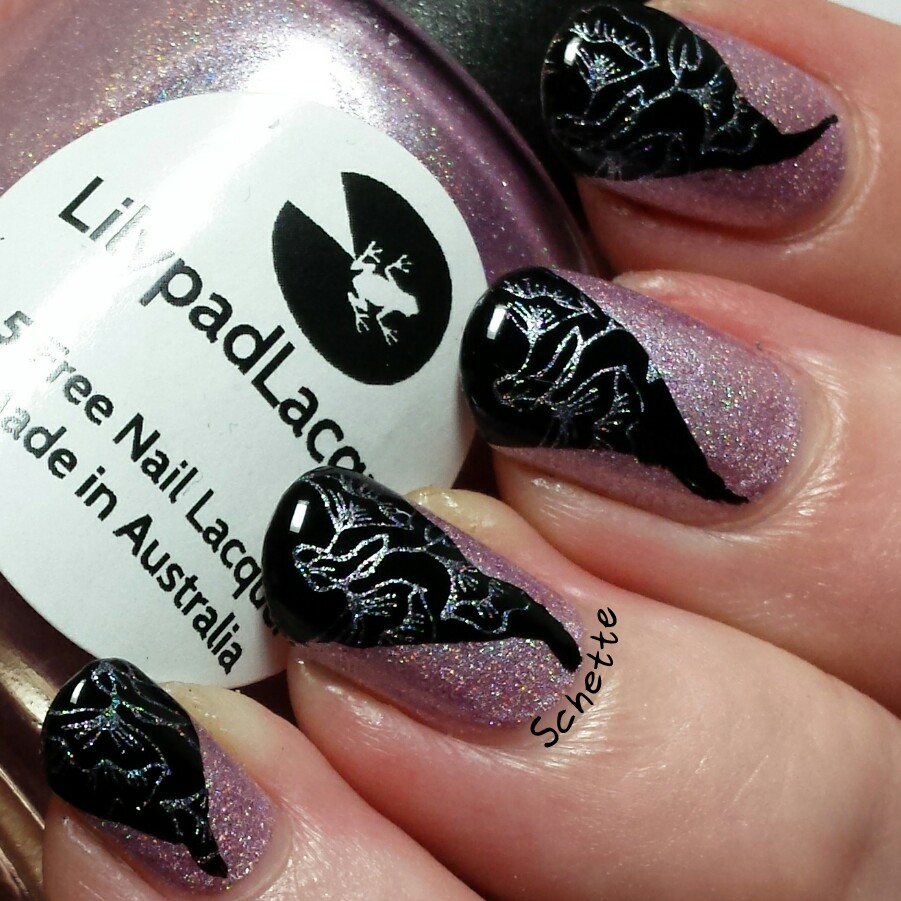 Difficulté : facile

Ici, j'ai posé un vernis rose clair métalique (parce que je sais qu'il va bien se stamper), et j'ai dessiné de façon aléatoire un motif noir. J'ai ensuite stampé la fleur sur le noir. J'aime beaucoup le rendu.
Level of stamping : easy

Here, I applied a light pink metalic (because I know it will stamped well), and I draw randomly a black pattern. Then I stamped the flower over the black. I love the mani !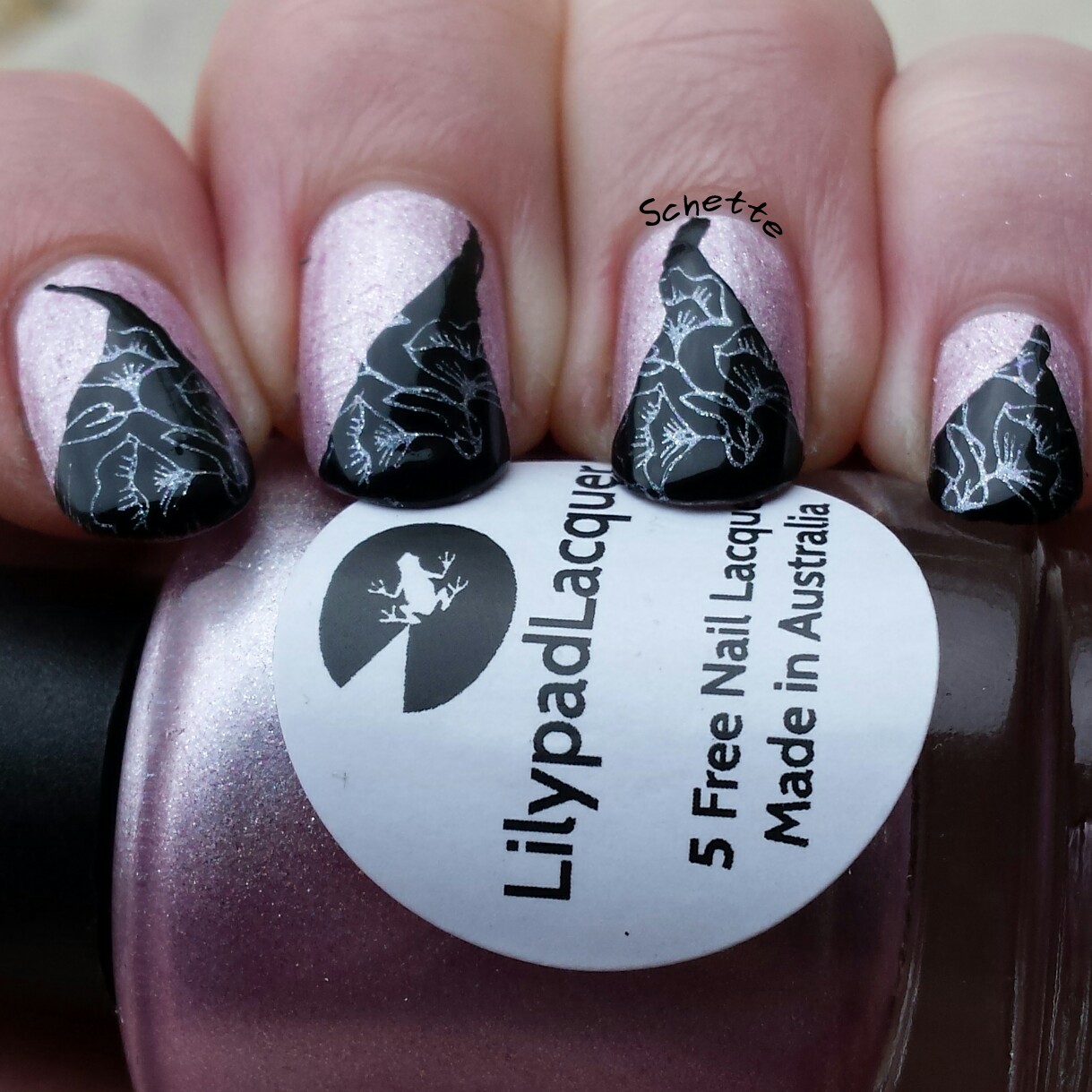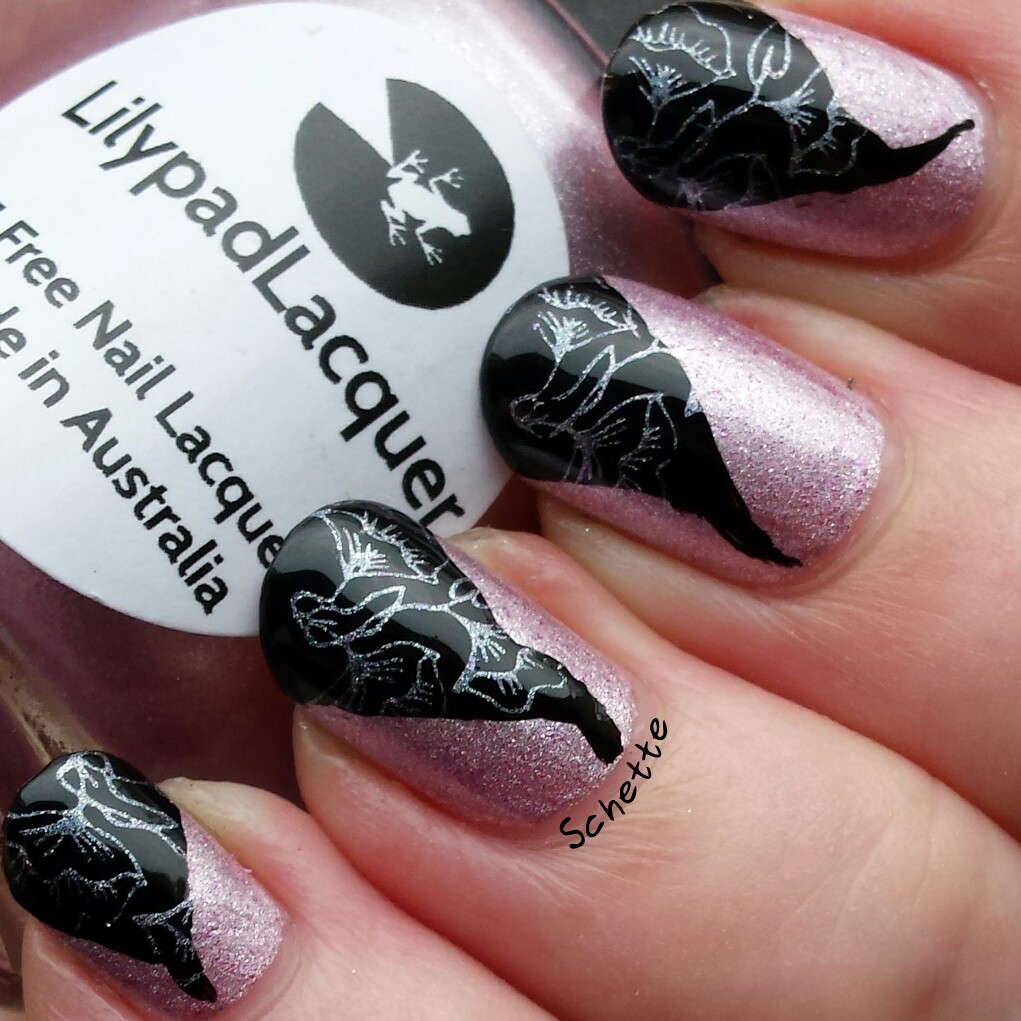 Bilan
Je trouve les plaques Messy Mansion vraiement très facile d'utlisation et surtout très bien gravées. Le motif se transfert toujours parfaitement et le niveau de détail est vraiment impressionnant. Je trouve la plaque à la fois diversifiée et cohérente pour créer une manucure avec cette seule plaque. Une vraie réussite :)

Quel est votre motif préféré ?
I find that Messy Mansion plates are really easy to use and really deep engraved. The motif goes perfectly on the stamper and the level of details is impressive. I find the plate diversified and coherent to create a mani with this singe plate. A true success :)

What is your favorite design ?
Schette, le 25 avril 2015
Vous pourriez aussi aimer / You can also like :