My Favourite Things May 2016
PRESS SAMPLE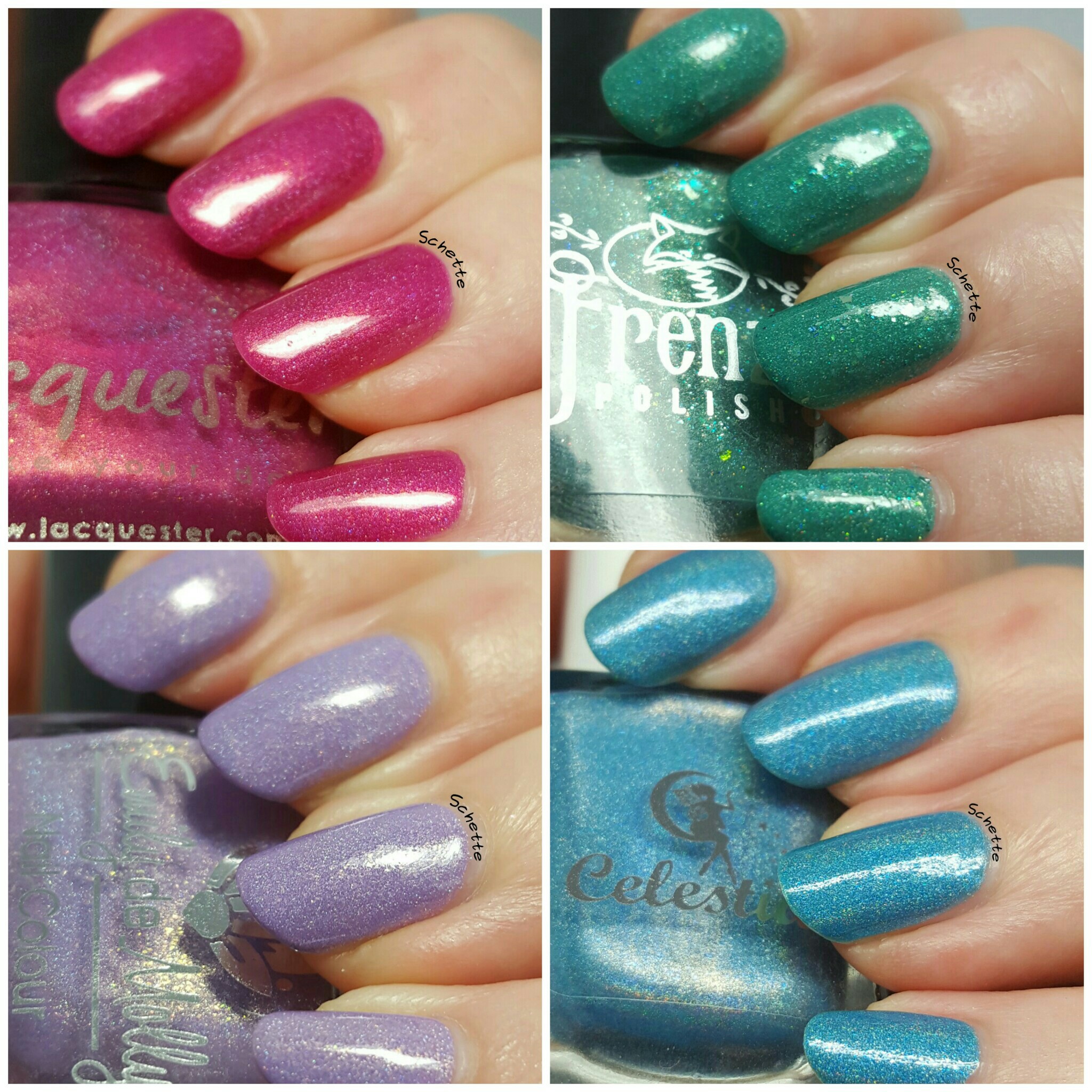 Pour l'édition de mai, le thème de la My Favourite things était Alice Nightmare in Wonderland, et les marques présentes : Emily de Molly, Celestial, Lacquester et Frenzy Polish. La box sort aujourd'hui à 16h en France. Voyons de plus près les vernis !
For the May Edition, the theme of My Favourite was Alice Nightmare in Wonderland, and the brand were Emily de Molly, Celestial, Lacquester and Frenzy Polish. The box is realeasing today at 11pm SGT. Lets have a closer look at the polish !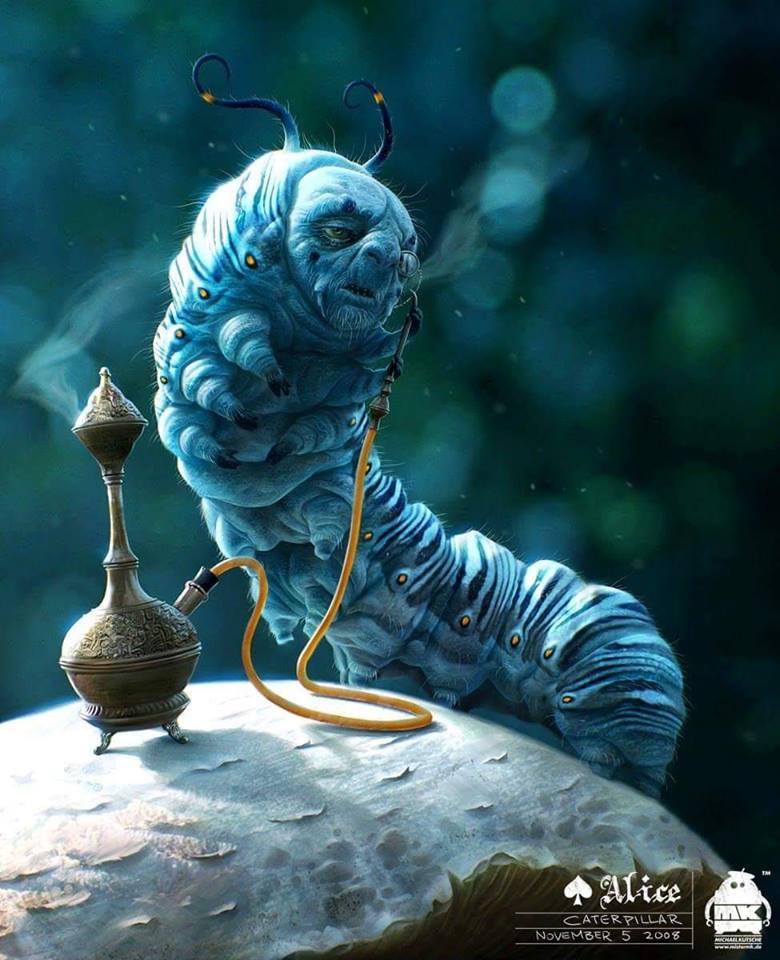 Celestial - Exaketededly
Inspiration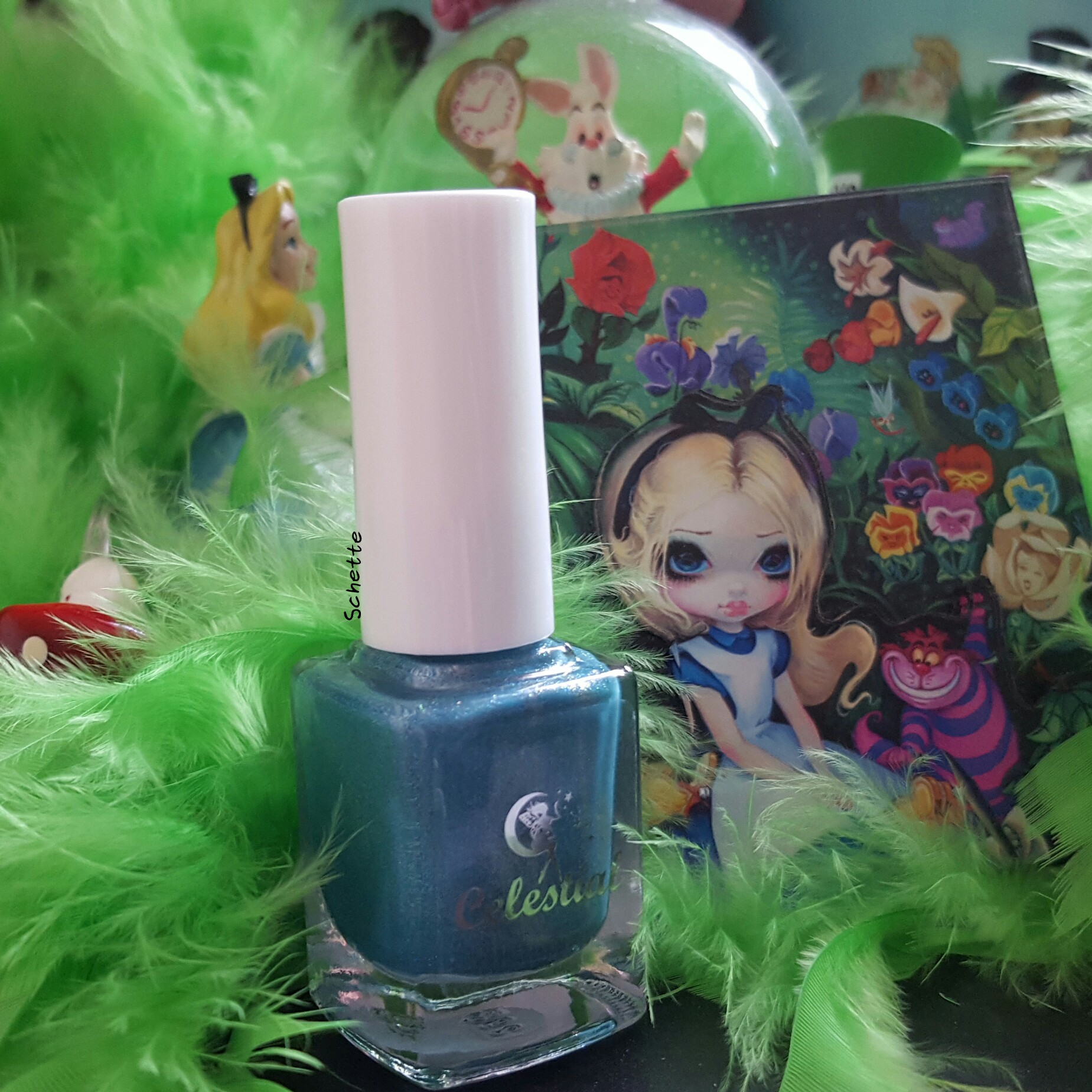 Ce joli bleu cleil holo à micro flakes bleues foncé un régal pour les yeux. Appliqué en deux couches avec top coat. L'application était super facile et le séchage rapide.
This pretty light blue holo with dark blue micro glitter is a delight for the eyes. Applied in two coats with top coat. The application was super easy and the dry super fast.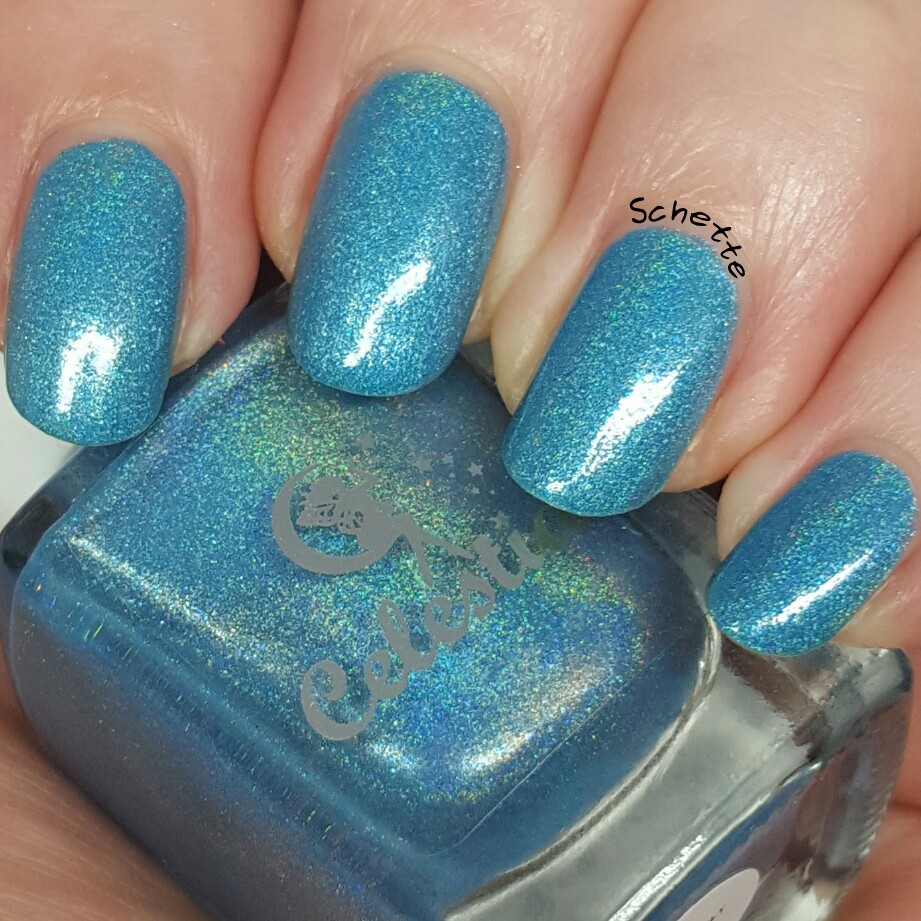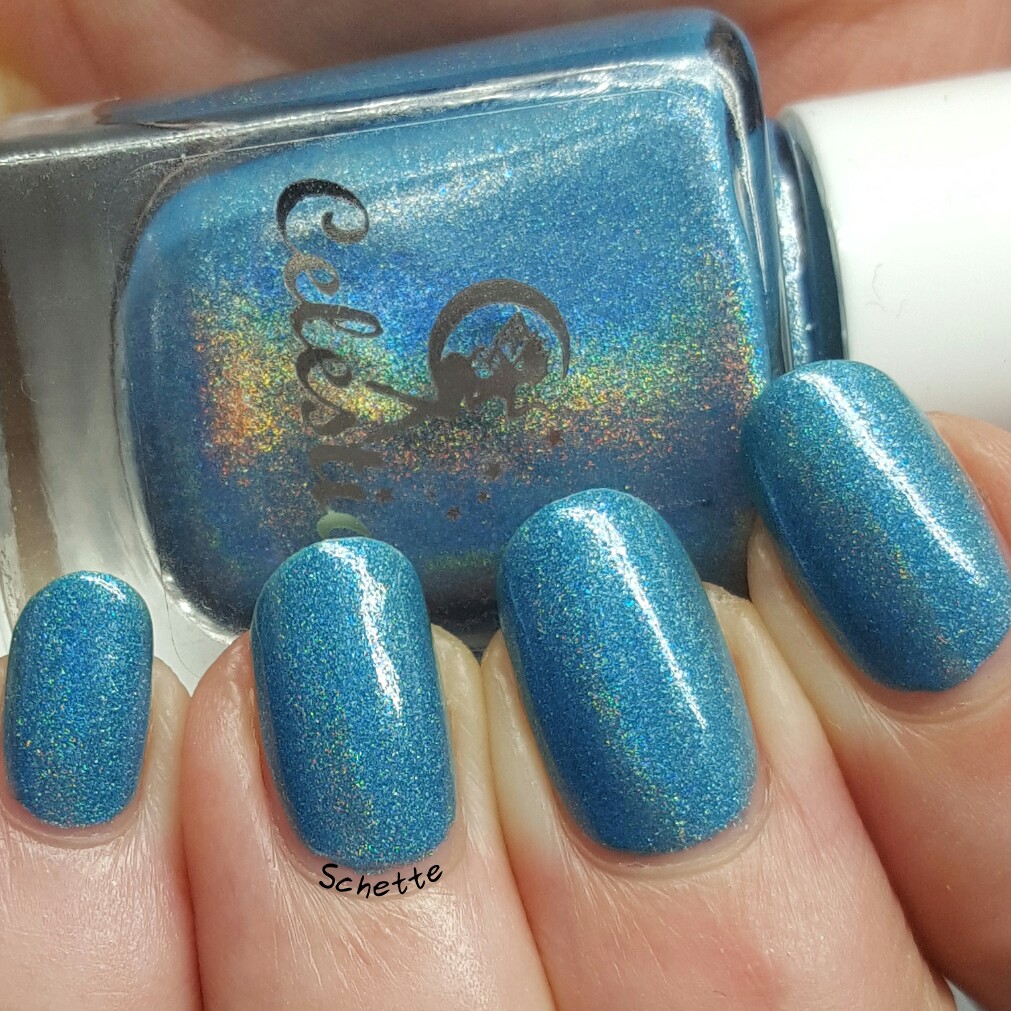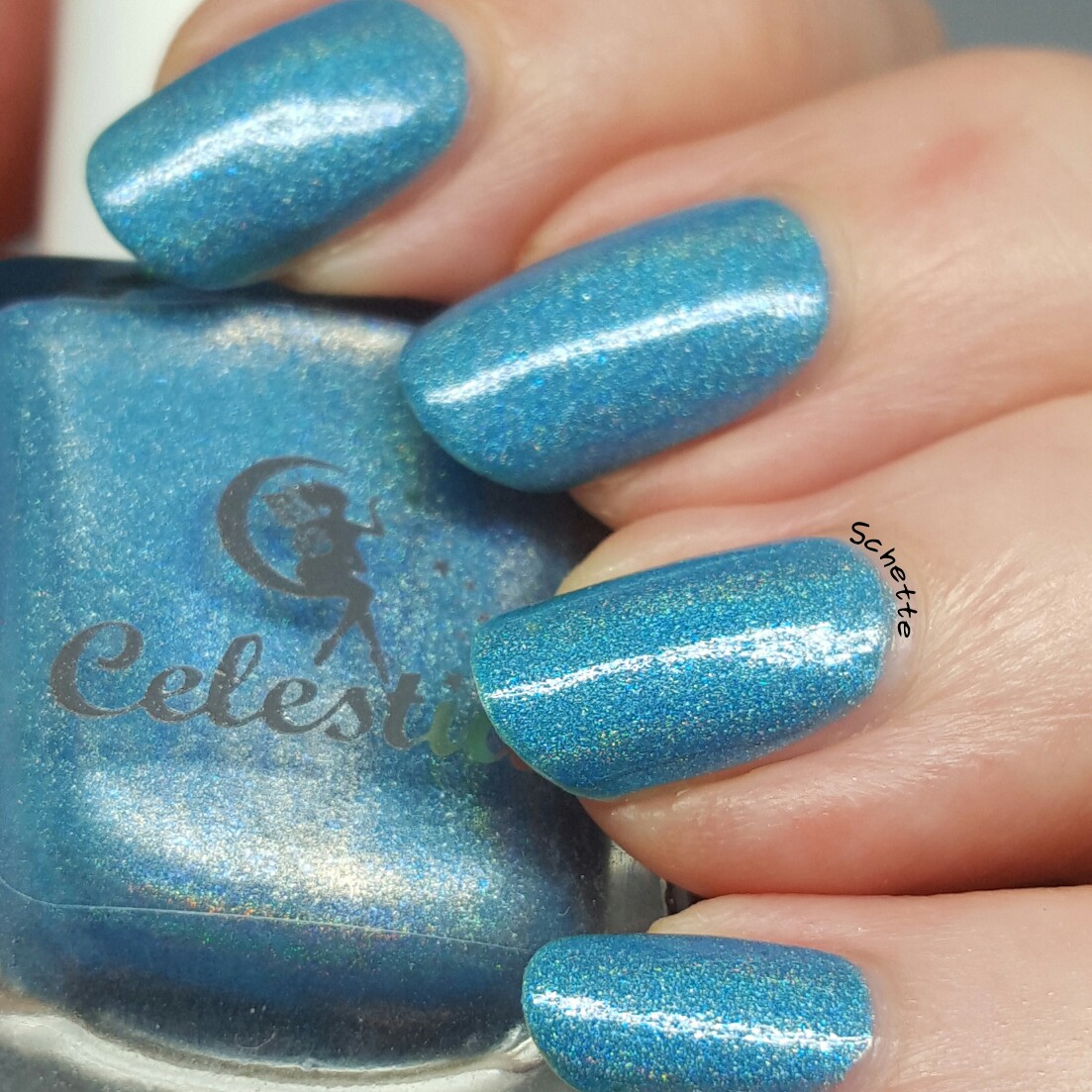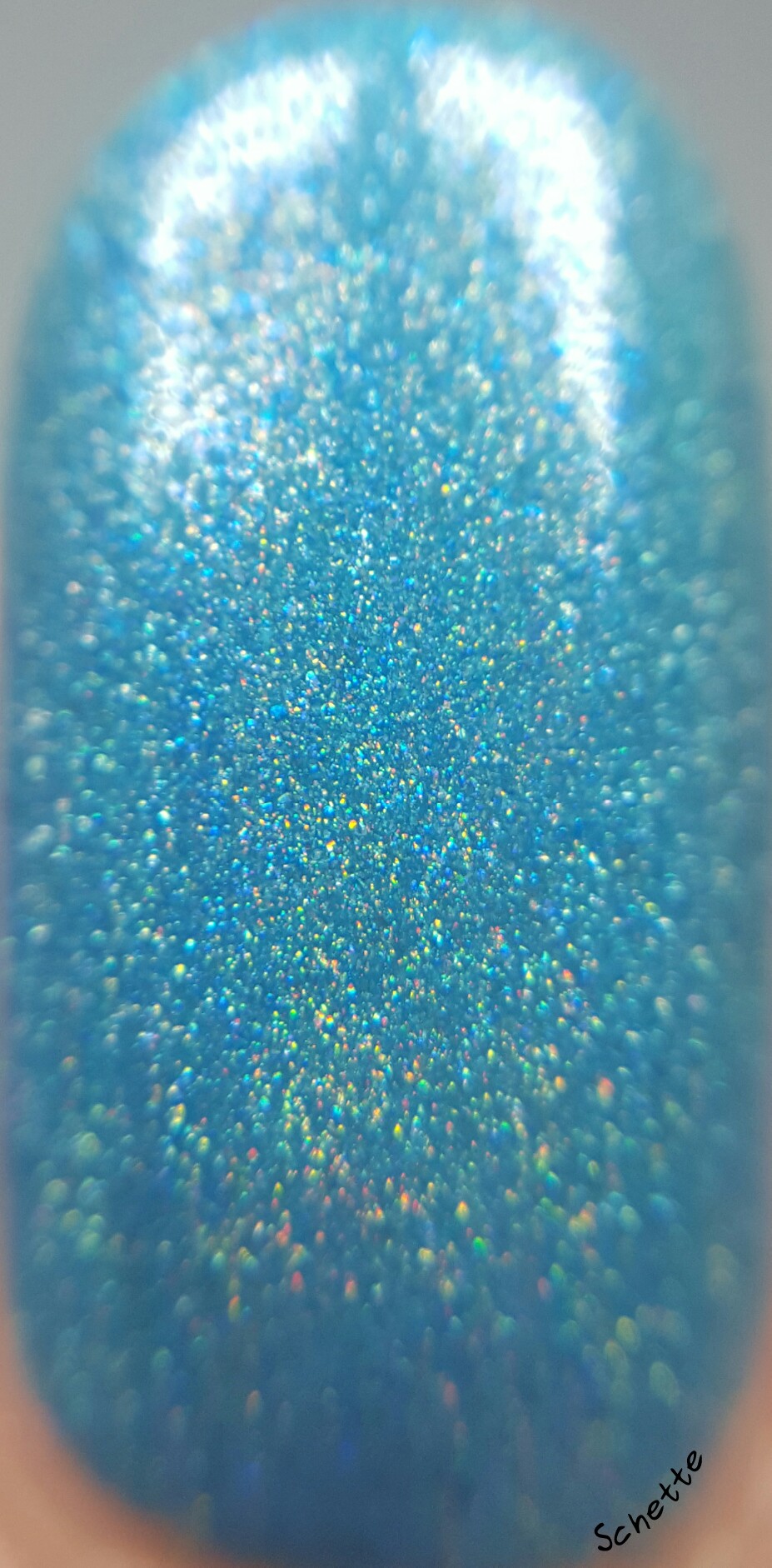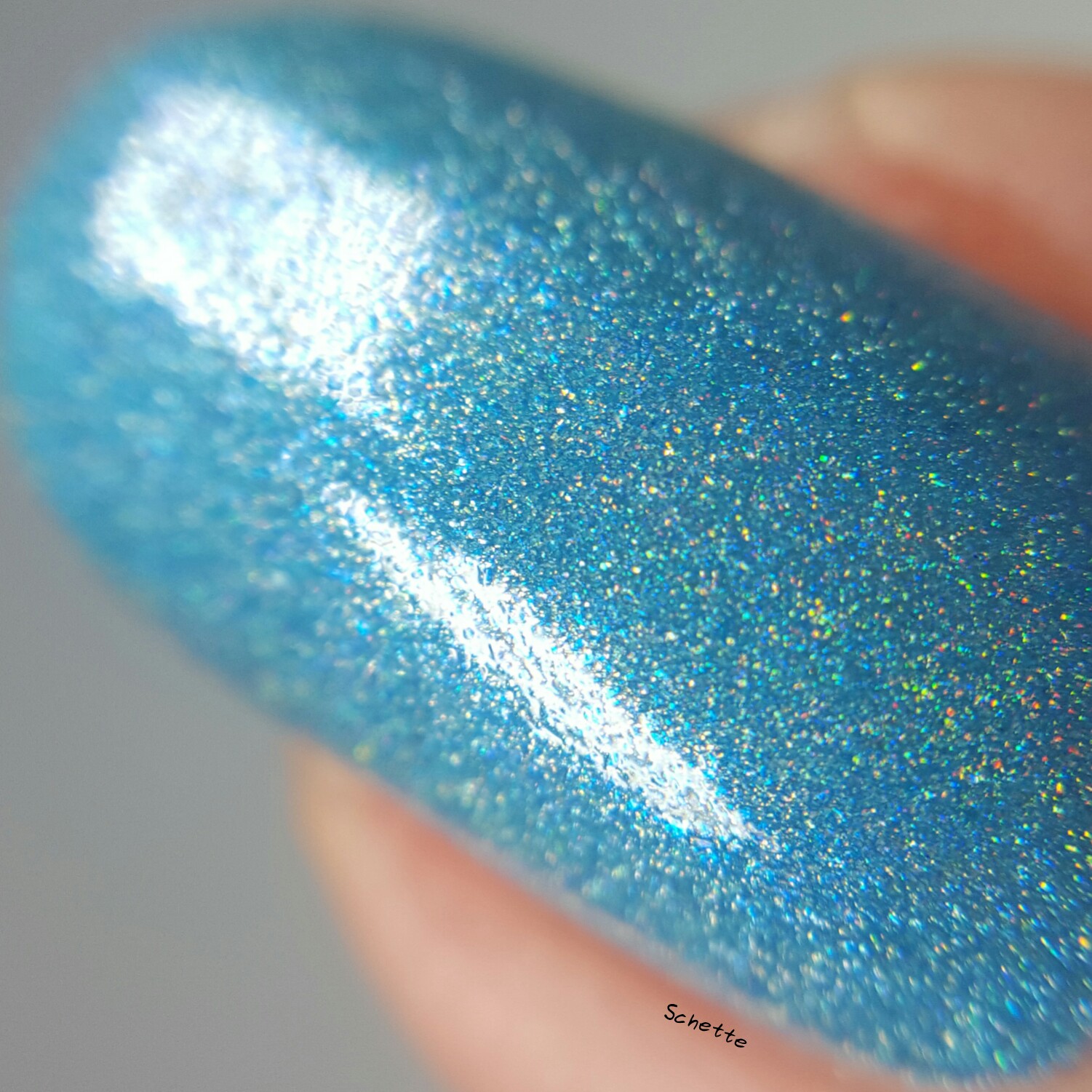 Il est vraiment super lumineux et le voici au soleil !
It's really super luminous and here in sun !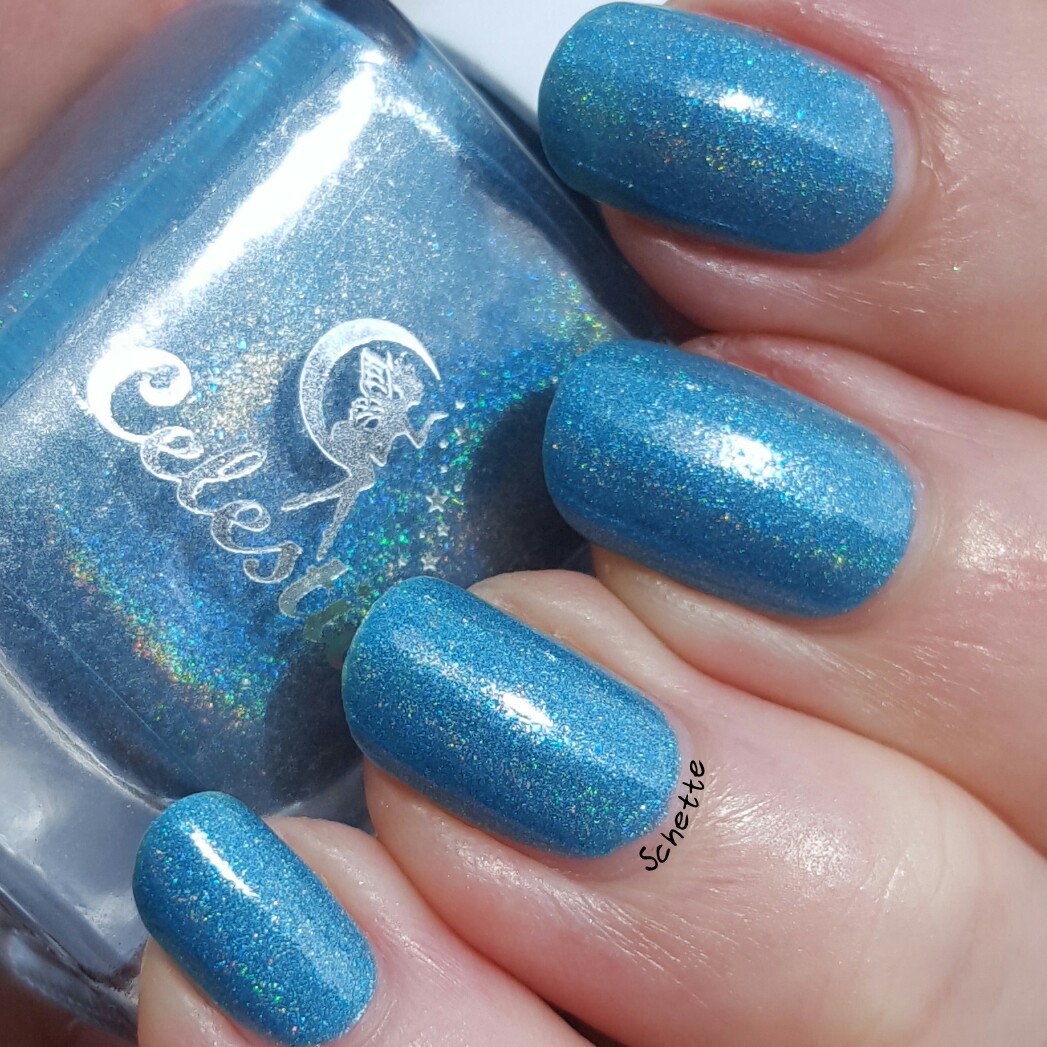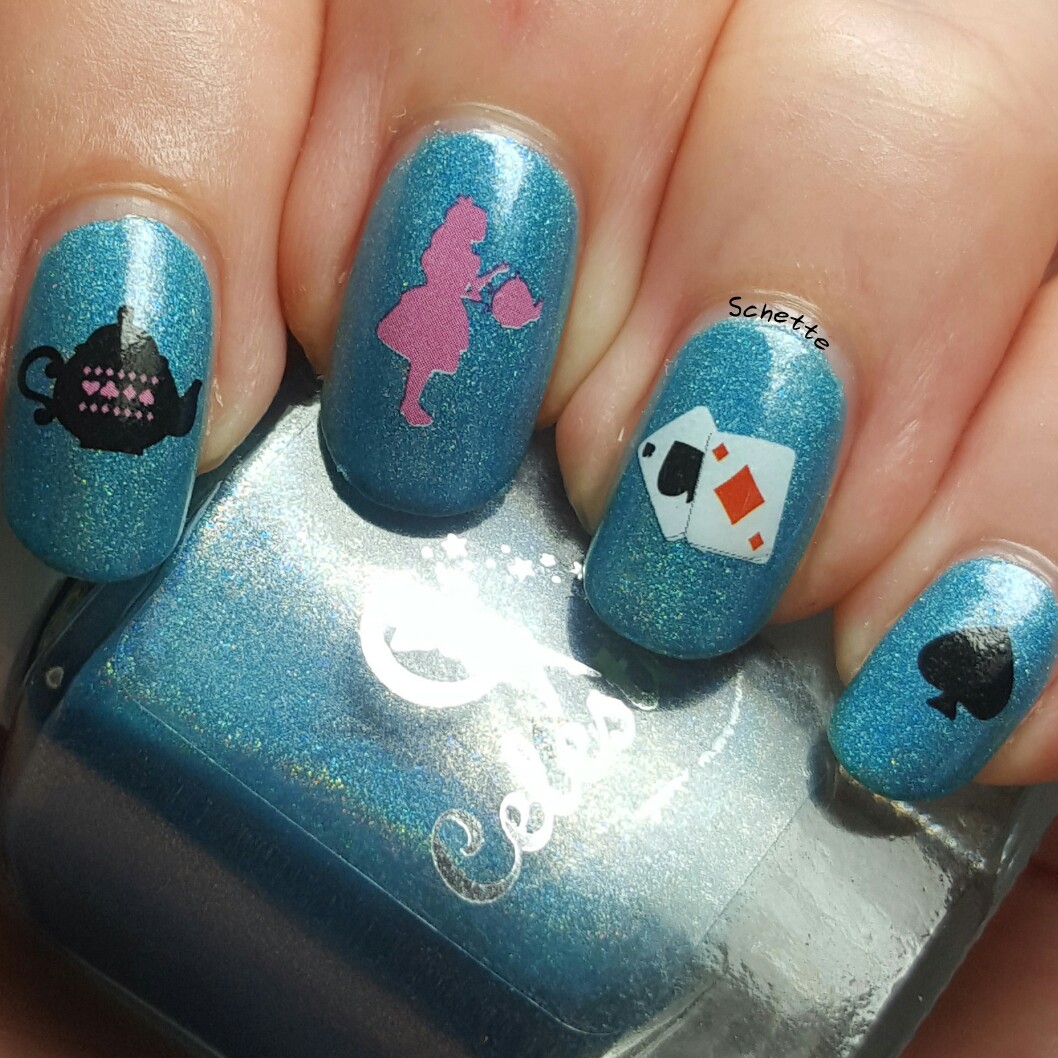 Avec chaque box, vous aurez 3 planches aléatoires de water decalls sur le thème d'Alice. Ici, donc avec le précieux bleu !
With all box, you will received randomly 3 sheets of water decalls over Alice Theme. Here, with the blue precious !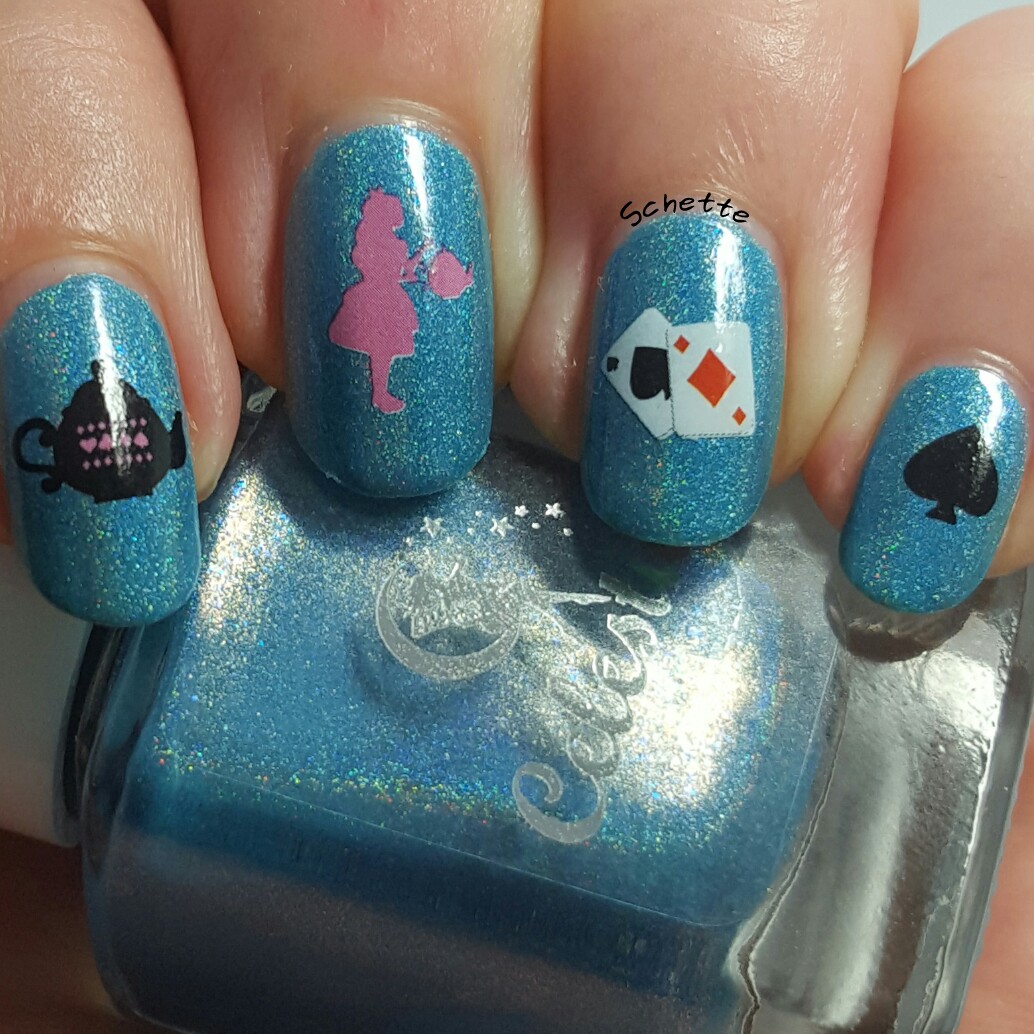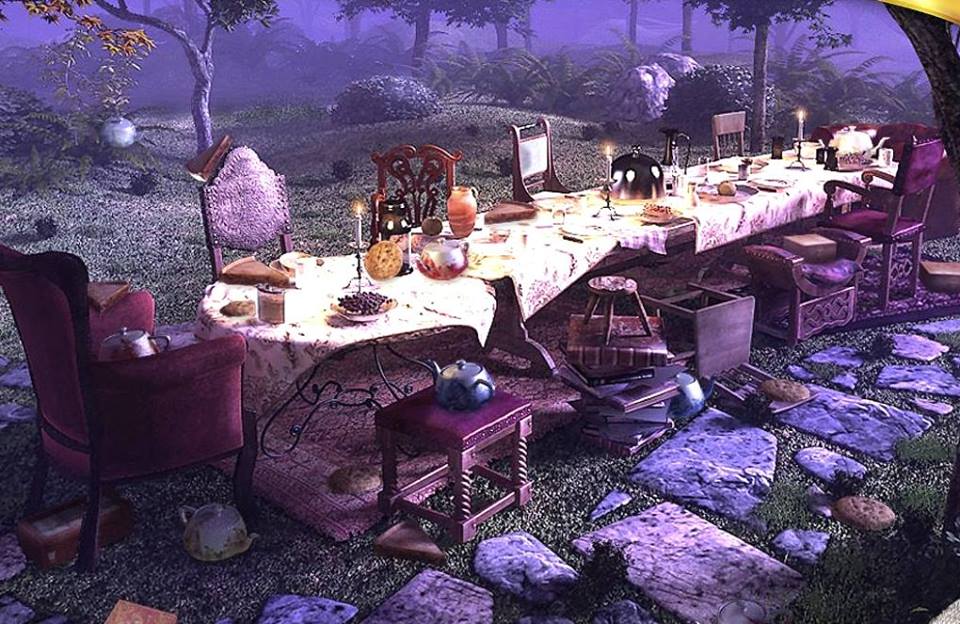 Emily de Molly - Fanciful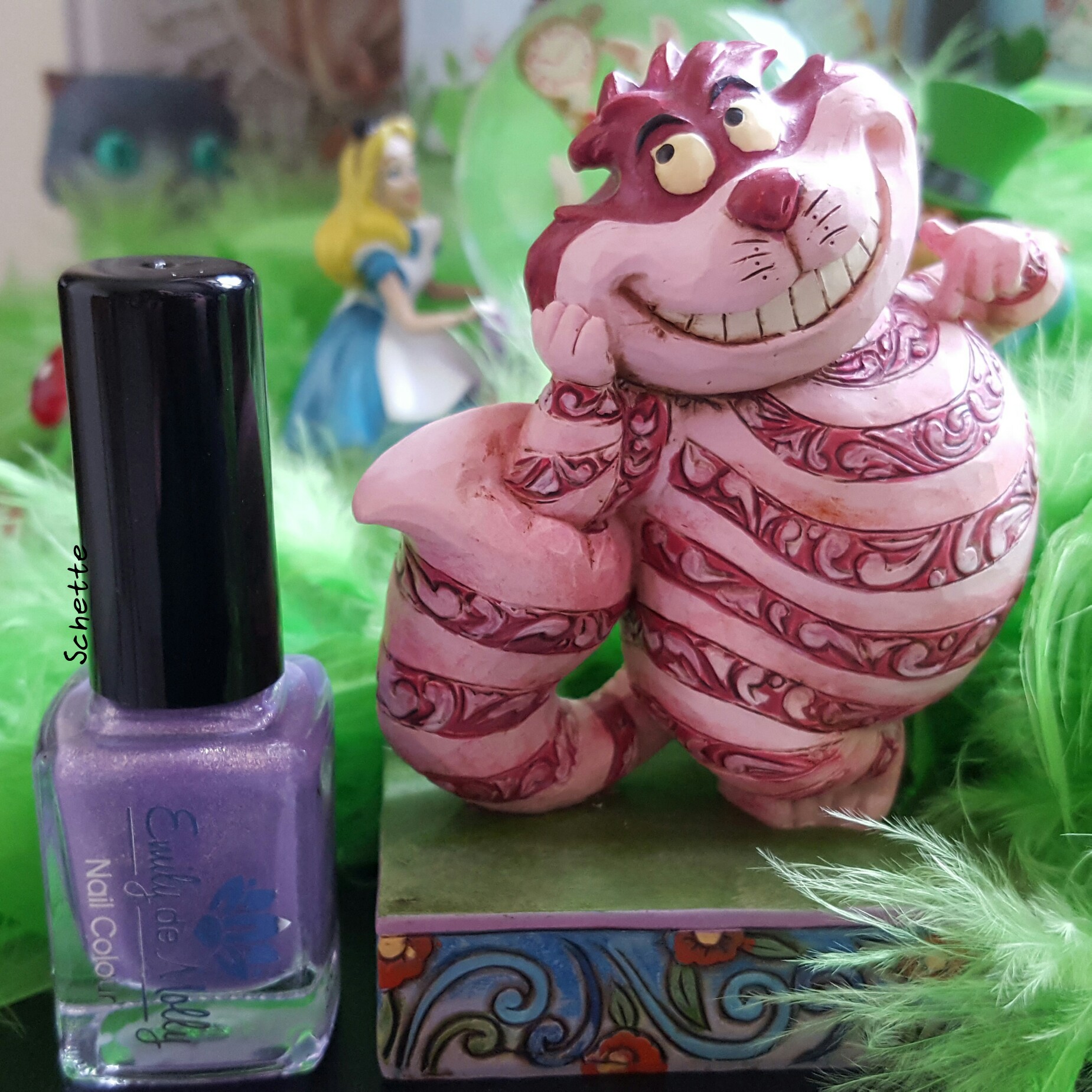 Ce violet clair holo, avec des flakies dorés est juste superbe. Posé également en deux couches avec top coat, comme le précédent, l'application était parfaite.
This light purple holo with golden flakies is just superb. Worn also in two coats with top coat, and like the previous one, the application was perfect.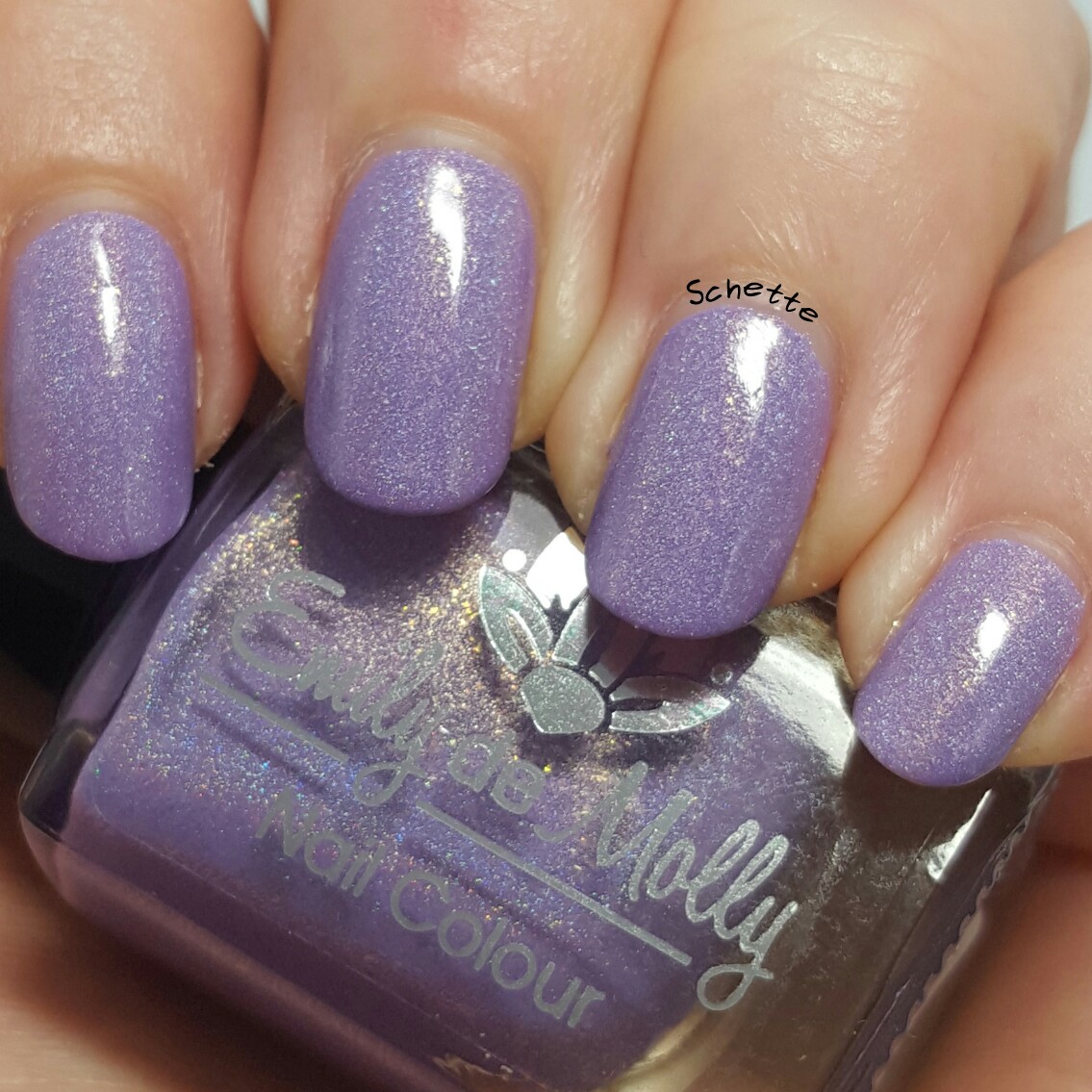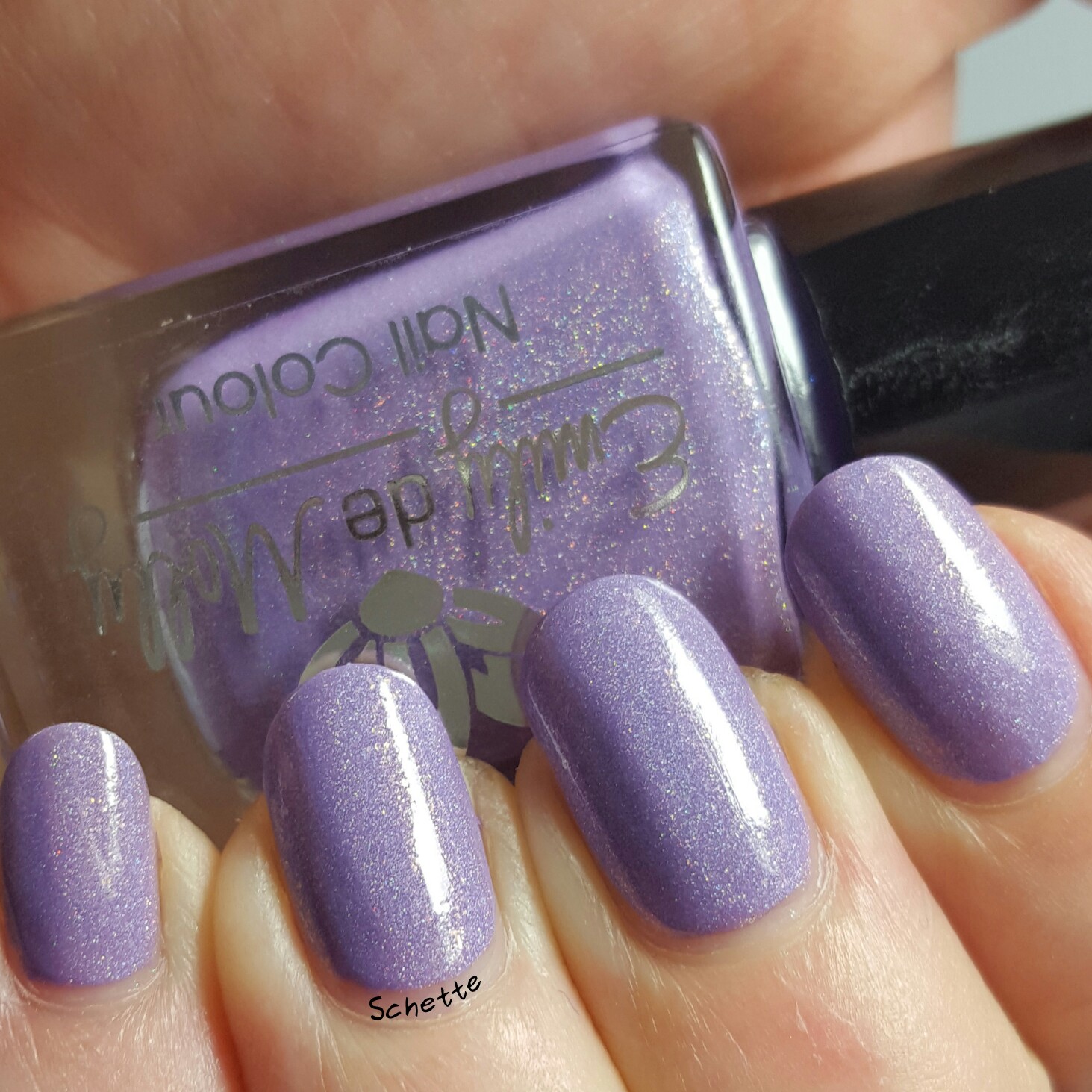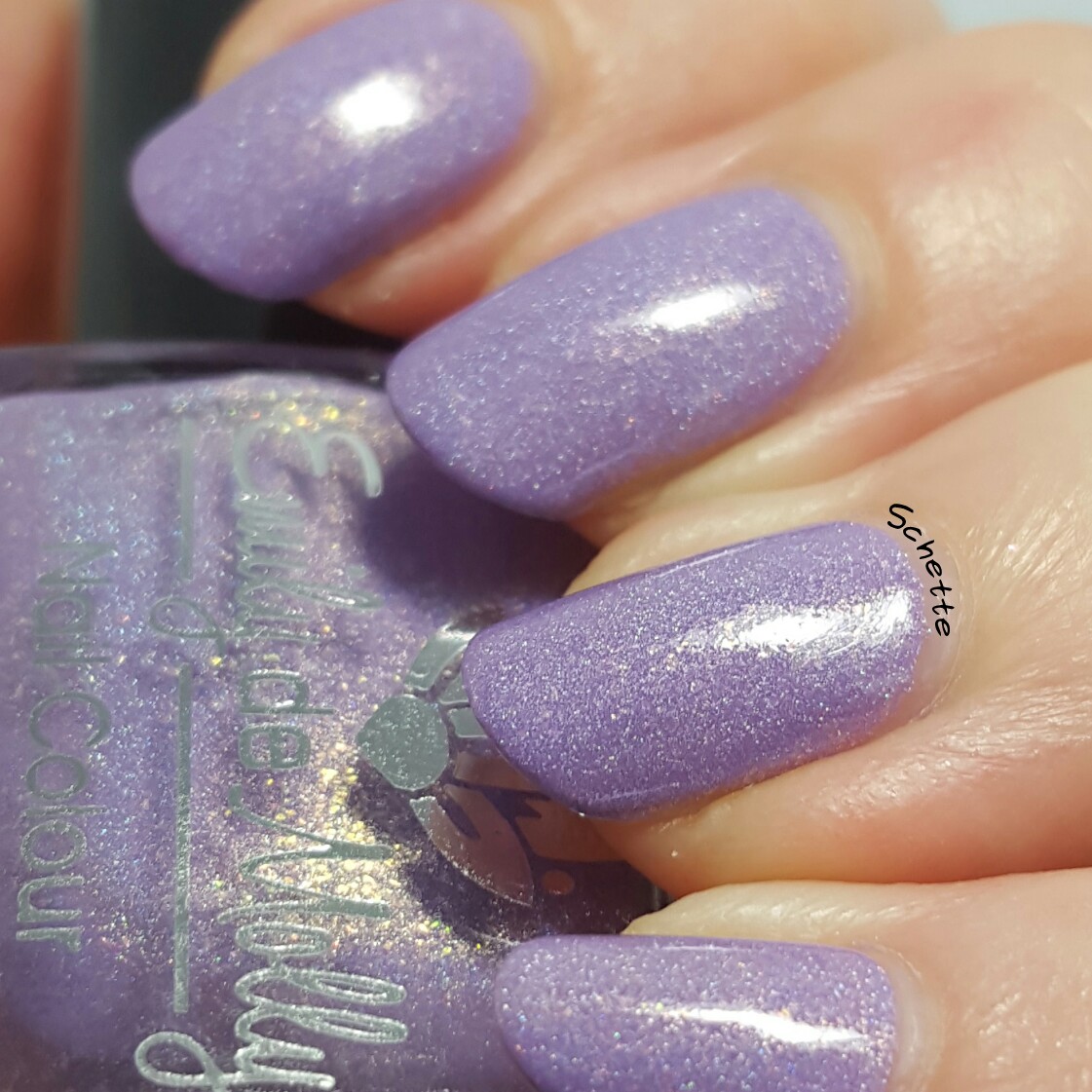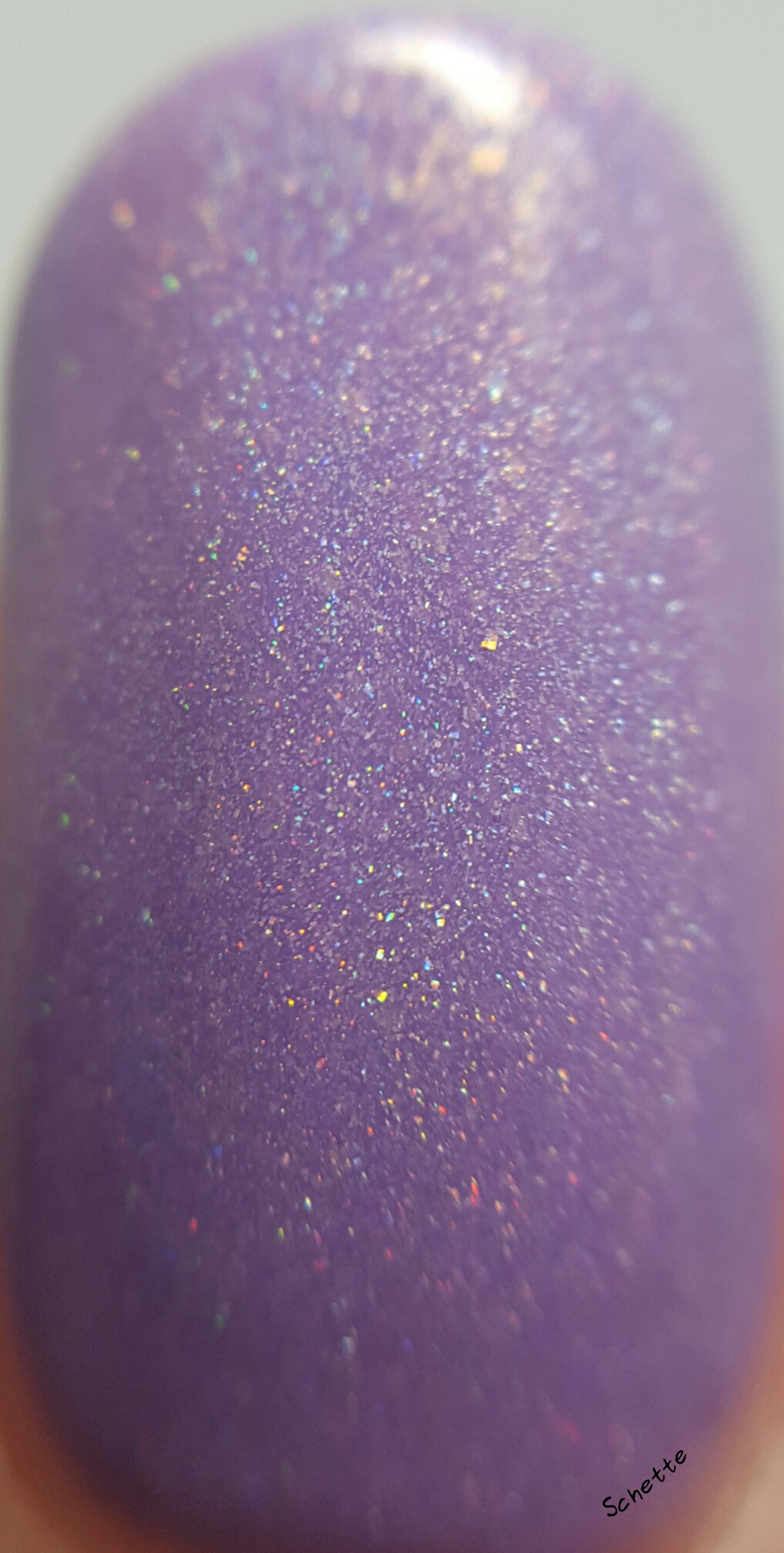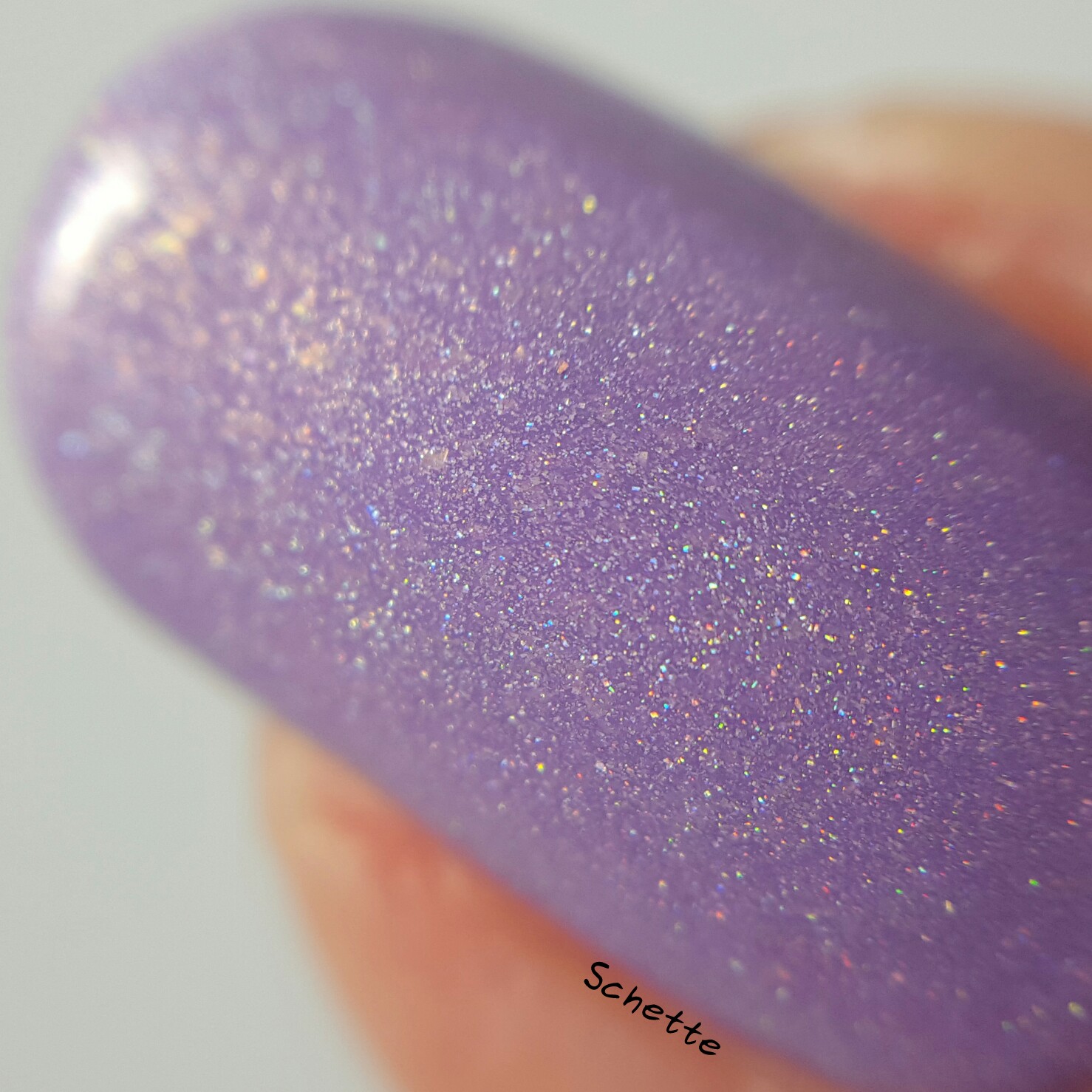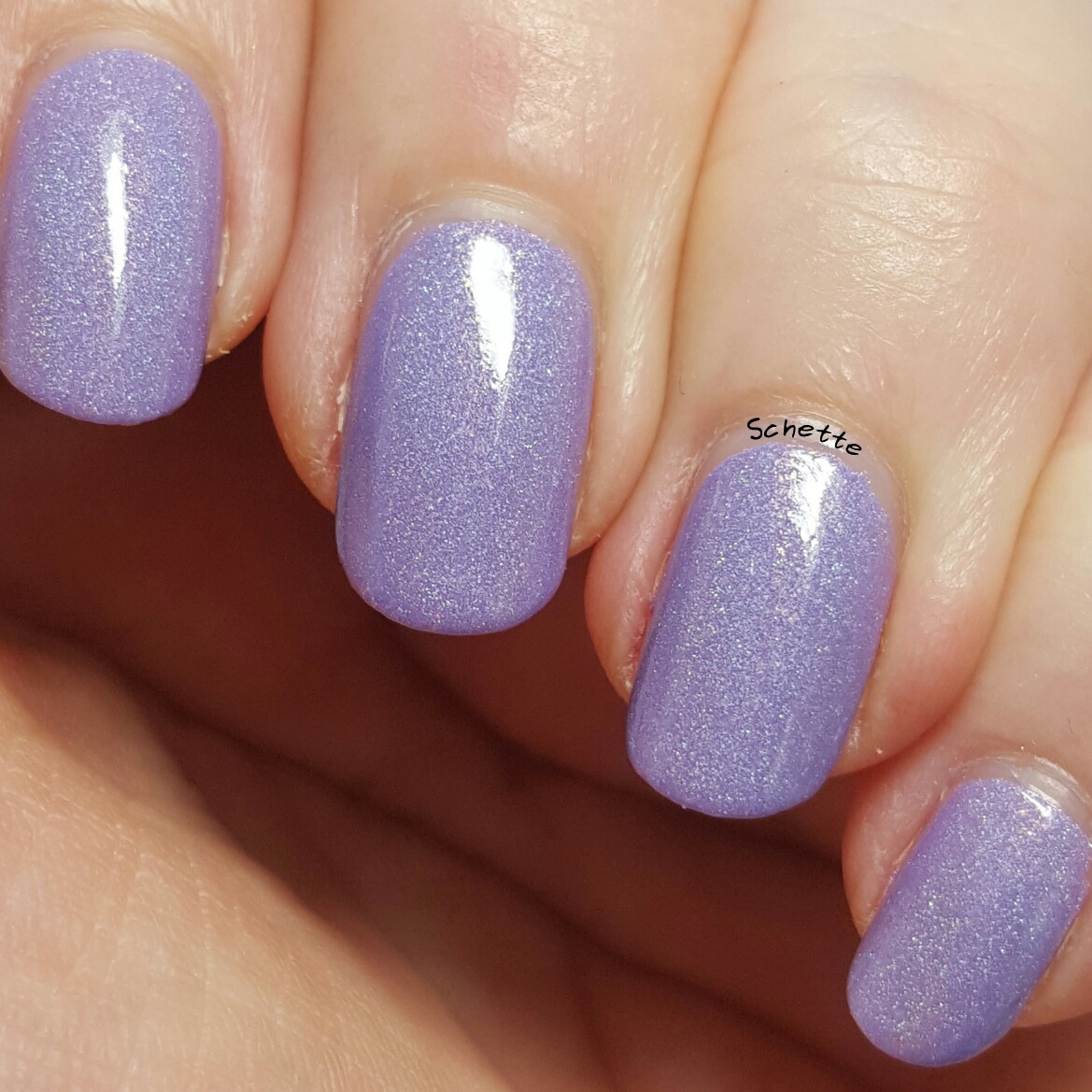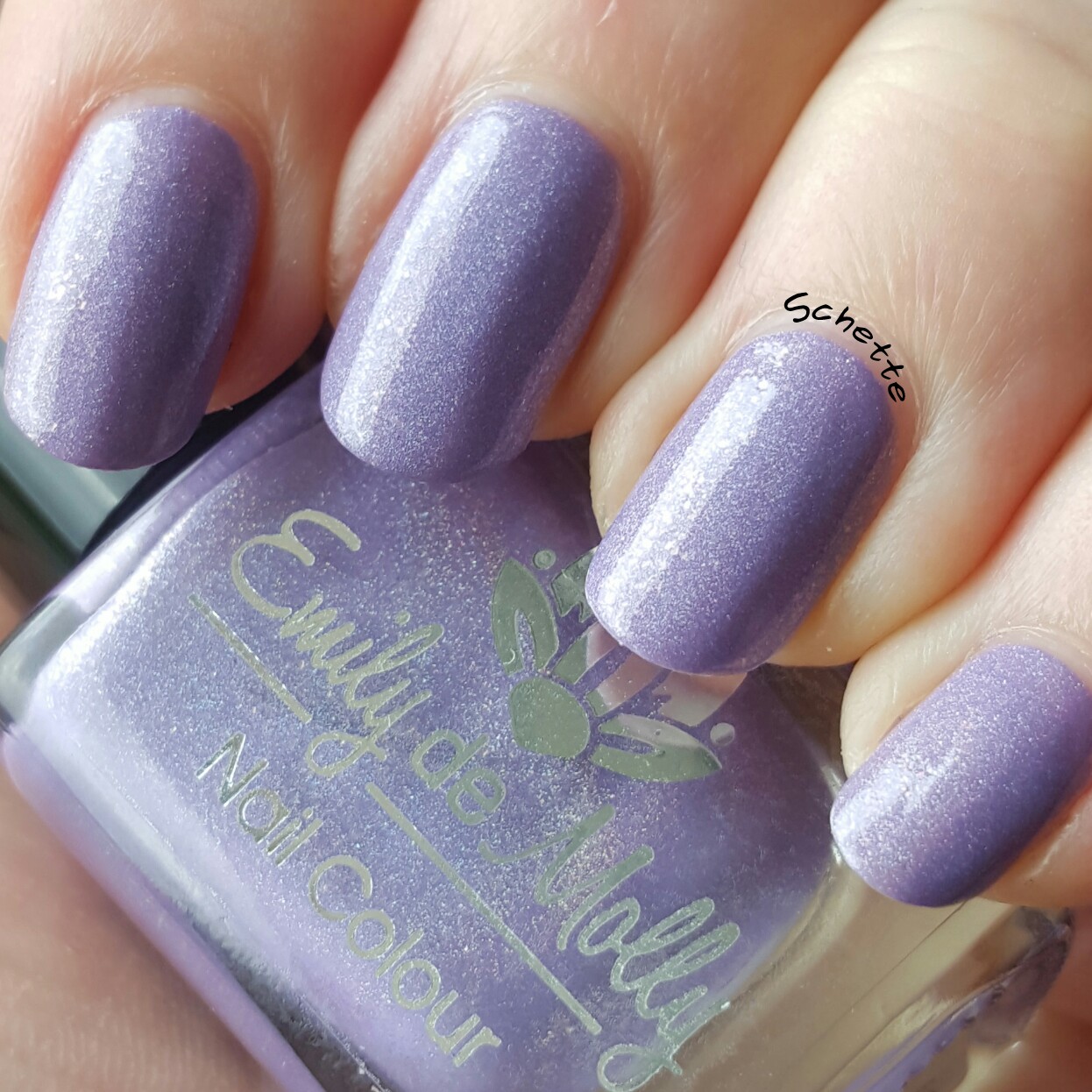 A l'ombre.
In shade.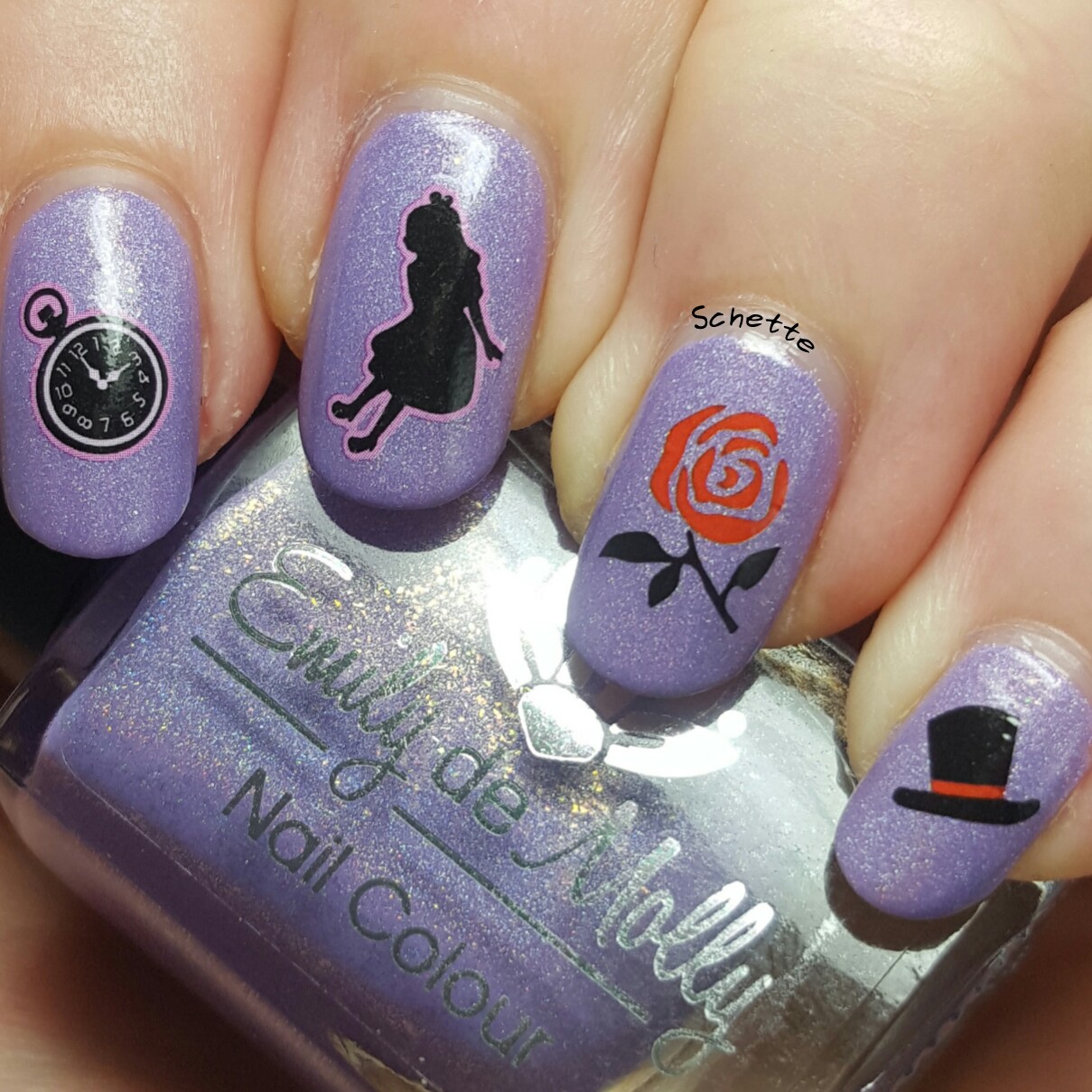 J'adore ce nail art !
I love this nail art !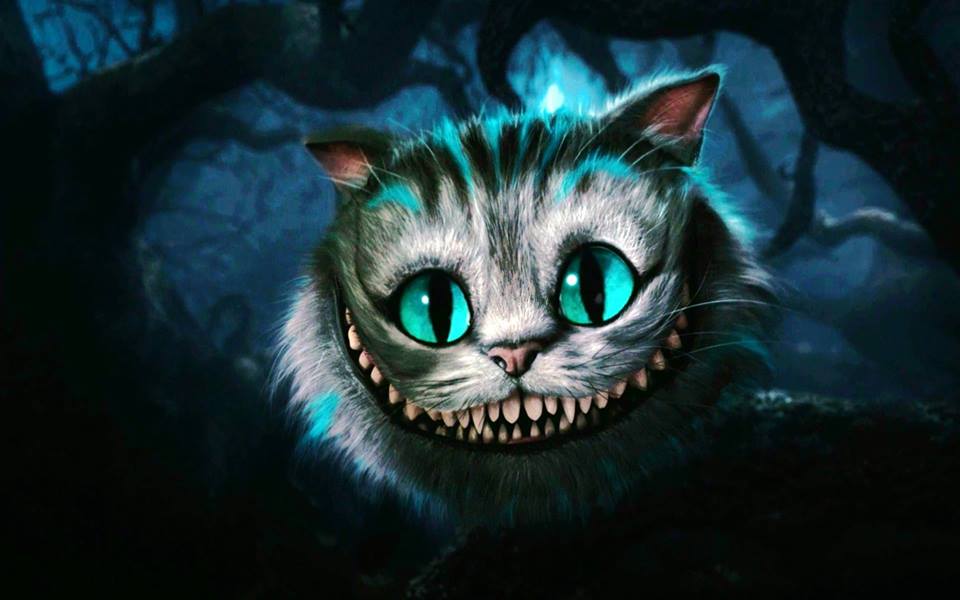 Frenzy polish - We're all mad here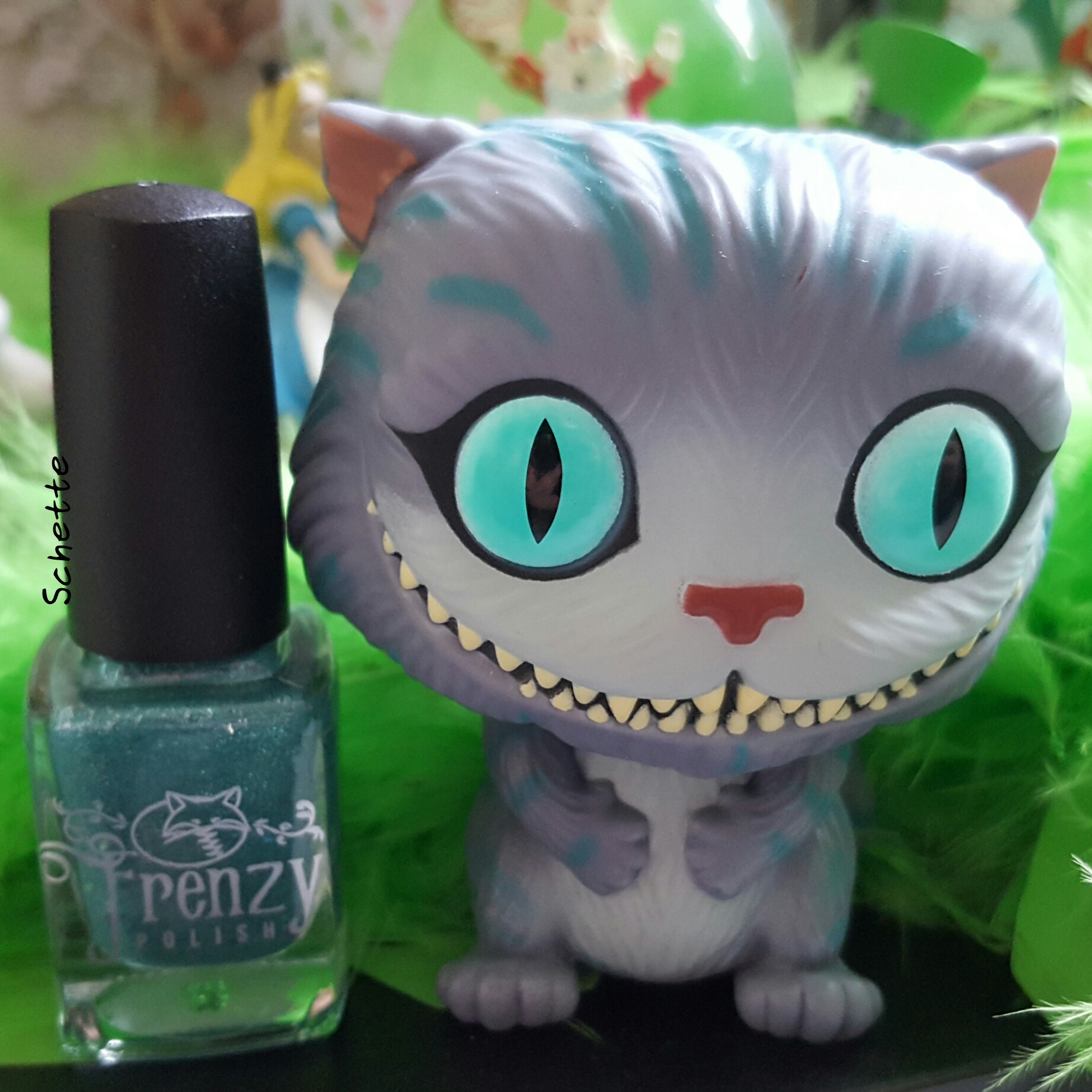 Alors lui .... Si vous me suivez, vous savez que c'est (c'était - du coup, il a un peu changé :D) à peu de choses près mon avatar sur Facebook. Je suis méga fan de cette photo, et ces grand yeux verts m'ont toujours intriguée. Voici donc We're all mad here et c'est un turquoise avec des shimmer verts et des flakies argentées. Je le trouve vraiment parfait ! Posé en deux couches avec top coat, application parfaite !
So... this one.... If you follow me, you know that it is (was - since I got this polish, it changed a bit now :D) almost my Facebook's avatar. I am huge fan of this picture, and those big green eyes always intrigued me. So here is "We're all mad here" and that's a teal with green shimmer and silver flakies. I really find this one perfect ! Worn in two coats with top coat, and application was perfect !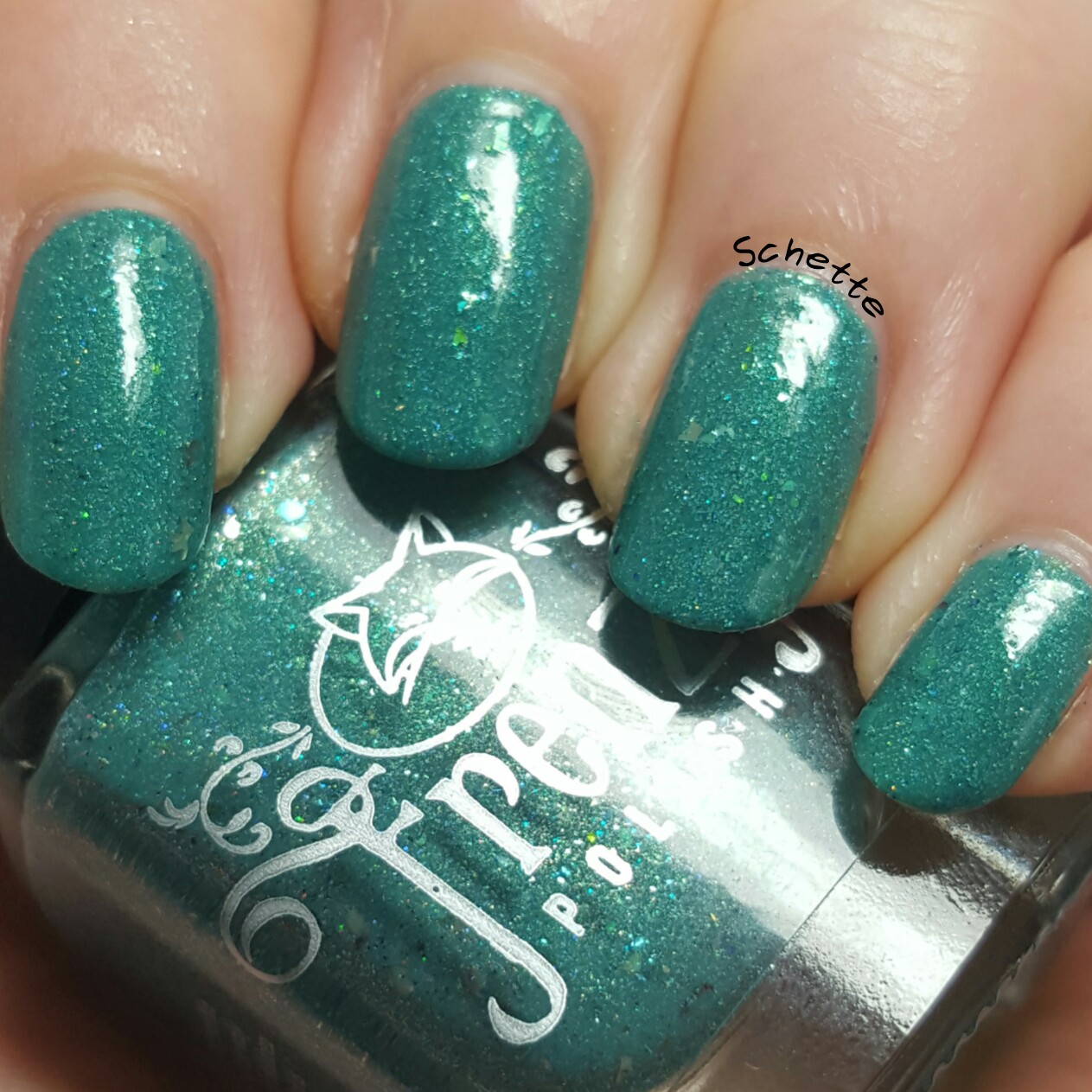 Avec de la lumière, les shimmer sont très visibles.
With light, the shimmer are very visibles.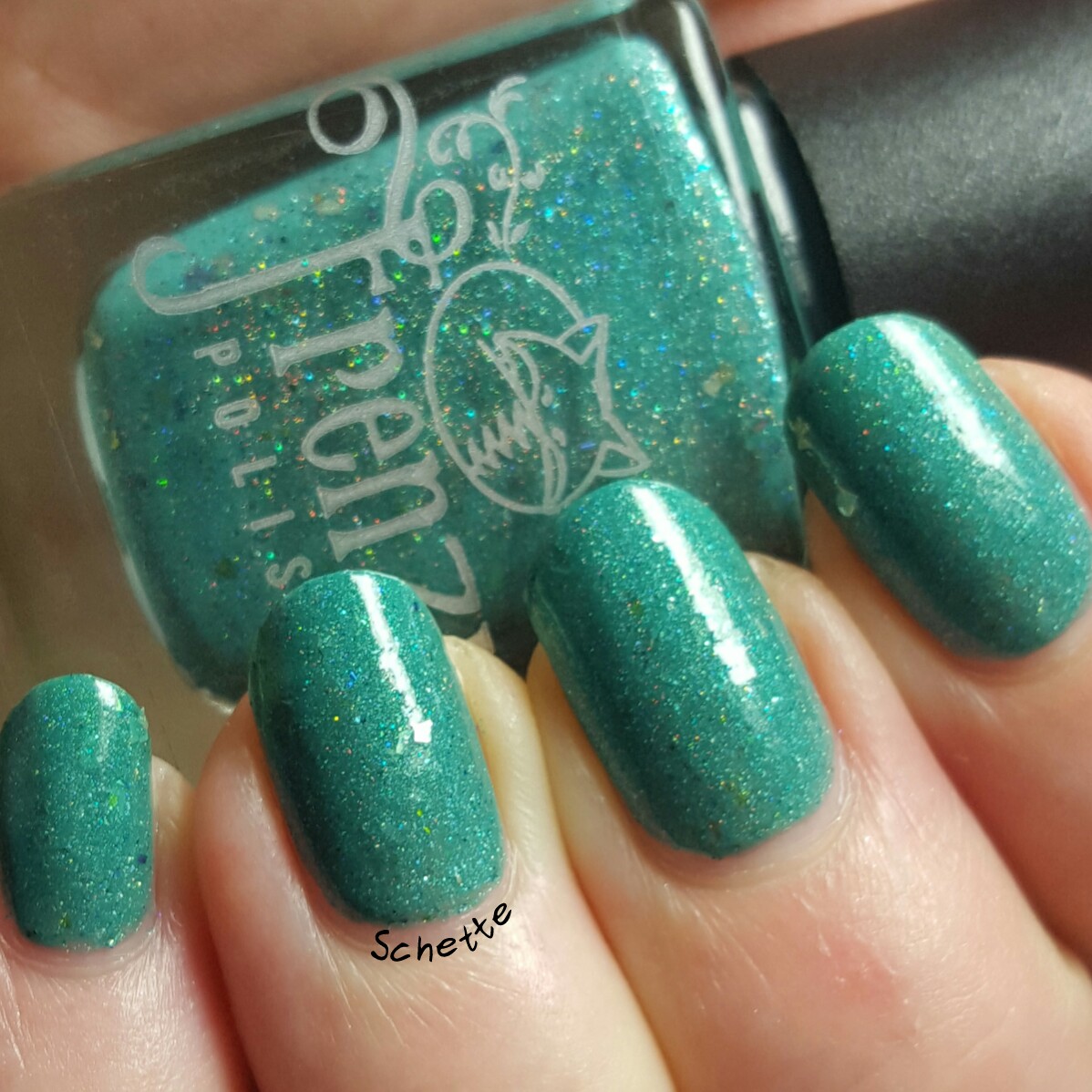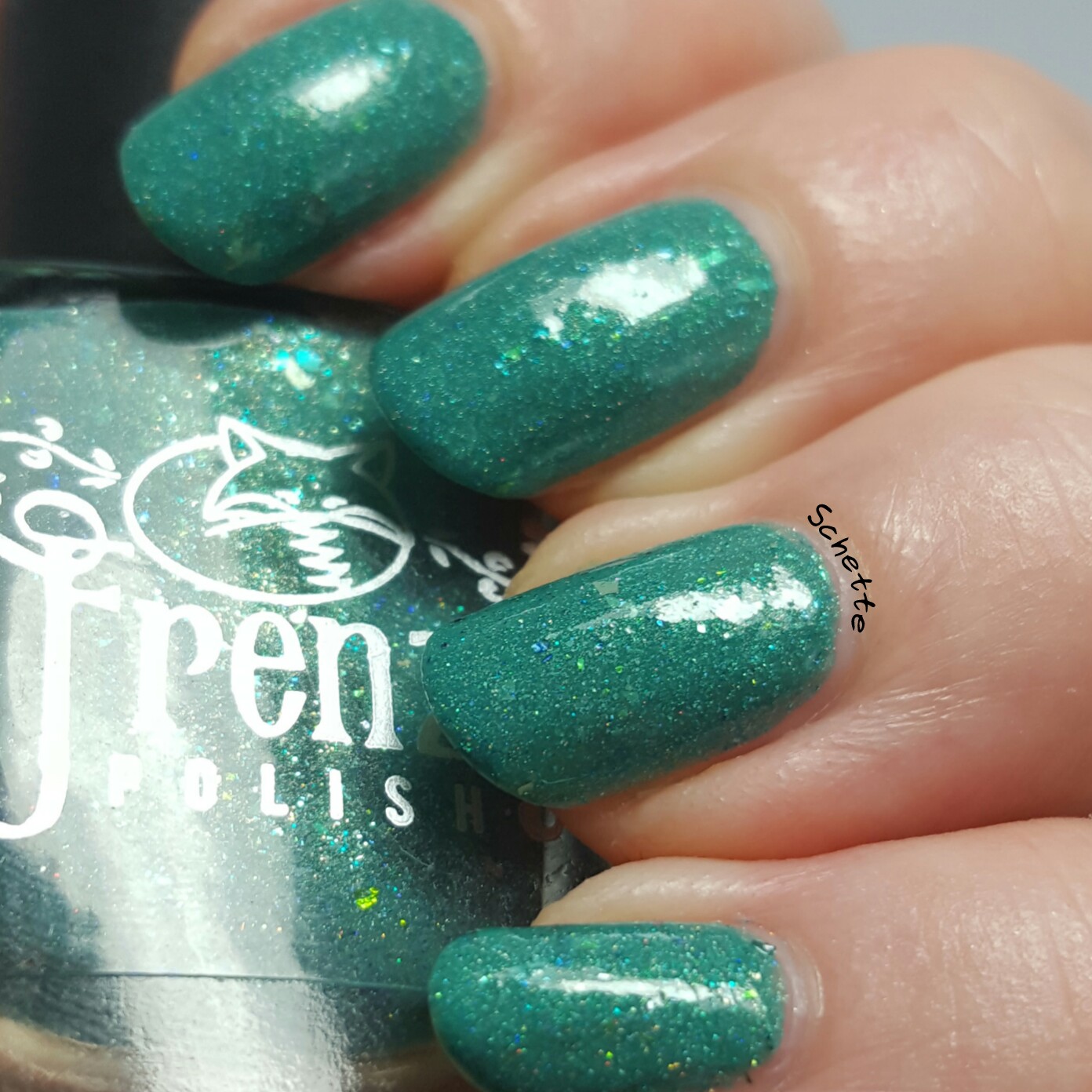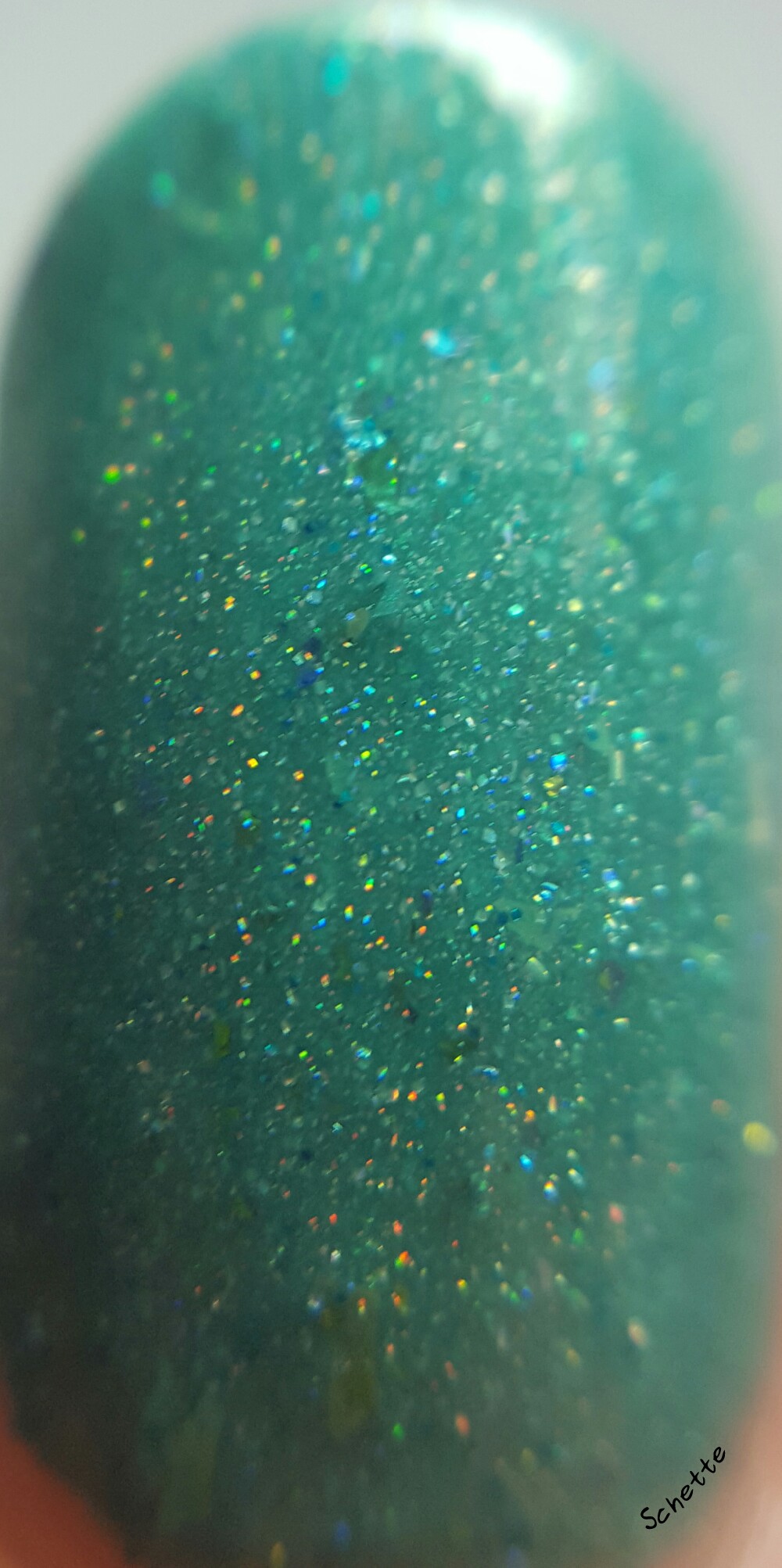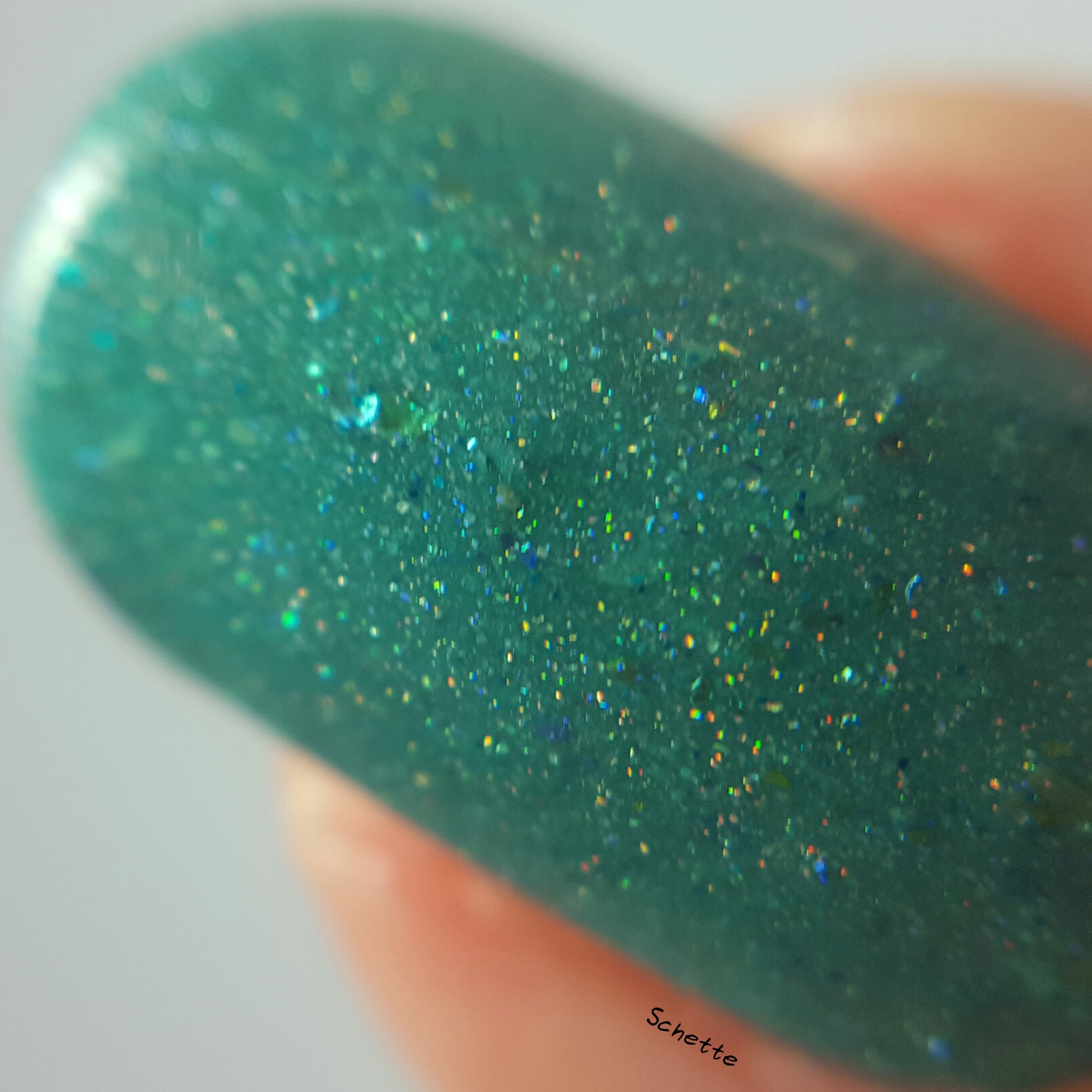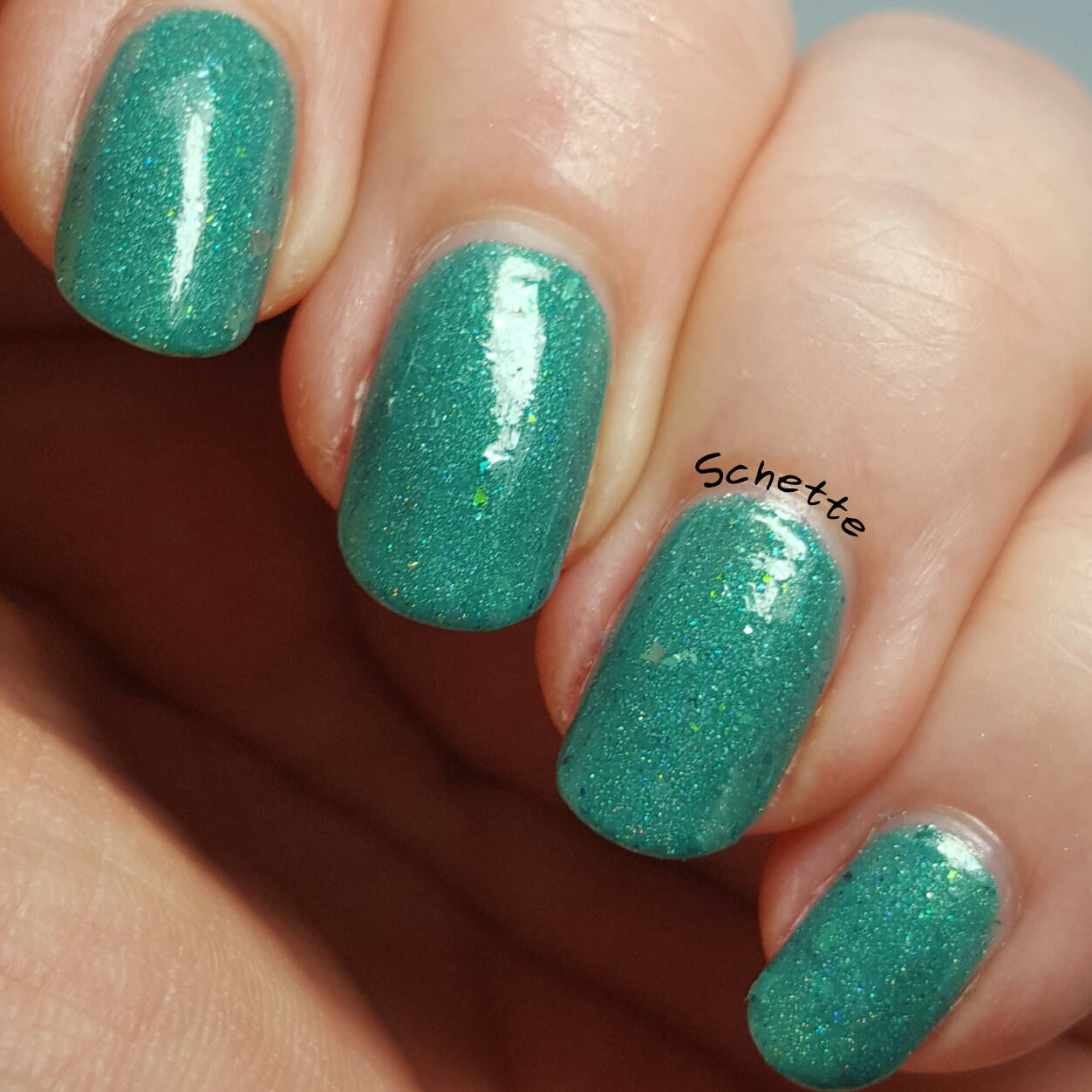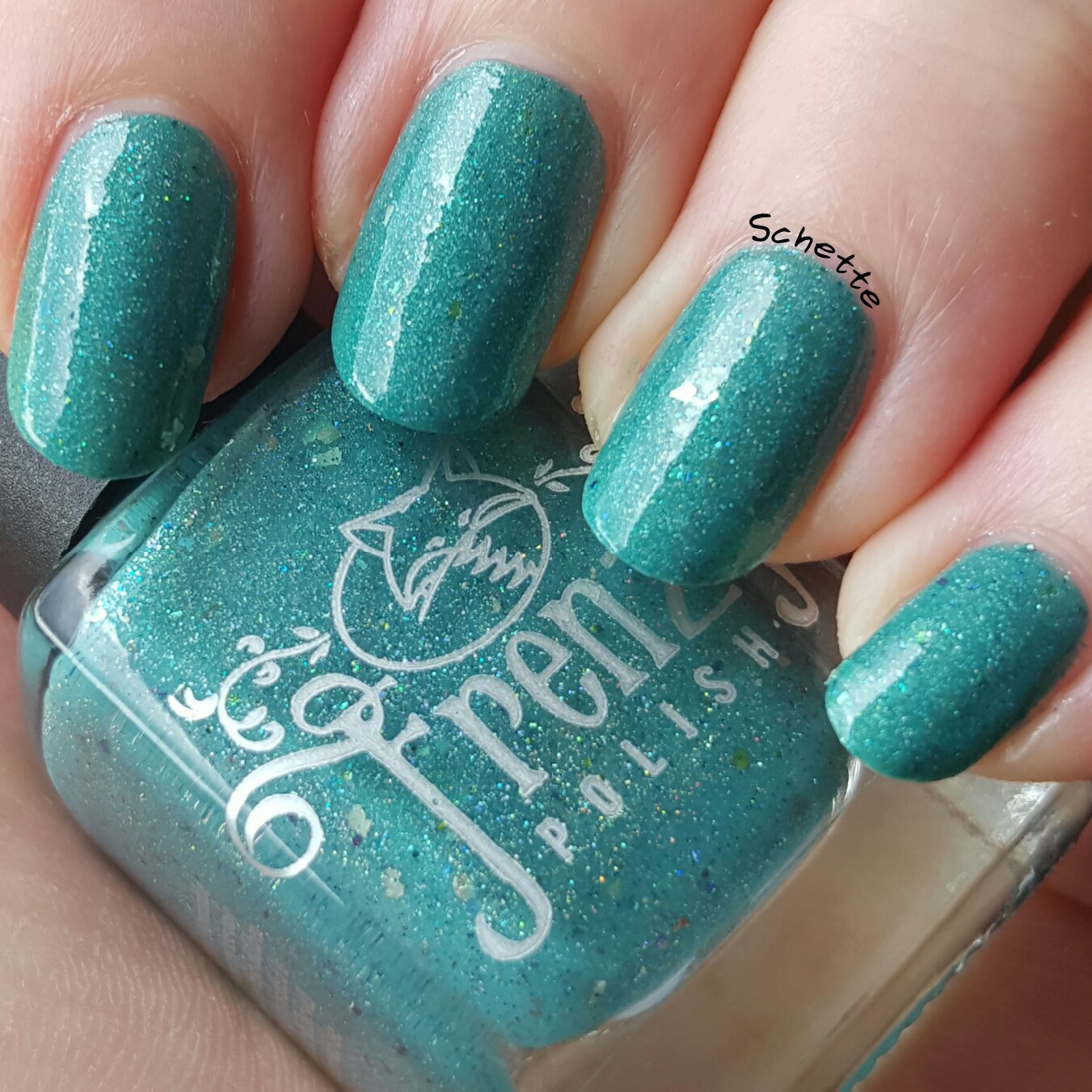 Comme c'est un turquoise, il a un visage un peu différent en indoor, sans lumière directe.
As it's a teal, it changes a little indoor, without direct light.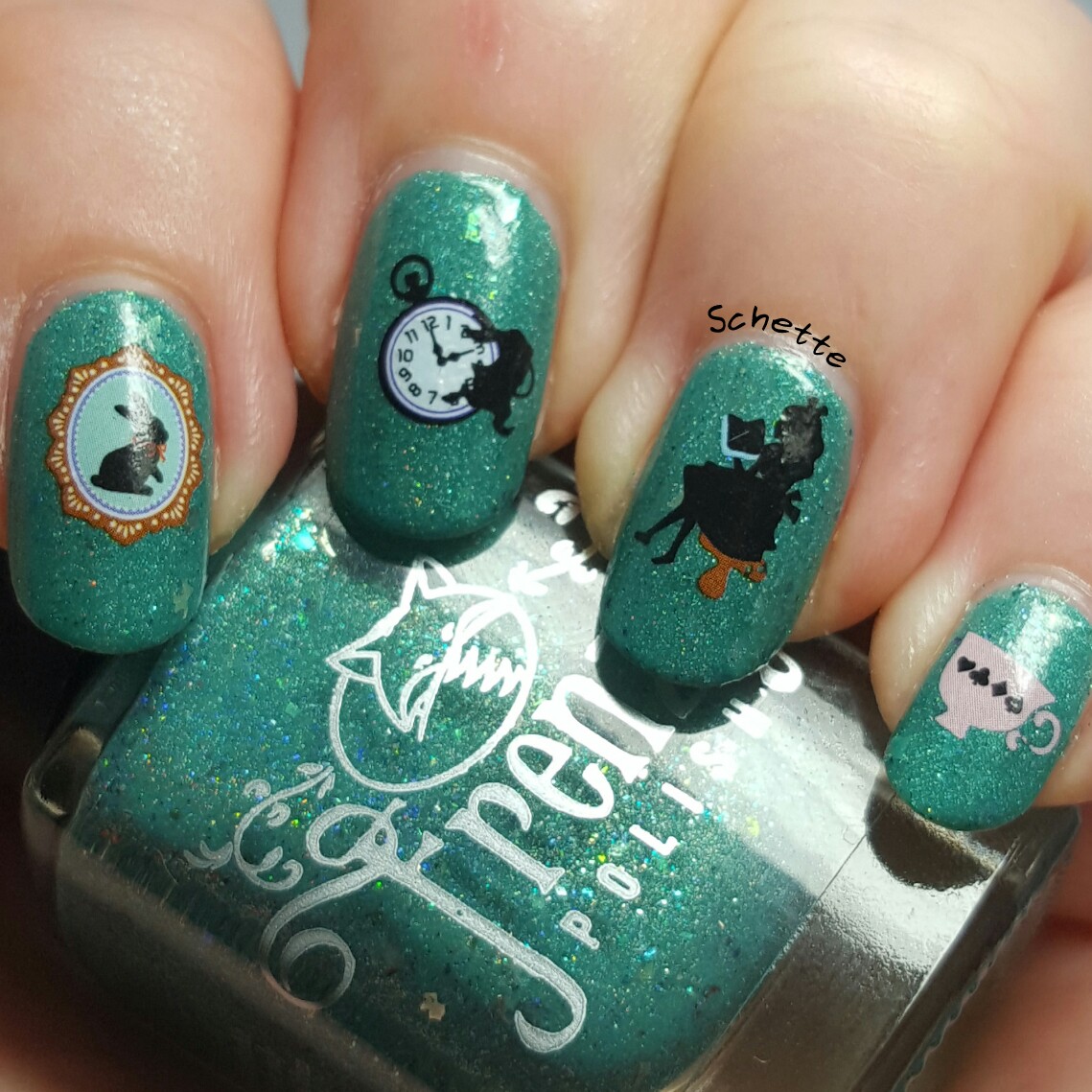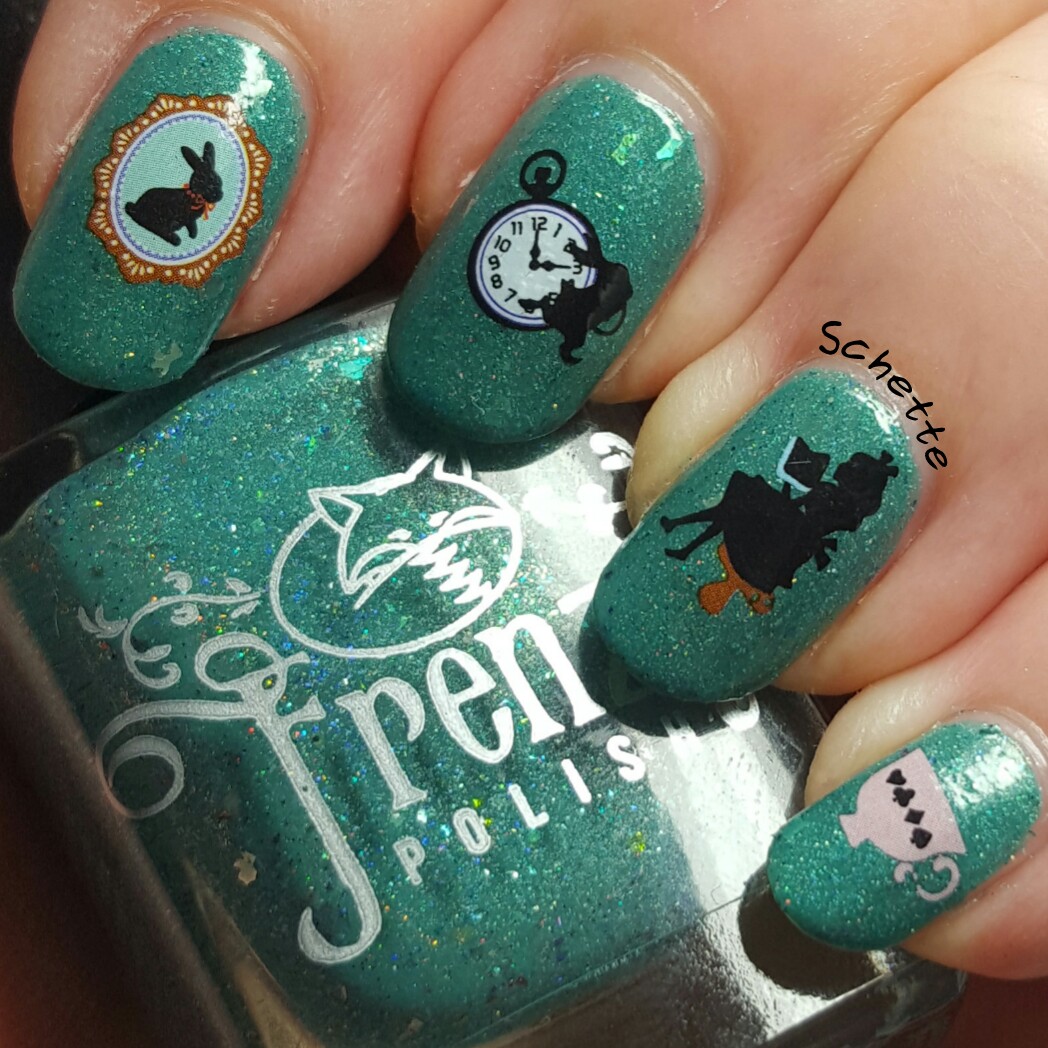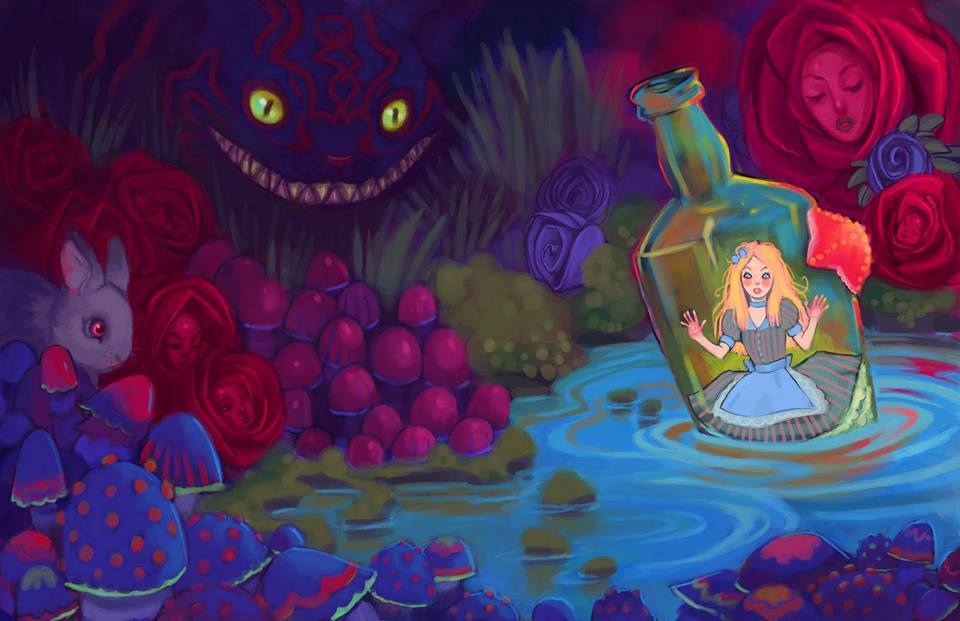 Lacquester - Down the rabbit Holo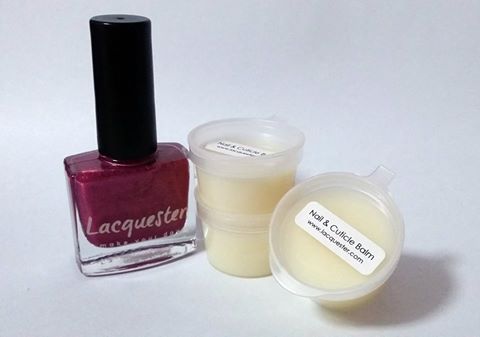 Malheureusement, la poste a gardé en otage mon précieux et je ne peux pas vous le montrer sur mes ongles... Caroline, la maker de Lacquester m'a donc prété ses swatches pour vous le montrer tout de même ! A noter que Caroline à aussi ajouté un baume pour cuticule que vous trouverez égalementdans la box.
Unfortunatly, the post kept in hostage my precious and I can't show you it on my nails... Caroline, Lacquester's maker, allowed me to show you her swatches so you can still see it ! you have to know that she also add to the box a nail & cuticule balm.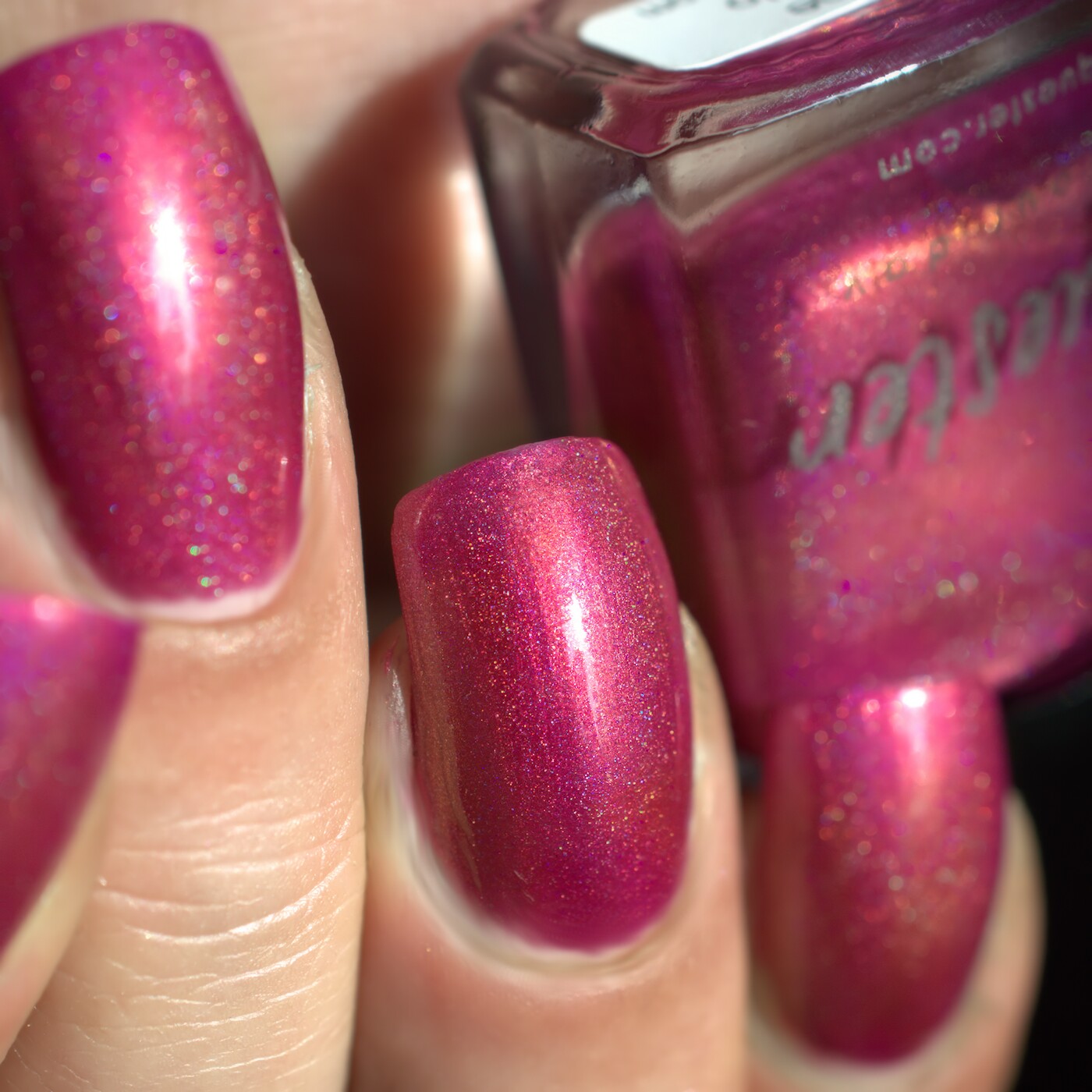 C'est un fushia à shift vers le doré holo.
This is a fushia with gold shift holo.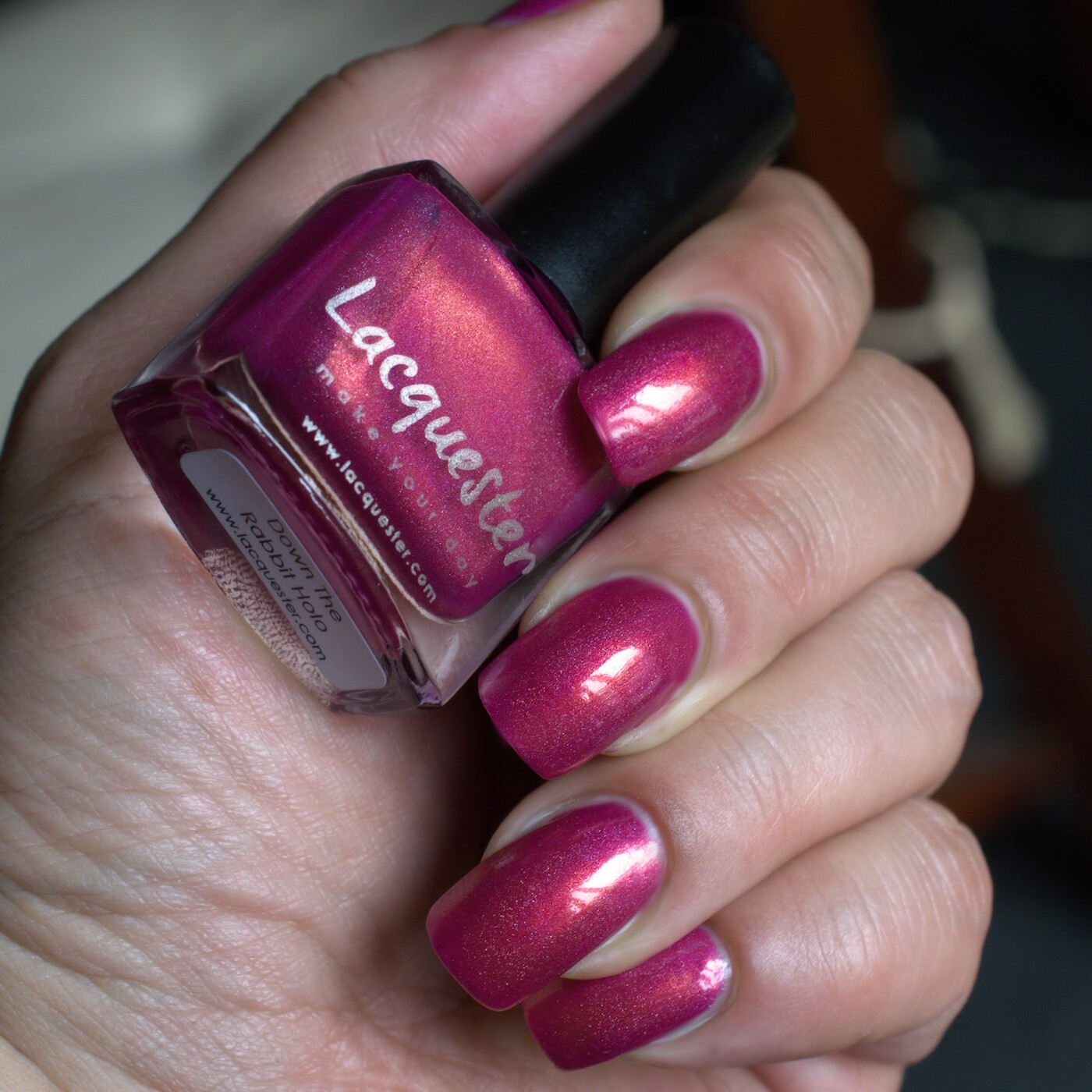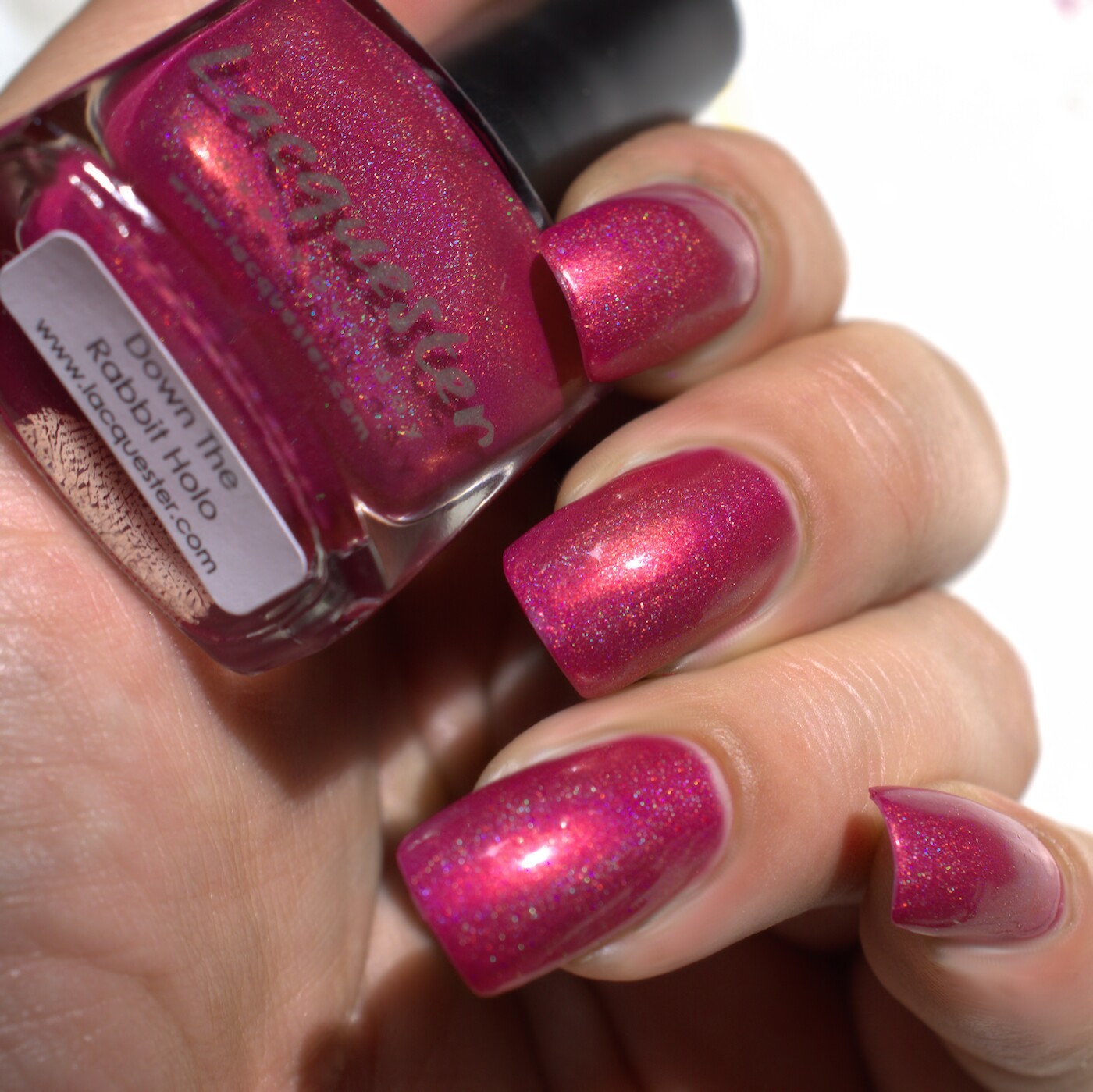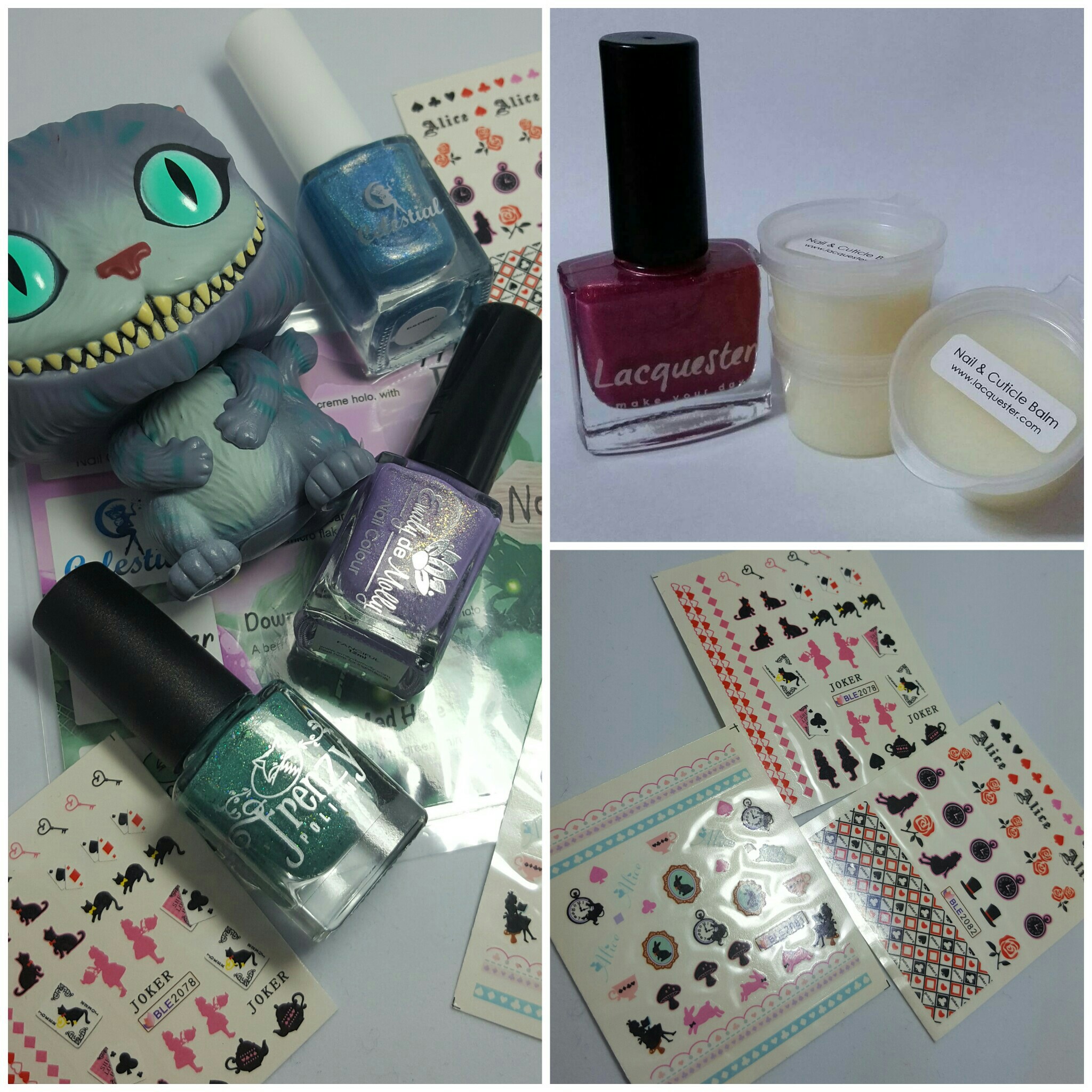 La box - (bien sûr, dans chaque box, il y a un baume et le chat est une possession personnelle)
The box - (of course, in each box, there is 1 balm and the cat is a personal possession)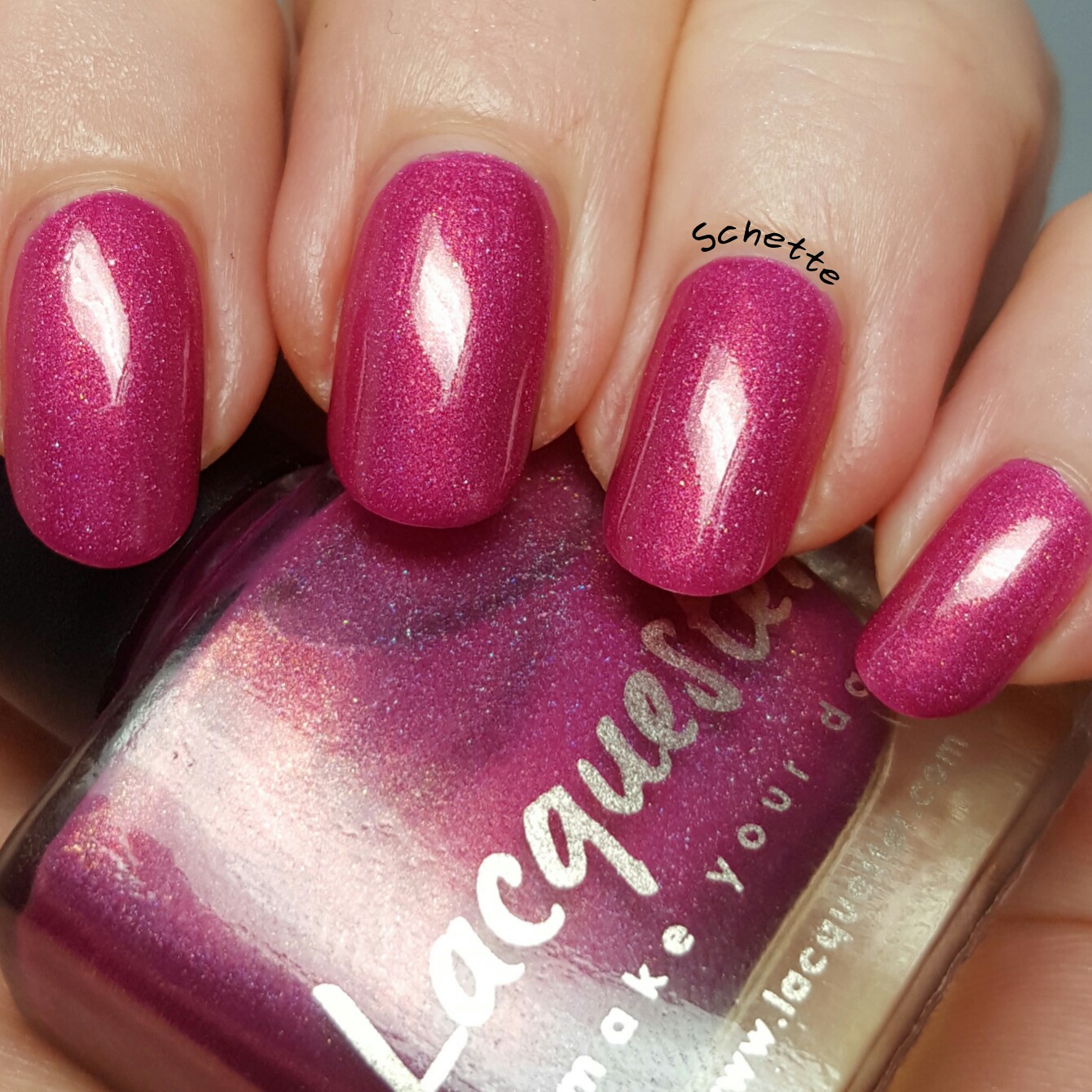 UPDATE : J'ai reçu mon précieux alors je voulais vous le présenter :)
UPDATE : I received my precious so I wanted to show you how it looks :)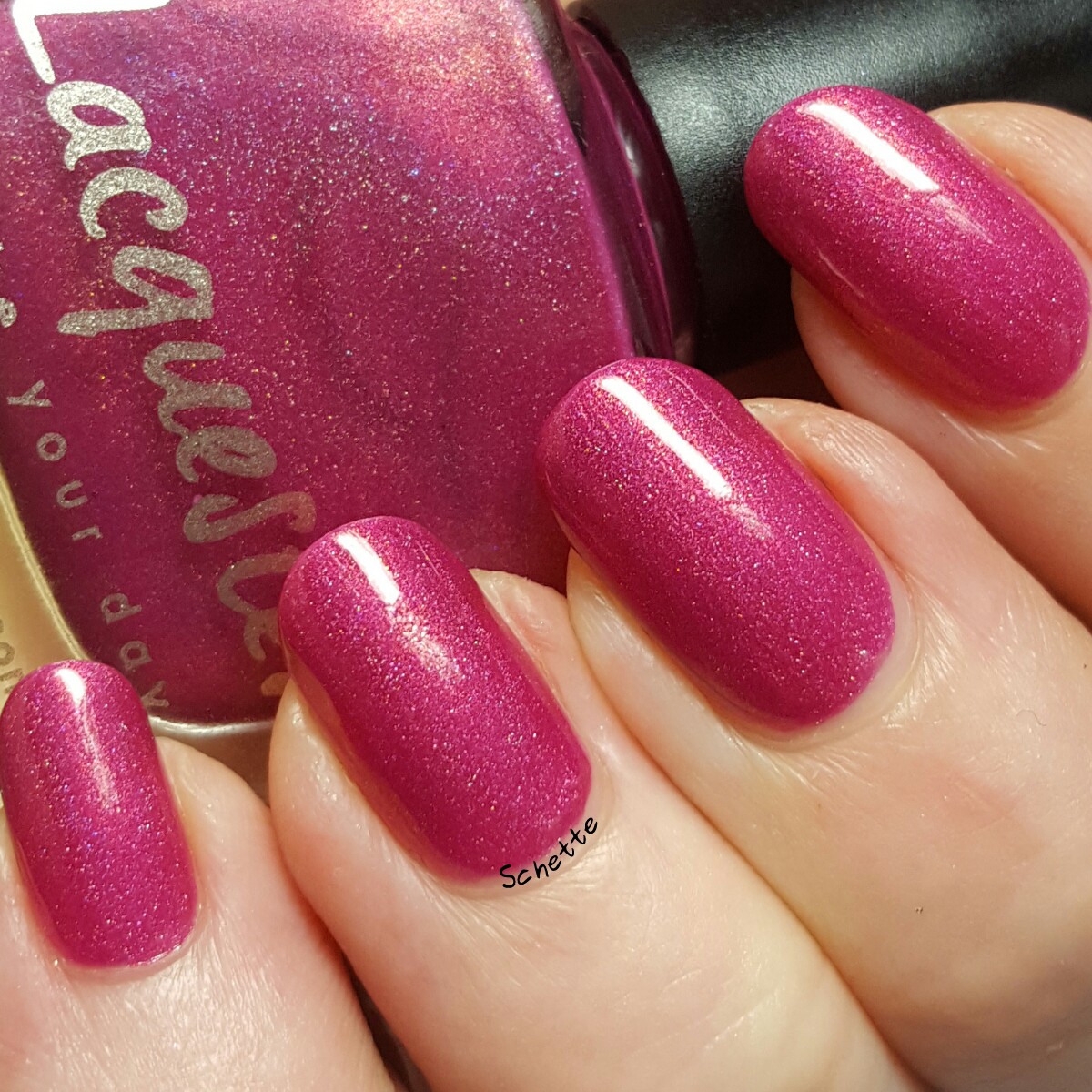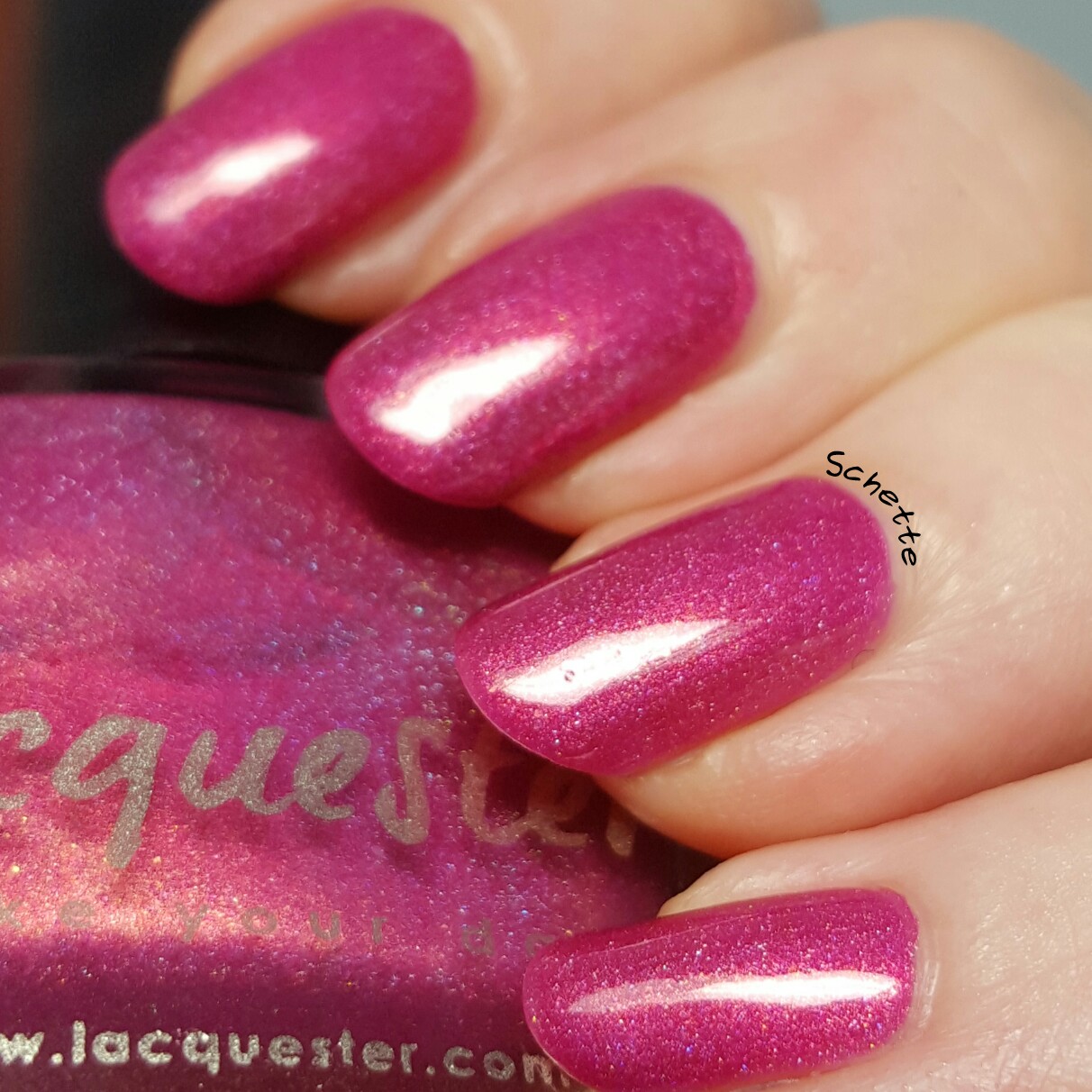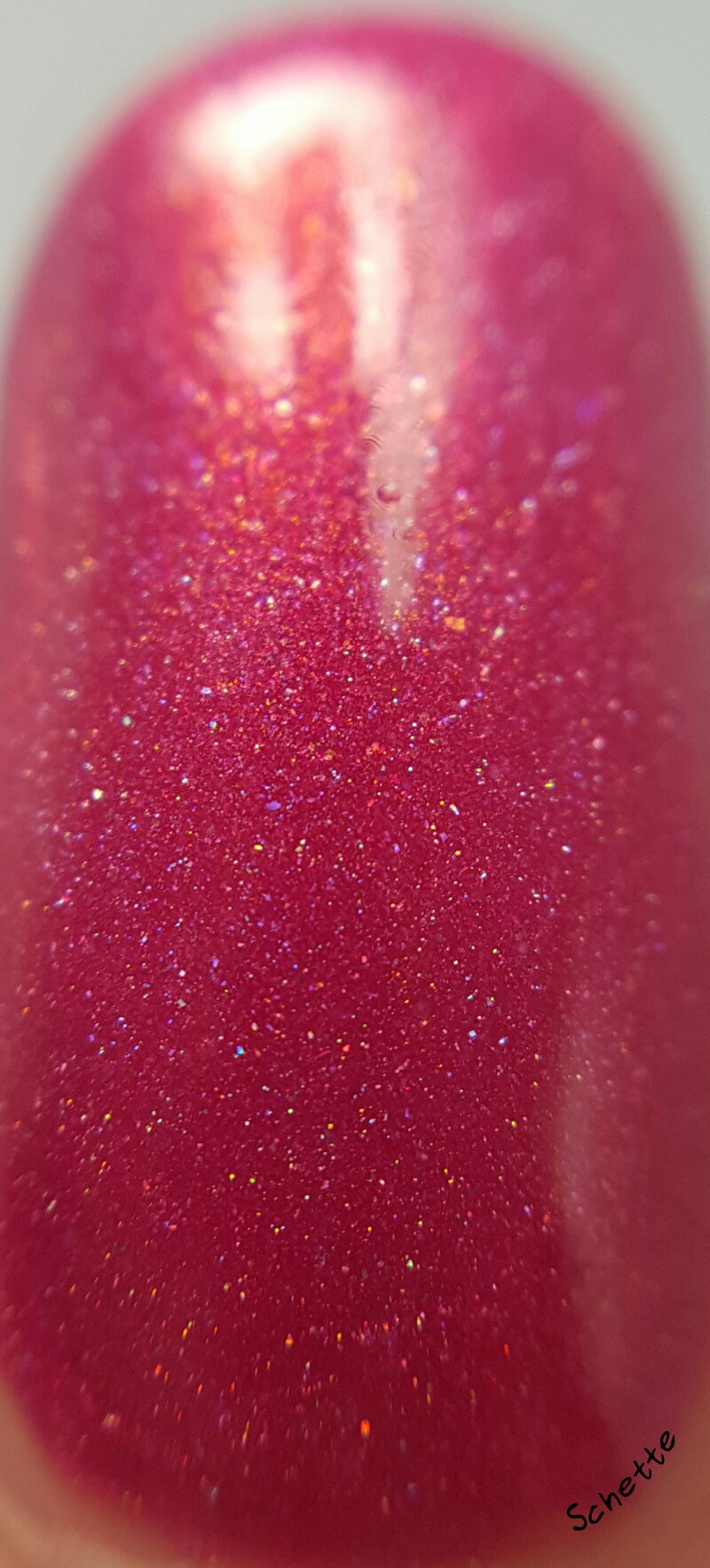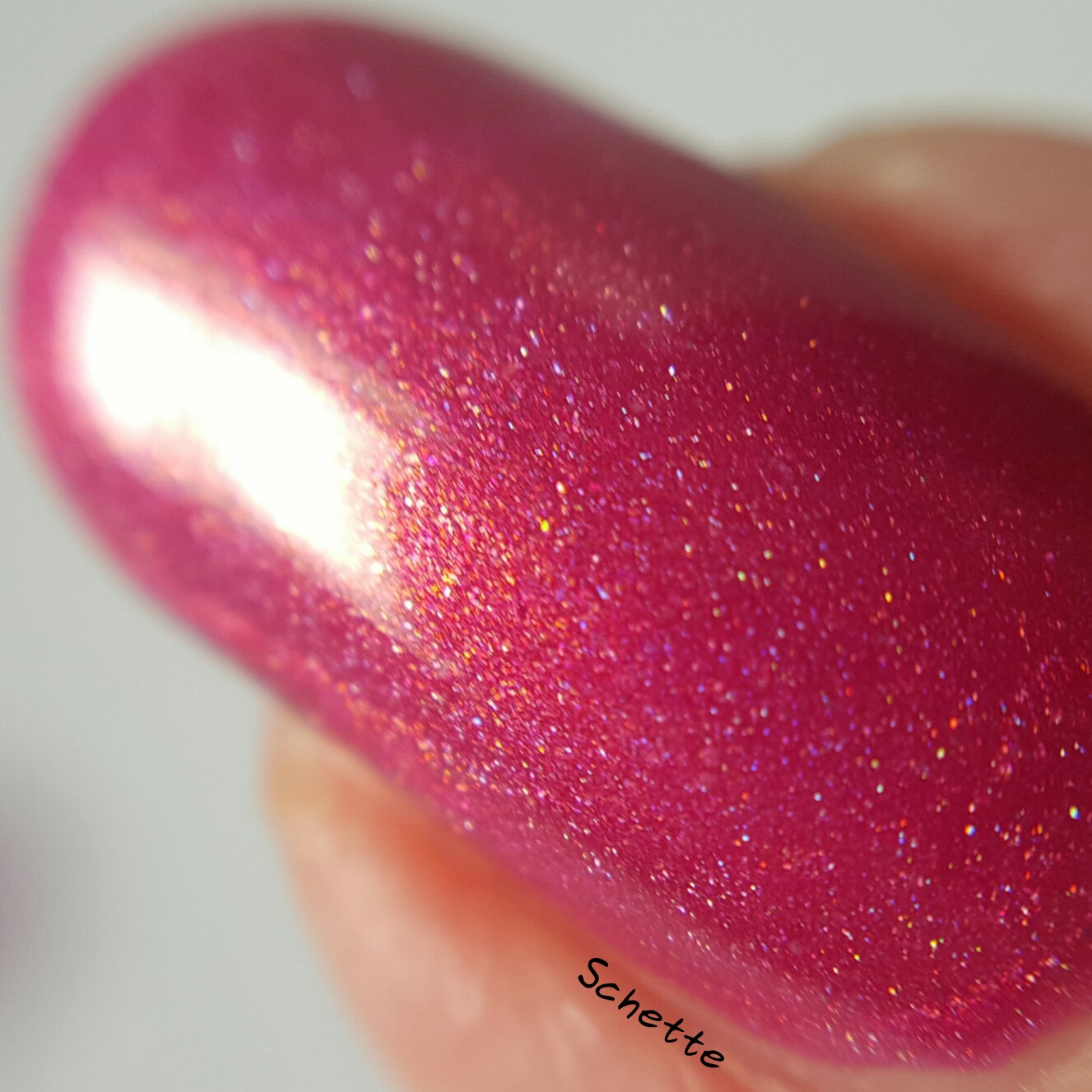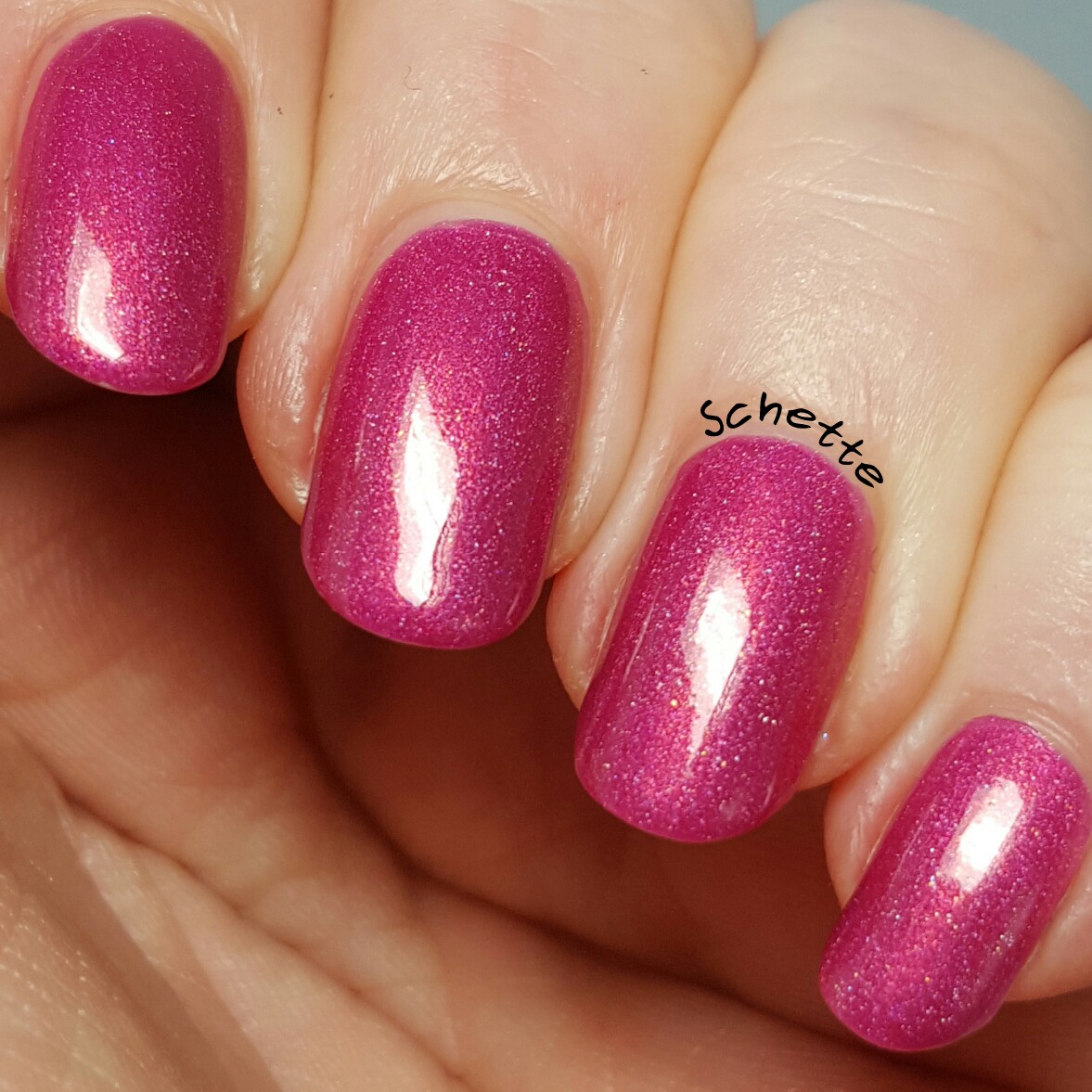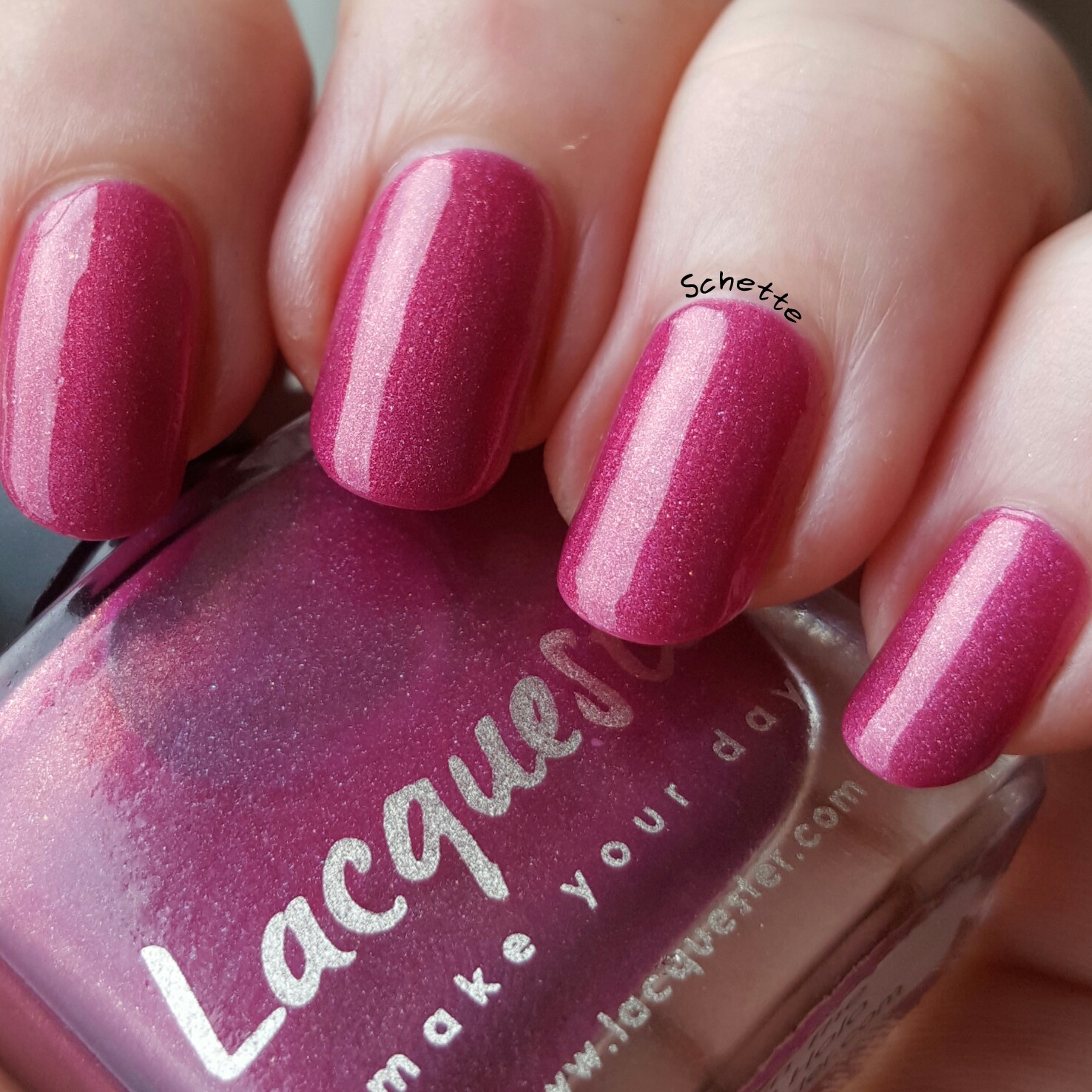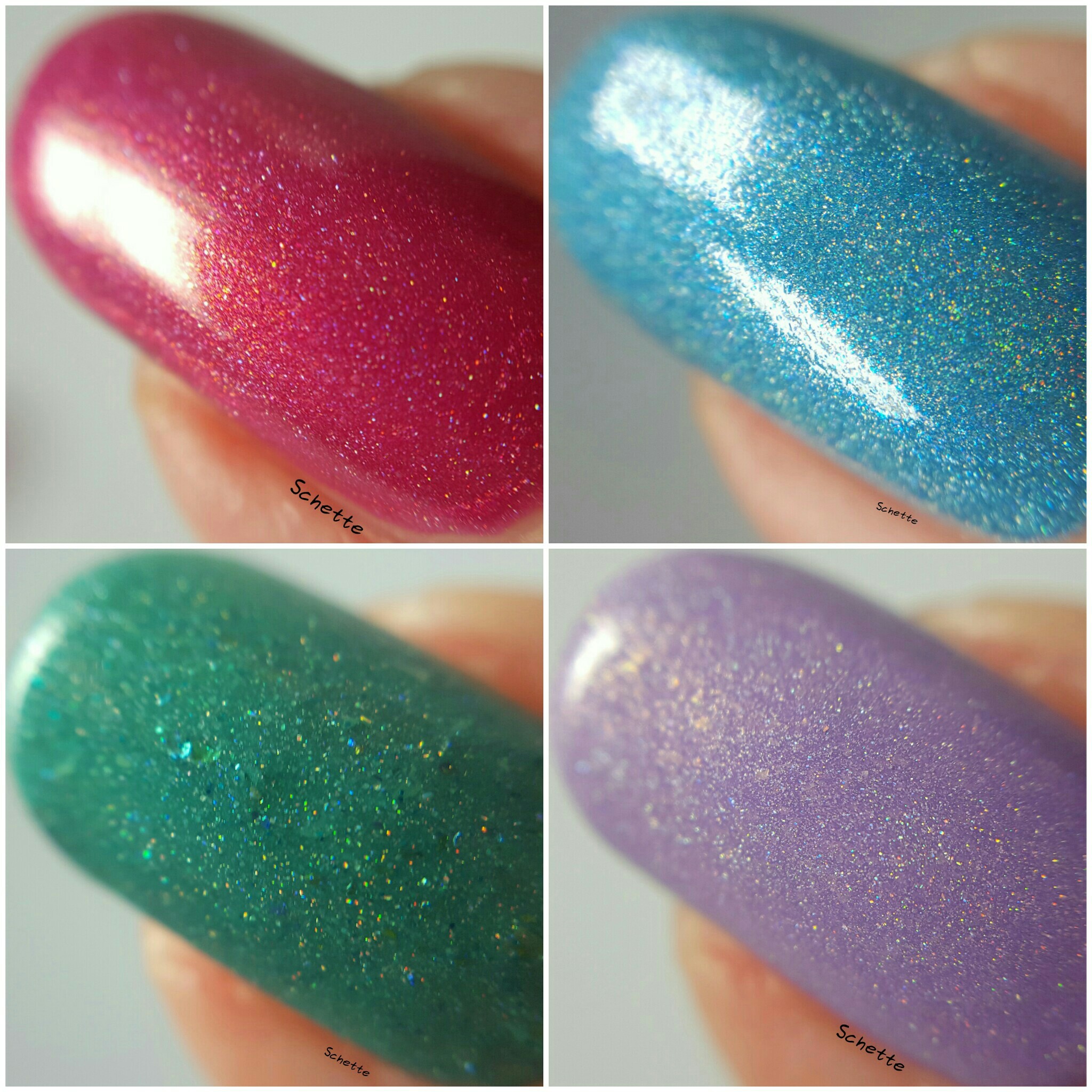 La box en macro :)
The box in macro :)
Bilan
Vous pourrez acheter la box mensuelle chez
Nail Whisperers
.
La box sera disponible aujourd'hui à 16h heure de Paris. Vous pourrez voir
le décompte ici
Je suis vraiment très contente d'avoir eu la chance de vous présenter cette box, déjà parce que c'est vraiment une box que j'adore, je la prend tous les mois et je ne suis jamais déçue, et parce que le thème me tient vraiment à coeur. Mon préféré sera le Frenzy pour cette box, parce que je trouve vraiment qu'il est super fidèle à la photo et que j'en ai rêvé longtemps d'un vernis pour cette photo !
You can buy this monthtly box at
Nail Whisperers
.
The box will be available at 11pm SGT today. You can see the
countdown here
I am really happy to had the chance to show you this box, first, because it's a box that I absolutely adore, I buy it every month and I am never disapointed, and also because I love the theme. My favourite will remain the Frenzy polish for this box, because I really find that it is like the Inspiration picture and I dreamt for a long time of this one !
Schette, le 22 mai 2016
Vous pourriez aussi aimer / You can also like :